ADJUSTABLE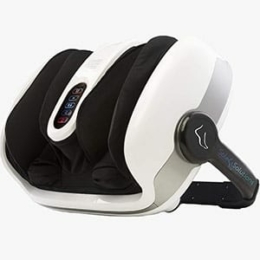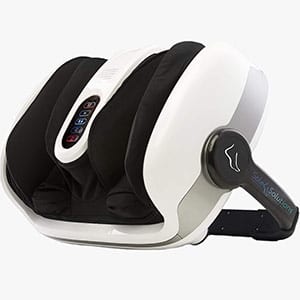 CLOUD MASSAGE
Foot and Calf Shiatsu Massager
Enjoy a natural seated position as the massager works on your feet or calves.
POWERFUL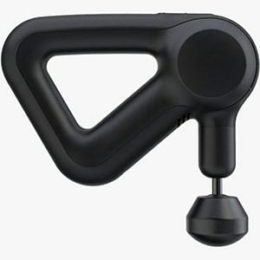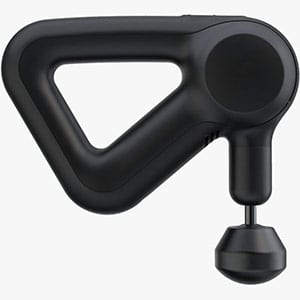 THERAGUN PRIME
Percussion Gun Massager
Breaks down scar tissue and accelerates healing - ideal for treating plantar fasciitis.
STIMULATING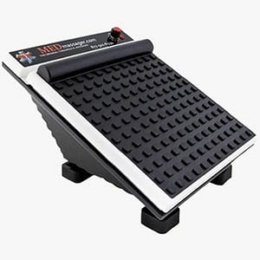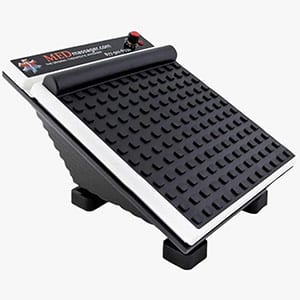 MEDMASSAGER
MMF06 11 Speed Foot Massager
Stimulate circulation in the legs and feet, selecting from 11 speed settings.
Our 15 Best Foot Massager Reviews
Treat your tired feet in the comfort of your own home, by taking a look at our detailed reviews of the 15 best foot massagers on the market right now:
Did You Know?
Over the course of a day, your feet take a cumulative force of a couple hundred tons[1].
Different Types of Foot Massagers
There are a wide range of different foot massagers available on the market, each providing their own range of benefits.
Here we've taken a look at the most common types of electric and manual foot massagers to help you make your decision.
Foot Massage Machine
A foot massage machine generally encases your feet inside to enjoy a massage. You typically get a range of modes to choose from plus heat to treat your feet.
Foot Bath Massager / Foot Spa Massager
Foot spa massagers take the experience to the next level. As well as massage nodes or rollers, you also get hydrotherapy, with bubbles, jets and vibrations adding to the relaxing experience.
Foot Massage Pad
Foot pads have a large surface designed to target pressure points in order to stimulate circulation in the legs and feet.
Most devices have multiple speed settings, and come with different massage modes in order to best soothe the feet. Some models come with additional therapies, such as electrical muscle stimulation, heat or infrared technology.
Massage Roller
Typically manual handheld devices, massage rollers are designed to be moved up and down the soles of your feet. Wooden rollers are particularly effective, as the kneading action helps to relieve tension.
Compression Foot and Leg Massager
These clever devices strap on to your legs and feet. Pressure is applied by inflating the air bags inside the massager. They are excellent for treating restless leg syndrome and reducing swelling caused by conditions such as diabetes.
Gun / Percussive Massager
A gun massager is a handheld tool with a head that applies strong bursts of pressure to your muscle tissue.
Massage Slippers
You can choose from a range of electric massage slippers. However generally foot massage slippers are a pair of shoes covered in a number of acupressure points. They put force on certain areas of the foot in order to release pressure and relax the feet.
If you're considering massage slippers, do remember you have to be moving around in order to receive the benefits. They're ideal if you're one of those people who never sits down!
Massage Chair
A massage chair is a piece of furniture that you add to your home. You'll find massage nodes or rollers within the chair and, with some chairs, added functionality for your feet and calves.
It could be an encased foot area you slide your feet inside, or a pad you place your feet on. It is a big investment and generally they are designed for full body relief.
Features and Functions of Foot Massagers
There are so many different functions and styles of massage to consider when choosing a foot massager.
To help you understand the differences, we've provided you with a little description of each feature:
Electric / Non-Electric
Consider which option is right for you. It depends on whether you want to take your massager on the go, or just use it as an at-home treat option. Also think about if you'll be able to apply the necessary pressure needed with a non-electric device.
Style
Foot massagers come in a variety of different styles. There are ones you pop your feet inside and sit back, and others where you do the work with a massage tool. Consider what you hope to achieve with the massager, and your range of motion, to ensure you make the right choice.
Size
Size could also be an important consideration when choosing a foot massager. If you have larger or smaller than average feet, check that the massager will still work for you.
Nodes
The number of massage nodes, and the sizes of those nodes, is important as it tells you about the foot coverage you can expect.
Massage Modes
Electric foot massagers will typically offer a number of different massage modes. If you want a machine you can experiment with, then choose one with multiple options.
Shiatsu
Shiatsu is a traditional Japanese massage method based on Chinese medicine that uses pressure from the hands to knead the muscles.
Foot massagers with shiatsu settings or styles have rotating heads or vibrators to simulate a masseuse's hands.
Compression
Compression is a style of massage that involves the direct application of pressure, typically with airbags, in order to relax, cleanse and rejuvenate the muscles.
Compression helps dilate the capillaries and therefore is a beneficial form of massage for people with circulation issues.
Percussion
Percussion is a style of massage that could be described as "thundering on your body". Perfect if you want a deep tissue massage, not as ideal if you're looking for something a little more gentle.
Kneading
If you have knots and want a massage that is really going to work them out then you might want to look out for the kneading function. Wooden rollers can also deliver kneading action.
Heat
An excellent way to loosen the muscles is through heat. Heat has many positive effects, including increasing your blood flow and reducing muscle tension.
While heat itself is not a massage technique – it is often an added setting on a foot massager, as it helps to relax muscles further.
Hydrotherapy
Hydrotherapy is a massage style based on the use of water pressure to treat the body. Water pressure is used to relax muscles, increase circulation and relieve muscular pain.
Hydrotherapy foot massagers (also referred to as foot spas), often use a combination of jets, bubbles, vibrations, lights and/or heat to provide a complete relaxation experience.
Infrared
Through invisible waves, infrared rays penetrate deep into the muscles and bones of the body to provide many health benefits.
Infrared elevates the surface temperature of the body to relax stiff muscles and can also increase blood flow. Infrared is not a massage technique in itself, but is often used in conjunction with other massage styles.
Electrical Muscle Stimulation (EMS)
Electrical muscle stimulation (EMS) is a treatment technique that involves delivering electrical impulses to the body, causing the muscles to contract. It can help to reduce inflammation and swelling, and improve your blood flow.
Intensity Settings
Many electric foot massagers will have a variety of intensity settings. This can be highly beneficial, as some days your feet might feel too sensitive to receive an intense massage.
The number of intensity settings doesn't necessarily suggest a device is more powerful. It simply means you can move up the different intensity levels in smaller increments.
Controller
When you want to sit back and enjoy your massage, it can be a little annoying to have to lean forward to change the settings. Certain foot massage machines will come with a separate controller, allowing you to relax and play around with the options.
Timer
A timer can be a useful feature. If you pick a particularly pleasurable massager, it can be easy to lose track of time and exceed the recommended usage time!
Auto Shutdown
For your safety and so the device doesn't overheat, electric foot massagers will have an auto shutdown. This is typically a set amount of time you can use it for before it will automatically switch off, which can be frustrating. Sometimes higher spec massagers will allow you to tailor the auto shutdown time.
Portability
If you want a massage tool that you can use in the office, or in the car, then portability is important. Non-electric devices could work best, or opt for an electric massager with a rechargeable battery. Looking for a massager that comes with a carrying case could also be important.
Battery Life
When looking at rechargeable devices they'll typically quote the usage you can expect when the massager is fully charged. Running out of charge mid-treatment is frustrating, so finding a tool with a long battery life can be really valuable.
Attachments
Some foot massagers will come with a range of attachments. This can be beneficial as it provides you with a number of different tools to get to the source of your pain.
Price
Foot massagers range in price, from simple handheld tools for less than $10, to top of the line foot massage machines demanding hundreds of dollars. Set a budget and use our guide to prioritize the features that mean the most to you.
Benefits of a Foot Massager
Your feet carry your entire body weight each and every day. Because of this, it's natural for feet to feel tired in the evenings.
Did You Know?
Three-quarters of Americans will suffer from some type of foot ailment in their lifetime[2].
Foot massagers can treat the feet and combat some of the stresses and strains that result from being upright all day. Through massage, you can relieve tension and relax the rest of your body.
However foot massagers have so many other benefits, for a variety of conditions:
1.

Improves Circulation and Neuropathy
Vibration foot massagers provide a way to counter the symptoms associated with circulation issues or neuropathy, whether it's peripheral or diabetic.
Arthritis research charities, such as Versus Arthritis, acknowledge how therapeutic massage can help to reduce pain and tiredness in your feet.
Massagers with heat functions, hydrotherapy or gentle kneading on the soles of the feet are widely recognized as being the most suitable, for people with arthritis.
One of the best ways to soothe bunion pain is to massage the arches and bottom of the feet, as well as stretching and massaging the toes.
Shiatsu style massagers are great at working many of the muscles in the foot to release stiffness and tension.
4.

Aids people with Plantar Fasciitis
Research has shown that massage therapy is effective in reducing the pain of those suffering with plantar fasciitis.
Using a manual roller on the bottom of your foot can help to stretch and knead the fascia to bring much needed relief.
The best way to treat flat feet is through exercises that build up the muscle strength in the arches of your feet. However, massaging these muscles, as well as the ankles, and calves can help.
Manual foot massagers or rollers are the best at stimulating the arch muscles because you are in control and can apply the appropriate amount of pressure. Shiatsu massagers that work around the entire feet, ankles and calves are also a good option.
6.

Offers Benefits for Runners
Due to the extensive strain running puts on the feet, a good foot massager is something every runner should have in their toolbox! Runners often have tight plantar fascia so a foot roller is a great way to counteract this tightness and relieve the muscles.
Hand-held massagers are also useful because not only can they relieve the soles of the feet, but they can also be used to loosen tight hamstrings, calves, glutes and even the lower back.
If you're really sore after a run, a chair massager will give the muscles in your entire body a chance to recover.
7.

Reduces Headaches and Migraines
Using the theory of reflexology, applying pressure to certain points in the foot can help alleviate the symptoms of a migraine or headache.
Gentle Shiatsu electric massagers are one of the best at home ways to knead and address different areas of the feet.
Hydrotherapy or spa massagers are the perfect antidotes to swollen feet at the end of a long day. The relief you receive can improve blood circulation and help you relax after being on your feet all day.
Women in the later stages of pregnancy, with swollen feet and ankles, were the focus of a controlled trial in Turkey. After receiving a 20 minute massage, for five consecutive days, their leg circumferences were significantly smaller.
FAQs
Do foot massagers really work?
Which foot massagers are suitable for diabetics?
Can I use a foot massager while pregnant?
Can a foot massager induce labor?
Are foot massagers appropriate to use if I suffer from back pain?
How long can you use a foot massager?
How much do foot massagers cost?
Where can I buy a foot massager?