It's the end of a long day. Your feet ache and your body is tired. Sound familiar?
Feet are the foundation of our bodies and must be cared for appropriately. One of the easiest and most beneficial ways to soothe the pain and relax is with a foot massage.
According to an article from Harvard Health:
Foot massage improves circulation, stimulates muscles, reduces tension, and often eases pain.
You can treat tired feet in the comfort of your own home through many simple techniques. There are several foot massage devices readily available in pharmacies, health stores and other retailers.
With so many devices on the market, we bring you synopsis of the types available, functions and benefits of the most popular and widely available foot massagers.
Did You Know?
Feet have more nerve endings per square inch than any other part of the body; therefore the feet are a powerful portal to the entire nervous system.
Table of contents
Table of contents
Foot Massagers
Before using any type of foot massager, it's best to speak to a medical professional to ensure it is appropriate for your health or medical conditions. If you have specific questions or concerns as to whether a foot massager is appropriate for you, please consult your doctor.
In this section, we handpicked a diverse selection of some of the best foot massagers on the market today.
THERAFLOW

DUAL FOOT MASSAGE ROLLER

Simple and Natural

Portable and Versatile

Acupressure and Kneading Modes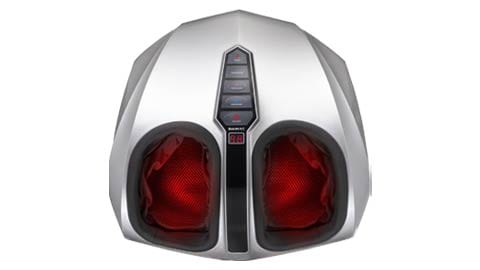 BELMINT

SHIATSU WITH SWITCHABLE HEAT

3 Massage Programs

Rollers + Air Compression

High and Low Intensity Modes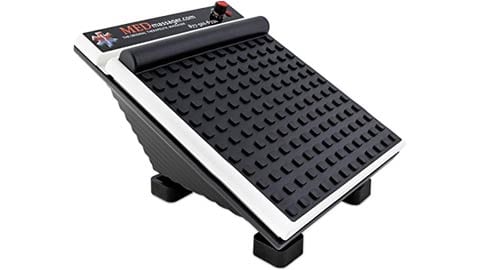 MEDMASSAGER

MMF06 11 SPEED FOOT MASSAGER

11 Speed Settings

Up to 3,700 RPM!

Promotes Healthy Blood Flow
uComfy Shiatsu Foot Massager
Slip your feet into uComfy's Shiatsu device to get massaging action all around the feet.
If you're looking for maximum control during your massage, we think this foot massager is a quality option because you can choose from two different massage styles – a Shiatsu-style setting that kneads the muscles or a vibration-style massage to help loose tight muscles.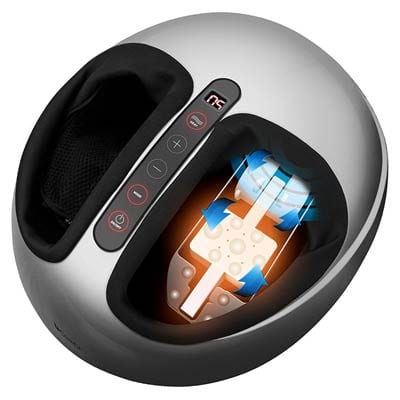 There is also an option for heat, which can be combined with either massage style or on its own. Alternatively, you can turn the heat off and let the air pressure comfort your feet.
Using an acupressure massage technique, uComfy's massager surrounds the feet with heat and compression to manipulate pressure points and relieve tightness in the feet.
This oval-shaped foot massager also has five levels of intensity, allowing you to slowly increase the intensity throughout the course of your massage and to ensure you get the most comfortable massage possible.
Weighing in at 12 pounds means this machine isn't the most portable, but its durable materials (ABS plastic and nylon) help it withstand regular use. It can be kept clean by wiping with a damp cloth and a rubber stand keeps the uComfy in place while you relax.
For the price, many customers were disappointed to find their massager had a limited lifespan, however were pleased with the functions and performance of the massager.
Due to the mixed reviews, we'd suggest doing thorough research before choosing this particular massager and be sure to consider some other Shiatsu-style massagers as an alternative to the uComfy device.
MedMassager MMF06 11 Speed Foot Massager
The Speed Foot Massager by MedMassager is a full-sized oscillating footpad that works hard to stimulate circulation in the legs and feet.
With its ergonomic shape, the MedMassager uses the optimal angle to target pressure points and to provide maximum comfort during the massage.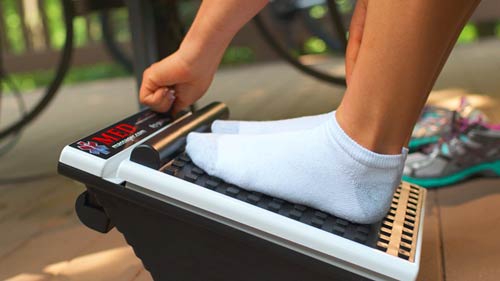 As its name suggests, this massager comes with 11 speed settings ranging from 1,000 to 3,700 rpm; making this electric massager one of the most powerful on the market. Therefore, it's important to use this with care.
Through vibrations alone, the device helps promote healthy blood flow and ease pain. Unlike other machines, the MedMassager does not have a heat element, so if that is a feature you require we'd recommend the Farnsworth & Lloyd Vibrating Foot Massager instead.
Because of the strong vibrations, some users complain about the noise, but others mention that it isn't too distracting.
This massager comes with many positive reviews and customers with various health problems claim it has helped alleviate some of their symptoms.
If you suffer from severe foot and leg pain, joint pain, muscle tension or circulation issues due to diabetes or neuropathy, this could be the massager for you.
With FDA certification, the MedMassager is certified for home and therapeutic use and comes with a one-year full replacement warranty against defects and failure for extra peace of mind.
TheraFlow Dual Foot Massager Roller
Those that prefer a natural and simple device to soothe foot or heel pain look no further than the TheraFlow Dual Foot Massager Roller.
Made of durable and high-quality Theaceae wood, this foot roller is an excellent and affordable option, providing a sturdy and stable roller perfect for feet of all sizes.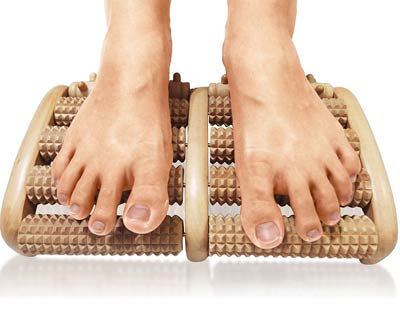 TheraFlow gives relief for sore feet, especially for conditions such as plantar fasciitis or neuropathy. Rollers also help relax feet to promote better blood flow and to enhance overall health.
With the help of five ridged rollers, this foot massager can be used in two different ways. The acupressure mode requires you to position your feet across all the rows, hold for a few seconds and then release.
If you opt for the kneading mode, simply roll your feet back and forth in opposite directions, without pressing too hard. For maximum benefit, you only need to do this a few times a day, which is perfect if you have a busy schedule and find it hard to take time out of your day to relax.
By using reflexology and pressure, the TheraFlow wooden roller helps the body release endorphins to relieve pain symptoms, all the while promoting increased blood circulation in the feet.
Consumers reported reductions in numbness or tingling in the feet, and also improved temperature control, as a result of poor circulation. Advantages of the roller include its lightweight, yet durable frame, which is makes it easy to take this massager with you wherever you go.
We like that this massager has a large surface area to accommodate both feet at once, and with a lifetime guarantee you can't go wrong.
HoMedics FMS-270H Deep Kneading Shiatsu Foot Massager
Combining heat and Shiatsu massage techniques, the Deep Kneading Foot Massager by HoMedics has six rotational heads and 18 massage nodes that attend to your aching feet.
The simple toe-touch control makes this machine simple and straightforward to operate without having to lift a finger.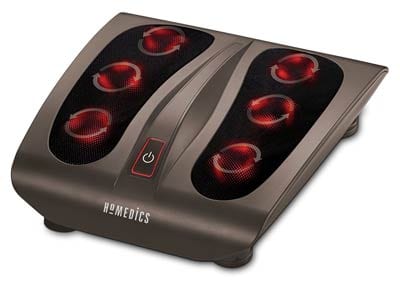 Reviews of this machine note how relaxing it is, and compared to others available, this HoMedics is not intended to provide intense sensations.
The rollers massage the entire sole of the foot – from toe to heel, but some customers mentioned having to reposition their feet to ensure the rollers massaged specific, or small, pain spots.
The heat in the machine is very low, and at times not intense enough for certain users. However, this may not be turn-off to some, as levels of heat are a personal preference.
In the product description, the seller specifically mentions this massager is not recommended for diabetics, so please bear this in mind.
Because of its deep kneading action, this foot massager simulates a real Shiatsu massage technique and many people review this product highly.
It is lightweight, quiet and easy to use, not to mention it comes at an affordable price point. A slight downside of the HoMedics Shiatsu Foot Massager is that a few people find it a little ticklish or rough, so it may be beneficial to wear socks when in use.
Others users reported it can be difficult to hold feet on the massage heads due to the fact that the machine sits flat on the floor; they noted that propping one end up with magazines or books seemed to eliminate this issue. Overall, we this this is a solid choice for a personal foot massager.
Brookstone Shiatsu Foot Massager with Heat
At the top end of the market is the Brookstone Shiatsu Foot Massager. The machine uses massage rollers and air compression to knead out any tension or aches in the feet.
Deep foot wells allow you to fully immerse your feet and the massager works all around the feet – not just the soles – unlike many of the other competitors.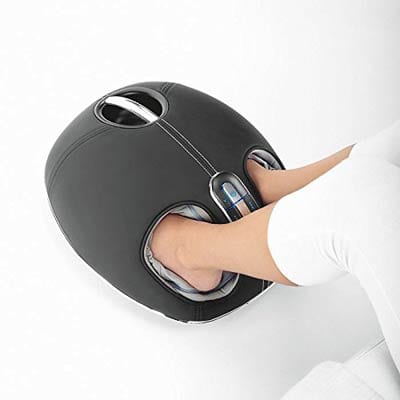 With two intensity modes, high and low, and three auto massage options (soothe, pulse and energize), the machine provides a total of six different settings.
This is a top rated foot massager and many reviews comment how the Brookstone foot massager helps them relax after a long day while alleviating muscle pain. Some users state how this machine simulates the same relief and sensations as a foot rub or massage.
One minor gripe multiple consumers have had is that the heat isn't as warm as they would like, but this seems to be a common complaint amongst many foot massager reviews.
Like all Brookstone products, you're guaranteed a well-designed and feature-packed product. The built-in cord and easy-grab handle make the machine easy to store and move. Fabric linings have convenient zip closures to remove and wash.
Due to the electric nature of this device, if you have any health concerns or pre-exisiting conditions, be sure to read the guidelines on Brookstone's website before using. If you can use this massager, it really delivers and brings the benefits of the spa into the comfort of your own home.
Moji Foot Massagers
Moji makes a range of compact foot massagers that uses ball bearings to gently help muscular tension roll away.
Comprised of several independent balls – made of stainless steel or plastic, depending on which model you purchase – the Moji foot massagers are simple tools to assist you with massaging muscles.
The Moji Foot PRO Massager is the top of the range model and has six high-tech stainless steel spheres that dig deep into muscles and tissue to help relieve pain and break up scar tissue.
We love the fact that you can freeze this model if you require a cold massage. A similar but lower priced version is the Moji Foot Massager, which has plastic spheres, instead of steel. This model isn't rated as highly as the PRO version.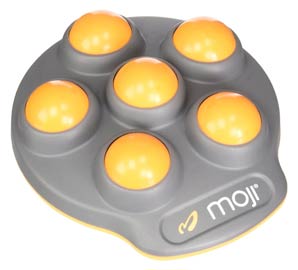 Finally, the Moji Mini PRO is a handheld mini-massager that can be used with the hand to massage sore muscles.
Larger steel spheres at your fingertips and heel of the hand help you dig deep into those sore muscles.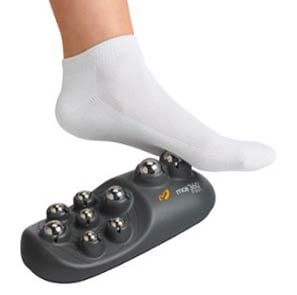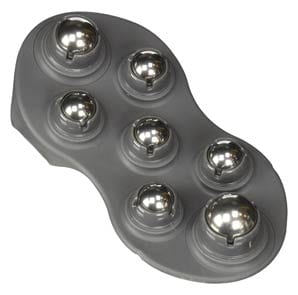 The range of Moji massagers and the multiple options available impress us. Due to their portable nature and size, these massagers can be used on other areas of the body and not just the feet.
Many runners and athletes like these massagers because they can be used to help relieve tight calves or hamstrings, and can just as easily be used on areas such as the back or shoulders.
Reviewers particularly find these massagers beneficial in treating plantar fasciitis.
Because these are non-electric, you can control the pressure and speed at which the massager is used in order to best treat your symptoms. Therefore, we think these massagers are bang for buck as they provide maximum impact for a reasonable price.
Did You Know?
Over the course of a day, your feet take a cumulative force of a couple hundred tons.
Farnsworth & Lloyd: Essentials Vibrating Foot Massager with IR Therapy & Reflexology / Acupressure Points
Deriving from acupressure and reflexology, the Vibrating Foot Massager by Farnsworth & Lloyd combines traditional therapy methods with modern technology.
Through vibrations, this machine features raised kneading points to help eliminate aches and pains in the feet.
With the addition of LED infrared and red light therapy, Farnsworth & Lloyd has created a massager that uses special technology for nerves, soft tissue, muscles or chronic pain.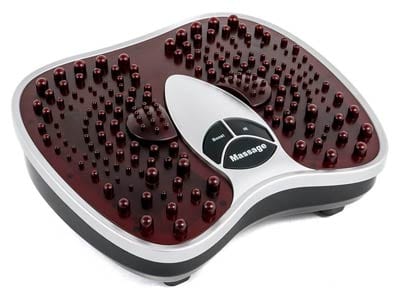 This product has two different modes: Standard and Boost.
Standard mode uses gentle vibrations to soothe the feet and is perfect for combating poor circulation, especially from diabetes, age, desk work or air travel.
The Boost mode is more intense and helps invigorate tired or sore feet. It is recommended for people who are on their feet all day, such as nurses, service industry professionals or industrial workers.
Built to be compact and low maintenance, this massager has an isolated vibrating mechanism to enhance the durability.
This product comes with considerably mixed reviews. It only comes with a 90-day guarantee and has limited, if any, paperwork. A few users also complained about the lack of power, amount of noise and weak heat.
With this in mind, it may be prudent to do further research on this mid-range device before parting with your hard earned cash.
Belmint Deep-Kneading Shiatsu Foot Massager
Employing Shiatsu, the ancient Japanese massage technique, the Belmint Deep-Kneading Foot Massager has two-foot beds that feature 18 nodes to massage each foot.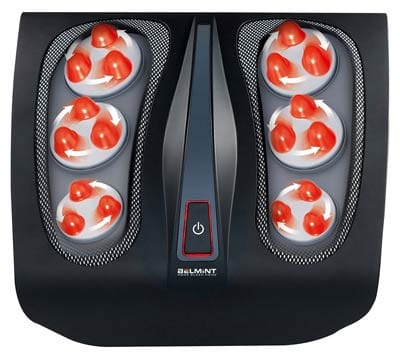 The nodes are covered by soft mesh to deliver a gentle rolling motion to knead sore feet. Through circulation motion and deep kneading, the massager targets acupressure points to release tension and ease tight muscles.
At the push of a button, you can turn on the optional heating function to help you relax even more.
Compared to other electric massagers here, this one comes at a lower price point but be aware that it has some mixed reviews.
Positive aspects of this device are that users love the way it massages, the low heat, its simple to operation techniques.
Other users were critical about several aspects of the product, such as the loud motors (some users even noted a grinding noise), the fact it only has one speed and some people reported having to move their feet around in order to get the best results.
Another consideration is the manufacturer explicitly states that this machine isn't appropriate for diabetics. Due to mixed reviews, we suggest doing thorough research before purchasing this particular massager.
Beurer Shiatsu Foot Massager FM60
Similar to the Belmint massager, the Beurer Shiatsu Foot Massager also includes 18 rotating massage heads. However, this model comes with more positive feedback.
To compliment the optional heat setting, this massager has two speed levels, unlike the aforementioned Belmint massager, which comes with just one.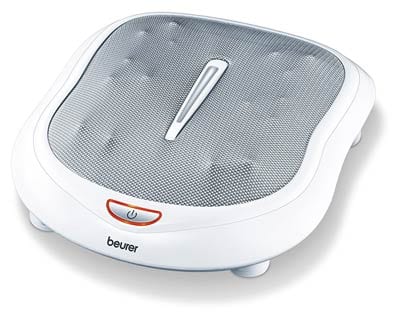 Employing Shiatsu techniques, the Beurer massager combines intensity and pressure to reach deep in the tissue to loosen tension and relax the foot muscles. Shiatsu massage helps boost circulation and targets the reflex zone for well-being.
Many reviewers reported the heat setting was beneficial, unlike similar models where users were critical of the lack of heat. It's also worth noting that people with larger feet found this particular massager worked well for them.
This device is compact and lightweight for easy portability. Adjustable legs ensure you can tilt the device to whatever angle best suits you.
For improved comfort, a breathable mesh material covers the surface of the massagers and helps to keep the mechanisms clear of debris. We found this massager to be a solid choice because it successfully works hard; resulting in a more relaxed you.
KKika Rotating Acupressure Foot Slippers
If you're one of those people who needs relief for your feet, but can't seem to sit still, the Kkika foot slippers may be just the solution.
With rotating acupressure nodes that are activated through motion, the slippers work best when on your feet so they are great for use around the house while you're cleaning or doing household chores.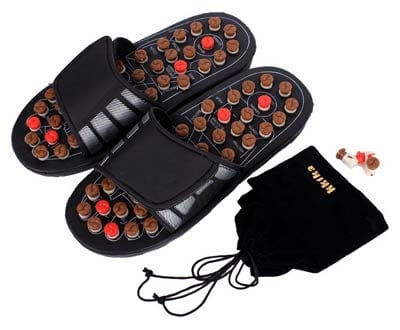 Like many of the other massagers available, the Kkika slippers are based on reflexology and provide a deep massage for the feet, and are a great alternative to the stationary electronic foot massagers.
The manufacturer states that it is common to experience initial discomfort, but it shows how much you can benefit from usage.
Most reviewers echo this and mention that these slippers can be a little uncomfortable at first and take getting used to. It is recommended to start with 10 minutes and to build up from there.
Benefits from regular use include, better circulation, reduced cramps in the legs, eased back pain and can also help with conditions including arthritis and headaches.
According to reviewers, many found the shoes beneficial, but commonly note the bad quality of the slippers themselves. Several people complained that the rotating pieces fall out frequently and that they are made of cheap materials.
If you like the idea of having your feet massaged as you walk around the house, then these are worth it – just be prepared, as you may have to replace your slippers frequently!
Pure-Wave CM7 Cordless Massager
Need a small, portable multi-purpose massager? Then look no further than this cordless, handheld massager by Pure-Wave.
This ergonomic massager is an attractive proposition because it can be used on the body, face or feet.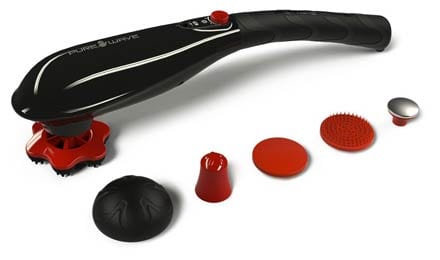 A powerful percussion motor reaches up to 3,700 RPM to relieve muscle tension, knots, spasms, aches and pains. It also has a micro-vibration setting that is ideal for facial massages to help relieve headaches or jaw pain.
A real jack-of-all-trades, Pure-Wave's massager has attachments for Swedish massage, trigger point therapy or sports massage settings. You can also add essential oils or pain creams.
Because it's cordless, you can use the extra long handle to massage reach hard to reach places without being tethered to one spot.
The CM7 is a professional-grade massager and therefore comes with a higher price tag. But you can expect a high quality product that comes with excellent consumer feedback.
Customers especially rate this product for its ability to break up knots or muscle adhesion and for providing relief at specific trigger points. A variable speed controller allows you to set the perfect intensity and the six massage settings deliver your chosen firmness and massage style.
Please be aware Pure-Wave's specifications state that this product is not recommended for use during pregnancy.
Overall, this is a quality product and is great for people suffering from muscle tightness who would benefit from having an at home masseuse 24/7.
Giantex Shiatsu Kneading Rolling Vibration Heating Foot Calf Leg Massager
This is a multipurpose electric foot and calf massager that helps relieve common aches and pains. Designed to replicate ancient massage techniques, the Giantex massager targets sensitive areas on the calves and soles of the feet.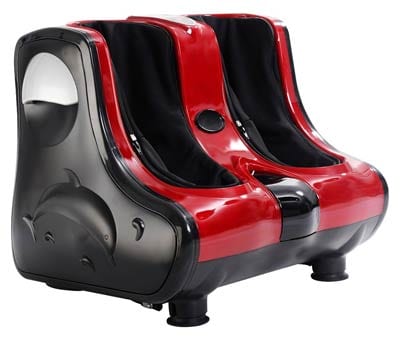 Multiple massaging discs provide simultaneous 360-degree treatments to the feet and calves.
In addition, three custom modes for foot massages, three intensities of calf massage, and three heat levels make this massager one of the most versatile.
As the name suggests, the Giantex machine uses multifunctional massage techniques including Shiatsu, kneading, vibration, rolling and heat. Some customers seem to like this, but several note that there is no way to control massage intensity and that the machine could re-position the rollers to better target common pressure points.
The machine has an auto-shutoff function after 15 minutes, which may be frustrating to some users; although this can be countered by switching it back on again if you want a longer session.
With an MSRP of over $100, this massager is in the middle price range and therefore we'd recommend it as a good entry point electric massager. Although, if you're willing to spend a bit more money, we think a higher quality device could better serve your needs.
Panasonic Black Massage Chair Real Pro Ultra EPMA73
Sit back and relax into the chair that provides the ultimate massage experience in the comfort of your own home.
Thermal 3D massage rollers, designed to replicate the regenerating touch of a professional massage therapist, deliver relaxing warmth and concentrated pressure around the entire body.
To do this, the rollers contain thermal properties and an air cell system to recreate intricate Shiatsu techniques to target acupressure points.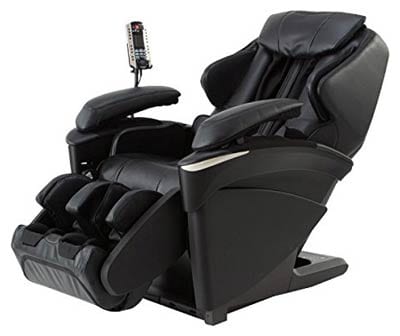 With an extensive range of massage motions, the chair works to increase circulation, stretch and soothe tired muscles, just like an invigorating professional massage.
Made of vegan black leather, the EPMA73 from Panasonic provides a full-body massage with six automatic massage programs, and comes with up to 110 combinations than can be manually configured to best meet your needs.
Traditional massage techniques such as, Shiatsu, knead, ultra knead or Junetsu, Swedish, help relax tight muscle from the neck to the lower back to the feet.
Special internal sensors create a virtual map of your body's contours to customize the massage specifically to your body. This is a real benefit of the Panasonic Massage Chair and is the only massager we feature than offers custom massages.
Given the capabilities and qualities of this massager, it's no surprise it commands with a hefty price. However, it comes highly reviewed and delivers for its users.
If you frequently pay to have a massage, over time this chair could save you money, and offers many of the same benefits.
In addition to the price, you do need to consider the size of the chair and make sure you have adequate space, because it can take up a lot of room. We think that's a small sacrifice in return for a custom massage at any time of day.
Air Sequential Compression Leg Massager
Air compression massagers are commonly used to relieve painfulness, swollenness or stiffness in the thighs, legs, feet or arms.
The Air Sequential Compression Leg Massager uses 220-volt power to massage the lower limbs for 60-minutes.
Simply wrap the massager around your legs and sit back while the built-in timer starts the massage cycle.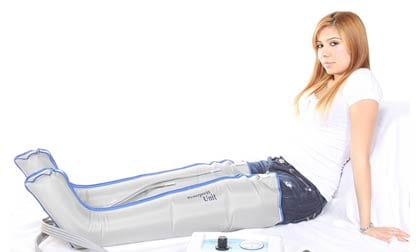 Four chambers rapidly inflate and deflate in succession and cover the feet, ankles, calves and mid-thighs.
Different massage modes help relax muscles and can be used to treat a range of leg pain or conditions, which is why we've specifically chosen to feature this compression massager.
Many reviewers find the product satisfies their needs, but some complained that the zipper causes pain in the foot region and that the massager didn't provide enough relief for the ankles or knees.
The machine has very clear sizing requirements so make sure you measure accordingly before purchasing.
We wouldn't recommend this as an entry-level massager due to its higher price and the fact that it's designed to treat leg problems and pain, rather than just to relieve everyday tension and common muscle pain.
Kendal All-In-One Foot Spa Bath Massager
If you want to treat and pamper tired feet at the end of the day, the Kendal Foot Spa Bath Massager is an excellent choice.
The deep and wide bath suits feet of all shapes and sizes to ensure they are fully submerged in the water.
Combining heat therapy, oxygen bubbles and high-frequency vibration, the three-in-one device works to massage the feet to bring about a range of benefits including: promoting blood circulation, improving metabolism, relieving fatigue and smoothing the meridians. All of which are things we think everyone could benefit from!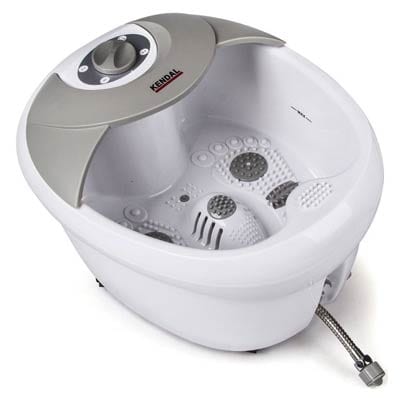 Made of high-quality plastic, the bath is temperature resistant and uses a PTC heating semiconductor to heat water and maintain a constant temperature.
Consumer reviews state that the water stays as hot as you want it and find the simple addition of oils and bath salts helps them to relax further.
Just be aware that the water takes awhile to drain, a feature that some people found annoying. A few users mentioned that the bath would be improved if there were more control over the heat, as the water was too hot for some people's preference.
It's also worth mentioning that the jets do not provide as powerful massage as some of the electric massagers so this product is not going to relieve certain symptoms or strong pain, but is perfect for relaxing tired feet at the end of a long day.
Naipo MGF-50006 Foot Massager with Tapping and Kneading
The Naipo foot massager uses a unique tapping function to improve blood circulation and relieve tension.
With multiple speeds, you can control the tapping speed and pressure to find the most comfortable setting for you while relaxing at home or while you work at the office.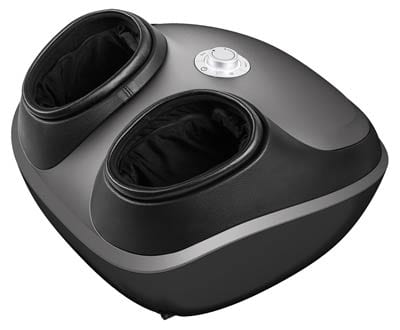 A continuous mode has a frequent rhythm, while the intermittent pulse setting pampers the feet and a wave-like setting soothes the soles.
In addition to the tapping, deep air pockets at the heel and instep fully immerse the feet and use compression to provide a more comprehensive massage. The heat feature is great for improving circulation and helps to relax your over-worked feet.
Naipo's foot massager is a solid choice because it pampers, all the while producing results.
Due to the range of settings and intensity, many users find this machine eases their pain and commend its ability to massage different areas of the foot.
Reviewers note it is simple to adjust and easy find the appropriate features. We found this to be one of the higher priced foot massagers, but don't let that put you off.
The massager comes with a two-year manufacturer warranty and ranks high on customer satisfaction. Therefore, we see it as a wise investment.
Instructions state that you should consult your physician if you have heart issues, pregnant or any other ailments.
They also recommend not using it before bed and/or for more than 15 minutes at a time, making the Naipo massager a great choice for quick and effective massages for aching feet.
Types of Foot Massagers
There is a wide range of foot massagers available on the market, each providing a different function or technique.
Here we provide you with the six most common types of foot massagers and what products fall under these categories. For more specifics about the function and technique of the massagers, please see the next section.
Electric
Electric foot massagers are great to massage and relax the feet at home and provide some of the power and relief beyond that of manual capabilities.
Most electric massagers are powered by rapidly rotating rollers, addressing common pain points on the soles of the feet, and sometimes the tops of feet and ankles. These come in a range of styles, some you put your feet on, while others you put your feet, or legs into, and smaller ones can be handheld.
Electric foot massagers can also include water, mimicking the benefits of a spa, with heat and oxygen bubbles to relax the feet.
Because these types of massager are powered by electricity, they are not suitable for everyone and you should always check with the manufacturer or your doctor before using.
Electric foot massagers are perfect if you just want to sit down and unwind after a long day while the massager does all the work. Due to the speed at which some of these machines massage, it means the massage itself can be very powerful and can apply strong pressure, which some people prefer.
Often electric massagers are costly and therefore require upfront investment. Due to the size of some of these massagers, they are not always very portable and do require some storage space.
Manual
People who prefer more traditional ways of massaging the feet should consider manual foot massagers. Commonly made of wood, manual massagers, or foot rollers, can be more effective at soothing sore feet and treating conditions such as plantar fasciitis.
One advantage of foot rollers over electric massagers is that you are in control of the strength and pressure of the massage, and specially design protrusions provide deeper stimulation, including myofascial release.
Not only are these simple massagers beneficial, but they are a fraction of the cost of the electric ones. If you were interested in purchasing a manual foot massager we'd recommend the TheraFlow Dual Foot Massager Roller or one of the Moji Foot Massagers.
Hand-held
Smaller, or hand-held, massagers can be very useful if you want a multi-purpose massager, or like to control how and where the pressure is applied to your feet.
When choosing a hand-held massager, there is a range of flexibility in regards to budget, conditions or preference. Additionally, these massagers are available as either electric or manual.
The advantage of these massagers is that you determine where you want the massage and can get to the areas that require the most relief.
Because of their size, you can always have these massagers to hand. It's easy to take a hand-held device with you when you travel, or even just to go to and from home and the office.
Hand-held massagers are also useful if you suffer from tense muscles beyond the feet; they are perfect for relieving stiff muscles in areas, such as the back, shoulders, legs or face.
Slippers
Foot slippers are an amalgamation of electronic foot massagers and manual foot rollers and are just the solution if you need relief for your feet but can't sit still.
These are acupressure shoes that put pressure on certain areas of the foot in order to release pressure and relax the feet. Today, many foot slippers operate on electric stimulation, activated through motion, in order to provide you the relief you need.
The stimulation is meant to extend beyond the feet, to the ankles and calves, and can often promote improved blood circulation.
We only feature one type of foot slippers in this article (the Kkika Rotating Acupressure Foot Slippers), which come with mixed reviews.
If you're considering foot slippers, do remember you have to be moving around in order to receive the benefits and therefore are probably best if used inside the home, especially if you enjoy multitasking.
Pad
Those that suffer from low circulation in the legs or feet may like to consider a foot massage pad. Using oscillating technology, footpads have a large surface designed to target pressure points in order to stimulate circulation in the legs and feet.
Footpads are angled in order to provide maximum comfort during the massage.
Most devices have multiple speed settings, and can come with different massage modes in order to best soothe the feet. Some models come with additional therapies, such as heat or infrared technology.
You can expect footpads to oscillate at high speeds, and due to this, some amount of noise. Their simple offering means you can have these on at your desk or while you watch TV, making them an easy solution to treat or relax your feet.
Based on our research, we'd recommend either the MedMassager MMF06 11 Speed Foot Massager, which is a basic footpad, or the more upscale Farnsworth & Lloyd Essentials Vibrating Foot Massager.
Chair
If you desire the ultimate massage experience in the comfort of your own home, a massage chair may be just what you're looking for. Sore feet can extend to tightness or discomfort in other areas of the body, which can be relieved through massage therapy.
Massage chairs are intended to emulate the motions and techniques of a masseuse through rollers. Rollers often contain thermal properties and can be configured through different massage programs or traditional massage techniques.
There are an extensive number of massage chairs available for purchase and they do come at a considerable price.
However, chairs do offer far more functions and benefits than smaller massage devices. Those that suffer from specific foot conditions or issues may find that a massage chair is not the best solution, as they are more for full-body relief.
Foot Massager Functions
Foot massagers are capable many functions and styles of massage. To help you understand the differences between these we've provided you with a quick breakdown of the styles.
Shiatsu
Shiatsu is a traditional Japanese massage method based on traditional Chinese medicine that uses pressure from the hands to knead the muscles.
Foot massagers with Shiatsu settings or styles have rotating heads or vibrators to simulate a masseuse's hands. Sometimes these massagers will incorporate heat as well.
Compression
In compression massage the main therapeutic tool is the direct application of pressure in order to relax, cleanse and rejuvenate the muscles.
Compression helps dilate the capillaries and therefore is a beneficial form of massage for people with circulation issues. Foot massagers with compression settings have auto-inflation settings to apply pressure to the feet.
Heat
An excellent way to loosen the muscles is through heat. Heating has many positive effects, including increasing your blood flow and reducing muscle tension.
While heat itself is not a massage technique – it is often used in conjunction with other types of massage, or as an added setting on a foot massager, helping muscles to relax further and ensuring you reap the benefits.
Infrared
Through invisible waves, infrared rays penetrate deep into the muscles and bones of the body to provide many healthy benefits.
Infrared elevates the surface temperature of the body to relax stiff muscles and can also increase blood flow. Much like other forms of heat, infrared is not a massage technique in itself, but is often used in conjunction with other massage styles.
Hydrotherapy
Hydrotherapy is a massage style based on the use of water pressure to treat the body. Water pressure is used to relax muscles, increase circulation and relieve muscular pain caused by a range of conditions or injuries.
Hydrotherapy foot massagers often use a combination of jets, bubbles, vibrations, lights and/or heat to provide a comprehensive experience.
Conditions / Treatments for Foot Massagers
Foot massagers can be used to treat various conditions and provide a range of benefits. Here is an abbreviated summary of different conditions and a few ways in which foot massagers can alleviate some symptoms.
Did You Know?
Three-quarters of Americans will suffer from some type of foot ailment in their lifetime..
1) Circulation and Neuropathy
Poor foot circulation is the result of many conditions, whether due to a health condition or lifestyle choices. If you sit long hours at a desk this can result in reduced circulation in the legs and feet. People who suffer from diabetes, many often have neuropathy as a result. Vibration foot massagers provide a way to counter the symptoms associated with circulation issues or neuropathy, whether it's peripheral or diabetic. The vibrations stimulate the nerves to reduce nerve pain, ease aches and pains, eliminate numbness and tightness, and stimulate circulation.
2) Arthritis and Gout
Arthritis, or inflammation of the joints, often leads to swollen feat or fluid retention. Depending on your type or arthritis or severity, different foot massagers may better serve your needs. Massagers with heat functions, hydrotherapy or gentle kneading on the soles of the feet are widely recognized as being the most suitable. If you find that you require more intense massage settings you can invest more into a better model or with advanced features once you know what works best for your symptoms.
3) Bunions
Bunions are a painful deformity of the feet. Heredity often plays a role in the development of bunions, but it is not the only cause. Tight shoes and walking with the feet turned out can cause the big toe to pull in towards your other toes, which results in a misaligned big toe and a collapsed arch. The best way to soothe bunion pain is to massage the arches and bottom of the feet, as well as stretching and massaging the toes. Shiatsu style massagers are great at working many of the muscles in the foot to counteract natural poses and to release stiffness and tension.
4) Plantar Fasciitis
A very common and painful foot condition is plantar fasciitis, which is the result of inflamed tissue along the bottom of the foot. If you suffer from plantar fasciitis, you need to treat it, as it can lead to further problems in the knees and hips. Luckily, this condition can be treated at home and requires a simple manual foot massager. Using a manual roller on the bottom of your foot helps to stretch and knead the fascia to bring much needed relief. Some people find that freezing foot rollers is also effective in easing pain. People who suffer from plantar fasciitis can often have pain in the arches, heels or heel spurs as well.
5) Flat Feet
Although flat feet do not often result in pain or have a negative effect on your health, it is an unnatural condition that often means you have weak foot muscles. The best way to treat flat feet is through exercises that build up the muscle strength in the arches of your feet. However, massaging these muscles, as well as the ankles, and calves can help. Manual foot massagers or rollers are the best at stimulating the arch muscles because you are in control and can apply the appropriate amount of pressure. Shiatsu massagers that work around the entire feet, ankles and calves are also a good option.
6) Runners
Due to the extensive strain running puts on the feet, a good foot massager is something every runner should have in their toolbox! Runners often have tight plantar fascia so a foot roller is a great way to counteract this tightness and relieve the muscles. Hand-held massagers are also useful because not only can you relieve the soles of the feet, but they can also be used to loosen tight hamstrings, calves, glutes and even the lower back – all of which get a good workout during a run. If you're really sore after a run, a chair massager will give the muscles in your entire body a chance to recover.
7) Migraine or headache
In ancient Chinese medicine, pressure points in the foot can help alleviate the symptoms of a migraine or headache. Using the theory of reflexology, applying pressure to certain areas of the feet can help relieve pain and induce relaxation. Gentle Shiatsu electric massagers are one of the best at home ways to knead and address different areas of the feet. Massaging different areas of the toes can help to relieve the pain associated with headaches so if you suffer from headaches and want to give foot massagers a try, make sure you choose a model that massages around the entire foot, and the toes in particular.
8) Menstruation
Following the same reflexology principles, a foot massage can be one way in which to relieve menstrual pain. The point that is best for relieving menstruation pain is just on the inside of the leg, three fingers widths above the ankle bone. Therefore massaging this area could help relieve some of the symptoms associated with menstruation. A handheld massager or an electric massager (that extends above the ankles) is something that can be tried to alleviate these symptoms.
9) Lower back pain
Massaging the feet can help relax the entire body and can result in reduced back pain.Good kneading action on the soles of the feet will travel beyond the feet and encourage leg and back muscles to relax. Foot massagers often address the nerves in the feet that run to other areas of the body. Any massager that uses Shiatsu, heat or infrared functions can potentially bring about benefits to other muscles in the body beyond the feet. Using a massager to relax the feet should encourage the rest of your body to relax to melt away any tension. If you're back is really tight and you think it could benefit from direct massage, then a hand-held massager could be worth a try because you can use it to massage both your feet and back.
10) Swollen or sore feet
Hydrotheraphy or spa massagers are the perfect antidotes to swollen or sore feet at the end of a long day. Most footbath massagers incorporate heat, rollers or jets to soothe the feet. The relief you receive from a water foot massager can help aid blood circulation and help you relax after being on your feet all day. Taking a few minutes a day to slow down will not only help your feet, but will make you feel more relaxed before you go to sleep in order to promote an overall feeling of wellbeing.
Benefits
Your feet carry your entire body weight each and every day. Because of this, it's natural for feet to feel tired in the evenings. Foot massagers can treat the feet and combat some of the stresses and strains that result from being upright all day. Through massage, you can relieve your feet and relax the rest of your body.
According to Harvard Medical School:
Massage devices in local drugstores or health stores can also help relax and restore your feet.
Here are our top ten most common benefits of foot massage (and massagers):
Massage promotes blood flow to your lower extremities and feet, which is especially beneficial to people who suffer from circulation issues.
Regularly massaging the feet can strengthen the feet and ankles which reduces muscle soreness and can help prevent future injuries.
Based on the principles of reflexology, foot massagers can work pressure points that reduce symptoms of headaches and migraines.
Common symptoms of PMS can be alleviated acupressure points on the feet.
People suffering from common foot ailments such as plantar fasciitis, flat feet, heel spurs and bunions who use foot massagers often find it lessens the pain and can improve, and in some cases heal, their conditions.
Not only can massagers relax the feet, but the rest of the body.
Users report that taking even 10 minutes out of their day to use a foot massager can improve mood, reduce anxiety and lower blood pressure.
Using a foot massager before bed can help you unwind after a long day, making sure the worries of the day melt away and prepare you for a good night's sleep.
Massage can counteract fluid retention in the legs or feet, often caused by long periods of sitting or standing.
After a long day of hard work, you can reward your feet with a little relaxation!
Disadvantages
When used properly, there are very few, if any, disadvantages of foot massagers. They are designed to help relieve tension and promote relaxation, all of which are beneficial to the feet and the mind.
If you suffer from certain health conditions, it's important to check manufacturers' precautions and warnings for certain conditions to know whether a device is appropriate for you. You should also limit the amount of time you utilize a massager, especially an electric one. Like most things in life, too much of a good thing can become a bad thing. Most electric massagers have a built in timer or an auto-shutoff function after a specified period of time. In general this is anywhere between 15-30 minutes.
In order to get more features, power or settings, you may have to pay out. So some people may consider the price of foot massagers as a disadvantage. While most of these tools won't give you same personal touch, but compared to the price of an actual massage, foot massagers can save you money over time and can be viewed as an investment.
FAQs
Which foot massagers are suitable for diabetics?
Which foot massagers are suitable for diabetics?
Neuropathy is a common side effect of diabetes and is often relieved through foot massagers. Massaging the feet helps to stimulate the blood flow and promote better circulation when the feet feel sore or numb.
Oscillating footpads or electric massagers are one way to ease the symptoms associated with neuropathy. Not all electric foot massagers are approved for diabetics.
Can I use a foot massager while pregnant?
Can I use a foot massager while pregnant?
Although a foot massage is great to relieve sore feet and reduce edema, it is best to consult with your obstetrician before having someone massage your feet.
Do remember that a foot massager is very different from a foot massage given by the human touch.
Due to the intensity and electric nature of most foot massagers, it is not recommended that you use a foot massager during pregnancy unless instructed otherwise by your doctor.
Can a foot massager induce labor?
Can a foot massager induce labor?
Based on principles of reflexology, there are some claims that foot massage can induce labor.
There are very mixed medical opinions regarding this topic. Again, a foot massage is not the same thing as using a foot massager.
Because a foot massager is often more intense than a foot massage, as previously mentioned, it is recommended that you do not use a foot massager during pregnancy.
Are foot massagers appropriate to use if I suffer from back pain?
Are foot massagers appropriate to use if I suffer from back pain?
Depending on the severity and source of your back pain, foot massagers can help reduce the pain.
If you suffer from tightness or soreness in your lower back, this can often be the result of tension or tightness in other parts of the body, such as the feet or legs.
People who are on their feet all day can often have a sore back as a result. Taking time at the end of the day to use a foot massager may be able to ease those sore feet and back.
Where can I buy a foot massager?
Where can I buy a foot massager?
How much do foot massagers cost?
How much do foot massagers cost?
There is a foot massager for every budget because the cost varies widely. You can spend as much or as little as you like.
Foot rollers or hand-held massagers are at the lowest price point while you can invest several hundred dollars in an electric massager and up to thousands if you want a massage chair.