It's the end of a long day. Your feet ache and your body is tired. Sound familiar?
Feet are the foundation of our bodies and must be cared for appropriately. One of the easiest and most beneficial ways to soothe the pain and relax is with a foot massage.
According to an article from Harvard Health:
Foot massage improves circulation, stimulates muscles, reduces tension, and often eases pain.
You can treat tired feet in the comfort of your own home through many simple techniques.
With so many devices on the market, we bring you synopsis of the types available, functions and benefits of the most popular and widely available foot massagers.
Did You Know?
Feet have more nerve endings per square inch than any other part of the body; therefore the feet are a powerful portal to the entire nervous system.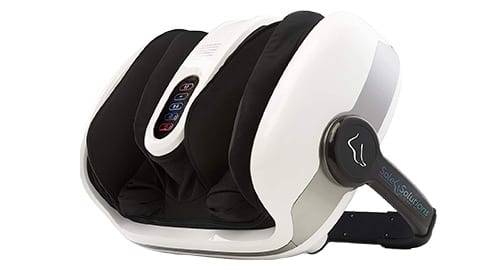 CLOUD

SHIATSU, HEAT & COMPRESSION

Rolling Massage

Use on Multiple Angles

Massage Feet, Legs, Calves, Toes and Ankles
THERAFLOW

DUAL FOOT MASSAGE ROLLER

Simple and Natural

Portable and Versatile

Acupressure and Kneading Modes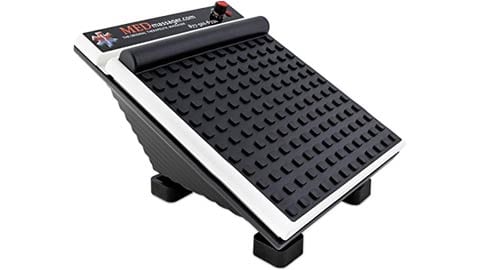 MEDMASSAGER

MMF06 11 SPEED FOOT MASSAGER

11 Speed Settings

Up to 3,700 RPM!

Promotes Healthy Blood Flow
Our 15 Best Foot Massager Reviews
To help you find the foot massager that's right for you we've taken a closer look at 15 of the best devices on the market. If you're still unsure which massager is right for you, you'll also find a handy buying guide further down the article. We've broken down each feature and answered a number of frequently asked questions.
1.

Cloud Massage Foot and Calf Shiatsu Massager
A massager that allows a more comfortable seated position
If you want to really sit back and relax then the Cloud Massage Foot and Calf Shiatsu Massager could be the one for you.
Cloud's foot and calf massager is angled and can be adjusted so you're not sitting with your feet at a 90 degree angle. Cloud suggests it's a more natural seated position allowing you to lean backwards in to your chair rather than sitting upright.
The handy feature of the Cloud Massager that you don't get on many other devices is that it can also be positioned on your calves. It's really easy to adjust, simply tilt the massager up and let it get to work on the back of your legs. What a treat if you're a runner or cyclist!
In terms of other capabilities, Cloud's foot and calf massager uses air compression, heat and vibration to help you relax. We love the variety of settings available and how easy it is to navigate through them.
Some users did find the heat function a little bit disappointing, however those with Plantar Fasciitis seemed to love the device. Many reported relief from daily pain, and couldn't imagine how they'd ever lived without it.
Best massager for plantar fasciitis
If you're looking for a foot massager for plantar fasciitis, then you need to take a serious look at the Theragun Prime.
This percussive massager powers 16mm in to your muscle tissue, and can handle 30lbs of applied force without stalling.
The repeated thumping action breaks up the scar tissue in your foot, increases the blood supply and accelerates your healing process.
For plantar fasciitis, Theragun demonstrate how you should start by treating your shins and calf muscles, to warm up the tissue. You should then move around your foot, paying close attention to the arch.
You get four different attachments to try:
Theragun recommend their standard ball attachment for plantar fasciitis, but we personally love the dampener.
However the beauty of choosing a Theragun is you can simply choose the attachment that works best for you.
The Prime connects to the Theragun app:
Pair via Bluetooth and you can remotely adjust the speed, as well as follow guided treatments.
The app learns about your habits and then creates personalized wellness routines.
Users did feel the app still needs work, but this will likely be solved through regular updates, and you don't need the app to use the product.
3.

MedMassager MMF06 11 Speed Foot Massager
Feel the power of a speedy foot massage
The Speed Foot Massager by MedMassager is a full-sized oscillating footpad that works hard to stimulate circulation in the legs and feet.
With its ergonomic shape, the MedMassager uses the optimal angle to target pressure points and to provide maximum comfort during the massage.
As its name suggests, this massager comes with 11 speed settings ranging from 1,000 to 3,600 rpm; making this electric massager one of the most powerful on the market. Therefore, it's important to use this with care.
Through vibrations alone, this MedMassager helps promote healthy blood flow and ease pain.
Unlike other machines, the MedMassager does not have a heat element, so if that is a feature you require we'd recommend the Nekteck Foot Massager instead.
Because of the strong vibrations, some users complain about the noise, but others mention that it isn't too distracting.
This massager comes with many positive reviews and customers with various health problems claim it has helped alleviate some of their symptoms.
If you suffer from severe foot and leg pain, joint pain, muscle tension or circulation issues due to diabetes or neuropathy, this could be the massager for you.
With FDA certification, the MedMassager is certified for home and therapeutic use and comes with a one-year full replacement warranty against defects and failure for extra peace of mind.
4.

Miko Shiatsu Foot Massager With Deep-Kneading
Enjoy the luxury of your feet fully encased
If you want an all encompassing massage then you might want to slip your feet inside the Miko Shiatsu Foot Massager with Deep-Kneading.
Unlike the Nekteck Foot Massager which focusses on the soles of your feet, the Miko Shiatsu Foot Massager is an enclosed massager, allowing massage to both the soles and the sides of the feet.
The foot chamber of this massager uses air compression combined with heat to deliver a satisfying Shiatsu massage.
You get a lot of great features on the Miko massager, including five different intensity settings that have been developed to target key pressure points. It also has rolling and vibration functions to help with pain and muscle tension.
This shiatsu foot massager is sleek and light, and comes with wireless controllers so you can sit back while experimenting with the settings.
Some people with larger feet found the encased unit a little bit too snug, however overwhelming people with tired and painful feet reported a great result, enjoying the intensity of the massage.
Treat your feet to the benefits of acupressure
Did you know that your feet absorb over 1,000 pounds of force every day? With such pressure they deserve a treat, and they'll certainly get one with the Aku Mat.
The Aku Mat works on the principles of acupressure, increasing blood flow to painful muscles and encouraging the release of endorphins.
Covered in 2,710 organic metal spikes including copper, iron, nickel, silver and zinc, they activate the acupressure points and nerve centers on the soles of your feet.
Stand on the mat, and you'll experience the most incredible sensation, which is why we rated it the best acupressure mat on the market.
It's also great to place your feet on under your desk – it works while you work!
Akuspike recommend that you wear socks initially, just while you get used to the feeling.
Worried it looks painful?
We did a Q&A with the founder of Akuspike, Paul de Jersey, and he said it can be at first.
However, you quickly get used to the experience and the results and benefits are totally worth it.
Akuspike have also developed another exciting product with metal spikes, that could be pleasurable to roll on the soles of your feet…
6.

Arealer Shiatsu Foot Massager
Give your feet a little squeeze!
For an electric foot massager that's really going to hug your feet there's the Arealer Shiatsu Foot Massager.
Arealer's foot massager contains air bags as well as big rollers and small massage heads to deliver a variety of different massage techniques including shiatsu, scraping, rolling and kneading.
A heat setting is available to offer even more luxury, and an auto-off feature helps to keep you safe if you fall asleep.
We love the fact that this massager is so light too, so you can easily take it to the office for those really busy days. With a breathable cover it stays clean and protected.
There is a control panel on the device and it also comes with a separate controller to make the process of changing settings as comfortable as possible.
Users found it easy to tailor their treatment, navigating the various settings with ease.
7.

TheraFlow Dual Foot Massager Roller
A simple device with lots of benefits
Those that prefer a natural and simple device to soothe foot or heel pain need look no further than the TheraFlow Dual Foot Massager Roller.
Made of durable and high-quality Theaceae wood, this foot roller is an excellent and affordable option, providing a sturdy and stable roller perfect for feet of all sizes.
TheraFlow gives relief for sore feet, especially for conditions such as plantar fasciitis or neuropathy. Rollers relax feet to promote better blood flow and to enhance overall health.
With the help of five ridged rollers, this foot massager can be used in two different ways. The acupressure mode requires you to position your feet across all the rows, hold for a few seconds and then release.
If you opt for the kneading mode, simply roll your feet back and forth in opposite directions, without pressing too hard. For maximum benefit, you only need to do this a few times a day, which is perfect if you have a busy schedule and find it hard to take time out of your day to relax.
By using reflexology and pressure, the TheraFlow wooden roller helps the body release endorphins to relieve pain symptoms, all the while promoting increased blood circulation in the feet.
It's lightweight, yet durable, and has a large surface area to accommodate both feet at once.
Consumers reported reductions in numbness or tingling in the feet, and also improved temperature control, as a result of poor circulation.
8.

Fit King Leg Air Massager
Why treat just your foot, when you could wrap up your whole leg?
When suffering from pain in your feet and legs, don't try and awkwardly position a standard massager when you could choose one perfectly designed for your legs and feet.
Fit King's Leg Air Massager straps around your legs and feet, with a separate controller so you don't need to reach down to change the settings.
Sit back and experience a compression massage, as the air bags inside work on relieving your pain and improving your circulation.
You have two different massage modes, 10 massage techniques and a choice of three levels of intensity, so you can experiment until you get the sensation that feels right for you.
Fit King's leg massager is designed to fit various leg and foot sizes, with two extensions included if needed.
You do have to plug the device in to the wall to use it, however it seems a small price to pay for the results.
Restless leg syndrome patients and those with swollen legs couldn't get enough of this wrap. In fact, one user commented that her legs had never been so small, after years of struggling with swelling caused by diabetes.
9.

Renpho Shiatsu Foot Massager Machine
Treat your feet to a range of massage techniques
Your tired and aching feet deserve more than just a basic massage and they're sure to get that with the Renpho Shiatsu Foot Massager Machine.
When you pop your feet inside you can experience a rotation ball, rolling stick as well as heat and air compression that provides you with a deep Shiatsu foot massage.
Everything can be controlled, from the intensity to the air pressure levels to the heat function so you can get the intense foot massage you've been waiting for.
Design-wise it's simple and contemporary, with a built-in touch panel allowing you to control the settings easily.
Cloth inside the foot chambers can easily be removed and popped in the laundry to help keep everything clean and hygienic.
There's space for all feet up to a size 12, so if you're looking for a foot massager for big feet then this could be the one for you.
Customization and control is what most reviewers love about this product! They raved about how they could create an amazing home foot massage experience with the touch of a button.
Did You Know?
Over the course of a day, your feet take a cumulative force of a couple hundred tons.
Discover the satisfying sensation of ball bearings
Moji makes a range of compact foot massagers that use ball bearings to gently help muscular tension roll away.
Comprised of several independent balls – made of stainless steel or plastic, depending on which model you purchase – the Moji foot massagers are simple tools to assist you with massaging muscles.
The Moji 360 Foot Massager is the top of the range model and has six high-tech stainless steel spheres that dig deep into muscles and tissue to help relieve pain and break up scar tissue.
We love the fact that you can freeze this model if you require a cold massage.
A similar but lower priced version is the Moji Foot Massager, which has plastic spheres, instead of steel. This model isn't rated as highly as the PRO version.
Finally, the Moji Mini PRO is a handheld mini-massager with large steel spheres that can be used to massage sore muscles.
The range of Moji massagers and the multiple options available make them perfectly portable, and useful for other areas of your body.
Many runners and athletes like these massagers because they can be used to help relieve tight calves or hamstrings, and can just as easily be used on areas such as the back or shoulders.
As they are non-electric, you can control the pressure and speed at which the massager is used in order to best treat your symptoms.
Moji massagers offer real bang for the buck as they provide maximum impact for a reasonable price.
11.

Nekteck Foot Massager
Great features for an affordable price
If you're looking for the best foot massage machine at an affordable price then take a look at Nekteck's Foot Massager.
The unit still has a wide range of different features for the price, including six massage heads and 18 rotating massager nodes to help relax painful muscles.
It's portable and has a built-in carry handle so you can take it with you wherever you go.
We love that whatever your height or foot size you should be able to find a position that works.
The Nekteck Foot Massager has three adjustable heights and is not fully encased making it ideal for large feet.
Reviewers rave about the heat function on this product, especially those who have a job that requires them to be on their feet all day. The machine emits deep penetrating infrared heat, which can be switched on or off depending on preference.
You do need to bear in mind that this device doesn't come with an air compression feature like the Miko Shiatsu Foot Massager. Yet it still delivers a deep massage.
Some users did find the massager nodes a little painful, however there are a number of different settings so you can get the right intensity for you.
12.

Snailax Shiatsu Foot Massager Machine
Take your feet to the foot therapy spa
Why settle for a foot massager, when you could invest in a complete foot therapy spa.
Slip your feet inside the Snailax machine and enjoy three modes, each of which combine air compression and the satisfying sensation of rolling shiatsu massage balls.
Choose from three different intensity settings, which you can adjust to suit your needs. Add optional heat for an extra way to soothe your aching feet.
The contemporary design is attractive and slimline so it won't look out of place in your home. It's light too, so it can easily be moved around.
Inside the massage machine you'll find a foot sleeve, that can be removed and washed, meaning more than one person can use it and you can keep everything hygienic.
Controlling the device is done by reaching over to touch the buttons, however Snailax claim the buttons can also be pressed with your feet.
For those who work on their feet all day, it was the best relief they could ask for. People felt frustrated with the manual as it didn't correctly describe how to use the product, however with experimentation they quickly got used to it.
13.

Turejo Foot Spa / Foot Bath Massager
Combine warming bubbles with satisfying shiatsu
When you're looking for a way to soothe and relax your feet, you might first shop around for a foot spa.
But why not combine a foot spa and a massager?
Slide your feet inside the Turejo Foot Spa and set the exact water temperature you'd like.
Feel frustrated when the water gets cold? It's not an issue here.
This clever foot spa heats and maintains the water temperature for the duration of your treatment.
Then there's the massage…
Within the foot bath you'll find 14 shiatsu massage rollers that will deliver an intense massage, while your feet are soothed by the warming bubbles.
Unlike the Snailax Shiatsu Foot Massager Machine, you don't get a variety of massage modes.
However you do get a number of mini acupressure massage points, carefully positioned so you can enjoy the many advantages of acupressure therapy.
When it comes to size, it's accessible for everyone, fitting men up to a size 15.
People loved how simple the massager was to use, and found it easy to clean as all the massage rollers can be removed. For many it had become a staple of their evening routine!
14.

Panasonic Black Massage Chair Real Pro Ultra EPMA73
Experience a full body massage
Sit back and relax in to the Panasonic Real Pro Ultra massage chair and enjoy the ultimate massage experience in the comfort of your own home.
Thermal 3D massage rollers, designed to replicate the regenerating touch of a professional massage therapist, deliver relaxing warmth and concentrated pressure around the entire body.
To do this, the rollers contain thermal properties and an air cell system to recreate intricate shiatsu techniques to target acupressure points.
To do this, the rollers contain thermal properties and an air cell system to recreate intricate shiatsu techniques to target acupressure points.
With an extensive range of massage motions, the chair works to increase circulation, stretch and soothe tired muscles, just like an invigorating professional massage.
Made of vegan black leather, the EPMA73 from Panasonic provides a full-body massage with six automatic massage programs, and comes with up to 110 combinations than can be manually configured to best meet your needs.
Traditional massage techniques such as, shiatsu, knead, ultra knead or Junetsu, Swedish, help relax tight muscles from the neck to the lower back to the feet.
Special internal sensors create a virtual map of your body's contours to customize the massage specifically to your body. This is a real benefit of the Panasonic Massage Chair and is the only massager we feature that offers custom massages.
Given the capabilities and qualities of this massager, it's no surprise it commands a hefty price. However, it comes highly reviewed and delivers for its users.
If you frequently pay to have a massage, over time this chair could save you money, and offers many of the same benefits.
In addition to the price, you do need to consider the size of the chair and make sure you have adequate space, because it can take up a lot of room. We think that's a small sacrifice in return for a custom massage at any time of day.
15.

Osito Foot Circulation Plus Medic Foot Massager
Best foot massager for improving your circulation
Poor circulation within your feet can be the root cause of a number of different issues, and be a frustrating symptom for people suffering with conditions such as Diabetes.
Improve your circulation with the OSITO Foot Circulation Plus.
Using electrical muscle stimulation, the massager sends pulses to the feet causing the muscles to contract. This helps reduce swelling and inflammation, and improve blood flow.
Place your feet on the machine and choose from 25 different massage modes, and 99 levels of intensity.
You can also use the massager to treat pain in other areas of your body, such as your calves, as the machine includes electrodes to apply TENS therapy.
TENS is used to treat a number of different conditions, and has been shown to be particularly effective in treating foot neuropathy.
Many describe being skeptical about this space-age looking product, but they were quickly convinced it was the real deal.
After just a few uses they started to see improvements in their feet and legs, claiming the device is the 'best kept secret'!
Different Types of Foot Massagers
There are a wide range of different foot massagers available on the market, each providing their own range of benefits.
Here we've taken a look at the most common types of electric and manual foot massagers to help you make your decision.
Foot Massage Machine
A foot massage machine generally encases your feet inside to enjoy a massage. You typically get a range of modes to choose from plus heat to treat your feet.
Foot Bath Massager / Foot Spa Massager
Foot spa massagers take the experience to the next level. As well as massage nodes or rollers, you also get hydrotherapy, with bubbles, jets and vibrations adding to the relaxing experience.
Foot Massage Pad
Foot pads have a large surface designed to target pressure points in order to stimulate circulation in the legs and feet.
Most devices have multiple speed settings, and come with different massage modes in order to best soothe the feet. Some models come with additional therapies, such as electrical muscle stimulation, heat or infrared technology.
Massage Roller
Typically manual handheld devices, massage rollers are designed to be moved up and down the soles of your feet. Wooden rollers are particularly effective, as the kneading action helps to relieve tension.
Handheld Massager
You can shop for both electric and non-electric handheld foot massagers. Whichever style you choose, you apply the pressure, meaning you're in control of the intensity of your treatment.
Compression Foot and Leg Massager
These clever devices strap on to your legs and feet. Pressure is applied by inflating the air bags inside the massager. They are excellent for treating restless leg syndrome and reducing swelling caused by conditions such as diabetes.
Gun / Percussive Massager
A gun massager is a handheld tool with a head that applies strong bursts of pressure to your muscle tissue.
Massage Slippers
You can choose from a range of electric massage slippers. However generally foot massage slippers are a pair of shoes covered in a number of acupressure points. They put force on certain areas of the foot in order to release pressure and relax the feet.
If you're considering massage slippers, do remember you have to be moving around in order to receive the benefits. They're ideal if you're one of those people who never sits down!
Massage Chair
A massage chair is a piece of furniture that you add to your home. You'll find massage nodes or rollers within the chair and, with some chairs, added functionality for your feet and calves.
It could be an encased foot area you slide your feet inside, or a pad you place your feet on. It is a big investment and generally they are designed for full body relief.
Features and Functions of Foot Massagers
There are so many different functions and styles of massage to consider when choosing a foot massager.
To help you understand the differences, we've provided you with a little description of each feature:
Electric / Non-Electric
Consider which option is right for you. It depends on whether you want to take your massager on the go, or just use it as an at-home treat option. Also think about if you'll be able to apply the necessary pressure needed with a non-electric device.
Style
Foot massagers come in a variety of different styles. There are ones you pop your feet inside and sit back, and others where you do the work with a massage tool. Consider what you hope to achieve with the massager, and your range of motion, to ensure you make the right choice.
Size
Size could also be an important consideration when choosing a foot massager. If you have larger or smaller than average feet, check that the massager will still work for you.
Nodes
The number of massage nodes, and the sizes of those nodes, is important as it tells you about the foot coverage you can expect.
Massage Modes
Electric foot massagers will typically offer a number of different massage modes. If you want a machine you can experiment with, then choose one with multiple options.
Shiatsu
Shiatsu is a traditional Japanese massage method based on Chinese medicine that uses pressure from the hands to knead the muscles.
Foot massagers with shiatsu settings or styles have rotating heads or vibrators to simulate a masseuse's hands.
Compression
Compression is a style of massage that involves the direct application of pressure, typically with airbags, in order to relax, cleanse and rejuvenate the muscles.
Compression helps dilate the capillaries and therefore is a beneficial form of massage for people with circulation issues.
Percussion
Percussion is a style of massage that could be described as "thundering on your body". Perfect if you want a deep tissue massage, not as ideal if you're looking for something a little more gentle.
Kneading
If you have knots and want a massage that is really going to work them out then you might want to look out for the kneading function. Wooden rollers can also deliver kneading action.
Heat
An excellent way to loosen the muscles is through heat. Heat has many positive effects, including increasing your blood flow and reducing muscle tension.
While heat itself is not a massage technique – it is often an added setting on a foot massager, as it helps to relax muscles further.
Hydrotherapy
Hydrotherapy is a massage style based on the use of water pressure to treat the body. Water pressure is used to relax muscles, increase circulation and relieve muscular pain.
Hydrotherapy foot massagers (also referred to as foot spas), often use a combination of jets, bubbles, vibrations, lights and/or heat to provide a complete relaxation experience.
Infrared
Through invisible waves, infrared rays penetrate deep into the muscles and bones of the body to provide many health benefits.
Infrared elevates the surface temperature of the body to relax stiff muscles and can also increase blood flow. Infrared is not a massage technique in itself, but is often used in conjunction with other massage styles.
Electrical Muscle Stimulation (EMS)
Electrical muscle stimulation (EMS) is a treatment technique that involves delivering electrical impulses to the body, causing the muscles to contract. It can help to reduce inflammation and swelling, and improve your blood flow.
Intensity Settings
Many electric foot massagers will have a variety of intensity settings. This can be highly beneficial, as some days your feet might feel too sensitive to receive an intense massage.
The number of intensity settings doesn't necessarily suggest a device is more powerful. It simply means you can move up the different intensity levels in smaller increments.
Controller
When you want to sit back and enjoy your massage, it can be a little annoying to have to lean forward to change the settings. Certain foot massage machines will come with a separate controller, allowing you to relax and play around with the options.
Timer
A timer can be a useful feature. If you pick a particularly pleasurable massager, it can be easy to lose track of time and exceed the recommended usage time!
Auto Shutdown
For your safety and so the device doesn't overheat, electric foot massagers will have an auto shutdown. This is typically a set amount of time you can use it for before it will automatically switch off, which can be frustrating. Sometimes higher spec massagers will allow you to tailor the auto shutdown time.
Portability
If you want a massage tool that you can use in the office, or in the car, then portability is important. Non-electric devices could work best, or opt for an electric massager with a rechargeable battery. Looking for a massager that comes with a carrying case could also be important.
Battery Life
When looking at rechargeable devices they'll typically quote the usage you can expect when the massager is fully charged. Running out of charge mid-treatment is frustrating, so finding a tool with a long battery life can be really valuable.
Attachments
Some foot massagers will come with a range of attachments. This can be beneficial as it provides you with a number of different tools to get to the source of your pain.
Price
Foot massagers range in price, from simple handheld tools for less than $10, to top of the line foot massage machines demanding hundreds of dollars. Set a budget and use our guide to prioritize the features that mean the most to you.
Benefits of a Foot Massager
Your feet carry your entire body weight each and every day. Because of this, it's natural for feet to feel tired in the evenings.
Did You Know?
Three-quarters of Americans will suffer from some type of foot ailment in their lifetime.
Foot massagers can treat the feet and combat some of the stresses and strains that result from being upright all day. Through massage, you can relieve tension and relax the rest of your body.
However foot massagers have so many other benefits, for a variety of conditions:
1.

Improves Circulation and Neuropathy
Vibration foot massagers provide a way to counter the symptoms associated with circulation issues or neuropathy, whether it's peripheral or diabetic.
Arthritis research charities, such as Versus Arthritis, acknowledge how therapeutic massage can help to reduce pain and tiredness in your feet.
Massagers with heat functions, hydrotherapy or gentle kneading on the soles of the feet are widely recognized as being the most suitable, for people with arthritis.
One of the best ways to soothe bunion pain is to massage the arches and bottom of the feet, as well as stretching and massaging the toes.
Shiatsu style massagers are great at working many of the muscles in the foot to release stiffness and tension.
4.

Aids people with Plantar Fasciitis
Research has shown that massage therapy is effective in reducing the pain of those suffering with plantar fasciitis.
Using a manual roller on the bottom of your foot can help to stretch and knead the fascia to bring much needed relief.
The best way to treat flat feet is through exercises that build up the muscle strength in the arches of your feet. However, massaging these muscles, as well as the ankles, and calves can help.
Manual foot massagers or rollers are the best at stimulating the arch muscles because you are in control and can apply the appropriate amount of pressure. Shiatsu massagers that work around the entire feet, ankles and calves are also a good option.
6.

Offers Benefits for Runners
Due to the extensive strain running puts on the feet, a good foot massager is something every runner should have in their toolbox! Runners often have tight plantar fascia so a foot roller is a great way to counteract this tightness and relieve the muscles.
Hand-held massagers are also useful because not only can they relieve the soles of the feet, but they can also be used to loosen tight hamstrings, calves, glutes and even the lower back.
If you're really sore after a run, a chair massager will give the muscles in your entire body a chance to recover.
7.

Reduces Headaches and Migraines
Using the theory of reflexology, applying pressure to certain points in the foot can help alleviate the symptoms of a migraine or headache.
Gentle Shiatsu electric massagers are one of the best at home ways to knead and address different areas of the feet.
8.

Relieves Menstrual Pain
Following the same reflexology principles, a foot massage can be one way in which to relieve menstrual pain.
The point that is best for relieving menstruation pain is just on the inside of the leg, three fingers widths above the ankle bone. Therefore massaging this area could help relieve some of the symptoms associated with menstruation.
9.

Improves Lower Back Pain
Massaging the feet can help relax the entire body and result in reduced back pain. Foot massagers often address the nerves in the feet that run to other areas of the body, encouraging leg and back muscles to relax.
A study in 2012 looked closely at how reflexology could help nurses suffering from lower back pain. Results highlighted how it was effective in reducing the severity of the pain.
Hydrotherapy or spa massagers are the perfect antidotes to swollen feet at the end of a long day. The relief you receive can improve blood circulation and help you relax after being on your feet all day.
Women in the later stages of pregnancy, with swollen feet and ankles, were the focus of a controlled trial in Turkey. After receiving a 20 minute massage, for five consecutive days, their leg circumferences were significantly smaller.
FAQs
Do foot massagers really work?
Which foot massagers are suitable for diabetics?
Can I use a foot massager while pregnant?
Can a foot massager induce labor?
Are foot massagers appropriate to use if I suffer from back pain?
How long can you use a foot massager?
How much do foot massagers cost?
Where can I buy a foot massager?