The use of heat therapy as pain relief dates back to 500BC when the ancient Greeks and Egyptians used the sun to help treat illnesses.
Today there are plenty of readily available heat pad products that you can enjoy in your own home.
INNOVATIVE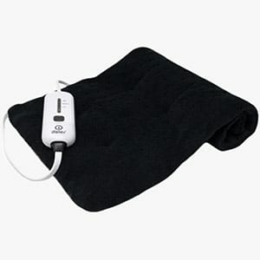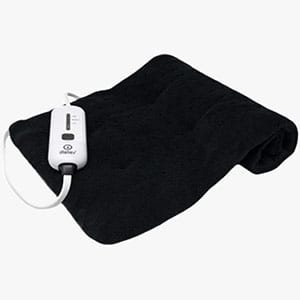 iRELIEV
Weighted Heating Pad
Super soft and including light weights, you can mold the heat to your body.
AFFORDABLE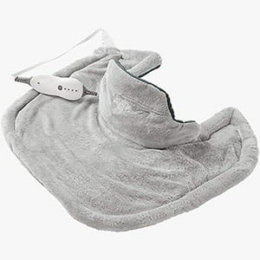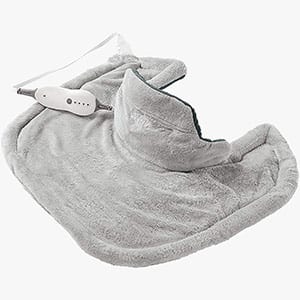 SUNBEAM
Neck and Shoulder Heating Pad
Soothing warmth to the whole neck and shoulders. Choose from four heat levels.
LUXURIOUS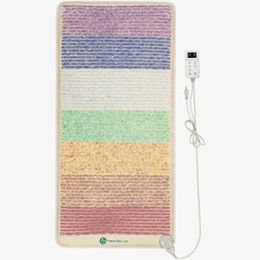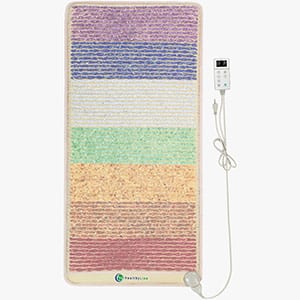 HEALTHYLINE
Rainbow Chakras Heating Pad
21 layers of healing crystals, delivering far infrared rays plus hot stone therapy.
Our Top 12 Heating Pads: The Hot List
To help you choose the one that's right for you, we've shortlisted 10 of the best heating pads on the market right now:
Types of Heating Pads
There are a number of different types of heat pad available, whether you're looking for one for a key part of your body, an option for when you're out and about or a specific heating method to target a certain kind of pain.
For Different Parts of the Body
Neck / Back / Shoulders
Across the marketplace there are a variety of heating pads available targeting neck and shoulder pain. These tend to be contoured to your neck and designed to drape around your shoulders or hug your neck.
Back and Spine
XL Heating Pads are available to help treat back pain when you require full coverage along your spine or across your lower back. Smaller pads are also available if you want to target a key area that is causing you pain.
Knees
Knee support heat pads are also available if you want to target heat around your knee.
With Different Heating Methods
Electric
Electric heat pads heat the surface of the skin and can reach high temperatures, they don't require recharging and work when connected to the mains.
Infrared
Infrared heat pad claim to deliver deeper and more penetrated heat than traditional electric heating methods, as they don't just heat the surface of the skin.
Moist
Moist heat pads like infrared can penetrate deeper in to the skin and increase tissue elasticity. They are often used when skin dehydration is a concern, so for example for patients with dry or ageing skin.
Microwave
Heat pads that are heated in the microwave, generally filled with wheat and natural remedies such as lavender, are often a more affordable option.
Non-Electric Heating Pads
Such as Snappy Heat Pads (link to Amazon listing), which require no charge, you simply snap the metal plate which then generates heat, are ideal for travelling.
For When You're Out and About
Travel Heating Pad
Normally supplied with a handy storage bag, a travel heat pad can be folded away easily.
USB Heating Pad
Though not considered a strong option due to the temperatures they reach and the poor quality materials they tend to be made from, USB heating pads offer an alternative to carrying a bulky heat pad with power cord when travelling.
Cordless/Rechargable Heating Pad
Not just for out and about, but also at home if you want to sit somewhere but don't have access to a plug, a cordless/rechargeable heating plan can offer just the solution.
Features of Heating Pads – What to Consider
Choosing the heat pad that is right for you can be tricky with so many different options available. See below some of the many different features on offer so you can work out exactly what product you're looking for:
Auto Shut Off
Any product that you use in your home that heats up is obviously a danger if you forget to turn it off, or if you simply fall asleep using it.
See what auto shut off function the heat pad offers, if any, and the length of time it will stay on before automatically switching off.
Consider as well if a short auto shut off may frustrate you if you're looking to use a heat pad for a consistent period of time.
Timer
Different heat pads offer different timer functions, giving you the ability to easily control how long your heat therapy lasts.
Size of Pad
Depending on the size of the area you want to treat there are a number of different sizes of pads available. Smaller pads for targeted pain relief and larger pads for treating wider areas such as the spine.
Number of Heat Settings
Each pad will boast a number of different heat settings, so check out the one you want before committing. Memory functions are available on some pads so they can remember the heat settings you use regularly.
Heat up Time
If you're looking for a heat pad that you can use quickly in a morning then heat up time may be important to you. There are some that can heat up in seconds and others that will take a little longer.
Material
Different fabrics are used on the cover of the heat pad to distribute the heat effectively so it's worth doing a little research before purchasing.
Length of Power Cord
Some heat pads boast about a longer power cord which may not seem a major consideration, however if there's a location you'll want to use your pad regularly consider if there's a plug socket available close by.
Wireless Capability
Again, if a long power cord isn't going to quite reach or if you want to use your heat pad on the go then a wireless capability could be desirable.
Temperature Reached
Considering the temperature that the pad can reach to ensure that it satisfies you and the level of heat you're looking for.
Heating Method
The method use to heat, whether it's electric, infrared, microwave or some other form of non-electric heat. Consider what is right for your condition.
FAQs
How does a heating pad work?
Are infrared heat pads better than electric heat pads?
How hot does a heating pad get?
Is a heating pad good for back pain?
Is a heating pad good for menstrual cramps?
Is a heating pad good for arthritis?
Is a heating pad good for sciatica?
Are heating pads safe to use during pregnancy?
Will a heat pad reduce swelling?
Can you sleep on a heating pad?
Who is a heat pad not suitable for?
How much do heating pads cost?
Where can I buy a heating pad?
So heat looks like a great option for many different conditions, and with such a variety of products to select from, what are you waiting for!