As far as TENS unit brands go there's one that really stands out – and that's HealthmateForever.
With way more machines than any of the other home TENS unit manufacturers, Healthmate International LLC. has created a strong and recognizable brand – with an ever-growing range of products. The rest of field – it seems – is playing catch up.
In this post I'm going to take a look at why their TENS EMS combo devices have become so popular – and what it is that makes them the number one pain relieving product for so many.
Features galore!
Every time they release a new device their design team seems to take it to another level. Just take one of their latest and most up-to-date machines, the (incredible) HealthmateForever T40AB 2016 as an example:
Touch screen operation with backlit display? Check
Rechargeable battery? Check
A whopping 40 programs? Check
Use 8 pads in isolated channels? Check
Check, Check, Check, and Check. And this list could go on…
It seems the only thing you can't do with this electronic massager is make phone calls and browse the internet! Who knows, maybe we'll see that in their 2017 versions.
In all seriousness though, it wouldn't surprise me if we saw a smart TENS / EMS unit sometime soon, the technology is certainly available. (I could get really carried away here but think I'll save it for another post!)

Isolated channels
This is an exciting new addition to their higher end models.
All of the HealthmateForever TENS units are dual channel – but the devices with isolated channels are like two machines in one.
The great thing about isolated A and B channels is you can run two different programs at the same time.
For example:
You might be treating some pain near your hip. Because you're going to be stopping and lying down, you have the luxury of using that other channel for something specific, like a relaxing back massage!
Of course, with a standard dual channel device you could always use the other two pads and place them on your back – you couldn't, however, use a separate program.
This is the type of situation where the isolated channels really come in handy. I'm a big fan of the isolated channels.
The machines on this page with isolated channels are the: HealthmateForever Pro12AB and the touch-screen models: T12AB, T40AB and T24AB3.

YK15AB
Dual channel TENS machine with: 9 pre-programmed auto procedures, 6 massage styles, 20 intensity levels, backlit LCD display, battery level indicator, use up to 8 pads
Rechargeable batteries
Practically all of the machines (there are just a few that take AAAs) have rechargeable lithium batteries, these are the type you find in smartphones, tablets, and digital cameras.
I really like that the units ship with a USB cable (to charge through a computer) as well as an AC adapter for mains charging. The benefits of being able to charge the device are:
Cost-effective over time
Convenient
Unit is slimmer

Can you imagine getting home after a long hard day at the office – all ready for a TENS massage – only to discover you've run out of batteries?
The thought of having to head out to Walmart for a fresh set… with a rechargeable device you'll never encounter this problem.
Portable TENS units
In the previous section I noted the units are slimmer because they have built in rechargeable batteries.
You can see from the images on the page, these are compact and highly portable devices. The smaller models are a similar size to an iPod – with the others not much bigger.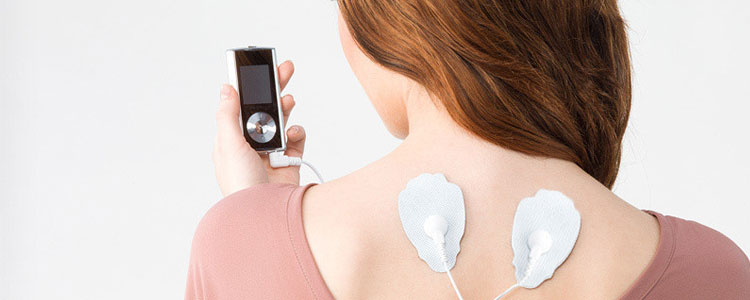 Thin lithium batteries
Think about how much thicker the devices would be if they had to accommodate a set of AA or AAA batteries?
Modes
The most basic models in the range come with 6 modes, with the top-of-the-line T40AB (released in 2016) having a massive 40.
Most of HealthmateForever's electrotherapy devices (with the exception of a few, such as YK15AB, YK15RC, and PM8) have the following six massage modes as standard:
Tuina
Tapping
Cupping
Acupuncture
Guasha
HealthmateForever Combination program
You'll find their devices have either 6, 8, 10, 12, 15, 18, 24 or 40 modes.
[go_pricing id="healthmateforevermodes"]
*Price for Amazon listing
Note: If you're searching for a TENS unit for foot pain you may like to take a look at the NK10AB (above). One of the programs, "Reflexology foot massage" has been specifically created for the feet.
This is something that could be combined with HealthmateForever's massage shoes or conductive socks.
Included accessories
Something I think HealthmateForever does better than other brands is the packaging and accessories.
Inside the box there's everything you need to get going straight away. The only thing missing is a carrying case, although that can be easily solved – and I'll come onto it in a minute.
One of the most useful accessories they provide is the pads holder, which is designed to improve the life of your electrodes. It's very simple but extremely effective and also allows you to wrap the lead wires round it, stopping you from getting them tangled up between uses.
Each (rechargeable) machine ships with a USB charging cable and mains adapter. Something you'll need to check though is which pads it comes with, they differ from device to device.

If you've read any of my reviews on the site, you'll know that I'm big fan of carrying cases.
Down the years I've owned a number of devices and can't stress how much easier having one of these will make your life. Not only does it provide a home for your TENS unit and accessories, it keeps it all organized, as well as offering important protection.
After all, if you're investing in a portable machine, you're going to want something to carry it round in.
I've got a personal favorite, this oversized case (Amazon link). What I like about it is all the zippers, pockets and compartments. I'm a bit obsessive when it comes to organizing my device and its accessories.
I want to put the pads in one pocket, the unit in another and then the lead wires in one – so I know exactly where everything is for next time. With this particular case you can do all that – and then some. You could fit other electronic products and cables in there, if you were going away.
To get a better idea of what I mean about HealthmateForever pads and accessories – as well as how they work, watch this video below:
Running costs
This is where rechargeable machines come into their own.
Because you don't have the recurring cost of replacement batteries, the only thing you need to consider is the pads (electrodes) – and any conductive gel, if you choose to use it.
The last thing anybody wants is to spend money on a device and then for it to cost an arm and a leg to run.
Fortunately, there are many different pads you can use with these devices, just look at all these weird and wonderful shapes and sizes on Amazon!

Lifetime warranty
I've saved one of the best things till last – and that's the warranty. Most companies, like AccuRelief and Omron offer a year's cover with their machines. You may find the odd brand, like Zewa providing a two year warranty.
HealthmateForever though completely trumps the competition with its limited lifetime warranty.
I've done some digging around online and know for a fact they honor these warranties. The only thing you need to be aware of here is the lifetime cover is only valid for purchases made in the USA and Canada.

In reality it's unlikely that a TENS unit is going to last forever – but with a limited lifetime warranty you have got the very best insurance policy, should there ever be any issue.

YK15RC
Dual channel TENS machine with: 9 pre-programmed auto procedures, 6 massage styles, 20 intensity levels, backlit LCD display, rechargeable device with battery level indicator, use up to 8 pads