Whether your loved one has to travel for work, or they're hopping from hostel to hostel around the world, there are lots of ways you can help them look after their mind and body while away from home.
We've scoured the market and put together a list of 10 of the best travel gifts for you to choose from:
1.

Cabeau Evolution S3 Travel Pillow
Enjoy 360º ergonomic neck support no matter where you're sleeping
There's nothing worse than falling asleep on a plane or train and being rudely awaken by a forward head drop! It's not great for your neck and of course it disturbs your sleep.
If the person you're shopping for regularly naps on the go, then consider purchasing them the Cabeau Evolution S3 Travel Pillow.
This high quality travel pillow has a clever strap system that fastens on to a plane or train seat and fits comfortably around your entire neck to hold your head in place.
Thanks to the raised side supports made from memory foam, it helps to protect your upper spine and prevent neck pain.
Cabeau's pillow comes with a travel case that halves the size, making it ideal to throw in your hand luggage for a long trip.
In fact, Cabeau are so confident that you'll love the pillow, that if you experience any neck pain while using it, they'll give you a full refund.
2.

Organic Basics SilverTech Socks
High quality organic socks made to last
When traveling around it can be tricky to find somewhere to freshen up. Organic Basics Clothing is made from the highest quality organic cotton to not only last, but also to stay fresher for longer.
Take a look at their pack of SilverTech Socks made from their signature cotton and pure silver, with reinforced stress zones so they don't show signs of wear and tear.
Organic Basics offer a wide range of different products, from basic tees and leggings, to underwear for both men and women.
If you struggle to choose from all the great options, then why not purchase an Organic Basics gift card and let them pick something for themselves.
3.

Tranmix Solar Charger 25000mAh Portable Power Bank
Help a traveler offset their carbon footprint while on the go
Never be out of touch with someone special while they're traveling the world, by purchasing them a handy portable solar charger.
Tranmix's Power Bank has four foldable solar panels that when fully charged, can charge most phones up to 10 times.
You can use it for more than one device at a time and also charge a phone while you're charging the solar panels themselves.
Users did admit to being a little bit skeptical about how powerful it could be, however they were amazed by how long the portable charger lasts.
Camping enthusiasts were particular fans of the product, thanks to the fact its waterproof and has built-in super bright LED emergency lights, so it's ideal if you're shopping for someone who loves the great outdoors.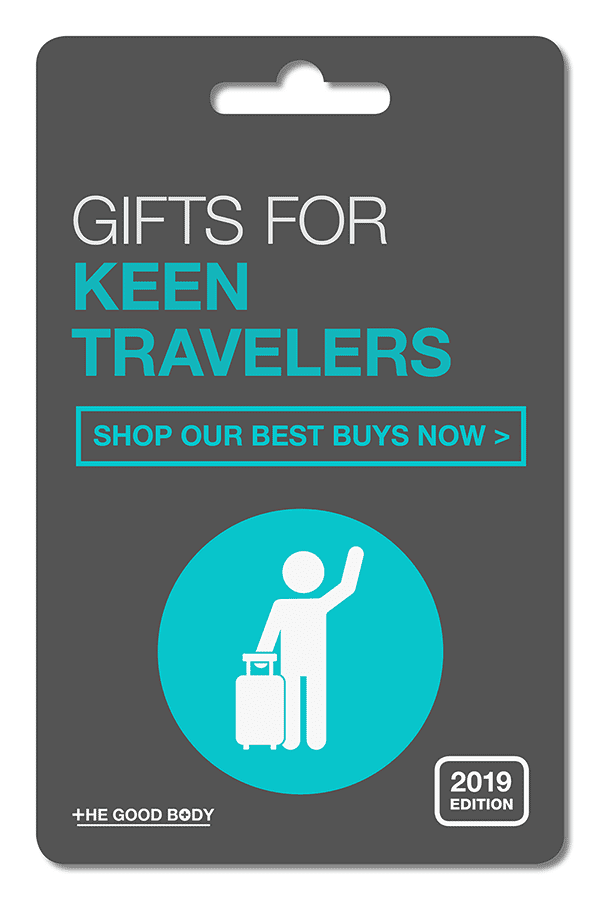 4.

Anja Acupressure Pillow
Pack the healing powers of acupressure
If your loved one suffers with pain when they travel, or they just need a new way to relax, then the Anja Acupressure Pillow could be a great gift.
Acupressure has so many amazing benefits for back pain, anxiety and many other conditions.
Anja's cleverly designed pillow fits neatly under your back, made it ideal for use on a plane or train, or afterwards to relieve the aches and pains of the journey.
Filled with buckwheat and lavender and carrying over 1,000 specially designed spikes, it's still the perfect travel size and can be easily packed away.
Of course it won't have the coverage of a standard acupressure mat, however you will still be able to reap the exact same benefits.
5.

The Stick Travel Stick
Alleviate problem areas with your own personal masseuse
The Stick Travel Stick is sure to become a staple in any traveler's bag once they've tried it.
Looks can be deceiving, as though this short body massage stick might appear simple, its innovative design helps to relieve muscle pain and improve your range of motion and flexibility.
You choose the pressure and work out knots or pain with eight therapeutic spindles, enabling you to unwind after an uncomfortable flight or train journey.
Many users of the product were amazed that such a simple tool could be so powerful, and even claimed it was better than a masseuse!
100% blackout so you can sleep just about anywhere
If you're looking for a birthday gift for someone who regularly travels through timezones, or can often be found napping in an airport, then treat them to the Manta Sleep Mask.
It will give their standard airline sleep mask a serious upgrade, as the Manta mask provides the perfect fit so you forget you're wearing it.
Manta's premium sleep mask is made from a soft velour material, and has ample nose space and hollow eye covers so there's no pressure on your eyes.
Many reviewing the product said they had purchased it for travel, and ended up loving it so much they now use their sleep mask every night.
Give them the gift of over one million places to stay around the world
No matter where your loved one is traveling, if they run out of money, they'll be so grateful for this AirBnB gift card.
There are over one million places to choose from on their website, spread across the world, so they'll be sure to find somewhere magical to stay.
AirBnB gift cards are one of the best gifts for travelers because they can easily be printed or sent by email, and they never expire so can be saved for a rainy day.
8.

Yamiu Packing Cubes with Shoe Bag
Take suitcase organization to the next level
Never mind rolling up your clothes to save space, Yamiu Packing Cubes are the pinnacle of suitcase organization.
Each cube fits neatly beside the next, and has individual zips, allowing the traveler to break their suitcase down in to different sections.
They're ideal for a long trip, when you might have various clothes for different weather conditions, and for a short trip when you want to keep clean and dirty laundry separate.
Yamiu Packing Cubes also come with a dedicated shoe and toiletry bags, to protect your clothes and electricals from any spillages.
They're super lightweight so won't impact on your luggage allowance and they come in a range of different colors to choose from.
Work out while you're working your way around the world
ClassPass could possibly be the world's most flexible gym membership, as you can access a range of different boutique fitness centers around the globe.
Buy a ClassPass as a gift this Christmas and the recipient can choose from a range of different classes such as a Pilates, yoga, cycling or aerobics.
You can select whatever value you'd liked to spend, plus the vouchers don't expire so they're ideal as a going away gift for someone heading off on a big adventure.
10.

Gourmet Honey Bars by Honey Bunchies
Swap sugary convenience foods for a healthy snack
Wrap up a box of Gourmet Honey Bars as a gift and you're sure to get a great response.
For someone who travels a lot it can be hard to stay healthy, with so many sugary and convenient snacks on offer.
Choose a honey bar from Honey Bunchies and you're enjoying 100% all-natural ingredients, including peanuts, pecans and unfiltered honey which has been proven to have a range of health benefits.
Fans of the sweet treat raved about how delicious the bars were and how they were ideal for after a workout thanks to the slow release of energy.
However if you're buying them as a gift for the holidays be warned, many reviewers said their box didn't even last a day!