After reading this Omron electroTHERAPY Pain Relief Device PM3030 review, you'll see why this TENS unit is such a hit with people who like their products simple – and straightforward to use.
When Omron designed this, it seems they realized you shouldn't need to be a computer science graduate to use one of these devices.
Looking at the machine and comparing it to all the other TENS units I've used, it is by far and away the most minimal and basic, in terms of features, operation, and functionality. This may put some people off but will appeal massively to others.
In theory: less options = less things to go wrong. Let's see if that rings true with Omron's PM3030 TENS unit.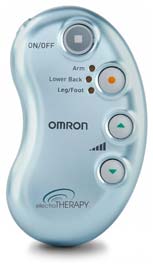 Omron PM3030
Single channel TENS machine with: 3 programs, 5 intensity levels, use with 2 pads
Programs and modes
PM3030 comes with 3 pre-set programs, these relate to different areas of the body: Arm, Lower Back, Leg/Foot.
Omron has designed these programs to best suit those particular regions of the body – but that doesn't mean you can only use the pre-set "Arm" program on your arm or the "Back" one on your back.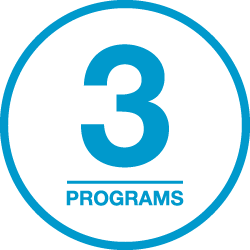 It's very much about finding the one that works best for you, here's how they explain it in the device's instruction manual:
Select the program that feels right for your unique pain. The programs are interchangeable and may be used for more than one body part.
Each treatment lasts 15 minutes, after which, the machine turns itself off automatically. Omron recommends a maximum session of 30 minutes, up to 3 times a day. This means if you intend to use the device for longer than the standard 15 minutes, you'll have to press the "On" button again. It's a minor inconvenience but it does have one major benefit. If you're in pain and using a TENS unit with a continuous setting (no time limit), it may be easy to go over the recommended time, without realizing. The last thing you want to be doing is overusing the machine – so the auto shut-off certainly helps you out with that one.
Channels
PM3030 is a single channel TENS unit, you can only use two electrodes (pads) with it at any one time.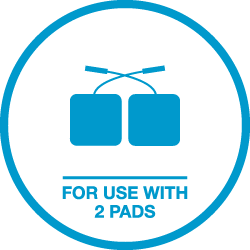 If you need your machine to treat more than one area simultaneously, you should be looking elsewhere.
There is no way you can add any more pads to the setup. (With a dual channel device you have the option of using two or four pads.)
Is single channel right for me?

While this may sound fine at the time, I've come across many people who purchased a single channel TENS unit – and after using it a few times, wished they had opted for a dual channel device.
Intensity levels
You have five intensity levels with this unit.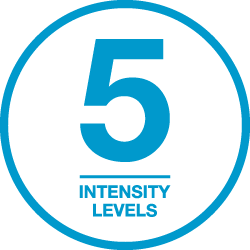 They are adjusted by using the up and down buttons, all very straightforward: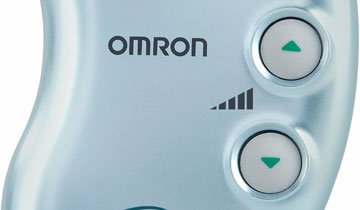 But now comes one of the slight downsides with Omron's PM3030:
The selected intensity level is represented by a blinking (flashing) pattern the LEDs make.
Most other TENS machines are digital and therefore have a screen, which displays the current intensity.
These blinking LEDs are not a great solution, and quite frankly, are frustrating and hard to follow. However, I suppose some compromises have to be made, with such a minimal machine.

Ease of use / Operating the device
Have you ever picked up an electronic product and not known where to start? You switch the device on and encounter a series of complicated menus and overwhelming number of options?
If you're one of those people who isn't so comfortable with technology, having a TENS unit that's covered in buttons – and looks more like a mission control center – isn't going to be right for you.

This is where the PM3030 excels. You'll struggle to find a machine that's easier to setup – and get started with. If simplicity is high on your wish list, this device has to be up at the top of your shortlist.
With no digital display or menus to deal with – and only four buttons in total, it really is hard to go wrong with the Omron PM3030. Having so few settings and such clearly labeled controls – makes using this thing, childsplay.
Complimenting this is a very clear and easy to understand instruction manual. It's one of the most visual I've seen, with supporting diagrams and examples.
The instructions cover all the key topics for preparing and operating the device, along with recommendations on how to store the unit and clean the pads.
This short video gives a good view of the PM3030, along with some benefits and tips. You can see the lady using the machine for pain around her elbow:
Battery
PM3030 operates off only 2 x AAA batteries. This could be part of the reason the device is not as powerful as the type you may be used to at the chiropractor's.
In the specifications section of the instruction manual, Omron says: "New batteries will last for approx. 3 months (when used for 15 minutes a day, Back Mode, max. intensity)."

I guess you wouldn't know how long the batteries last unless you actually tried using the machine over a period of time. I must say, I find it hard to believe that the battery life would be as long as Omron claims.
Based on the batteries lasting 3 months with 15 minutes a day of use, we can do some simple math. If you were to use the machine for the maximum amount of time (recommended by Omron), 3 x 30 minutes sessions a day, you would be looking at approximately 15 days use from 2 x AAA batteries. (I simply divided 90 days by 6 to arrive here, as it is based on 6 times as much use per day as Omron's calculation.)
Having used other battery powered TENS units in the past, I found this estimate to be very high. For this reason, I decided to scour forums and reviews to see what the consensus was. What I read seemed to support this. While there weren't any specific records of how long the batteries last, I read a number of users saying how quickly batteries go. The message here: be prepared to go through a few batteries, especially if you intend to use the machine regularly.
When I reviewed the truMedic PL-009, I discussed the cost implications of using rechargeable batteries. If you'd like to read that section, it's here. Essentially, my argument was: if you need to purchase a charger and rechargeable batteries, you may be as well going for a rechargeable TENS unit.
Size and portability
How small is it really?
Every TENS unit brand seems to describe their machine(s) as "compact and lightweight". I think even if they were the size of a 15" laptop and the weight of a brick, some would still make the claim!
However:

When Omron says its machine is small and portable, they're not lying. At 2.1 oz (60 g) with the batteries, the device weighs about the same as a large egg. Light as a feather, (pun intended!) And when you consider the device is about as tall as medium size (10 oz) mug, you can see why this machine is highly portable.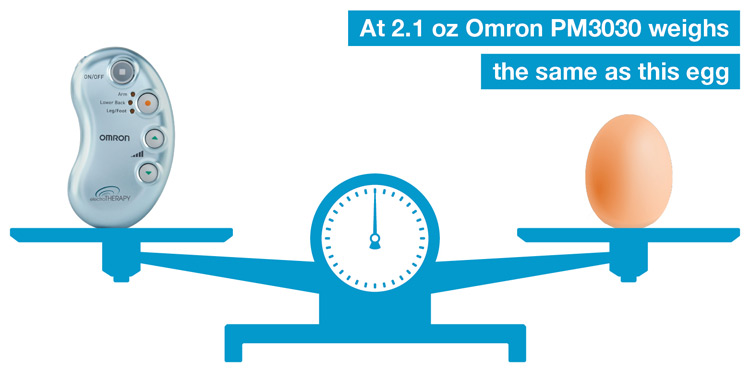 The exact outer dimensions are: 2.17 in (W) x 3.74 in (H) x 0.71 in (D) or 55mm (W) x 95mm (H) x 18mm (D). If you decide to throw it in your bag and take it out with you, it isn't going to take up too much precious space.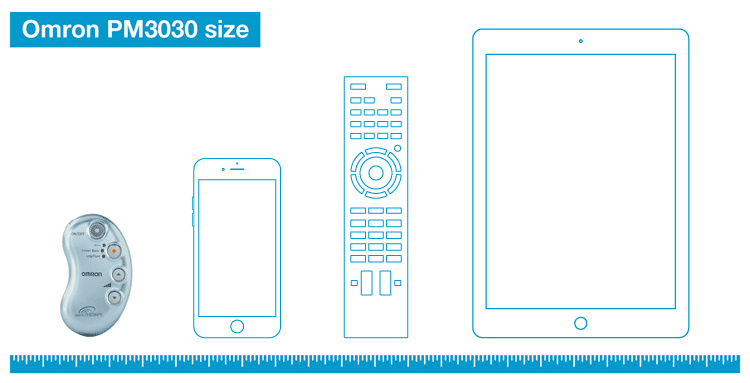 Included accessories
When you open the box up you'll see there's the unit, electrode cords, 2 self-adhesive pads, a plastic pad holder and 2 x AAA batteries, as well as the instruction manual and Quick Start Guide with Pad Placement Guide. It's enough to get you up and running – so you'll be able to start almost immediately, (that's after reading the instructions, of course.)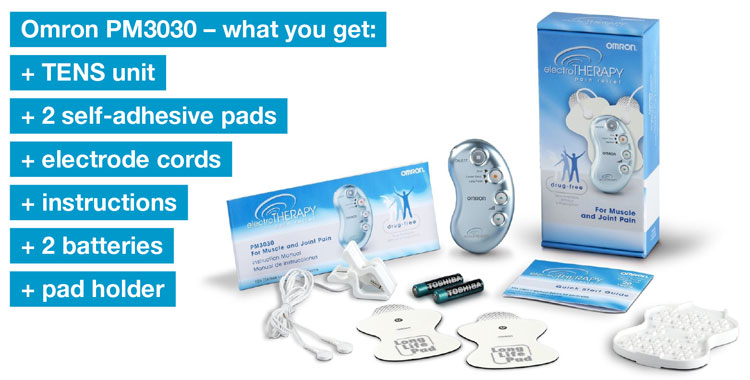 The pad holder is a nice touch, giving your electrodes their own home. If you've any experience of using a TENS machine, you'll be aware just how important it is to keep your electrodes in good condition, between uses.
You might be interested to know that Omron produces this set of large pads (image below). They're bigger than the standard ones that ship with the device and have a greater surface area. They're intended for use on larger pains and areas (like the back, hip and thigh).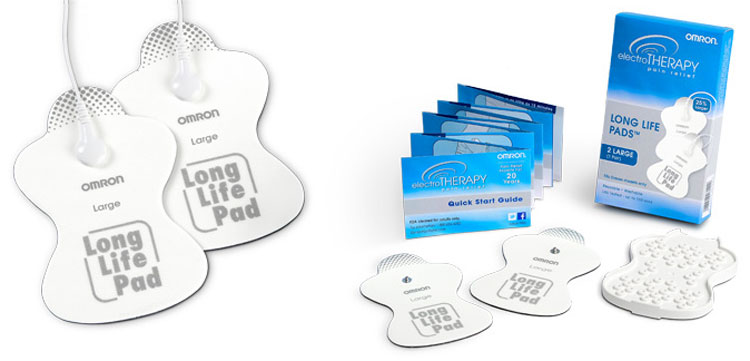 While we're on the subject of storage and accessories, it's worth noting that there is no carrying case provided. I'd like to see more companies ship them with their machines – but I suppose that would increase the price of the package – so they don't bother. Having a carrying case with something as portable as the PM3030 makes complete sense.
I had a look around to see if there was anything suitable, and after struggling for some time, had an idea. I was thinking because of the size, a small hard drive or camera case may fit. Unfortunately, the hard drive cases were a little thin, however, I discovered this camera case on Amazon. It's sized to perfection, almost as if it was made for this machine! The great thing about going for a case like that is the protection it offers. That sort of padding should ensure an accidental drop won't destroy your device. It's also good to have a place where you can keep the unit and its accessories together.
Warranty
Omron backs their PM3030 TENS unit with a 1 year limited warranty, this is for the device and electrode cords.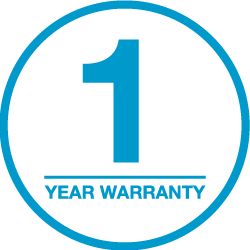 Note: it's only 30 days for the pads. Omron's warranty covers defects in materials and workmanship.
In fairness, when you consider the relatively low price of the machine, this isn't a bad warranty at all.
If you compare this to truMedic's 90 day warranty for the PL-009, it stacks up very well – and let's not forget the PL-009 costs more to buy. AccuRelief ships its TENS machines with similar cover, for 1 year.
Consumer reviews
On the whole, the consumer ratings I saw for the Omron PM3030 are impressive. As of my most recent check (24 November, 2015), the item has been reviewed over 1,000 times on Amazon and over 150 on Walmart. That amount of reviews also gives me an indication of the product's popularity.
Pros and cons
Below, I've summarized why consumers rated the PM3030 so highly:
The device is extremely simple to setup and use – much simpler than a traditional TENS unit with complicated controls
Controls are clearly labeled – buttons are big as well, beneficial for anybody whose eyesight might not be the best
Small and portable – great for taking on vacation, to work, etc.
Ideal for occasional use – minor aches and pains
Ergonomic design – its curvy shape means it fits in the hand nicely and is good to hold
Cost to purchase – it is one of the most affordable machines on the market
Comes with plastic pad holder for the electrodes
Very good set of instructions – includes a "Quick Start Guide" and full instruction manual with lots of visual references
Not all of the feedback was positive though. If this machine is on your shortlist, you may like to read through the following:
Not as powerful as other TENS units
15 minutes per treatment – unit turns off automatically after this so you need to start over again if you want a further 15 minutes
Limited number of programs (3 pre-sets to choose from)
Can only use Omron's own brand pads due to the fitting – and these cost more to buy than others
Clip that connects electrode cords to device is very clunky and sticks out – doesn't stop you from using the On / Off button but partially covers it
A common theme that also cropped up was how long the pads last. Some consumers weren't overly happy, saying the pads last nowhere near 150 uses. Firstly, Omron states they're: "re-usable up to 150 uses". The key point here is, "up to 150 uses". The life of electrodes will vary from person to person and depend on how they prepare the skin, prior to use – and then how they look after them. If you find your electrodes aren't working as well as they should, you can try some electrode gel (like this one on Amazon), it has been developed to improve the conductivity of rubber electrodes (pads).
Another point I want to pick up on is the power issue. Quite a few consumers say the device isn't as powerful as other TENS units. PM3030 isn't the most powerful TENS unit on the market, that's for sure. However, it is easy to make a small mistake with this machine that can drastically reduce the performance. The electrode cord clip that plugs into the machine needs to be pushed right in. Fail to plug the cord in properly and your device isn't going to work properly. The lesson here is to check this, every time, before starting your therapy.

Price
As with most popular products these days, the manufacturer's suggested retail price (MSRP) is rarely the best price available. Two of the major retailers, Walmart and Amazon both stock the device. During my most recent check (24 November, 2015), it was available for considerably less than the MSRP from both of those stores.
At around half the MSRP, I think the cost of the unit is about right. You can purchase it for less than both the truMedic PL-009 and the AccuRelief Dual Channel TENS Electrotherapy Pain Relief System, although those two machines do have superior features. But that's not the point. The whole lure of the PM3030 is its simplicity and how straightforward it is to use.
Its price point makes it one of the most affordable devices out there. However, when you're considering the cost to buy this machine, you really need to think about replacement pads. You may find the initial purchase price less than other TENS units but you're tied into buying Omron's replacement pads, and those things aren't cheap.
If you opt for a different machine that takes standard fitting electrodes, you have an almost endless choice of replacements – and aren't obliged to buy the manufacturer's own brand. Just something to bear in mind.
Summary
With the PM3030, Omron has created a device that's uncomplicated – and a piece of cake to use. The question really has to be whether you're prepared to buy a machine that only allows you to use the manufacturer's replacement pads? If you're happy to offset this for the convenience and simplicity, then it's worth further consideration.
Ratings
Features - 4
Ease of use - 9
Value for money - 6
6.3
If you're after a single channel TENS unit that's childsplay to operate, and don't mind purchasing Omron's replacement pads, the PM3030 could be just the ticket.