Ever wondered what the pros use to enhance their TENS sessions? In my roundup of the latest TENS unit accessories, I introduce to you a hand-picked selection of the most useful, practical, and ingenious products around.
Whether you're looking to get more out of your therapy – or to simply save a few dollars along the way – these clever solutions may be just the tools you've been searching for.
Conductive products
The following three innovative TENS accessories have been designed to make it easier for users to:
Target specific parts of the body
Treat a whole region rather than just a small area
Reusable? Check. Washable? You bet.
The great thing about these products is they can be used over and over again. Of course, like any item of delicate clothing they will need replacing, eventually. However, they have been created so that you can hand wash them, as and when required.
I find at times it can be tricky getting electrodes in exactly the right location. Pinpointing the pain and then attaching the electrodes in the best place isn't always as straightforward as you'd like it to be. You may feel like you've got the pads in the optimal position – and then once you start your treatment, realize it's not quite targeting the exact point of pain.
That's where these conductive TENS products come in. They cover a larger region and distribute the (low voltage) electrical current evenly. By doing this the treatment is not limited to the surface area of a standard TENS pad. Plus, there's the added convenience of being able to consistently target the exact same place.
I love the concept of this because I know from experience that electrodes don't attach quite as well to some areas of the body as others. An example of this is around the joints, where some pads have a tendency to work their way loose, especially if you move a bit and bend the joint. In fact, some places like toes and fingers are practically impossible to treat with normal electrodes.

Conductive TENS accessories have been developed to convenient, efficient and simple to use. Not only that – but they make it possible to treat areas you may otherwise have difficulties with.
But how does it work?
The conduction comes from a special silver filament that's been woven into the products.
Out with the electrodes!
The next two products I've picked out are similar in concept but slightly different in the way the work. Whereas the conductive items cover a whole area, the massage shoes and belt focus the TENS therapy on a particular place.
What's interesting about the massage shoes is they've been designed around acupressure points. (If you want to read in more detail about what acupressure is and how it works you can visit www.acupressure.com.)
When you look closely at the image you can see some round metal parts built into the soles of the shoes. These are located on key acupressure points. So when you connect the shoes to your device, these points are stimulated. It's a very creative and conceptually interesting solution – for administering TENS to your feet.

The other accessory I've chosen here is the belt (for use on the lower back). If you haven't already read it and would like to learn more, I wrote an article on TENS belts.
What's great about this particular one is that the electrodes are fitted inside the belt. This means you don't have the ongoing cost of replacement electrodes, like with some of the other belts. In my opinion, this is a huge plus point and highly advantageous.
Anybody want to save some money?
Thought so! Who doesn't? The two products above can both negate the need for buying replacement electrodes – bonus. If you use your TENS device regularly this can add up to a nice little saving over time.
Tools of the trade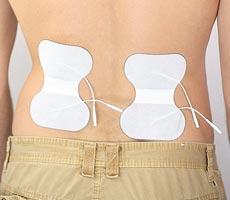 Large butterfly electrodes

I love these large butterfly electrodes, they are high quality due to their cloth backing – and have a great coverage area.If for example, you're using them on your lower back it's much easier (and quicker) to position a couple of these than it is to place four smaller individual pads. So that's less time messing about and more focus on your TENS treatment!I also like that they're packed individually in resealable bags to help them last longer.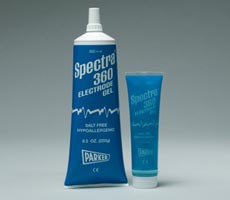 Electrode gel

I'm a big fan of electrode gel, it's like the WD40 of TENS – it makes everything work better! But that's not all, it can also prolong the life of your pads.All you need is a little splotch of the stuff each time you use them.A tube of this won't break the bank – and might just improve your treatment – as well as helping you get a few more uses out of those electrodes.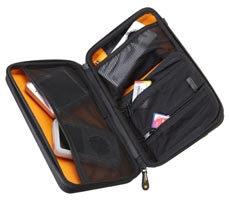 Carrying case

It's all well and good acquiring a device and then these wonderful accessories – but where are you going to keep it all!?Hardly any companies ship their machines with a case – and even when they do, the cases don't have any spare room or padding.This particular case is my personal favorite because of all its compartments and padding – perfect for staying organized and protecting your setup.