We were so excited when we heard that Theragun had just dropped their new generation of percussion massagers.
The brand has relaunched under a new name, Therabody, though they've kept the trusted Theragun name for their percussion devices.
Their name in the industry really does stand for quality, but over the past few years a number of competitors have started to catch up.
Theragun's 4th generation launch positions them again as market leaders, with a range of different devices to choose from.
If you're struggling to decide which device is right for you, we've taken a close look at each one to help you make your mind up.
Theragun Massagers: Compare Massage Guns by Features and Price
See the features of each model at a glance, in our handy table below.
You can focus on the features that matter most to you and see how each of the four Theragun devices stacks up:
| Device | Price | Weight | Stroke | Max. No-Stall Force | Max Speed (PPM) | No. of Speed Settings | Battery Life | No. of Attachments | Rotating Arm | Carrying Case Included |
| --- | --- | --- | --- | --- | --- | --- | --- | --- | --- | --- |
| Theragun Prime | $$ | 2.2lb | 16mm | 30lbs | 2400 | 5 | 120 mins | 4 | No | Yes (protective bag) |
| Theragun Elite | $$ | 2.2lb | 16mm | 40lbs | 2400 | 5 | 120 mins | 5 | No | Yes |
| Theragun PRO | $$$ | 2.8lb | 16mm | 60lbs | 2400 | 5 | 300 mins total (2 swappable batteries) | 6 | Yes | Yes |
| Theragun mini | $ | 1.4lb | 12mm | 20lbs | 2400 | 3 | 150 mins | 1 | No | Yes (soft case) |
4th Generation Theragun Range: Researched and Reviewed
Now you have the specification of each model in the range, we've taken a look at all four in a little more detail.
Our aim is to help you find the right Theragun massager for both your needs and your budget.
1. Theragun Prime
A simple device that sets a new standard
If you're looking to invest in your first Theragun, then the Prime has all the original features you could need.
In fact, they describe their entry level model as "the new standard in percussive therapy", a clear dig at their competitors!
Though the mini is a good place to start, you don't get the promised power of the Theragun name like the Prime.
What they've cleverly done with the Prime is take all the essential features Theragun is known for and packed them in to one product.
You get the stroke depth (16mm) and the variable speeds of the higher spec devices, with half the force. It's still 30lbs of no-stall force so will likely meet the needs of most people.
The Prime connects to their brand new app:
Pair via Bluetooth and you can remotely adjust the speed, as well as follow guided treatments.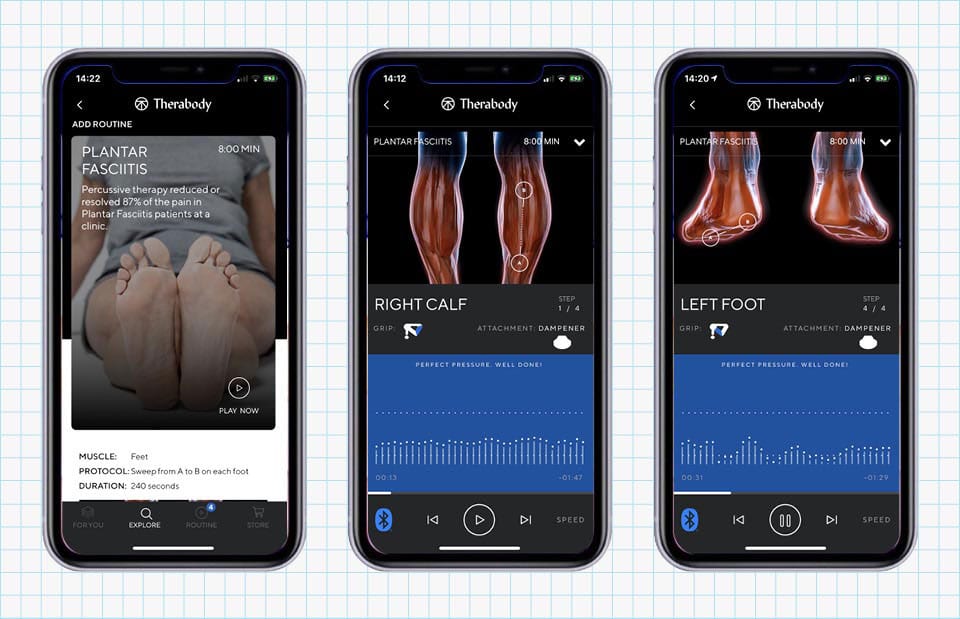 The app learns about your habits and then creates personalized wellness routines. For example, if the app notices that you sit on the subway for an hour each day, it might create a routine focussed on reinvigorating your glutes and lower back.
At the time of writing there does appear to be a number of teething problems with the app.
Currently the app feels like a prototype that has plenty of potential but needs work. However, the beauty of app-driven products is that they can constantly be updated and improved. When that's done well, it feels like you're getting a whole new product. So let's watch this space.
Luckily, the Prime works perfectly well without the app and if they didn't tell you there was one, you wouldn't really miss it!
You don't get the fancy OLED screen of the Elite and PRO, but you can still toggle through the speed settings on the simple screen.
You're not shortchanged on attachments either, with four different shapes to play around with.
Such as the Dampener which is great for general use (you can explore the Theragun video library to see the Dampener in action), and the Thumb attachment for trigger points.
Wireless charging isn't a feature of the Prime, but when fully charged you do get a respectable 120 minutes of battery life.
Though the Prime doesn't look as sexy as the Elite or the PRO, it is a great all-rounder and a signifiant improvement on their previous entry level model.
2. Theragun Elite
The quietest device Theragun have ever created
The Elite is perhaps the most esthetically pleasing Theragun in the range.
Plus it's the quietest:
Thanks to the "advanced sound insulation", as well as a brushless motor. They've always been known for powerful, but noisy devices, and this 4th generation model appears to offer the solution.
In fact, Therabody claim the Elite is even quieter than a standard electric toothbrush!
Use it in bed, in the office or out and about without drawing attention to your treatment with a noisy motor.
Though quiet, the Elite is still powerful…
It has the 16mm stroke and an OLED screen with a force meter where you can play around with the 40lbs of no-stall force.
With five speed settings from 1750 to 2400 PPM, you have the ability to customize the number of percussions to any one in between, giving you the perfect intensity.
You can connect to the Theragun app, however the Elite also has the ability to remember preset programs that you enjoy, even if your phone isn't with you, for example if you're in the gym.
The Elite is equipped for wireless charging (the unit is sold separately), and offers 120 minutes of battery life (matching the Prime).
Five unique attachments help you target different areas, including a Cone attachment to work on your hands and feet.
Shipping with a protective carrying case, it's available in two colours, black and white.
If you're looking for a massager that looks good but also has the power then you have to choose the Elite.
3. Theragun PRO
A PRO device in every sense of the word
Theragun PRO is a real step up from the previous generation model, and a must-have for serious athletes and personal trainers who want to train harder and recover faster.
Providing an incredible 60lbs of force without stalling, and a 16mm stroke you get the deep massage you're looking for.
It's the only massage gun in the range with an adjustable arm:
The four unique arm positions, when paired with the three different grips, gives you various combinations to get to those hard to reach places.
You can see this demonstrated by watching the video below, which introduces the new range:
Like the other models, you get five in-built speeds, but you can also tailor your speed anywhere from 1750 to 2400 PPM.
Theragun's PRO ships with six attachments, so just one more than the Elite, but it's a good one!
The Supersoft attachment has been designed for sensitive areas, and it ticked all the boxes when we were testing this model.
It enables you to massage areas where the other closed-cell foam attachments might feel a little too tough, such as around your ankles.
Unfortunately to make way for the Supersoft attachment, the PRO doesn't ship with the large ball.
We've always been a fan of the large ball as it's perfect for activating large muscle groups, like your hamstrings and quads, before exercise.
So the fact the large ball isn't included is disappointing, considering the price tag, though you can buy the attachment separately for $20.
All their attachments are now made from a closed-cell foam, that can be easily cleaned making Theragun devices more hygienic.
The OLED Screen with Force Meter helps you adjust all the settings, and like the Prime and Elite models, it syncs with the app.
You can store your presets on your PRO, to remember your favourite programs and settings even when you're away from your phone.
Therabody don't just sell you the PRO device then leave you to work things out for yourself. Their website has lots of instructional videos demonstrating how to use the device to treat everything from tech neck to plantar fasciitis.
Despite its power, the new QuietForce Technology means you don't need to worry about waking the neighbors!
The G3 Pro (the previous top-of-the-line model) sounded like a jackhammer! This model still kicks out some noise, but is nowhere near as loud as its predecessor.
Though if noise is a deal breaker for you, it could be worth looking at the Elite model or a quieter non-Theragun alternative.
With the PRO you'll never run out of power:
Shipping with two swappable batteries, you get an amazing 300 minutes of battery life.
Buying the top-of-the-line device means you're equipped for wireless charging, although you don't get a wireless charger included, so you'd need to buy the PRO Wireless Charging Stand separately.
Weighing 2.8lbs, the PRO is just 0.6lbs heavier than the Elite model. However that weight does make a difference when it comes to using the device on some areas, particularly the back.
For some the PRO will start to feel heavy if held in one place for a period of time, so consider the weight when choosing between the devices.
In terms of the previous PRO model it's a real step up, tackling the noise issue and adding more flexibility with the speed settings and preset programs within the app.
If you're using the old model and wondering if you'll notice a difference? We're sure you will.
4. Theragun mini
The first ultra-portable Theragun device
Theragun devices have always been a little pricey, with many looking for more affordable alternatives.
However the introduction of the mini could solve that issue, and opens their brand up to a whole new audience.
Described as an "ultra-portable, on-the-go treatment", it's certainly compact. Which makes it a great additional purchase for people who love Theragun, to throw in their gym bag or use for travel.
This pocket-sized massager weighs just 1.4lbs:
You don't get a stroke as deep as the Prime (12mm compared to 16mm), but the mini does have three speed settings to play around with.
1750, 2100 and 2400 PPM mean you enjoy the same intensity, but the mini just doesn't penetrate as deeply, and can only handle 20lbs of force without stalling. Though for many people, that will be more than enough.
Applying pressure to some places with the mini can be tricky:
There's only one grip position and no rotating arm, so treating hard to reach areas, like the middle of your back can be challenging.
If you're living with back pain and looking for a Theragun, this might not be the best choice for you.
Theragun's Prime, Elite and PRO, with their triangular design, will enable you to apply pressure more effectively, however bear in mind that the PRO is heavier so can be tricky for some to hold for long periods.
The weight of the mini does make it the ideal tool for using on your hands, with Therabody demonstrating on their website how it can be used to treat Carpal Tunnel Syndrome.
If you want simplicity, then the mini wins every time:
With a push button to switch between the different speeds, you have a tool to simply pick and go.
Worried this little massager might be too loud to use out and about?
The mini has been developed with their new QuietForce technology, with Theragun describing this model as nearly silent.
You get one attachment, the standard ball, and it's compatible with all the attachments of the other devices in the range. This is perfect if you're buying the mini to complement your other Theragun massager.
Alternatively, you can buy additional heads for just $20 each.
As we mentioned earlier, we really love the large ball attachment, as you get an incredible feeling when you use it to activate muscles in your legs. Making it a must-have for cyclists and runners!
Though mini by name, there's nothing mini about the battery power. Offering 150 minutes of life when full charged! You also get a soft case for transportation.
Gun massagers are generally seen as fairly cumbersome, and therefore can rule out a large section of the market. However the mini is a game changer that has cracked that market wide open.
Still Struggling to Decide? We'll Summarize!
If you want to invest in your first Theragun then the Prime ticks all the boxes. With lots of the Theragun power and none of the fuss, the Prime is offered at an accessible price point.
You might be tempted to instead opt for the mini, but you won't get quite the same experience, as the device doesn't penetrate as deeply.
The Elite is the perfect middle ground, offering the looks and the power.
However the PRO is really the only option for serious athletes and personal trainers, delivering a powerful treatment solution for all body types.
If you're investing in the PRO, you might want to add the mini to your toolbox, for using on the go.
Oh, and if they're all out of your budget then there are five great alternatives you might want to take a look at!