Wireless technology shook up the computer and telecommunications industry. It wasn't so long ago that we were having to plug a cable into in our big clunky desktop computers to browse the internet!
How times have changed – and how quickly the electronics industry moves. Recently we've seen a number of TENS unit manufacturers incorporating this technology into their products. It seems the race is well and truly on – to come up with the best wireless TENS unit…

Why make it with wires when you can produce it without?
That's exactly what the following three companies were thinking when they designed these innovative little devices: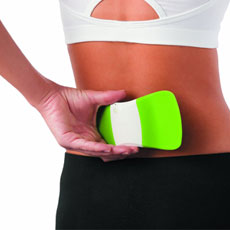 Hollywog WiTouch Wireless TENS Unit

Designed and shaped specifically for the lower back – operated with a separate remote control.
Hollywog's WiTouch also has a larger coverage area than the other devices on this page, making it the obvious choice in wireless TENS products for back pain.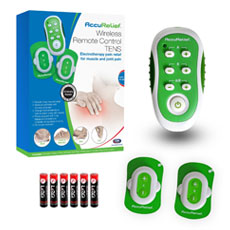 AccuRelief Wireless TENS Electrotherapy Pain Relief System

With two electrode controllers, this smart little setup can be used to treat pain in more than one area.
What's more, you can change the intensity separately for each one by using the remote – or pressing the buttons directly on the pads.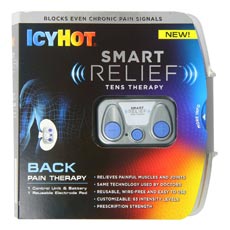 Icy Hot Smart Relief Tens Therapy Starter Kit

As simple as they come, this minimal device has just a single pad and can be placed up and down the back.
One potential problem though for some people is it might be difficult to reach the buttons during treatment, depending on where they've applied it.

Wireless TENS units are convenient because you don't need to attach cables to electrodes, and then plug them into a machine. Your device is out of the way – and therefore, there's no chance of catching the wires and pulling them by accident.
They're also way more discreet – some of them can be worn underneath clothing, without anybody else knowing – or seeing wires coming out of your pocket!
In the video below you can see just how small and flexible the Hollywog's WiTouch is:
If you're somebody who manages pain by having TENS sessions throughout the day, you may be able to wear the device under your clothing and switch on – with the remote – as and when it's required. Of course, this is assuming you have spoken to a medical professional first and made sure this treatment is suitable for you.

Messy cables – such a nuisance!
Don't you just hate that feeling – when you get a product out of the cupboard – only to find the wires in a mess and tangled up? You're all ready and raring to go but it can take an eternity to sort through and untangle them. I often think to myself, if only more products could be wireless…
Is a wireless device right for me?
A wireless TENS unit can provide you with a number of benefits – but there are also some potential drawbacks. I've put together some points to help you establish whether this type of setup is going to serve you best.
You may like to look at some other TENS units to compare them against.
Simple and uncomplicated
Discreet – wear underneath clothing
Models with remote controls make adjustments easy
Highly portable – less accessories to carry
Less pre-programmed modes and features
Some devices lack power
Not possible to lie on your back with all of them
Have to use manufacturer's own replacement pads

I'm a sucker for gadgets and have noticed there's a bit of a trend going on with mini devices at the moment. If it's for some pain relief on the go or to treat a small area, these products may be of interest:
This video demonstrates just how simple and straightforward AccuRelief's Mini TENS Pain Relief System is:
Personally, I wouldn't be looking for one of these as a direct alternative to a standard machine as they are fairly limited. However, for the right situation they could potentially provide you with some welcome pain relief.
In theory, I love the idea of being able to pop one in an overnight bag or carry-on, for a weekend away.
While most modern TENS machines are small and portable – there's still the main unit, electrodes, any spare batteries, etc. to take with you. When space is at a premium, any of these small TENS units could prove to be the perfect travel companion.