I bet I'm not the only one who likes the sound of a product that can help me manage my weight?
But can a smart scale really do that?
Well, this happens to be the second one I've purchased. The reason for that? I love my Fitbit Aria – it's been an indispensible tool for my weight loss. I wouldn't have got to where I am now, without it.
Considering the Smart Body Analyzer by Withings (also known as the WS-50) is one of the most feature-rich bathroom scales on the market right now, it made perfect sense for me – to take a closer look – at this innovative piece of equipment.
In this Withings Smart Body Analyzer review, I'm going see what the scale has to offer and whether it justifies both the hype – and of course, the price tag.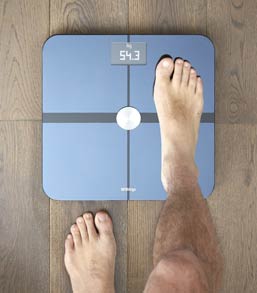 Withings Smart Body Analyzer
WiFi Smart Scale with: weight and body fat measurements, heart rate monitor, indoor air-quality tracking, weather forecasting, access your stats via smartphone or online
The scale
Withings WS-50 is a wireless bathroom scale that records: your weight, body fat level, heart rate, air quality, and then calculates your body mass index (BMI).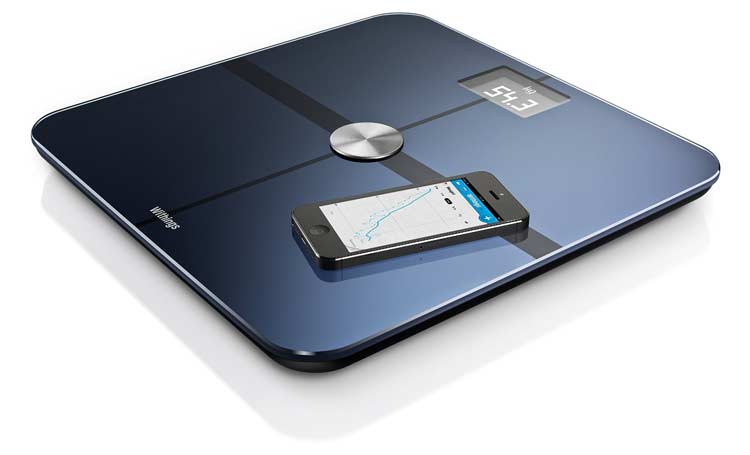 Once it's taken your measurements, it sends the readings (wirelessly) to your Withings account.
But here's the best part:
You can then access all of your stats (and beautiful progress charts!) at the touch of a button – via a dedicated smartphone app – or online through the Withings website.
That means:

Within a few seconds of stepping back off the scale, your measurements are ready waiting. It does all of the work for you – and saves an incredible amount of time.
What would I do if I didn't own a smart scale?
I know I'd still weigh myself – every now and then – but I'm pretty sure I wouldn't keep a record of it.
Who wants to measure and record weight the old-fashioned way?
There's no way in this world that I'd find time to enter the measurements somewhere and then create charts and tables to track my progress.
And let's be honest, even if you do have time to do all this, don't you have better things to do? Like spending time with your family, relaxing, exercising… etc.
The scale can be set to record your weight in: pounds, kilograms or stones.
Motivation
I covered this in depth, when I reviewed Fitbit's Aria scale. And while these two products have subtle differences (in terms of what they record), the essence is the same.
Tracking your progress through charts should encourage you to keep going – or give you a kick in the butt!
Setting your target weight and body fat level gives you clear goals to work towards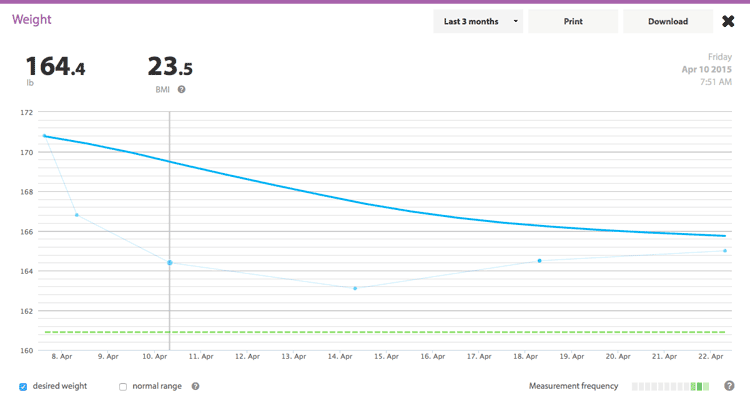 Did you know: Withings provides a neat way for you to share your data with your doctor?
Features
At the time of writing, I'm pretty sure the WS-50 is the only weight-scale on the market with a heart rate monitor and air-quality sensor.
When you add a body fat and body mass index (BMI) calculation into the mix, it's fair to say that the product fully justifies its tile of: "Smart Body Analyzer".
It offers so much more than your traditional bathroom scale, which will give you a weight measurement – and that's about it.
Those already familiar with Withings' other products, won't be surprised at all by the scale's capabilities.
Currently:
There's no other product on the market that has such a feature set. If you want a really smart scale, then look no further.

What's more, you can share the love. Withings Smart Body Analyzer can recognize up to eight different users. For most, this is going to be adequate for the whole household.
Who knows, it may even provide some motivation for a couple or family to manage their weight, collectively?
There are certainly strong arguments to be made for losing weight with your partner. Teaming up together could help with: encouragement, motivation, accountability and discipline.
I've been doing bits of research along the way, while I put this review together. I discovered some quite surprising comments in forums and consumer reviews. I came across people questioning the importance of heart rate and air quality in health monitoring.
In case you don't already know:
Resting heart rate provides an excellent (quick) indicator of your fitness levels. As a general rule, the fitter you are – the lower your resting heart rate.
I found a useful article here about this subject, if you would like to find out more.

The basic relationship between air quality and health:
Poor air with high carbon dioxide concentration can affect sleep quality, cause headaches, and a number of other health issues.
Smart Body Analyzer automatically takes a carbon dioxide and temperature measurement every half an hour. If you see the carbon dioxide concentration is higher than it should be, you can simply open the windows and let some clean air into your home.
If it inspires people to ventilate their homes on a regular basis, it seems a highly worthwhile and relevant feature me.
Note: you can set the temperature units to Fahrenheit or Celsius. Air quality is recorded in Parts Per Million (PPM).
I must confess:
In the past, when comparing the Smart Body Analyzer to the Fitbit Aria, I said the extra features this scale has wouldn't be a deal breaker for me. Surprise, surprise, after using the product, I've come to quite like them. Now, I'm not sure which one of the two I'd choose for myself, if I didn't own either!
Something to take into account though is the extra features do come at a premium, this Withings scale costs approximately $20 more than its Fitbit rival.
I guess you need to decide whether those extra features are worth it to you.
In case you were wondering:
The scale has a maximum weight limit of 396 pounds, which is slightly more than Fitbit's Aria (350 pounds limit).
Accuracy
I've used the scale a few times since I got it and after weighing myself each time, I've stepped onto the Aria to see how the results compare. The measurements are almost identical! It's hardly surprising though as both scales use bioelectrical impedance analysis (BIA) to calculate the level of body fat.
What is bioelectrical impedance analysis (BIA)?
It's a popular method for calculating body composition. In this case, it's used to estimate body fat. A series of tiny electrodes on top of the glass surface send a small (safe) electrical signal through your body, which takes a reading. The scale then makes a body fat calculation – based on this – and these other measurements: weight, height, age, and gender.
Look at these comparative readings I took as an experiment:
Smart Body Analyzer weighed me at 163.1 lbs with 18.4% body fat
Aria had me at 163.2 lbs with 18.2% body fat
Those two are pretty much identical.

I know the weight reading on the Aria is accurate because I tested it against another high quality bathroom scale – and there was never more than a pound difference – between the two.
I can conclude:
Withings WS-50 Smart Body Analyzer is highly accurate for measuring weight.
But you probably want to know about the body fat accuracy?
In my Fitbit Aria review I discussed how there may be some accuracy issues with the scale using BIA to calculate body fat. Obviously, the same applies with the WS-50 Smart Body Analyzer and any other body fat scales that you step on to estimate fat mass.
Here's the deal:
If you need precise body fat measurements, you're going to have to use skin calipers – and you need to know exactly what you're doing.
Not only is that time intensive – but on top of taking measurements – you're going to have to enter those numbers somewhere, make the calculation, and keep a record.
That sounds like a lot of unnecessary hassle to me – and I'm sure most of you will feel the same?
Now:
For people who want a hassle free way to monitor trends in their body fat, the WS-50 provides the most convenient solution.
In a matter of seconds you can step onto the scale, let it record your measurements, step back off, and then open up the app on your smartphone and take a look at your progress. Done and dusted.
Now compare that to the old-fashioned way with skin calipers. Which one do you think you're going to stick to and maintain?
It's a no-brainer – I know which one works for me.
Can anybody use the scale? Almost anybody.

Withings advises people with a pacemaker or other internal medical device not to use the product. This is because of the small (safe) electrical signal sent to your body to calculate fat mass and heart rate. The signal could potentially interfere with these types of implanted electrical devices.
So I can use the scale if I'm pregnant?
According to Withings this is fine:
There are no known risks associated with pregnant women using Withings scales. However, if you use a Smart Body Analyzer (WS-50) you cannot expect an accurate fat mass reading. Therefore, we recommend you disable the fat mass measurement.
As far as the heart rate function goes, there have been a couple of occasions – where it failed to take a reading. After delving further, it appears I'm not the only one who has experienced this.
If you're attracted to the scale because you need regular heart rate measurements, it may be wiser not to rely solely on the scale for that. You could check out something like, Polar's FT4 Heart Rate Monitor.
For everybody else, the heart rate measurements provide an extra insight into general health and fitness levels.
Operating the scale
I've only been using the Withings scale for a short period but my experience with the scale (once setup!) has been an excellent one.
How do you operate Withings WS-50?
You literally step on it, let it do its thing, and step off. It then sends your measurements wirelessly to your Withings account. Simple as 1, 2, 3.
Something I'm really digging with the scale is the display. For some reason it makes the whole weigh in process enjoyable (even more so if the weight reading is to your liking!)
The backlit display means you can use it in dark or dim light, if you need to. The screen is slick, looks impressive, and is just what you'd expect from a top-of-the-line smart scale, like this.
Here's the order it takes your readings and what you'll see on the display:
Weight measurement
Body fat calculation
Heart rate measurement
Air quality screening and temperature check
This video below demonstrates the scale in use. At 0:25 you can see the weigh in process and how the display works:
While no buttons are required to weigh yourself, there are two on the underside of the scale. They're used for pairing and setting the weight to kg, st or lb.
In my opinion, these buttons are one of very few slight downsides with this product. I don't find them particularly tactile or responsive. They're hard and it's difficult to actually tell whether you've pressed them or not.
That said, it's hardly worth mentioning them – because I've only had to use them once. Personally, I wouldn't even take them into consideration when evaluating the scale.

The only time you ever need to press these buttons:
Is during setup or if you decide that you want to change the units your weights are recorded in.
Setup
Sounds like the scale is easy to setup, right?
Once you know what you're doing, yes! Setup should've been a breeze but ended up taking me a lot longer than anticipated. Firstly, I tried doing it through my iMac – but for some reason my computer just wouldn't connect to the scale.
Then I tried through my iPhone, using its web browser (Safari) and got a step further. I managed to connect my phone to the scale but was unable to complete the final step, and connect WS-50 to my home router (wireless network).
Then came my aha moment…
I decided to take another look in the Quick Installation Guide that ships with the product:
I flicked a few pages and came to the section about setup using an iPhone, iPad or iPod. The process is documented with screenshots and tells you to connect to the scale using Bluetooth: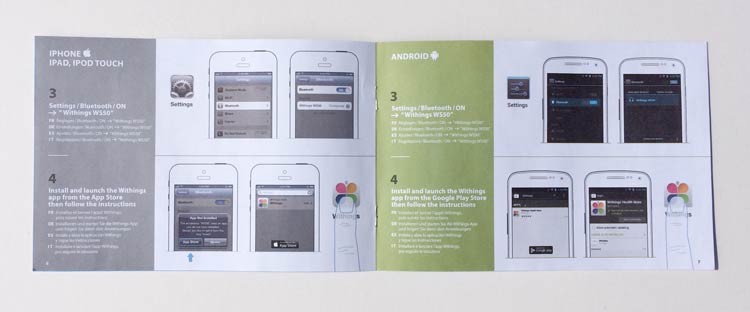 Once I'd done that I was prompted to download the Withings app. I installed it on my iPhone – and in no time – I had it all setup, rejoice.
In a matter of minutes I'd gone from sheer frustration to excitement and anticipation.
Why didn't I do this in the first place?
Maybe because I'm a guy and we don't do instruction manuals! In all seriousness, I'm very comfortable and competent with modern technology and didn't expect to encounter any problems.
On one hand I should have looked through the guide properly, if I had done I would've seen the iOS setup – and had I chosen to try that first – it would have been a 5 minute job.
In my defense though, the guide does detail how to set the thing up using a computer and that method is shown before the iOS one.
Even if I'd seen the iOS setup first, I'm not sure I would've tried it before the computer method. When given the choice, I prefer to carry out tasks on a computer – over mobile devices. I find using a mouse and traditional keyboard a lot quicker and less fiddly.
Had I known then what I know now…
You would be reading me saying how it's one of the easiest products I've ever setup. Make sure you don't make the same mistake I did.
Want to save yourself an hour!?

If you have an iOS or Android mobile device I would suggest using that with the Bluetooth method to set the scale up… it's a doddle. I wasted far too much time trying to connect to it through my iMac.
For anybody who intends to use the scale on carpet, Withings provides four carpet feet. These can be placed on top of the standard feet (which are for use on hard floors):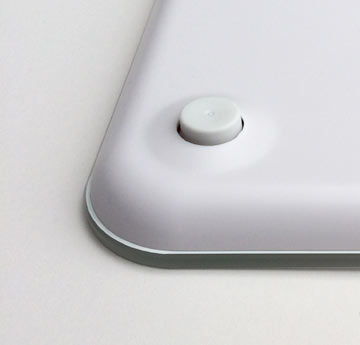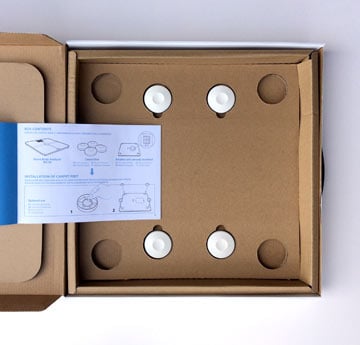 Integration with apps
Withings' own Health Mate mobile app enables you to keep track of everything from your phone (or tablet) and is available for both iOS and Android devices.
But what if I don't have an iOS or Android device?
You can also access Withings and see all of the same information through a web browser. I think I prefer the design and layout of the web-based version over the mobile app. It seems cleaner, clearer and easier to navigate. My first impressions of the mobile app are that it's a little cluttered and lacks clarity.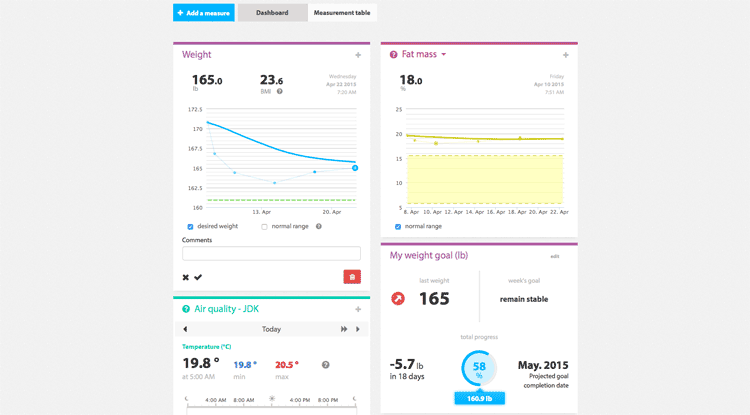 What happens if I don't want to use the Health Mate app?
No problem:
The great news is Withings has over 100 partner apps. In the weight loss / management category these include: Lose It!, MyFitnessPal and DietBet, to name but a few.
The likelihood is:
If you're already using a mainstream health or fitness app, you'll be able to share your Withings data with it.
For everybody else:
You have an incredible selection of apps to choose from! Such a large number of partner apps has another benefit: if you ever want to change or start using another, you're spoiled for choice.
What caught my attention though was that you can link the Withings scale with a Fitbit account. (I didn't realize until I started researching and working on this review.)
This is perfect for somebody like me who already owns a Fitbit activity tracker – and wants to keep their weight measurements – and activity records in one place.
Here's a comparison of how my data looks in three different apps. You can use any (or all if you wish) with the Smart Body Analyzer. You'll see some activity tracking in the Fitbit app, that's because I also have my Fitbit One activity tracker setup with that account: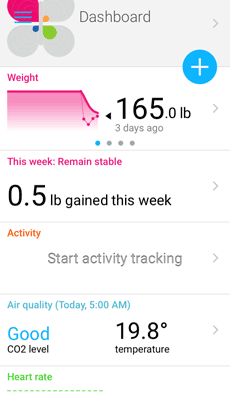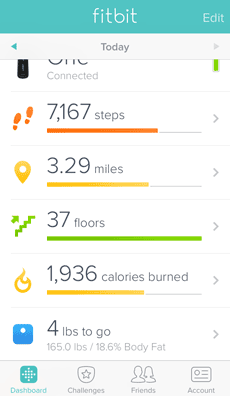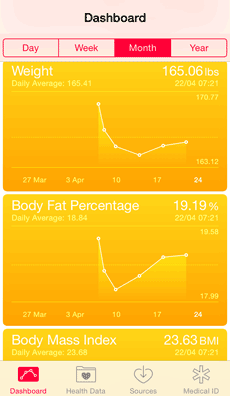 It's also worth noting:
If you have an iPhone (or other iOS device) you can set the Withings app to send your data to Apple's Health app.
It took me a while to work out how to enable sharing with the Apple Health app – but all you have to do is go to the Withings app and swipe a switch (in the profile section). You then go back to the Apple Health app and select the items you want it to share.
It's a two minute job: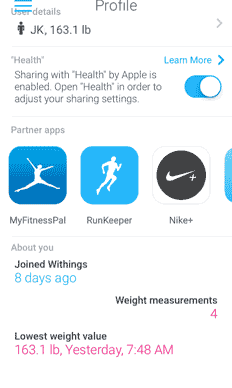 Step 1:
Go to the Profile section of Withings Health Mate app and swipe to enable sharing with "Health"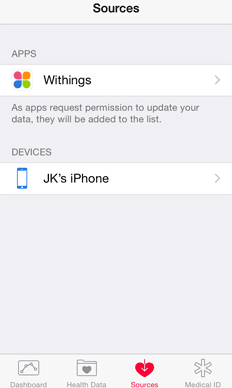 Step 2:
Open Apple Health app and go to the Sources section – then click on Withings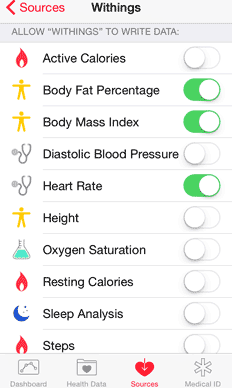 Step 3:
Select the individual types of data you want Withings to send to Apple Health app
Battery
Withings Smart Body Analzer takes 4 AAA batteries – and the first set comes with the scale.
I was impressed that the batteries shipped with the product were Energizer! Usually, you get some cheaper unbranded ones with new electronic products.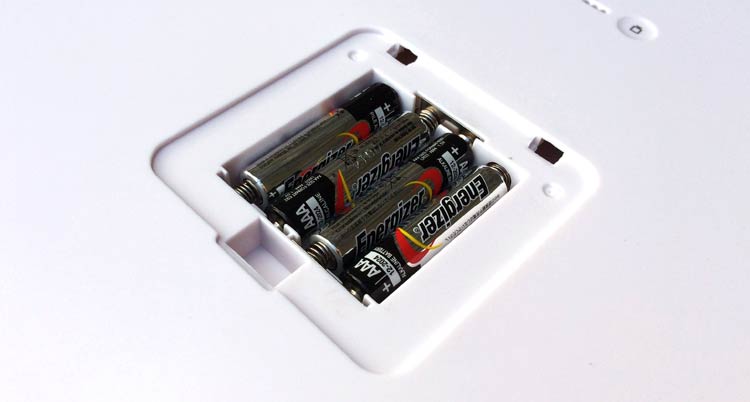 I haven't owned the scale for long enough to be able to comment on battery life. I did, however, do some research in forums and looked at other consumer reviews.
It seems that battery life is decent. I read quite a few comments where users said they were getting between four and six months' use out of a set, based on using the scale daily.
People who share the scale with others reported that batteries would need replacing more frequently.
Naturally:
The more times the scale is used, the quicker the batteries will drain.
What is very useful is the battery level indicator. You don't need to worry about them suddenly running out of juice. The battery level can be checked inside the Withings mobile app or through the browser-based version:
Warranty
Like all of the other Withings devices, the Smart Body Analyzer comes with a 12 month warranty.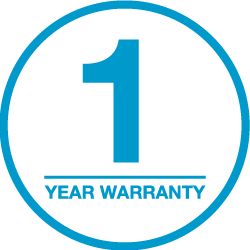 How does this stack up against alternative products?
It's the same as the Fitbit Aria smart scale, which at present, is the closest alternative product.
Regular readers of the site won't be surprised to see the scale has a one-year warranty – as this tends to be the norm – with similar electronic products.
It's always prudent to check warranty lengths as there are some exceptions.
I've seen some products wit as little as 90-day cover. Worse still, some don't even disclose warranty length, which probably means they don't even come with one!
Design
It's smart in every sense of the word: smart features, smart operation… and smart design.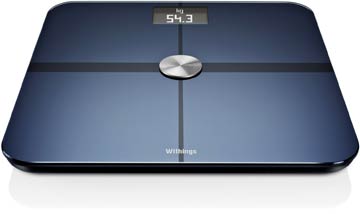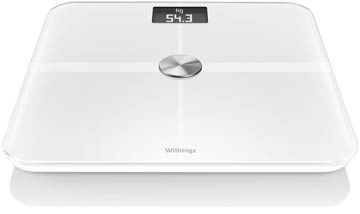 For me, the WS-50 is one fine looking product. It's even more striking in the flesh, than in photos.
Before I bought this scale, I said the Fitbit Aria has the upper hand on rival products, in the looks department.
Now I would have to question that – it's a very close call. Both scales have beautiful tempered glass tops, finished to a similarly high standard.

The only real difference for me is the quality of the underside – I much prefer the design of Aria's – and the type of plastic Fitbit has used.
But let me put it into perspective:
It's the underneath! I'm not going to get too into this because the only time you see it is when you set the scale up or swap the batteries – so hardly ever. It seems solid enough and nicely constructed, which is way more important.
I guess when it comes to esthetics, people can make their own minds up.
On a product like this, I certainly wouldn't be basing my decision solely on appearance. Obviously, it's great that it looks good – but I'm more concerned about what it can do – and how well it can do those things.
Pros and cons
There's a lot to like about Withings WS-50. I've put together a list of what I, along with other consumer reviewers believe makes this scale such a great product:
Features that no other smart scale has
Couldn't be easier to weigh yourself and keep a record
Simple to setup with Withings smartphone app
Highly accurate weight measurements
Charts your progress and lets you set weight goals
Clean design with beautiful backlit display
Compatible with a huge amount of health and fitness apps
Batteries last a long time
Can share it with others – automatic recognition of up to 8 users
Of course, there are some considerations:
Costs more to purchase than other smart scales
Body fat accuracy
Body fat accuracy
Sometimes it doesn't take heart rate measurement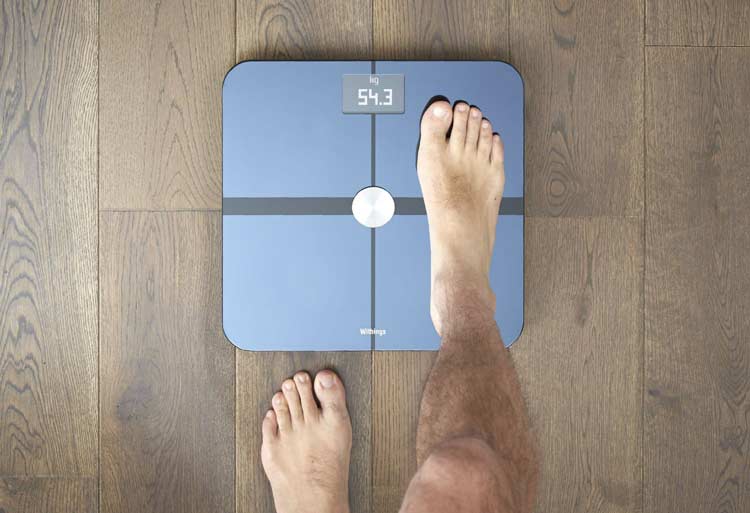 Price
The product retails for $149.95, this is a feature-packed smart scale, after all – and therefore, it commands such a price.
What makes it worth $20 more than its closest rival?
That's very much down to you as an individual – and how much you value the extra features, and its compatibility with so many apps.
This sort of money for a bathroom scale is a lot – but remember, this is no ordinary scale. Withings Smart Body Analyzer does things that no other competing product is capable of.
I always look at this type of product as an investment. If something saves me time and makes my life easier, then it's going to appeal to me.
It could be likened to an advance payment, where you spend some cash up front – and from then on in – you have it at your service: taking, recording and then processing all of your measurements.
Some may argue it's not worth spending this amount on a scale. I, however, couldn't disagree more.
Here are my thoughts:
I'm not valuing the technology or components inside the scale – I'm valuing the impact it can have on my health.

When I was doing extra research for this, I read a customer's review (on Amazon) – he'd put the cost into perspective – very nicely:
He calculated, that if you get five years of use out of the scale it would work out at only eight cents a day. What's more, if you're sharing the scale with family or your partner, that figure looks even more impressive.
It's also important to remember that once you've purchased the scale, there's nothing extra you need to buy.
The only cost you have to consider is batteries – and that's is next to nothing, because they seem to last well.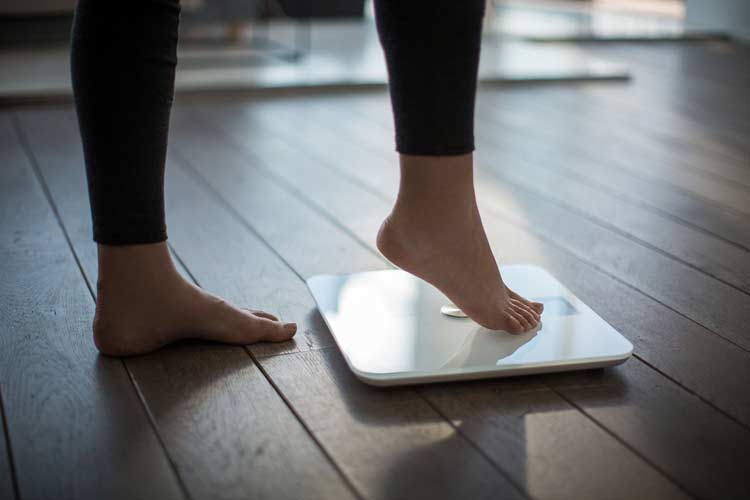 Summary
As soon as I started using Withings Smart Body Analyzer, I fell in love with the product! I'm a big proponent of smart scales anyway – and I know first hand – just how beneficial they can be.
And at the end of the day:
You'll be hard pressed to find a smarter scale than this one.
Whether you're a fitness fanatic or somebody who simply wants to take control of their health monitoring, WS-50 will take the hassle out of the job – and do the laborious work for you.
The Smart Body Analyzer is a seriously clever piece of kit – and a powerful tool for any weight management program. Its unparalleled feature set makes it a mouthwatering proposition for anybody on the lookout for a new smart scale.
If this all sounds wonderful but you can manage without the heart rate and air quality features, you may like to turn your attention to Fitbit's Aria.
Ratings
Features - 9
Ease of use - 9
Value for money - 7
8.3
Set your target weight, work towards it, then hit it. When you combine Withings Smart Body Analyzer with some discipline, hard work, and dedication – you might just find that it's the missing piece of the puzzle.