I've noticed iReliev's range of products increasing in popularity over the past few months. It's a brand that's gaining some serious traction in the TENS and EMS space.
Because of this, I thought that now would be the perfect time to take a proper look for myself. I decided to get hold of an iReliev Dual Channel TENS Pain Relief System to play around with and test out. Please note: this product is sometimes referred to as the iReliev Dual Channel TENS unit or iReliev Pain Management System.
In this review, I'm going to talk you through the machine and document exactly what I discovered. (Hint) I think you're going to like it…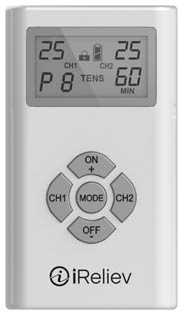 iReliev Dual Channel TENS Pain Relief System
Dual channel TENS machine with: 8 pre-programmed therapy modes, 25 intensity levels, digital LCD display, battery level indicator, use up to 4 pads
Programs and modes
The machine comes with 8 TENS therapy programs. They have been preset and designed to treat different types of pain.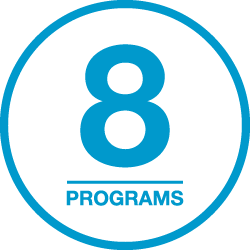 iReliev describes this product as:
Electrotherapy relief for muscle & joint pain.
The programs have been developed to benefit: pain gate control, endorphin release, muscle twitching/spasms, muscle pains, and muscle fatigue.
Six are for tackling chronic pain, one is for acute pain, and the final program (P8) is suitable for both types of pain.

In the Quick Reference Guide for the machine, iReliev outlines the style of the massage (program) and what you should feel during your session.
If you click on the image below you can see this in detail and see what each one does: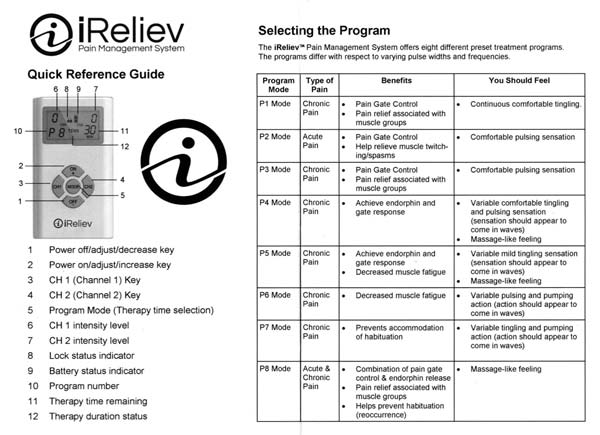 From personal experience, I've found that most effective way to find the right program / mode is by trial and error.
For example: you may read that P4 achieves endorphin and gate response, and think that sounds great, just what you need.
However: when you actually try the different programs it might be that you get way more pain relief from P1 or P5.
For some examples of where you might find this machine useful you can watch the short video below:
Channels
This iReliev Pain Management System is a dual channel TENS unit, meaning you have the option to use it with two or four pads (also known as electrodes) at a time.

Both channels have their own input, where you insert the lead wires. You fit two pads to each lead wire.
A channel requires two pads to work – one sends a positive charge (of the low voltage electrical current), with the other sending a negative charge.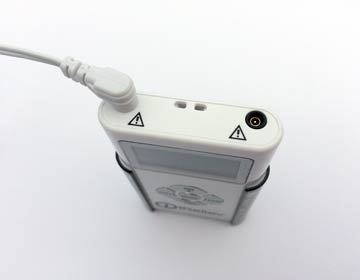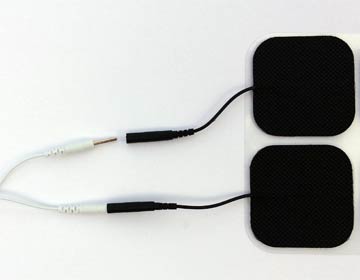 The channels are conveniently named: Channel 1 and Channel 2, with the corresponding keys (located on the front of device) labeled as CH1 and CH2.
These keys allow you to adjust the intensity separately for the two channels.
Let me explain why this is important:
Firstly, you may be using your TENS unit to treat two different areas at the same time.
If, for example, you're treating your knee and hip simultaneously it might be that level 5 is just right for your knee but not strong enough for your hip.
That's not going to be a problem with this device because you can simply increase the intensity for the channel you're using on your hip. In the example below, let's imagine CH1 is being used to treat the knee and CH2 on the hip:

Similarly, if you're treating back pain with two pads on each side of your back, you can have it stronger on one side, if required.
Most TENS machines today are dual channel with independent intensity controls, however there are a few on the market that aren't. It goes without saying that you should double-check this before buying one.
Personally, I wouldn't even consider one unless it had independent intensity controls. Fortunately, iReliev sees it the same way and designed that important feature into the unit.
Intensity levels
25 levels of intensity give you a great amount of control over the treatment. If you don't already know this, I'd like to point something out:
The number of intensity levels does not reflect how powerful the device is.
It's to do with the increments in which the machine goes through the power range.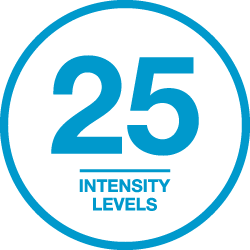 For example:
This TENS unit goes through the power range in increments of 4% a time.
Whereas a machine with only 10 levels would be adjusting the intensity by 10% each time you increased or decreased it by one.
Take a look at the diagram below to see how much more control you have with 25 levels: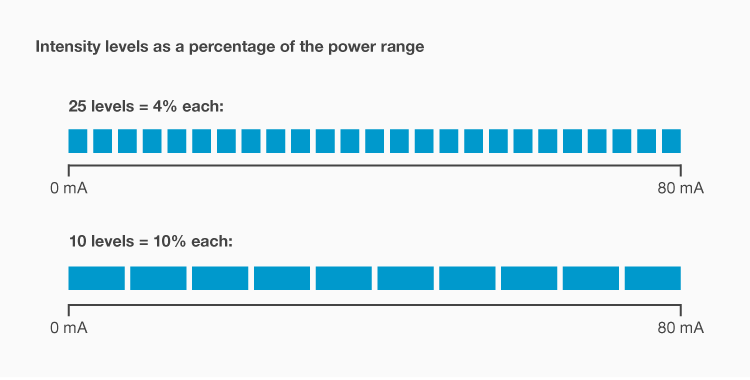 A good number of intensity levels is desirable as it'll provide you with more chance of finding the optimum strength for your particular pain.
Think about it this way:
You're using a machine with only 10 levels and the fifth one doesn't feel powerful enough, but the sixth one is too strong. With 25 levels it's unlikely you'll experience that problem as you have way more control over the power output.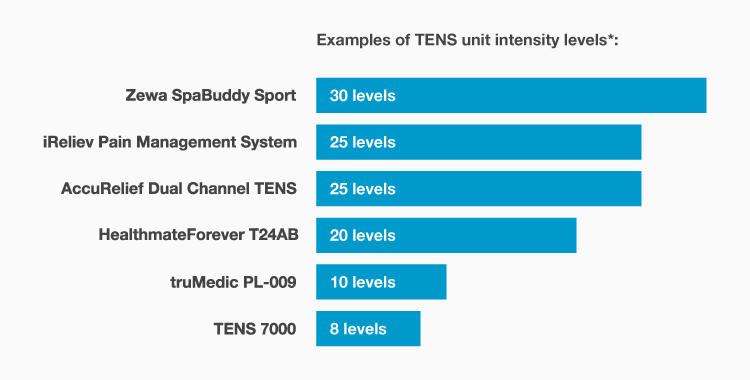 As far as the actual power of the device goes, it has a range of 0-80 mA. Tim Watson, who runs the fabulous electrotherapy.org website states that current intensities for TENS units are typically in the range of 0-80 mA, and goes on to say:
Although this is a small current, it is sufficient because the primary target for the therapy is the sensory nerves, and so long as sufficient current is passed through the tissues to depolarise these nerves, the modality can be effective.
For most, a current intensity range of 0-80 mA will be ample. However, if you do feel you need a more powerful device you could have a look at the SpaBuddy Sport by Zewa, or TENS 7000. Those two machines both offer outputs from 0-100 mA.
You may be interested to know:
I tested all of the programs on myself and cranked the intensity as high as I could handle. The highest I got to was level 15. So I was only using 60% of the maximum power output and that was ample for me.
Obviously, this is going to vary from person to person and depend on what sort of pain it's being used to treat. For me, this machine is more than powerful enough, and there was still plenty in reserve.

Ease of use / Operating the device
iReliev has kept the controls simple and to a minimum, something I like. There are five keys on the front of the unit and they're all you need to do everything.
The keys are named the following and are clearly labeled and easy to read: ON +, OFF -, MODE, CH1, and CH2.

The first thing I noticed when I touched the keys was how nice they are to press! They're very easy to push and make a clicking sound so you always know you've pressed them in fully. I love this kind of responsive click, it's not too dissimilar to the sound the home button (the round one at the botton) on an iPhone makes.
I found the device a piece of cake to operate, very intuitive.
Now, I'm certainly not suggesting anybody at home does this but I had no problems working my way around the controls before even looking at the operating instructions*. I got it working and was able to adjust everything without having to find out how to.
I often like to fiddle with a machine before reading the manual – because if I can manage to operate it that way – it tells me it's been well designed and properly thought out. This most definitely has, it's a really intuitive TENS unit.
*Note: you should always read the instruction manual in full before operating this or any other electrotherapy device. Here's what it says in the manual underneath the heading, "Safety Instructions":
Read operating and instruction manual before operation. Be sure to comply with all "CAUTIONS" and "WARNINGS" in this manual. Failure to follow instructions can cause harm to user or device.
Without going into full detailed instructions on how to use the device, I'm going to explain how easy it is to use.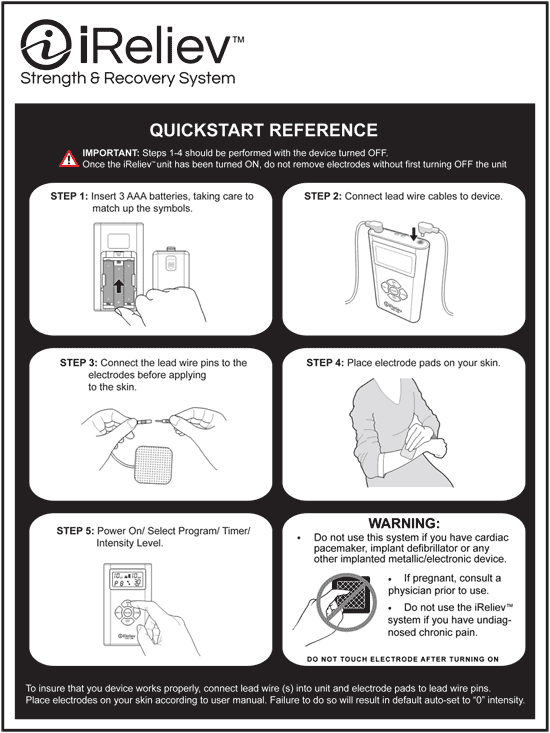 Once you've got the batteries inserted, lead wires and pads connected, and have the pads placed on your skin (as described in the Quickstart Reference Guide that ships with the product and is pictured above), you need to select your desired treatment.
This is done by:
Pressing the "ON" button
Pressing "MODE" – this makes the number next to the letter "P" (for program) flash
Pressing the "+" or "-" button to find the program you want
Pressing "MODE" to select that program
Pressing "MODE" (again) – this time it makes the number above the word "MIN" flash
Pressing the "+" or "-" button to select the length of treatment you want – it goes from 5 minutes to 60 minutes in 5 minute increments (choose from 5, 10, 15, 20, 25, 30, 35, 40, 45, 50 or 60 minutes)
Pressing "CH1" – this makes the number in the top-left of the screen flash
Pressing the "+" or "-" button to select the desired intensity for channel 1
Pressing "CH2" (if you're using both channels) – this makes the number in the top-right of the screen flash
Pressing the "+" or "-" button to select the desired intensity for channel 2

You can change the program at any point during your treatment. The only thing to note here is that the intensity level gets reset down to 0 when you do this.
While it might be a little frustrating to some, I can understand why it's been designed this way. The sensation varies a lot from program to program.
One program may feel very soothing but the other (the one you're switching to) might be more like a beating (massage style). If you're using a high level of intensity before switching programs, the sensation could be way too strong for the new program. It makes more sense to zero the intensity so you can build back up.
Thinking about it:
I can't imagine most people are going to want to swap programs many times, if at all during a session. Personally, I tend to find the program(s) that I like best and stick to one per session. I don't see the intensity resetting to zero (after switching programs) being a big issue.
Something that caught my attention the first time I used the machine was how it automatically shuts off as soon as the session has finished. This is smart. It would be pointless for the screen to stay on so it might as well turn it off and not waste any battery, unnecessarily.
Onto the screen:
It isn't the biggest but the information on it is large, well laid out, and clear. I think it's been designed well.
Now, my eyesight is decent – but not perfect – and I could read the display from 30 inches away. I could see every single number and letter on there. I placed it as far away as it could possibly go when I was using it – with the pads on my back.

You can lock and unlock the controls on the device by holding down the "ON +" and "OFF -" keys at the same time. An icon on the display confirms when it's locked.
The only slight downside I can find with the screen is that it's not backlit. While an illuminated display would be desirable, not having one isn't going to be a deal breaker for me.
At this price point you're not going to get absolutely every feature. I'm more concerned about how well the device performs TENS therapy, and I have to say, I find this one does it very well.
My overriding thoughts about using it are:
That it's easy to operate and there aren't any overcomplicated procedures or controls to deal with. It couldn't really be any simpler to use. I believe that even the technically challenged could manage with little or no trouble.
Battery
The unit is powered by 3 AAA batteries, with the first set included inside the box.
It isn't rechargeable but there is a neat battery level indicator so you can see when they're starting to run out of juice, and prepare accordingly.
iReliev states:
With high quality batteries you can expect to get around 15 hours use out of them before requiring replacement.

I had a quick look at the price of AAA batteries on Amazon and you can find 24 packs of high quality batteries for around $10. For example, these Procell ones by Duracell. A pack of 24 batteries would give you eight sets, enough to keep your machine running for some time, even with regular use.
While you still need to remember to replace the batteries – or keep a supply of spares – you don't have to worry about the device being charged, before you can use it.
If you have a rechargeable machine and forget to charge the battery, you may not be able to use the device until it's charged, as some don't work while they're plugged into the mains.
And even if the rechargeable unit does work while plugged into the mains it might not be convenient or feasible to be close to a power outlet.

There are certainly plenty of arguments for and against rechargeable devices and for and against standard battery-powered ones. At the end of the day, it's going to boil down to personal preference and individual requirements.
Size and portability
The iReliev Dual Channel TENS unit measures in at: 3.5 in (H) x 2 in (W) x 0.56 in (D). It weighs a mere 2.5 oz, with the batteries included. That's extremely compact and lightweight.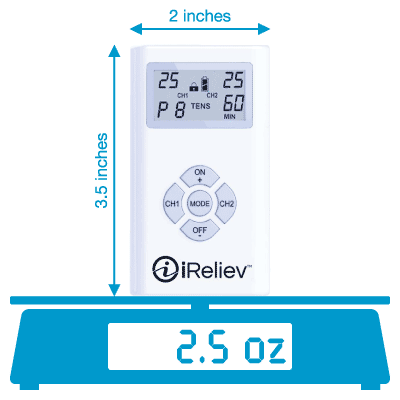 To put that into context: the iPhone 6 weighs 4.55 oz – so it's just over half the weight of that. And let's be honest, an iPhone isn't exactly heavy!
iReliev describes the device as being:
The footprint of a credit card.
If you compare its weight and dimensions to other TENS machines, it's one of the lightest and most streamlined I've seen.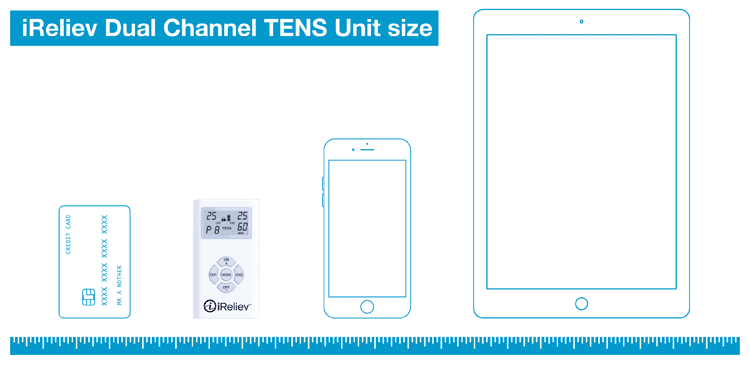 Out of the devices I've reviewed so far, Omron's PM3030 is the only one that weighs less (2.1 oz). That however, has nowhere near the same feature-set as this (and is only a single channel machine).
A lot of the best-selling TENS units (you can view a selection here) weigh around 5 oz. Those include: TENS 7000 (5.29 oz), truMedic PL-009 (5.29 oz), and Zewa SpaBuddy Sport (4.8 oz).
When comparing the dimensions against those machines, it's smaller than all of them. SpaBuddy Sport and TENS 7000 are approximately the same height and width – but both have double the depth. This iReliev Pain Management System really is a genuinely pocket-size device.

While iReliev does supply a little drawstring bag to keep the unit in (which is more than most do), I would consider buying a hard carrying case, especially if you want your machine to be portable.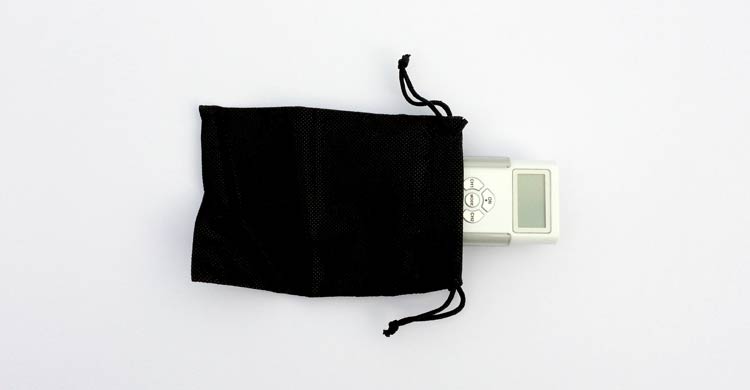 What the bag does is gives you with somewhere to keep everything together – but what it doesn't do is provide a protective shell that will take accidental impacts.
For just a few bucks you could consider something like this hard shell carrying
case (Amazon link). While it's been designed to house a GPS, it's ideally proportioned to house a small TENS unit, like this. There's a mesh pocket inside so you could store the device in there and put the accessories in the main compartment.
Included accessories
iReliev supplies the following items with the unit: 1 set of 2″ x 2″ Premium Electrode Pads (4 in total), Lead Wires, 3 x AAA Batteries, Belt Clip and Tote Bag.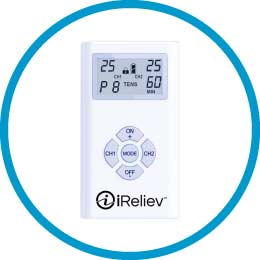 ET-1313 TENS unit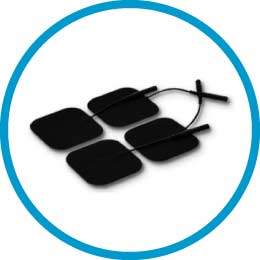 2″ x 2″ Electrode Pads*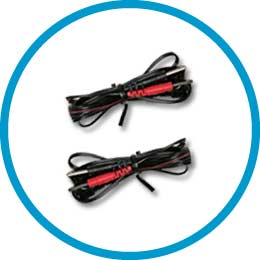 Lead Wires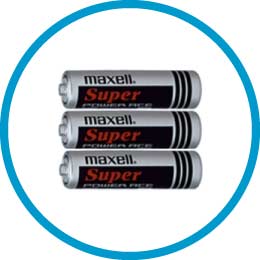 Batteries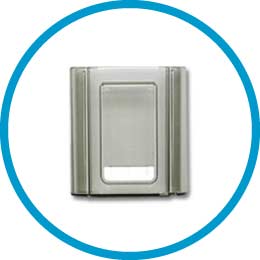 Belt Clip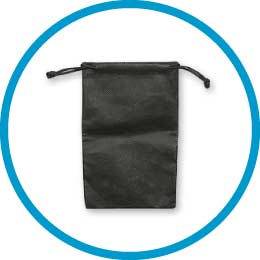 Tote Bag
*There are currently two bundled versions of this product available, they come with the exact same machine (model # ET-1313) but ship with some extra pads and extended warranties.
With the included accessories, you have everything you need to get started with your TENS therapy. Obviously, investing in a bundled version would mean you'd have more pads and wouldn't need to worry about buying new ones so soon.
The only real costs you need to consider going forward are those replacement pads and batteries.
This machine takes standard pin-type electrodes (pads), the most common ones. Because of this, you're spoiled for choice when it comes to buying replacements – just take a look at these on Amazon.
If you purchase a TENS unit with a non-standard fit, you're at the mercy of the manufacturer and have no other option but to buy their (usually expensive) replacements. Worse still, if those pads don't perform well, you're stuck.
iReliev estimates that you will get between twenty and thirty sessions out of each set of pads:
The durability of iReliev electrodes depends entirely on the application, storage, humidity and care on the part of the person using. In the event, all conditions are perfect, we estimate 20-30 twenty minute sessions per pad.
I've used the pads more than five times so far and believe they're of a very decent quality. I can't see any deterioration in them and they still feel and perform like they did the first time I used them.

Warranty
The standard version of this product comes with a one-year warranty, from the date of purchase. It covers parts and labor.

*With both of the bundled versions, the cover is extended up to two years. If you are planning on buying this machine, it seems worthwhile opting for one of those, in my opinion. When I checked, the bundle with four extra pads (and this extended warranty) was priced at just $8 more.
A two-year warranty compares well against other TENS units. Most come with single year warranties. You will come across some other machines (like Zewa SpaBuddy Sport) that ship with two-year's cover – but it's not that common.
Even less common is the limited lifetime warranty you get with HealthmateForever's devices.
But what really stands out with this particular product is:
iReliev's promise to give customers their money back if they're not 100% satisfied with their purchase.
Here's what they have to say about it:
We are confident in the value of iReliev and the benefit TENS provides. All of our devices come with a 14-day satisfaction guarantee policy.
I know for a fact that they honor this promise, as I came across an instance of it when I was carrying out my research for this.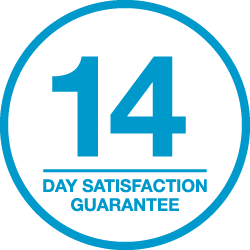 From all the reviews I read, there was one single customer who had asked for their money back. That's pretty good going, if you ask me! And the only reason they requested this was because they found it didn't work for their particular injuries and pain.
Perhaps the biggest takeout and most reassuring thing with this one case was how the person praised the company – for the way they dealt with it – and stood by their promise.
Always good to know you're dealing with a company that takes their customer service seriously.
Consumer reviews
I read a lot of online reviews for this product and they seemed very positive. It's still a relatively new device and therefore building up its ratings but there are enough to get useful feedback.
I looked at them for the standard product and both bundled versions. You may like to check the reviews on Amazon for the bundled version with 20 pads. When I last looked (24 November, 2015) I found them to be extremely impressive.
Pros and cons
Intuitive – very easy to operate
8 different TENS programs for both chronic and acute pain
25 levels of intensity to choose from
Adjustable timer – select session length from 5-60 minutes
Shuts off automatically when session has finished
Impressive battery life and has a battery level indicator
Pocket-size – genuinely portable machine
Comes with a belt clip
Very competitively priced for such a high feature-set
Excellent and responsive customer service
14-day satisfaction guarantee policy – money back if you're not happy!
Display not backlit
Device itself not rechargeable
Could be more pad placement diagrams in the instruction manual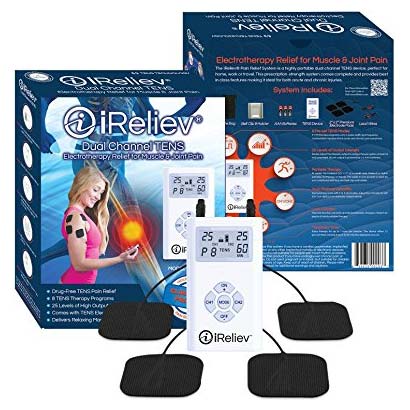 Price
I think iReliev has priced this product fairly. Although the MSRP is $69.95, I've seen it selling on the iReliev website and on Amazon for $49.99 or less. It's probably worth checking that link for an up-to-date price as they don't always keep it the same.
While doing my research, I saw it for sale on some other sites. Dick's Sporting Goods had it listed for $49.99, which isn't bad but I don't think the delivery options are as good as Amazon's either.
When you compare the price to Zewa's SpaBuddy Sport, it stacks up very well. The two machines have very similar features – both are: dual channel, have 8 programs, and are battery powered.
Another thing that's worth mentioning here is the price of the bundled version (with 20 pads). That had a list price of just over $100 but at time of writing (November 23, 2015) I found it on Amazon for under $70.

Summary
I like this TENS unit a lot. iReliev has managed to pack some excellent features into a small device – but perhaps the most impressive thing, is the price they've been able to do it for.
As mentioned, its feature-set is comparable to something like Zewa's SpaBuddy Sport, however, at the time of publication it's available for significantly less.
Also, let's not forget about iReliev's 14-day satisfaction guarantee policy. This is a clear indication the company has the utmost confidence in their product. What it does for you (the consumer) is gives you peace of mind. I'd love to see more manufacturers follow suit and back their products with similar guarantees.
In my opinion:
This is a very tidy little product that would make an excellent choice for the novice and any person who likes their products to be simple and straightforward to use.
Ratings
Features - 7
Ease of use - 8
Value for money - 8.5
7.8
With the features of a mid-range device but the price tag of an affordable TENS unit, there's such a lot to like about iReliev's Pain Management System.