If you suffer with chronic pain, you are not alone; it affects the lives of millions around the world.
Before we go any further we need to fully understand what the term 'chronic pain' means.
The National Institute of Neurological Disorders and Strokes, explain that chronic pain persists because pain signals keep firing in the nervous system for long periods of time.
So you're probably wondering what acute pain is? Acute pain comes on suddenly and ends when the cause of the pain disappears. For example, if you pick up something hot and burn your hand.
Chronic pain however lasts longer than three months or past the time of normal healing.
Chronic Pain Stats and Facts: A Quick Summary
1 in 5 US adults experienced chronic pain in 2016.
Between 11% and 40% of US adults are living with chronic pain.
Low back pain is the most common type of chronic pain.
At least 10% of the world's population is affected by chronic pain.
Chronic pain costs the US up to $635 billion ever year.
191 million opioid prescriptions were dispensed to patients in the US in 2017.
Up to 85% of patients with chronic pain are affected by severe depression.
Key Statistics on Chronic Pain: Infographic

Share this infographic on your site
The Cost of Chronic Pain
Unsurprisingly, as a large number of people experience chronic pain, it inevitably has major implications on the economy.
1.

Chronic pain costs the US up to $635 billion every year.

[11]
Health economists calculated this figure by analyzing the increasing costs of health care due to pain and the indirect costs due to lower productivity.
This is more than the annual cost of cancer, heart disease and diabetes.
2.

Lost productivity, due to chronic pain, costs the US between $299-$344 billion.

[12]
Adults suffering from chronic pain miss more days from work, impacting on the amount of money they're able to earn annually.
Worldwide Chronic Pain Statistics
1.

At least 10% of the world's population is affected by chronic pain.

[13]
That's approximately 60 million people around the globe looking for relief from pain!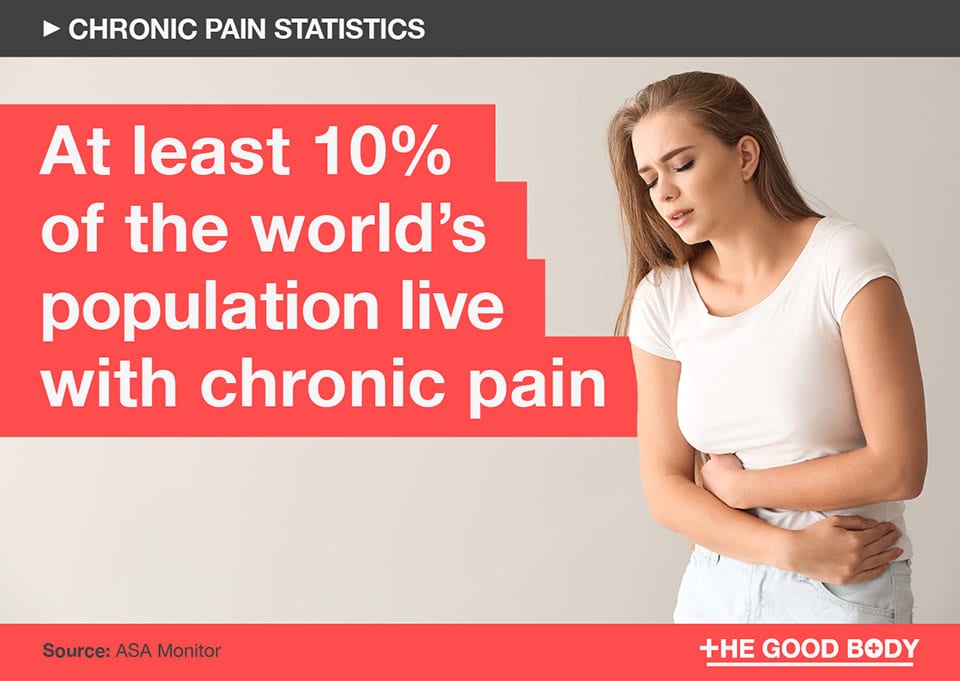 Other Ways of Dealing with Pain

An article in OnHealth shares some ideas to deal with and treat chronic pain:
Journaling can help with pain management. Use a pain journal to record your symptoms, what you did that day, and what foods you ate, providing yourself and your doctor with a valuable record that could help to discover more effective treatments.
Focus on your breathing to help some of the discomfort or pain to melt away.
Try acupuncture, as studies have linked the practice to two potential benefits for those suffering from chronic pain, increased pain threshold and long-term chronic pain relief.
Take daily supplements to assist with bone health and pain relief, in particular, when it comes to arthritis or other joint pain, according to the National Institutes of Health.
There's also been much debate about the role of vitamin D when it comes to chronic pain.
Research suggests that vitamin D might play a crucial role in different cellular activities that are thought to be protective against chronic pain development. However, a word of caution, despite an increasing bank of literature, there is not a definitive understanding of how vitamin D or vitamin D supplementation actually helps to prevent or reduce chronic pain.
But there's no denying that it's needed for health and to maintain strong bones so make sure you get the right amount for your age.
Further Support

The most important thing to remember if you suffer from chronic pain, is that you are not alone!
There are many different treatments and medical professionals out there to help you manage your pain.
Most people find a combination of tailored approaches is the best way to address chronic pain.
For more information about chronic pain and management, we'd recommend reading the American Chronic Pain Association's Guide to Chronic Pain Management or visit the Chronic Pain Information Page on the National Institute of Neurological Disorders and Stroke website.