If you suffer with chronic pain, you are not alone; it affects the lives of millions around the world.
Before we go any further we need to fully understand what the term 'chronic pain' means.
The National Institute of Neurological Disorders and Strokes, explain that chronic pain persists because pain signals keep firing in the nervous system for long periods of time.
So you're probably wondering what acute pain is? Acute pain comes on suddenly and ends when the cause of the pain disappears. For example, if you pick up something hot and burn your hand.
Chronic pain however lasts longer than three months or past the time of normal healing.
Chronic Pain Stats and Facts: A Quick Summary
1 in 5 US adults experienced chronic pain in 2016.
Between 11% and 40% of US adults are living with chronic pain.
Low back pain is the most common type of chronic pain.
At least 10% of the world's population is affected by chronic pain.
Chronic pain costs the US up to $635 billion ever year.
191 million opioid prescriptions were dispensed to patients in the US in 2017.
Up to 85% of patients with chronic pain are affected by severe depression.
Key Statistics on Chronic Pain: Infographic

Share this infographic on your site
Interesting Facts about Chronic Pain
To help you understand the scale and impact of the problem, we've compiled 29 chronic pain statistics:
The Cost of Chronic Pain
Unsurprisingly, as a large number of people experience chronic pain, it inevitably has major implications on the economy.
Health economists calculated this figure by analyzing the increasing costs of health care due to pain and the indirect costs due to lower productivity.
This is more than the annual cost of cancer, heart disease and diabetes.
Adults suffering from chronic pain miss more days from work, impacting on the amount of money they're able to earn annually.
Worldwide Chronic Pain Statistics
That's approximately 60 million people around the globe looking for relief from pain!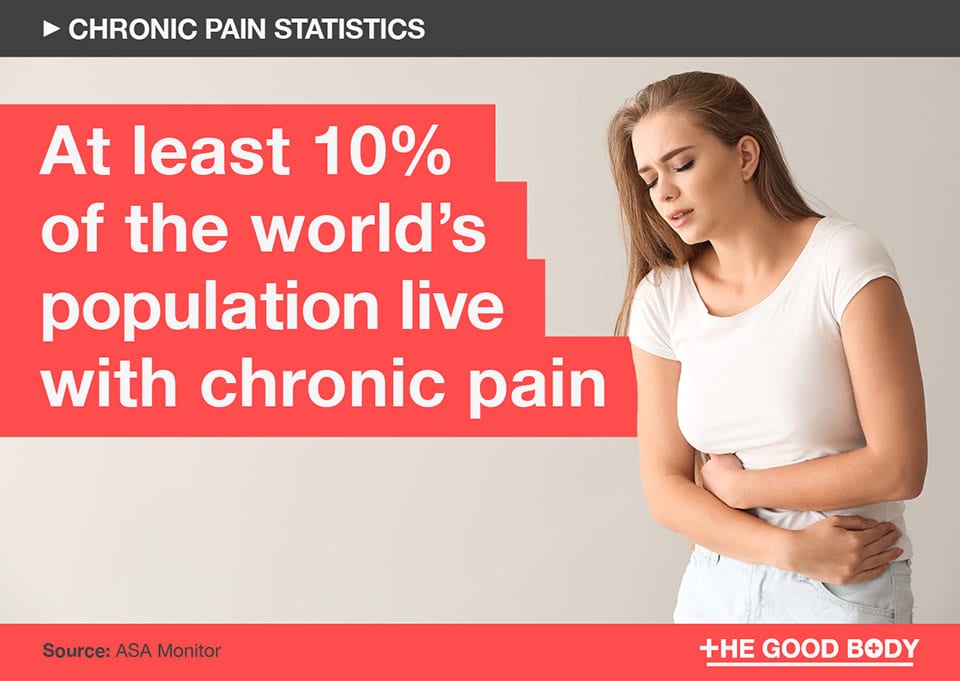 Statistics about the Effects of Chronic Pain
Chronic pain is debilitating. It causes chaos with sleep and can even lead to suicide – the statistics will make you shudder:
Managing Chronic Pain
Unfortunately, chronic conditions generally require life-long management.
The American Chronic Pain Association in this short video outlines an important takeaway message: pain management is more than one simple treatment. It takes a team effort with the person in pain taking an active role to live a full life:
Here are the most commonly used pain relief options for those living with chronic pain:
Opioids
As explained by the Mayo Clinic, opioids are a broad group of pain-relieving drugs that work by interacting with opioid receptors in your cells, muffling your perception of pain and boosting feelings of pleasure.
However, as you're about to learn, there's a real problem in the US and there's lots to consider before taking them!
Exercise
Research has proven that regular exercise can help ease pain long-term, as it improves muscle tone, strength and flexibility. Exercise also causes a release of endorphins, the body's natural painkillers.
Many types of gentle exercise can be therapeutic and often include range-of-motion activities, stretching, strength training and cardiovascular conditioning. Some simple ways of doing this include walking, yoga, pilates, tai chi and aqua-therapy.
A study in 2015 discovered that engaging in pilates, reduced chronic low back pain more than any other intervention using minimal physical exercise.
However, we suggest before you embark on any activities, you speak to a medical professional about what would be right for you. Pain flare-ups can occur even with safe exercise, so it's important to work with a healthcare professional to determine a careful program.
Physical Therapy
Physical therapy can be a useful way to deal with pain.
A report by the National Institutes of Health highlights the dangers of the overuse of opioids to deal with pain, and recommend non-pharmacological therapies, including physical therapy.
Physical therapy is beneficial because it is guided by the patient's underlying conditions, and aims to find the source of the pain, rather than just treating the symptoms.
Chiropractor
If you're suffering from chronic back pain, you could consider seeing a chiropractor.
Harvard Medical School explain that chiropractors often use a technique called spinal manipulation to try and correct the body's alignment to reduce pain. This, in turn, improves your range of motion and encourages the body to heal itself.
The American College of Physicians recommend spinal manipulation to treat lower back pain.
It's not a risk-free treatment but the risks are relatively low and many patients feel immediate relief, as growing research by the American Chiropractic Association demonstrates.
Cognitive Behavioral Therapy (CBT)
Cognitive behavioral therapy is a psychological treatment that can be powerful in improving mental health conditions such as depression and anxiety.
It can also have amazing benefits for people living with pain.
The ACPA describes how pain-CBT focuses on the mental, emotional and behavioral concerns that people suffering from chronic pain may face.
It can provide you with the skills you need to identify negative thoughts that serve to make the pain worse and establish more constructive coping mechanisms to help reduce stress.
Other Ways of Dealing with Pain

An article in OnHealth shares some ideas to deal with and treat chronic pain:
Journaling can help with pain management. Use a pain journal to record your symptoms, what you did that day, and what foods you ate, providing yourself and your doctor with a valuable record that could help to discover more effective treatments.
Focus on your breathing to help some of the discomfort or pain to melt away.
Try acupuncture, as studies have linked the practice to two potential benefits for those suffering from chronic pain, increased pain threshold and long-term chronic pain relief.
Take daily supplements to assist with bone health and pain relief, in particular, when it comes to arthritis or other joint pain, according to the National Institutes of Health.
There's also been much debate about the role of vitamin D when it comes to chronic pain.
Research suggests that vitamin D might play a crucial role in different cellular activities that are thought to be protective against chronic pain development. However, a word of caution, despite an increasing bank of literature, there is not a definitive understanding of how vitamin D or vitamin D supplementation actually helps to prevent or reduce chronic pain.
But there's no denying that it's needed for health and to maintain strong bones so make sure you get the right amount for your age.
Further Support

The most important thing to remember if you suffer from chronic pain, is that you are not alone!
There are many different treatments and medical professionals out there to help you manage your pain.
Most people find a combination of tailored approaches is the best way to address chronic pain.
For more information about chronic pain and management, we'd recommend reading the American Chronic Pain Association's Guide to Chronic Pain Management or visit the Chronic Pain Information Page on the National Institute of Neurological Disorders and Stroke website.