Forever reflecting on the meaning of life? In a constant zen-like state? Can often be found crossed legged with their eyes closed?
If this sounds like your loved one then chances are you're looking for a gift that captures their love of meditation.
Since 2012 the number of people practicing meditation has tripled, and with this growth has come an array of beautiful, clever and innovative products that make great gifts!
We've put together a list of the 12 best and most enlightening meditation gift ideas to help you choose a present they'll love:
1.

Body Quiet Meditation Cushion with Acupressure
Stimulate your nerves for deeper relaxation
Combine the wonderful benefits of meditation with the magical powers of acupressure!
If you've never experienced acupressure before, it might look uncomfortable, even painful, however it's thought that the points stimulate your nerves to help relax your body.
Posture is also improved during practice as the cushion helps to align your spine and hips.
It's a good gift for a yogi who loves to meditate, as it comes with a handy carry handle and is reversible so you can also use it as a floor pillow or bolster.
Reviewers raved about Body Quiet's acupressure cushion, explaining that it provides impressive stability and helps them to meditate for longer periods of time.
Clever, wearable meditation technology
One of the best meditation gifts has to be Muse 2, a piece of wearable smart technology.
When wearing the Muse 2 during your practice, multi-sensors will monitor your heart rate, breathing, even your physical movements and brain activity to assess and improve the way you meditate.
If you want an example of how the meditation headband works, take a look at the weather feature.
Essentially Muse 2 translates your mental activity in to weather sounds, for example if you have a busy mind, you'll hear stormy weather.
As you meditate and begin to relax and tidy your mind, you begin to hear calmer weather.
It also makes a wonderful gift for someone who struggles with stress and anxiety on a daily basis.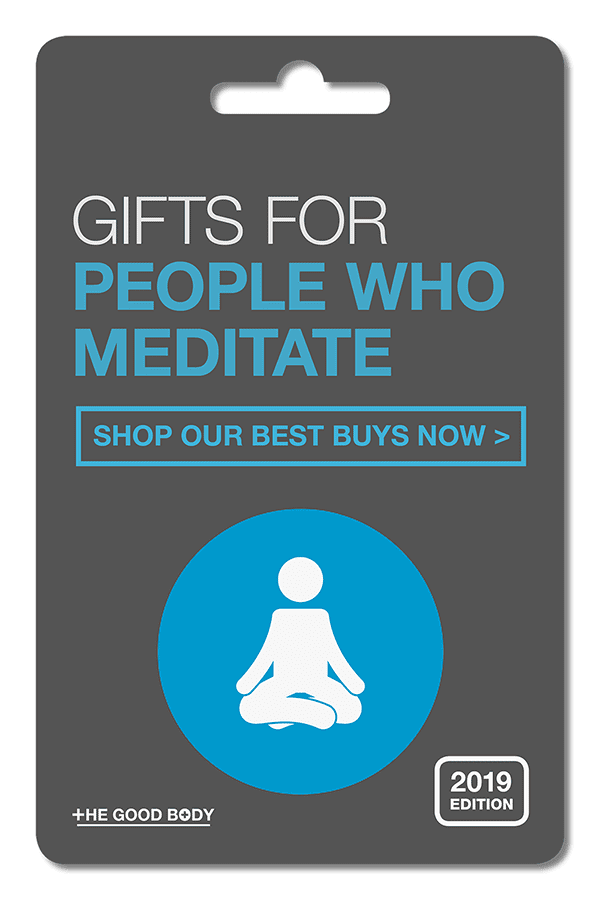 3.

The Daily Stoic: 366 Meditations on Wisdom, Perseverance, and the Art of Living
One meditation for every day of the year
Treat someone special to a Wall Street Journal bestseller! Filled with 366 meditations, one for each day of the year, this book is filled with words to inspire you to live a better life.
It's the perfect gift at the start of a new year, and can be used as a source of daily inspiration for many years to come.
The book includes quotes and reflections from the world's greatest ancient philosophers, as well as celebrities and successful business people.
Readers loved how the book encouraged you to craft a good and meaningful life in whatever way works for you.
4.

kikki.K Mindfulness Journal: Inspiration
Practice daily reflection with this beautiful journal
Give the Christmas gift of a mindful moment! kikki.K are well known for creating thoughtful stationery and this mindfulness journal is no exception.
Meditation forms a part of the journal that is designed to help you improve your mental wellbeing.
With a hardcover and gold foil detailing, it makes a stunning gift and is filled with meditation exercises, pages for reflection as well as inspiring affirmations.
5.

Satya Sai Baba Nag Champa Agarbatti Incense Sticks
Burn incense and enjoy a more intense level of focus
Wrap up Satya Sai Baba Nag Champa Agarbatti Incense Sticks and show the person you're shopping for, that you really understand their practice.
They're the number one incense brand in the world, and though there are many copycats out there, Satya Sai Baba is considered to be the most authentic product.
Meditators love this brand as they explain that the fragrance lasts for hours, and helps them to improve their concentration.
If the someone special you're shopping for is one of the many people who start meditating to improve their ability to focus they might appreciate this in their stocking!
6.

Empowering Questions Cards
Beautifully illustrated cards with thought-provoking questions
Take a look at this beautiful deck of empowering question cards, if you need a thoughtful gift for someone who loves to meditate.
With stunning illustrations, each card also carries a question to help you understand yourself better and start inner conversations in your meditative practice.
Questions such as "What is my mission in life?", "In what kind of things am I brilliant?" and "What was I intended to do in this life?".
Cards could be used during meditation to help you visualize your goals, as prompts for yourself or as part of a reflective game with friends.
Purchasers of the product list numerous uses for the cards and recommend them if you're looking for meditation gifts, with therapists finding they help clients open up.
7.

Silent Mind – Tibetan Singing Bowl Set
Enjoy the beautiful sounds of a singing bowl
Your loved one will be delighted to open this Tibetan Singing Bowl Set this Christmas.
The sound generated by moving the easy-grip striker around this beautiful antique bowl is thought to create a sound so sublime that it quietens and focusses your mind.
Crafted by hand, by Nepalese artisans, the bowl and mallet also comes with a hand sewn non-dampening pillow which is used to stabilize the tones for the purest sounds.
Reviewers loved the bowl, with many recommending it for children to help them relax in today's busy world.
8.

Mindful Games Activity Cards: 55 Fun Ways to Share Mindfulness
Share fun mindfulness games with kids and teens
This is the perfect gift if you're shopping for someone who would love to get the whole family involved in their meditation practice.
Select a card from this deck of 55 mindfulness games, and take part in a visualization activity or an analytical challenge.
Though each activity is fun, it helps to encourage different mindful behaviors like encouraging kindness, better levels of concentration and self-regulation of emotions.
Even professional therapists loved using these cards in their practice, with many commenting that they're particularly good for tweens and teens.
9.

Seat of Your Soul Zafu Meditation Cushion
Get comfortable on an eco-friendly meditation cushion
Purchase this beautiful Seat of Your Soul Zafu Meditation Cushion for a meditator you love! It's strong and supportive, built in a way that helps you stabilize your body during practice.
Unlike the aforementioned Body Quiet Meditation Cushion with Acupressure, this pillow is built purely for your comfort.
It has a beautiful organic cover and an adjustable 100% buckwheat filling to allow the user to find their perfect position and meditate for longer.
The key to success with this pillow is selecting the right size for the person you're shopping for, so take the time to consider which one is right.
However whatever your body shape, gender or weight, Seat of Your Soul assure you there's size that's right for you. You can also choose from a range of colors to reflect their personality.
10.

Why Buddhism is True: The Science and Philosophy of Meditation and Enlightenment
Understand the concept and power of meditation
Don't judge this book by its title! It might seem like a heavy topic that you might not want to give as a gift, however the book is defined as being about "the fundamental ideas that are found across the major Buddhist traditions".
In short, it's not simply about the religion, it's about the power and science behind the practice.
With practical advice this book claims to help the reader see the world more clearly, as Buddhism claims that only then will we be able to find deeper and more morally valid happiness.
It helps people cope with grief and anxiety more effectively, with readers loving how the book flicks between the modern and the ancient to present an idea of how we can all live a more fulfilling life.
11.

Alexia Meditation Seat
Kick and relax in your ergonomically correct meditation seat
The ultimate upgrade from a meditation cushion, is of course a meditation chair!
Alexia Meditation Seat enables you to correct your posture while meditating, helping the large number of people suffering from lower back pain.
Encouraging you to sit up straight, the meditation seat is perfect for relaxation during yoga. Made from a high quality material, it encourages the natural position of your spine.
Alexia's Meditation Seat is available in a number of different colors and stylish fabrics, including vegan leather.
It'll become a real talking point in their home and give them not just somewhere to meditate, but also a comfortable spot to watch TV – the perfect meditation gift!
12.

Dear Universe: 200 Mini-Meditations for Instant Manifestations
Understand the concept and power of meditation
Encourage someone to start each day with a mini-meditation and help them manifest whatever it is they desire.
Author and entrepreneur, Sarah Prout, has created this book to help people find joy in all areas of their life.
It's a great gift for someone who might be going through a tough time and struggling to find positivity and purpose.
Simply choose one of the 200 mini-meditations and Prout will guide you in how to use your emotions to achieve anything you want.
Readers couldn't believe the power of this book, and loved how they could pick it up and put it down whenever they needed it.