There is a lot of choice out there in the marketplace when it comes to choosing the best massage cushion.
Do you go for a chair pad that you can use at home or something smaller that you can pop in your bag to use whenever you need it?
You want to make the right decision and invest your money wisely so take a look at our handy massage cushion reviews for 2019!
Our 10 Best Massage Cushion Reviews
1.

Comfier Shiatsu Neck & Back Massager
Have you tried finger pressure Shiatsu yet?
Pick your favorite chair in the house and turn it in to a fantastic back and neck massager. Position this Comfier neck and back massager and experiment with a whole host of different massage options.
Choose from a rolling massage, which was popular with those reviewing the product, or perhaps go for a relaxing air compression experience.
Opt for 2D and 3D finger pressure Shiatsu and the nodes will move in and out of the massage pad to closely mimic the hands of a masseuse. Vibration and heat functions add to the full spa-like experience.
In terms of massaging any back pain, you can target your upper, lower or full back, or use the spot feature to really hit the mark.
People described how it easy it was to use and the incredible relief they experienced from their long term back pain problems. One person said they used it for 10 minutes every day and it had given them their life back!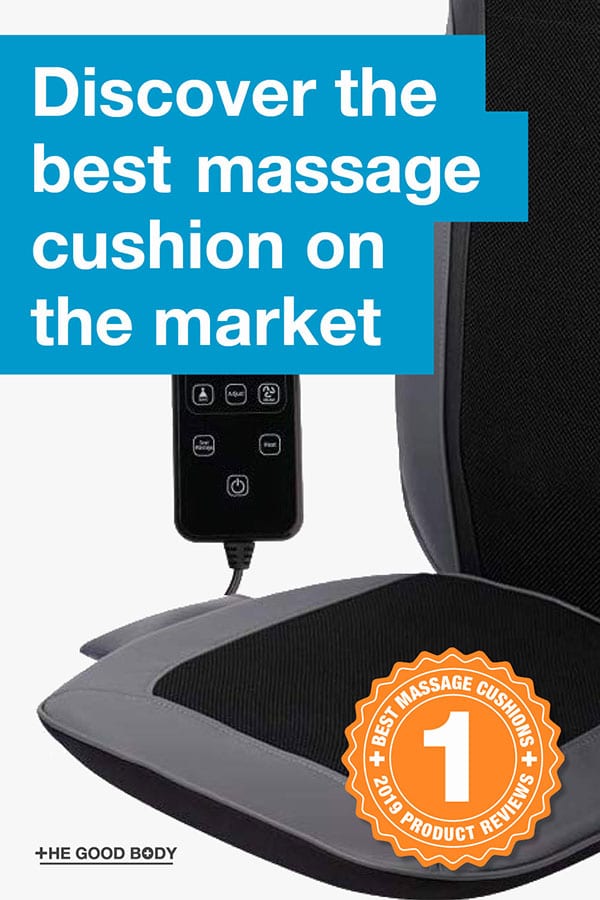 2.

Snailax Gel Shiatsu Neck & Back Massager
Ready to experience the softness of gel massage nodes?
Don't settle for uncomfortable firm massage nodes when you could experience gel ones. The clever soft nodes in the Snailax Gel massager have been designed to feel like the hands of a masseuse.
They travel up and down the length of your spine, with the option to tailor the different styles of massage to different areas of your back and neck.
Experiment with the detachable flap, allowing you to choose between a softer or harder massage, or opt for the spot feature to really get to that niggle.
If it's a neck massaging feature that you're looking for then the Snailax massage chair pad delivers. In the neck area there are four nodes that can be adjusted to suit your needs, and people of all different heights.
Tall people looking for a great massage cushion loved this creation from Snailax. And though the gel is designed to make the massage softer, reviewers still felt it delivered on intensity and they were keen to recommend it to everyone.
3.

Nursal Shiatsu Massage Seat Cushion
Great allrounder for different types of pain
This shiatsu massage seat cushion from Nursal has an array of features that have been created to target different types of pain. Whether the pain is in your neck, back or hip you should be able to enjoy a satisfying massage.
For those suffering from neck pain, the Nursal Shiatsu Massage Seat Cushion has four rolling nodes that deliver a deep kneading massage.
Combined with heat and clockwise and anti-clockwise settings, you can really tailor your treatment.
For back pain you have rolling nodes that can implement varying massage techniques including shiatsu, and you can easily adjust the position of the rollers.
We love that the Nursal Shiatsu Massage Seat Cushion also comes with a hip vibration massage feature.
You'll find 3D rotating massage balls within the Nursal seat cushion that have been created to deliver a real intensity.
It was this intensity that divided some users, with those loving a deep massage raving about the product and others finding it a little bit too intense.
4.

HoMedics MCS-750H Quad Shiatsu Massage Cushion with Heat
Enjoy a variety of massage techniques
If you're looking for a massage seat cushion that delivers different styles of massage then the HoMedics MCS-750H Quad Shiatsu Massage Cushion is a great option.
You can choose from percussion, kneading and rolling depending on your pain, and add soothing heat to help you to relax those tight muscles.
The HoMedics massage cushion looks good too and has integrated straps so it will blend in to your home a little more.
Consumers felt that though the heat function was less powerful than they'd hoped, it was great for daily use and that the massage got better with time as they got to grips with the different controls and functions.
5.

Zyllion ZMA13BK Shiatsu Pillow Massager with Heat
A small massage cushion with a lot of power
We love how the Zyllion ZMA13BK pillow massager is a handy size, taking up just 6cm of space, so the top massage cushion for dropping in your bag for the office or for vacation.
It can then be easily attached to a chair so you can feel like you have a massaging chair with you on the go.
The small size doesn't mean less power though! The Zyllion pillow massager has shiatsu massage nodes that deliver an intense massage, changing direction every minute in the same way a masseuse would.
Reviewers with a sensitive neck found it a bit too powerful and wished they had the option to change the speed, however those who wanted a deep and satisfying massage loved the product!
6.

Etekcity Shiatsu Massage Pillow
Handy little massage cushion you can pop in your bag
An affordable but powerful massage cushion is the Shiatsu Massage Pillow from Etekcity. This nifty little device can be used all over the body.
Etekcity's Shiatsu Massage Pillow is small and compact so you can easily stick it in your bag for work, and as it comes with an adapter for the car you can also use it while parked (or as a passenger).
Though the pillow is small it's certainly powerful, with eight massage nodes that can work deep in to your back, neck and shoulders.
You can choose from two different speeds, turn on the heat function and change the direction of the nodes, to allow you to really target that problem area.
Those suffering from lower back pain couldn't get enough of the massager from Etekcity, as it really helped to relieve stiffness in the back.
Similarly to other massage cushions, the intensity delivered did divide with some loving the firm pressure and others finding it a little stronger than they had wanted.
7.

Naipo Shiatsu Seat Cushion Massager
A powerful massage chair pad perfect for neck pain!
The Naipo Shiatsu Seat Cushion Massager turns your favorite chair in to a mini spa! This massage cushion comes with four massage nodes focussed on the neck and four nodes focussed on the back and waist.
It offers height adjustment so you can position it perfectly to target your pain, and a heat function to relax tight muscles.
We love how you can remove the leather cover from the massage cushion giving you the option of a soft seated massage or a more intense delivery.
All the settings on the Naipo cushion massager are controlled through a remote control which is really simple to use and gives you so many different options to choose from.
Each setting is independent so you can tailor intensity, heat and vibration, as well as directional massage settings.
Those offering feedback on the product couldn't say enough good things about how effective it was for neck pain.
Like the Nursal Shiatsu Massage Seat Cushion some users did find it a little bit uncomfortable to use, so it's worth considering the style of massage you enjoy before making your decision.
8.

Zyllion ZMA14 Shiatsu Neck & Back Massager Cushion
Enjoy extra nodes for neck pain
If you want a chair pad where you're really in control then we like the Zyllion ZMA14 massager cushion.
Whether you want a rolling motion or are in the mood for rotating nodes to perform a shiatsu style massage, this chair pad can deliver both as well as a heat and vibration functions.
The Zyllion seat pad comes with an extra set of massage nodes designed for the neck area, which some users felt didn't quite hit the mark, however others loved the additional feature and felt it gave them more of a full coverage massage.
This chair pad was also rated highly by migraine sufferers.
9.

Gideon Seat Cushion Vibrating Massager
Feel the power of 10 vibrating points
If you're looking for a discreet massage seat pad for an office chair that will fit seamlessly in to your office then the Gideon Seat Cushion Vibrating Massager is one of the best massage cushions.
It comes with 10 vibrating points, four massaging nodes and heat so you can select from a number of different styles of massage such as tapping and rolling.
Some users found the Gideon chair pad more of a vibration than a true massage, however for others they found that the strong vibration feature offered real relief from their pain.
Consumers also enjoyed the level of control with a number of different settings so they had real control over their massage.
10.

Naipo Shiatsu Cordless Pillow Massager
A scatter cushion with a purpose
The Naipo Shiatsu Cordless Pillow Massager is the best massage cushion if you truly want your massager to be discreet within your home.
It's made from some of the best memory foam material which hides four massager balls as well as a heat function.
Purchasers of the Naipo Pillow Massager loved how the pillow blended in with their decor and felt it was effective for use all over the body.
Of course it doesn't have the coverage of a chair pad and some consumers were a little frustrated having to move it to the right spot.
Types of massage cushions
There are two main types of massage cushion:
Massage Chair Pad
A massage chair pad is a massage device that is strapped on to a chair to deliver a full back massage. Massage chair pads often use either rollers, nodes or air chambers, or a combination of all of them.
Massage Pillow / Cushion
A massage pillow or a massage cushion is a device available in various shapes and sizes that includes massage nodes or vibration points. It can be placed at the site of the pain to provide relief.

Features of massage cushions
Design and Dimensions
Shape
Chair pads tend to come in a standard shape to fit any chair however the shape of massage cushions varies widely so it's worth considering how you'll use it to find the right shape for you.
Size
You also need to consider the size, will it give your neck good coverage? Is it too large to be portable? All should be considerations to make the right choice.
Weight
If you want a massage cushion you can travel with day to day then consider the weight of the device when making your selection.
Design
Some massage cushions are specifically designed to blend in with a home or office environment, perhaps by being disguised as furniture or a chair pad being so slim it fits seamlessly in to an office chair.
Style of Massage
Air Bags / Pockets
Some chair massaging pads come with air bags or air pockets which are essentially air bags that inflate / deflate to gently squeeze the body, mimicking the hands of a masseuse.
Nodes
The number of massage nodes that the device offers may be important to you if you're looking for a deep and intense massage.
Percussion
Percussion is a style of massage and users have described this technique as "thundering on your back", so perfect if you want a deep tissue massage perhaps not ideal if you're looking for something a little less intense.
Shiatsu
Look for this feature, a Japanese massage technique, if you want to replicate the hands of a masseuse as closely as possible! Some massagers include an optional direction mode so the nodes can change direction for a more satisfying massage.
Kneading
If you have knots and want a massage that is really going to work them out then you might want to look out for the kneading function.
Intensity Settings
If you have good days and bad days and want a massage that can flex with you then you want to look for a massager with a selection of intensity settings. Some devices only come with one setting so make sure you choose what is right for you.
Speed Settings
As well as intensity settings you need to look at what speed settings are offered if you want something fast and rigorous or if you're looking for something slow and gentle.
Extra Features
Vibration
Some products offer an additional vibration function which might be something you want to consider for that added extra relief.
Heat
Heat can offer comforting relief from pain as it heats the skin which stimulates the sensors and blocks the pain signals being sent to the brain, many different massagers include this option so it's worth looking out for. Infrared heat is also a feature offered by some devices.
Timer
A timer can be handy if it takes you a while to get to the source of your pain, so you can set a period of time and then just sit back and enjoy the relief.
Auto Shut Down
Auto Shut Down can be great as it protects you and the unit from overheating, however if it takes you a while to get to the source of your pain, a short auto shut down could be frustrating.
Rechargeable
Some massagers are rechargeable making them handy to be used in the office or on the go, look closely at the length of time advertised when the product is fully charged.
Speed of Charge
You may also want to consider the speed at which the product goes from flat to fully charged, as that may be something that's important to you.
Portable
If you're wanting to take the massager on holiday or use it at work then a portable option might be the one you're looking for, that is an appropriate size and lightweight.
You can also choose a massager for in the car, however this can only be used when stationary or as a passenger.
Memory / Recall
If your pain is hard to reach and you get the intensity just right it can be frustrating to have to go through the various settings each time. Memory / recall functions remember the intensity, speed and style of massage you enjoy which can be helpful day to day.
Added Extras
Car Charger
Using your device in your car, between meetings for example, might be important to you, so look for a massage cushion that comes complete with an in car charger.
Instructional Video
Another extra that may be offered with your massage cushion is an instructional video. It may sound like just a nice-to-have but if you want to get the most from your product then it can be a handy extra.
Benefits of massage cushions
Neck Pain
Massage cushions mimic the hands of a masseuse stimulating the muscles and nerve endings. Research has shown that massage therapy is an effective treatment for chronic neck pain, and a neck massager is essentially simulating this technique.
Shoulder Pain
Massage cushions can also work well for shoulder pain. Shoulder pain is one of the most common pain complaints reported in the US, and by stimulating the muscles with a massager it is believed that this provides relief.
Stiff Neck
Whether you get a stiff neck occasionally or you suffer from chronic daily pain you'll understand how uncomfortable it can be. It is believed that around 10% of the adult population are suffering from a stiff neck at any one time, with massagers being suggested as a natural way to treat the pain.
Muscle Pain / Tension
Tension in the muscles can also be relieved by a massage cushion whether in your neck, shoulders or back.
Migraine / Headache
Massage as a therapy is used both as a treatment and a preventative method. Tension headaches are the most common type of headache in the world, and often cause both neck and shoulder pain along with pain in the head.
Arthritis
Massage therapy can be an effective treatment for arthritis, however for certain forms of severe arthritis in can have a negative effective so it's important to consult with your doctor.
Back Pain Relief
You might want to invest in a massage cushion for back pain. It stimulates circulation and relaxes stiff muscles and research proves that massage as a technique is very effective for short term relief from back pain.
Lift Mood
Massage can release endorphins which relaxes the nervous system and create feel good hormones. Back massage in general has been shown to be a successful technique for the treatment of anxiety.
Sciatica
Sciatica is caused by compression of the sciatic nerve, a massage cushion can help to ease this compression. Massage chairs in particular are suggested as an effective treatment for those suffering from sciatica.
Knots
Muscle knots are when the muscle tightens or contracts even when they're not being used, massage helps to relax the muscle, in turn helping to loosen the knot.
Buttocks / Glutes
Tight glutes can cause back pain, so buttock massage as a therapy can be effective to help relieve those tight muscles.
Feet
A number of massage cushions can be used on other parts of the body including your feet. Regular foot massage has been shown to help improve your circulation and release tense muscles.

Locations to use a massage cushion
There are a number of different places you can use your massage cushion, perhaps even places you hadn't thought of!
Office
If your back pain gives you difficulty at work then a massage cushion or chair pad attached to your office chair could provide you with real comfort.
Armchair / Couch
If you want to get comfortable there are a number of different massage cushions that will fit comfortably on your armchair and couch, so you can enjoy a massage whilst enjoying your favorite TV series!
Bed
On really bad days when the pain means you struggle to get out of bed, you can use a massage cushion in bed. If you want one particularly for this purpose then look for a massager that is the size and shape that will mould to your body effectively.
Car / Truck
Some massage cushions come with a car adapter allowing you to use your massager while you're stationary in your car during breaks on a long journey, or mid travel if you're a passenger.

FAQs
What is a massage cushion?
What is a massage cushion?
A massage cushion is a device that comes in many different forms, it could be a seat pad or a handbag sized pillow that can fit in the small of your back. Essentially it mimics the hands of a masseuse to provide you with daily relief from pain.
What does a massage cushion do?
What does a massage cushion do?
A massage cushion replicates a manual massage, stimulating your circulation and relaxing stiff muscles to give you daily relief from pain. Different massagers can target different areas and use different massage techniques and intensities.
How does a massage cushion work?
How does a massage cushion work?
A massage cushion works through nodes or rollers that work to stimulate the muscles to relieve tension and improve circulation.
How long can you use a massaging cushion for?
How long can you use a massaging cushion for?
Manuals for massager products vary a little in their advice, however overall the consensus seems to be that to avoid bruising your muscles it's best to use a massage cushion for short periods of time, the suggestion being around 15 minutes. Many products come with an 'auto-off' feature that encourages you to limit your usage to the recommended time.
Can you drive while using a massage cushion?
Can you drive while using a massage cushion?
Advice from product manuals indicates that it's not advisable to use a car massage cushion whilst driving. However you can buy massage cushions for your car seat that you can use when stationary or whilst traveling as a passenger.
Can I use a massage cushion while pregnant?
Can I use a massage cushion while pregnant?
It is always best to check with your doctor before using a massage cushion when pregnant as advice is mixed. Some advice suggests not using a massager in the first trimester, with others suggesting to avoid certain areas on your body so always check with a medical professional.
Can I use a massage cushion with a pacemaker?
Can I use a massage cushion with a pacemaker?
Medtronic, one of the leading manufacturers of pacemakers
states
there is "No Known Risk" associated with their implanted heart devices and using a massage chair/pad if the item is used as intended and in good working condition, however it's always best to check with your doctor and the manufacturer of your device.
Can I sleep on a massaging cushion?
Can I sleep on a massaging cushion?
No, prolonged use of a massager, such as when you're asleep, can cause bruising of the muscles.
How do I choose a massage cushion?
How do I choose a massage cushion?
Doing your research is important before you make a purchase to make sure you choose a massage cushion that will provide you with relief. If you want to see whether massage helps your pain before making a big investment then a simple massage cushion may give you an indication. Speaking to your doctor or a medical professional could help point you in the right direction, however hopefully by reviewing some of the features above you'll have more of an idea of the massage pillow that is right for you.
How much does a massage cushion cost?
How much does a massage cushion cost?
Massage cushions vary hugely in cost, ranging from around $30 up to $1000 and beyond so it's certainly worth shopping around to find the best product for your budget. Entry level chair massage pads tend to be more expensive than entry level massage cushions, so if you just want something simple and affordable then a massage cushion might be the way to go.
Where can I buy a massage cushion?
Where can I buy a massage cushion?
We hope our roundup and reviews of the best massage cushions is helpful and puts you on the track to finding just the right product to give you relief from your pain.