Key Back Pain Statistics and Facts
8 in 10 Americans will experience back pain in their lifetime.
619 million people around the world are affected by back pain at any one time.
7.5% of the world's population suffers from lower back pain.
5% of people struggling with back pain will go on to develop chronic back pain.
Women, those over 30 and people who are classed as obese are at a greater risk of developing low back pain.
The cost of back pain to the US economy is estimated to be up to $635 billion each year.
Back pain is one of the most common reasons for missing a day of work.
Nearly 4 in 10 office workers will experience lower back pain.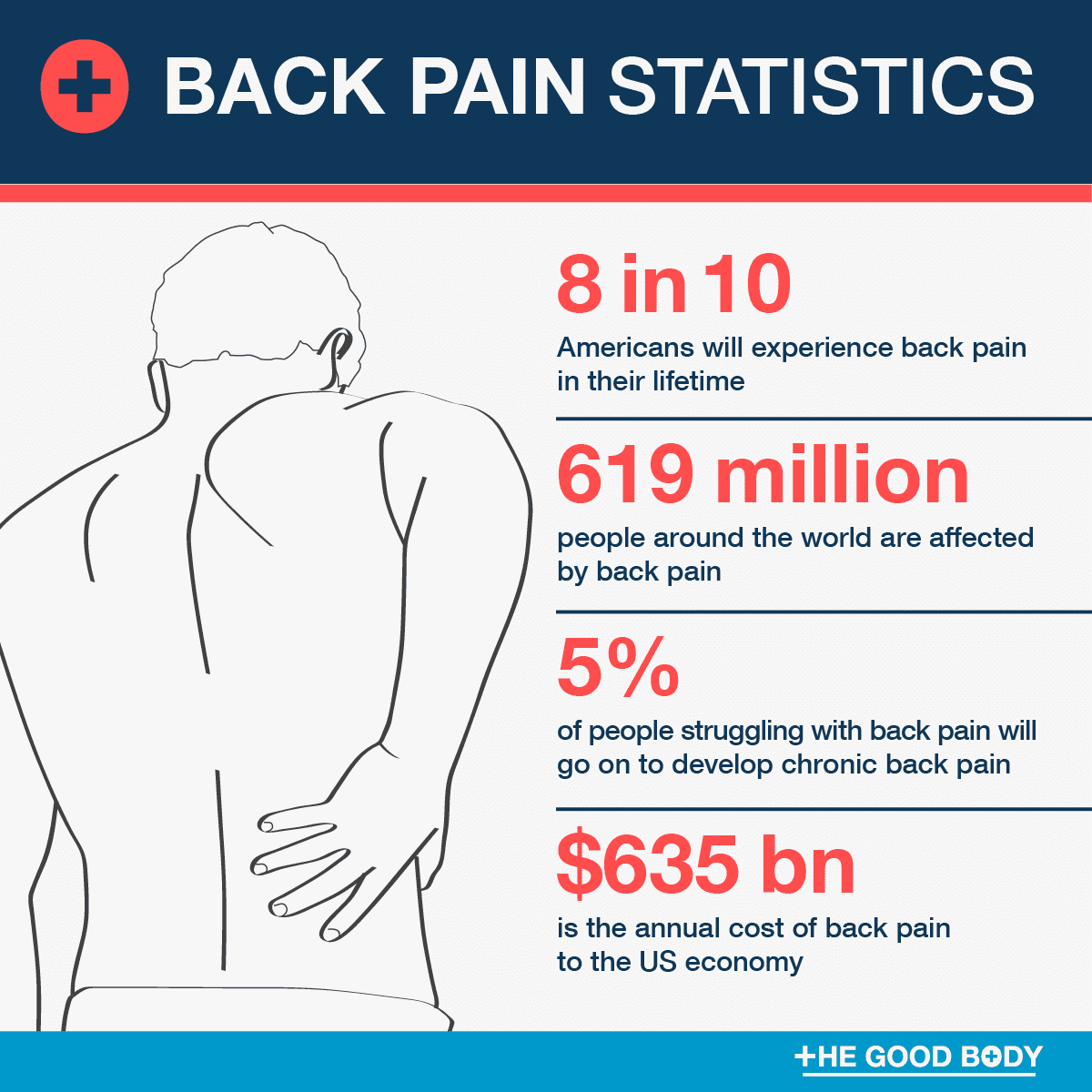 How Common is Back Pain?
Back pain affects 619 million people around the globe at any one time, making it one of the most common medical conditions. The number is expected to increase to 843 million cases by 2050.

[1]
According to the World Health Organization, back pain is the leading cause of disability worldwide and prevents people from not only working, but from doing everyday simple activities.[2]
Research by the Mayo Clinic also found that a back problem is the third most common reason for a visit to the doctor's office.[3]
So what causes it?
There is a stack of potential reasons but research indicates that the majority of cases are either mechanical or non-organic.[4]
Basically, they aren't caused by serious conditions, such as inflammatory arthritis, infection, fracture or cancer.
What percentage of the population will experience back pain?
Experts have predicted that up to 80% of Americans will have some form of back pain in their lifetime.

[5]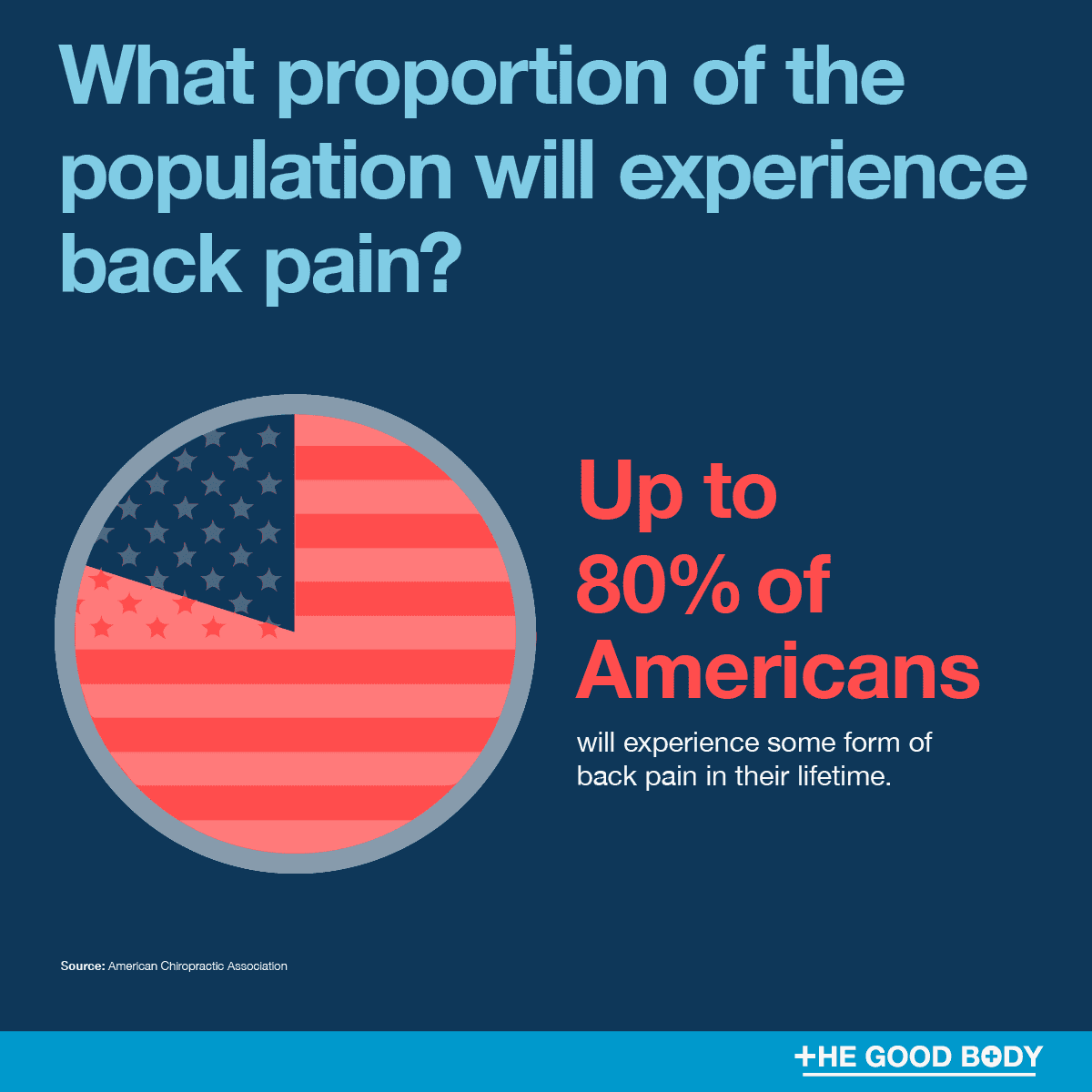 One-half of all working Americans, which equates to around 80 million people, admit to having back pain symptoms each year.
95% of those suffering will recover within a few months, with 5% developing chronic LBP (i.e pain that lasts for 3 months or longer), according to recent back injury statistics.
However, reoccurrence is frequent, ranging from a 20-44% likelihood within one year for those employed and aged between 15-64 years old.
Is back pain on the rise?
There is evidence to show that the prevalence of back pain is increasing, with reports of the condition doubling between 1992 and 2006. It is felt that an aging population could be the reason for the rising global problem.

[6]
Reports of back pain on Twitter also increased 84% during the first year of the Covid-19 pandemic.[7]
Using natural language processing (NLP) researchers were able to understand the impact of the pandemic on back pain — and it wasn't good!
Who suffers from back pain the most?
Though back pain is common across all age groups, research published in the Family Practice journal highlights how those aged between 45 and 64 years old are the most likely to suffer.

[8]
Women are also more likely to report suffering from back pain when compared to men.[9]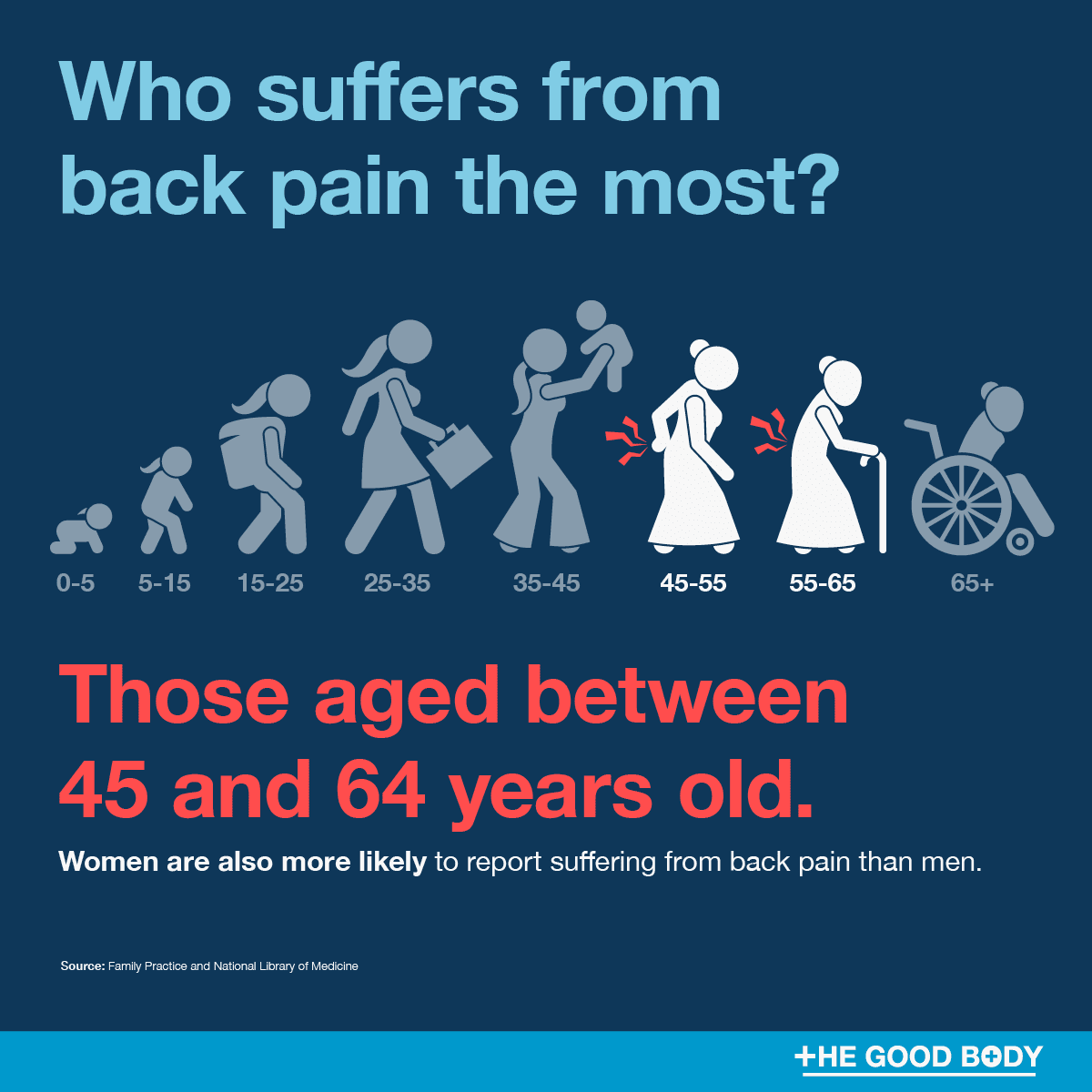 How many people suffer from low back pain?
7.5% of the world's population suffers from low back pain.

[10]
This is according to research published by the Annals of Translational Medicine, comparing data from 1990 to 2017.
With acute and chronic low back pain being one of the top five reasons for visiting an emergency department in the country.[11]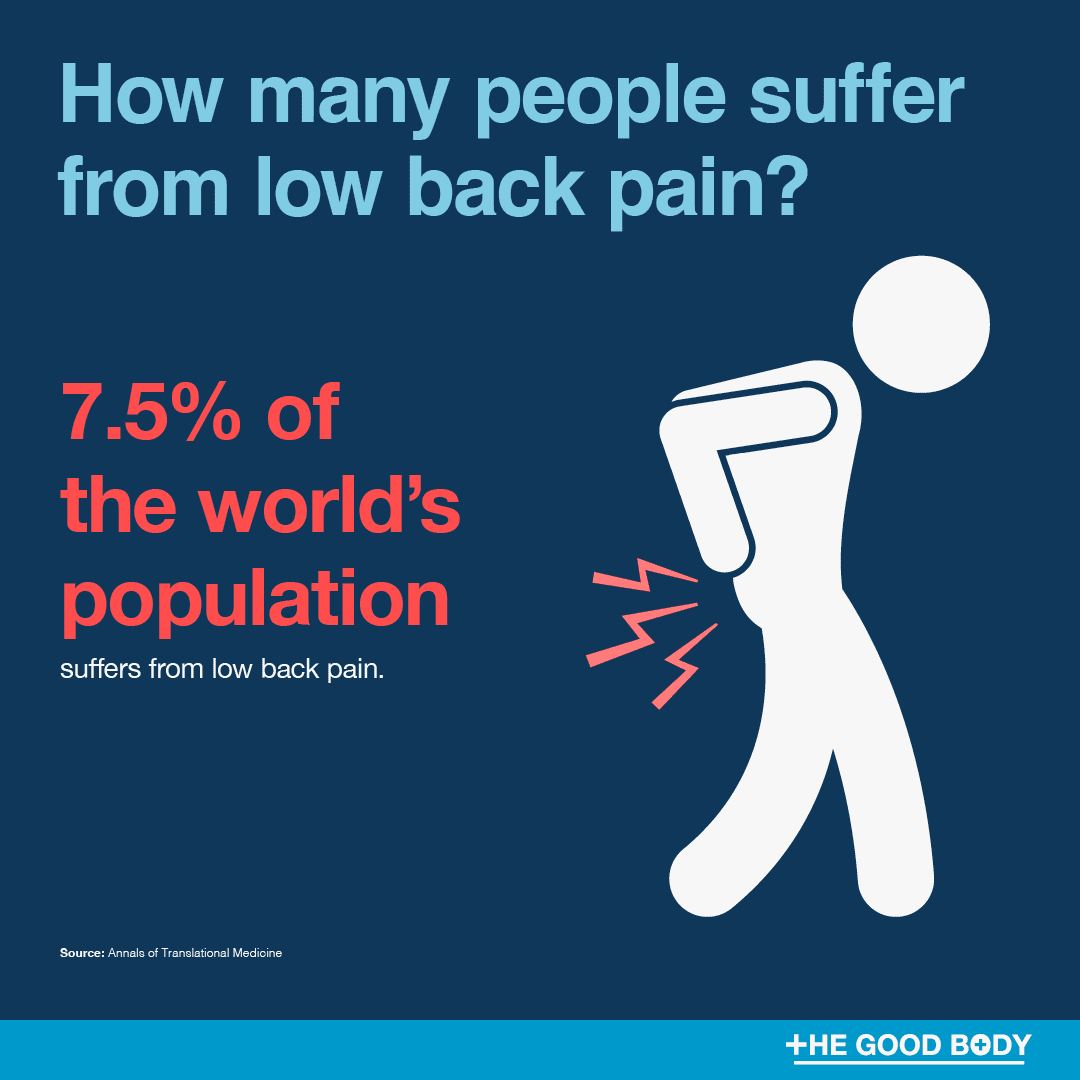 Who is affected by low back pain?
People over 30 and those that are obese or carry extra weight are more likely to suffer with low back pain.

[12]

In terms of gender, nearly a third of the female adult population suffer from LBP, compared to a quarter of the male adult population.

[13]
The Centers for Disease Control and Prevention (CDC) shared the breakdown by age group when it comes to back pain over a three month period. Please see the table below:[14]
Percent of adults with pain during the past 3 months
Age Group
Male
Female
18-44 years
21.4
26.1
45-54 years
31.4
33.6
55-64 years
34.9
35.1
65-74 years
32.2
34.3
75 years and over
29.7
37.3
It is thought that people with physically demanding jobs, physical and mental conditions and smokers, are also at far greater risk of suffering from this ailment.[15]
Is low back pain during pregnancy common?
80% of pregnant women state low back pain affects their daily routine and 10% report that they are unable to work.

[16]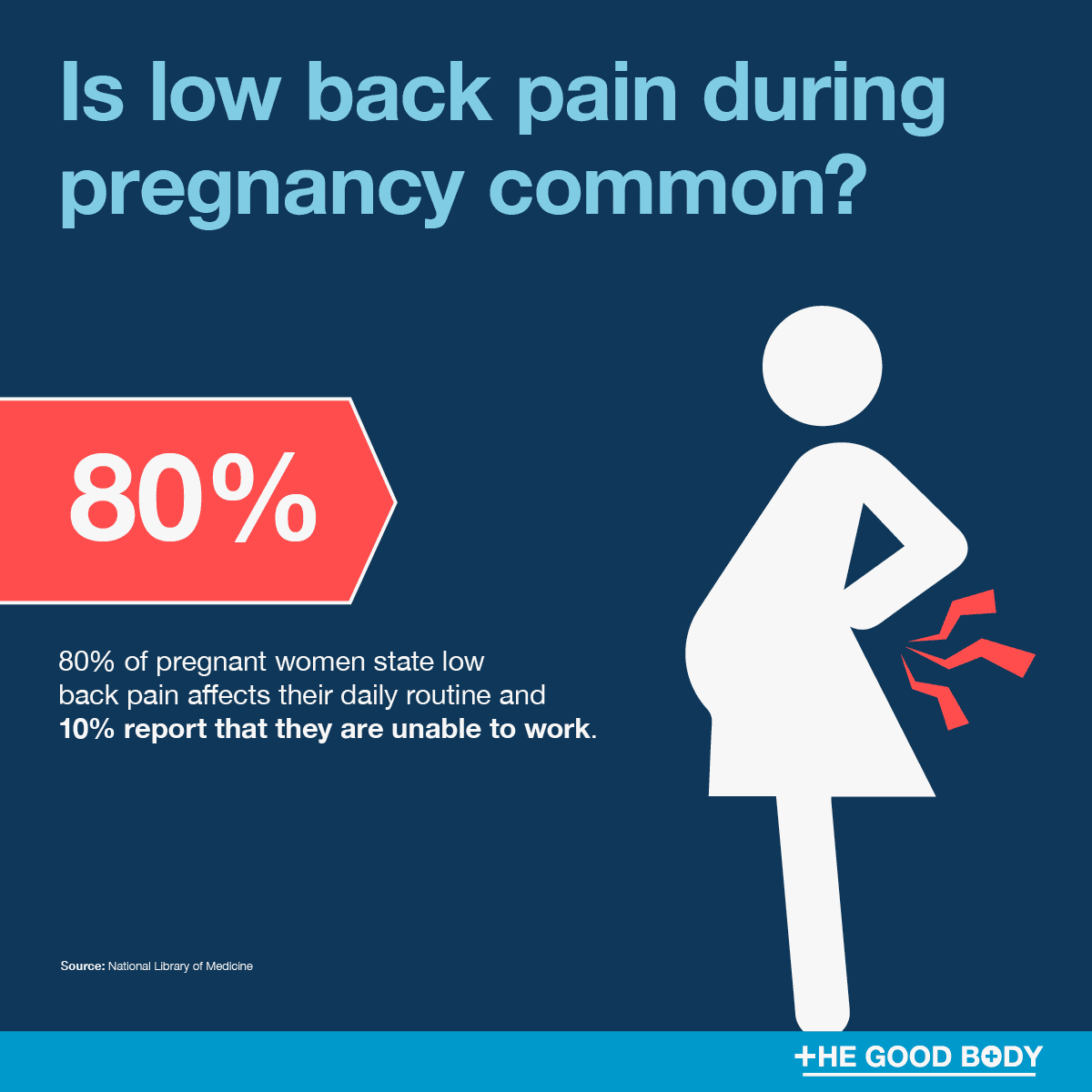 The University of Michigan carried out research highlighting that approximately half of pregnant women will have significant complaints of backache.[17]
It is also the most common cause of sick leave after birth with LBP increasing even more after the menopause.[18]
That said, the American Physical Therapy Association explained that women (20%) are less likely to report that low back pain affects their ability to do their work, as opposed to men (31%).
The Cost of Back Pain
How much does back pain cost the US economy?
According to an estimate by the Nevada Comprehensive Pain Center, based on data from the National Institutes of Health, back pain costs the US economy between $560 to $635 billion annually.

[19]
This is a combination of healthcare costs, plus losses associated with work absenteeism.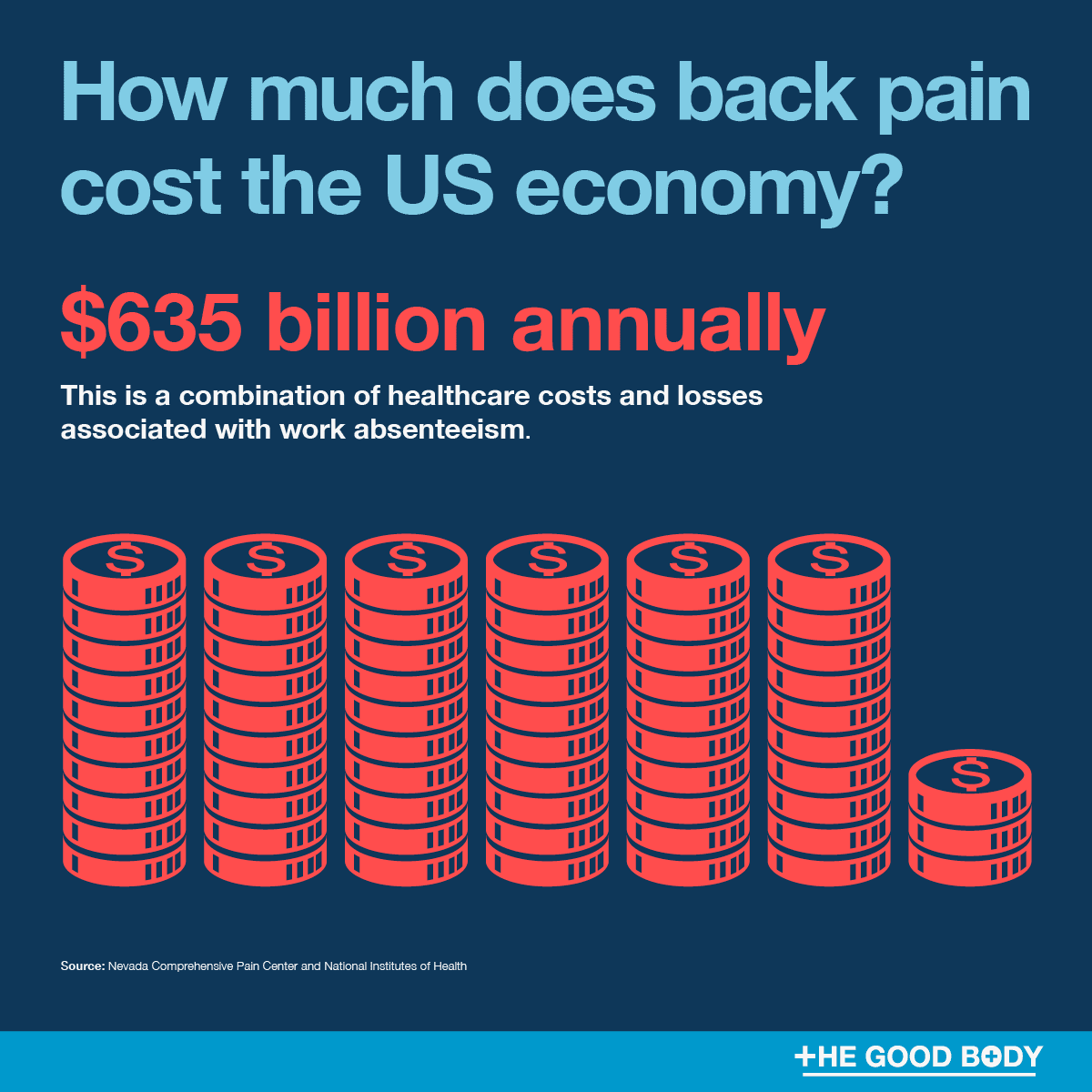 How much do Americans spend on back pain?
Americans spend at least $50 billion annually on treating back pain.

[20]
The American Chiropractic Association states that if you then add in lost wages and decreased productivity (often called indirect costs), that figure easily rises to more than $100 billion.
Back Pain in the Workplace
How common is work-related back pain?
1 in 4 working adults report current back pain, making it one of the most common reasons for missing work.

[21]
One-half of all Americans in employment admit to having these symptoms annually, with the U.S. Bureau of Labor Statistics confirming that workers take an average of 12 sick days to recuperate before going back to work.[22]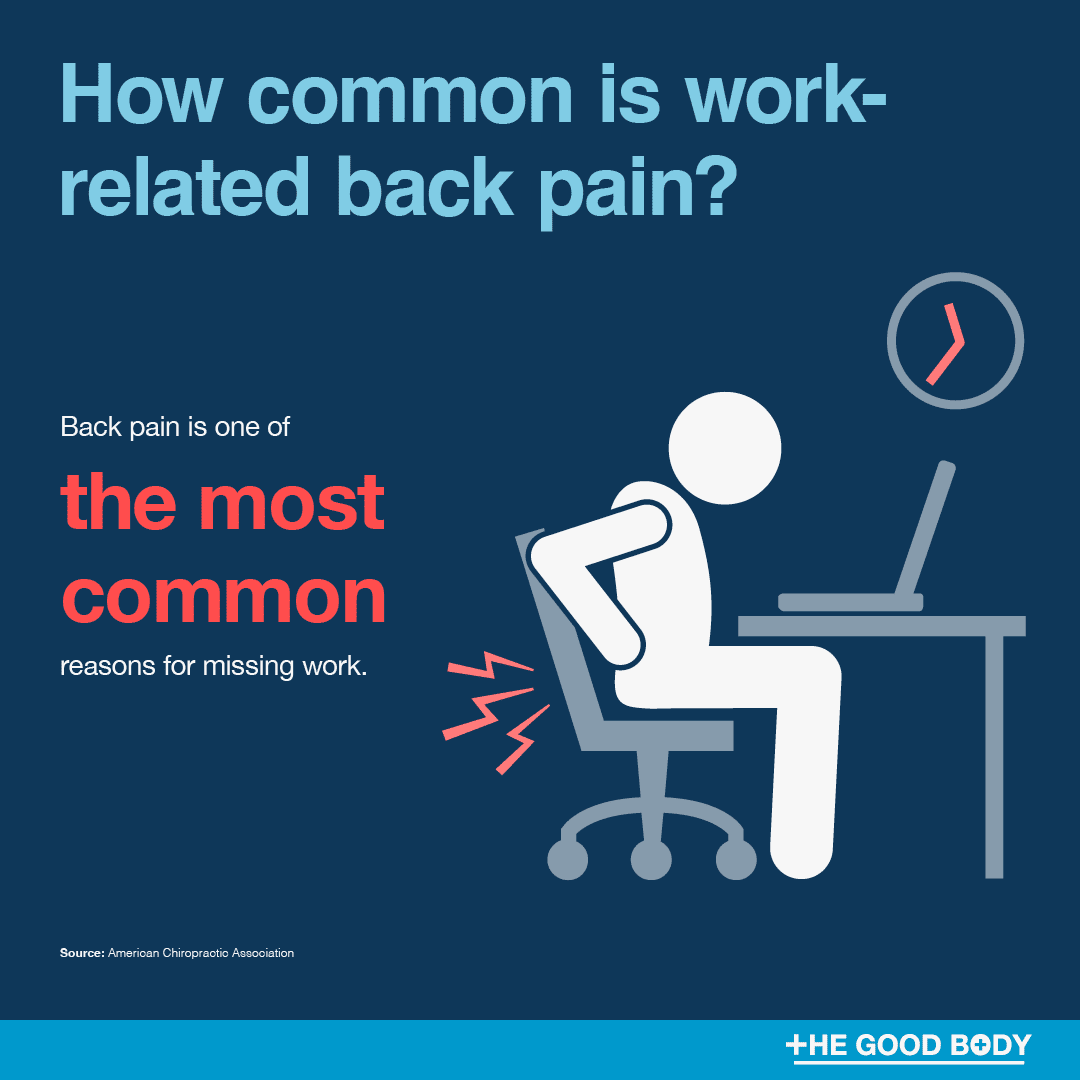 How many office workers have back pain?
What is the percentage of back injuries in the workplace?
More than one million back injuries are sustained in the workplace annually.

[25]
According to the Bureau of Labor Statistics (BLS), a back-related injury accounts for one in every five injuries and illnesses at work.
BLS ran a survey and discovered that 80% of these injuries were to the lower back and, unsurprisingly, 75% of these happened during lifting tasks.
What profession has the most back problems?
Nursing professionals are considered to be the profession that experiences the most back problems.

[26]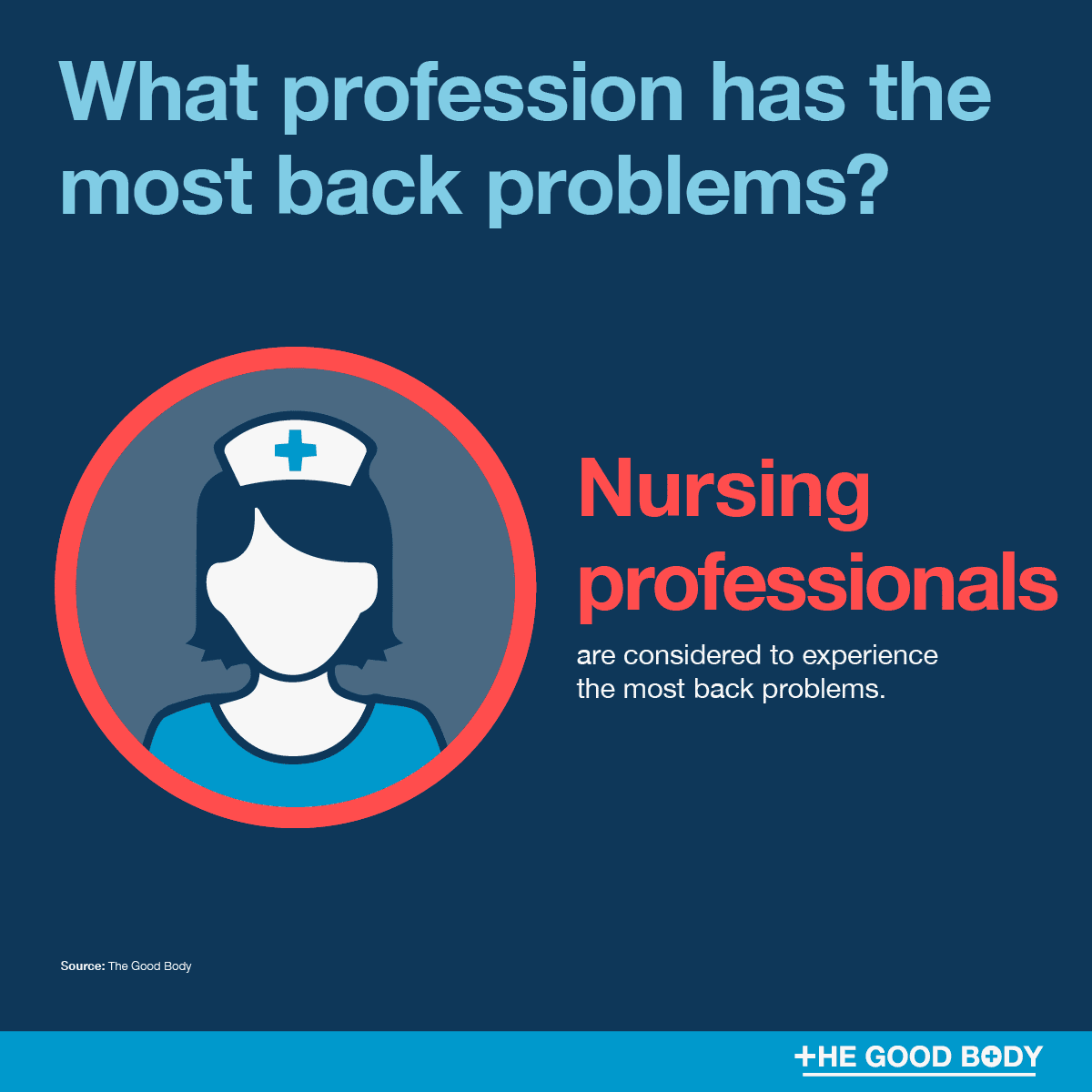 The U.S. Bureau of Labor Statistics discovered the most affected occupations that experienced musculoskeletal disorders, and had to take a period of leave from the workplace, were:[27]
Nursing assistants (52.8%)
Stock and order fillers (45.7%)
Laborers and freight, stock, and material movers (43%)
Maintenance and repair workers (42.5%)
Janitors and cleaners (37.5%)
Heavy and tractor-trailer truck drivers (32.4%)
Back Pain and the Impact on Sleep
Does back pain affect sleep?
37% of adults say back pain has affected their ability to get a good night's sleep.

[28]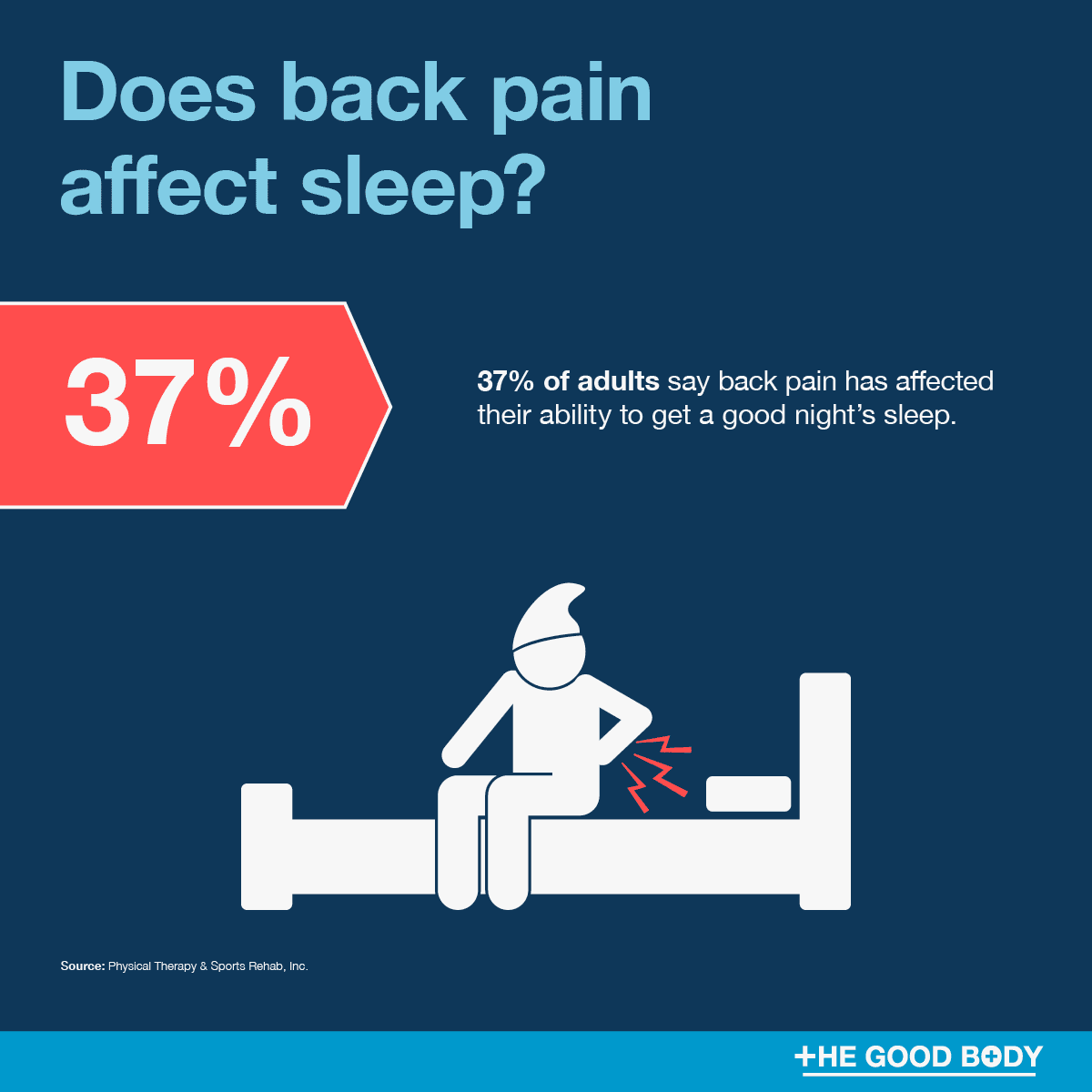 Chronic pain statistics show there's an average 42 minutes sleep debt when people suffer with chronic pain, compared to 14 minutes for those experiencing acute pain.
Anyone who wants to improve their sleep, can check out The Good Body's list of the top things to help you sleep.
Can lower back pain cause insomnia?
One of the most commonly reported side effects by those suffering with back pain is insomnia.

[29]
Stats about insomnia paint a similar picture, highlighting the growing number of people living with the condition.
Knowing which precedes the other is difficult to determine, however chronic pain is shown to play havoc with our sleep.
Back Pain Treatments
What is the best way to relieve back pain?
Exercise is one effective way to enjoy immediate relief from back pain, however you must speak to your doctor before taking up a new regime.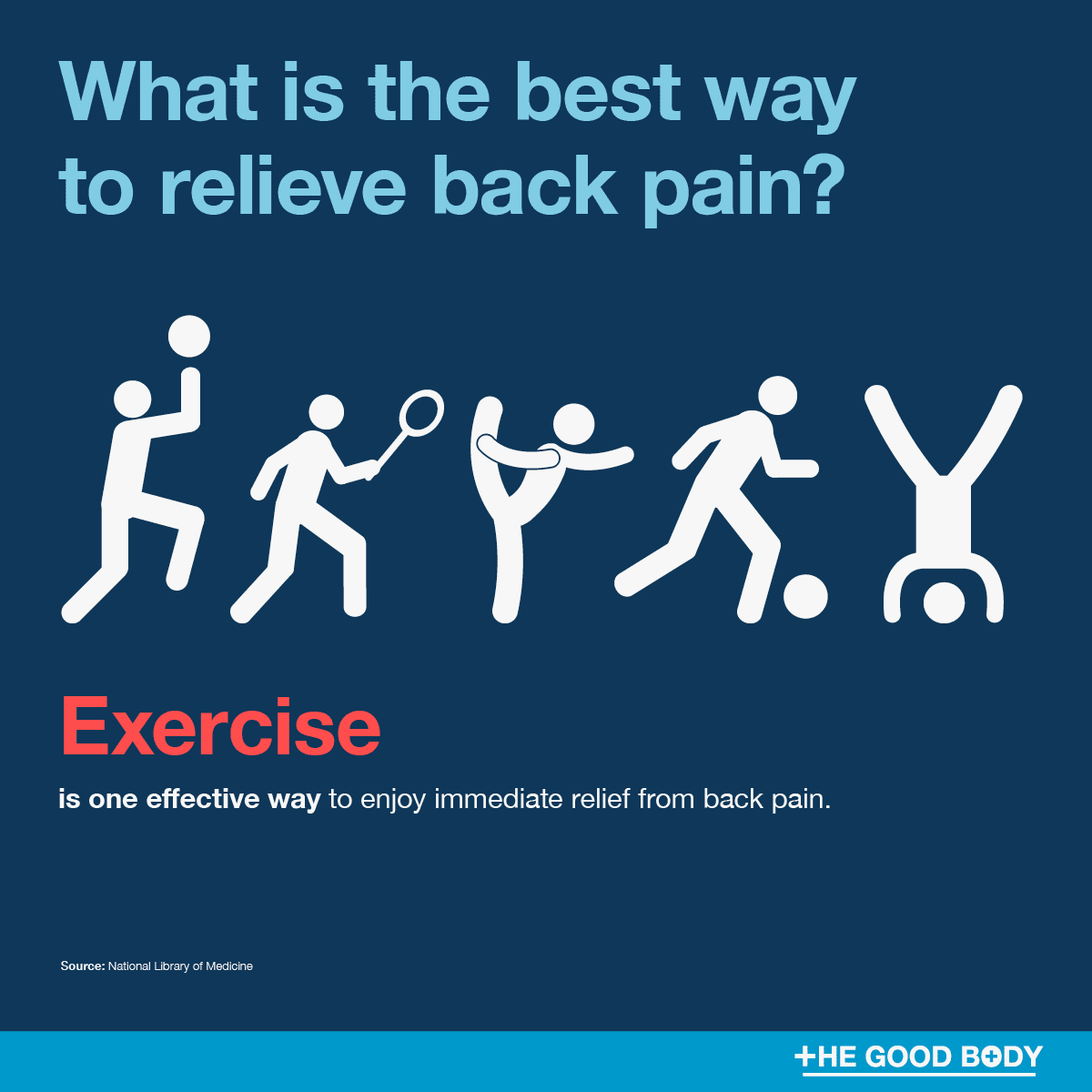 49% of those with back pain will turn to pain killers as their first treatment option for back pain, despite them only being designed for short-term relief and just to treat the symptoms.[30]
In a survey carried out by Statista in 2017, respondents shared their go-to methods:
Painkillers – 49%
Physical rest – 32%
Specific back exercises – 30%
Moving a bit every day – 28%
Analgesic ointment and patches – 25%
Massage tools, acupressure products and items you might send as a back pain gift, such as heat pads, can also be helpful.
Booking an appointment with a physical therapist or chiropractor can be a more effective way to get to the root cause of the condition.
Take a look at the latest chiropractic statistics, and you'll see 77% of people who receive the therapy for back pain describe it as "very effective".
Alternatively many find joining a back pain support group to be a positive move. Of course not to treat their condition, but to build a strong network of support.
Ready to take control of your back pain?
There are a number of alternative treatment options that have been proven to help, including massage, acupressure and yoga.
TENS therapy is also used by many back pain sufferers.
Take a look at our article reviewing the best TENS units on the market – including a few low-priced options that are ideal for beginners.