The majority of people will experience pain in their back at some point in their lives.
To understand more about the implications of this, we bring you some of the top back pain statistics, types of treatment, recovery times and the cost of injuries compiled from various sources and relevant studies.
Key Findings and Statistics about Back Pain
Approximately 80% of Americans will experience back problems at some point in their lives
An estimated 10% of the world's population suffers from lower back pain
The number of Americans experiencing lower back pain is on the rise
Back problems are more common in adult women than men
More than one in three adults say back pain impacts everyday activities, including sleep
29% of Americans believe stress is the cause of their back pain
90% of acute low back pain issues are resolved within six weeks
Americans spend at least $50 billion annually on treating back pain
Key statistics on back pain: infographic

Share this infographic on your site
Back pain statistics in numbers
To better understand how back pain affects society, here are statistics from conclusive studies conducted in recent years.
The majority of Americans will experience back pain in their lifetime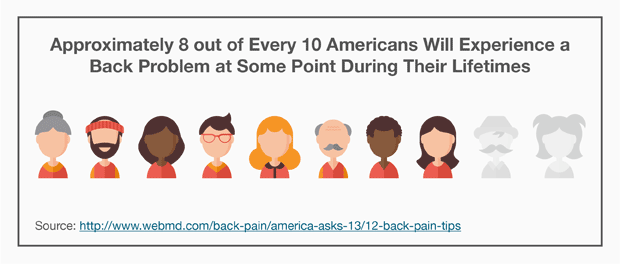 Almost 80% of Americans will have back problems at some point in their life. The most common form is in the lower back, which at times can result in disabling episodes.
The number of Americans experiencing lower back pain (LBP) is on the rise, especially amongst over-65s
Based on data collected in a 2013 study conducted by the CDC, 29% of Americans experienced lower back problems in the last three months, compared to 28.1% in 1997.
For the over-65s age group this figure is higher. In 1997, 29.5% of this age group experienced pain, and increased to 33.7% in 2013.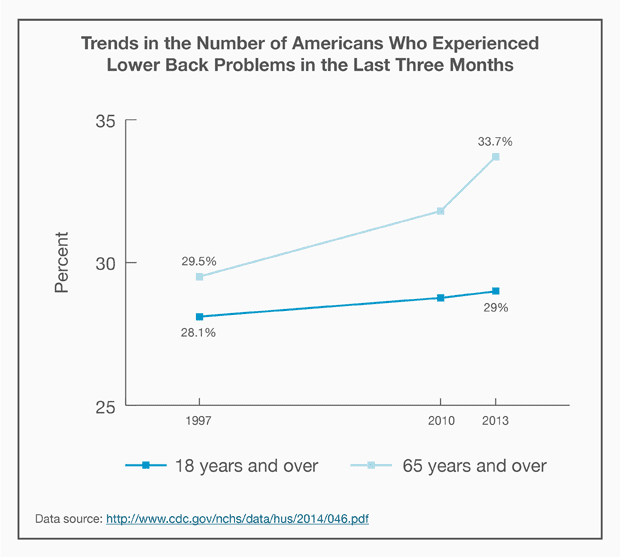 Back problems are more common in adult women than men
The CDC's research, based on household interviews amongst the civilian population, found that nearly a third of the female adult population suffered from LBP, compared to a quarter of the male adult population.
However, men are more likely than women to report that pain affects their ability to do work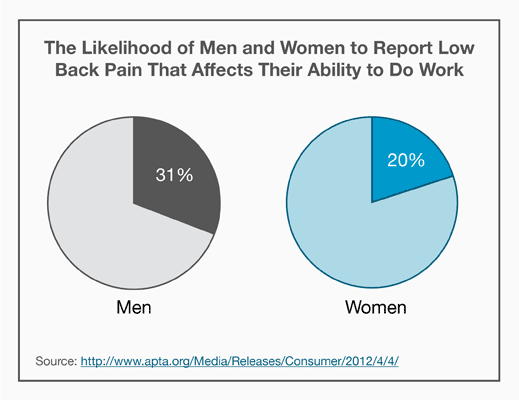 The American Physical Therapy Association (APTA) carried out the Move Forward Low Back Pain Survey, which found that 31% of men acknowledged when their condition affects work compared to 20% of women.
Men are more likely than women to report that pain affects their ability to do work
Click to Tweet
Frequency of back pain reported amongst pregnant women
Approximately half of all pregnant women will have significant complaints of backache, according to research from the University of Michigan.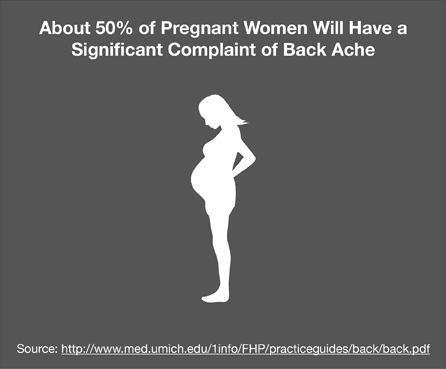 More than one in three adults say back pain impacts everyday activities, including sleep
According to the APTA Move Forward survey, in which over 2600 respondents shared their experiences and habits regarding back pain, 39% of adults reported that LBP prevents them from fully engaging in daily life tasks. Amongst this, 38% of adults noted it affects their exercise and 37% stating it affects their sleep.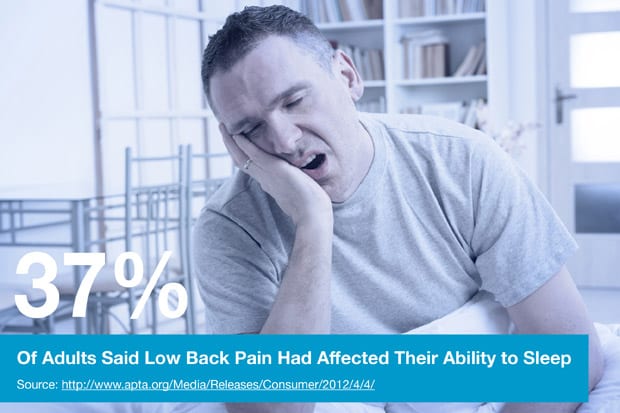 Sleep quality is reduced for those who with chronic pain, with more than half stating that they suffer from poor sleep quality.
More than half of American cases are from desk workers
Back pain is no longer for those who spend the majority of the day on their feet. Cases in one study proved that 54% of Americans experiencing pain spend most of their workday sitting.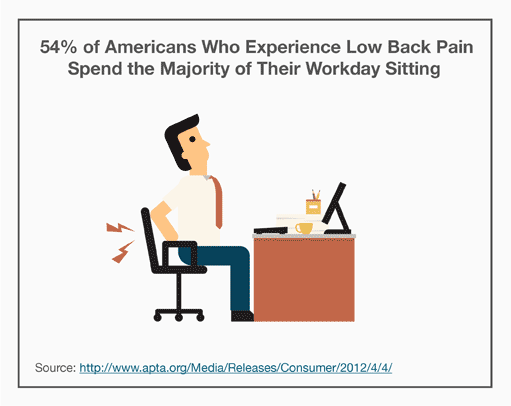 Standing desks are a growing trend, however a study at the University of Waterloo looked at their effectiveness. Results showed that 40% of people without back problems developed lower back pain after regularly standing for two hours.
An estimated 10% of the world's population suffers from pain in the lower back
According to a recent study by the Annals of Rhuematic Diseases, one in ten people around the world are afflicted with LBP making it the world's leading cause of disability. This is based on over 100 studies of 780 cases in more than 80 countries.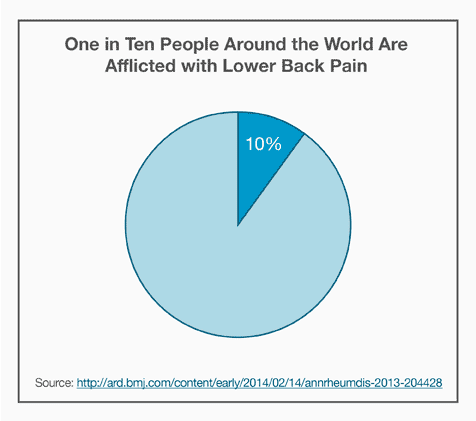 An estimated 10% of the world's population suffers from pain in the lower back
Click to Tweet
Treatment
Since back pain is a common problem for Americans, as well as people around the world, it's important to know what can be done to treat it. Here are some common statistics regarding treatments.
Back pain is the fifth most common healthcare complaint
Statistics prove that a back problem is a common experience amongst people in the United States, and is a widespread reason for which professional healthcare advice is sought.
37% of Americans experience low back pain and don't seek professional help
The aforementioned APTA survey highlighted that almost two-thirds of Americans experience low back pain, yet 37% of the population do not see a professional to relieve their symptoms.
When seeking help, the most common practitioners people visit are primary care physicians, chiropractors and subspecialists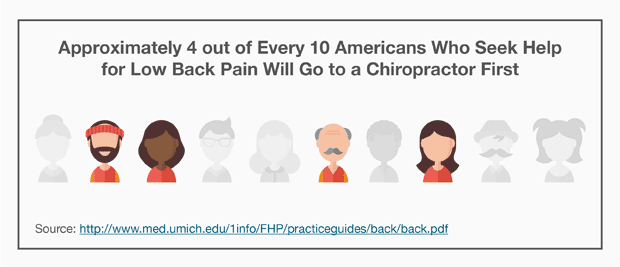 The majority of people (8 out of 10) initially seek help from their primary care physician or a chiropractor. The remaining 2 out of 10 see a subspecialist for treatment.
In the US, two to five percent of all doctor's visits are for pain in the back
Although this is a small percentage, this equates to $86 billion in healthcare costs.
2.6 million emergency room visits are as a result of back pain
The statistics also show that a high number of patients are prescribed opioids during their visit.
Number of people visiting physicians continues to increase
Not only is there a rapid increase in the number of physicians' visits for back pain, but a larger proportion of the population is affected. The chart below depicts this rise.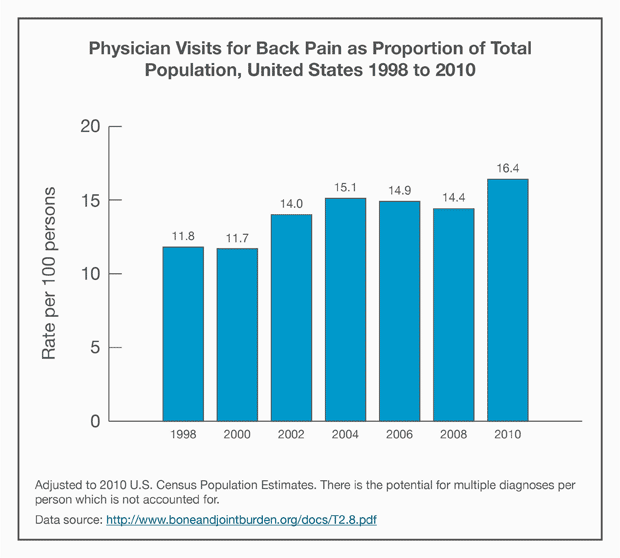 The cause of lower back pain is clearly identified for only 10% of patients
Nine out of ten people who seek medical treatment for their back do not find out the primary cause of their pain. This is because there are many factors contributing to the likelihood of pain, such as physical activities, but this association is not equivalent to the causation of back pain.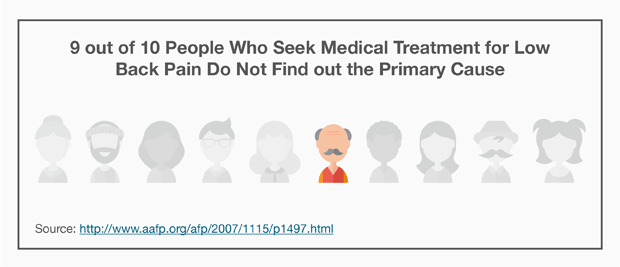 29% of Americans believe stress is the cause of their back pain.
Research compiled in 2017 from numerous sources showed that as well as stress, Americans felt not enough exercise, being overweight and a physical job could also be to blame.
Did You Know?
540 million people around the world are suffering from lower back pain at any one time.
Types of treatment
Because back health is essential to quality of life, it's important to seek the appropriate treatment when necessary. In this section, we outline some of the common treatment routes available.
Medication
The most straightforward way to treat back issues is through medication to control the pain, in the form of both over-the-counter and prescription drugs.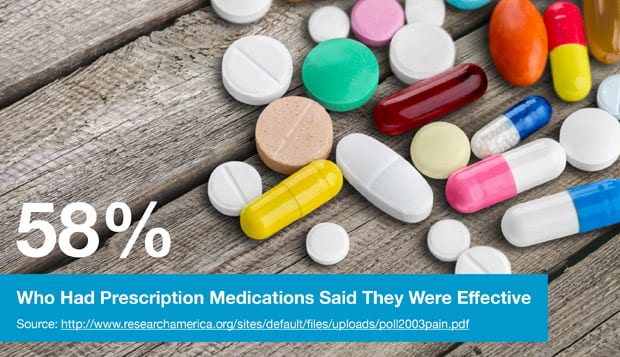 In a survey conducted by Peter D. Hart Research Associates, the use of medication had mixed results. People who took prescription drugs were 17% more likely to say the medication was very or fairly effective for their pain.
Chiropractor
Chiropractic treatments were proven to be effective for just over 50% of suffers, as noted in the Research!America survey conducted in 2003.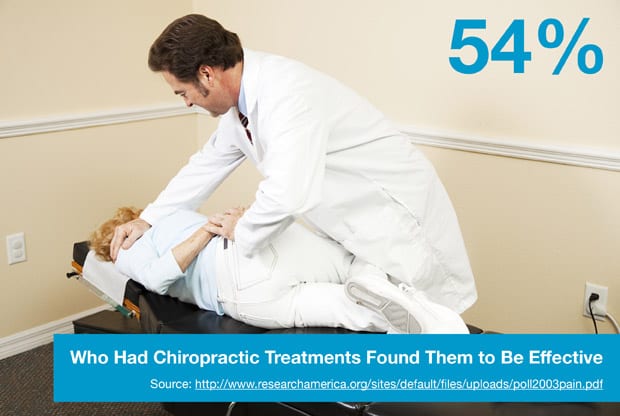 The chiropractic industry is significant in the US with over 45,000 licensed chiropractors generating combined annual revenue of $12 billion.
Chiropractic treatment is not isolated to the US. Tens of millions of people around the world visit one of the 95,000 actively practicing chiropractic doctors for their backs.
Physical Therapy
The types of treatment options available to sufferers have mixed reviews. Physical therapy is another standard treatment, and was rated effective by 48% of people.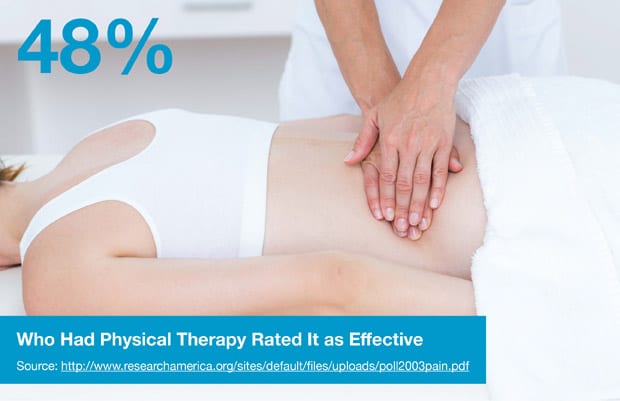 Spine pain is one of the top reasons why people seek out physical therapy. One clinic in Montana reported that 46% of its patients over a six-month period specifically sought relief for their backs.
For more specific information on physical therapy and some intriguing statistics, check out this article we put together.
Surgery
Surgery is a more serious treatment option, and is only necessary for five percent of the 56 million Americans seeking relief for their pain. Of the people who receive surgery, 5.4 people in 10 believe it to be effective.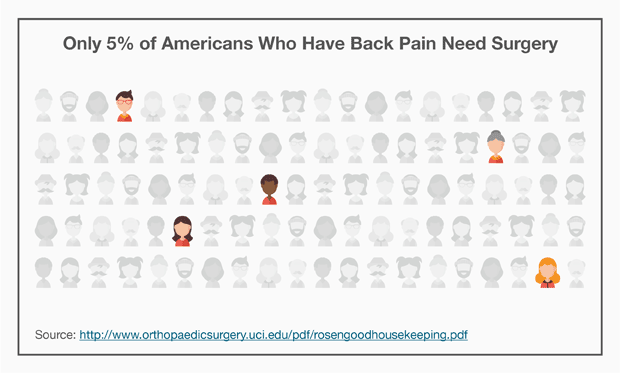 When it comes to spinal surgeries, the most common type is discectomies, which is the removal of the herniated part of a disc. Operations that involve the joining of surrounding vertebrae, better known as spinal fusions, have been rising. There were just over 150,000 surgeries in 1993, and by 2007 the number had more than doubled to 350,754.
Even though the number of spinal fusions has been on the rise, experts estimate that fewer than half of them are appropriate and research confirms that the same proportion are successful.
Only 5% of Americans who have back pain need surgery
Click to Tweet
TENS
Transcutaneous Electrical Nerve Stimulation, or TENS, is the delivery of electric current to the skin through electrodes to relieve pain. In recent years this has become a common at home treatment, once a patient has been adequately instructed by a medical professional.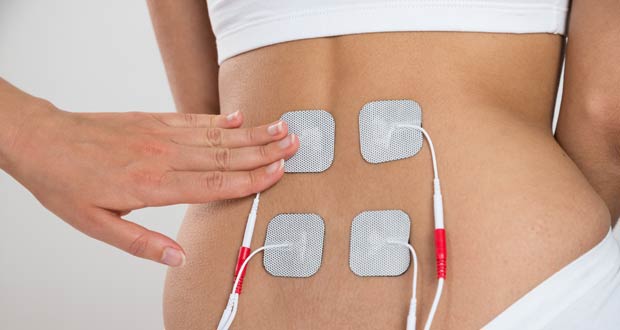 Data from the Centers for Medicare & Medicaid Services (CMS) proved that the number of Medicare beneficiaries purchasing a TENS unit doubled between 2006 and 2010. See the chart below for more figures from their research.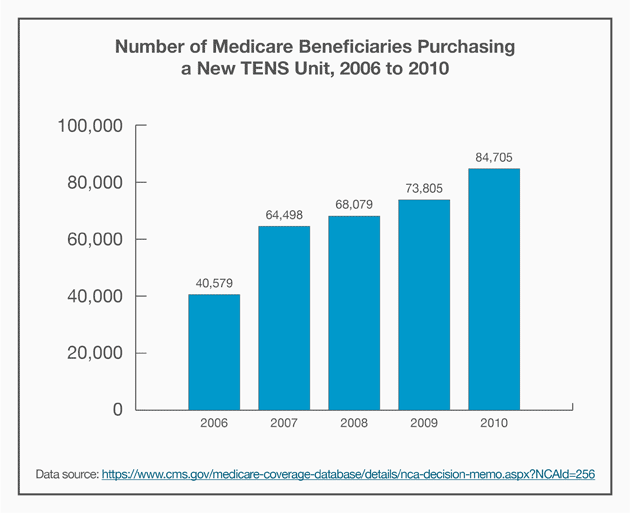 Although the use of TENS treatment was on the rise in people on Medicare, in 2012 CMS stopped reimbursing patients for TENS units for the treatment of chronic LBP. TENS devices are still reimbursable for other uses, including acute LBP.
Injections
Steroid injections are another way in which to relieve pain in the back, but they have limited efficacy. This treatment method has been around for more than 50 years, and has seen a significant increase in charges per injection by over 100% (after inflation) in the past decade.
Due to the increasing and charges, there was a six-fold increase in spinal injection fees amongst Medicare expenses. During this time, the Medicare population only saw at 12% increase.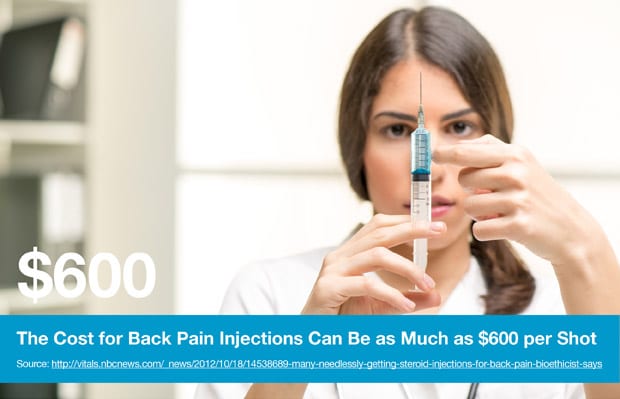 The cost for back pain injections can be as much as $600 per shot, and often require a series or multiple injections. Luckily, insurance can cover a significant portion of the expenses.
Acupuncture
In a study of 638 patients with chronic back pain, those who sought relief through acupuncture (10 sessions over seven weeks) improved considerably more than those who used medication, physical therapy, or continued their chosen treatment path. Even after a year the acupuncture group reported feeling better than their counterparts.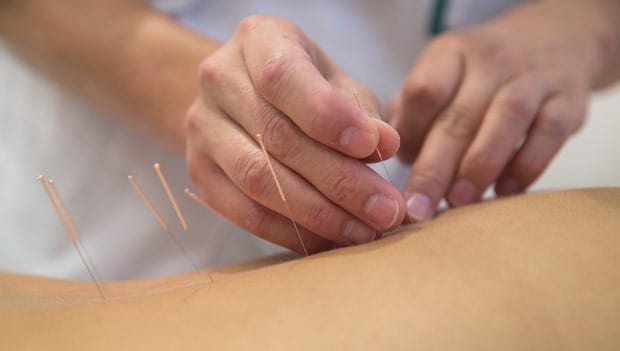 The study proved that simulated acupuncture – whereby a toothpick, rather than a needle breaking the skin, stimulated the acupuncture points – turned out to be just as effective as the real thing.
Recovery and recurrence
The recovery times and chance of recurrence from problems with the back vary greatly. Here are key things to know when it comes to getting over pain.
90% of episodes are resolved within six weeks
Regardless of treatment undertaken, 9 out of 10 patients believe their acute LBP issues are satisfactorily resolved in just over a month.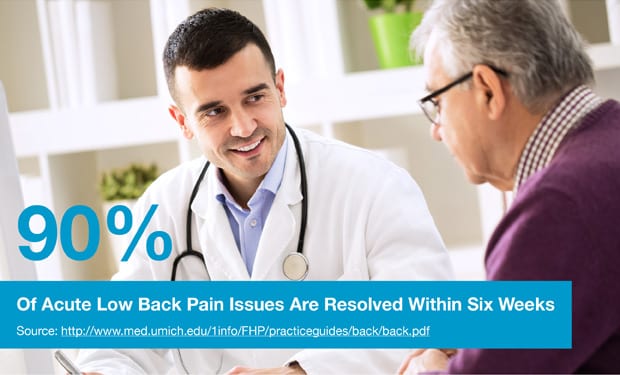 Did You Know?
Investing in a good mattress can reduce back pain by 57%.
Lower back pain recurrence is extremely common
60-80% of patients experience the same issues within two years of first reporting a problem.
Chronic LBP is defined by lasting greater than or equal to three months
For people whose pain last more than three months, or twelve weeks, many authors define them as having chronic symptoms.
7% of patients develop chronic pain
Persistent pain develops into chronic back pain in up to 7% of patients.
Cost
Back pain comes at a cost, in terms of the medical expenses incurred, but can have wider financial implications to the patient or society.
Back problems are the most common cause of job-related disability
They are also a leading contributor to missed workdays.
Back pain causes the loss of 3 million years of productive life in the US each year.
The 2017 Global Burden of Disease study also found shocking loses in other countries including one million lost years in the UK.
Disability caused by lower back pain has doubled since 1990.
Experts suggest this is due to the population getting older and people living more sedentary lives.
Americans spend at least $50 billion annually on treating back pain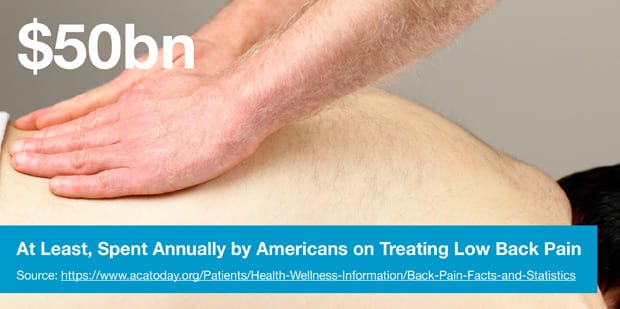 Besides causing a loss of productivity, LBP is complicated and generally expensive to treat.
The indirect annual costs in America are over $100 billion
Indirect costs are widespread and have a large implication on those who suffer from pain. These costs included not only lost wages and productivity, but also legal and insurance overheads and the impact on family.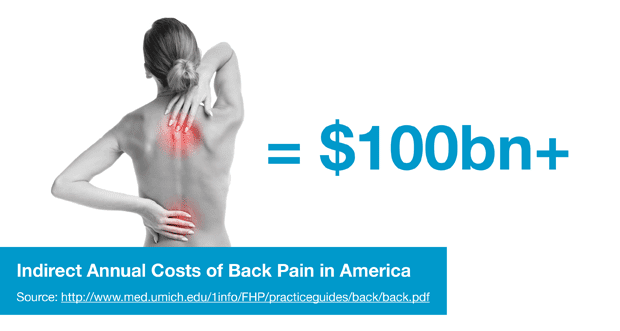 Chronic suffers account for majority of the annual costs
The 7% of patients characterized as having chronic pain account for 80% of the indirect costs, as mentioned above.
Half a million workers suffer from compensable back injuries each year
Only 2% of Americans qualify for compensation for injuries to the back, but LBP accounts for almost 1/5 of all workers' compensation claims in the United States.
Metal workers generate over three-quarters of back claims
Information from the Bureau of Labor and Statistics shows that 76% of all claims related to strains and/or sprains of the back come from people working within the metal industry.
Lumbar pain accounts for 4.1% of healthcare visits
Research shows that 1 in 25 of all visits to a healthcare provider in 2010 was due to issues related to the back.
Back pain is the most common cause of pain related suicide.
The research published in 2018 found that over 20% of pain related suicides were as a result of back pain, followed by the pain related to cancer and arthritis.
MRI scans for the back on the rise, and linked to high costs and relatively low success rates, while physical therapy proves more effective
From 1994 to 2005, MRI scans of the lumbar region increased by more than 300% in Medicare beneficiaries.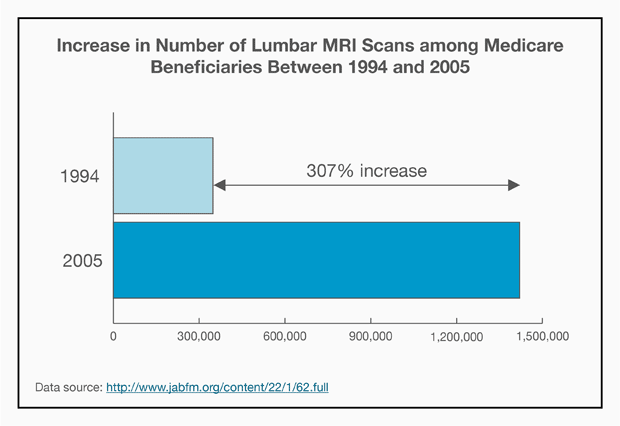 According to the Agency for Healthcare Research and Quality, less than 1% of all imaging scans found the problem.
Costs for patients with lower back pain can vary depending on the treatment and severity. However, a study published in the journal Health Services Research, proved that initial treatment costs were 50% lower when patients were referred to physical therapy, rather than an advanced imaging referral at their primary care consultation. Over time, using physical therapy as a first treatment strategy resulted in 72% fewer costs within the first year of the patient seeking care.
Surgical costs amongst most expensive forms of back treatment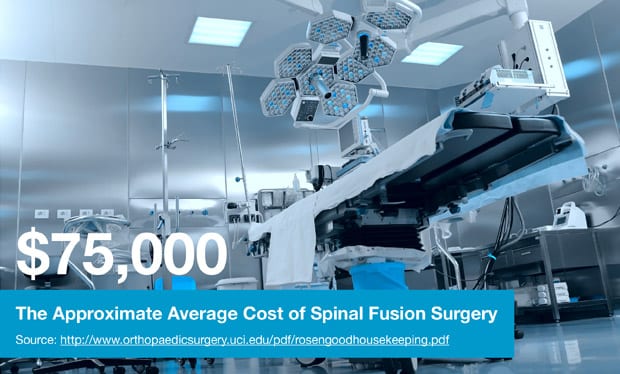 On average, spinal fusions cost $75,000 for the surgery alone. Subsequent costs, such as rehab and weeks off work, make this figure even higher.
Back injuries account for one in five workplace injuries or illnesses
The Bureau of Labor Statistics found that more than one million workers, or one in five, suffer from back injuries each year.
CHECK OUT: these 9 simple ways to improve your back health today
References
Sayre, C. (2013) 12 Ways to Improve Back Pain. [Online] Available from: https://www.webmd.com/back-pain/features/12-back-pain-tips [Accessed 12 February 2019]. ↩
Chiodo, A. E. et al (2011) Acute Low Back Pain. [Online] Available from: http://www.med.umich.edu/1info/FHP/practiceguides/back/back.pdf [Accessed 12 February 2019]. ↩
Centers for Disease Control and Prevention (2014) Health, United States, 2014. [Online] Available from: https://www.cdc.gov/nchs/data/hus/2014/046.pdf [Accessed 12 February 2019]. ↩
Chiodo, A. E. et al (see footnote 2) ↩
American Physical Therapy Association (2012) Most Americans Live with Low Back Pain – and Don't Seek Treatment. [Online] Available from: http://www.apta.org/Media/Releases/Consumer/2012/4/4/ [Accessed 13 April 2017]. ↩
Mäntyselkä, P. (2012) Sleeping with pain—A nightmare. [Online] Available from: https://www.degruyter.com/view/j/sjpain [Accessed 12 February 2019]. ↩
American Physical Therapy Association (see footnote 5) ↩
Centers for Medicare & Medicaid Services (2012) Decision Memo for Transcutaneous Electrical Nerve Stimulation for Chronic Low Back Pain. [Online] Available from: https://www.cms.gov/medicare-coverage-database/details/nca-decision-memo.aspx?NCAId=256 [Accessed 12 February 2019]. ↩
American Physical Therapy Association (see footnote 5) ↩
Chiodo, A. E. et al (see footnote 2) ↩
Rapaport, L. (2015) Early physical therapy might help ease lower back pain. [Online] Available from: http://www.reuters.com/article/us-health-backpain-early-pt-idUSKCN0S82H520151014 [Accessed 12 February 2019]. ↩
The Burden of Musculoskeletal Diseases in the United States (2015) Burden of Back Pain. [Online] Available from: https://www.boneandjointburden.org/2014-report/iid0/burden-back-pain [Accessed 12 February 2019]. ↩
American Academy of Family Physicians (2007) Nonspecific Low Back Pain and Return to Work. [Online] Available from: https://www.aafp.org/afp/2007/1115/p1497.html [Accessed 12 February 2019]. ↩
American Academy of Family Physicians (see footnote 13) ↩
The Lancet (2018) Low back pain affects 540 million people worldwide, but too many patients receive the wrong care. [Online] Available from: https://www.oulu.fi/sites/default/files/news/TheLancet_LowBackPain.pdf [Accessed 12 February 2019]. ↩
Peter D. Hart Research Associates (2003) Americans Talk About Pain. [Online] Available from: https://www.researchamerica.org/sites/default/files/uploads/poll2003pain.pdf [Accessed 12 February 2019]. ↩
First Research (2016) Chiropractors Industry Profile. [Online] Available from: http://www.firstresearch.com/Industry-Research/Chiropractors.html [Accessed 12 February 2019]. ↩
International Chiropractors Association (2016) Facts About Chiropractic. [Online] Available from: http://www.chiropractic.org/content.asp?contentid=157 [Accessed 13 April 2017]. ↩
Peter D. Hart Research Associates (see footnote 16) ↩
Hope, T. and Ince, S. (2009) The Truth About Back Surgery. [Online] Available from: http://www.orthopaedicsurgery.uci.edu/pdf/rosengoodhousekeeping.pdf [Accessed 12 February 2019]. ↩
Peter D. Hart Research Associates (see footnote 16) ↩
Hope, T. and Ince, S. (see footnote 20) ↩
Hope, T. and Ince, S. (see footnote 20) ↩
Walker, E. P. (2012) CMS Nixes TENS for Back Pain. [Online] Available from: https://www.medpagetoday.com/Neurology/PainManagement/33210 [Accessed 12 February 2019]. ↩
North Coast Medical Inc. (2012) North Coast Medical's take on the TENS Ruling. [Online] Available from: https://www.ncmedical.com/north-coast-medical-on-tens-ruling [Accessed 12 February 2019]. ↩
Deyo R. A. et al (2009) Overtreating Chronic Back Pain: Time to Back Off?. [Online] Available from: https://www.jabfm.org/content/22/1/62.full [Accessed 12 February 2019]. ↩
Deyo R. A. et al (see footnote 26) ↩
Deyo R. A. et al (see footnote 26) ↩
Hope, T. and Ince, S. (see footnote 20) ↩
Chiodo, A. E. et al (see footnote 2) ↩
Jacobson B. H. et al (2002) Effectiveness of a selected bedding system on quality of sleep, low back pain, shoulder pain, and spine stiffness. [Online] Available from: https://www.ncbi.nlm.nih.gov/pubmed/11896375 [Accessed 12 February 2019]. ↩
Chiodo, A. E. et al (see footnote 2) ↩
Centers for Medicare & Medicaid Services (see footnote 8) ↩
Pain Doctor (2015) What Causes Low Back Pain?. [Online] Available from: https://paindoctor.com/videos/what-causes-low-back-pain/ [Accessed 12 February 2019]. ↩
National Institute of Neurological Disorders and Stroke (2014) Back Pain Fact Sheet. [Online] Available from: https://www.ninds.nih.gov/Disorders/Patient-Caregiver-Education/Fact-Sheets/Low-Back-Pain-Fact-Sheet [Accessed 12 February 2019]. ↩
American Chiropractic Association (2017) Back Pain Facts and Statistics. [Online] Available from: https://www.acatoday.org/Patients/Health-Wellness-Information/Back-Pain-Facts-and-Statistics [Accessed 12 February 2019]. ↩
Chiodo, A. E. et al (see footnote 2) ↩
Chiodo, A. E. et al (see footnote 2) ↩
Chiodo, A. E. et al (see footnote 2) ↩
Wheeler, A. H. (2016) Low Back Pain and Sciatica. [Online] Available from: https://emedicine.medscape.com/article/1144130-overview [Accessed 12 February 2019]. ↩
The Burden of Musculoskeletal Diseases in the United States (see footnote 12) ↩
Deyo R. A. et al (see footnote 26) ↩
Wikipedia (2016) Low back pain. [Online] Available from: https://en.wikipedia.org/wiki/Low_back_pain [Accessed Accessed 12 February 2019]. ↩
MedRisk, Inc. (2015) Statistics Spotlight: Physical Therapy Reduces Costs. [Online] Available from: https://www.medrisknet.com/statistics-spotlight-physical-therapy-reduces-costs/ [Accessed 12 February 2019]. ↩
Hope, T. and Ince, S. (see footnote 20) ↩
U.S. Department of Labor (1989) Back Injuries – Nation's #1 Workplace Safety Problem . [Online] Available from: http://www.dsj.org/wp-content/uploads/sites/7/2013/06/backinjuries.pdf [Accessed 12 February 2019]. ↩