Yoga has grown massively in popularity over the past few years, with passionate yogis stretching around the world.
It's great for both your mental and physical health, and with the value of the yoga industry growing annually, the trend shows no sign of slowing down.
Yoga Stats and Facts: A Quick Summary
36 million Americans practice yoga.
Between 2012 and 2016 the number of Americans doing yoga grew by 50%.
There are an estimated 300 million yoga practitioners worldwide.
The worldwide yoga industry is worth $80 billion.
Americans spend $16 billion on yoga classes and equipment each year.
72% of yoga practitioners are female.
Men practicing yoga rose from 4 million in 2012 to 10 million in 2016.
1.7 million children are practicing yoga in the US.
Flexibility and stress relief are the most popular reasons for starting yoga.
There are currently 100,000 yoga teachers registered in the US.
Key Statistics on Yoga: Infographic

Share this infographic on your site
Popularity of Yoga Statistics
Take a look at our summary of the latest yoga statistics, to understand its growing popularity across the US (and the rest of the world!):
Yoga Demographics: Who practices yoga?
Yoga is no longer exclusively for the deeply spiritual. Everyone seems to be taking up the practice, however there are certain groups who know their asanas better than others:
Yoga Market Size Statistics: Scale of the industry
As yoga has become increasingly mainstream, the worth of the yoga market has grown beyond all expectations:
Benefits of Yoga Statistics
Yoga has shown to have a number of different health benefits (you can read about them all here!) for both your physical and mental wellbeing.
Dangers of Yoga Statistics
Anyone who tells you that yoga "is just stretching" needs to look at the yoga injury statistics.
The Faculty of Health Science at Sydney University carried out a study in 2017 which followed 354 respondents with musculoskeletal pain, who had previously taken yoga classes.
21% of participants said yoga made their pain worse, with more than 10% reporting that they felt yoga had caused their pain.
A study by the Department of Internal and Integrative Medicine in Germany, found that the shoulder stand and variations of the lotus pose also caused a higher number of injuries than other yoga poses.
The ongoing monitoring by the National Electronic Injury Surveillance System, found that in 2001 there were 9.5 injuries per 100,000 participants with the number rising to 17 per 100,000, making it comparable to sports such as weight-training and golf.
The rise is believed to have come from unqualified teachers offering classes to eager beginners.
However compare the number of yoga injuries to another popular sport such as basketball (149 injuries per 100,000) and you'll see that statistically yoga is much safer.
Our current workout culture, including CrossFit, HIIT (high intensity interval training), and even yoga, can have negative consequences for the low back. In a way it's ironic since we exercise to be strong and stay fit. However when done incorrectly these activities can cause low back pain and major tissue damage including fractures.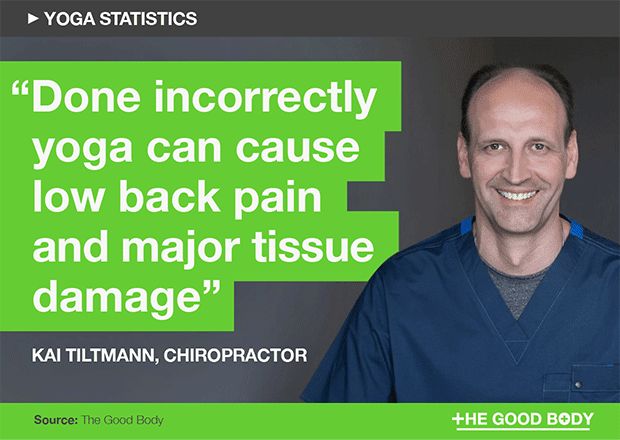 Yoga Worldwide: Global Statistics
It isn't just the US that has fallen in love with yoga! The practice has spread quickly around the world:
Though yoga originated in India, many countries across the world have now claimed it as their own.
While it can be difficult to monitor yoga popularity by country, Google Trend data shows which countries Google 'yoga' and associated terms the most, which gives a good indication of popularity.
At the time of writing, the top five countries googling about yoga were:
Canada
Singapore
Australia
United States
India
Supporting the Google Trend data is a study by The Frazer Institute, which found yoga was one of the top three most common complementary therapies used by the population of Canada over a lifetime:
Massage (44%)
Chiropractic Care (42%)
Yoga (27%)
Relaxation Techniques (25%)
Acupuncture (22%)
Now you've read a rundown of the latest yoga stats, it's time to get to grips with the facts!