Yoga has grown massively in popularity over the past few years, with passionate yogis stretching around the world.
The facts show that it has many health benefits, particularly for those suffering from back pain, and with the spend on yoga products growing annually the trend shows no sign of slowing down.
Key Findings and Statistics about Yoga
36 million Americans practice yoga.
There are thought to be 300 million yoga practitioners worldwide.
Between 2012 and 2016 the number of Americans doing yoga grew by 50%.
Approximately one in three Americans have tried yoga at least once.
The number of over 50s practicing yoga has tripled over the last four years.
Flexibility and stress relief are the most popular reasons for starting yoga.
Americans spend $16 billion on yoga classes, clothing, equipment, and accessories each year.
There are currently 6,000 yoga studios in the US.
Key Statistics on Yoga: Infographic

Share this infographic on your site
Yoga Popularity
There are 36 million active 'yogis' in America.
The number of Americans doing yoga grew by 50% in four years.
According to a recent survey conducted by the Yoga Alliance and Yoga Journal, between 2012 and 2016 the number of Americans doing yoga rose from 20.4 million to 36 million.
In fact yoga popularity statistics show that 15% of Americans have done yoga in the last 6 months.
Did You Know?
Yoga is now as popular as golf!
One in three Americans have tried yoga at least once.
Men doing yoga rose from 4 million in 2012 to 10 million 2016.
The data from the 2016 Yoga in America Study found that though men practicing yoga is growing, currently 72% of yoga practitioners are female.
30-49 year olds are the group practicing yoga the most however the yoga growth statistics show it's growing in popularity with those over 50:
19% of yoga practitioners are 18 – 29 year olds
43% of yoga practitioners are 30 – 49 year olds
38% of yoga practitioners are 50+ year olds
Adults over 50 practicing yoga has tripled over the last four years.
37% of yoga practitioners have children who also practice yoga.
Yoga statistics show that the future generation are embracing the sport too, with 429,000 more children practicing yoga in 2012 than they did in 2007.
There are currently 6,000 yoga studios in the US.
Hot yoga, originally known as Bikram yoga is growing in popularity, however a study by Wiley Experimental Physiology found that doing yoga in hot environments did not have additional health benefits.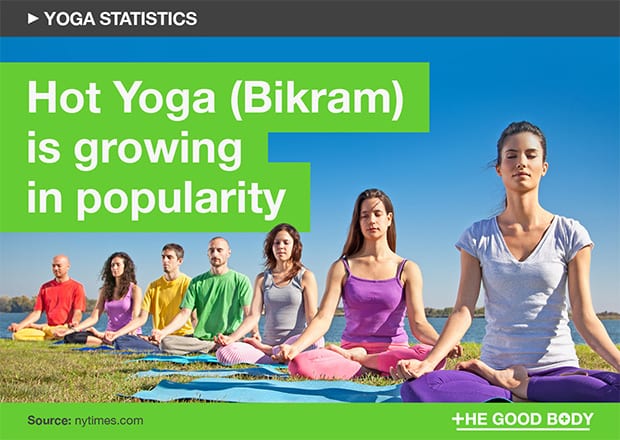 Contradictory research by the Department of Kinesiology at Boise State University found that Bikram yoga did however have a positive effect on mindfulness and perceived stress.
Yoga Market Size
Americans spend $16 billion on yoga classes and equipment each year and it looks set to keep rising.
The Yoga in America Study revealed a big spend on yoga products, a $6 billion increase from $10 billion in 2012, for classes as well as equipment, clothing, books and magazines.
The global yoga market is worth $80 billion, the equivalent of 15 billion Big Macs!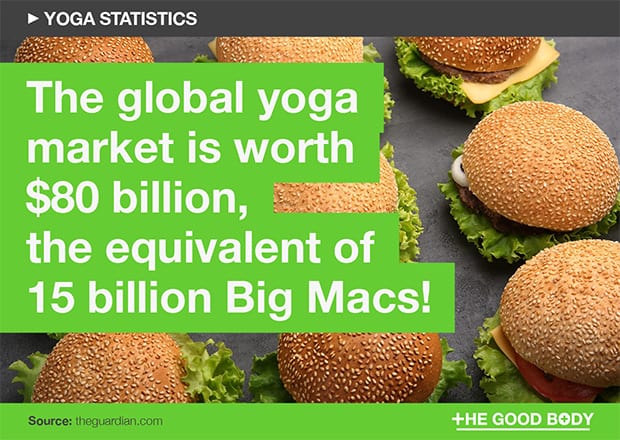 In 2012, Yoga was one of the fastest growing industries in the US.
Information from IBIS World showed that from 2002 to 2012 the pilates and yoga industry grew on average 12.1% per year, and was very resistant to the recession by still experiencing growth in 2008 and 2009.
Those aged between 25 and 34 years old spend the most on activewear, including yoga clothing.
Lululemon, one of the biggest yoga clothing brands, grew in value 18% from 2017 to 2018 with revenue reaching $929 million.
Though the clothing brand continues to grow it is starting to lose market share to rivals such as Fabletics who took 38% of the market in 2016, giving it the largest market share followed by Athleta (35%) and then Lululemon (18%).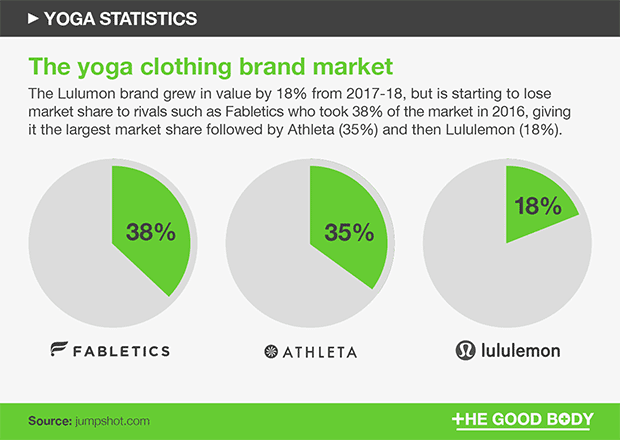 Benefits of Yoga
Yoga has shown to have a number of different health benefits for both your physical and mental wellbeing.
1 in 10 US adults use yoga as a complementary health approach.
In fact, The National Health Interview Survey (NHIS) found that since 2002, the amount of people using yoga as a complementary health approach has doubled.
More than 75% of yoga practitioners also take part in other kinds of exercise including running, cycling and group sports.
Research has shown yoga to be an effective treatment for back pain.
The study found it to be as effective as other complementary treatments, and with roughly 80% of Americans experiencing back pain at some time, many patients are trying the treatment.
Yoga in the workplace can improve productivity.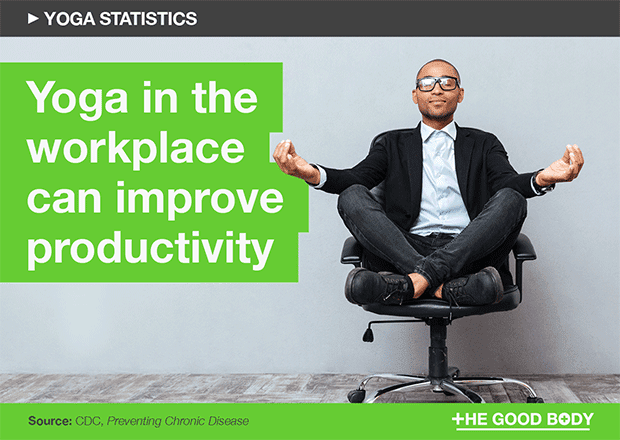 Research by the CDC, published in their journal Preventing Chronic Disease, showed that yoga practices in the workplace can improve the wellbeing of employees and in turn increase productivity.
86% of yoga practitioners say they have a strong sense of mental clarity.
Another study at the University of Cincinnati found that yoga was an effective complementary treatment for the treatment of clinical depression.
Yoga Nidra, a deep form of meditation, in particular has been shown to significantly reduce anxiety and depression.
According to the 2016 Yoga in America study, improving flexibility was the most popular reason for starting yoga.
Stress relief, general fitness, improvement of overall health and physical fitness were also in the top five reasons for yoga participation.
The 2016 Yoga in America study revealed that there weren't just benefits for their health too, yoga practitioners are more likely to live green, eat sustainably and volunteer their time to their local community.
Yoga is shown to improve the core symptoms of ADHD in children.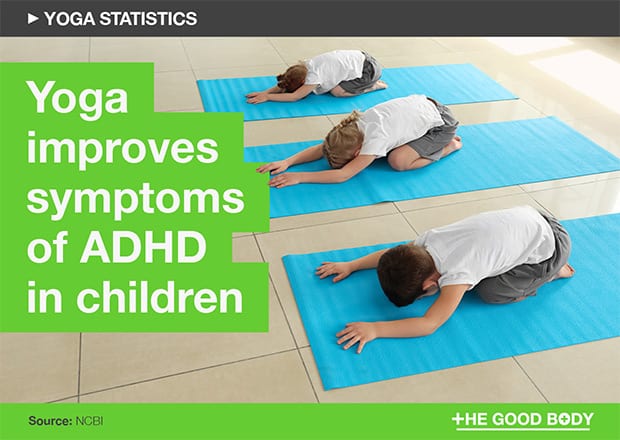 The Child: Care, Health and Development journal ran a study with 249 children looking at how physical exercise impacted the symptoms of Attention Deficit Hyperactivity Disorder (ADHD), with yoga proving particularly successful in alleviating the symptoms.
A report by the US Department of Health and Human Services found that nearly 60% of practitioners felt that practicing yoga improved their sleep.
With fascinating findings coming to light about the current state of people's sleep, yoga was found to help people fall asleep more quickly.
The report by National Center for Complementary and Integrative Health compared wellness practices such as yoga with spinal manipulation.
Over 85% of the people in the study who practiced yoga also felt that it helped to reduce stress, with 40% saying it helped them to make healthier food choices.
Research by the National Institutes of Health Clinical Center found that yoga can help you lose weight.
The study found that not only did respondents lose weight during the research but they reported a changed mindset, adopting a more mindful approach to eating that respondents felt would encourage them to keep the weight off.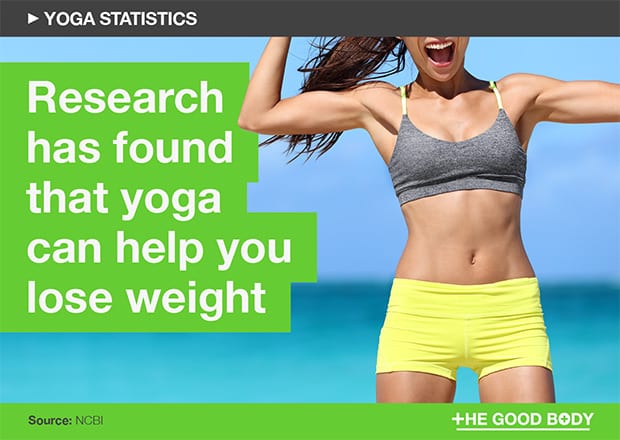 Dangers of Yoga
Research shows that yoga causes as many injuries as other sports.
Anyone who tells you that yoga "is just stretching" needs to look at the yoga injury statistics.
The Faculty of Health Science at Sydney University carried out a study in 2017 which followed 354 respondents with musculoskeletal pain with 21% of them saying yoga made their pain worse and more than 10% saying they felt yoga had caused the pain.
The headstand is thought to be the most dangerous yoga pose.
A study by the Department of Internal and Integrative Medicine in Germany found that the shoulder stand and variations of the lotus pose also caused a higher number of injuries than other yoga poses.
The injury rate for yoga is steadily increasing.
The ongoing monitoring by the National Electronic Injury Surveillance System, found that in 2001 there were 9.5 injuries per 100,000 participants with the number rising to 17 per 100,000, making it comparable to sports such as weight-training and golf.
The rise is believed to have come from unqualified teachers offering classes to eager beginners.
However compare the number of yoga injuries to another popular sport such as basketball and you'll see that statistically yoga is much safer.
It's simply the case of making sure that you're doing the poses correctly, chiropractor Kai Tiltmann advises:
"Our current workout culture, including CrossFit, HIIT (high intensity interval training), and even yoga, can have negative consequences for the low back. In a way it's ironic since we exercise to be strong and stay fit. However when done incorrectly these activities can cause low back pain and major tissue damage including fractures."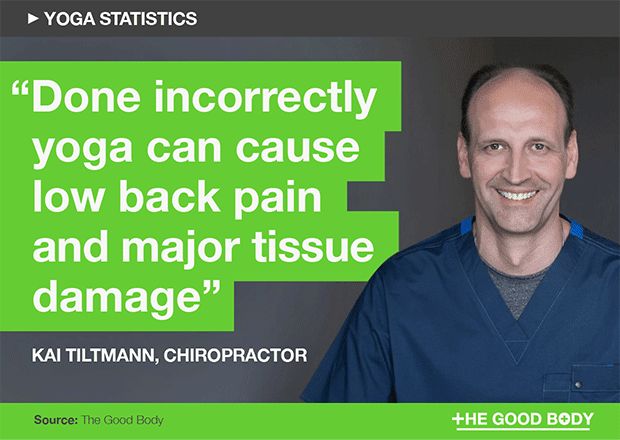 Yoga Worldwide
An estimate suggests there are 300 million Yoga practitioners worldwide.
Though yoga originated in India, many countries across the world have now claimed it as their own.
While it can be difficult to monitor yoga popularity by country, Google Trend data shows which countries Google the term 'yoga' and associated terms the most, which gives a good indication of popularity.
At the time of writing, the top five countries googling about yoga were:
Canada
Singapore
Australia
United States
India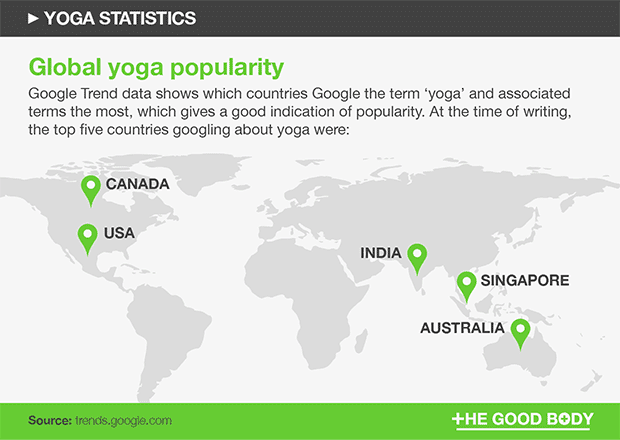 Supporting the Google Trend data is a study by The Frazer Institute, which found yoga was one of the top three most common complementary therapies used by the population of Canada over a lifetime:
Massage (44%)
Chiropractic Care (42%)
Yoga (27%)
Relaxation Techniques (25%)
Acupuncture (22%)
Did You Know?
'Yoga' was one of the most searched for words in the UK in 2016.
References
Wei, M. (2016) New survey reveals the rapid rise of yoga — and why some people still haven't tried it. [Online] Available from: https://www.health.harvard.edu/blog/new-survey-reveals-the-rapid-rise-of-yoga-and-why-some-people-still-havent-tried-it-201603079179 [Accessed 9 July 2018]. ↩
Wei, M. (see footnote 1) ↩
Painter, K. (2015) Ancient practice of yoga now a growth industry. [Online] Available from: https://eu.usatoday.com/story/news/nation/2015/03/01/yoga-health-fitness-trends/23881391/ [Accessed 9 July 2018]. ↩
Wei, M. (see footnote 1) ↩
Wei, M. (see footnote 1) ↩
Magee, M. (2016) Rise of the golden yogi – why the over-50s are embracing yoga. [Online] Available from: https://www.telegraph.co.uk/health-fitness/body/rise-of-the-golden-yogi—why-the-over-50s-are-embracing-yoga/ [Accessed 9 July 2018]. ↩
Yoga Journal & Yoga Alliance. (2016) 2016 Yoga in America Study Conducted by Yoga Journal and Yoga Alliance Reveals Growth and Benefits of the Practice. [Online] Available from: http://media.yogajournal.com/wp-content/uploads/2016YIAS-Release-Final.pdf [Accessed 9 July 2018]. ↩
National Center for Complementary and Integrative Health (NCCIH). (2017) Use of Complementary Health Approaches in the U.S. [Online] Available from: https://nccih.nih.gov/research/statistics/NHIS/2012/mind-body/yoga [Accessed 9 July 2018]. ↩
Summers, V. (2018) 4 financial habits of highly successful yoga business owners. [Online] Available from: https://www.yogitimes.com/article/yoga-business-habits-success-studio-owners [Accessed 9 July 2018]. ↩
Yoga Journal & Yoga Alliance. (see footnote 7) ↩
Delaney, B. (2017) The yoga industry is booming – but does it make you a better person?. [Online] Available from: https://www.theguardian.com/lifeandstyle/2017/sep/17/yoga-better-person-lifestyle-exercise [Accessed 9 July 2018]. ↩
Setar, L. & MacFarland, M. (2012) Top 10 Fastest-Growing Industries. [Online] Available from: https://www.newstatesman.com/sites/default/files/files/Fastest%20Growing%20Industries.pdf [Accessed 9 July 2018]. ↩
Bailis, R. (2016) Why Millennials Love Activewear — The Numbers Behind This Explosive Growth. [Online] Available from: http://multichannelmerchant.com/blog/why-millennials-love-activewear-the-numbers-behind-this-explosive-growth/ [Accessed 9 July 2018]. ↩
Hirsch, L. (2018) Lululemon soars after earnings and sales top estimates. [Online] Available from: https://www.cnbc.com/2018/03/27/lululemon-earnings-q4-2017.html [Accessed 9 July 2018]. ↩
Shavit, N. (2017) Which athletic brand is gaining market share? Year-over-year online purchase analysis. [Online] Available from: https://www.jumpshot.com/athletic-brand-gaining-market-share-year-year-online-purchase-analysis/ [Accessed 9 July 2018]. ↩
National Center for Complementary and Integrative Health (NCCIH). (see footnote 8) ↩
Yoga Journal & Yoga Alliance. (2016) The 2016 Yoga in America Study Conducted by Yoga Journal and Yoga Alliance. [Online] Available from: https://www.yogaalliance.org/Portals/0/2016%20Yoga%20in%20America%20Study%20RESULTS.pdf [Accessed 9 July 2018]. ↩
Chang, D. G., Holt, J. A., Sklar, M. & Groessl, E. J.. (2016) Yoga as a treatment for chronic low back pain: A systematic review of the literature. [Online] Available from: https://www.ncbi.nlm.nih.gov/pmc/articles/PMC4878447/ [Accessed 9 July 2018]. ↩
Kachan, D. et al. (2017) Prevalence of Mindfulness Practices in the US Workforce: National Health Interview Survey. [Online] Available from: https://www.cdc.gov/pcd/issues/2017/16_0034.htm [Accessed 9 July 2018]. ↩
Yoga Journal & Yoga Alliance. (see footnote 7) ↩
Rani, K. et al. (2011) Impact of Yoga Nidra on psychological general wellbeing in patients with menstrual irregularities: A randomized controlled trial. [Online] Available from: https://www.ncbi.nlm.nih.gov/pmc/articles/PMC3099097/ [Accessed 9 July 2018]. ↩
Yoga Journal & Yoga Alliance. (see footnote 7) ↩
Yoga Journal & Yoga Alliance. (see footnote 17) ↩
Cerrillo-Urbina, A. J. et al. (2015) The effects of physical exercise in children with attention deficit hyperactivity disorder: a systematic review and meta-analysis of randomized control trials. [Online] Available from: https://www.ncbi.nlm.nih.gov/pubmed/25988743 [Accessed 9 July 2018]. ↩
U.S. Department of Health and Human Services. (2015) Wellness-related Use of Common Complementary Health Approaches Among Adults: United States, 2012. [Online] Available from: https://www.cdc.gov/nchs/data/nhsr/nhsr085.pdf [Accessed 9 July 2018]. ↩
Ross, A., Brooks, A., Touchton-Leonard, A. & Wallen, G. (2016) A Different Weight Loss Experience: A Qualitative Study Exploring the Behavioral, Physical, and Psychosocial Changes Associated with Yoga That Promote Weight Loss. [Online] Available from: https://www.ncbi.nlm.nih.gov/pmc/articles/PMC4995338/ [Accessed 9 July 2018]. ↩
The Telegraph. (2017) Yoga more dangerous than previously thought, scientists say. [Online] Available from: https://www.telegraph.co.uk/news/2017/06/28/yogamore-dangerous-previously-thought-scientists-say/ [Accessed 9 July 2018]. ↩
Cohen, M. & Tuttle, N. (2013) Q: Can yoga be dangerous?. [Online] Available from: http://www.abc.net.au/health/talkinghealth/factbuster/stories/2013/05/02/3750102.htm [Accessed 9 July 2018]. ↩
Swain, T. A. & McGwin, G. (2016) Yoga-Related Injuries in the United States From 2001 to 2014. [Online] Available from: http://journals.sagepub.com/doi/full/10.1177/2325967116671703 [Accessed 9 July 2018]. ↩
Smith, E. N. (2013) The Yoga Injuries Debate: How 'Dangerous' Is Yoga, Really?. [Online] Available from: https://www.huffingtonpost.com/eva-norlyk-smith-phd/yoga-injuries-debate_b_2896134.html [Accessed 9 July 2018]. ↩
Montigny, D . (2018) The Unstoppable Trend of Yoga. [Online] Available from: https://www.yogitimes.com/article/unstoppable-trend-yoga-infographic-business [Accessed 9 July 2018]. ↩
Delaney, B. (see footnote 11) ↩