The facts don't lie, we're not getting enough sleep.
Whether you suffer from a chronic case of insomnia, or you're just feeling a little sleep deprived, you're not alone!
Take a look below at 41 shocking sleep statistics:
Sleep Stats and Facts: A Quick Summary
35% of Americans don't get the recommended seven hours of sleep each night.
Americans currently get on average 6.8 hours of sleep each night.
In 1910 the average person slept 9 hours a night.
Roughly 20% of Americans have a sleep disorder.
Since 1985 the percentage of adults getting less than six hours sleep each night has increased by 31%.
97% of teenagers get less than the recommended amount of sleep.
6 out of 10 college students don't get adequate sleep.
Sleep deprivation costs the US $411 billion annually.
45% of the world's population have issues with sleep.
Key Statistics on Sleep: Infographic

Share this infographic on your site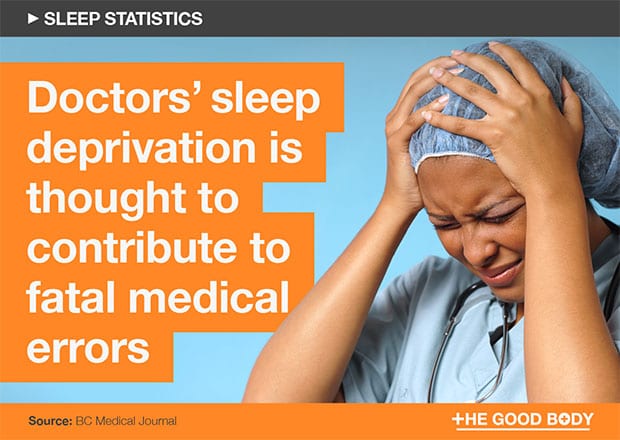 Worldwide Sleep Statistics
1.

45% of the world's population have issues with sleep.

[44]
The US might not be getting enough sleep, but it seems the rest of the world is a little sleep deprived too. In fact America doesn't even rate in the top 5 for lack of sleep across the globe.
According to a recent study published in Science Advance, collated from smartphone data through an app called Entrain, the countries with the worst adult sleep average include:
Japan = 5 hours and 59 minutes
Saudi Arabia = 6 hours and 8 minutes
Sweden = 6 hours and 10 minutes
India = 6 hours and 20 minutes
The Philippines = 6 hours and 22 minutes
The data also revealed which countries had the most well-rested adults:
New Zealand = 7 hours and 30 minutes
The Netherlands = 7 hours and 28 minutes
Finland = 7 hours and 26 minutes
Great Britain = 7 hours and 24 minutes
Ireland = 7 hours and 22 minutes
2.

Want more sleep? Move to South Dakota!

[45]
The amount of sleep the average American gets varies depending on the state in which you live.
A huge state-focussed study by the Centers for Disease Control and Prevention was carried out that found that the people of Hawaii were the most sleep deprived, with South Dakota the most rested state.
Did you know?
10% of Americans have ended a relationship over a sleep issue.[46]
Sleep Position Statistics
According to the Better Sleep Council:
47% of adults sleep in the fetal position, making it the most popular way to sleep.
17% of adults sleep on their stomach with their arms above their head.
13% of adults sleep on their side with both arms out in front of their body.
11% of adults sleep on their back with their arms by their side.
1.

One of the least popular sleeping positions, happens to be one of the best!
If you're wondering what is the best sleep position for your wellbeing, then you might be surprised to hear that sleeping on your back is recommended.
It does, however, continue to be one of the least popular ways to sleep. Professor Shelby Harris, a sleep medicine expert, recommends:
Resting your head on a pillow that's thick—or thin—enough to keep your skull exactly level with your body.
Sleep and Technology Statistics
The use of mobile technology before bed is not recommended as it can interrupt our sleep in a few different ways:
The blue light emitted by technology inhibits the secretion of the sleep-inducing hormone melatonin, making it harder to fall asleep
Scrolling can be stimulating, meaning you're less relaxed
People can become engrossed and stay up beyond their usual bedtime
However despite all the advice saying the same thing, so many of us are still guilty of bedtime scrolling:
1.

90% of teenagers and adults use technology before bed.

[47]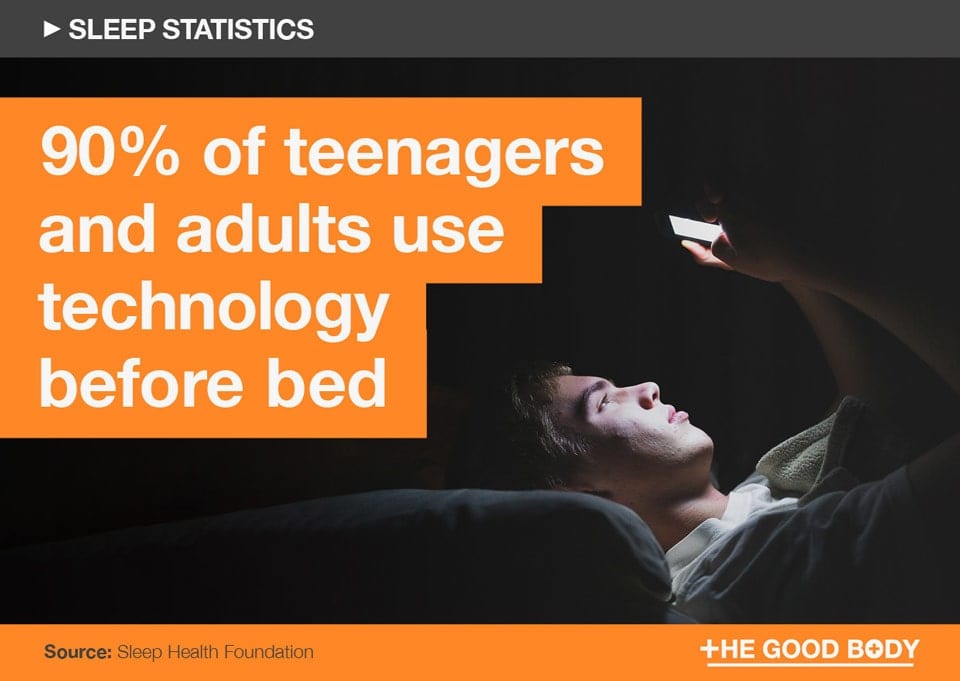 2.

10% of the population wake multiple nights a week due to activity on their phone.

[48]
22% of people surveyed reported keeping their cell phone ringer switched on during the night, with evidence highlighting that they had difficulty maintaining sleep.
3.

72% of Americans with a sleep disorder report using technology before bed each night.

[49]
Here were the most popular activities before bed:
Watching Television (70.2%)
Checking Social Media (59.4%)
Playing Video Games (32.9%)
Checking Emails (31.8%)
Interestingly though, technology can be a part of the solution as well as the problem!
33.6% of respondents reported switching to a smart bed or mattress to help fix their sleep problems.