There are thought to be 90 distinct sleep disorders that are currently being diagnosed and treated across the US.
From sleep apnea to sleep paralysis, there are a number of shocking statistics that reveal the increase in sleep disorders:
It's estimated that 27% of adults in America have trouble sleeping most nights, according to a new Consumer Report, which surveyed 4,023 adults.
With 68%, roughly 164 million Americans, struggling with sleep at least once a week. Reasons for the difficultly in falling asleep included the fact that Americans now work longer hours, as well as the use of electronic devices before bed.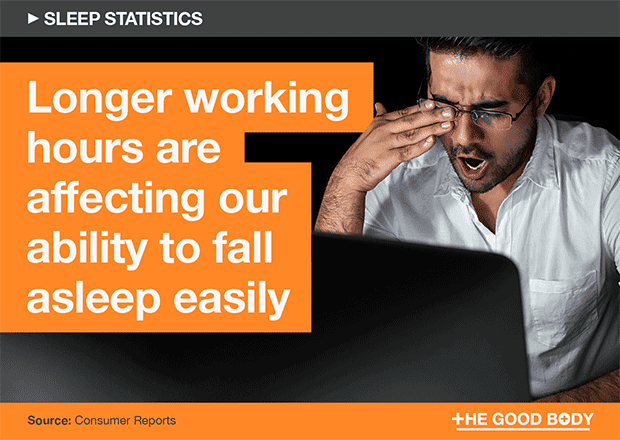 The most common sleep disorders are as follows, with insomnia being top of the list:
Insomnia
Sleep Apnea
Narcolepsy
Restless Legs Syndrome
REM Sleep Behavior Disorder
There are a number of different treatments available, with sleep labs growing in popularity across the country.
The labs, such as the West Region Sleep Center in Ohio, are run by sleep medicine doctors who monitor the heart rate, breathing and eye movements of patients whilst they sleep for diagnosis and sleep optimization.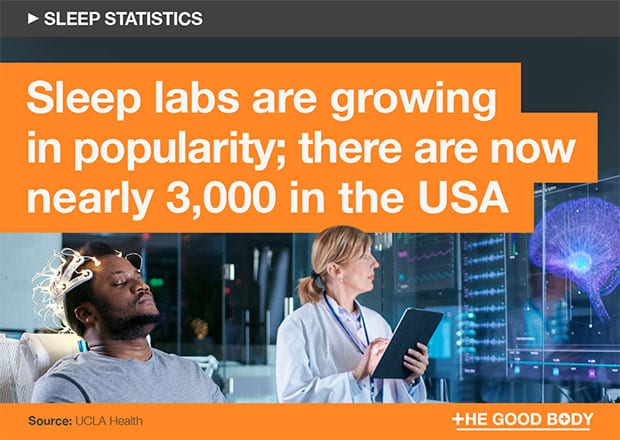 Sleep Deprivation Statistics
Sleep deprivation can have a big impact on your health, with a number of alarming statistics showing how it can impact both your physical and mental wellbeing.
According to the research from a Gallup poll, Americans currently get on average 6.8 hours of sleep each night, which is more than one hour less than in 1942.
The situation has become serious enough for the CDC to declare insufficient sleep a 'public health problem'.
Looking at the state of sleep over the years you can see that we're getting less and less.
For example, in 1942 more than 80% of people were getting between seven and nine hours, however today it's less than 60%.
In fact in a recent survey of 444,306 Americans in all 50 states, conducted by the Centers for Disease Control and Prevention (CDC), 35% said they got less than 7 hours of sleep a night. The CDC recommends that adults aged 18 to 60 get at least 7 hours of sleep per night.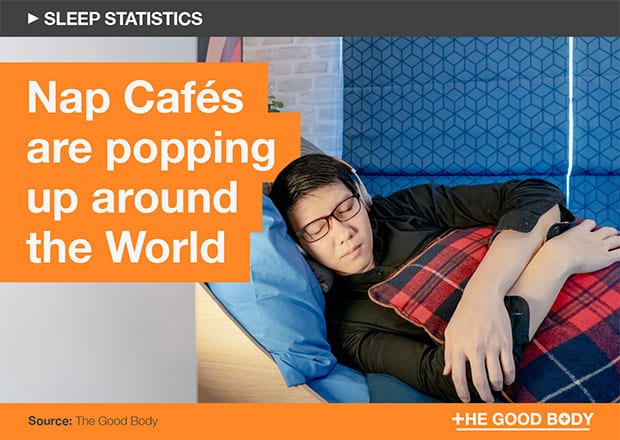 According to recent statistics, sleep deprivation costs the US $411 billion annually. That's the same amount as the whole world loses to cyber crime each year!
A study published in the Journal of Youth and Adolescence painted a worrying picture of the impact lack of sleep had on young people.
As well as feelings of hopelessness they found links between a lack of sleep and an increased chance of substance abuse and suicide.
A lack of sleep has shown to have an impact on your weight too, with a number of studies looking at links between sleep deprivation and obesity, particularly the increase in the number of patients presenting with sleep apnea.
Links have also been found between sleep deprivation and those who suffer from chronic pain, specifically back pain.
According to research, 20% of Americans report disrupted sleep at least a few nights a week, due to pain or physical discomfort.
One in three adults say that their everyday activities, including sleep, are affected by lower back pain.
The APTA Move Forward survey, which looked at how back pain impacts the daily life of those questioned, found 37% of respondents said their lower back pain impacted their sleep.
Of course sleep deprivation can have fatal consequences, which further highlights the importance of sleep.
According to data released by the National Highway Traffic Safety Administration, drowsy-driving caused 803 fatalities in 2016, making it one of the top five causes of fatal car accidents in the US.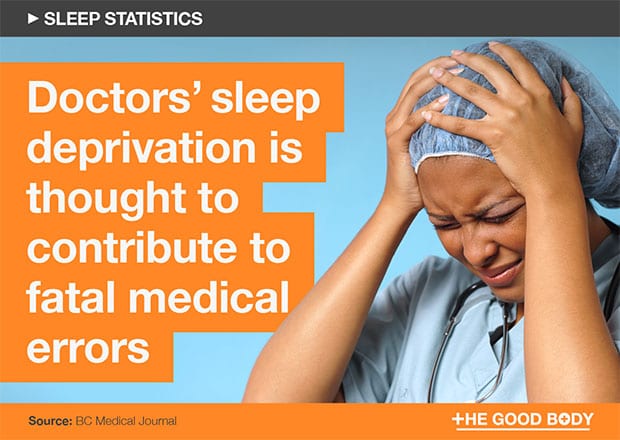 Age Groups
Children need more sleep than adults to function effectively, however the statistics show that they're not necessarily getting it. Experts recommend the following amounts of sleep per age group:
Infants 4-12 months: 12 – 16 hours (including naps)
Child 1 – 2 years: 11 – 14 hours (including naps)
Child 3 – 5 years: 10 – 13 hours (including naps)
Child 6 – 12 years: 9 – 12 hours
Teenager: 8 – 10 hours
Adult: 7 – 9 hours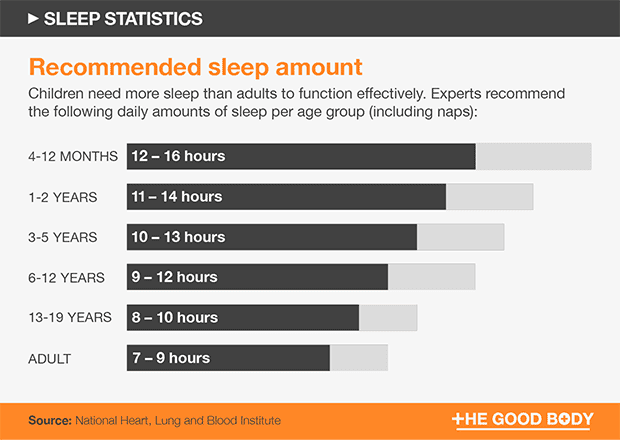 However despite the sleep needs of each generation being clear, every age group appears to be reporting a lack of sleep, with teenage sleep deprivation being particularly problematic.
A recent study conducted by the CDC in to short sleep duration, which is classed as less than 7 hours in a 24 hour period, found that the 25-54 year old age group appeared to be getting the least sleep:
32% of 18-24 age group reported short sleep duration
38% of 25-34 age group reported short sleep duration
38% of 35-44 age group reported short sleep duration
39% of 45-54 age group reported short sleep duration
36% of 55-64 age group reported short sleep duration
26% of 65+ age group reported short sleep duration
A study published in the Journal of Youth and Adolescence found that though teenagers need around nine hours of sleep each night, the average teenager was getting just 6.5 hours every weekday night.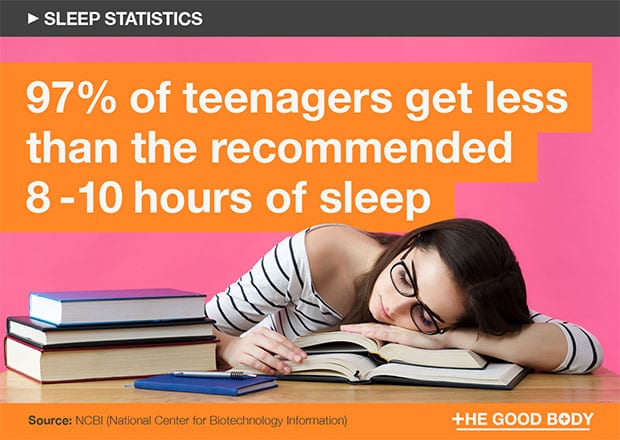 College Students
College students are one group in particular that suffer from sleep deprivation, and some of the college student sleep statistics are quite shocking.
Statistics showing the importance of going to bed early highlight how getting the right number of hours each night can have a big impact on your memory and ability to learn.
A journal published by the US National Library of Medicine found that half of college students report daytime sleepiness leading to poorer grades.
Researchers have found that college students are more prone to suffering from depression and anxiety, and that lack of sleep could contribute to that.
Well, it's believed that the use of mobile technology before bed could be contributing to the lack of sleep amongst college students.
Baby and Child
Sleep is important to a child's development, which is why they need more sleep than any other age group, however they are still prone to suffering from sleep disorders and sleep deprivation.
The National Infant Sleep Position Study published in the US National Library of Medicine found that though medical advice did not recommend co-sleeping, the occurrence had increased among the groups tested.
More than 50% of parents surveyed said they had not received any advice about the safety of co-sleeping from their doctor.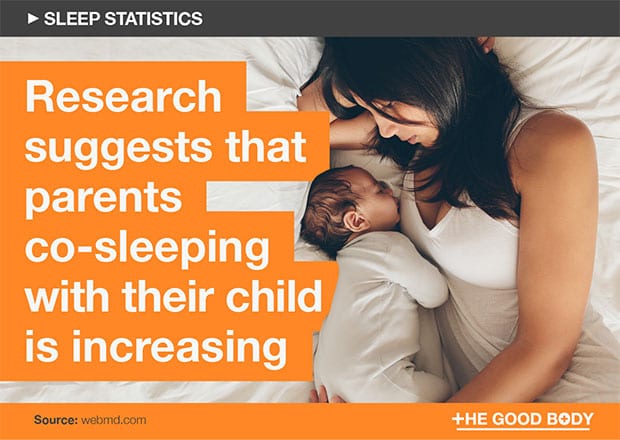 CDC Director Brenda Fitzgerald, M.D said:
"Too many babies in this country are lost to sleep-related deaths that might be prevented. We must do more to ensure every family knows the AAP recommendations – babies should sleep on their backs, without any toys or soft bedding, and in their own crib. Parents are encouraged to share a room with the baby, but not the same bed."
Sleep Medication
With people struggling more and more with sleep you'll be unsurprised to hear that the use of sleep medication is rising.
The study published by the CDC, based on data from the National Health and Nutrition Survey, found that the prescribing of sleeping pills was rising significantly. In fact since 1993, the prescribing of sleep medication has risen by over 230% from 2.7 million!
The data compiled from the aforementioned National Health and Nutrition Examination Survey showed that there were also patterns amongst gender and age groups, with more people over 80 using sleep aids, particularly women.
Further research is needed in to the impact of sleep medication, however the controversial study suggested the use of the sleeping aids could be as detrimental to your health as smoking.
Worldwide Sleep
The US might not be getting enough sleep, but it seems the rest of the world is a little sleep deprived too. In fact America doesn't even rate in the top 5 for lack of sleep across the globe.
According to a recent study published in Science Advance, collated from smartphone data through an app called Entrain, the countries with the worst sleepers include:
Average adult in Japan = 5 hours and 59 minutes
Average adult in Saudi Arabia = 6 hours and 8 minutes
Average adult in Sweden = 6 hours and 10 minutes
Average adult in India = 6 hours and 20 minutes
Average adult in The Philippines = 6 hours and 22 minutes
The data also revealed the most well-rested countries:
Average adult in New Zealand = 7 hours and 30 minutes
Average adult in The Netherlands = 7 hours and 28 minutes
Average adult in Finland = 7 hours and 26 minutes
Average adult in Great Britain = 7 hours and 24 minutes
Average adult in Ireland = 7 hours and 22 minutes
The amount of sleep the average American gets varies depending on the state in which you live.
A huge state-focussed study by the Centers for Disease Control and Prevention was carried out that found that the people of Hawaii were the most sleep deprived, with South Dakota the most rested state.
Sleep Positions
According to the Better Sleep Council:
If you're wondering what is the best sleep position for your wellbeing, then you might be surprised to hear that sleeping on your back is recommended.
It does, however, continue to be one of the least popular ways to sleep. Professor Shelby Harris, a sleep medicine expert, recommends:
"Resting your head on a pillow that's thick—or thin—enough to keep your skull exactly level with your body."