When it comes to treating back pain, when you're suffering, you'll literally try anything! But with so many different products and remedies to choose from, it can be overwhelming (and expensive) to try all the options before finding exactly what's right for you.
Here at The Good Body we've done a little of the hard work for you and put together our list of 10 of the best back pain relief products and remedies to help, as well as 4 free things you can try right now!
Table of contents [hide]
Table of contents [show]
10 Top-rated Products for Relieving Back Pain
Please remember that these are suggestions, however it's always best to speak to your doctor, before starting any exercise regime, changing your diet and/or making a significant change to your lifestyle.
1.

Body Back Company Buddy Trigger Point Therapy Self Massage Tool
Of course your first thought for a back pain relief product might be a back massager.
The range of back massagers on the market is diverse so whether you're looking for electric or handheld, there are many different size and power options available.
For example the Body Back Company's Buddy Trigger Point Therapy Self Massage Tool uses a ergonomic design to reach your hard-to-reach places, plus it's easy to grip and lightweight enough to be suitable for adults of all ages.
When it comes to electric back massagers the Gideon Luxury Six-Program Fully Customizable Back and Neck Massaging Cushion with Heat fits on to your favorite chair and features four Shiatsu nodes that travel up and down your spine for a complete body massage, closely mimicking the hands of a masseuse.
A smaller and more compact option is the Zyllion ZMA13BK Shiatsu Pillow Massager which is an electric massage pillow that fits neatly in the small of your back.
It features three massage nodes and can be used on different areas of the body, it also comes with straps so you can fasten it to your chair.
If your neck and shoulders are more of a concern, the Naipo Shiatsu Back and Neck Massager drapes around your neck or can be positioned where appropriate on your back.
It has eight deep kneading nodes and long shoulder straps so you can get to the source of the pain.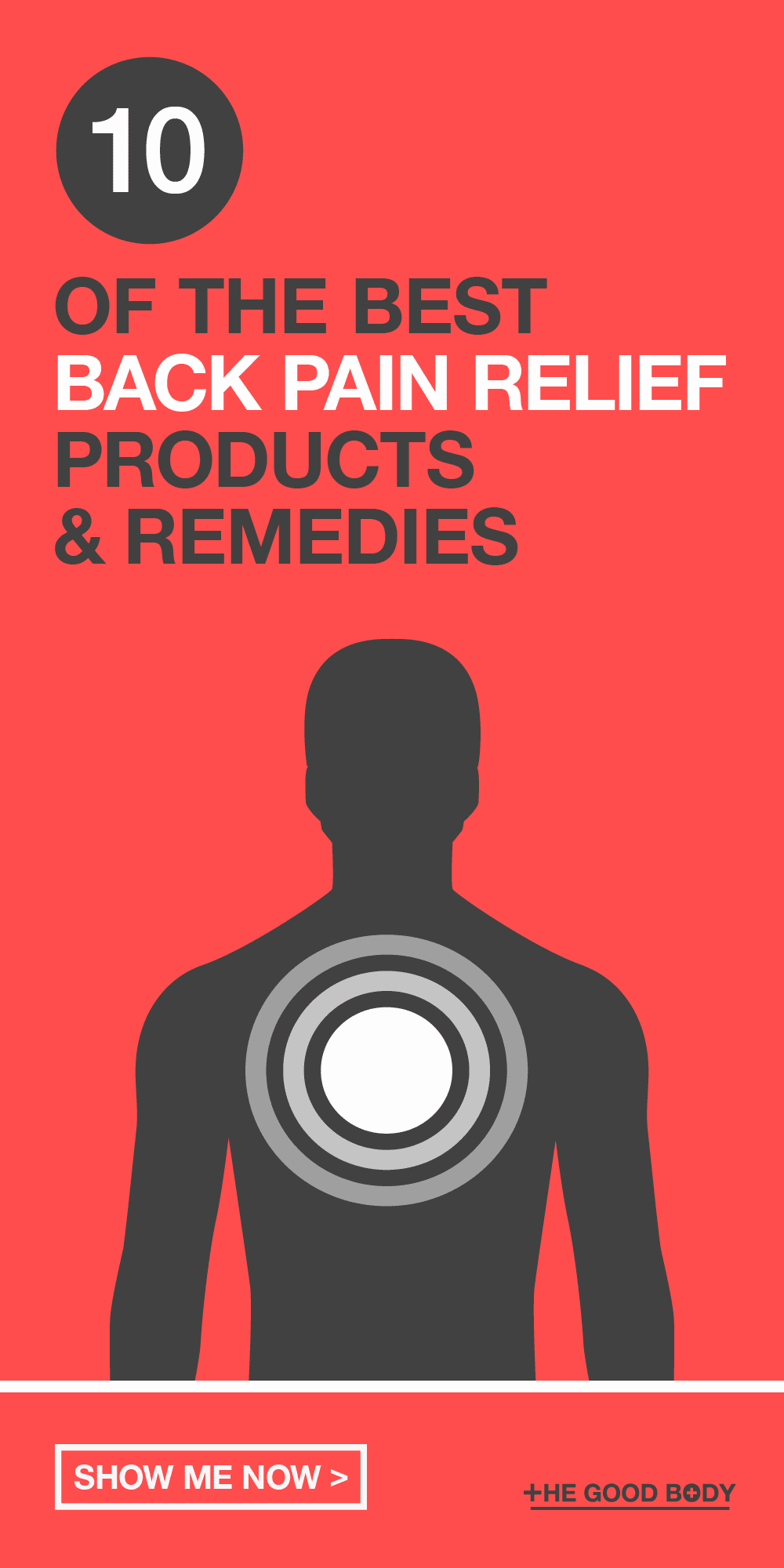 2.

Penetrex Intensive Concentrate Cream for Pain Relief & Recovery
A potentially more affordable and easily applied option are creams and gels, however the options out there can be overwhelmingly, with many Glucosamine gels, Chondroitin creams and MSM creams readily available.
Opinion appears split on their effectiveness, especially for those with severe daily pain, so it's certainly worth reading reviews before making a purchase.
A product that many users find to be effective and is particularly popular within the fitness industry for both pre and post workout, is Penetrex Pain Relief Therapy.
This gel includes a range of natural ingredients including Arnica and Boswellia Serrata, as well as Cetyl Myristoleate, which has been proven through research to be highly effective for those suffering from arthritis.
3.

iRenew Plus TENS + EMS System
A TENS unit is a small device that sends electric pulses to the source of the pain, sending a signal to the brain and to the spine to reduce the level of pain, and has been widely used in the medical industry since the 1960s.
TENS units are available without prescription, and there are a number of different options available ranging in price.
They're effective on muscle spasms, making them a popular choice for women during labor, however those with epilepsy or a heart arrhythmia are advised to seek medical advice before considering a unit.
There is a plethora of TENS machines out there meaning it can be hard knowing which to look at. One of the brands we particularly like (and rate highly) is iReliev.
Their newest device the iRenew Plus TENS + EMS System also has electric muscle stimulation capabilities, which can be useful for things such as releasing muscle tightness and muscle recovery.
iRenew Plus pain and recovery system has 14 different programs, is rechargeable, and has a backlit and extra-large digital display.
4.

Thermophore Large MaxHeat Deep-Heat Therapy Pad
There are many benefits to the use of heating pads, especially in the treatment of lower back pain. However similarly to creams and gels, opinion on their effectiveness is mixed.
Heat offers comfort and in many cases relaxation, and is a natural pain relief option. This makes it ideal for non-inflammatory pain, however it should never be used on new injuries. It is also not always the right option for those with arthritis.
For lower back pain it can provide wonderful relief, and a larger pad such as the Thermophore Large MaxHeat Deep-Heat Therapy Pad, which delivers three levels of heat, can be easily adjusted to produce the level of relief you need across your whole back.
5.

Spoonk Acupressure Mat
Similar to acupuncture, acupressure is a technique which targets key healing points within the body. However unlike acupuncture it uses the pressure of a firm finger rather than needles.
To help achieve acupressure at home, you can purchase an acupressure mat. An acupressure mat has small raised plastic points that can be focussed on an acupressure point, of which there are a number of most common ones to help you get to the source of the pain.
A highly recommended option for acupressure mats is the Spoonk Acupressure Mat, as well as the mat it comes complete with a travel mat and a ball so you can manoeuvre the pressure to exactly where you need quickly and easily.
The Spoonk Acupressure Mat has 6200 plastic points, and promises to help you unwind in just 25 minutes!
6.

TriggerPoint GRID Foam Roller
If you don't have an experienced massage therapist on hand each day, which unless you're a top sportsperson or incredibly wealthy, who does?!
Then a foam roller can be the next best thing, boasting many benefits.
The technical term is a self-myofascial release technique, however essentially you're working on the body to help release tight muscles and knots, so it's ideal for those who are conditioning their body for sport.
The following video from TriggerPoint (one of the market leaders for this product type) gives some examples of foam rolling techniques to help with lower back pain:
The TriggerPoint GRID Foam Roller receives excellent feedback from users, who rave about the relief it provides.
It has a multidimensional exterior which has been designed to replicate the movement of a therapist's hands, without the $50-$350 price tag! It also comes with free instructional videos to help you get the most from the product.
7.

Innova ITX9600 Heavy Duty Inversion Therapy Table
If you're looking for a solution to back or neck pain then why not just lay back and let an inversion table do the work?
An inversion table essentially tilts your body to varying angles, which is proven to relieve pressure on your spine and elongate your joints, making it the ideal solution for decreasing nerve pressure and realigning the spine.
The Innova ITX9600 Heavy Duty Inversion Therapy Table for example offers 5 different levels of inversion, so you can find the right level of relief.
If you've not seen an inversion table in use before, the short video below will give you a great introduction:
However it's not right for everyone, being tilted on an Inversion Table allows the blood to rush to your head, raising your blood pressure, which means it's probably not the best option for somebody with a heart condition.
If you are considering one, first make sure you have adequate space – because despite most of them folding – they can take up a lot of room.
8.

Heal-O-Sonic Ultrasound Pain Management System
One of the higher priced back pain relief products, but commonly recommended as a treatment option, is a home ultrasound machine.
Home ultrasound machines cause vibrations around the pain generating heat within the tissue which in turn increases your blood flow, and reduces the pain.
Research has also suggested that home ultrasound machines can help to produce more collagen, to speed up the healing of soft tissue.
The Heal-O-Sonic Pain Management System is one of the most popular home ultrasound machines available and comes with one wide transducer and various different intensity settings that can be easily controlled with a simple dial.
9.

Viniyoga Therapy for the Low Back, Sacrum & Hips DVD
Another effective treatment solution when looking for back pain relief products to use at home is a yoga DVD, which can help you better manage your back pain through exercise.
Yoga has a number of key benefits, helping you to improve your flexibility and increase your muscle tone and strength, and through research, yoga has been found to be effective in the treatment of back pain.
You may find you benefit from the expert guidance of Gary Kraftsow, one of the world's leading yoga therapists and founder of the American Viniyoga Institute.
The Viniyoga Institute applies the principles of yoga but tailors it to the needs of the individual.
His yoga practices are recommended by the National Institute of Health for their focus and effectiveness on back pain, and his DVD tailored to the treatment of back pain, is a best seller.
10.

MegaFood Turmeric Strength
When you're suffering from chronic back pain you can easily become heavily reliant, even addicted, to painkillers, however you always need to be careful not to exceed the recommended dosage or you could take an accidental overdose.
One way to avoid this is to find natural alternatives, such as food.
There is evidence that certain natural anti-inflammatory foods can be effective in the treatment of back pain, as they reduce inflammation in the body. There are a number of different foods which are believed to possess this ability, including turmeric.
Turmeric contains a compound known as curcumin, which through research has been shown to be effective in reducing inflammation.
Curcumin is in fact quite the miracle ingredient as it has been shown to be effective in the treatment of colon cancer when combined with chemotherapy.
4 Free Remedies To Help Alleviate Back Pain
Before you start spending money on a ton of different gadgets, there are many simple things that you can do right now to help.
These aren't miracle cures for back pain, they're simple daily changes that, combined with other techniques, can play their part in fighting pain.
These four free (or very cheap) things are a great starting point to assist with alleviating pain and something you could try right now.
When you visit a doctor to discuss back pain, you'll most likely initially get a recommendation of exercises that can help or be instructed to try to exercise more.
Even a simple activity such as a brisk walk has been proven to help improve the effects of back and neck pain.
A brisk walk has been proven to help improve the effects of back and neck pain
Click to Tweet
A study in to chronic lower back pain for example, found that with core muscle strengthening work the effects of pain were decreased.
There are a number of exercises and sports recommended for people suffering from back pain, however those suffering are advised to speak to their doctor before starting anything too strenuous.
Heat therapy can be achieved easily with things you probably already have in the home for example a hot water bottle or wheat bag, or simply by taking a warm bath.
Of course heat therapy can offer a sense of relaxation, important in coping with back and neck pain, however it also has many other benefits.
Heat therapy can distract the brain from the pain signals caused by back and neck pain, giving you the much needed relief you're looking for.
Many who use heat therapy also combine the heat with essential oils to incorporate the benefits offered by aromatherapy.
Dehydration causes many different symptoms and problems within the body, however one of the lesser known impacts of dehydration is back pain.
That's because the inner parts of the discs within our back consist primarily of water which is used up throughout the day as our spine is put to work. Then at night our back begins the process of rehydrating for the day ahead, which is why we wake up taller than when we went to bed!
One of the lesser known impacts of dehydration is back pain
Click to Tweet
It's important too to not simply wait for your body to tell you when you're thirsty, as this means you're already dehydrated.
Meditating at home is another free tool you have at your disposal to improve your back health.
Research has shown that particularly in the treatment of lower back pain, meditation and mindfulness, both of which focus on relaxation and stress reduction, can alleviate symptoms.
There are two different approaches, one where you focus on a single mantra and are taught to ignore the feelings of pain you're experiencing, or a mindful approach where you concentrate on the pain and learn to control it.
There are a number of different techniques online to help you get started.
5 of the Most Common Causes of Back Pain
Sometimes finding the right solution for your back pain means working out the cause of your back pain in the first place.
There are a number of common causes of back pain that can be a good place to start, however of course it's always essential to speak to a medical professional who will be able to help point you in the right direction.
Weekend activities are one of the most common causes of back pain.
The thinking is that after a week of relatively sedentary work, people, referred to as 'weekend warriors', spend the weekend doing strenuous sporting activities or spend hours doing heavy garden work, tasks that their bodies simply aren't prepared for, causing back pain and back injuries!
Slouching or not thinking about the way you sit on a daily basis is a common cause of back pain.
Plus bad posture and computer use seem to go hand in hand, and with 74% of Americans using a computer daily as part of their employment, it's unsurprising that treatment for daily chronic back pain is on the increase.
Slouching or not thinking about the way you sit on a daily basis is a common cause of back pain
Click to Tweet
A lack of exercise leads to a lack of flexibility as well as weak muscles throughout the body, causing back pain.
Plus a lack of exercise can often mean you're carrying extra weight which again is putting extra strain on the body, specifically on the spine.
Did You Know?
About 50% of women will have a complaint of back ache in pregnancy.
There are some female specific back pain causes due to differences in the pelvic structure and hormonal changes, as well of course as back pain associated with pregnancy.
Pregnancy can really take its toll on your back, however there are a number of different techniques and treatments you can try to relieve the pressure.
Did You Know?
34.9% of adults are thought to be obese in the U.S.
A number of studies have also looked at the psychology of back pain, specifically the impact that stress has on the lower back pain.
A recent study looked at how mindfulness techniques could be used to alleviate stress in back pain patients with positive results.
Acute vs Chronic Back Pain
Is your pain Acute or Chronic?
Understanding your pain and finding the right treatment, often starts with understanding whether you're suffering from acute or chronic back pain.
Acute pain last hours or weeks, it is triggered by an illness or accident and is predictable and relatively easily treated.
Chronic pain lasts months to years, it is caused by a longer term condition such as arthritis and is unpredictable making it difficult to treat.
Back Pain Treatment
As well as so many different products and remedies to choose from, there are also a number of different treatments available for you to consider.
A Physical Therapist could be an option?
In fact, an award winning study in 2015, demonstrated substantial potential for lowered costs, and reduced healthcare utilization for patients who received, and adhered to physical therapy for low back pain.
Considered a Chiropractor?
Over 27 million Americans see a Doctor of Chiropractic each year, so it could be an option worth considering for your back pain.
Choosing the right chiropractor is essential to make sure their approach and experience suits you and your condition.
Maybe Acupuncture?
Research has shown that acupuncture is effective in the treatment of low back pain, not just as a placebo but offering true pain relief.
Conclusion
When you suffer from acute or chronic back and neck pain you have so many remedies and products, as well as a vast array of different treatment options available to you.
It can be frustrating and sometimes costly when you're working out what's right for you, however only pain sufferers understand that we'll literally try anything!
Remember to speak to a medical professional, preferably your doctor before trying any of the above products and remedies, not only so they can advise on the safety but also as they may have their own recommendations on what is right for you.