I've been a fan of acupressure mats for years, but the Aku Mat has really changed the game.
Made famous on Dragons' Den in Canada, this mat uses metal spikes instead of the plastic ones you get with other acupressure mats.
It's the closest thing to acupuncture without being invasive, and as soon as I saw it I knew I had to try it out!
If you're not familiar with acupressure, here's a quick summary:
Acupressure is an ancient Chinese therapy, a mixture of acupuncture and reflexology, that has so many benefits for your health.
During treatment, a therapist applies pressure to certain areas of your body, known as acupoints.
Hitting the right acupoints is thought to stimulate your nerve centers, increasing your circulation and encouraging the flow of energy around your body.
When you lie down on an acupressure mat, the plastic, or in this case metal, points are effectively replicating that treatment.
I've used the Aku Mat for a few months now and I'm super excited to tell you all about it, so you can decide whether it's right for you.
A quick look at the verdict:
If you don't have the time to read the detailed review below, then I've put together a helpful summary to give you my verdict on this amazing product.
Aku Mat
The Verdict
Well worth the money. Slept better since using it and now rely on it daily. Solid product that offers so many health benefits. Smaller than other mats but worth the compromise for high-grade metal spikes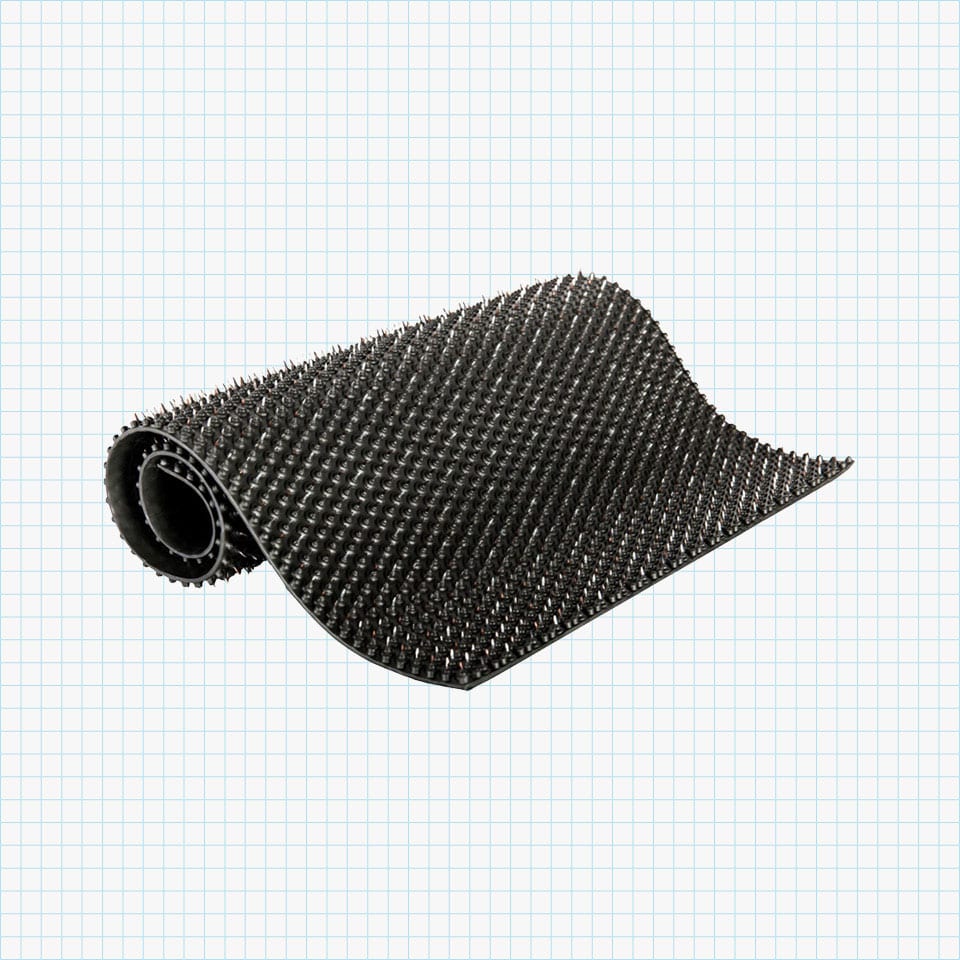 Pros
2,710 metal spikes (as opposed to plastic)
High-quality rubber mat
Can be rolled up and used on your neck
Hygienic (simply wash with soapy water)
Offered for a great price
Lifetime warranty (plus a 30-day money back guarantee
Cons
Smaller than other acupressure mats
Potential to scratch yourself
How does it feel?
If you've seen the Aku Mat then you're probably wondering how it feels?
Well, I need to tell you two things:
Firstly, it's incredible. Secondly, it can hurt a little at first, but you soon get used to it. And it's totally worth it.
So, the incredible part:
I've been a regular user of acupressure mats for many years, and have put together a round-up of some of the best ones on the market. This mat is head and shoulders above the rest.
With metal spikes, you really can enjoy a similar experience to acupuncture without piercing your skin.
The warming sensation I felt throughout my whole body was amazing. AkuSpike explain that's your body reacting naturally to the metals.
Lying on the mat made me feel both completely relaxed and more invigorated, with my nerves definitely awakened.
Plastic spikes touch the surface, but these metal spikes go deeper giving you a treatment that is so much more satisfying.
Now the painful part:
I was so intrigued and maybe a little apprehensive when I first saw the Aku Mat, and I guess that's how you're feeling, too.
The spikes are as sharp as they look!
We did a Q&A with the CEO of AkuSpike, Paul de Jersey and he doesn't shy away from the fact that when you first use the mat it can hurt:
It is normal to experience initial discomfort as your body adapts to the introduction of the new stimulus. To maximize benefit and limit initial discomfort, we recommend standing or laying on the Aku Mat for up to 10 minutes a day.
With 2,710 individual metal spikes, even as a regular acupressure mat user, I did find the mat a little painful initially. However I quickly got used to the sensation after only a couple of uses.
I also had a revelation. Plastic spikes are no longer going to hit the mark.
The bottom line. You won't regret buying this mat.
Materials
If you haven't already guessed, it's the materials used in the Aku Mat that make it unique.
Unlike other acupressure mats that have plastic spikes, the Aku Mat has high-grade metal points.
They're made from five different organic metals:
Copper
Iron
Zinc
Nickel
Silver
AkuSpike explain how these metals are "naturally occurring in the human body", which is what creates the amazing warming effect you feel when the mat comes in to contact with your skin.
The mat itself is made from rubber and it grips so well, no matter what surface you're using it on. I've used it on the couch, in an armchair, on the floor, but mostly in bed.
Being made from metal and rubber it offers hygiene benefits compared to fabric and plastic mats, but I'll talk more about that later.
I recognized that it felt heavier than the other acupressure mats I own due to it being rubber.
To put it in to perspective, at 739g it's more than 200g heavier than the popular Nayoya acupressure mat. However the Aku Mat has that satisfying weight of a high quality product.
Imagine a weighty rubber yoga mat if you're trying to get an idea of how the mat would feel in your hands.
I felt the weight really added to its ability to grip and mould to the furniture.
Even the packaging is well thought out and looks premium, making it a perfect gift, particularly for someone with back pain.
Size
When I opened the Aku Mat, one of the first things I noticed was that it was smaller (18.75" x 12.75") than other acupressure mats I own and have used in the past.
Comparing the measurements to the Pranamat acupressure mat (28.7" x 17.7"), one of the biggest out there, gives you an idea of the size.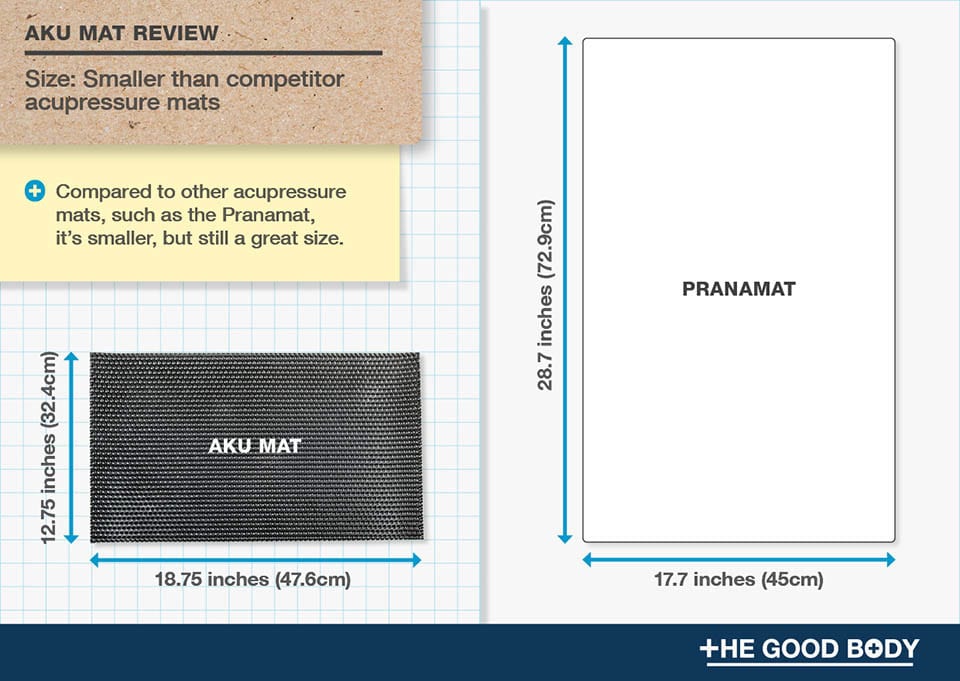 In fact, when I looked at the dimensions of six other top-rated acupressure mats, it was smaller, more comparable with the Spoonk travel mat (13.8" x 15.7").
Eager to get a little more body coverage, I tried using two mats side-by-side. However it didn't hit the pressure points in the right way and there's more potential to scratch yourself.
Don't let my experience put you off though, as it could work for you if you have the budget and want to get more body coverage from the mat.
Using the mat
When you start using the mat, there are two things you need to know:
Firstly, you should definitely wear a t-shirt (and not one that you're particularly attached to!)
The spikes are sharp and I noticed it left a number of tiny holes in the t-shirt I was wearing.
Starting off this way helped me to get used to the sensation, however I quickly began using the mat on my bare back (probably after just one or two uses).
Secondly, I'd recommend using the mat (to start with) on a soft surface, such as your couch or bed, to allow the mat to mold to your body.
I have tried it on the floor and, until you're used to it, it really does feel like a bed of nails. Too harsh to begin with, and definitely something you need to work up to, but it could be perfect for you.
Also remember to lie back really gently initially, rather than shuffling on to it as you could risk scratching yourself.
For a few minutes it does feel like your body resists the mat. Like your brain is sending you a warning – "that is sharp!".
However once your body and mind surrenders to the mat, then it becomes pleasurable.
Why not try it out before bed?
I found it completely relaxed my body for sleep, not just physically but also mentally. I've certainly slept better since using the mat.
You can also use your Aku Mat to treat neck pain, by rolling it up and positioning it under your neck.
I did find it tricky at first to get it in to position, but when I did, wow it felt good! I hold so much tension in my neck and shoulders and I literally felt like it was melting away.
Standing on the mat is another way to use it…
I pop it under my feet while sat at my desk and I find the sensation really satisfying.
It's no surprise really, when you consider that your feet are covered in acupressure points.
Whether you're using it on your feet, neck or back, it can be tricky to get the position right at first, because of the grip it provides on a surface.
Also, of course, because of the spikes.
Make sure you handle the mat using the edges, as it's so easy to accidentally scratch yourself, especially if you're not really concentrating.
I had a few cat-like scratches when I was first getting to grips with it.
When you're finished, you can simply roll the mat back up.
I do feel it would benefit from a little loop or something else to help you move it, without having to risk catching your skin on the metal spikes.
To be fair I've scratched myself badly on the plastic ones and drawn blood, so it's not something exclusive to this mat.
It doesn't ship with a storage bag, however the box is sturdy and well designed, sliding in and out easily.
Watch the video below from Aku to see the Aku Mat in action:
Hygiene
One huge benefit of the Aku Mat is the fact that it's more hygienic than rival products.
Fabric mats with plastic spikes generally can't easily be washed. For example with the Nayoya acupressure mat, you have to remove the foam padding and wash the cover by hand then leave it to dry completely before replacing it.
However as this mat is rubber you can quickly get rid of germs and bacteria.
The metals used in the mat are also antimicrobial and embedded in medical grade rubber, which AkuSpike explain makes them easier to clean and more sanitary than the plastic alternatives.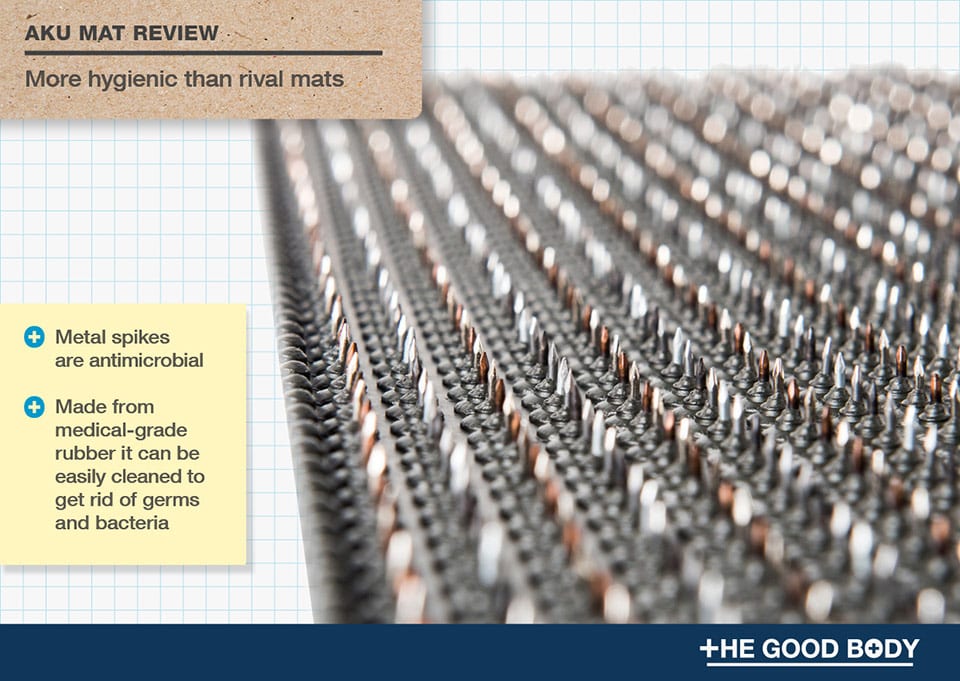 I used warm water to clean the mat and left it out in the sun to dry. It's so easy and means more than one person can use the mat safely.
This mat is built to last, and in terms of the impact on the environment it feels like it ticks a few boxes, too.
Aku is designed for those who understand optimal health can only be achieved through daily practice and refinement.
2.

Reduce stress and anxiety
The Aku Mat can hit pressure points on the neck, promoting thyroid health, which helps to reduce stress and anxiety.
I love using the mat and acupressure therapy for chronic neck pain. As I mentioned before, just by rolling up the mat and positioning it underneath my neck I can enjoy almost instant relief from pain.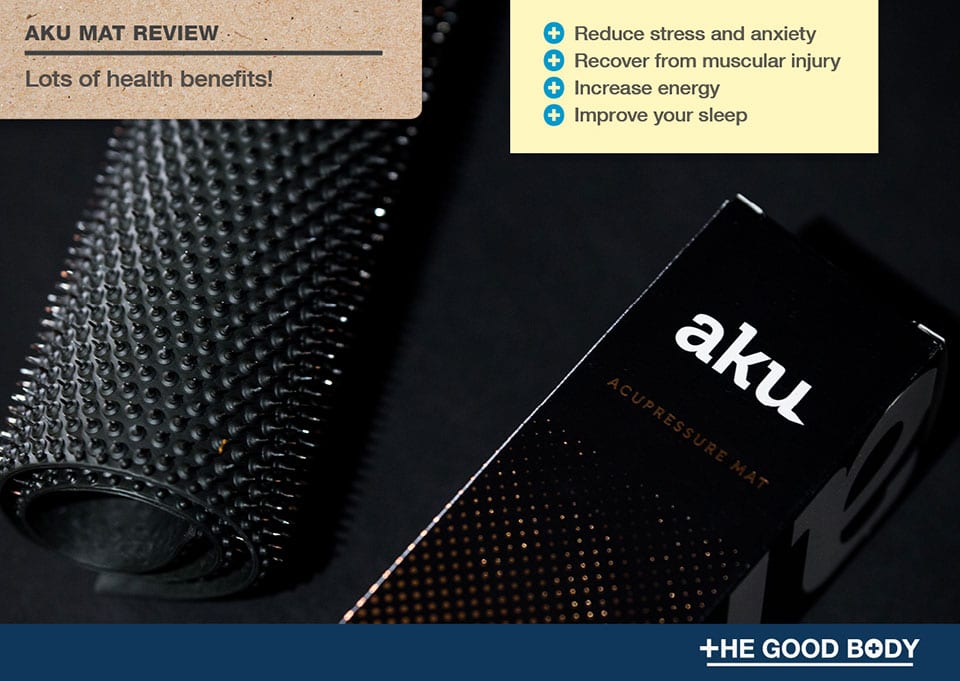 3.

Recover from muscular injury
AkuSpike's CEO created the mat after having acupressure treatment following his own back injury. He was amazed at the results and wanted to find a way that people could more effectively recreate the experience (and results) at home.
Research backs up his own success with the treatment. A study in 2015 showed that regular acupressure treatment reduced pain scores of acutely injured athletes as well as helping to decrease associated anxiety.
I can definitely vouch for this benefit, as the Aku Mat feels incredible on tired muscles (particularly after a long bike ride!).
AkuSpike state that after just 10-15 minutes on the mat, your blood and lymph circulation is increased, triggering the nervous system and activating tired muscles.
Another benefit we feel needs a mention is…
The latest sleep stats show just how many people now suffer from a sleep disorder. If you're one of them, then acupressure is proven to help.
I love using this mat before bed, lying back and following a guided meditation session (which has its own advantages!).
The Aku Mat almost feels like it's preparing your body for sleep, as both your muscles and mind start to relax.
Additional benefits of acupressure include:
Natural pain relief
Production of endorphins
Lower blood pressure
Improved sleep
Improved digestion
Healthier complexion
Weight loss
Reduced headaches and migraines
You can read all about the benefits of acupressure.
Warranty
You get an amazing lifetime warranty with the Aku Mat. Just keep a record of your proof of purchase.
Competitor mats typically offer a one year warranty so it's yet another seriously good benefit.
30-day money back guarantee
If you don't happen to like the mat, AkuSpike offer a 30-day money back guarantee. Again, just keep your proof of purchase.
They know you'll love this mat and they're willing to put their money where their mouth is!
Price
When it comes to the price, the Aku Mat is really competitive.
It's a similar cost to the original Bed of Nails mat, the perceived originator of the acupressure mat, which isn't half as good.
You can of course get a cheaper plastic alternative, such as the low cost ProsourceFit mat, however it won't be able to compete on quality.
The Aku Mat, with all the benefits mentioned above, offers real bang for the buck.
However if it's out of your price range, but you want to try their products, you could invest in the Aku Ball?
It's less than half the price, and you can use it wherever you want on your body, simply rolling it around with your hand.
Improvements?
There aren't many things I can think of to improve this mat.
However, I do think it would benefit from a loop or a strap to help you maneuver it.
With metal spikes edge to edge, moving it can be a little tricky at first and a strap or handle would just give you a way to do it without scratching yourself.
It could be a little bigger, but I'll trust the experts who have clearly designed the mat to hit the acupoints in exactly the right way.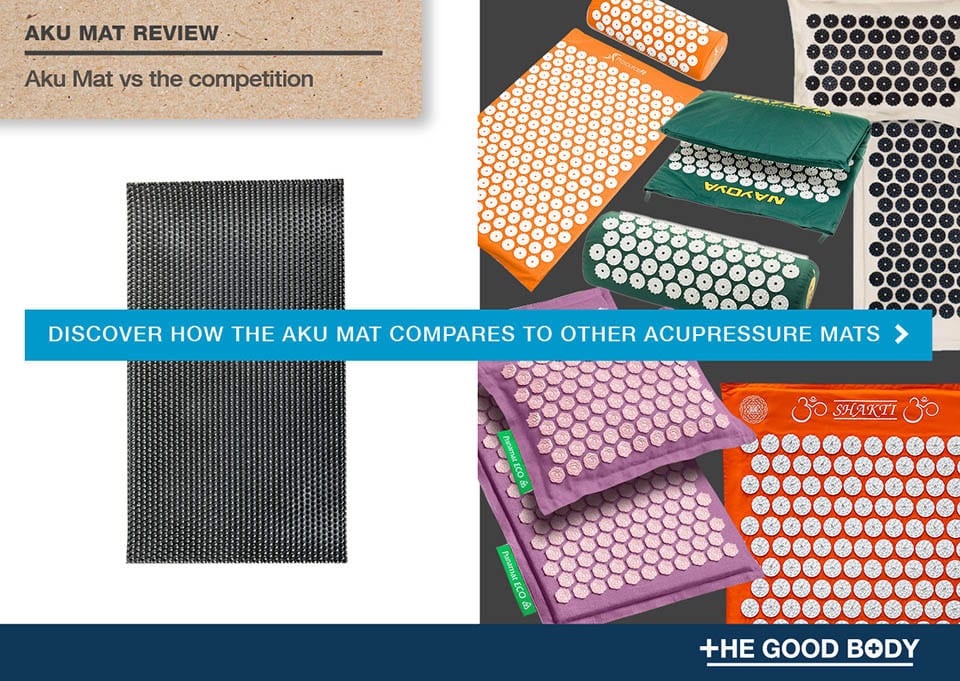 Summary
In summary, buy the Aku Mat.
It has so many benefits for your health, and once you get over the initial discomfort, it feels incredible.
Yes, you might scratch yourself every once in a while, but trust us, it's worth it for the experience you get (plus if you're careful it's easy to avoid).
Though a little smaller than other mats, it's completely worth the compromise as the metal spikes dig deeper than I've ever experienced with plastic acupressure points.
Hygiene-wise this mat is also a huge plus for me.
This isn't the kind of product you'll buy, use a couple of times, then throw in your closet and forget about.
I really believe you'll quickly add it to your daily routine, particularly if you're struggling to sleep.
Treat yourself to the closest thing to acupressure — invest in the Aku Mat.