Typically when I write a product review, I use it tons and then compare it to similar products on the market.
However there's nothing like the Aku Ball.
It's no wonder that the company that made it received $150,000 when they appeared on Dragon's Den in Canada.
The benefits of acupressure in the palm of your hand is an exciting proposition. After using the Aku Mat (which I recently reviewed), I was keen to try out the Aku Ball.
If you don't know much about acupressure, here's a quick overview:
Acupressure is an ancient Chinese therapy that combines acupressure and reflexology.
Pressure is applied to certain key areas of your body to stimulate nerve centers, improve circulation and encourage energy to flow around the body.
When you lie down on an acupressure mat, or in this case use an acupressure ball, the spikes are effectively replicating this pressure.
I've been using the Aku Ball for many months. Now I've got to grips with it, I'm going to tell you all about it, so you can decide if it's right for you!
A quick look at the verdict:
If you don't have time to read the whole article, then I've summarized my thoughts below:
Aku Ball
The Verdict
You won't regret buying this ball. It feels incredible and can be used in many different ways. Suffering from hand or neck pain? Buy it now!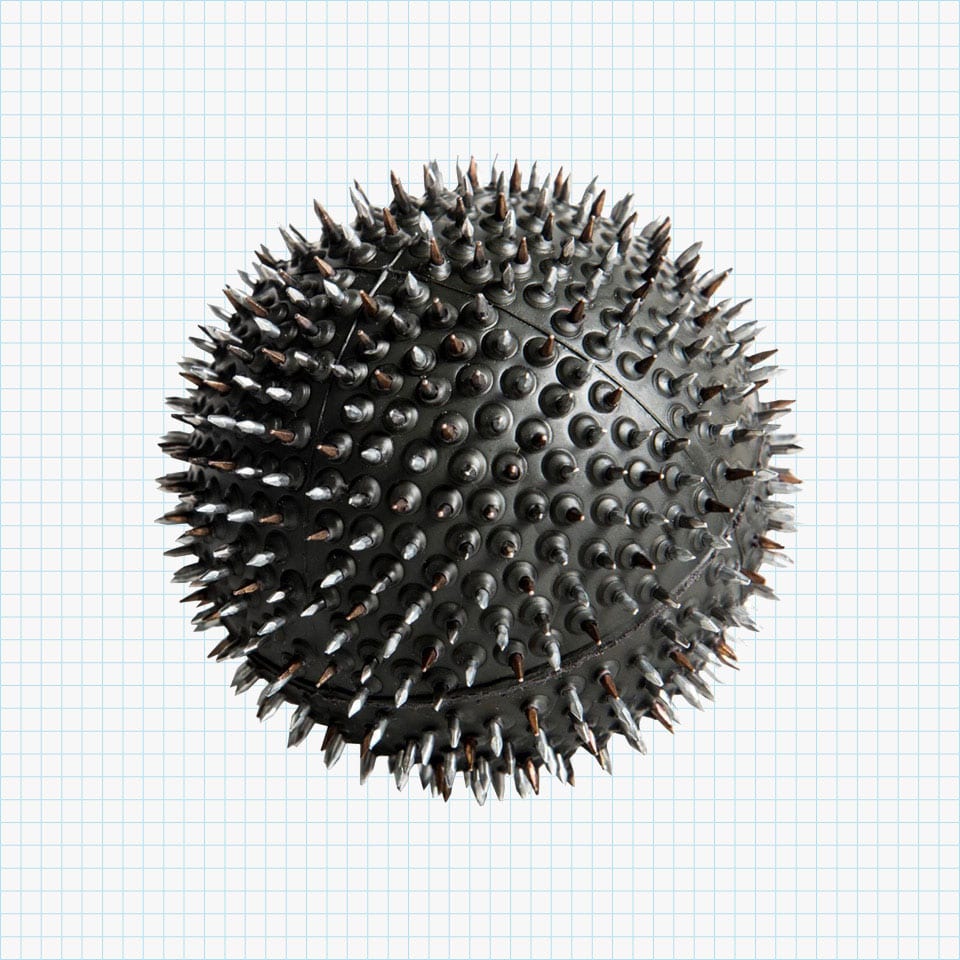 Pros
656 metal spikes
High-quality rubber ball
Can be used all over the body
Hygienic (simply wash with soapy water)
Light and compact
Lifetime warranty (plus a 30-day money back guarantee)
Cons
Potential to scratch yourself
Reasonably priced
How does it feel?
You might be worried that the Aku Ball looks painful.
AkuSpike openly admits that it can hurt at first, and I'd have to agree. However I'd also have to add that it's totally worth it (and you quickly get used to the feeling).
The spikes on the ball are of course sharp, but you can easily take it out of the box and use it without scratching yourself.
After I'd rolled the ball across my hands and around my neck a number of times, I started to feel the warming sensation that AkuSpike talks about.
It's a comforting feeling, as the spikes wake up your skin and relax the muscles beneath.
Though they're described as spikes, rolling it on your body doesn't scratch you if you're careful.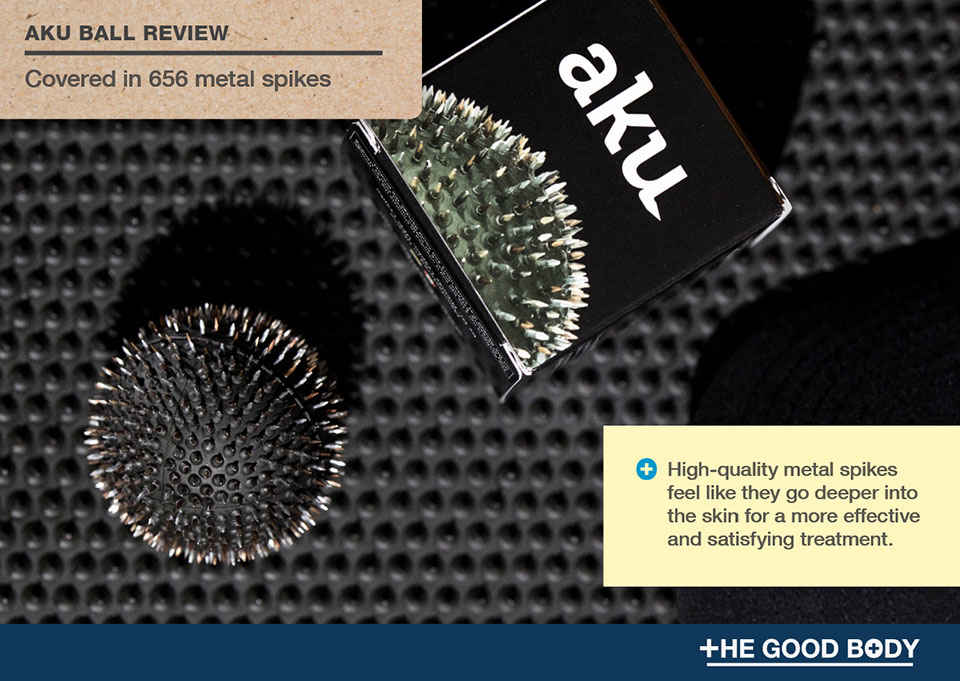 The only sensation I can liken it to, is pressing your hand into a Pin Art Impression Toy, though of course the spikes are much stronger (and sharper).
Also, whether it hurts or not is kind of up to you:
The magic of this little ball means you can decide the pressure to use, as you're applying it with your own hand.
Hoping acupressure will be the solution for your neck pain or sore hands? It's time to add this item to your cart!
The ball is targeted at those with sore hands and tight necks, and after using it on both areas I can understand why.
I gave an Aku Ball to someone with Raynaud's disease and rheumatoid arthritis in her hands, and she was a big fan of the warming sensation.
She reported that it noticeably reduced swelling in her fingers, and offered relief from the pain in her hands at the end of a busy day.
It's kind of addictive, once you pick it up – you'll struggle to put it down!
Materials
There has clearly been a huge focus on using the best possible materials in this product.
The ball itself is rubber, with the 656 spikes made from one of five different high-grade, organic metals:
Copper
Iron
Zinc
Nickel
Silver
AkuSpike describes how these metals are "naturally occurring in the human body", which would explain why they feel so amazing when they make contact with your skin.
Size
Just 2.5 inches in diameter, the Aku Ball is fairly small.
To give you an idea of the size, it's smaller than a tennis ball (typically 2.7"), more akin to the size of a stress ball.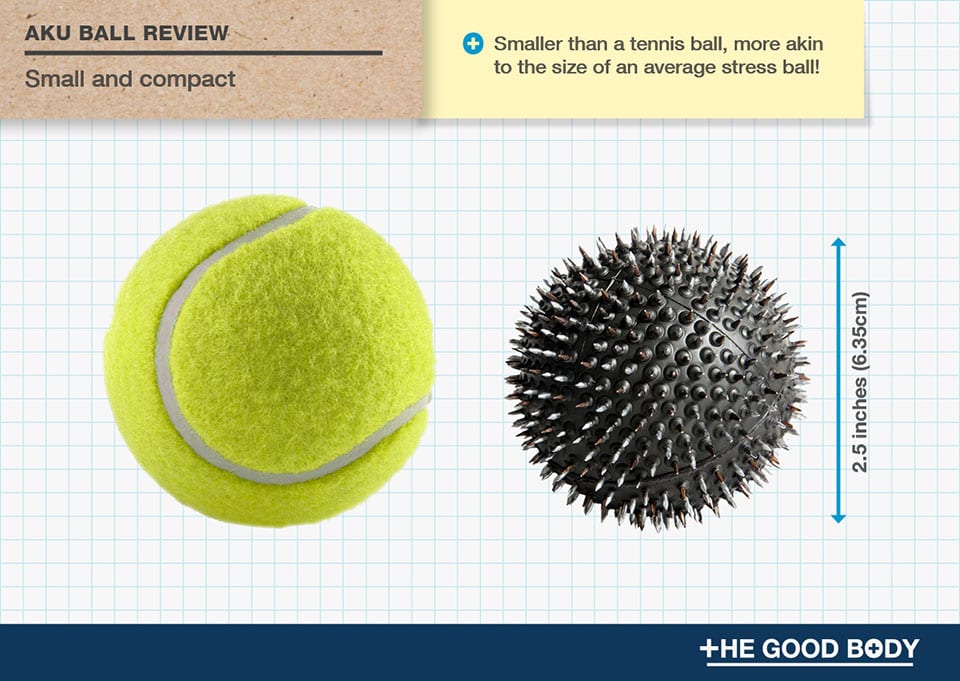 I found it fit comfortably in my hand (plus it's light), so you can easily move it around your body.
Using the ball
When I first let the ball fall out of the box into my hand, I was so intrigued.
Playing with something so sharp feels slightly strange at first.
I started by squeezing, then rolling and pressing it into my skin. It doesn't particularly hurt and once you feel that warming sensation, any discomfort disappears.
Initially I felt like I should press really hard, but quickly realized you don't need to, to experience the benefits.
AkuSpike's CEO, Paul de Jersey, gave a great overview of how it should be used:
Lightly apply the Aku Ball to the hands, base of the neck or other desired area to immediately enhance blood flow.
Begin with light pressure, and gradually increase as tolerable…users will experience a therapeutic warming sensation at the site of application.
Take it from someone who really struggles with neck pain, this is a must-have tool for your self-care kit.
It's perfect for working around your shoulders too, getting to the hard to reach areas that are tricky to treat.
The ball doesn't come with any kind of storage bag, but it ships in a well designed box, so you can easily store it away.
Watch the video below for a little demonstration on how to use the Aku Ball:
Hygiene
As the ball is made from rubber and metal it can easily be washed, to get rid of germs and bacteria.
Each metal used is antimicrobial, which AkuSpike explain makes them easier to clean and more sanitary than many other materials.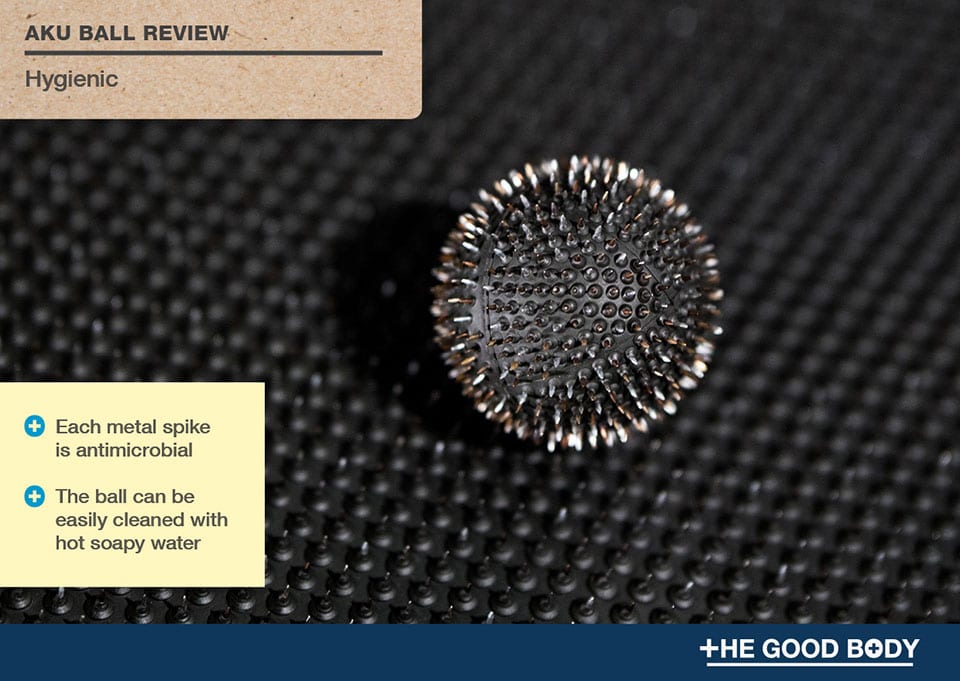 I just threw it in a bowl of hot soapy water, and then left it out to dry.
Benefits
AkuSpike talks about a number of different benefits when using the Aku Ball, that I've taken a look at below.
However you will find that acupressure treatment has a huge number of different advantages for both your physical and mental health.
1.

Reduce stress and anxiety
I keep the Aku Ball on my desk. When I'm feeling a little stressed, it really helps to refocus the mind.
Putting it down is the problem, as it's so addictive.
AkuSpike explains that using the ball on your neck in particular can hit key pressure points that help to reduce stress and anxiety.
2.

Combat Raynaud's disease
Hand acupressure is particularly powerful for those with Raynaud's disease, and there is no better way to enjoy hand acupressure than with the Aku Ball.
It can be squeezed in your hand, working to increase blood flow and improve your circulation.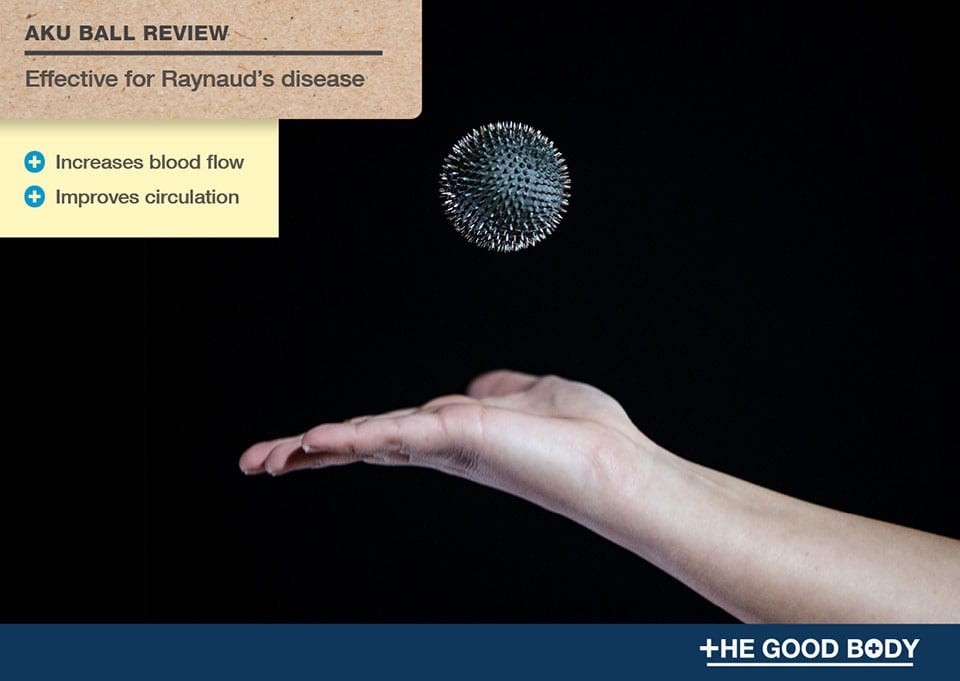 When I start to feel the muscles in my neck becoming tense, I use the Aku Ball to loosen them up.
It's so effective, and particularly useful if you're recovering from a muscular injury.
Additional benefits of acupressure include:
Natural Pain Relief
Production of Endorphins
Aids with Sports Injuries
Increases Energy Levels
Healthier Complexion
Weight Loss
Reduced Headaches and Migraines
You can read all about the benefits of acupressure — some might surprise you!
Warranty
With the Aku Ball you get a lifetime warranty, which is pretty impressive. Just keep your proof of purchase.
30-day money back guarantee
AkuSpike are confident that you'll love the ball, as they offer a 30-day money back guarantee. Again just keep your proof of purchase.
Price
The Aku Ball is reasonably priced, and makes a great gift for someone with arthritis or Raynaud's syndrome.
You can pick up a cheap acupressure mat for less dollars than the Aku Ball, however it's not the same proposition.
Also, as with any well designed product, there'll be copycats that pop up in the market.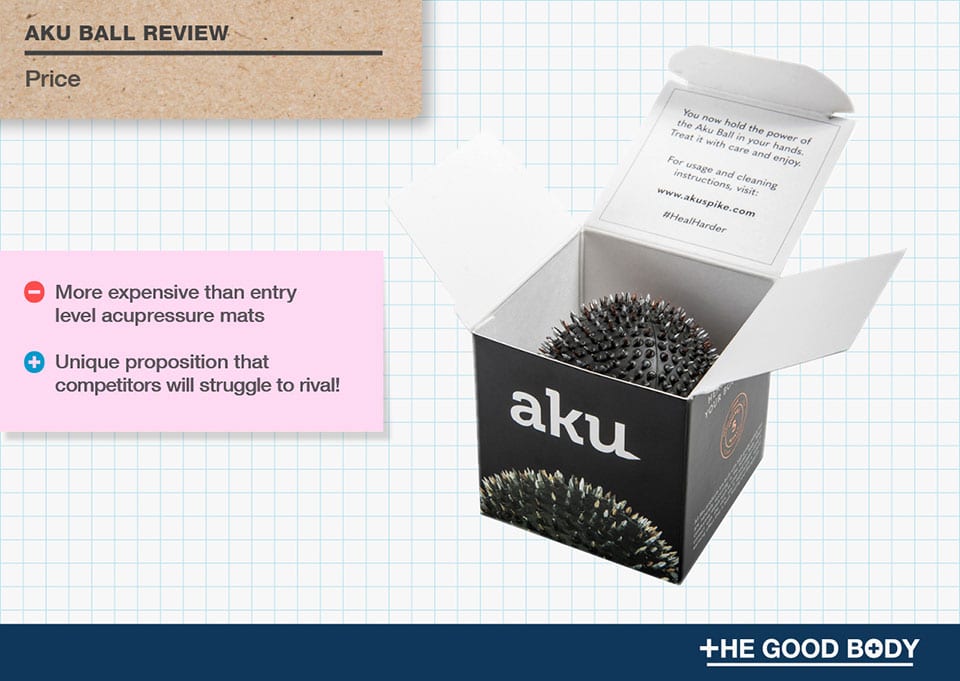 Be sure to check exactly what materials are used, as though they might be cheaper, they likely won't be as well designed (so you won't get the same benefits!).
If you have a little extra budget you could treat yourself to the Aku Ball AND the Aku Mat for the ultimate acupressure experience.
Don't worry if both are out of your price range, as you have the low-cost option of Aku's wearable acupressure treatment…
Improvements?
I'd struggle to improve this product!
My initial thought was that it could have been bigger, though I don't think it would fit as comfortably in the palm of your hand. And it's this size that makes it so easy to maneuver.
One helpful addition would be more instructional videos on how to get the most from the ball, though with regular use you can soon pick up ideas.
Summary
You have nothing to lose when buying the Aku Ball.
It's such a flexible treatment option that you can have on your desk or throw in your gym bag for after a workout.
You'll quickly get used to the sensation and start to enjoy the benefits, even if it does feel strange at first.
Hygiene-wise it's perfect and it's a really accessible price point.
It's not a shove-in-a-drawer product, the Aku Ball is high quality and another way to reap the rewards of acupressure treatment.