With so many TENS units available it can be difficult knowing which device to buy. It's even harder if you don't have any prior knowledge about TENS. Some of the jargon and technical terms can be a bit overwhelming at first.
But worry not, we've put together an easy to digest guide for 2017, designed to help the novice – as well as the seasoned pro.
Whether you're looking for your first ever machine – or considering upgrading your current TENS unit – our lowdown will clear things up and ensure that you're looking at the right devices.
Below are some of the top TENS units on the market today:
Table of contents
Table of contents
Compare devices by features, price, and ratings to discover the best TENS unit
In the table below you can compare the TENS machines discussed on this page.
Click on a device image / name for further information and to read consumer reviews on Amazon

Rating is out of 10 and based on our system, a combination of: features, ease of use, value for money

The price column displays an approximate price range to give an indication of costs. Prices can vary due to special offers and promotions. Here are the ranges:
$ = entry level | $$ = mid-range | $$$ = high-end
Want to see more devices? Visit the link below for our awesome TENS unit database:
CLICK TO COMPARE: The web's ultimate collection of TENS units
Compare TENS units by features, price, and ratings to discover the best device
Click to Tweet
Last updated
Other recent updates
August 22, 2017:
we've retained Healthmateforever's T24AB2 as our pick for the
ultimate home TENS unit
, despite strong competition from some splendid new machines.
Earlier in the year we replaced the T24AB with the more recent model (the T24AB2) as our pick. While the devices have practically the same specification, this upgraded version has four outputs, giving you the option of using up to eight pads during your therapy.
Those with a keen eye for detail will also notice a subtle change in design and style for the outer shell of this newer machine, compared to the previous iteration.
November 3, 2015: after using and testing iReliev's Strength & Recovery TENS & EMS System, we've rated it and added it to the table above. We're currently putting the full review together for this impressive TENS and EMS combination unit. It will be on the site sometime soon.
TENS unit reviews: knowledge is power
For a more detailed look at specific models and in-depth product analysis we've put together a series of TENS unit reviews, these can all be found in the pain management section of the site.
Our research and reviewing process is detailed and comprehensive – but our reviews are uncomplicated and simple to understand. They have been designed in a way that makes them easy to digest, with supporting diagrams, examples and case studies. On top of this, our process is constantly evolving to make it even better.
We highlight the strengths and weaknesses of each unit we review and provide a balanced argument – for or against – with pros and cons. Most importantly, we like to provide context and scenarios to help paint a clearer picture.
Our final appraisal of the device takes into account its features, how easy or difficult it is to use and what sort of value for money it represents. This format enables you to directly compare one machine against another.
Editor's picks: worth a closer look




HealthmateForever Pro12AB



Feature-packed TENS and EMS combination unit

Check machine specification

TENS and EMS combination unit
12 modes
Rechargeable lithium battery
Isolated channels
Backlit display
Limited lifetime warranty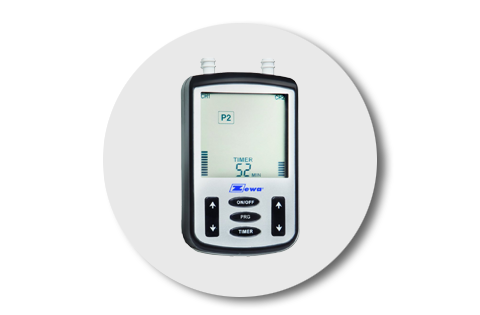 Zewa SpaBuddy Sport



No-nonsense TENS machine with selection of massage programs

Check machine specification

TENS unit
8 programs
Dual channel
Takes 3 x AAA batteries
2 year warranty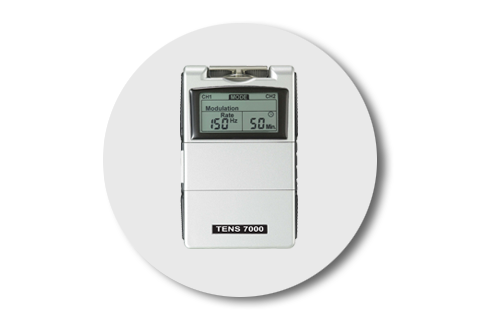 TENS 7000



Ever-popular value TENS device with plenty of settings to fine-tune

Check machine specification

TENS unit
5 modes
Dual channel
Takes 1 x 9V battery
1 year warranty

Top-of-the-line: HealthmateForever Pro12AB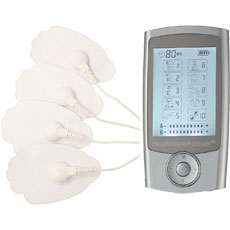 If you're one those people who loves your gadgets, you should check out HealthmateForever's range of machines. They're constantly innovating and updating their line of cutting edge TENS products.
These feature-rich devices offer both TENS and EMS. The super modern Pro12AB model has isolated channels, meaning you can even run two different programs at the same time… read more
Rated: 8.3 / 10
Love your gadgets? Check out HealthmateForever's range of innovative TENS machines
Click to Tweet
Mid-range: Zewa SpaBuddy Sport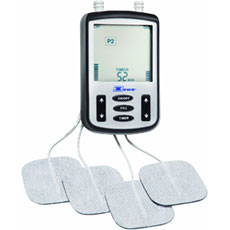 Simple-to-operate and with a fantastic selection of massage programs, Zewa's SpaBuddy Sport is a nifty little device.
Another perk of this machine is its clear and generous sized screen – which displays important information, such as, a countdown timer, your selected program and the current level of intensity… read more
Rated: 7.7 / 10
Under $50: TENS 7000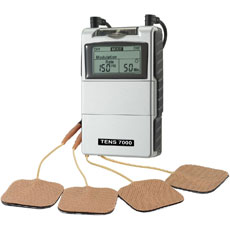 When it comes to value for money, there's no beating TENS 7000.
The ever-popular pocket-size device has been around for years, and is most certainly here to stay.
If bang for the buck is your top priority, it would be prudent to look a little closer at this machine… read more
Rated: 8.2 / 10
Next, we're going to take a look at some of the top-rated TENS units in different price ranges.
Did You Know?
'TENS' is an acronym and stands for Transcutaneous Electrical Nerve Stimulation.
Best TENS unit for under $50: highly affordable devices
When researching machines in the sub $50 price bracket there are (perhaps surprisingly) a number of excellent options.
While you may be compromising on fancy features such as a backlit screen, the battery being rechargeable, etc. – you will still be able to find an effective device. At present, there are great deals to be had…
Some of the most popular and top-rated devices include: the truMedic PL-009, TENS 7000 and Omron electroTHERAPY Pain Relief Device PM3030.
To get a better idea of the PL-009, its proportions, and controls you can watch this short video below:
The TENS 7000 and PL-009 both have small LCD displays, whereas Omron electroTHERAPY's PM3030 is more basic and is operated with four simple buttons, something that could be advantageous to those who aren't as comfortable using modern electronic devices, (this is discussed in more detail in our review).
The buttons are large and clearly marked, something that would be beneficial to people who struggle to read smaller text and graphics. This simplicity of this device is one of the main reasons why users rate it so highly.
When reviewing the PL-009 I did discover that it's possible to knock the intensity dials by accident and send it from a low level to the highest, totally unintentionally! Just something to be aware of.
TENS 7000 has protective covers over the dials and controls to stop this happening. Handy, hey?
That being said:
It hasn't put too many people off the PL-009 – it's been a #1 best seller on Amazon.com – and was for a long period of time.
Our favorite machine currently available for under $50 is the TENS 7000. It continues to impress – even against newer – and more modern units.
The reason I chose this is because it represents fantastic value for money and runs off a 9V battery. (Last time we checked it could be purchased for just under $29).
Most of the budget machines use AAA batteries, which is fine, however the 9V battery may be the reason this powerful device offers greater battery life.

TENS 7000 also has more modes than those other two machines and an adjustable timer that can be set anywhere from 1 to 60 minutes.
And let's not forget to mention that it's nice and compact, making it portable and easy to take with you.
It performs well and boasts an impressive set of features, hardly surprising it's one of the best-rated TENS units in its price bracket.
You can fine-tune the numerous settings with this device for optimal results. See exactly what I found out when I researched and reviewed the machine.
Best mid-range TENS unit: portable powerhouses
Research the middle of the market and you will find machines that have a little more to offer than the budget devices, in terms of features and specifications.
Spending a small amount extra opens the doors to machines with rechargeable batteries, large screens, etc. In fact, one of our favorite and top-rated devices is HealthmateForever's HM8ML.
The first thing I need to say about this unit is its size.
This smart little thing looks like an MP3 player – and is the size of one. It's compact, lightweight, and one of the most portable devices around.
People who want something that they can carry round in their bag should look no further.
What's more:
The HM8ML isn't just a TENS machine. HealthmateForever devices are TENS/EMS combination units and are rechargeable.
So not only do you get the benefits of TENS pain relief, you can stimulate your muscles as well.
Especially useful for active sports people. HealthmateForever HM8ML is extremely powerful for its size and has a number of impressive features.
Alternatively:
I'd recommend looking at Zewa's SpaBuddy Sport. Many users have claimed that this machine (powered by 3 AAA batteries) is as effective as the one used by their physical therapist.
Perhaps the most useful thing about it is the size of the screen.
You'll struggle to find a TENS machine with a simpler and clearer screen than the SpaBuddy Sport.
So if a top quality display is high on your list of priorities, this could be the device you've been searching for.
It's also excellent value, it can be found for about $60 – possibly less – meaning that it's right at the lower end of the price bracket.
There's no doubt:
This machine can compete with much higher priced units.

I'm unable to split the Zewa SpaBuddy Sport and HealthmateForever HM8ML.
They're two highly rated but very different devices, with contrasting sets of features. The decision would have to be based on the individual's needs.
Best top-of-the-line TENS unit: check this out!
Our pick for this goes to the HealthmateForever Pro12AB. It's been receiving rave reviews – and it's easy to see why.
This is one of the higher priced HealthmateForever TENS units but comes with a wealth of features and certainly justifies the cost.
The backlit screen is nice, the fact it's rechargeable is great – and I love that it has EMS as well.
However the best is yet to come…
The Pro12AB is a dual channel device, which means that you can treat two areas simultaneously. Other HealthmateForever machines (including the Pro-8AB) can do this too.
So "what's the big deal?", you ask.
The Pro12AB is not only a dual channel device, it has fully isolated channels. What that means to you is that you can operate it like two separate machines at once.
For example:
You are treating some pain around your shoulders. You're also struggling with some aches in your lower back. With this nifty machine you can treat both at the same time but run different programs and settings for each.
This innovative feature (which HealthmateForever pioneered) makes it superior to almost all other dual channel TENS units, where you can only run one program at a time. You effectively have two machines in one.
It's a clever piece of kit that comes with all the benefits a HealthmateForever device provides, and much more! Unsurprisingly, I've given this machine a very high rating!
To see one of these splendid HealthmateForever devices in action, have a watch of the video below. If you are considering this for back pain jump to 1:32 where you can see the machine being used on the back.
For people who want it all!
If budget permits and you're a sucker for modern technology, there's another device you are going to want to take a look at.
In terms of what you can do with it, this machine is second to none:
HealthmateForever's T24AB2 version has a cool 24 modes for you to choose from – and like the Pro-8AB10M – has isolated channels.
It gets better though:
The device is touch-screen operated!
While some machines may look like electronic products from days of yore, this resembles a present-day tablet computer – and has a superb specification to back it up.
As you'd expect, it's rechargeable, has EMS, a backlit display… and of course, comes with a lifetime warranty.
But there's even more…
Because the device has four outputs, you can use up to 8 pads at once with it. Perfect for people who want to target larger or multiple areas during their sessions.
With an unparalleled feature set, it would be fair to say this cutting edge model – one of Healthmateforever's latest – is the ultimate home TENS unit!
A new era has well and truly dawned in the TENS unit market…

Fact:
The first modern, patient-wearable TENS unit was patented in the United States on June 18, 1974.
How to choose a TENS unit
Step 1: what do you need your machine to do?
Before you start looking, it would be smart to think about exactly what you require from the unit, apart from the obvious (pain relief). Don't just throw the first unit you like the look of into your basket!
For example:
Some people will want their device to be rechargeable. Others will place a higher emphasis on how many areas they can treat simultaneously, (this is determined by the number of pads that can be connected).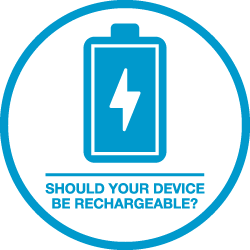 The best thing to do here is to write down what you want from the unit. Put these into a list and order them by importance.
If you're not entirely sure about what you need, why not speak with your doctor or physical therapist and seek their advice? They should be able to point you in the right direction.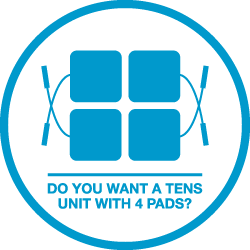 Below, we've put together a guide of how we carry out an evaluation and detailed assessment of a TENS machine. This may give you some ideas and help you to think about what you want your new unit to do.
The guide covers the things we consider, why we look at them, and what they mean to the consumer. Click here to jump to that section.
Step 2: set a budget and draw up a shortlist
Before you start trawling through online stores like Amazon, Walmart, and Target:
Set a maximum budget – and stick to it.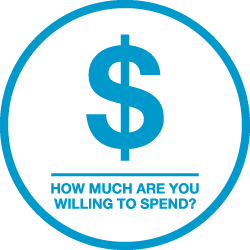 This will help you narrow down your search. If you don't do this you could spend an inordinate amount of time – looking at machines – that you're not even in a position to buy.
Put together a shortlist of say, up to 5 devices. These should all be within your budget and fit the criteria you set in step 1.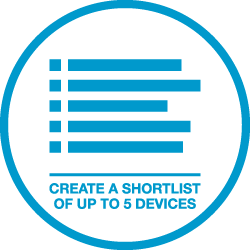 Step 3: narrow it down to 2 or 3 units
Now you can whittle the list down to 2 or 3. You may like to consider the following (along with any other criteria) when analyzing a machine's suitability:
Feature set
Consumer ratings
Value for money
Which 2 or 3 devices standout?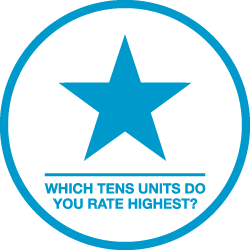 Step 4: research and analyze those units in greater detail
To assist this process, it would be prudent to delve a little deeper and study some consumer reviews:
Are reviewers generally pleased with the product or displeased?
Do you see any recurring issues or problems cropping up that would put you off buying the unit?
Does it sound like the machine can perform the tasks you need it to, and effectively?
How do the reviews, feedback, and ratings compare between the devices?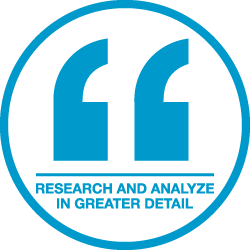 Step 5: make your choice
Taking into account everything from the previous four steps, which device really stands out?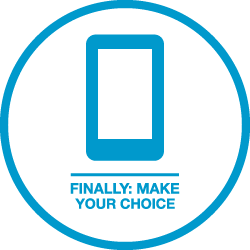 This might be the time to revisit your original list of requirements and see if one fits them better than the other(s).
How to choose a TENS unit in 5 simple steps
Click to Tweet
How to evaluate a TENS unit:
Before even looking at what a machine has to offer, there's an extremely important step. Under no circumstances should this be overlooked.
Check that the device has been:
Cleared by the FDA as an over-the-counter (OTC) class II medical device.
If you come across a product that hasn't, be very careful. Companies are not legally permitted to market their products as medical devices, unless they have this clearance.
Features
For a more organized and systematic approach, these can be broken down into sub-sections.
Programs and modes
Not all but most modern-day OTC TENS units have preset programs (also referred to as modes by some manufacturers). These are designed to make it simpler for the user.
What programs / modes does the machine have and what are they for?
Would you use them and if so, how often?
Some machines (like TENS 7000) have less modes but offer fine-tuning of the treatment. Be aware though – they require more user-input – and you'll need to familiarize yourself with things like pulse-width and wavelength.
Most people, especially first time buyers opt for devices with preset programs because they require less work to operate.
Channels
The majority of devices on the market today are dual channel with independent intensity controls.
This type of machine can be used with two or four pads (electrodes) at a time. Each channel has two pads and you can adjust the strength of treatment separately for each channel.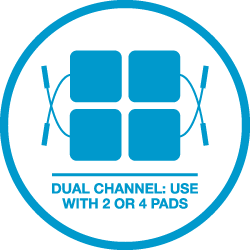 What's important to factor in here is:
You can always use a dual channel device with two pads or four – but you can never use a single channel machine with more than two.
Add to that:
There's hardly any difference in price between most single and dual channel devices nowadays. Therefore, there doesn't seem to be much argument for choosing single over dual channel.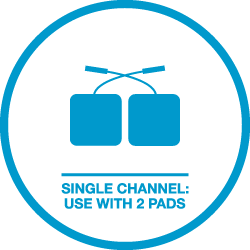 We've seen plenty of advancements so far this year and some modern units (a small number of HealthmateForever's, including this state-of-the-art model) have taken it a step further and even allow you to run completely different programs in separate channels.
Is it a single, dual or four channel TENS machine?
Is the intensity control independent for each channel?
You may be wondering:
About four (or quad) channel TENS units. These devices can be used with 2, 4, 6 or 8 pads.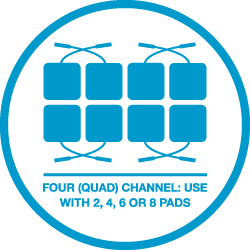 An example of where this could be useful is:
For somebody who is suffering from back pain – and wants to treat a larger area than is possible with just 4 pads.
Intensity levels
Firstly, when it comes to intensity:
The number of intensity levels does not reflect how powerful the device is.
If a machine has 50 levels, it doesn't mean it has twice the power of a machine with only 25.
A device with 50 levels is going through the power range in increments of 2% at a time, whereas a machine with 25 is adjusted in increments of 4%.
How powerful is the device?*
How many intensity levels are there?
How is the intensity adjusted?
*Obviously, it's not going to be possible to go out and test the machines on your shortlist – to discover how strong they are. While some manufacturers specify the current intensity (strength) in mA, this information isn't available for all devices. Therefore, it would be prudent to gauge user feedback and read some consumer reviews. You'll be able to see whether others have found the machine to provide effective pain relief for similar symptoms.
Ease of use
Consider how the unit is operated and whether it's suitable for you.
How is the machine operated: what buttons and controls are there?
Is everything clearly labeled / easy to identify?
What is the screen like: is it clear and easy to read, is it backlit?
Battery
A lot of the newer, stylish, i-Pod like devices have built-in lithium rechargeable batteries.
There are a couple of main advantages when it comes to rechargeable machines:
Convenience – no need to worry about running out of replacements
Savings – not having the additional cost of replacement batteries
If the unit is rechargeable, think about:
How is the battery charged, e.g. through the mains, USB?
How long does a full charge last?
In both 2015 and 2016 – and so far in 2017 – we've seen a great deal of new devices enter the market. One of the most notable things is how many of the modern units are rechargeable.
When you think about it, it's hardly surprising. The technology has been around for a long time – but can now be incorporated into the product at a relatively low cost.
For machines that run off standard batteries (i.e. AA, AAA, 9V):
What type of battery / batteries does it use?
How many does it require?
How long does each set last, is battery life good?
How much do they cost to replace?*
*If you have a rough idea of how long you expect a set to last you can do some basic calculations. By estimating how many sets you will go through in a year, you can multiply the number of sets by the price per set.
While a rechargeable unit may require a higher initial investment, it's worth considering how much can be saved on replacement batteries, especially over a period of time.
Size and portability
If you need some pain relief on the go, portability is going to be one of the most important factors. The last thing you'll want is to be carrying a big, heavy brick-like object round in your bag.
If you're machine is going to be solely for home use, this isn't going to be quite as significant. However, it's still worth thinking about:
How big is the device?
How much does it weigh?
How does its size and weight compare to other machines?
Does it ship with a carrying case / something to keep it safe in?
Accessories
This may play a part in your decision, especially if you're looking at affordable TENS units. While a few extra pads aren't likely to influence a decision on a high-end machine, they could on a $30 product.
What accessories come with the device?
Do the accessories make the product better value for money?
How does the set of included accessories compare to similar units on the market?
Warranties
The majority of machines ship with a one-year warranty, a few have two year's cover and some have cover for only 90-days. HealthmateForever's devices, however, ship with a limited lifetime warranty.
How long is the warranty?
What does it cover?
How does the warranty stack up against other units?
Price
One of the best things about TENS machines is that they come in many shapes and sizes, with various features and capabilities. And of course, this means differing price tags.
Rest assured though:
Whether you have $30 or $300+ to spend – you will be able to find a TENS unit.
Essentially:
They all work the same way – by sending low voltage electrical impulses to the body, which then stimulate the nerves.
It's like anything, the higher priced machines tend to have better specifications.
Think of it a bit like when you purchase a smartphone, you pay for more power, a better screen, battery, etc.
It's the same principle with TENS devices. The key thing is to find the best TENS unit in your price range.
Most people probably wouldn't need or even use all of the features on the highest priced TENS machines. So there's no need to worry if you're not in a position to invest in the most up-to-date top-of-the-line device.
Our individual TENS unit reviews go into more detail about specific machines, you may like to check them out. They can help you to work out what sort of device you can expect to get for your money.
Ask yourself the following:
Is the product well priced?
How does this compare to units with similar specifications?
What ongoing costs will you incur, such as: replacement pads, batteries, any other consumables, etc.?
How do these running costs compare to other devices?
Making your choice
As previously discussed, your new machine doesn't have to cost the earth. Work out your priorities and look for the best TENS unit within your budget.
If you can afford a top-of-the-line device, that's great. But if you can only afford a basic model, worry not.
A lot of the affordable machines have excellent user feedback and are providing people with welcome pain relief, on a daily basis.
If you're currently purchasing your first TENS machine, why not try an affordable device and see how you get on? Don't forget, you can always upgrade at a later date.

Please ensure that you speak to your doctor, physical therapist or other medical professional prior to using a TENS unit. While you can purchase these devices over the counter (OTC) or online (without a prescription) – it is recommended that you consult with a professional first. Always read the instruction manuals thoroughly before operating a TENS machine. There are certain exclusions where people should not use the machines, such as those who have a pacemaker fitted. (Check for other exclusions before using and make sure it's suitable for you.)