For years we've been testing and reviewing the best TENS units on the market. We're excited to share our latest buying guide for 2023, highlighting our top three picks with you.
We spend at least two weeks living with each device, so we can fully understand its functionality, benefits and drawbacks.
Whether you're looking for your first ever machine, or considering upgrading your existing unit, our lowdown will help you find the right device to relieve your pain.
Below are some of the top TENS units on the market today:
10 Top-rated TENS Units: Compare Features, Price and Ratings
In the table below you can compare the machines discussed on this page and discover the best TENS unit.
Click on a device image / name for further product information and to read consumer reviews

Rating is out of 10 and based on our system, a combination of: features, ease of use, value for money

The price column displays an approximate price range to give an indication of costs. Prices can vary due to special offers and promotions. Here are the ranges: $ = entry level | $$ = mid-range | $$$ = high-end
Device
Channels
Pads
Modes
Intensity levels
Battery
Price
Rating
iReliev Wireless TENS + EMS Muscle Stimulator
Quad
(fully isolated)

Infinite

14
25
Rechargeable
lithium
$$$
8.5
TechCare Plus 24
Dual
4
24
20
Rechargeable
lithium
$
8.3
PowerDot Duo 2.0 Smart TENS Unit
Dual
6
Generated
by app
based on
user input
100
Rechargeable
(lithium)
$$$
8.2
Auvon Dual Channel TENS Unit
Dual
(fully isolated)
4
20
20
Rechargeable
(lithium)
$
8.2
iReliev Plus TENS + EMS System
Dual
4
14
25
Rechargeable
(lithium)
$$
8.2
TechCare Touch X TENS Unit
Dual
4
24
20
Rechargeable
(lithium)
$$
8.2
TENS 7000
Dual
4
5
8
1 x 9V
$
8.2
Etekcity TENS Unit
Dual
8
15
20
Rechargeable
(lithium)
$
7.7
Beurer EM44 TENS Unit
Dual
4
18
50
3 x AAA
$$
7.5
Omron Pocket Pain Pro TENS Unit
Single
2
5
10
2 x AAA
$
7.5
Our 10 Best TENS Units: Reviewed and Rated
Design Feature
Fully isolated channels
Unlike most other devices, the channels on the iReliev are fully isolated. This enables you to select not only the intensity level, but different programs and treatment times for each channel.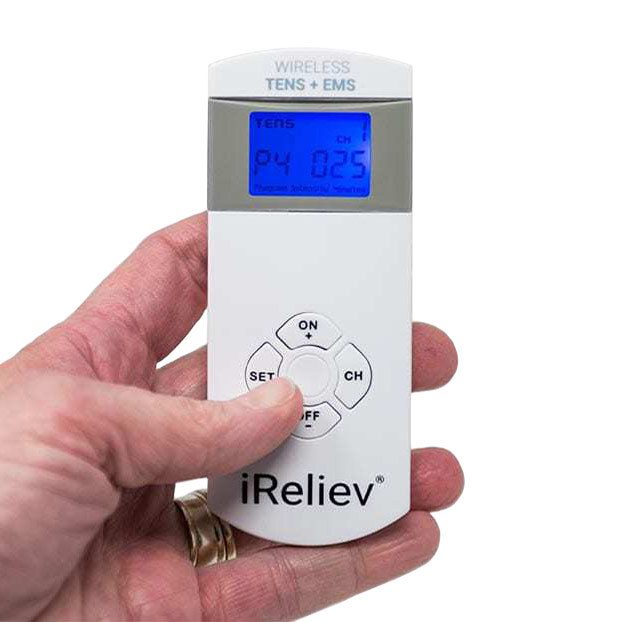 You get 25 levels of intensity. More than most.
This gives you a great deal of control over the strength of your treatment. Most of the other devices we've reviewed in this guide have 20 levels, with some having considerably less such as the TENS 7000 (8 levels).
Having more levels means you're able to fine-tune the strength of the stimulation.
During our testing of this device, we didn't go past level 14 for any of the TENS programs, so it was more than strong enough with plenty left.
If you want more than 25 levels of intensity, take a look at the PowerDot Duo 2.0 which has 100 levels.
Just a quick side note — that doesn't mean it has more power, it just means the power is increasing in smaller increments.
Let's talk about the pads.
The wireless receiver pods push onto the pads through a snap fit. This proprietary fitting does mean that they only work with iReliev's own pads.
However they do have a subscription service for the pads, which really brings down the price.
The process we went through to set up the device and pair it with the wireless receiver pods was straightforward. It didn't require any complicated Bluetooth pairing.
After the first charge, it was simply a case of switching on the remote and pods and they paired with each other automatically.
iReliev's Wireless TENS + EMS machine ships with the first two pods for channels 1 and 2. The pods for channels 3 and 4 can be purchased separately, so you can take advantage of all four channels.
Confused About The Difference Between TENS And EMS?
Many people confuse TENS with electrical muscle stimulation (EMS). While TENS and EMS units can look almost identical, the two have completely different purposes so it's imperative that you choose the correct type of device.
While testing this unit, we recorded battery performance.
We got 6 hours and 22 minutes from the wireless receivers before they needed recharging, and 8 hours and 2 minutes from the device itself.
Killer feature
No more wires!
A key benefit that shouldn't be overlooked with this wireless device, is how discreet it is. With no wires running from the controller to the pads, you can use it without anyone knowing. It's ideal to use in places such as the office, when only you need to know about it.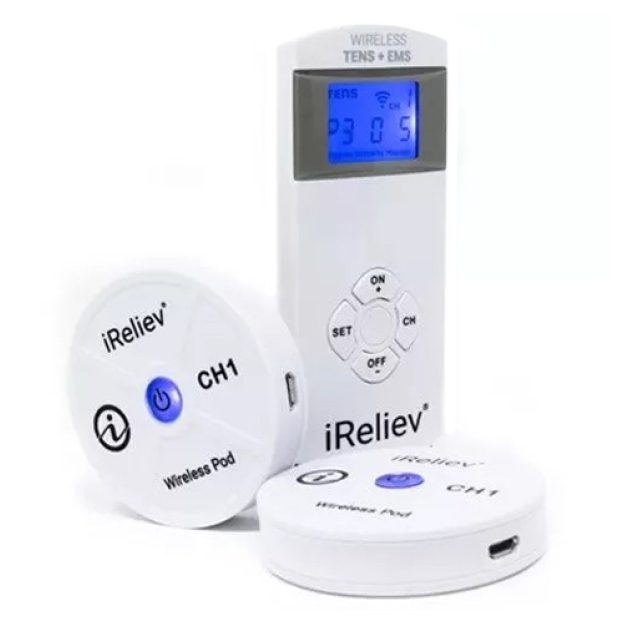 Once you've made the switch to a wireless device, you won't go back. It's convenient, discreet and a much more streamlined experience.
Another great feature is how it remembers your previous session's settings. So when you switch it on, the program and timer are exactly the same as last time.
It's ideal when you've found a program you like and use most of the time. With most units you have to cycle through the programs and set the timer again each time you use it, even if you want the exact same settings as your previous session.
The iReliev TENS machine ships with a made to measure hard shell carrying case.
Compact and extremely well designed, there's space for the device and all the accessories. Being hard shell it also offers an extra layer of protection for any accidental drops.
The size and weight of both the device and the pods, plus the carrying case, make it a highly portable setup that can be taken anywhere, to provide on the spot pain relief.
Any potential drawbacks?
Compared to a number of the other devices we've reviewed here, the screen isn't very big.
However it has been well designed and is clear and easy to read, with the information well spaced out.
At no point did we have any problem reading the information it displayed. The size of the screen contributes to the compactness of the remote.
If you do prefer a bigger screen then the TechCare Touch X could be a better option, though you'll of course compromise on lots of features (including the wireless capabilities).
The features iReliev have incorporated into the system make it a premium priced product, so the initial investment is higher than the majority of the other units we've evaluated.
Did you know?
'TENS' is an acronym and stands for Transcutaneous Electrical Nerve Stimulation.
TENS Unit Reviews: Our Rating Process
We follow a comprehensive research and review process to put together the information about specific models and the in-depth product analysis featured above.
Our reviews are uncomplicated and easy to understand. We highlight the pros and cons of each unit and present a balanced argument, for and against.
They have been written in a way that is easy to understand with context, case studies and scenarios to give you the clearest picture.
Our final appraisal of the device takes into account its features, how easy or difficult it is to use and what sort of value for money it represents, allowing you to compare one machine with another.
Fact:
The first modern, wearable TENS unit was patented in the United States on June 18, 1974.[1]
How to Choose and Evaluate a TENS Unit
Step 1: What Do You Need Your Machine to Do?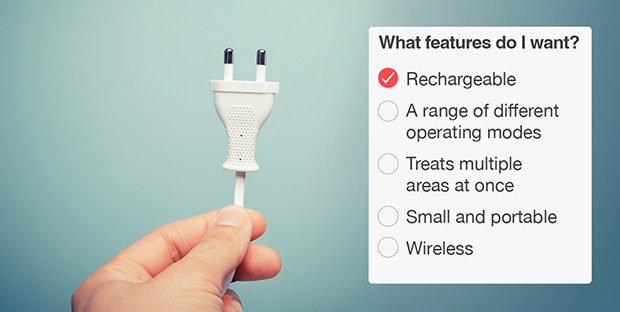 Before you start shopping, consider exactly what you want from your unit, apart from pain relief of course. Try to avoid just throwing the first unit you like the look of into your basket.
Consider all aspects, such as:
Do you want your device to be rechargeable?
Do you want a variety of modes to experiment with?
Or is it more important that you can treat multiple areas simultaneously?
Start by writing down what you want from the unit, and place these in order of importance.
If it helps, we've put together a list below of the different features, explaining exactly what each one means so you know what you're buying.
If you're not exactly sure what features are important to you, why not speak with your doctor or physical therapist for advice?
Don't forget this really important step…
Before looking at what a machine has to offer, check that the device has been:
Cleared by the FDA as an over-the-counter (OTC) class II medical device.
If you come across a device that doesn't have clearance, be very careful. Companies are not legally permitted to market their products as medical devices, unless they have this clearance.
Step 2: Set a Budget and Draw up a Shortlist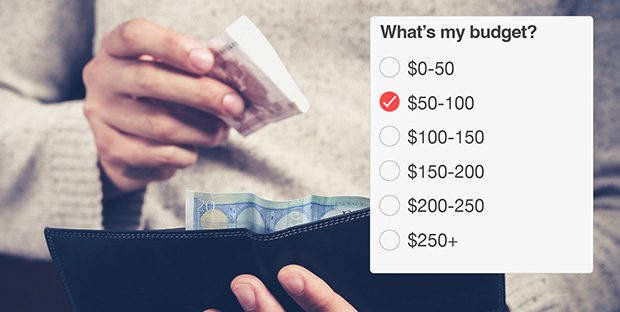 Before you start searching stores like Amazon, Walmart or Target, you need to set a maximum budget and stick to it.
This will help you narrow down your search and ensure you don't waste your time looking at units that you're not in a position to buy.
Why not start by putting together a shortlist of five devices that meet your criteria and budget?
Step 3: Narrow your list down to 2 or 3 units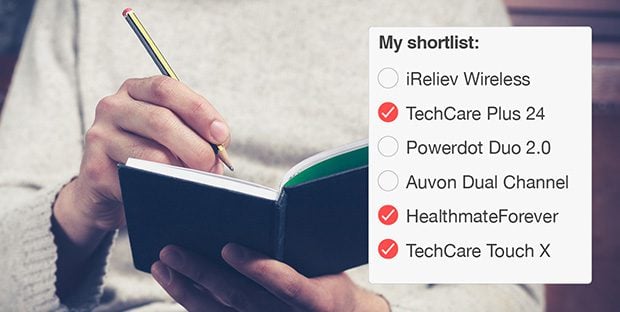 Take a look at the five units and try to narrow down your list to two or three units, considering:
Features
Consumer ratings
Value for money
Which two or three devices really stand out?
Step 4: Check out product reviews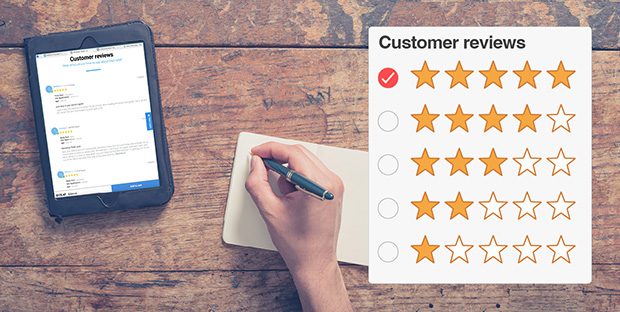 Take a look at consumer reviews from people who have bought and used the product:
Are reviewers generally pleased with their purchase?
Do you see any issues cropping up repeatedly that would put you off buying the unit?
Does it sound like the machine can work how you need it to?
Is anyone mentioning the type of pain or area you're looking to treat?
How do the reviews compare between the devices?
Do people feel that the unit generally offers good value for money?
Step 5: Make your choice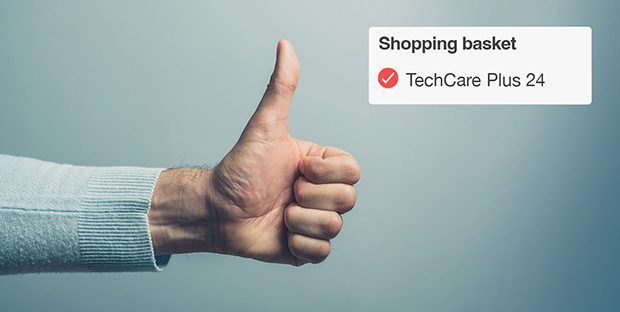 Taking into account everything you've assessed, which device really stands out?
If you're still struggling, go back to your original list of requirements and see if one fits better than the others.
As previously discussed, your new machine doesn't have to cost the earth. If you can afford a top-of-the-line device that's great. If you can only afford a basic model, don't worry.
Many affordable machines still have excellent user feedback, and are providing people with pain relief on a daily basis.
In fact, if you're purchasing your first TENS unit, why not try an affordable device and see how you get on? You can always upgrade at a later date.
Functions and features of a TENS unit
When you're shopping for your first TENS unit, choosing between different devices can be tricky.
Below we've looked closely at each function and feature to help you understand what's available:
Programs and modes
When shopping for your machine, take a closer look at the different programs and modes the device offers.
Cheaper units might not provide the variety you need, whereas more expensive feature-packed options could be too complex if you struggle with modern technology, or simply want a unit for casual use.
Different types of programs and modes include cupping, tapping, acupuncture and hand pressure. These preset modes are designed to make it simpler for the user.
Take the time to consider:
What programs / modes does the machine have and what are they for?
Would you use them and if so, how often?
Some machines, like the TENS 7000 have less modes but allow you to fine-tune the pulse width and pulse rate, enabling you to optimize the settings to treat your particular pain.
Be aware though, they require more user-input and you'll need to familiarize yourself with things like pulse-width and wavelength.
Timer
A pre-programmed timer on your unit can be a handy feature if you want to simply set up your machine and use it for a predetermined length of time.
Timer lengths vary widely between units, often going up in increments, so be sure to check when shopping around. Many units also include an automatic shut off feature which can be short on some devices causing frustrating when you need a lengthier relief from pain.
Battery
You will also want to consider what kind of batteries your unit relies on. Standard replacement batteries are obviously easy to find, however some machines can be a little thirsty when it comes to power, so you may want to invest in a pack of rechargeable batteries.
A lot of newer devices have built-in lithium rechargeable batteries, meaning you don't have the cost of replacement batteries and can simply charge your device between uses.
If the unit is rechargeable, think about:
How is the battery charged, e.g. through the mains, USB?
How long does a full charge last?
While a rechargeable unit may require a higher initial investment, it's worth considering how much can be saved on replacement batteries over a period of time.
Channels
The majority of units on the market today are dual channel with independent intensity controls.
With this type of machine you can use two or four pads at one time, as the number of channels corresponds with the number of pads you can use.
Therefore on a dual channel machine, each channel has two pads, which means you can use a different intensity level on different areas of your body.
It's important to consider here:
You can always use a dual channel device with two pads or four, but you can never use a single channel machine with more than two.
Add to that:
There's hardly any difference in price between most single and dual channel devices nowadays.
Therefore, there doesn't seem to be much argument for choosing single over dual channel.
You will find some quad channel devices on the market, as well as units that allow you to run completely different programs on separate channels (referred to as fully isolated channels).
If you're suffering with back pain, a quad channel device can be useful as you have more pads to cover a wider area.
Intensity Levels
As well as different programs and modes, TENS units also offer varying levels of intensity.
Remember:
The number of intensity levels does not reflect how powerful the device is.
If a machine has 50 levels, it doesn't mean it has twice the power of a machine with only 25.
A device with 50 levels is going through the power range in increments of 2% at a time, whereas a machine with 25 is adjusted in increments of 4%.
When shopping for your device, ask yourself:
How powerful is the device?
How many intensity levels are there?
How is the intensity adjusted?
Of course you can't test the device in advance to gauge the power, however you can learn a lot from consumer feedback.
Reviewers of TENS units often speak about the intensity offered, with some finding their machine offers too much or too little intensity, which is why ensuring you have enough variety and power is important.
Interferential
Another function that you can find on a handful of units is interferential therapy, which essentially works by sending two different levels of electric pulse to the site of the pain which confuses and interrupts the pain signals being sent to the brain. It gives you another option for your pain relief.
Size
If portability is an important factor for you, for example if you're looking for a unit to use during labor, you'll want to look closely at the size of the device.
Devices vary widely in size, so it's worth thinking about:
What are the dimensions of the device?
How much does it weigh?
How does its size and weight compare to other machines?
Does it ship with a carrying case or something else to store it in?
Screen
It might seem unimportant but finding an appropriate screen that offers you the size, clarity and readability that you want is really important.
Some come with separate controls, others are touch screen so you might want to think about what you can work with, as there's nothing more frustrating than having a system that you can't operate or read.
Accessories
What is included with the unit? An in car charger? Additional pads? When comparing prices look closely at exactly what is on offer.
While a few extra pads isn't likely to influence a decision on a high-end machine, they could on a $30 product.
Many TENS units are also compatible with add-on accessories, such as TENS belts and socks, to help you get even more from your machine.
Even small additions like a belt clip can make your unit more convenient to use!
Warranties
The majority of machines ship with a one-year warranty, a few have two years of cover and some have cover for only 90-days.
It's worth considering how long the warranty is and exactly what it covers, to help you compare one unit with another.
Price
One of the best things about TENS machines is that they come in many shapes and sizes, with various features and capabilities, so vary widely in price.
Rest assured though:
Whether you have $30 or $300+ to spend, you will be able to find a TENS unit.
They all work the same way, sending low voltage electrical impulses to the body, which then stimulate the nerves.
As you'd expect, the higher priced machines tend to have better specifications.
Think of it a bit like when you purchase a smartphone, you pay for more power, a better screen, battery, etc.
It's the same principle with TENS devices. The key thing is to find the best TENS unit in your price range.
The majority of people probably wouldn't need or even use every feature on the most expensive TENS machines. So there's no need to worry if you're not in a position to invest in the highest spec device.
There are a number of things to consider when working out the overall cost:
How does this unit compare to units with similar specifications?
What ongoing costs will you incur, such as replacement pads or batteries?
How do these running costs compare to other devices?
Our individual reviews go into more detail about specific machines. They can help you to work out what sort of device you can expect to get for your money.
Wireless
In the last few years there has been a growing number of wireless TENS units entering the market.
These are either a wearable pad with the control built in or wireless pads that work with a separate handheld unit.
In some instances (like the PowerDot 2.0) they can even be controlled by your smartphone.
App
Some devices like the aforementioned PowerDot 2.0 now pair with an app that you can use to customize your treatment.
You could download the app before purchase and explore it on a basic level to understand how it works with the device and the level of control available.
One benefit of an app-controlled TENS unit is that new modes and programs can be added regularly — it's like getting an updated device every few months!
Ease of use
Consider how the unit is operated and whether it's suitable for you:
Do the buttons and controls seem easy to use?
Is everything cleared labeled and easy to identify?
What is the screen like? Is it clear and easy to read? Is it backlit?

1:

Decreases Pain

TENS units have been shown to decrease the perception of pain, as they work by blocking the pain signals reaching your brain.[2]

2:

Drug Free

If for whatever reason you're unable to use prescription drugs or you'd prefer not to, then TENS offers you a drug free option for your pain relief.
Did you know?
Healthcare professionals have known the power of electricity for a long time, and have used it to relieve pain since the mid 1960s![3]

3:

Use at Home

A unit can be used in the comfort of your home, you don't need to travel anywhere for treatment or hire someone expensive to come into your home.

4:

Affordable

TENS machines vary in price however there are some very strong and affordable options that you can see above, giving you a reasonably priced treatment option.

5:

Easy to Use

A TENS unit is easy to use, with pre-programmed functions offered on most devices it's easy to just switch on and go…

6:

Good for Daily Use

…which of course makes it ideal for daily use!

7:

Reduce Inflammation

Research has shown that TENS helps to reduce inflammation if the right settings are used. However of course check with your doctor before considering it for use.
FAQs about Buying a TENS Unit
Got a burning question about buying a TENS unit? Then hopefully we've answered it below. If not you'll find more information in our detailed breakdown of TENS therapy.
What does a TENS unit do?
How does a TENS unit work?
What is a TENS unit used for?
How often can you use a TENS unit?
Where shouldn't you use a TENS unit?
Can you use a TENS unit while pregnant?
Can a TENS unit help build muscle?
Are TENS units effective?
What does a TENS unit feel like?
Which TENS unit should I buy?
How do I choose a TENS machine?
Are TENS machine pads reusable?
Can anyone buy a TENS unit?
Where can I buy a TENS unit?
Please ensure that you speak to your doctor, physical therapist or other medical professional prior to using a TENS unit. While you can purchase these devices over the counter (OTC) or online (without a prescription) – it is recommended that you consult with a professional first.[20] Always read the instruction manuals thoroughly before operating a TENS machine. There are certain exclusions where people should not use the machines, such as those who have a pacemaker fitted. (Check for other exclusions before using and make sure it's suitable for you.)