For years we've been testing and reviewing the best TENS units on the market. We're excited to share our latest buying guide for 2021, highlighting our top three picks with you.
We spend at least two weeks living with each device, so we can fully understand its functionality, benefits and drawbacks.
Whether you're looking for your first ever machine, or considering upgrading your existing unit, our lowdown will help you find the right device to relieve your pain.
Below are some of the top TENS units on the market today:
10 Top-rated TENS Units: Compare Features, Price and Ratings
In the table below you can compare the machines discussed on this page and discover the best TENS unit.
Our 10 Best TENS Units: Reviewed and Rated
Best overall TENS unit: Our top-rated pick
Our top-rated pick from iReliev not only has TENS capabilities for pain relief but also has EMS massage programs for exercise preparation, recovery, and muscle conditioning.
iReliev's Wireless TENS + EMS machine has 14 programs in total. Seven of the programs are for pain relief, six are EMS modes and one has been specifically designed for arthritis.
The TENS programs are named by number, P1, P2, P3 etc.
In our thorough month-long testing of the device, we found each of the pain relief programs to offer something very different to the next.
It's so simple to use.
The set button, along with the + and – keys on the remote, are used to cycle through the programs.
Designed with only four buttons, you're able to access every function of the unit, which makes it super straightforward.
It's also the perfect TENS unit for back pain.
Unlike normal wired units, this machine requires only one pad per channel. One pad does the job of two!
It's a great feature for your lower back as it means you don't have to place two pads on your body.
Receiving treatment from the device is therefore simpler, quicker, and to be honest, a bit nicer.
To compare it with standard dual channel devices.
Using two wireless pods and pads with the iReliev is the equivalent of using four pads on a device such as our budget pick, the TechCare Plus 24.
Treatment times can be set from 5-60 minutes. Like programs and intensity levels, you can set each channel independently, so you could have a little longer on one area if you wanted.
You get 25 levels of intensity. More than most.
This gives you a great deal of control over the strength of your treatment. Most of the other devices we've reviewed in this guide have 20 levels, with some having considerably less such as the TENS 7000 (8 levels).
Having more levels means you're able to fine-tune the strength of the stimulation.
During our testing of this device, we didn't go past level 14 for any of the TENS programs, so it was more than strong enough with plenty left.
If you want more than 25 levels of intensity, take a look at the PowerDot Duo 2.0 which has 100 levels.
Just a quick side note — that doesn't mean it has more power, it just means the power is increasing in smaller increments.
Let's talk about the pads.
The wireless receiver pods push onto the pads through a snap fit. This proprietary fitting does mean that they only work with iReliev's own pads.
However they do have a subscription service for the pads, which really brings down the price.
Setting up the device and pairing it with the wireless receiver pods was straightforward. It didn't require any complicated Bluetooth pairing.
After the first charge, it was simply a case of switching on the remote and pods and they paired with each other automatically.
iReliev's Wireless TENS + EMS machine ships with the first two pods for channels 1 and 2. The pods for channels 3 and 4 can be purchased separately, so you can take advantage of all four channels.
While testing this unit, we recorded battery performance.
We got 6 hours and 22 minutes from the wireless receivers before they needed recharging, and 8 hours and 2 minutes from the device itself.
Once you've made the switch to a wireless device, you won't go back. It's convenient, discreet and a much more streamlined experience.
Another great feature is how it remembers your previous session's settings. So when you switch it on, the program and timer are exactly the same as last time.
It's ideal when you've found a program you like and use most of the time. With most units you have to cycle through the programs and set the timer again each time you use it, even if you want the exact same settings as your previous session.
The iReliev TENS machine ships with a made to measure hard shell carrying case.
Compact and extremely well designed, there's space for the device and all the accessories. Being hard shell it also offers an extra layer of protection for any accidental drops.
The size and weight of both the device and the pods, plus the carrying case, make it a highly portable setup that can be taken anywhere, to provide on the spot pain relief.
Any potential drawbacks?
Compared to a number of the other devices we've reviewed here, the screen isn't very big.
However it has been well designed and is clear and easy to read, with the information well spaced out.
At no point did we have any problem reading the information it displayed. The size of the screen contributes to the compactness of the remote.
If you do prefer a bigger screen then the TechCare Touch X could be a better option, though you'll of course compromise on lots of features (including the wireless capabilities).
The features iReliev have incorporated into the system make it a premium priced product, so the initial investment is higher than the majority of the other units we've evaluated.
Our budget pick: Best for under $50
If you're looking for a cost-effective way to try TENS for the first time and don't want to compromise too much on features (who does!?) our budget pick, TechCare's Plus 24 is a tantalizing proposition.
If you're looking for a cost-effective way to try TENS for the first time and don't want to compromise too much on features (who does!?) our budget pick, TechCare's Plus 24 is a tantalizing proposition.
Plus 24 has (you guessed it) 24 TENS stimulation modes, more than you'll find on most units, our other two picks included.
The modes are categorized into six groups with names such as 'kneading', 'cupping,' 'reflexology'. Each of the groups has four modes within them and while some of the modes in the same groups may be similar to each other, none of them are overly similar. (We documented this in the full review of Plus 24.)
The device is dual channel which means you can treat two body parts (or for example, both sides of the back) at the same time.
It has 20 intensity levels and while not as many as our other two picks it's certainly enough to be able to control the level of current. We were never found wanting for any more.
The round A / B button on the controls toggles between the two channels and then you simply press + or – to increase or decrease the strength of treatment.
You get an amazing 20 hours of battery life.
This is substantially longer than most of its rivals so ideal for those who want portability, and don't want to worry about running out of charge.
We found the unit to be simple and easy to use, with no unnecessary controls. The default treatment time is 20 minutes, and can be increased with just a push of the T key.
After the session is complete the unit automatically switches itself off to preserve (that splendid) battery.
Another feature that impressed us immensely was the screen.
It's backlit (so you can use it in the dark) and really big (3.75 inches to be precise) and covers almost the entirety of the front of the unit.
While it doesn't come with a dedicated carrying case like our top pick does, it ships in a lovely box that's sized perfectly, giving you somewhere to store the device between uses.
Plus 24 offers superb bang for the buck, making it a popular choice for those wanting a feature-rich device without having to make a larger investment.
The update to this device, the TechCare Touch X does offer a touchscreen and a few great additional features, if you want to spend a little more for some handy extras.
Could it be improved?
We think it's worth noting is that there aren't any pad placement diagrams in the instruction manual.
Best (and most portable) smart TENS unit
PowerDot's groundbreaking device effectively turns your smartphone into a TENS unit – there really couldn't be a more portable device.
Your phone acts as the controller, sending electrical stimulation programs to the wireless pods and electrodes that you position on your body.
Say goodbye to standard pre-programmed settings:
Use the app to highlight your painful areas, identify the type of pain you're experiencing, rate your pain score and tolerance level.
Innovative PowerDot app technology then takes that information and, using a proprietary algorithm, creates a program specially designed to relieve your pain.
This makes your treatment truly tailored to you, however there are a few small issues (which we'll talk about later).
We found the app so easy to use. The layout is logical and you can connect to your electrodes quickly.
You can track your progress on different areas of your body, see exactly how your pain is progressing, and the impact and changes to your daily life.
Once you start using the PowerDot app regularly, you'll receive updates (just like you might be used to on your iPhone).
It updates in the same way your other apps do and gives your device regular new features.
Each time a new function is released, such as the innovative Long Haul Flight mode, you have access to it as soon as the app is updated. If you have automatic updates on your phone, you'll always have the latest features.
With each app update, we felt like we were getting a new device!
PowerDot 2.0 Duo really is the gift the keeps on giving…
Who knows what's coming next from PowerDot? (Well, we might have a little insider information…)
Coming back to the Long Haul Flight mode, it's perfect for regular travelers. Stick the electrodes and pods on before you board and choose your flight duration from 4 up to 17 hours.
PowerDot explain how the mode works:
"Keep the blood circulating through your muscles with refreshing massage automatically running every 30 minutes during your long haul flight."
Your PowerDot will massage you for 5 minutes every 30 minutes, gently easing in so it doesn't make you jump. It's TSA approved too, so you can carry it in your hand luggage without any issues.
Long Haul Flight mode isn't just ideal for frequent flyers. It's also highly desirable for someone who is sat at a desk for long periods of time, experiencing their own long haul every day!
Another great option is 'Massage' mode. A gentle electrical muscle stimulation setting that helps to increase blood flow and oxygen to the area you're targeting.
PowerDot is without doubt one of the most discreet TENS units around.
Control it easily from your phone, and everyone will just think you're scrolling through Facebook!
Here's an example of how perfectly portable it is:
We loved how you could put the electrodes and pods in the back pocket of your cycle jersey.
Your phone is your controller, so you always have that with you. Then when you're taking a well-earned break from your ride, you're able to massage your calves (or anywhere else that needs a little TLC).
Buying a TENS machine is relatively easy, but learning how to use it and get the most from it is much harder.
PowerDot offer excellent guidance on how to use their device, both within the app and on their YouTube channel.
We watched tons of their step-by-step videos, learning exactly how to position the electrodes for the area we were targeting.
Videos are insightful without being overcomplicated, helping you become a bit of a TENS expert!
The Duo version ships with two pods and two sets of electrode pads, as well as a micro USB charging cable so you have everything you need to get started.
Plus it all comes packaged in a sleek, specially designed case, so it's easy to transport and generally just looks great too!
Finance options are available on their website, allowing you to spread the cost over a number of months, just select their finance partner Affirm at checkout.
Are there any downsides?
You must use the PowerDot pods and electrodes, which means you can't swap them out for any alternatives.
Also, you have the ability to use a maximum of two sets of pods and pads.
So if you want more coverage, for example to cover the whole of your back, it wouldn't be possible. Remember to always seek medical advice about pad placement.
Due to the clever algorithm tailoring your TENS treatment, you don't get the standard TENS programs you find on other devices.
For example on a classic TENS machine, after experimentation, you might decide that TENS programme 4 or kneading mode is the one for you.
However PowerDot makes that decision for you based on the information you input. It could be tricky to get to grips with if you're used to a traditional TENS device.
But…
Because PowerDot has the capability to update their app this is something they could easily add in the future. It's certainly a feature we'd recommend (and love to see).
We initially viewed PowerDot as a product predominantly for athletes. Yet such exciting new TENS features make it an impressive new entry in to this space – PowerDot have certainly shaken things up!
Various modes and pad sizes create a tailored TENS experience
Auvon's Dual Channel device is such a great all-rounder, offering you so much versatility for an incredibly low price.
You also get one feature that you only get on our (much higher priced) top pick!
Like the iReliev Wireless TENS + EMS Muscle Stimulator, the device has fully isolated channels. This allows you to use individual styles of treatment on different areas of your body.
Experiment with 20 modes, try kneading on one channel, with the hammering option selected on the other.
You also get 20 levels of intensity, which again you can control independently on each channel.
It ships with pads in a range of different sizes.
Choose between a small and larger size, with the small size ideal for areas that can be trickier to treat such as your knees and elbows.
The Auvon device is a really dinky size, and many purchasers of the unit worried if it could still pack a punch. However after just one use, they were impressed with the power it could deliver.
Plus with a rechargeable battery, you can get up to 10 hours of continuous use.
When you read reviews of TENS machines, people always have mixed opinions on the pads supplied, however not with this device.
Auvon pride themselves on supplying pads that can be used up to 30 times, with many users reporting that they actually lasted much longer.
A device that provides the benefits of TENS and EMS
When shopping for a TENS device, you might also start to see EMS machines appearing.
EMS is not the same as TENS, but it does have a range of benefits of its own including muscle strengthening and recovery.
If you want to enjoy the advantages of both, then add the iReliev Premium TENS and EMS system to your cart.
You have eight different TENS modes to experiment with for your pain, and six EMS settings to help improve your workout.
One of the TENS modes has been created for those with arthritis.
If you're struggling with daily pain then it's a great option, as TENS has been scientifically proven to help manage different types of arthritis.
With 25 different intensity levels, you have the high level of flexibility you can always rely on with iReliev products.
Plus some great accessories:
Shipping with a USB and mains charger, different sized electrodes, belt clip and tote bag to store everything away.
If your love our number one pick, but want to spend a little less, then this is a great alternative from iReliev without the wireless features.
Users experimenting with the device loved how easy it was to operate. They also appreciated being able to enjoy a 60 minute session without any annoying 15 minute limitations.
A touchscreen TENS unit without the high ticket price
If you're looking for a TENS unit that works a little bit more like a smartphone, but don't have the budget for the PowerDot 2.0, then this is the one for you.
Another great machine from TechCare, it combines all the best features of our budget pick, the TechCare Plus 24, in a more contemporary package.
Enjoy 24 massage modes, 20 levels of intensity and dual channels to treat different areas of your body at the same time.
Plus, like its predecessor, the rechargeable battery gives you up to 20 hours of battery life.
So what extras do you get compared to the TechCare Plus 24?
Well, there's the touchscreen, which means you can conveniently switch between modes without having to scroll through different settings.
Intensity buttons on the side of the device allow you to increase and decrease power with ease.
Cost-wise you won't spend many more dollars on the Touch X unit, but the additional features you'll benefit from will mean you can get even more from your device.
A TENS unit trusted by over one million people around the world
Don't be put off by the look of the TENS 7000 (it's seriously retro!), as this unit has been trusted for over 10 years.
The manufacturer boasts that over 1 million units have been sold, and it's easy to see why.
It offers real bang for your buck.
In fact, in our detailed review of the TENS 7000, we asked whether it might just be the best value device around?
The machine is dual channel, allowing you to treat two areas of your body at the same time, using up to four pads.
Choose from five different modes, adjustable pulse rate and eight levels of intensity.
If you're someone that enjoys the satisfaction of tweaking the settings to enhance your treatment, then this traditional TENS device could be the one for you.
When you're shopping around you'll notice that many devices come with a time limit, when they automatically switch off. However TENS 7000 puts you in control, enabling you to select your own treatment time.
It's lightweight, which fans of the product loved, plus it ships with a hard shell carry case so it's easy to pop in your bag.
Downsides to this product? It's battery powered.
If this is a dealbreaker, you can invest in a rechargeable battery pack. The kit ships with two rechargeable batteries, so you always have a fully charged spare on standby.
Despite offering such a great range of features, it's still so simple to use. That's thanks, in part, to the clear instruction manual that ships with the machine.
Everything feels logical, and though the buttons are quite small they're clear and easy to operate.
Finally, one of the best features we just have to mention:
All the controls are protected by a cover. This is so handy as it means you don't knock them and accidentally bump up your intensity!
Use eight pads at the same time!
HealthmateForever's YK15AB8 can be used with an amazing eight pads, so it's ideal if you're looking for more body coverage or have many pain points you're trying to target.
There are 15 different modes you can choose from, including acupuncture and scraping.
20 intensity levels give you control on both channels, which is great as some did report that this machine could be extremely powerful.
The settings couldn't be easier to control.
Quickly opt for the area on your body that you want to treat and tap the style of treatment you want to enjoy.
It's a little bigger than many of the other machines we've reviewed, with users likening it to the size of a home phone. But it's affordable and doesn't scrimp on features.
Many reported the great battery life of this device, however it isn't rechargeable so if that's a deal breaker for you, you'll need to look elsewhere.
You'll notice that the unit takes just three AAA batteries, so you could opt for rechargeable batteries, such as this highly rated pack from Amazon.
Have the ultimate control over your TENS intensity
If you like to experiment when it comes to your treatment, then Zewa's SpaBuddy Sport TENS machine encourages you to do exactly that.
Choose from eight different therapy modes and a session length anywhere between 5 and 95 minutes.
A variable session length is a great feature as with most units you're limited to 15 or 30 minute sessions.
There's not 10, not 20, but 30 intensity levels:
That gives you real control over the power, more than many of the other machines we've reviewed.
With a large screen and simple buttons, this machine is ideal even for the most technical challenged, or for during stressful situations such as labor.
During labor the locking buttons were particularly appreciated as it stops you accidentally knocking the settings.
Though it may look like a simple little device it can easily compete with the more expensive machines.
It does take batteries however, so it's not as convenient as a rechargeable device.
We should mention though, that we did a full review of the product and found you could get 10 hours of use out of high quality batteries – certainly not as thirsty as other TENS machines.
The electrodes included with the product were considered by many to be fairly standard, however these can easily be swapped for higher quality alternatives if required.
In summary, great features and performance for such a low cost machine.
A simple but powerful TENS device
Omron has been a trusted name in the TENS world for many years, with a range of popular devices.
We love the simplicity of their products, and this Omron Pocket Pain Pro has to be the simplest.
On this handy little pocket-sized device you can play around with five different modes.
Three pain modes target different areas of your body including the arms and shoulders, lower back and your legs and feet.
There are then two 'massage-like' modes, a steady setting and a kneading option.
With each of the modes you have 10 adjustable intensity levels to select from, to help you find what's right for you.
Compare it to the other products we've reviewed, and you'll instantly see that you don't get as many settings to play around with.
However just take a look at a picture of this unit.
You can instantly see how to operate it, by using the up and down arrows to move through the modes and intensity levels. Simple!
It's the perfect device for people who might struggle with more complex technology.
Omron's Pocket Pain Pro ships with long life pads, which Omron claim can be used 150 times, as well as a plastic holder to store them.
One downside is that it's battery-powered. However for such an affordable price and a good range of features, it's worth the compromise.
Plus you could always invest in a rechargeable battery kit to ensure you never run out of power.
TENS Unit Reviews: Our Rating Process
If you're looking for more information about specific models and in-depth product analysis, we've put together a series of TENS unit reviews, which can be all be found in this section of the site.
Our research and review process is comprehensive:
Our reviews are uncomplicated and easy to understand. We highlight the pros and cons of each unit and present a balanced argument, for and against.
They have been written in a way that is easy to understand with context, case studies and scenarios to give you the clearest picture.
Our final appraisal of the device takes into account its features, how easy or difficult it is to use and what sort of value for money it represents, allowing you to compare one machine with another.
How to Choose and Evaluate a TENS Unit
Step 1: What Do You Need Your Machine to Do?
Before you start shopping, consider exactly what you want from your unit, apart from pain relief of course. Try not to just throw the first unit you like the look of into your basket!
Consider all aspects, such as:
Do you want your device to be rechargeable?
Do you want a bunch of modes to experiment with?
Or is it more important that you can treat multiple areas simultaneously?
Start by writing down what you want from the unit, and place these in order of importance.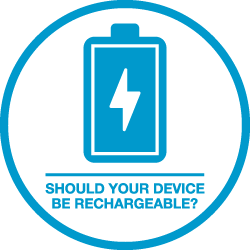 If it helps, we've put together a list below of the different features, explaining exactly what each one means so you know what you're buying.
If you're not sure exactly what features are important to you, why not speak with your doctor or physical therapist for advice?
Don't forget this essential step…
Before looking at what a machine has to offer, there's an extremely important step. Under no circumstances should this be overlooked.
Check that the device has been:
Cleared by the FDA as an over-the-counter (OTC) class II medical device.
If you come across a device that doesn't have clearance, be very careful. Companies are not legally permitted to market their products as medical devices, unless they have this clearance.
Step 2: Set a Budget and Draw up a Shortlist
Before you start searching stores like Amazon, Walmart or Target, you need to set a maximum budget and stick to it.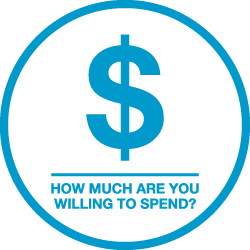 This will help you narrow down your search and ensure you don't waste your time looking at units that you're not in a position to buy.
Put together a shortlist of five devices that meet your criteria and budget.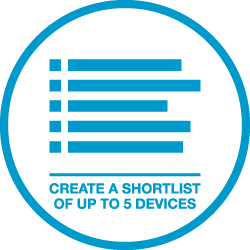 Step 3: Narrow your list down to 2 or 3 units
Take a look at the five units and try to narrow down your list to two or three units, considering:
Features
Consumer ratings
Value for money
Which two or three devices really stand out?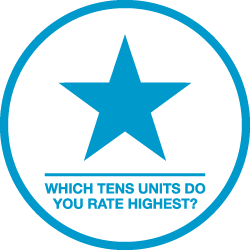 Step 4: Check out product reviews
Take a look at consumer reviews from people who have bought and used the product:
Are reviewers generally pleased with their purchase?
Do you see any issues cropping up repeatedly that would put you off buying the unit?
Does it sound like the machine can work how you need it to?
Is anyone mentioning the type of pain or area you're looking to treat?
How do the reviews compare between the devices?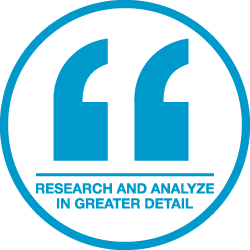 Step 5: Make your choice
Taking into account everything you've assessed, which device really stands out?
If you're still struggling, go back to your original list of requirements and see if one fits better than the others.
As previously discussed, your new machine doesn't have to cost the earth. If you can afford a top-of-the-line device that's great. If you can only afford a basic model, don't worry.
Many affordable machines still have excellent user feedback, and are providing people with pain relief on a daily basis.
In fact, if you're purchasing your first TENS unit, why not try an affordable device and see how you get on? You can always upgrade at a later date.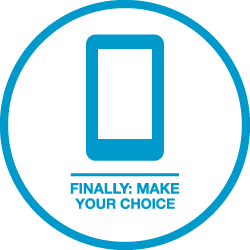 Functions and features of a TENS unit
Trying to compare different TENS units can be tricky if you're buying your first device.
Below we've looked at each function and feature in more detail to help you understand the differences:
Programs and modes
When shopping for your machine, take a closer look at the different programs and modes the device offers.
Cheaper units might not provide the variety you need, whereas more expensive feature-packed options could be too complex if you struggle with modern technology, or simply want a unit for casual use.
Different types of programs and modes include cupping, tapping, acupuncture and hand pressure. These preset modes are designed to make it simpler for the user.
Take the time to consider:
What programs / modes does the machine have and what are they for?
Would you use them and if so, how often?
Some machines, like the TENS 7000 have less modes but allow you to fine-tune the pulse width and pulse rate, enabling you to optimize the settings to treat your particular pain.
Be aware though – they require more user-input – and you'll need to familiarize yourself with things like pulse-width and wavelength.
Timer
A pre-programmed timer on your unit can be a handy feature if you want to simply set up your machine and use it for a predetermined length of time.
Timer lengths vary widely between units, often going up in increments, so be sure to check when shopping around. Many units also include an automatic shut off feature which can be short on some devices causing frustrating when you need a lengthier relief from pain.
Battery
You will also want to consider what kind of batteries your unit relies on. Standard replacement batteries are obviously easy to find, however some machines can be a little thirsty when it comes to power, so you may want to invest in a pack of rechargeable batteries.
A lot of newer devices have built-in lithium rechargeable batteries, meaning you don't have the cost of replacement batteries and can simply charge your device between uses.
If the unit is rechargeable, think about:
How is the battery charged, e.g. through the mains, USB?
How long does a full charge last?
While a rechargeable unit may require a higher initial investment, it's worth considering how much can be saved on replacement batteries, especially over a period of time.
Channels
The majority of units on the market today are dual channel with independent intensity controls.
With this type of machine you can use two or four pads at one time, as the number of channels corresponds with the number of pads you can use.
Therefore on a dual channel machine, each channel has two pads, which means you can use a different intensity level on different areas of your body.
It's important to consider here:
You can always use a dual channel device with two pads or four, but you can never use a single channel machine with more than two.
Add to that:
There's hardly any difference in price between most single and dual channel devices nowadays. Therefore, there doesn't seem to be much argument for choosing single over dual channel.
You will find some quad channel devices on the market, as well as units that allow you to run completely different programs on separate channels (referred to as fully isolated channels).
If you're suffering with back pain, a quad channel device can be useful as you have more pads to cover a wider area.
Intensity Levels
As well as different programs and modes, TENS units also offer varying levels of intensity.
If a machine has 50 levels, it doesn't mean it has twice the power of a machine with only 25.
A device with 50 levels is going through the power range in increments of 2% at a time, whereas a machine with 25 is adjusted in increments of 4%.
When shopping for your device, ask yourself:
How powerful is the device?
How many intensity levels are there?
How is the intensity adjusted?
Of course you can't test the device in advance to gauge the power, however you can learn a lot from consumer feedback.
Reviewers of TENS units often speak about the intensity offered, with some finding their machine offers too much or too little intensity, which is why ensuring you have enough variety and power is important.
EMS
Certain TENS units also include EMS, or electrical muscle stimulation.
There are a number of differences between TENS and EMS:
TENS in its simplest form, relieves pain by blocking the pain signals from reaching the brain. EMS however works to contract the muscle, meaning it's ideal for sportspeople who want to manage their pain but also maintain their level of strength.
Interferential
Another function that you can find on a handful of units is interferential therapy, which essentially works by sending two different levels of electric pulse to the site of the pain which confuses and interrupts the pain signals being sent to the brain. It gives you another option for your pain relief.
Size
If portability is an important factor for you, for example if you're looking for a unit to use during labor, you'll want to look closely at the size of the device.
Devices vary widely in size, so it's worth thinking about:
What are the dimensions of the device?
How much does it weigh?
How does its size and weight compare to other machines?
Does it ship with a carrying case or something else to store it in?
Screen
It might seem unimportant but finding an appropriate screen that offers you the size, clarity and readability that you want is really important.
Some come with separate controls, others are touch screen so you might want to think about what you can work with, as there's nothing more frustrating than having a system that you can't operate or read.
Accessories
What is included with the unit? An in car charger? Additional pads? When comparing prices look closely at exactly what is on offer.
While a few extra pads isn't likely to influence a decision on a high-end machine, they could on a $30 product.
Many TENS units are also compatible with add-on accessories, such as TENS belts and socks, to help you get even more from your machine.
Warranties
The majority of machines ship with a one-year warranty, a few have two years of cover and some have cover for only 90-days.
It's worth considering how long the warranty is and exactly what it covers, to help you compare one unit with another.
Price
One of the best things about TENS machines is that they come in many shapes and sizes, with various features and capabilities, so vary widely in price.
Rest assured though:
Whether you have $30 or $300+ to spend — you will be able to find a TENS unit.
They all work the same way — sending low voltage electrical impulses to the body, which then stimulate the nerves.
As you'd expect, the higher priced machines tend to have better specifications.
Think of it a bit like when you purchase a smartphone, you pay for more power, a better screen, battery, etc.
It's the same principle with TENS devices. The key thing is to find the best TENS unit in your price range.
The majority of people probably wouldn't need or even use every feature on the most expensive TENS machines. So there's no need to worry if you're not in a position to invest in the highest spec device.
There are a number to things to consider when working out the overall cost:
How does this unit compare to units with similar specifications?
What ongoing costs will you incur, such as replacement pads or batteries?
How do these running costs compare to other devices?
Our individual reviews go into more detail about specific machines. They can help you to work out what sort of device you can expect to get for your money.
Wireless
In the last few years there has been a growing number of wireless TENS units entering the market.
These are either a wearable pad with the control built in or wireless pads that work with a separate handheld unit.
In some instances (like the PowerDot 2.0) they can even be controlled by your smartphone.
Ease of use
Consider how the unit is operated and whether it's suitable for you:
Do the buttons and controls seem easy to use?
Is everything cleared labelled and easy to identity?
What is the screen like? Is it clear and easy to read? Is it backlit?
Benefits of TENS
There are many potential benefits to TENS, here are a number of them:
Decreases Pain
TENS units have been shown to decrease the perception of pain, as they work by blocking the pain signals reaching your brain.
Drug Free
If for whatever reason you're unable to use prescription drugs or you'd prefer not to, then TENS offers you a drug free option for your pain relief.
Use at Home
Of course, a unit can be used in the comfort of your home, you don't need to travel anywhere for treatment or hire someone expensive to come in to your home.
Affordable
TENS machines vary in price however there are some very strong and affordable options that you can see above, giving you a reasonably priced treatment option.
Easy to Use
A TENS unit is easy to use, with pre-programmed functions offered on most devices it's easy to just switch on and go…
Good for Daily Use
…which of course makes it ideal for daily use!
Reduce Inflammation
Research has shown that TENS helps to reduce inflammation if the right settings are used. However of course check with your doctor before considering it for use.

Who is TENS beneficial for?
TENS is used to treat a number of different conditions, both chronic and acute pain:
Sciatica
The sciatic nerve is the longest nerve in the body, and can cause intense pain that runs from your lower back down to your lower leg.
A TENS machine can help to relieve the pain by blocking the signals sent to the brain, so it is often recommended as a treatment option for those suffering from sciatica.
Menstrual Cramps
TENS has been proven through research to be effective in the treatment of menstrual cramps, with certain devices such as the Livia (a wearable device), designed solely for this purpose.
Plantar Fasciitis
For those suffering with Plantar Fasciitis, low frequency electrical stimulation has been shown to have a positive impact on symptoms.
Carpal Tunnel Syndrome
By using a dual channel machine on both sides of the hand and wrist, TENS can offer relief from the pain of Carpal Tunnel Syndrome.
Tendonitis
We know a TENS machine can reduce inflammation, which is why TENS devices are recommended for relief from the pain of tendonitis.
Headaches and Migraines
Research has shown that TENS is effective in the treatment of headaches and migraines, not only in managing the pain but also as a preventative method.
Nerve Pain
Another advantage of using a TENS machine, is that it stimulates the nerves meaning it's commonly used for treating general nerve pain.
Neuropathy
Those suffering from neuropathy are often offered tricyclic antidepressants as a first start of treatment, however a TENS device can be a drug free alternative.
Diabetic Neuropathy
This common complication of diabetes can respond well to TENS, however users are told to take care as some do report skin irritation from the electrode gel.
Fibromyalgia
TENS has been shown to reduce pain for those living with Fibromyalgia, particularly when combined with other treatments such as exercise.
Arthritis
Research seems to be mixed on the effectiveness of TENS in the treatment of arthritis, however many professional bodies and organizations (such as Versus Arthritis) suggest it as an option for coping with the daily pain associated with arthritis.
Tennis Elbow
Some research has suggested that TENS is not particularly effective in the treatment of tennis elbow, with ultrasound therapy proving to have a greater impact on symptoms..
Labor
Suggested as a drug free alternative during labor, TENS units help to block the pain signals being sent to your brain as your contractions intensify. They are thought to help by way of distraction, seemingly giving you control over your own pain relief.
Muscle Spasms
Strong results have been seen from users who suffer from muscle spasms, improving not just the associated pain but also their range of motion.

FAQs
If you have a burning question about TENS units then hopefully we've answered it below, if not you'll find more info here.

Please ensure that you speak to your doctor, physical therapist or other medical professional prior to using a TENS unit. While you can purchase these devices over the counter (OTC) or online (without a prescription) – it is recommended that you consult with a professional first. Always read the instruction manuals thoroughly before operating a TENS machine. There are certain exclusions where people should not use the machines, such as those who have a pacemaker fitted. (Check for other exclusions before using and make sure it's suitable for you.)