If you're shopping for a gym lover then it can be tricky to know what to buy them when it comes to choosing a gift.
We've put together a list of exciting ideas, including some of the latest workout-enhancing technology.
Take a look below at our rundown of 19 of the best gifts for people who love working out:
The power of a deep muscle massage in your hands
Give a gym junkie the gift of a powerful massage!
Theragun's PRO device is a must-have for serious athletes and personal trainers looking to enhance muscle recovery and improve their performance.
Powering 16mm in to the muscle tissue, it can handle an incredible 60lbs of applied force without stalling.
With four adjustable arm positions, variable speed options and six attachments there's a way to treat even the hardest-to-reach areas.
After reviewing the full range of Theragun massagers, we felt the PRO offered the most to people looking to maximize their workout.
However, if it's out of your price range, there are a number of reasonably priced alternatives to consider.
2.

PlayMakar SPORT Electrical Muscle Stimulator
Can EMS give your loved one the advantage they're looking for?
Electric muscle stimulation (EMS) has huge advantages for people who want to take their workout to the next level.
EMS units essentially send electrical pulses to your body making your muscles contract.
Professional athletes have been using electric muscle stimulation for years, and now PlayMakar brings that power to the consumer market.
Intrigued about how EMS can enhance training and recovery?
Thought so! Check out this short video below that shows the PlayMakar SPORT EMS device in action:
Attach the electrodes and choose from six EMS programs including warm up, endurance and recovery. Tailor your treatment further with 25 levels of intensity.
Your loved one can also enjoy the benefits of TENS therapy, as it has four TENS programs to help manage both acute and chronic pain.
This clever machine has two separate channels, allowing you to choose individual intensity levels for different areas (or sides) of your body.
It's a rechargeable device giving between three and five hours of battery life per charge, and ships with both large and small electrodes.
One user raved about how they used it to activate their leg muscles before a workout, then recovery mode to unwind afterwards.
3.

Sweat Deck Exercise Cards
Add a little variety to their workout
Sweat Deck Exercise Cards are a great way to keep your workout interesting.
You get 53 full-body workout challenges that have been designed by a certified personal trainer.
Pick a card then work through each of the exercises to constantly keep your body guessing.
If you don't want to follow the programmed workouts, on the reverse of each card is a simple instruction such as 10 Burpees, 30 Push-Ups or 10 Overhead Squats.
Pick a couple to create your own workout, before taking on the challenge of the Workout Finisher at the bottom of the card.
Owners of the cards said the pack had replaced pricey HIIT classes, and were amazed at the significant improvements they could feel in their own stamina.
A smart foam rolling experience
Foam rollers are a really good tool for warm up and recovery.
Therabody have taken the standard foam roller to the next level with their Wave Roller.
Typically known for creating the best gun massagers on the market, their smart foam roller has been constructed to deliver a powerful and efficient rolling experience.
This vibrating roller can increase blood flow, release tension and improve your range of motion. It offers full body support and has a hypo-allergenic surface, making it easy to clean.
Equipped with Bluetooth, you can pair the device with your smartphone to control the five different intensity settings and choose from a range of customized routines.
Once fully charged the Wave Roller will last for up to three hours, so you don't need to worry about losing power.
Amazingly, it can also be paired with the Theragun PRO through the Therabody app so you can use the devices in tandem.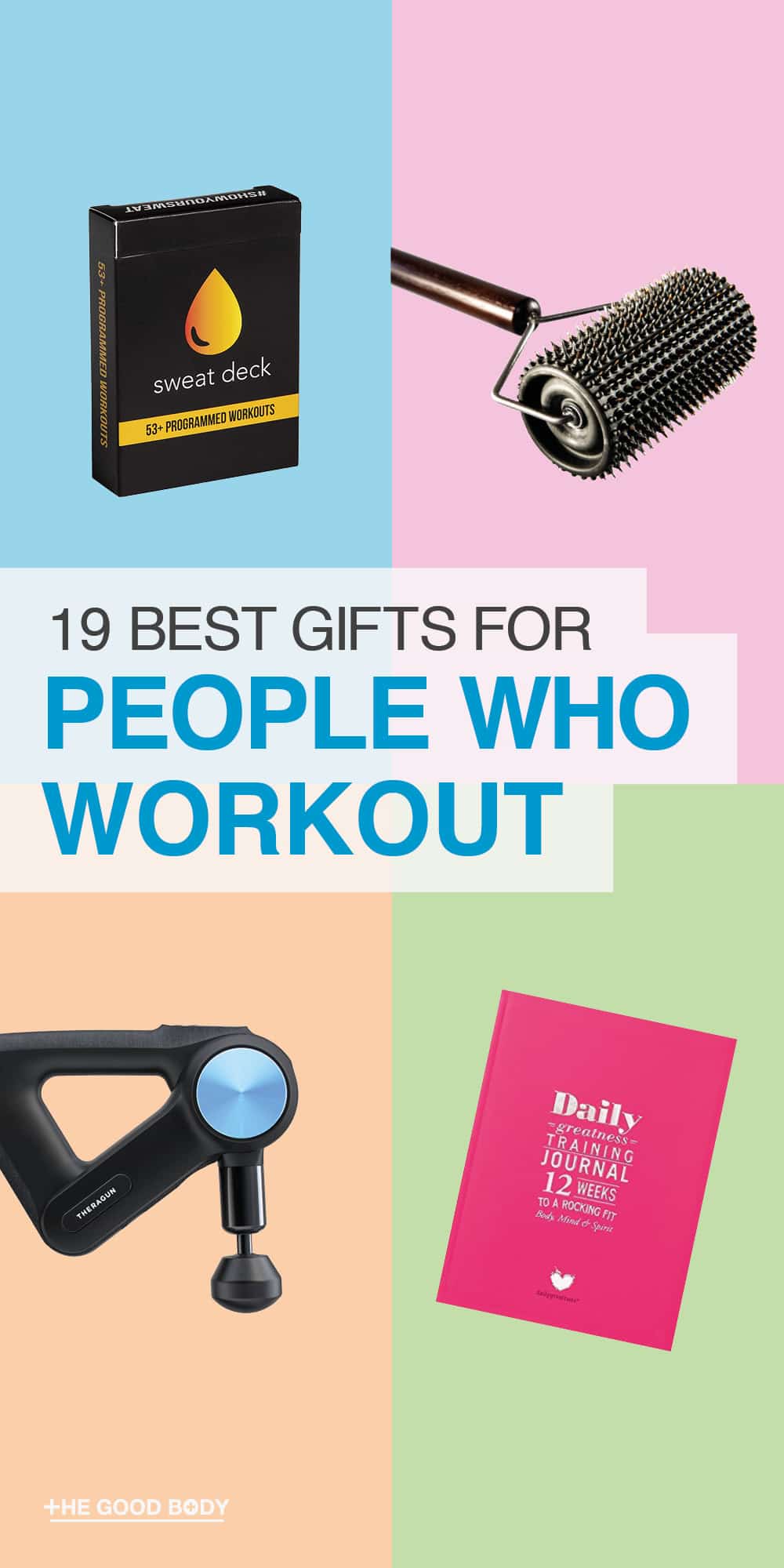 5.

Dailygreatness Training Journal: 12 Weeks to a Rocking Fit Body and Mind
Start developing healthier habits
Fitness journals are a great way to track your performance and reach your goals. Even the act of journaling itself has been shown to help improve your physical fitness.
This journal from Dailygreatness focuses on the power of positive thinking, and encourages you to explore how your daily habits impact your overall success.
Inside you get a 12 week fitness planner, where you can record your exercise and log what you're eating to help reach your goals.
You also get the 8 Daily Steps.
This is effectively a series of daily exercises to follow, to help you develop new, healthier habits.
One such step is meditation, which has been shown to have a positive impact on both mental and physical health.
Fitness fanatics loved this journal as it's filled with so much advice, and really helped them to hold themselves accountable.
Roll on the healing powers of acupressure
Acupressure is amazing, offering so many benefits, particularly to people who love to workout.
Typically acupressure is enjoyed by lying back on a spike-covered mat. After reviewing acupressure mats, we named the Aku Mat our number one pick.
Now the creators behind the Aku Mat have created the Aku Roller.
Covered in 570 metal spikes it helps to relax tense muscles and improve blood flow, perfect for workout warm up and recovery.
The metal spikes on the Aku Roller stimulate the energy centers in your body, so you'll experience a soothing warming sensation that feels incredible.
Worried a spiky roller might be a painful gift?
We've reviewed the Aku Mat and the Aku Ball and can confirm it hurts a little at first. However you quickly get used to it and the results are more than worth it.
7.

Personal Training Voucher from Find Your Trainer
Wrap up a personal trainer
Instead of making the tricky choice of a workout gadget, why not treat your someone special to a voucher for a personal training session.
Find Your Trainer has professionals in every state, who can come to your home, personal gym or local park to help you reach your fitness goals. Alternatively you can choose virtual training, so you don't even have to leave your own home!
The website has so many trainers to choose from so you can read their reviews and specialist areas to find the one that's right for you.
Find Your Trainer are partnered with the American Council on Exercise, so you know that every trainer will be of the highest professional standard.
They'll do more than just help your loved one train, they'll create plans and offer general support too. Plus the voucher doesn't expire so they can use it when they're ready.
8.

E Tronic Edge Waist Pack
Safe space for all the essentials
This E Tronic Edge Waist Pack is a great little stocking stuffer for a workout addict.
Available in 10 stylish colors, it gives you somewhere to store all your essentials when you're on the go.
Whether you're running, cycling or simply working out, this waist pack has space for your phone, keys, money, earphones and credit cards. There's even a holster to hold a small water bottle.
It's water-resistant and sweat proof, made from a strong but soft neoprene material so it fits neatly around the waist.
Super active users loved how comfortable it was to wear, without the added bulk you often get from similar products.
9.

Withings Body+ Body Composition Wi-Fi Scale
Track more than just your weight
Withings must make some of the most beautiful body composition scales in the marketplace. Available in two colors, this scale is all style but has substance too.
The Wi-Fi scale monitors how hydrated your body is as well as recording bone mass, muscle mass, fat mass and of course your weight.
It encourages you not to get hung up on day to day changes too, by displaying the last eight days of results, so you can see any changes over a longer period.
With Wi-Fi connectivity you can link it to your smartphone and all results will automatically be stored within the app.
Withing's Health Mate app is an added bonus, helping you meet your goals with weight and nutrition tracking.
The Body+ Body Composition Wi-Fi Scale can store information for up to 8 users, so it's something the whole family can enjoy.
Step on it in a morning and it'll even give you a localized weather report!
10.

Dynamis Weighted Hoola Hoop
Add a fun twist to their workout
If you're shopping for someone who has all the latest fitness tech, then add a fun little addition to their toolkit.
This weighted hoola hoop from Dynamis is a brilliant way to burn calories.
Weighing just over 3lbs, you can work on your core and waistline while also improving your balance.
Constructed from a plastic core and covered in a thick foam padding, it breaks down in to six pieces so it's easy to store away.
People loved how much fun they could have with their hoop. Tricky to initially master, they eventually found out what an amazing calorie-burning tool it could be.
Parents also found it was a great way to encourage their kids to exercise regularly.
Smart tech yoga pants to improve your practice
If you're looking for gift ideas for a yogi then buy them the latest smart tech yoga pants.
Statistics show that yoga is growing in popularity every year, so it's no surprise that smart tech is becoming part of the practice.
Nadi X smart yoga leggings work with "the Pulse", a rechargeable module that connects with built in sensors to track your position and deliver guidance through vibration.
Your yoga leggings link to your smartphone which offers audio guidance so you can have the ultimate personal yoga experience.
This really is the latest yoga technology, however people who purchased them were keen to stress that aside from the tech the yoga pants were still stylish and super comfortable with their four-way stretch fabric.
12.

Jabra – Elite 45e Wireless In-Ear Headphones
Headphones you can control with your voice
Jabra Elite 45e Wireless In-Ear Headphones are ideal for everyday use.
These clever headphones allow you to have a noise-free conversation by blocking out external sounds.
You can also use your voice to connect to Alexa, Siri or Google Assistant, so you can control your calls and music without touching your phone.
When fully charged the headphones can last up to eight hours and work with any Bluetooth enabled device.
Purchasers of the headphones loved the fit and found they were perfect for exercise as they felt so secure.
They also believed they could enjoy comfortable and clear hands-free calling while on the go.
Keep your smoothies smooth
Help your someone special keep their protein shake smooth for longer with the BlenderBottle.
BlenderBottle has a 28-ounce capacity and includes a 316 surgical-grade stainless steel whisk ball that helps to blend the mixture.
It has a leak proof seal and a wide mouth so you can scoop in powders with ease.
This shaker bottle comes in a range of different colors, and can be used not just for protein shakes but also for smoothies and supplements.
Complete with a loop top it's ideal for carrying car or locker keys. Plus it can easily be cleaned in the dishwasher, which was a big selling point for many purchasers.
14.

Body Back Buddy Elite
A simple but effective massage tool
You might look at the Body Back Buddy Elite and wonder if such a simple tool can really be effective.
However for years it has been the trusted massage tool for many Americans.
Based on the original Body Back Buddy design, their latest model helps you do advanced trigger point therapy by numbers!
Each knob on the cane has a number which corresponds to a different area of your body. Use the specially designed grips to get right to the source, for full body muscle pain relief.
Made in the US from a fiber infused material, this manual massage tool can handle a serious amount of user force.
Many described the Body Back Buddy Elite as a game changer, amazed at how such a simple device could yield such incredible results.
15.

Wordlock 5-Dial Combination Padlock
Choose a memorable word instead of a number
If your exercise enthusiast is one of those people who really does have every gadget, then take a look at the Wordlock 5-Dial Combination Padlock.
Wordlock uses letters instead of numbers, so you no longer have a number combination to remember, you can instead use a memorable word.
There are over 100,000 possible combinations, so you're sure to be able to come up with a secret word.
This 5-Dial Combination Padlock is made from strong stuff, with a hardened steel shackle and a case metal body.
People who struggled to remember numbers loved the product as well as those purchasing for a child who they felt would more easily be able to remember a word to access their locker.
16.

Series 8 Fitness Exercise Dice 2nd Edition
Roll the dice, seal your fate
Encourage someone to add a little fun to their workout by purchasing the Series 8 Fitness Exercise Dice.
The dice has 12 sides, but which one will it land on? Push Ups? Crab Walks? Burpees?
Reviewers regularly used the dice as a motivation technique, to encourage themselves when they're at home or at the gym.
They enjoyed that it added variety to their workout routine, making it feel less of a chore.
17.

Cloud 9 Gift Experience Voucher
Enjoy a new sporting experience
Cloud 9 offer lots of amazing activities to choose from, all you need to do is purchase a voucher.
You can choose from over 2,000 experiences including many exhilarating pursuits that will allow your loved to experience a new way to workout.
Whether you choose a golf lesson with a PJA pro or perhaps a private surfing lesson, it's sure to be an experience they won't forget.
Plus the voucher doesn't expire so your loved one is free to use it whenever they like.
18.

Zensah Smart Running Gloves with Touch Screen Feature
Gloves made for tech
With technology having more and more features for tracking your running, you need to be able to work with it while you're out on a run.
The Zensah Smart Running Gloves have touch screen capability so you can still use your devices even with your gloves on.
Runners loved the feature and the snug fit that kept their hands warm.
Zensah's running glove material has been created to allow breathability, with reflective stripes so you can be seen while running at night.
Probably the best feature of the gloves though is the micro suede thumb, designed to wipe your nose!
19.

Rooibos tea from adagio teas
Flavorsome tea for post-workout
Despite being a caffeine-free tea, rooibos is considered to be wonderful for after a workout. That's because it's rich in minerals such as calcium, magnesium and potassium.
It's this calcium that helps to strengthen your joints, perfect after a heavy workout.
Adagio teas give you a range of different ways to enjoy their flavorsome drink. Opt for loose leaf tea in different volumes, or choose a box of full leaf pyramid teabags for an easier way to enjoy rooibos.
The rich and deep flavor was appreciated by many tea drinkers. Those looking for teas to improve their sleep were also grateful for the caffeine-free qualities.