When you're shopping for a health nut, it can be tricky to know what to buy!
You want to show that you understand how seriously they take their wellbeing, and choose a health and fitness gift that reflects their style.
Luckily for you we've done all the hard work and compiled a list of 21 perfect gifts for health nuts:
1.

Sakara Beauty Chocolates
Gift skin-boosting chocolate
Chocolate might not seem like the best gift for a health nut, but have you seen Sakara Beauty chocolates?
Made from dark cacao, with only 1% sugar, Sakara has conducted research to show they improve your skin.
Enhance your skin through eating chocolate? Yes, you heard right!
The plant-based collagen in the chocolate has been shown to smooth wrinkles and fine lines, as well as improve elasticity.
In fact, after just two weeks of a daily dose of chocolate, Sakara claim your skin will be glowing.
Not only that but the jar is adorable. It looks that good it'll be perfectly at home amongst your beauty products.
Healthy chocolate lovers adored this little treat. They appreciated the sweetness for sugar cravings and noticed their skin was both brighter and fuller after only a few weeks.
2.

TytoCare - TytoHome Remote Exam Kit
Get a complete medical exam at home
For many it can be a little tricky to speak to a medical expert right now.
TytoHome's Remote Exam Kit allows you to speak to a medical professional in your own home.
When you purchase this kit you get an exam camera, non-contact forehead thermometer, otoscope, stethoscope and tongue depressor.
Download the TytoApp and you can use the instruments to get a video consultation from a licensed medical provider.
This electronic healthcare device is effective for diagnosing common conditions such as ear infections, sore throats and bronchitis.
Either pay per exam, or use your health insurance if they offer reimbursements for virtual medical examinations.
People with children described the device as a timesaver, thankful for reduced late night trips to the emergency room!
Many bought the device for elderly parents during the coronavirus pandemic, as it enabled them to receive medical care without attending the doctor.
3.

The Mindful Life Journal: Seven Minutes a Day for a Better, More Meaningful Life
Start living a mindful life
Living more mindfully is amazing for your health and wellbeing. Journaling has its advantages, too.
Combine both by gifting The Mindful Life Journal.
Describing the busy pace of life as a raging river, the activities in the journal encourage you to go against the stream to embrace a more peaceful way of life.
This mindfulness journal invites the writer to spend just seven minutes each day slowing down and calming their mind.
You're invited to express gratitude, follow simple mindfulness exercises, and use three months of non-dated entry pages to express yourself each day.
Fans of this product loved the gratitude journaling aspect of the book, and how it gave them space to check-in each morning and sign off at night.
Treat someone to the healing powers of acupressure
Acupressure has so many health benefits including improving your energy levels, giving you a healthier complexion and improving your sleep.
We've searched the market and found there's no better acupressure mat than the Aku Mat.
Acupressure stimulates blood flow and circulation, helping to reduce inflammation and triggering the release of endorphins.
Unlike competitor mats that have plastic points, the Aku Mat has 2,710 metal spikes made from copper, silver, zinc, nickel and iron.
Worried it might be painful?
We spoke to Akuspike's CEO and he said it can be at first! However, you quickly get used to the sensation and the results are more than worth it.
Like the spikes but want to spend a little less? Take a look at a lower-cost option that you can hold in the palm of your hand…
5.

Ullo Wine Purifier with 4 Selective Sulfite Capture Filters
Restore the natural quality of wine
Even health nuts love a glass of wine in the evening.
Help them enjoy a healthier glass with this clever wine purifier from Ullo.
Removing sulfites from the wine, it helps to free the flavor and aroma, while also alleviating headaches and hangovers.
How does it work?
Sulfites are added during the production process, but the wine doesn't need them, in fact it impacts on the flavor.
By placing this purifier on the top of the glass, the filter captures the sulfites leaving a wine that tastes as fresh as it does at the vineyard.
It also doubles up as an aerator, which you can switch on and off easily.
People suffering from headaches after a glass or two of red wine, were amazed at how effectively this product works. Plus the wine tasted so much better.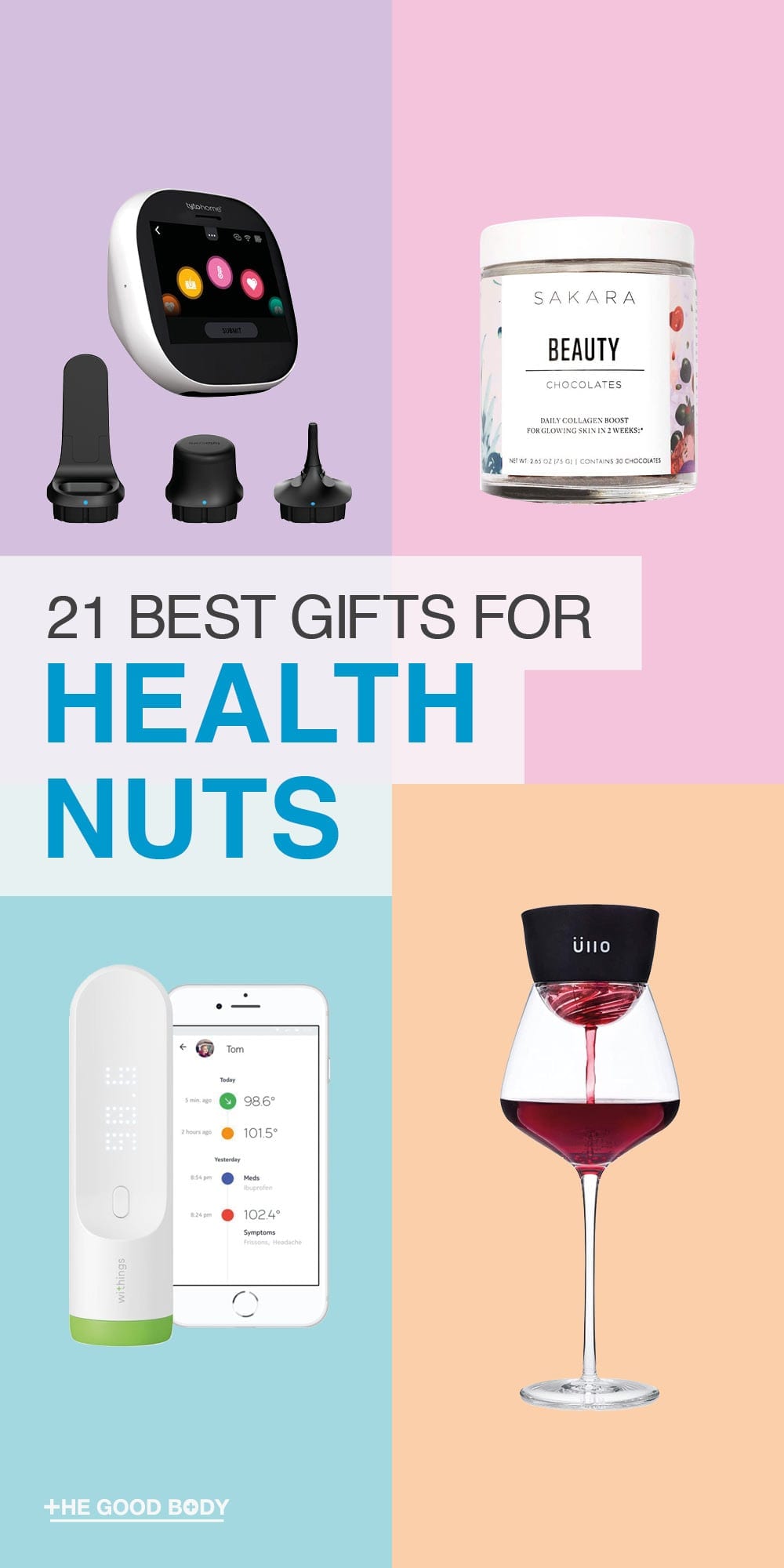 6.

Yoga as Medicine: The Yogic Prescription for Health and Healing
Explore the many health benefits of yoga
Yoga is more than just a fad.
Sure it's hugely popular, but it can also be so beneficial for your health, including increasing your strength, improving your mental clarity and stabilizing your mood.
Author Timothy McCall explores in this book how yoga really can be used as medicine.
Looking at the science of yoga, he introduces the reader to different styles and shows how you can get started.
There is also chapter after chapter covering different health conditions and how yoga can be used to heal. From yoga for back pain to yoga for infertility, there is so much to learn.
You might see this book as being perfect for the beginner, and it certainly is.
However many reviewing the book describe how it's also the ideal gift for passionate yogis and anyone teaching yoga, as it increases your knowledge, and confirms exactly why you love your practice.
7.

The Snack Bar - Health Snack Care Package
A box of guilt-free treats
A health nut might not thank you for a Christmas hamper of indulgent surprises, but they'll sure love this care package from The Snack Bar.
Inside you'll find a range of different fruit snacks, chips, nuts and health bars to satisfy any craving.
Parents looking for care packages for college kids loved this box, as it felt like a treat while still being healthy.
8.

adagio teas Green Teas Portion Sampler
Savor the flavor of green tea
Further research needs to be done, however green tea is widely regarded as great for people loving to improve their overall wellbeing.
This box from adagio teas allows the recipient to find their perfect blend.
Within the set there's 12 of their best-selling green teas. Each portion has been measured out for an easy one cup loose tea experience.
Savor refreshing and sweet aromas as well as nutty and zesty flavors.
Tea lovers appreciated the chance to try different teas without having to invest in a huge batch, and felt it had really helped them to refine their green tea preferences!
9.

BentoHeaven Beto Box Bundle
A grown up lunch box made for healthy meals
This stylish BentoHeaven lunchbox is inspired by Japanese minimalist design.
It has two containers, both of which are ventilated, that sit neatly on top of each other.
Perfect for hot and cold healthy food, you get a divider to slip inside to keep flavors separate, with silicone sealed lids ensuring they're 100% leakproof.
Within the lid you'll find cutlery (including chopsticks!) so everything is really compact.
Shipping with an elasticated strap and little lunch tote bag, it's such a good bundle for someone who wants to carry a healthy meal when they're out and about.
A nice touch is the pack of 'Cheer Up' lunch box notes that are also included. A great way to surprise your someone special every day.
10.

How Not to Die: Discover the Foods Scientifically Proven to Prevent and Reverse Disease
Uncovering the relationship between nutrition and chronic disease
Don't be put off by the title! This a great gift for someone who wants to understand how what they eat really impacts their long term health.
Written by nutritional expert Dr. Michael Greger it looks at nutritional and lifestyle changes you can make to stop the onset of the top causes of premature death in the US. Causes such as heart disease, cancer and diabetes.
For example, if you have a family history of prostate cancer, Greger recommends adding flaxseed to your diet where you can and reduce the amount of milk you drink.
Not only that but he also includes a checklist of twelve different foods that he recommends consuming every single day.
Reviews for this book are incredible, with people stating that it has literally saved their life!
It was also well received by people worrying about inherited conditions.
11.

Florensi Meditation Cushion
Give them space to unwind
Meditation is good for your health in ways you might not expect. For example, it can help to lower your blood pressure and even improve your romantic relationships!
This Florensi Meditation Cushion gives you a comfortable space to develop your practice.
Filled with buckwheat hulls it won't flatten over time, even when used every day. Plus it has a soft removable cover for easy cleaning.
Sitting on this cushion helps to support your posture, keeping the spine aligned. This can be helpful in reducing lower back pain.
Shoppers found more than one use for this cushion. Some used it as a working from home seat, others for their yoga practice.
The quality is described as beautiful, with people of all sizes finding it comfortable and supportive.
12.

Majestic Pure Himalayan Salt Body Scrub
A treat for them and their skin
If your health nut already has a Himalayan salt lamp then why not treat them to a Himalayan salt body scrub?
This beautifully packaged scrub is blended with Himalayan pink salt to exfoliate and nourish your skin.
High quality Himalayan salt includes a number of nutrients including calcium and magnesium, and is a good source of Vitamin C to improve hydration and revive your skin.
Those with dry skin loved the scrub and couldn't believe how soft their skin felt after just a few uses.
They also raved about the smell, appreciating how gentle and subtle it was.
13.

Withings Temporal Smart Thermometer
Keep track of changing temperatures
Protecting yourself and your loved ones has never been more important.
Keep a track of everyone's temperature in your household with the Withings Smart Thermometer.
Sync it with the app and you can take a contactless temperature and keep records of up to 18 users.
It has 16 infrared sensors that instantly take over 4000 measurements, so the result you receive is highly accurate and fast.
The result is color coded so you instantly know if someone is running a fever. Plus it takes in to account age, symptoms and fever history before offering medical advice.
People loved how easy the thermometer is to use, with just one simple button. Parents in particular were big fans, appreciating how they could take their child's temperature without waking them up.
14.

Gaiam Balance Ball Chair Stool
Take a seat and strengthen your core
Invite your loved one to take a seat!
The Gaiam Balance Ball Chair Stool has an inflatable cushion that creates what are known as micro-movements to strengthen the core as well as help to improve both your posture and circulation.
Those suffering from sciatica found the chair particularly helpful, making it a good gift option for anyone struggling with daily pain that could be helped by improved posture.
Practically, it can work both at home or work as the stool can easily be adjusted to different heights from 18" to 23" and has a full 360-degree swivel so ideal for someone working from home.
15.

Upright GO Posture Trainer and Corrector
A wearable device to correct your posture
This clever little device is perfect for the person who works at a desk all day or has problems associated with incorrect posture.
The Upright GO Posture Trainer and Corrector sits neatly in the centre of your upper back and delivers a gentle vibration to remind you when you need to sit or stand up straight.
Research shows how poor posture can be linked to many problems including neck pain, so it's a small gift that could make a big difference.
Upright Go is very discreet and is worn under your clothes so no-one needs to know you're wearing it.
It also links to an app on your smartphone so you can track and monitor your performance throughout the day.
The makers claim you'll see a difference within two weeks of wearing the device so it's a great gift option for someone who's looking for instant results.
16.

Zojirushi Stainless Steel Mug
Smarter lid for less splatter!
Update someone's travel mug this year by purchasing the Zojirushi Stainless Steel Mug, the perfect gift for a health-conscious person who's always on the road.
The flip-open lid has been cleverly tailored to avoid the splatter you typically get from opening a travel mug.
It has a 2-step opening to allow condensation to fall back in to the mug and a safety lock to avoid any spillages when carried in a bag.
The cup has been designed to be lightweight yet still allow for maximum fluid capacity. Plus vacuum insulation means that your drink stays hot or cold for longer.
It can be completely disassembled too, allowing for an easier and more efficient cleaning process.
You can choose from a range of different colors so you're sure to find one that suits their taste.
A smartwatch with lots of features and a low price
The Fitbit Versa 3 is like having a personal trainer permanently on hand monitoring your health, fitness and general wellbeing.
It's one of the more affordable smartwatch options on the market but doesn't comprise on features, making it a real treat for that someone special.
Versa 3 has all the expected benefits of a smartwatch, connected GPS, Bluetooth, music storage and fitness tracking.
However this improved model of their popular Versa watch also tracks your heart rate, sleep and nightly oxygen saturation.
It charges fast too, reaching full charge in just 12 minutes and lasting for up to 6 days.
Water-resistance for up to 50 meters, it can pair easily with your at-home Alexa device for added functionality. You also get access to the range of Fitbit apps to tailor the watch to your needs.
This is a gift that will probably be a bit of a life changer for the health-conscious person in your life.
Improve your complexion naturally with jade stone
The special person you're shopping for may have just about every lotion and potion on the market but have they discovered the Jade Beauty Roller?
Beauty rollers are growing in popularity and you'll struggle to find one more beautiful than the Jade Beauty Roller made from pure Xiuyan jade stone.
The device is rolled over the skin on the face to boost elastin and the production of collagen.
It also helps to get rid of all those nasty toxins for a clearer and smoother-looking complexion.
Reviewers of the product enjoy using the jade roller as a part of their skin care routine, with the wide end used for full face covering and the smaller end designed to target the under eyes.
19.

Urpower 1000ml Essential Oil Diffuser
Mist the room with healthy scents
Essential oils might simply seem like a wonderful way to fill a room with a beautiful scent – and they are!
However research shows they also have a range of different advantages for your health and wellbeing.
Wrap up this Urpower Essential Oil Diffuser and your loved one can mist the room with their chosen healthy scent.
All they need to do is pop an oil inside and millions of vibrations will break the water and essential oil down in to tiny particles to fill the air.
It has a large 1000ml capacity, so will last for a whole day before it needs topping up. There's also a timer so you're able to set your own treatment time.
Combined with a color changing LED light, it creates a relaxing mood in any space, ideal for someone struggling with a busy mind.
20.

Ball Mason Jar-32 oz. Clear Glass Wide Mouth - Set of 4
A stylish way to store food
Ball Mason Jars have so many different uses and are perfect for a health-conscious person.
Use the jars to store dry goods, or prepare fresh salads to take with you when you're on the go.
Made in the US, they're excellent quality and include an airtight band to ensure freshness and no spillages.
Described as ideal for freezing smoothies, fans of the Ball Mason Jars have found tons of uses for this thoughtful gift.
21.

Verilux HappyLight Full-Size
Mood and sleep enhancer
Another gift idea for health nuts is the Verilux HappyLight Full-Size 10,000 lux Light Therapy Energy Lamp.
HappyLight offers the amount of bright white light recommended by professionals to help boost your mood and improve your sleep, with the UV protection you need.
The clever technology of the Verilux Light Therapy Energy Lamp allows you to tailor your preferences and the wide surface of the full-size lamp can help to make sessions more efficient.
Light therapy has been shown to positively impact those suffering from depression, so it's a great gift for anyone who might be struggling with their mental health.