From an affordable little treat to a stylish gadget, there are so many amazing sleep products available on the market right now.
Whether you're shopping for a full-blown insomniac or someone who simply loves sleep, we've put together a list of 12 perfect sleep gifts for you to choose from:
1.

Deep Sleep Pillow Spray
Inhale calm and exhale woes
We already know that your nose is a powerful force when it comes to slumber. If you're looking for a small gift, then this is the perfect 'solution'.
It's a natural remedy that uses that knowledge to help people sleep faster, sleep deeper and wake up refreshed.
The aromatherapeutic mixture of lavender, vertivert and camomile is a blissful combination to calm both the body and mind.
It won't stain bedding, is easy to apply and smells amazing – an essential gift for anyone's sleep kit.
2.

Philips Wake-Up Light With Colored Sunrise Simulation
Light up your life
This is the perfect sleep gift for anyone that struggles to wake up and deems themselves 'not a morning' person. It's an absolute life-changer that has been scientifically proven to work.
Don't just take our word for it! Philips commissioned independent scientific research that highlighted the huge benefits of dawn simulation on the wake-up experience.
Did you know that starting your day with a good amount of sunlight resets the circadian rhythm (also known as your body clock) so you can bounce out of bed feeling more energized?
This clock plays to this fact and does just the trick! Cleverly mimicking nature's sunrise and combining light therapy with sound, creating a totally soothing way to wake up.
There are 20 different light settings, from soft dawn reds to warm orange and bright yellow light. Colors slowly change as the waking up process begins. To help with the rising and shining, three programed nature sounds or FM radio can be selected.
If that wasn't enough, the sunset simulation function will relax the mind and help the drifting-off process in the first place.
Help improve the sleep, energy and well-being of your nearest and dearest.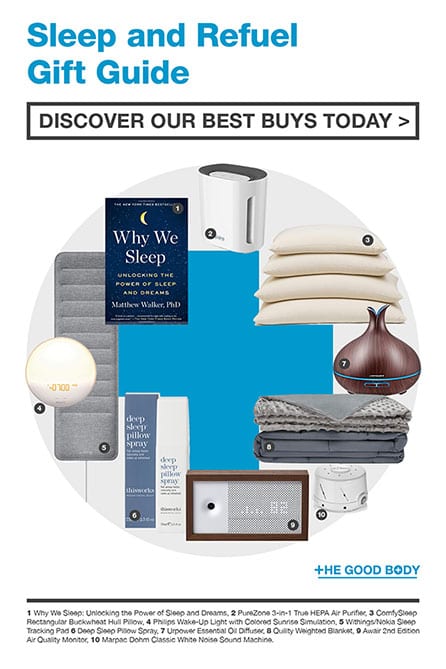 This is no ordinary sleep mask…
There are so many advantages to sleeping with an eye mask, and they don't come fancier than the Mzoo sleep mask!
This memory foam eye mask has been created to mold to your eyes, so you can enjoy complete black out from the light.
It's the ideal present for someone who travels through timezones for work, or someone who is passionate about yoga or meditation.
Eye space has been designed really deep so there is no pressure on your eyes and you can sleep in it comfortably.
Thanks to adjustable straps it can fit all head sizes, and comes in four attractive colors.
People also love the box that the eye mask arrived in as it was so beautifully presented, complete with silk pouch and earplugs, making it the perfect gift.
4.

Urpower Essential Oil Aromatherapy Diffuser
Your nose knows best
Never underestimate the importance of the nose in the whole sleep process. Certain smells have a huge effect on sleep, as well as memory and emotions.
Take lavender, a powerful aid not only for inducing but also enhancing the quality of sleep:
Its scent has been shown to lower blood pressure, heart rate and skin temperature – the three essential ingredients for a good night's sleep.
Add the essential oils of choice (purchased separately) to the diffuser for the ultimate relaxation experience: they'll help with unwinding and improving sleep quality. The perfect gifts for insomniacs.
It is super easy to use and more importantly, quiet. Take some water, a few drops of essential oils and select the LED light setting for the right mood.
Don't be fooled into thinking this is just a gift for sleep and bedroom use though. Diffusers are highly versatile and provide a great way to control ambience, they can be used in any room.
Why not add some lemongrass and lime to get that lovely health spa style aroma!?
5.

Why We Sleep: Unlocking the Power of Sleep and Dreams By Matthew Walker
Must-read alert!
Are you looking for a thoughtful but affordable gift? This international and New York Times bestseller is a must-read for anyone in need of a good night's sleep.
Why?
It contains all the answers to the fundamental question: what happens if you don't get enough sleep?
Written by leading expert in this field, Matthew Walker, this book will not only be a real awakening but could potentially save lives (yes, you did read that right!).
Walker is currently Professor of Neuroscience and Psychology at the University of California, as well as founder and director of the Center for Human Sleep Science.
This is why there's a ton of cutting-edge scientific research spanning 20 years, presented in an easy-to-digest way.
Find out the mind-blowing dangers of not getting enough sleep, and the huge benefits when people do.
Did you know that regularly sleeping less than six or seven hours a night increases your risk of cancer by 50%? That's just one of many facts shared with us.
There are loads of actionable tips about how to ensure we all claim our full night's sleep. This page-turner will send anyone to sleep – but in a good way!
6.

Organic Hercules Muscle Spasm Tea
Relax your muscles ready for a wonderful night's sleep
Organic Hercules Muscle Spasm Tea is great for relaxing muscle tension in your body.
However more than that, it contains three of the four herbal allies that are included in our top 8 teas for better sleep.
Chamomile, valerian and passionflower, as well as skullcap which is described as having benefits for those suffering from insomnia.
Producers of the product, Sun God Medical, initially started growing their organic herbs in Oregon to help a family member who was suffering from a lack of sleep.
You can enjoy this delicious tea hot or cold, and it can be steeped for up to 30 minutes so you can get the strength and flavor you need.
Tea drinkers said it really helped them relax and mellow, and that they enjoyed the strong and earthy flavor.
7.

Quility Weighted Blanket
Hug it better
The ideal gift for someone you're not always around, but is in need of a good night's sleep.
Imagine if you could give your friends and family a permanent cuddle without actually being there!
Well, this might not actually be so-far fetched. Introducing the weighted blanket…
The huggable companion that sends anyone peacefully off to sleep, reducing tossing and turning that prevents shut-eye.
There's science behind this:
The power of touch can provide calming physiological effects and reduce feelings of anxiety that might result in a restless night.
Made with 100% breathable natural cotton and filled with premium glass beads that are non-toxic, odorless and evenly distributed, the blanket allows for that essential comfort in bed.
This isn't just to be used in the bedroom when it's cold. It comes with a removable cover that will give a cosy and cool feeling in the summer. It's also handy when on the couch watching tv or reading a book.
Remember that due to its effects, it's not just for poor sleepers. It's suitable for anyone that has a restless mind, feels stressed or edgy.
It will do wonders for both mental health and sleep, so give that hug! One of the best gifts to help your friends and family sleep well.
What is going on in our homes?!
What to buy the techie!? Hmmm… one of the best sleep tech gift ideas is this air quality monitor from Awair. Let them analyze the air in their home, find out what's going on and then take preventative measures.
If you think homes are safe, think again:
Indoor air can be anywhere from two to five times as polluted as air outside. Fine dust, chemicals, carbon dioxide, humidity and temperature have a huge effect on air quality.
Now is the time to get wise and take action thanks to Awair! Decades of research has gone into this nifty machine but it won't blind you with science.
It provides a neat snapshot of what is going on, allocating a score to air quality and providing personalized tips through the app.
If that wasn't enough, the smart timeline function enables changes to be tracked over time so progress can be analyzed.
Easy to set up, mobile and can be placed in any room. Help your loved ones keep their homes safe – by being Awair!
9.

Marpac Dohm Classic White Noise Sound Machine
Your very own sleepy lullaby
Ideal for anyone that can be easily disturbed by noises in the night. But it's not just any white noise machine, oh no!
Marpac's Dohm has been given the gold standard for its its noise reducing, sleeping inducing magical powers.
Noise can be massively disruptive – from preventing sleep in the first place, to causing a change in heart rate, blood pressure, and being the catalyst for movement between the stages of sleep.
White noise will save the day! It's s a force to be reckoned with, drowning out obtrusive sounds and allowing the mind to quieten, enabling the whole sleep process to be a notably gentle one.
The machine has two speeds placing the light sleeper in control before they drift off into blissful sleep. Discover the ideal tone, lay down, unwind and bask in the ambient sounds.
10.

PureZone 3-in-1 True HEPA Air Purifier
Let them know you care
Now we know just how polluted the air in homes can be, it can't be ignored. Apart from disrupting how much shut eye is gained, it could potentially be the cause of deaths.
Protect your loved ones, show someone you really care with this gift. It will sanitize air within a short amount of time so everyone can sleep well and be in better health.
This purifier will capture 99.7% of mold spores, dust, pollen, pet dander, household odors and smoke and then destroy any germs of bacteria you have lurking around.
Ensure your loved ones live and sleep in the cleanest air possible.
11.

ComfySleep Rectangular Buckwheat Hull Pillow
A miracle pillow
As one third of our lives is spent in bed, it's crucial to pick the right pillow. ComfySleep's buckwheat hull pillow is a lovely gift for that person who is tired of waking up riddled in pains.
Buckwheat hull pillows have actually been around for centuries.
But what exactly is a buckwheat hull we hear you ask?
It's the outer shell of buckwheat seeds, the part that's left over when the seeds are processed.
As they are slightly cupped, triangular and smooth, there are thousands of tiny air pockets between them when arranged in a pillow.
Great for anyone who sleeps hot as they don't radiate or hold heat like a memory foam pillow does, providing a cool night's sleep.
Buckwheat is natural and hypoallergenic, giving the much needed support throughout the night.
This versatile pillow can be customized by the recipient of this thoughtful gift, using the extra hulls provided. It will also provide the perfect alignment for the neck, shoulders and spine – excellent for sleep posture.
Real care has gone into the design – the fabric used started off as organically grown cotton from Texas, that was then milled into tightly woven cotton twill.
Gone are the days of tolerating lumpy pillows, sweating in your sleep and suffering in silence.
12.

Withings/Nokia Sleep Tracking Pad
Light up your life
This sleep gift is for anyone that enjoys a slick gadget and wants to be in the know.
We can't improve our sleep if we don't know what is going on with our sleep. Lack of knowledge won't lead to blissful ignorance, but grogginess, weight gain and potentially serious illnesses.
The pad is a real game-changer. It can be easily slipped under mattresses, and its advanced sensors will provide everything there is to know about sleep, including: sleep duration, depth, interruptions, sleep schedule and the time taken to fall asleep and wake up.
It all syncs through the WiFi and is loaded straight into the app, results will then appear automatically in text or graphic format.
The built-in sleep coaching program acts as a best friend, providing much needed guidance and reassurance.
Lazier ones in your life will love the fact that it can control the thermostat and lights, enabling you to create the optimal conditions for sleep.
Getting into bed, then simply switching the lights off, hitting the pillow and checking out stats in the morning can now be a reality, not a dream!