It is believed that around 10% of the world's population are suffering from neck pain at any one time.
So it's no surprise that the market is bursting with lots of different neck massage products for you to choose from, meaning you can enjoy massage therapy at home without having an on hand masseuse!
They vary hugely in style and features, therefore to save you time we've looked at the market and put together what we think are the best neck massager products available today!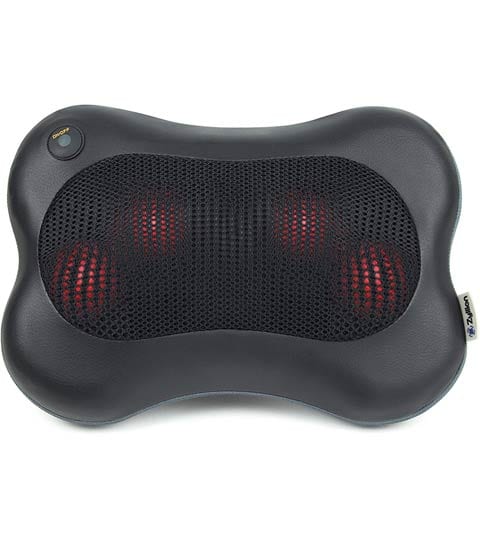 ZYLLION

PILLOW MASSAGER WITH HEAT

Attach to your favorite chair for a massage that mimics the hands of a masseuse.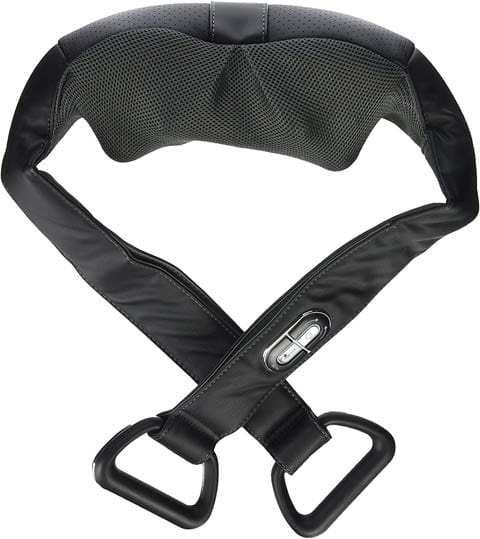 BROOKSTONE

SHIATSU MASSAGER WITH HEAT

Drapes comfortably around the neck and shoulders for deep-kneading Shiatsu massage.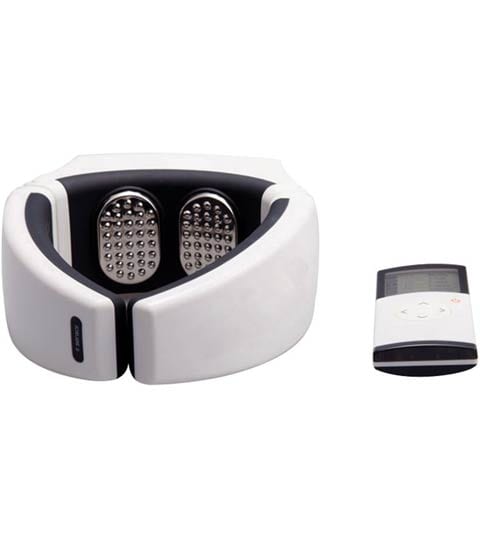 ETTGRAR

WIRELESS PORTABLE NECK MASSAGER

Over 500 different combination settings offering a huge amount of control and customization.
10 Top-rated Neck Massagers for Pain Relief and Relaxation
Before using any type of neck massager, you should always read the instruction manual. If you are unsure of its suitability it's best to speak to a medical professional to ensure it is appropriate for your health or medical conditions.
1.

Arealer Neck Massager with Heat
Drape the Arealer Massager around your neck and enjoy the pleasure of eight Shiatsu massage heads that work to release tension and relax your muscles.
Combined with a fast heating function positioned on your neck, it's the ultimate in relaxation.
Arealer's neck massager is described as a pocket hanging design, allowing you to control the movement and intensity by pulling down on the handles to increase the force.
You can also further tailor your massage by using the control pad positioned on the massager, making it easy to switch between the three different speed and intensity settings.
With an AC adapter and in car charger you can use your massager wherever you go, and anywhere on your body too, as many users mentioned enjoying it on their leg, back and waist.
Those who work in an office all day and struggle with neck pain simply love the massager. In fact one user was kind enough to hand it around the office and now everyone gets to enjoy the pleasure of a daily massage!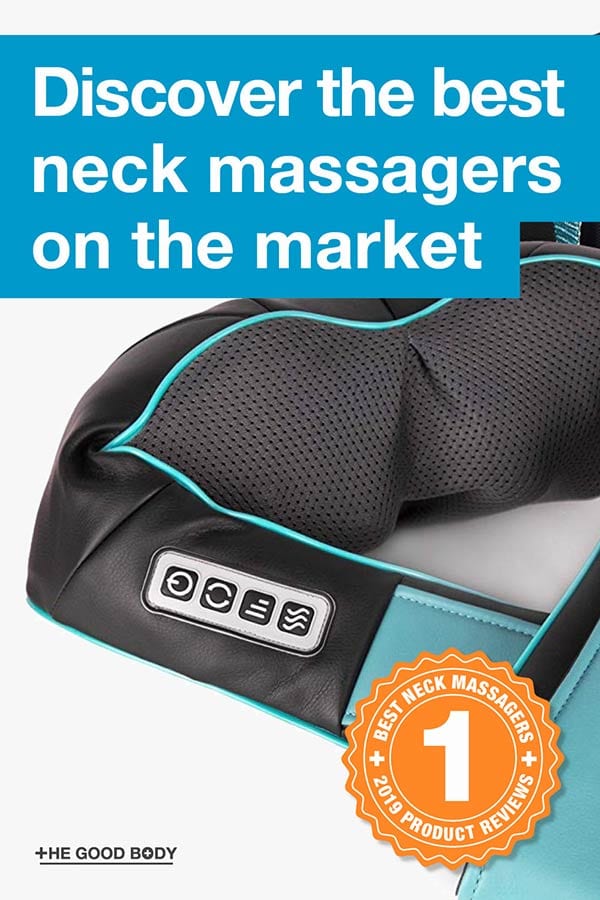 2.

Renpho Rechargeable Hand Held Deep Tissue Massager
A fantastic electric percussion option is the Renpho Rechargeable Hand Held Deep Tissue Massager.
Delivering a huge 3,600 pulses per minute, you can control the intensity by pressing lighter or harder depending on the type of massage you want to enjoy.
It comes with four different massage modes for you to try on your neck, from a continuous pulse to two pulses per second.
With the massager being rechargeable it means you can use it anywhere around the home, as well as at the office, or even on vacation. Once charged this hand held massager can last for over two hours, so you can enjoy a number of sessions before recharging.
The percussion massager from Renpho ships with five interchangeable attachments including a round head which is great for your neck and a 3-point massager for when you want something a little more gentle.
Fans of the Renpho massager rave about the amazing massage they can enjoy for such a reasonable price. They also explained that though the product was sturdy it still felt lightweight and easy to hold, making it ideal for those who have previously avoided handheld massagers due to their weight.
3.

Vive Massage Roller Ball (2-Pack)
Sometimes it's not always convenient to carry a massager with you on the go, which is why Vive developed their massage roller ball.
It's a really simple product that is small enough to just throw in your bag, but that can still deliver a satisfying neck massage.
This handy massage roller ball moves across your skin smoothly and with minimal effort. Plus as you're controlling the intensity you can enjoy it as soft or deep as you choose. It's thought to be an ideal gift for someone suffering from arthritis if they struggle to control a massager with their hands.
Plus to make your massage even more indulgent you can add essential oils to the roller ball, so you can relax more and smell amazing.
Reviewers of the product suffering with a stiff neck particularly liked the massager as they could keep one in the car or at work to help loosen them up when they were struggling with pain. They couldn't believe how such a simple product could feel so good, but then sometimes in life the simplest things are the best.
Also it's a two pack so for a really low cost you could treat someone you love and keep one for yourself!
4.

Resteck Shiatsu Neck and Back Massager
Choose a massager that delivers an intense and satisfying deep tissue massage by investing in the Resteck Shiatsu Neck and Back Massager.
This massager really was designed with the neck in mind as the kneading pillow delivers a powerful massage right to the source of your pain.
The handles mean you can control the intensity however the massager also comes with eight different massage modes, a built in heat function as well as directional and speed control options to truly tailor your massager.
Resteck have created their neck massager for use on the go, as it ships with a handy carry case as well as an in car charger.
Neck pain sufferers couldn't say enough good things about the Resteck Shiatsu massager, particularly those that sit in a vehicle most of the day for work. The handles were appreciated for controlling intensity, and many spoke of instant relief from pain.
5.

Arealer Neck and Back Massager Massage Pillow with Heat
If it's a massage cushion you're looking for then you can't go wrong with the Arelaer Massage Pillow.
Within the pillow you'll find four big and four small massage nodes that you can use to loosen up tension within your neck.
You can change the direction of the massage nodes and enjoy the pleasure of the satisfying heat function that can be controlled with the touch of a button. It also has three different pressures and speeds to choose from.
Arealer's massage pillow comes with a strap so it can be easily positioned on a car seat or your favorite chair as it gets to work on your neck. However don't be tempted to use it while you're driving as it can be a seriously relaxing experience!
Many users target their neck pain by lying back on the pillow in bed with others grateful for the in car charger for relief after traveling long distances.
6.

Naipo Cordless Massager
Naipo's Cordless Massager is ideal for traveling, however also good if you simply want to use the massager when you're not near a plug.
When fully charged it can be used for up to two hours, making it a great purchase if you struggle with neck pain when you travel.
Eight massage nodes, a heating function, directional settings and intensity options, this cordless massager gives your neck the treat it deserves.
When using the Naipo massager, you have the option to use the arm straps to control the pressure and location of the massage, or alternatively you can use the handy hook and loop fastening to hold the massager in place.
The hands free function was a hit with users who felt it made the massage more enjoyable. One user even claimed that it made them question the necessity of human relationships!
7.

The Muscle Stick Advanced Massage Roller
When the design is right, you don't always need an electric device to get to the source of your neck pain.
The Muscle Stick Advanced Massage Roller has a stainless steel core and four knobbed rollers that help to work out the muscle tension that is causing your neck pain.
With rubber grip handles you can position the roller wherever works best for you and control the intensity easily.
Purchasers of the product found the roller to be great at relieving muscle tension, and though the rollers might look a little intimidating, they described how they felt soft on their skin.
Plus it comes in a range of different colors so you can choose the one that best suits your mood.
8.

Ajnamat Acupressure Pillow
Though not technically a massager, an Ajnamat acupressure pillow might be exactly what your neck needs.
Acupressure has a huge number of health benefits and has been shown through research to help relieve neck pain. Covered in nearly 1,500 specially designed spikes, this mat is ideal to take with you on long journeys or to use during a yoga session.
Made from a mixture of linen and cotton, Ajnamat's acupressure pillow is available in a number of different colors and comes filled with buckwheat and lavender to encourage a deeper level of relaxation.
Some seriously relaxed users commented on how the pillow was the neck pain cure they'd been looking for, and for such an affordable price. For many it has become a staple of daily life with lots of people replacing their nighttime pillow with the Ajnamat acupressure cushion.
9.

Nursal Neck and Shoulder Massager with Heat
Kneading and pinching both your neck and shoulders makes the Nursal Massager feel like the hands of a real masseuse.
Hand straps can be used to control the intensity however you also have the benefit of different speed options so you can get your massage just right, with the heat function adding to the experience.
Nursal's massager really does cradle your neck providing optimum support so you can try and relieve your pain.
Also it might seem like a small feature but the massager also has an Ultra Mute Function. This allows you to use the massager without annoying background noise to disturb your peaceful moment.
"Intense" was a word used by many reviewers who loved the feeling of such a deep massage.
People agreed that Nursal had achieved their goal of creating a massager that felt like the hands of a real masseuse, and were delighted to have one in their home.
10.

Medical Breakthrough 6 v4 Recliner 3D Massage Chair
If you really want to splash out on relief from your neck pain then treat your whole body by purchasing a reclining 3D massage chair.
Medical Breakthrough's reclining massage chair includes a number of different massage techniques from around the world such as New Delhi Yoga Stretching and Indonesian Deep Tissue Therapy.
This chair offers your neck a deep kneading massage, moving on an L track to ensure that every area of your body is covered. With zero gravity options taking the pressure not just off your neck but your whole spine.
Including heat functions and a calf massager, it has been developed over a long period of time with input from doctors, surgeons and pain specialists to create the best massage chair possible.
Tension that builds up in the neck can often come from lower down in the body, so indulging in a full body massage can be more beneficial than just focusing on the neck. Sit in the recliner and you'll receive a full body scan that allows the massage rollers to position themselves in the perfect spot for every area of your body.
Your arms and feet won't be neglected either as the chair includes an arm massager and a reflexology foot massage system which promises to treat every area of your feet for the ultimate in relaxation.
Users of the chair simply loved it, especially the zero gravity function for treating their neck and back pain. With such a phenomenal range of settings they felt it was a massager that would provide them with relief from just about any type of pain!
Types of Neck Massagers
There are a number of different types of neck massagers available, whether you're looking for something handy for a recent ache or if you're looking to make a big investment to deal with chronic daily pain.
Styles of Electric Neck Massagers
Wrap-around
A wrap-around neck massager drapes around your neck and shoulders to truly target the pain. They are available with arm straps so you can apply the pressure you need or velcro straps for a hands free option.
Chair
A chair massager is a piece of furniture that you add to your home, that you can sit in each day. It's a big investment but it's probably the closest you can get to a hands-on massage.
Chair Pad
The next best thing to a chair massager is a massage pad (also known as a seat topper) that you can attach to your favorite chair. It normally hooks over the back and reaches up to the neck for a deep massage.
Handheld
A handheld massager is normally a wand or pad that you operate and maneuver around your neck to get to the source of the pain.
Belt
A belt massager can be draped around your shoulders so you can get a deep massage in key areas.
Cushion / Pillow
A cushion or pillow massager is handy for use on the neck so you can tuck it exactly where you need the relief.
Pulse Massager
More commonly known as a TENS unit sends low voltage electrical impulses across the skin that stimulate the nerves.
Styles of Non-Electric Neck Massagers
Cane Massager
A cane massager is a simple device which can be maneuvered to the right part of the body to provide relief.
Wooden Ball Massager
A wooden ball massager is rubbed on the problem area to provide relief. The wooden balls are run up and down the skin to release tension.
S Shaped Massager
An S shaped massager is a stick massager which normally has carefully placed nodes so that the massager can be maneuvered to the exact right position.
3 Prong Mini Massager
A 3 prong mini massager is a simple handheld device that can be used to work out knots and tension in the neck.
Foam Roller
A foam roller has a hard or soft exterior depending on the relief needed. It is rolled up and down the affected area to release tension in the muscles.

Features of Neck Massagers – What to Consider
Shape
The shape of the neck massager is important as you need to make sure it can really target the source of your pain. Whether it's an S shaped stick or a chair pad, you need to make sure it can reach where it needs to go.
Size
You also need to consider the size, will it give your neck good coverage? Is it too large to be portable? All should be considerations to make the right choice.
Weight
As well as size, weight might be a consideration as you may be draping the device around your neck, or trying to manoeuvre it on to your neck.
Arm Straps
Certain neck massagers come with arm straps, these are so you can control the pressure needed.
Velcro Straps
Velcro straps are another feature offered with wrap-around massagers, that help you position it in the right spot without having to hold it in place.
Electric / Non-Electric
Consider which option is right for you, whether you want to use your massager on the go, or just ensure you can use it in your favorite chair!
Nodes
The number of massage nodes that the device offers may be important to you if you're looking for a deep and intense massage.
Percussion
Percussion is a style of massage and users have described this technique as "thundering on your back", so perfect if you want a deep tissue massage perhaps not ideal if you're looking for something a little less intense.
Shiatsu
Look for this feature, a Japanese massage technique, if you want to replicate the hands of a masseuse as closely as possible! Some neck massagers include an optional direction mode so the nodes can change direction for a more satisfying massage.
Magnetic Field Therapy
Massagers which offer magnetic field therapy as a function essentially include magnetics which, when placed on the body, are believed to improve the natural magnetic energy within us, you can learn more about it here.
Kneading
If you have knots and want a massage that is really going to work them out then you might want to look out for the kneading function.
Wand
If you want hand-held control then you may opt for a wand massager or a unit that includes a wand.
Vibration
Some units offer an additional vibration function which might be something you want to consider for that added extra relief.
Heat
Heat can offer comforting relief from pain as it heats the skin which stimulates the sensors and blocks the pain signals being sent to the brain, many different massagers include this option so it's worth looking out for. Infrared heat is also a feature offered by some devices.
Timer
A timer can be handy if it takes you a while to get to the source of your pain, so you can set a period of time and then just sit back and enjoy the relief.
Auto Shut Down
Auto Shut Down can be great as it protects you and the unit from overheating, however if it takes you a while to get to the source of your pain, a short auto shut down could be frustrating.
Intensity Settings
If you have good days and bad days and want a massage that can flex with you then you want to look for a massager with a selection of intensity settings. Some devices only come with one setting so make sure you choose what is right for you.
Speed Settings
As well as intensity settings you need to look at what speed settings are offered if you want something fast and rigorous or if you're looking for something slow and gentle.
Rechargeable
Some massagers are rechargeable making them handy to be used in the office or on the go, look closely at the length of time advertised when the product is fully charged.
Speed of Charge
You may also want to consider the speed at which the product goes from flat to fully charged, as that may be something that's important to you.
Portable
If you're wanting to take the massager on vacation or use it at work then a portable option might be the one you're looking for, that is an appropriate size and lightweight. You can also choose a massager for in the car, however this can only be used when stationary or as a passenger.
Car Charger
Using your device in your car, between meetings for example, might be important to you, so look for a neck massager that comes complete with an in car charger.
Power Cord Length
It may seem an unimportant feature but if you want to use your neck massager in your favorite chair then the length of the power cord is important so certainly worth checking.
Attachments
Some massagers come with attachments to target different areas, such as the face, or with oil stick attachments to allow you to apply creams or essential oils which may be an important feature for you.
Memory / Recall
If your pain is hard to reach and you get the intensity just right it can be frustrating to have to go through the various settings each time. Memory / recall functions remember the intensity, speed and style of massage you enjoy which can be helpful day to day.
Instructional Video
Another extra that may be offered with your neck massager product is an instructional video. It may sound like just a nice-to-have but if you want to get the most from your product then it can be a handy extra.

Benefits of Neck Massagers
Neck Pain
Of course those who suffer from neck pain will benefit from using a neck massager. Neck massagers mimic the hands of a masseuse stimulating the muscles and nerve endings. Research has shown that massage therapy is an effective treatment for chronic neck pain, and a neck massager is essentially simulating this technique.
Did You Know?
Women are more likely to experience neck pain than men.
Shoulder Pain
As well as providing relief from neck pain, a neck massager can also work well for shoulder pain. Shoulder pain is one of the most common pain complaints reported in the U.S., and by stimulating the muscles with a massager it is believed that this provides relief.
Stiff Neck
Whether you get a stiff neck occasionally or you suffer from chronic daily pain you'll understand how uncomfortable it can be. It is believed that around 10% of the adult population are suffering from a stiff neck at any one time, with massagers being suggested as a natural way to treat the pain.
Muscle Tension
Tension in the muscles can also be relieved by a neck massager whether in your neck, shoulders or back.
Migraine / Headache
Massage as a therapy is used both as a treatment and a preventative method. Tension headaches are the most common type of headache in the world, and often cause both neck and shoulder pain along with pain in the head.
Cervical Spondylitis
Massage therapy as a concept is believed to be an effective treatment, however as the neck is incredibly sensitive when you suffer from this condition it's important that you speak to your doctor before beginning treatment.
Arthritis
Massage therapy can be an effective treatment for arthritis, however for certain forms of severe arthritis in can have a negative effective so it's important to consult with your doctor.

FAQs
What is a neck massager?
What is a neck massager?
A neck massager is a device that comes in many different forms, it could be a wrap-around massager that can be draped around your shoulders or a chair pad that you fit in your home. Essentially it mimics the hands of a masseuse to provide you with daily relief from pain.
What does a neck massager do?
What does a neck massager do?
A neck massager replicates the hands of a masseuse on your neck, stimulating your circulation and relaxing stiff muscles to give you daily relief from pain. Different styles of neck massager use different massage techniques and intensities.
How do I choose a neck massager?
How do I choose a neck massager?
Choosing the best neck massager can be tricky as there are so many different ones to choose from and various features that you need to consider. Firstly think about what you're hoping to achieve from investing in a neck massager then use our handy information above to find the exact one that's right for you.
How long can you use a neck massager for?
How long can you use a neck massager for?
Choosing the best neck massager can be tricky as there are so many different ones to choose from and various features that you need to consider. Firstly think about what you're hoping to achieve from investing in a neck massager then use our handy information above to find the exact one that's right for you.
Can I use a neck massager while pregnant?
Can I use a neck massager while pregnant?
It is always best to check with your doctor before using a neck massager when pregnant as advice is mixed. Overall the consensus appears to be that a hand-held, non-electric massager is best, avoiding functions such as vibration, deep tissue massage and heat treatment. It goes without saying that you should always read the instructions before using any massage product for any other warnings or precautions.
Do you have to be a certain height to use a neck massager?
Do you have to be a certain height to use a neck massager?
Certain massagers, like chair massagers and chair pads only reach a certain point on your neck so normally come with advice about the ideal height of the user and any limitations it might have. Other wand and wrap-around massagers aren't limited by the user's height.
Can you use a neck massager on other areas of your body?
Can you use a neck massager on other areas of your body?
Yes, depending on the type of massager you choose. Certain neck massagers come with different attachments for your shoulders and face, others can be draped around the shoulders as well as around the waist for lower back pain.
Can you drive while using a neck massager?
Can you drive while using a neck massager?
Advice from neck massager product manuals indicates that it's not advisable to use a neck massager while driving. However you can buy massage cushions for your car seat that you can use when stationary or as a passenger.
How much does a neck massager cost?
How much does a neck massager cost?
Neck massagers vary widely in cost, so think about how much money have to spend before you make your investment. Prices tend to vary, with simple massagers costing from only $10 as opposed to massage chairs which tend to cost over $2,000.
Where can I buy a neck massager?
Where can I buy a neck massager?
We hope our handy guide has made your buying decision a little easier, but more importantly, that you find that perfect product to give you relief from your pain. Good luck!