When you're looking for an effective back massager it can be tricky to find the one that really targets your particular pain. Research shows that back massagers stimulate circulation and relax stiff muscles, with several types featuring programs designed for upper, lower and full back.
Then there are heat options, vibration, different intensities, so choices that can be a little overwhelming which is why we've done the hard work for you and shortlisted some of the best back massagers available in the marketplace.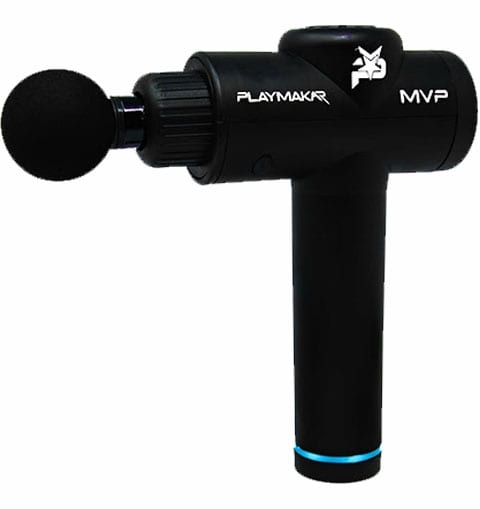 PLAYMAKAR

PERCUSSION GUN MASSAGER

Percussion strokes penetrate deeply helping to relax tense muscles. Ships with 6 attachments.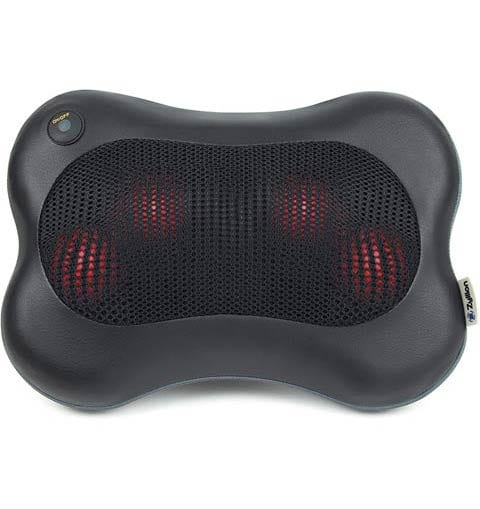 ZYLLION

PILLOW MASSAGER WITH HEAT

Use at home or take it with you, attach it to your favorite chair, lie on it... relax and enjoy!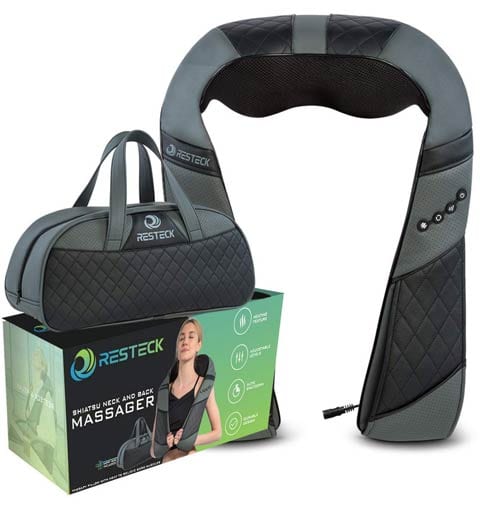 RESTECK

NECK & BACK MASSAGER

Shiatsu kneading for back, neck and shoulders. With soothing heat, intensity and directional settings.
Our 12 Best Back Massager Reviews
We've taken a close look at each back massager and highlighted the key features to help you make your decision.
If you're still struggling to decide, you'll also find a handy buying guide further down the article, which breaks down each feature and answers a number of frequently asked questions.
1.

PlayMakar MVP Wireless Percussion Massager
A seriously powerful product for back pain relief and recovery
Get the strength of PlayMakar's Wireless Percussion Massager straight to work on your back.
Delivering powerful strokes, this handheld device has six different speed settings. It helps to relax tense muscles that could be causing or contributing to your back pain, and improve your range of motion.
Rather than just working on the surface of the skin, percussion strokes can penetrate deeply increasing blood flow to the target areas.
It comes with six different attachments:
Including a bullet head for trigger points and a spade head specially shaped to work on your back and neck.
PlayMakar products are endorsed by a number of professional athletes, who rely on them to help speed up their recovery from injury.
We've tested this device and found it was a great affordable alternative to a Theragun.
The battery life is really impressive. We love how tactile it is and found it easy to operate, with a simple touch screen.
Though powerful, the MVP Percussion Massager is quiet compared to some other gun massagers we've tested in the past.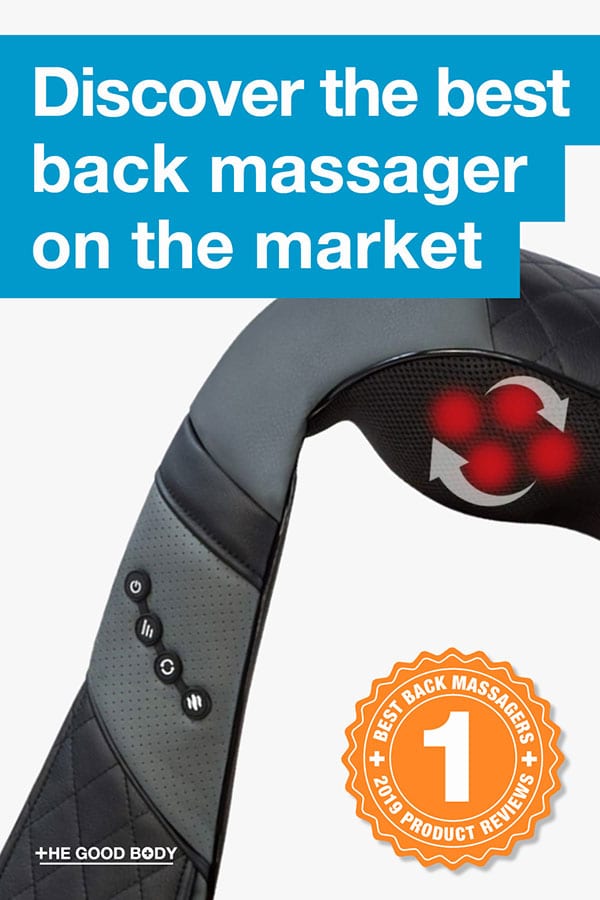 2.

Resteck Shiatsu Neck and Back Massager
A back massage machine that puts you in control
Drape around your shoulders and relax… Resteck's massage unit comes complete with handles so you can position the massager and maneuver it to reach the perfect spot.
This shiatsu massager can also be used on other areas of your body including your legs and feet.
Just four simple buttons on the device control the functions of the Resteck Shiatsu Neck and Back Massager. However that gives you many different massage options as well as heat and vibration settings to tailor your treatment.
We love the fact that the Resteck massager is portable and comes with a handy carry case so you can use it on the go.
It comes with both a wall A/C adapter as well as a car adapter so if you're traveling between meetings and really need relief you can simply pull over, plug in your massager and away you go.
Users of this massager commented on how well made the product felt and how it quickly became a product they used daily. Plus the developers are so confident in their massager that it comes with a lifetime guarantee!
3.

Zyllion ZMA13BK Shiatsu Pillow Massager with Heat
A compact and convenient massager!
We really like the compact size of Zyllion ZMA13BK Shiatsu Pillow Massager with Heat which can be easily secured to your chair.
It's the ideal solution for when you're traveling as it's just over 2 inches deep, making it a popular choice amongst office workers.
Though small in size it is still powerful with the Shiatsu massage nodes providing a deep massage and changing direction every minute to mimic the hands of a real masseuse.
Some consumers felt a little frustrated by the changing direction and wished you could alter the setting to fix it in one direction, while many others enjoyed the style of massage and rave about its success for neck pain.
For those with sensitive back problems such as spinal stenosis, the massage was a little too powerful and they missed the ability to alter the speed. Yet those with a long commute were grateful for this handy bag-sized product.
4.

Mighty Bliss Deep Tissue Electric Handheld Percussion Massager
Loosen those knots with this powerful handheld tool
Don't suffer with muscle knots any longer, release them with the Mighty Bliss Percussion Massager. It delivers a powerful 3,700 RPM, which Mighty Bliss liken to the power of a BMW car!
Unlike other percussion massagers which can be a little bulky, this massager is slim and lightweight. It's cordless too, meaning you can pop it in your bag and use it after a session at the gym.
Six different massage heads ensure, as well as your back, you can also reach other parts of your body to relieve any pain or discomfort.
Fitted with the same type of battery you now find in electric cars, it charges really quickly and can be used for 120 minutes.
Deep massage fans loved how the different heads and lightweight nature of the massager meant it could get to those hard to reach places. Many even said it had quickly replaced their massage therapist.
Reach those hard-to-reach places
It may look a little strange and you could presume it isn't up to the job, however the Back Buddy has been relieving back pain for more than a decade.
It has 11 knobs that have been positioned to allow you to get the most from the product and give you the ability to access any pressure point to relieve spasms and muscle knots.
The simplicity of the design gives you the control over the intensity which particularly suited users with myofascial pain syndrome.
Users of the product were impressed with the quality for such a low price, and were surprised by how lightweight it is.
If you struggle with flexibility the Back Buddy might not be the right option for you as it does require you to maneuverer it efficiently to hit the spot, in which case something more like the Resteck Shiatsu Neck and Back Massager could be a better option for those who have limited movement.
6.

Comfier Shiatsu Neck & Back Massager
Enjoy the pleasure of finger pressure Shiatsu
Strap the Comfier Shiatsu massager to your favorite chair and experience pure relaxation.
With this chair pad you get a whole host of different settings to choose from, including 2D and 3D Finger Pressure Shiatsu, air compression and a range of vibrations functions.
Finger pressure Shiatsu really is as wonderful as it sounds. Four rotation massage nodes move inward and outward to give your back the deep massage it needs.
Opt for a full back, upper back or lower back then combine with air massage and heat to create a spa-like experience.
Practically this massage pad can be fitted on to any chair so you can use it both at home and at work.
Spot massage was a favorite feature of the product and people enjoyed the relief it could provide.
Those looking for a softer massage also raved about the product and felt it was well worth the investment.
7.

Sonic X Personal Percussion Massage Gun
A deep tissue massage like no other
Prepare yourself for a massage from the Sonic X Percussion Massage Gun! It promises a massage like no other, as the high intensity vibrations power their way to the source of your back pain.
Sonic X's massager helps your muscles recover after exercise, making it ideal for athletes who want a quick recovery after their workout.
There's no need to fear the power, as you can choose from 5 different levels of intensity, so it works if you're looking for a lighter massage too.
Complete with four interchangeable heads, you can work on your back and the rest of your body. For example the spinal head helps you loosen up your back, with the bullet head helping to target joints and trigger points.
With such intensity you might be worried about the noise, however it's super quiet and also portable as it includes a rechargeable battery.
People who love working out are huge fans of this product. The intensity and performance helps make their workouts more efficient, and they appreciate the flexibility of the different massage heads.
8.

iReliev iRenew Plus TENS + EMS System
An electrifying alternative to a back massager
Unlike the rest of the products on this page, this is not a massager that applies pressure to the body. A pulse massager (also known as a TENS unit) uses low voltages electrical current to relieve pain.
The iReliev iRenew Plus TENS + EMS System offers you a wide range of features including eight TENS programs and six EMS (Electrical Muscle Stimulation) programs.
Both TENS and EMS have been shown to be effective in the management of pain so it could be a great alternative to a traditional back massager.
iReliev's TENS + EMS unit has been cleared by the FDA for use in the management of pain.
The device comes with electrodes and a rechargeable battery that can be charged with a wall A/C adaptor or plugged in to a laptop via a USB adaptor.
iReliev has a great reputation within the TENS community, so if you're looking for a reliable unit this seems to be a name you can trust.
9.

HoMedics Quatro Mini Hand-Held Massager
Small in size, big on power!
If you're looking for a back massager that you can throw in your bag for when you're out and about, then they don't get much smaller than the HoMedics Quatro Mini Hand-Held Massager.
This hand-held massager from HoMedics fits comfortably in to your hand and has attached to it four vibrating massage nodes that can be maneuvered all over the body.
The comfortable hand grip means you can apply pressure as appropriate, and the compactness allows it to be used throughout the body.
It's easy to operate too with a simple on/off button on the device. It takes 2 x AA batteries and weighs just half a pound.
Users have good things to say about the HoMedics Quatro Mini Hand-Held Massager, with one user describing it as their "best friend"!
10.

Brookstone Cordless Shiatsu Neck and Back Massager with Heat
A deep tissue massage that you control
If you're looking for a massager that you can drape around your aching neck and upper back then take a look at the Brookstone Cordless Shiatsu Neck and Back Massager with Heat.
The Shiatsu nodes can travel easily across your shoulders or down the full length of your back.
Brookstone's cordless massager offers vibration and heat functions across 3 levels of intensity, to help relieve tightness and aid in muscle recovery.
Users felt the massager would benefit from additional speed settings, as it only carries one, however the intensity of the massage was pleasing for many who felt it offered exactly the level of deep massage they were looking for.
11.

PowerPro 2-in-1 Foam Rollers
Robust rollers for injury rehabilitation
A gentle or a deep massage, you can get both with the PowerPro 2-in-1 Foam Rollers. We love foam rollers for back pain relief, and PowerPro's 2-in-1 rollers are great as they offer a soft inner roller for gentle relief which is perfect for injury rehabilitation as well as a hard outer core for a real deep tissue massage.
Success for the product has been experienced by those suffering from chronic back pain and migraines, with the PowerPro company also promoting the product as an option for cellulite as the product smoothes and helps to tone the skin.
The product comes at a very competitive price point and ships with a handy carry case as well as 2 e-books to help you get the most from the product.
Some felt the rollers were a little on the small side, with others saying they didn't roll smoothly, however if you're after a simple roller then this product could be exactly what you're looking for.
A unique design that you control
An alternative to the Back Buddy is the Thera Cane which also uses a unique design to help you reach your hard-to-reach places and ease any aches and pains. We love how it can be used to really get to those knots that are causing you discomfort.
The cane has 6 treatment balls, with each one being carefully positioned so you can use it independently. Those who have used the Thera Cane comment on how enjoyable it is after you have carried out a strenuous task or even just for day to day use.
Controlling the pressure was also a key selling point, obviously there is no power to bring the intensity, but you can provide it yourself by using the massager to bring as much or as little pressure as you desire.
Types of back massagers
There are a number of different types of back massagers available, whether you're looking for something handy for a recent ache or if you're looking to make a big investment to deal with chronic daily pain.
Styles of Electric Back Massagers:
Chair
A chair back massager is a piece of furniture that you add to your home, that you can sit in each day. It's a big investment but it's probably the closest you can get to a hands-on massage.
Fact:
A good hands-on massage can play a crucial role in alleviating back pain. Similarly, a good massage chair is designed to provide some measure of pain relief and relaxation, however, without the need for person-to-person interaction.
Chair Pad
The next best thing to a chair massager is a massage pad that you can attach to your favorite chair. It normally hooks over the back and underneath the seat to give your back full coverage.
Handheld
A handheld massager is normally a wand or pad that you operate and maneuver around your body to get to the source of the pain.
Belt
A belt massager can be wrapped around your lower back or draped around your shoulders so you can get a deep massage in key areas.
Cushion / Pillow
A cushion or pillow massager is handy for use on the neck or lower back where you can tuck it exactly where you need the relief.
TENS Unit
A TENS unit comes with electrode pads and sends pulses across the skin that stimulate the nerves.
Styles of Non-Electric Back Massagers
Cane Massager
A cane massager is a simple device which can be maneuvered to the right part of the body to provide relief.
Wooden Ball Massager
A wooden ball massager is rubbed on the problem area to provide relief. The wooden balls are run up and down the skin to release tension.
S Shaped Massager
An S shaped massager is a stick massager which normally has carefully placed nodes so that the massager can be maneuvered to the exact right position.
3 Prong Mini Massager
A 3 prong mini massager is a simple handheld device that can be used to work out knots and tension.
Foam Roller
A foam roller has a hard or soft exterior depending on the relief needed. It is rolled up and down the affected area to release tension in the muscles.

Features of back massagers – what to consider
Shape
The shape of the back massager is important as you need to make sure it can really target the source of your pain. Whether it's an S shaped stick or a chair pad, you need to make sure it can reach where it needs to go.
Size
You also need to consider the size, will it give you coverage for the area you need? Is it too large to be portable? All should be considerations to make the right choice.
Electric / Non-Electric
Consider which option is right for you, whether you want to take your massager on the go, or just ensure you can use it in your favorite chair!
Nodes
The number of massage nodes that the device offers may be important to you if you're looking for a deep and intense massage.
Percussion
Percussion is a style of massage and users have described this technique as "thundering on your back", so perfect if you want a deep tissue massage perhaps not ideal if you're looking for something a little less intense.
Shiatsu
Look for this feature, a Japanese massage technique, if you want to replicate the hands of a masseuse as closely as possible!
Kneading
If you have knots and want a massage that is really going to work them out then you might want to look out for the kneading function.
Wand
If you want hand-held control then you may opt for a wand massager or a unit that includes a wand.
Vibration
Some units offer an additional vibration function which might be something you want to consider for that added extra relief.
Heat
Heat can offer comforting relief from pain as it heats the skin which stimulates the sensors and blocks the pain signals being sent to the brain, many different massagers include this option so it's worth looking out for.
Timer
A timer can be handy if it takes you a while to get to the source of your pain, so you can set a period of time and then just sit back and enjoy the relief.
Auto Shut Down
Auto Shut Down can be great as it protects you and the unit from overheating, however if it takes you a while to get to the source of your pain, a short auto shut down could be frustrating.
Speed / Intensity Settings
If you have good days and bad days and want a massager that can flex with you, then you want to look for something with a selection of intensity settings (also referred to as speed settings). Some devices only come with one setting which might be limiting if you want to switch between rigorous and gentle.
Rechargeable
Some massagers are rechargeable making them handy to be used in the office or on the go.
Portable
If you're wanting to take the massager on vacation or use it at work then a portable option might be the one you're looking for, that is an appropriate size and lightweight. You can also choose a massager for in the car, however this can only be used when stationary or as a passenger.
Attachments
Some massagers come with attachments to target different areas, such as the face.
Memory / Recall
If your pain is hard to reach and you get the intensity just right it can be frustrating to have to go through the various settings each time. Memory/recall functions remember the intensity, speed and style of massage you enjoy which can be helpful day to day.

Benefits of back massagers
Back Pain Relief
Of course the main benefit from a back massager is relief from back pain! A back massager stimulates circulation and relaxes stiff muscles and research proves that massage is very effective for short term relief from back pain.
Improved Circulation
Massage is a technique which is often used to improve circulation, that is because the improved circulation can enhance the delivery of oxygen and nutrients to muscle cells, basically waking them up!
Lift Mood
Massage releases endorphins which relaxes the nervous system and creates feel good hormones. Back massage in general has been shown to be a successful technique for the treatment of anxiety.
Improved Sleep
Having a regular massage is also shown to improve sleep. Those suffering from insomnia due to the menopause have reported marked improvement in their condition following massage.

FAQs
What is a back massager?
What is a back massager?
A back massager is a device that comes in many different forms, it could be a simple pillow or a hand-held wand or a new piece of furniture. Essentially it mimics the hands of a masseuse to provide you with daily relief from pain.
What does a back massager do?
What does a back massager do?
Back massagers are designed to simulate a manual back massage. Massage stimulates your circulation and relaxes stiff muscles to give you relief from
pain
. Massagers can target different areas and use various massage techniques and intensities.
Are back massagers good for back pain?
Are back massagers good for back pain?
Research has shown massage to be highly effective in treating back pain.
A comprehensive review
of a number of studies in 2015, demonstrated the power of both manual massage and back massagers for providing short term relief from low back pain.
How do I choose a back massager?
How do I choose a back massager?
Doing your research is important before you make a purchase to make sure you choose a back massager that will provide you with relief.
Speaking to your doctor or a medical professional could help point you in the right direction, however hopefully by reviewing some of the features above you'll have more of an idea of the back massage that is right for you.
Can I use a back massager when pregnant?
Can I use a back massager when pregnant?
Check with your doctor before using a back massager when pregnant as advice is mixed.
Non-electric, handheld mini massagers can be useful during pregnancy, however always read the instructions before using any product for warnings and precautions. If in doubt, it's best to avoid use.
How much does a back massager cost?
How much does a back massager cost?
Back massagers vary widely in cost, from a few dollars for a small hand-held wooden massager to thousands of dollars for the highest range massage chair, so it's best to set a budget. Once you've chosen the massager that is right for you it's prudent to shop around for the best price.
How long can you use a back massager for?
How long can you use a back massager for?
Manuals for back massager products vary a little in their advice, with 30 minutes appearing to be the most common recommendation. Check the manual of your device for guidance to avoid bruising your muscles.
Many products come with an 'auto-off' feature that encourages you to limit your usage to the recommended time.
Can you sleep on a back massager?
Can you sleep on a back massager?
After overusing a back massager some users have reported that it can cause bruising of the muscles.
Can you drive while using a back massager?
Can you drive while using a back massager?
Advice from back massager product manuals indicates that it's not advisable to use a back massager whilst driving. However you can buy massage cushions for your car seat that you can use when stationary or as a passenger.
Where can I buy a back massager?
Where can I buy a back massager?