When you're looking for a percussion massage gun, naturally you're thinking about investing in a Theragun device.
They've been a trusted name in the market for a number of years, delivering on both power and quality.
However their devices are a little pricey:
The basic model starts at around $199 with the more expensive ones reaching $600. You might therefore find yourself shopping for an alternative more within your price range.
We've scoured the market and shortlisted 10 of the best products, comparing their features with the four latest Theragun devices.
Our Top Theragun Alternatives
Theragun Competitors Reviewed
We've compared each alternative to the Theragun range to help you choose the right massage gun for your needs and budget.
As we compare, we'll talk about how they stack up against Theragun's latest models, the Prime, Elite, PRO and mini.
Slowly does it
Tapping experience with ProTips
Using the Shoc Absorption & Reverberation Massage Head on the slowest speed, 1000 PPM, effectively replicates the tapping massage technique. We saw amazing results on stiff and aching shoulders.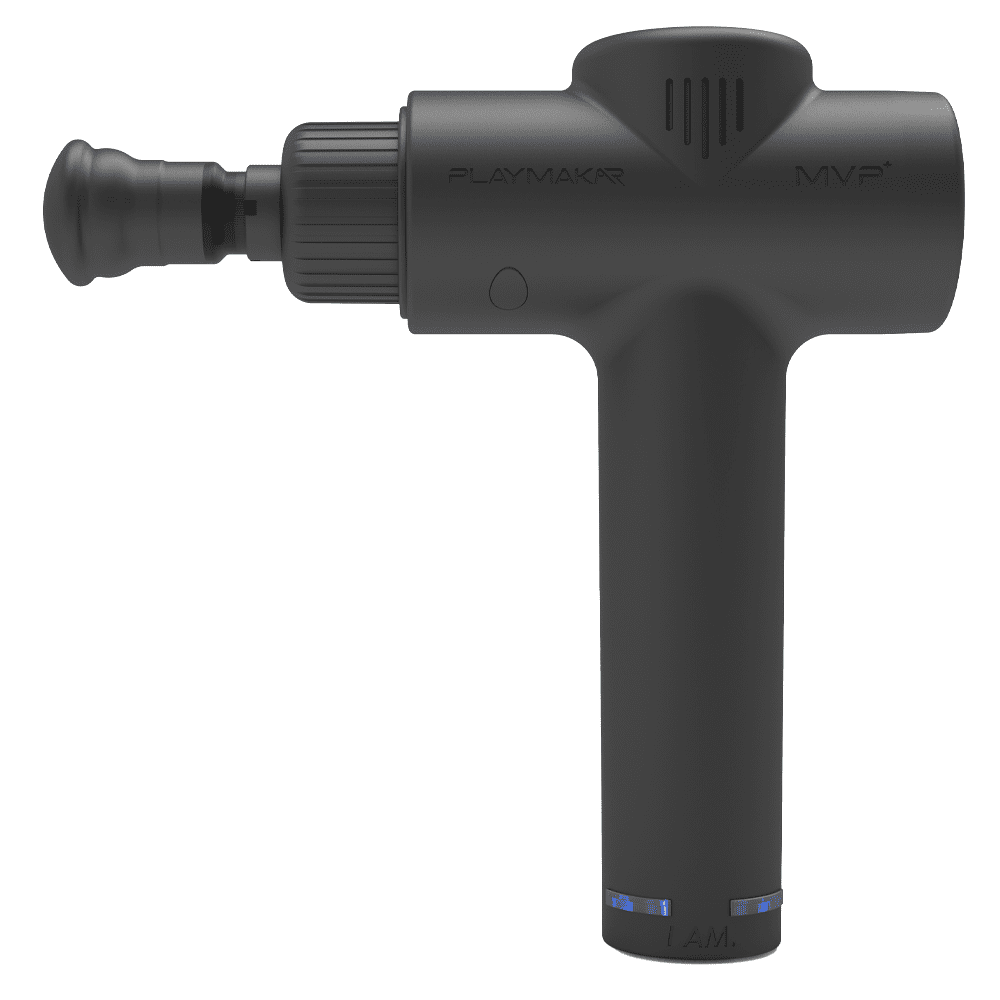 Made from a responsive silica material they deliver an intense treatment, with the special design allowing them to soften after each percussion.
You also have access to a range of additional attachments that make great add-on purchases.
We can't rave enough about the GlidePro Roller Massage Head. It's a real game changer in the massage gun market.
Simulating the elbow massage technique you'd receive from a massage therapist, we found it even better than the real deal.
Moving like a wheel and with a knobbly tread it rolls easily across the soft tissue to relieve tension and release trigger points.
It's hard to put into words just how much we love this tool.
Thanks to the constant pressure, you can enjoy such an intense massage. It's a completely different sensation to any other massage gun attachment we've used before.
The GlidePro Roller Massage Head really is redefining percussion massage therapy and shows true innovation from PlayMakar.
Perhaps the best thing about this attachment is how efficient it is. It does the work in no time, a few rolls over the area being treated and it increases your blood circulation, making you feel like a new person!
Star of the show
Meet the GlidePro Roller attachment
It's hard to put into words just how good this massage head is. PlayMakar are single-handedly redefining percussion massage. Gliding across the body, it delivers the most incredible, intense and rapid treatment.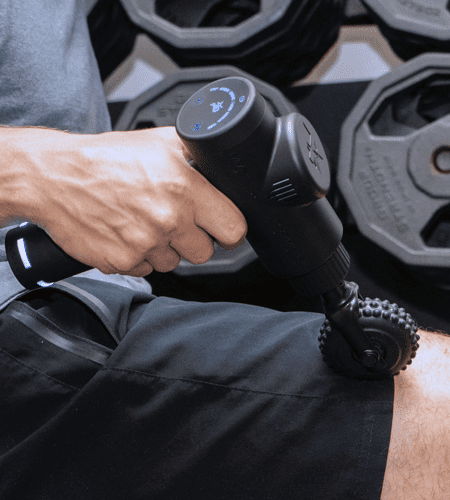 Their HeatTip is another innovative attachment.
With a flat head, it reaches temperatures of up to 140°F, and is ideal for releasing knots and warming up muscles to improve your range of motion.
Both attachments are not included in the purchase of the gun massager, however they provide your massage gun with even more versatility.
Also if you buy the MVP+ Percussion Massager right now you get the HeatTip attachment completely FREE.
So how does everything else stack up?
When it comes to stroke depth, the MVP+ goes 14mm, not quite as deep as the 16mm stroke of a Theragun.
Without getting too scientific, it's worth mentioning the Shoc and EchoBall attachments included with the gun, have been designed for absorption and reverberation. They effectively encourage the body to absorb the impact of each percussion.
How? Well, the hollow air pockets just behind the rubber in the heads allows them to make their impact then refill, taking the stroke up to 3mms deeper.
You won't have the same control over the intensity with PlayMakar's MVP+ (Prime, Elite and PRO models offer a customizable speed range), though you do get a respectable six settings.
One setting is 1000 PPM, a low speed that feels more like the tapping style of massage, steady and deep that allows you to feel each percussion.
Then there is the rotating arm of the PRO. Plus the Therabody app to customize your treatment (though who wants to look down at their phone to control settings when using a massage gun?).
It also doesn't ship with a carry case, however you can buy one separately that has molded compartments to keep everything safe and neat.
Remember it is a great price and has a digital screen to control your settings which is a bonus.
PlayMakar's aim is to break down barriers and make pro tools available to the masses, yet they're still a firm favorite with a number of professional athletes.
Love the features but want something a little more affordable? Take a look at the MVPmini below.
How We Review & Rate
Here at The Good Body we've spent years rating and reviewing Theragun products, so we know what a great alternative looks like!
In this article we've shortlisted 10 of the best alternatives on the market, highlighting key features so you can make the right decision for you.
We've spent hours testing the Theragun PRO, so we know what functionality makes it such a great product.
To come up with a rating, we consider a number of different factors, including stroke depth, percussions per minute, battery life, ease of use, affordability and attachments. We also consider consumer reviews, analyzed from various websites.
Taking all this information, plus our industry knowledge, allows us to come up with a rating that gives you the best overall view of how the product stands up to the Theragun range.
Features to Consider
If you're still struggling to make your decision, then take a look below at a breakdown of the different features of a massage gun.
Thinking about how you'll use your massager and where, might help you work out which features are most important:
Price
Prices range wildly so it's worth setting a budget before you start shopping. You can get percussion massage guns for between $50 to $600, so be sure to shop around and read plenty of reviews before making your decision.
Weight
The weight of the device might not seem like an important feature, however if you're holding it for a long period of time, you need to make sure it's not too heavy. Also positioning a heavy massage gun when trying to treat hard to reach areas is more challenging. Typically percussion massage guns weigh under 3lbs, but it's always worth checking before you make a purchase.
Stroke
When looking at massagers, you'll often see the stroke mentioned, which is quoted in millimeters. This is the depth to which the massager will power into your muscles.
Speed settings
Speed settings are like the volume of the device, increments in which you increase / decrease the number of percussions (PPM). Some guns have speeds on the display (e.g. 1-5), others (like the PRO) show the number of PPM. A choice of speed settings can be good if you're looking to treat different areas of your body with varying intensities.
Percussions per minute (PPM)
This is how many thumps your body effectively takes in a minute! This number is in the thousands and gives you an indication of the power of the product. More percussions = more power. However be careful to look at the depth of the stroke, as a device with a shorter depth will naturally provide a higher PPM as it isn't going as deep.
Force
Shown in pounds, some manufacturers will promote the force of the product. This is the amount of applied pressure the massager can handle without stalling. As a general rule, the higher the no-stall force the better.
Grip
Consider the grip offered by the massage gun and whether you'd feel comfortable holding it for a long period of time. Some are a handle, others are more triangular shaped, both can be effective for your treatment.
Rotating arm
A number of massage guns have a rotating arm, this allows you to treat pretty much anywhere on your body much more easily. When paired with different grip positions, like on the Theragun PRO, you get numerous combinations to treat even the most hard to reach areas.
Bluetooth
Gun massagers can have built-in Bluetooth, enabling them to be paired with the manufacturer app. This can give you access to various programs and personalized routines.
Wi-Fi Enabled
Wi-Fi enabled massage tools have built-in guided programs to help you get more from your treatment. Automatic software updates can mean new programs / treatments are regularly available on your device.
Battery life
All of the top percussion massage guns today will include a rechargeable battery. Take a look at the quoted battery life and think about whether it meets your needs. Many of the pricier models ship with interchangeable batteries, so you can use one and have the other on charge. They're great as you never have to experience the frustration of running out of power mid-treatment!
Noise level
Normally the noise level of the device is quoted in decibels (dB) to help you understand how noisy it will be. Consider where you're going to use it, if you want to use it in a busy gym then a noisy tool might go unnoticed.
Attachments
Devices normally ship with different attachments, carefully created to work on different areas. For example large ball heads for larger muscles groups or a pointed head to work on trigger points.
Carrying case
You might want to look at whether a carrying case is included in the cost. Some massagers ship with a case or a well-designed storage box that could work as one, whereas others sell them separately.
FAQs
Do you have more questions about choosing a Theragun alternative? We've spent years testing and researching massage guns, so we might be able to help!
See a few frequently asked questions below:
What is similar to a Theragun?
Are cheap massage guns any good?
What companies are similar to Therabody?
Is a Theragun worth buying?
Why is the Theragun so expensive?
Now you've explored all the alternatives, you might still be feeling like a Theragun is the right option for you.
Before making your final decision though – and to ensure you make the right choice, read our handy guide on how to choose a massage gun.