If you're shopping for someone who lives with pain on a daily basis, then you're probably looking for a gift that will make their life a little bit easier.
There are so many options you could consider not just to help them manage their pain, but also to simply distract them from their discomfort.
We've put together a list of the best gift ideas for people with chronic pain:
1.

Near Infrared Red Light Therapy Device
Light therapy that penetrates straight to your joints
Near infrared red light therapy is proven to help reduce pain, so what better gift could you wrap up than this nifty little device?
It delivers therapy through two specific wavelengths, both of which are shown through research to reduce inflammation.
100mw/cm2 is thought to be the optimum reach for red light therapy and this device surpasses that, allowing the user to tailor their treatment depending on the level and location of their pain.
It's easy to operate and has rave reviews, making it the ideal gift for someone who is struggling with daily pain.
2.

Mission Farms Relieve CBD Roll-On
Roll on the healing benefits of CBD
Over the last few years the CBD market has exploded, as people realize how powerful it can be for pain, so why not purchase a CBD Roll-On?
It's a great pain relief option that anyone can just throw in their bag and use on the go.
As a simple roll-on, it's also a good introduction if the person you're buying for is interested in CBD but doesn't want to ingest it.
Mission Farms was formed by a group of families who wanted to grow the purest hemp. In their fields in Oregon, the hemp plants are grown without any chemicals or pesticides, instead simply fed by sunlight and water.
With 250mg of full spectrum CBD, essential oils and organic flavourings, it's one of the purest products on the market.
Plus the packaging is beautiful, making Mission Farm products the best gift for someone in pain.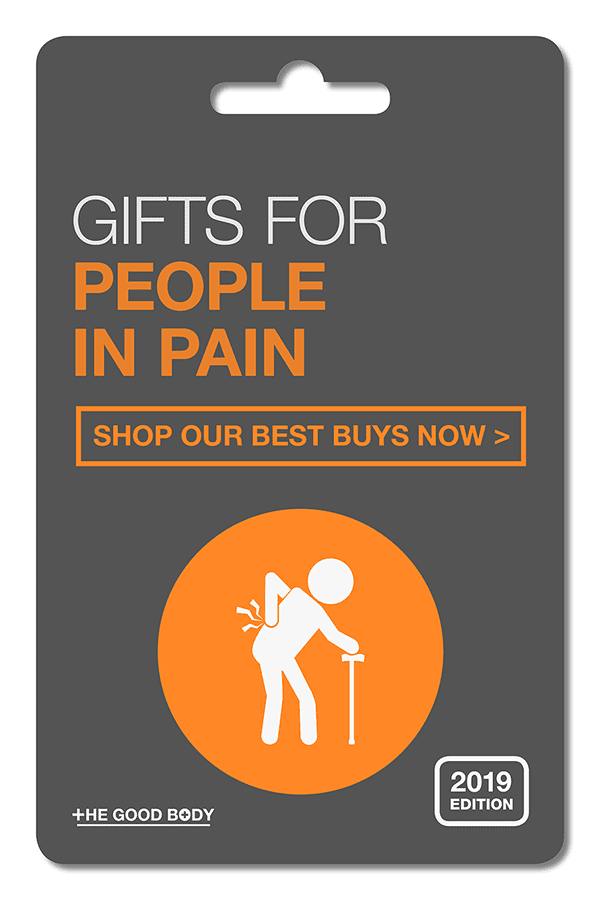 3.

iReliev Premium TENS + EMS Pain Relief & Recovery
Give them the ultimate control over their pain relief
If your loved one hasn't tried a TENS machine, then what are they waiting for?!
A TENS unit has many benefits, particularly for pain, and this model really does offer a wide range of features.
With six EMS and eight TENS modes, it will give them the ultimate control over their pain relief.
iReliev's unit comes with two different sizes of electrodes, so you can position the pads right at the route of the pain, which made it a hit with those reviewing the product.
4.

Pain Management Journal
Help them keep track of their triggers
Journalling about daily pain can really help someone struggling to make sense of their condition.
This pain management journal is ideal as it provides them with the space to track their good days and bad days, and helps them record their activities to see what triggers their condition.
With a high quality, glossy cover, this pain management journal includes pain and mood trackers, as well as meditation exercises which have also been shown to have benefits for pain management.
It's a great stocking stuffer that's filled with inspiring quotes, perfect for the start of a new year.
5.

Mighty Bliss Large Electric Heating Pad
Replace their hot water bottle with something much toastier!
If a hot water bottle doesn't cover their painful area then wrap up the comfort of the Mighty Bless Large Electric Heating Pad.
With a substantial size of 12"x24", it's ideal for covering a wide area, for example if someone suffers from back pain or menstrual cramps.
Made from soft microplush fibers, the blanket is of a high quality and feels gentle on your skin. You can enjoy multiple settings, low, medium and high, and it can be used moist or dry.
Users of the mat loved how quickly it heated, making it not just a hit with humans, but cats too!
Many also commented how powerful and reliable the mat was compared to competitor heat pad products they'd tried in the past.
6.

Overcoming Chronic Pain Through Yoga: The Therapeutic Art of Mindful Movement
Discover the power of yoga for pain relief
This best selling book is the ideal gift for someone who is trying to overcome their chronic pain on both a physical and emotional level.
Qat Wanders is a passionate yogi who used the power of yoga and mindfulness to help her deal with daily debilitating chronic pain.
Yoga has been shown to be an effective treatment for pain, particularly back pain, however this book is more than simply a book of poses to try.
The content of the book focusses on changing your mindset, practicing mindful movement techniques and making interesting lifestyle adjustments.
It's changing the way a person looks at their situation so a really thoughtful gift for someone who might be struggling to come to terms with their condition.
7.

The Miracle Ball Method: Relieve Your Pain, Reshape Your Body, Reduce Your Stress
Two simple squishy balls that can perform a miracle
Has your someone special tried the Miracle Ball Method for their pain?
The Miracle Ball Method was developed by dancer Elaine Petrone, who experienced a back and leg injury and had exhausted every treatment option.
After experimenting with two simple squishy balls she began to heal herself and is now sharing her technique with others.
The Miracle Ball Method kit comes with two balls and a detailed book that helps you understand how to use them for different conditions.
Many who purchased the miracle balls, claimed they performed an actual miracle! People also loved that it was a gentle method of treating pain that was easy to master.
8.

Cushy Form Bed Wedge Pillow
For reading, resting and rejuvenating
If your loved one is one of the 20% of Americans who struggles to sleep due to pain, then treat them to Cushy Form Bed Wedge Pillow.
This bed wedge might look simple but it helps to position your spine and neck in a more natural position.
Reaching up to 12" high and with a memory foam top, Cushy Form's bed wedge offers a comfortable level of support for sleep or just relaxing at home.
The cover can be washed easily so you can use it in bed every night.
Many recommended the wedge for people following surgery, or had purchased it for a snoring partner, and were grateful for the resulting good night's sleep!
9.

Subscription to Curable App
An app to help you understand the cause of your chronic pain
They've tried every possible treatment for their pain, but have they considered a pain management app?
Curable is an app that has been created for people living with chronic pain.
The app works by connecting what's going on in your life, with your brain and body so you can see what's triggering your symptoms.
Essentially they say it will: "address pain from every angle".
Users loved how the app didn't just help them treat their pain, but educated them on what was causing it in the first place. What better gift could you give!
10.

CrateJoy House Plant Box
Fresh plants delivered to your door
When you live with daily pain it can get you down and sometimes you just need a distraction to help lift your mood.
Give someone special a new house plant each month from Crate Joy!
Each house plant delivered is grown in California and comes with advice from a plant expert on its origins and how to take care of it.
They might also get a little surprise like a planter or display stand, so it's certainly a gift they'll look forward to receiving each month.
11.

Ritual Box – Therabox
Gift them balms, soaks and a journal to unwind
Encourage your loved one to unwind from the stresses of living with daily pain by purchasing them this stunning Ritual Box.
As soon as they unwrap their beautiful gift they'll be able to take their self-care to the next level.
They'll discover a stunning range of products that equate to nearly triple the cost, including Himalayan salts bath soaks, The Flowered Life Natural and Organic Soul Salve and a journal to encourage you to develop a new and more fulfilling morning and evening ritual.
Maybe just pop it in your basket as a little treat for yourself!
12.

Home Chef Meal Kit Service
Create delicious meals from prepared ingredients delivered to your door
Remembering to eat healthy when you're exhausted from your pain can be really difficult, so why not give the gift of a Home Chef Meal Kit?
Home Chef deliver menu cards and prepared ingredients right to their door, so they can whip up a delicious and nutritious meal with minimal effort.
Each week they can shortlist the meals they'd like to try, so they can still enjoy their favorites.
You can pick the amount that you want to spend and email across the voucher so they can start using your present straightaway!