The number of people turning to meditation is skyrocketing, and with so many reported benefits it's really no surprise!
But who is leading the way with the practice and exactly how big is the meditation market? Take a look at our top 22 exciting and enlightening meditation statistics below:
Meditation is no longer a practice reserved solely for those seeking spiritual enlightenment. It has now become a trendy, mainstream activity.
Here are our top statistics about meditation that reveal how popular the practice has become:
With an estimated adult population in the US of 253 million adults that works out at nearly 36 million people.
Another piece of research, published by Pew Research Centre in 2014, suggested the number was even higher. They reported that as many as 40% of Americans claim to meditate at least once a week.
Previous research in 2012 in to Complementary and Integrative Health Approaches identified yoga, meditation and chiropractic care as the most popular Mind and Body practices.
Meditation is now the second most popular Mind and Body practice in the US. This makes it more popular than seeing a chiropractor and places it just behind yoga, which is also proving to be a huge growing trend.
Yoga (14.3%)
Meditation (14.2%)
Chiropractor (10.3%)
This statistic recorded in 2017 is a huge rise from 2012 when the figure was just 0.6%. This growth is due to many US schools now including mindfulness practices, including meditation, as part of their curriculum.
It's thought that meditation can help to manage the stress and anxiety that many young people face today.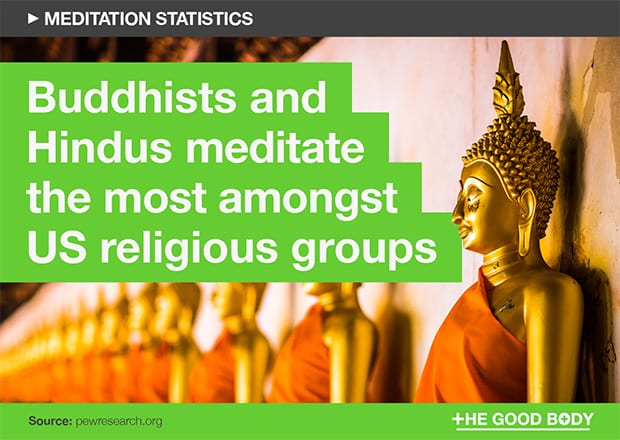 Data from the National Health Interview Survey in 2017 showed that 16.3% of women used meditation, compared to 12% of men.
Little is known about why women choose to practice more, however research does show that they can enjoy more benefits than men.
It's believed that the reason for this is down to the way different genders process emotional distress.
Men tend to eternalize their feelings, whereas women internalize and ruminate over an issue, an emotional response which can respond well to meditation.
However the popularity of the practice is widespread across the age groups, with the 18-44 and 65 and over group not far behind with 13%.
Here is the popularity of meditation by age group:
45-64 age group (15.9%)
18-44 age group (13.4%)
65+ age group (13.4%)
The meditation market is growing and there is money to be made, especially for those developing products to make it more accessible to the masses.
Apple identified mental wellness/mindfulness apps, including meditation apps, as the number one app trend of 2018.
Headspace includes short guided meditation sessions, some of which are free and then other in app purchases for issues such as financial stress and sleep.
The app reported hitting the 1 million subscribers mark in June 2018, with the company confirming in 2017 that it was valued at $320 million.
There are so many ways meditation can improve both your physical and mental wellbeing.
Research conducted in 2016 sought to discover the health benefits of meditation and understand the growth of the practice. Below is the list of reasons given for starting to meditate:
General wellness (76.2%)
Improving energy (60%)
Aiding memory or concentration (50%)
Anxiety (29.2%)
Stress (21.6%)
Depression (17.8%)
In the case of all the above conditions, 60% of the people questioned in the study reported that meditation helped them significantly.
A 2008 study at Stanford University Medical Center, forms part of a wider look at the impact of mindfulness practices, including meditation, on sleep problems.
Sleep disorders are a real issue in the US right now, and the research overwhelmingly concluded that meditation could offer many benefits.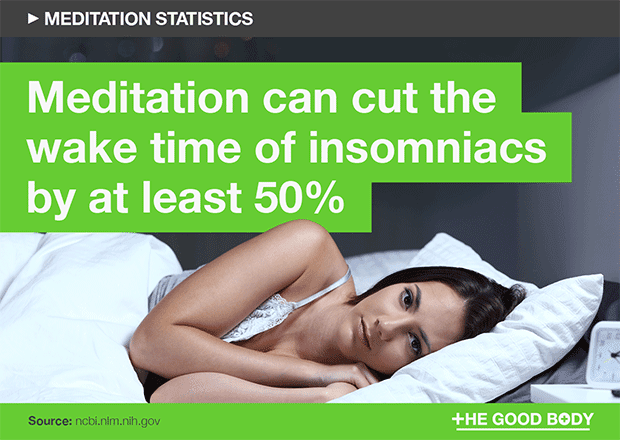 With one in three back pain sufferers stating that their pain stops them from carrying out day to day tasks, this study reached positive conclusions and called for further research to be done.
The groundbreaking research was initially conducted in 1989 then followed up 15 years later to see if the mantra meditation was still working its magic.
It was found that the group who used the technique had a lower CV mortality rate than the group that didn't take part in the practice.
The 1989 project focused on 73 residents and further research has backed up the finding, however it is still felt further research is needed to understand the full effects.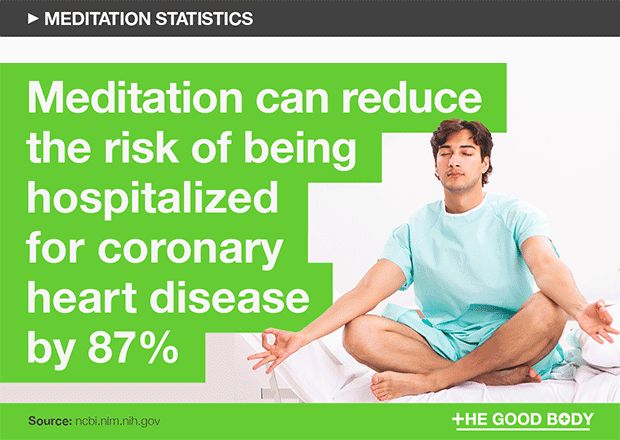 Research at the University of Colorado looked at pregnant women who were at a high risk of developing postpartum depression.
Results highlighted that those following the meditation program had a 18% depression relapse rate compared to a 30% relapse rate overall.
A study reviewed in 2018 focused on veterans and noted that as well as a reduction in symptoms, improvements were seen in associated issues such as self-blame and numbing cognitions.
The study forms part of a wider look at mindfulness practices and PTSD, with exciting and positive findings being reported.
As we get older, our telomeres, which are the little caps or lids that protect our DNA strands and chromosomes, get shorter. For those suffering from Alzheimer's Disease this happens at a much faster rate.
Groundbreaking research conducted in 2015 showed that meditation could help to increase telomerase, the enzyme that protects our telomeres, significantly therefore delaying the onset of Alzheimer's Disease.
Meditation doesn't just have benefits for your health, it can also be a powerful tool when used in the workplace.
The result is a big increase from 36% in the previous year. The report, published by the National Business Group on Health (NBGH), reported that an increasing number of companies were also introducing stress reduction programs.
The now iconic study at H.A. Montgomery Company, a chemical plant in Detroit, was one of a kind back in the 1980s.
Team members were encouraged to meditate twice a day for 6 months, using a form of meditation known as Transcendental Meditation.
Results were profound, absenteeism was reduced by 85%, injuries dropped 70% and profits rose a massive 520%!
There is also a lot of evidence to highlight how positive meditation can be in the classroom, for improving performance and the mental wellbeing of children.
Though no recent research can suggest the number today, it now forms a part of the curriculum in many states suggesting the number is much higher.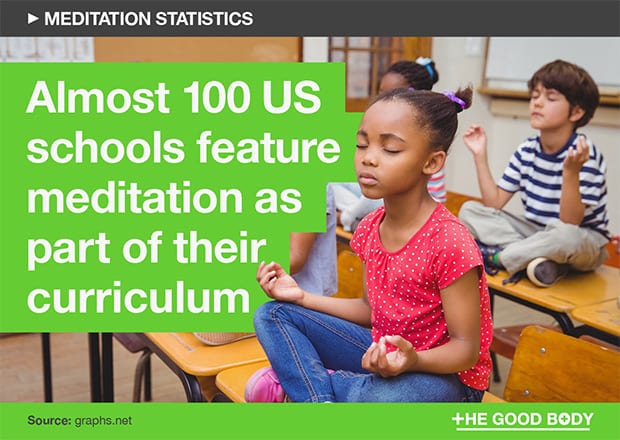 Visitacion Valley Middle School in San Francisco had a problem with violence in the neighborhood, and gang culture would often find its way on to the playground.
They started a program known as 'Quiet Time', a form of group meditation.
Just one month later they began to notice positive changes in behavior and two years later they reported a 98% attendance rate and the highest happiness levels in a state-wide school survey.
Though the practice originates in India, meditation is now a global phenomenon with not just the US understanding the power of regular reflection.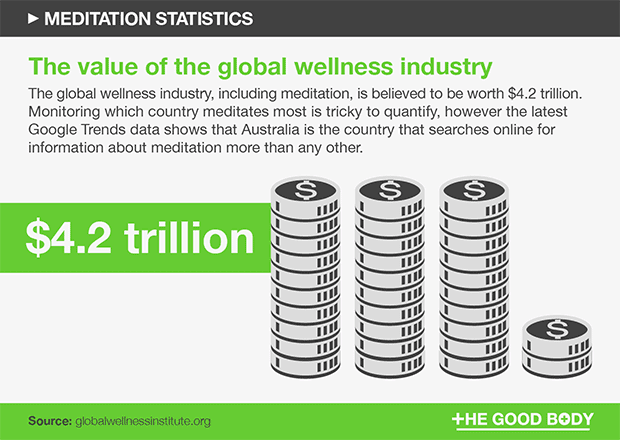 Monitoring which country meditates most is tricky to quantify, however Google Trends data over a 12 month period shows that Australia and Ireland are the countries that search online for information about meditation more than any other.
The historic findings were discovered during the war in Lebanon in the 1980s. Peace-creating assemblies were formed in Jerusalem, with the result being a 76% reduction in war-related deaths.