The number of people turning to meditation is skyrocketing, and with so many reported benefits it's really no surprise!
Meditation is no longer a practice reserved solely for those seeking spiritual enlightenment. It has now become a trendy, mainstream activity.
Meditation Stats and Facts: A Quick Summary
Over 14% of US adults have tried meditation.
Since 2012 the number of people practicing meditation has tripled.
7% of children in the US now meditate.
Women are more likely to meditate than men.
The value of the meditation market is set to double by 2022.
The top 10 most popular meditation apps generated $195 million in sales in 2019.
General wellness is the number one reason people gave for meditating.
It is believed that globally between 200 and 500 million people meditate.
Key Statistics on Meditation: Infographic

Share this infographic on your site
Popularity of Meditation Statistics
Who is leading the way with the practice and exactly how big is the meditation market? Take a look at our mind-blowing meditation statistics below: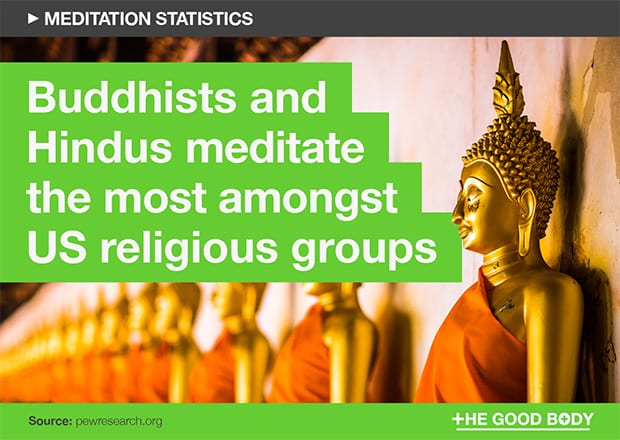 Benefits of Meditation
There are so many ways meditation can improve both your physical and mental wellbeing.
Sleep disorders are a real issue in the US right now, and the research overwhelmingly concluded that meditation could offer many benefits.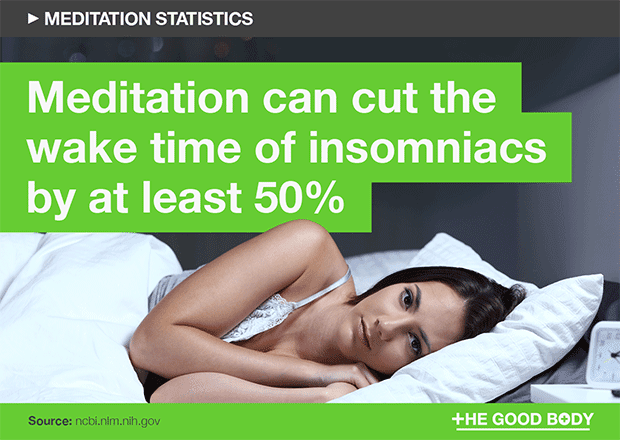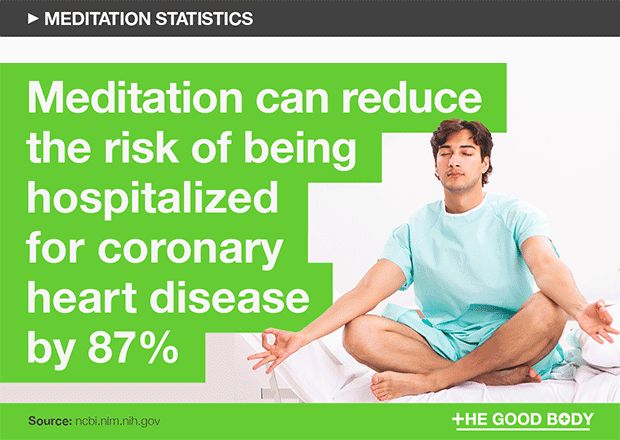 Meditation in the Workplace
Meditation doesn't just have benefits for your health, it can also be a powerful tool when used in the workplace.
The now iconic study at H.A. Montgomery Company, a chemical plant in Detroit, was one of a kind back in the 1980s.
Team members were encouraged to meditate twice a day for 6 months, using a form of meditation known as Transcendental Meditation.
Results were profound — absenteeism was reduced by 85%, injuries dropped 70% and profits rose a massive 520%!
Classroom Meditation
There is also a lot of evidence to highlight how positive meditation can be in the classroom, for improving performance and the mental wellbeing of children.
Though no recent research can suggest the number today, it now forms a part of the curriculum in many states suggesting the number is much higher.
In fact, 41,000 teachers across the US have signed up to use the Calm app both at home and in their classroom.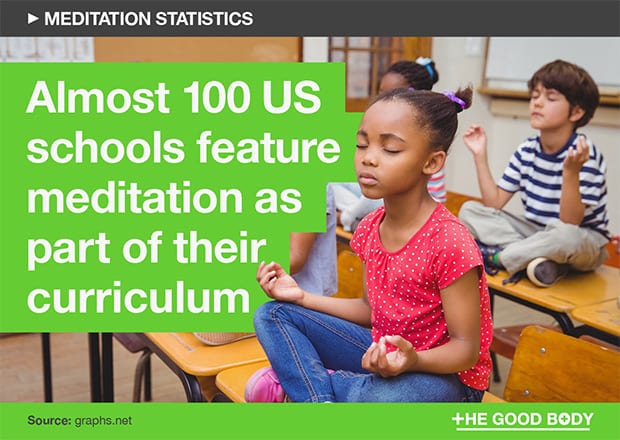 Visitacion Valley Middle School in San Francisco had a problem with violence in the neighborhood, and gang culture would often find its way on to the playground.
They started a program known as 'Quiet Time', a form of group meditation.
Just one month later they began to notice positive changes in behavior and two years later they reported a 98% attendance rate and the highest happiness levels in a state-wide school survey.
Meditation Worldwide
Though the practice originates in India, meditation is now a global phenomenon with not just the US understanding the power of regular reflection.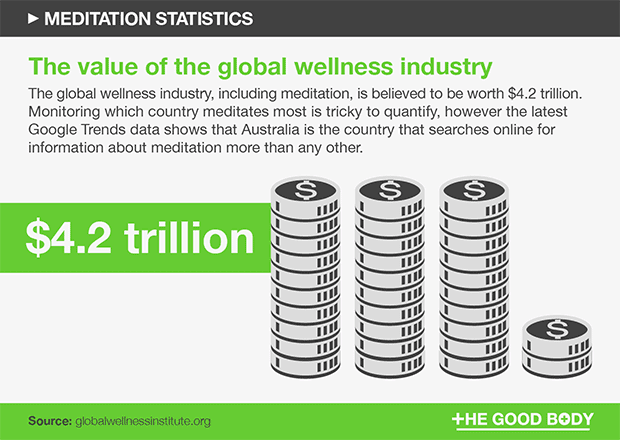 Monitoring which country meditates most is tricky to quantify, however Google Trends data over a 12 month period shows that Australia and Ireland are the countries that search online for information about meditation more than any other.
The historic findings were discovered during the war in Lebanon in the 1980s. Peace-creating assemblies were formed in Jerusalem, with the result being a 76% reduction in war-related deaths.