If you're looking for the closest thing to your own personal masseuse (and you've exhausted every massage tool!) then you're going to end up searching for the perfect massage chair.
We understand that it's a big investment, not just financially but also in terms of space within your home.
Each massage chair offers its own unique mix of features and settings, which can be tricky to compare if you haven't owned one before.
To help, we've highlighted the features of the top 10 massage chairs and also included a handy buying guide later in this article so you can make the most informed decision.
SIMPLE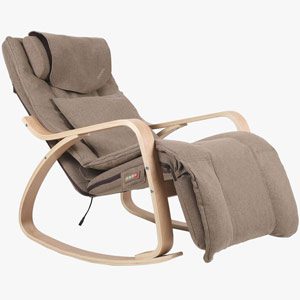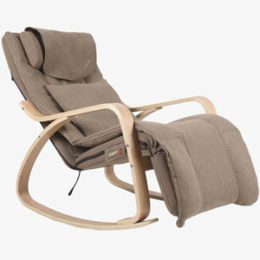 OWAYS
Rocking Massage Chair and Recliner
Blends in with your home, while still delivering a satisfying massage
AFFORDABLE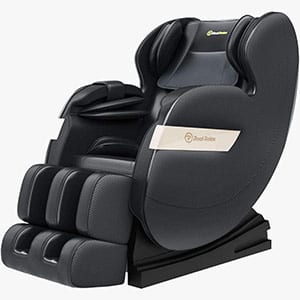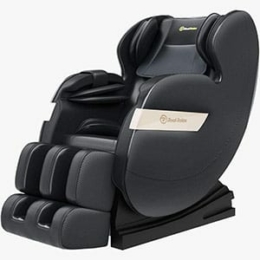 REAL RELAX
Zero Gravity Massage Chair
All the best features of a massage chair, including zero gravity, for a great price
FUTURISTIC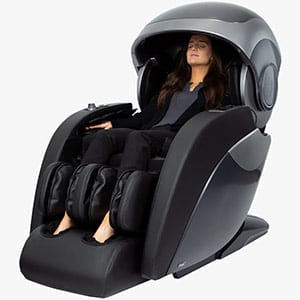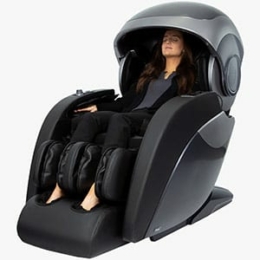 OSAKI
OS-4D Escape Massage Chair
Every feature you could need, including chromotherapy lighting to soothe your mind
Did you know?
The massage chair was first introduced to the market in the late 1980s![1]
Our 10 Best Massage Chair Reviews (for Ultimate Relaxation)
After taking a look at the market, we've compiled the best of the best massage chairs at a range of different prices for you to consider:
Types of Massage Chairs
Here are the different types of massage chairs available so you can start to narrow down your search:
Recliner
The most traditional type of massage chair is the recliner. Normally a lower cost option than zero gravity, it is essentially a comfortable seat with massage features that fits well within the home.
Zero Gravity
Inspired by space travel, zero gravity recliners are designed to take the pressure off your legs and back and evenly distribute your weight for relief from daily pain.
Full Body
A full body massage chair takes care of the whole body, normally cradling the user to provide all over relief.
It's typically a higher priced product as it claims to be the closest thing to a human massage.
Ottoman
If you want a more traditional look, you may opt for a matching ottoman. This is a chair with a separate footstool, both of which have massage rollers and / or airbags.
Chair / Seat Pad
If you don't have the budget for a massage chair or have the space available then you can essentially create your own with a seat pad.
Seat pads can be attached to your favorite chair or be used while sat up in bed.
We've written a review of the best chair pads on the market, that you can read here.
Features of Massage Chairs
The different functions and features of massage chairs can be overwhelming.
Below, we've broken them down into different categories so you can be sure you're choosing the ones that are right for you.
If you need more detailed info, you can read about the different considerations when choosing a massage chair here.
Shape
S Shape
Most chairs traditionally use an S-Shape Track System. If you think of the letter 'S', this is the way the massage rollers will run up and down your back, following the curvature of your spine.
L Shape
L-Shape chairs use a different technique, running up and down your back but also into the seat beneath you as well, just imagine you're sitting on the letter 'L'.
It's essentially an extension of the S-Shape, helping to not just cover your back but also get right into your lower back and hamstrings.
SL Shape
Some massage chairs, like the iRest SL Track Massage Chair Recliner, offer both an S and an L-track system.
This means you get the benefits of both systems as described above. Generally these chairs are more expensive.
Massage Types
Shiatsu
Look for this feature, a Japanese massage technique, if you want to replicate the hands of a masseuse as closely as possible! Some shiatsu massage chairs include an optional direction mode so the nodes can change direction for a more realistic massage.
Percussion
Users have described this technique as "thundering on your back", perfect if you want a deep tissue massage.
Percussion massage also offers a host of different health benefits, including improving your sleep, helping to manage pain and speeding up your recovery from injury.
Kneading
Kneading is a massage technique that involves applying pressure to the muscles, relieving tension by lifting and rolling the tissues. Massage chairs replicate this technique with nodes and airbags, perfect if you want to release muscle knots.
Compression
Compression massage uses air bags within the chair to recreate a tapping massage, putting pressure on different areas to provide relief from pain.
Stretching
Stretching programs are when the chair gently expands, pulling your limbs to encourage a stretch in your spine. The technique can help to lubricate joints and muscles, as well as improve your flexibility.
Tapping
Tapping is probably one of the oldest massage methods. It can be a gentle, but firm, technique that involves the use of the fingertips to release points of tension and improve circulation.
Programs and Settings
Intensity / Speed Settings
If you have good days and bad days and want a massage that can flex with you then you want to look for a massager with a selection of intensity settings. Some devices only come with one setting so make sure you choose what is right for you.
Don't assume that more intensity settings means more power. It generally means that the intensity increases in smaller increments than its competitors.
No. of Auto Programs
Each chair has a number of preset, automatic programs that have been specially tailored.
The number of these auto programs varies between chairs, so if you like lots of choice you might want to consider one that offers a full range of different programs.
Memory / Recall
If your pain is hard to reach and you get the intensity just right it can be frustrating to have to go through the various settings each time. Memory / recall functions remember the intensity, speed and style of massage you enjoy which can be helpful day to day.
Vibration
Some units offer an additional vibration function which might be something you want to consider for that added extra relief.
Auto Shut Down
Auto Shut Down can be great as it protects you and the unit from overheating, however if it takes you a while to get to the source of your pain, a short auto shut down could be frustrating.
Body Scan Technology
Higher priced chairs offer their own body scan technology that uses sensors to check your height and size, so it can tailor your massage more effectively.
Manual Mode
If you like having full control over your massage rather than using presets than you might want to choose a chair that comes with a manual mode. Not all chairs have this so it is important to check.
Entertainment and Connectivity
Remote Control
All chairs come with some form of remote control, whether it's built in or wireless.
Some chairs now offer touch screen remotes, so think about how you'd like to select your settings.
Car Charger
Obviously only for chair pads! Using your device in your car, between meetings for example, might be important to you, so look for a seat pad that ships with an in car charger.
USB Port
Increasingly the latest chairs come with a USB port so you can charge your mobile device and use it while receiving your massage.
Bluetooth Speakers
Certain chairs come with built-in Bluetooth speakers, allowing you to connect up your mobile or tablet and create a more ambient experience.
Logistics
Size
Take a look at the size and how it may fit into your living space as they can be large items. Space-saving designs are available.
Weight
If you want a chair you can easily move from room to room then take a look at the weight as they can be cumbersome but there are some lightweight options available.
Swivel Base
A swivel base can be useful if you plan to use it as an office chair — essentially the chair rotates on a base.
Space Saving
Some chairs use space-saving technology, created for smaller living spaces, requiring minimal space from the wall when reclined.
Wheels
Some massage chairs, such as the Real Relax, have built-in wheels. This gives you the ability to move it easily from room to room.
Warranty
It's worth taking a look at the warranty that different massage chair brands offer as they vary widely, for example does it just cover labor? Or parts too? And for how many years?
Coverage
Head Massager
If you're looking for help with headaches or migraines then you might want to look for a chair that incorporates a head or scalp massager for relief from your pain.
Foot Massager
Chairs may also come with a foot massager, either separately as an ottoman or as part of the chair. They can include air bags or rollers for a deep and intense foot massage.
Neck Massager
Neck massage is also a function that can be included, so if you carry tension there it could be worth considering a model with a neck massager.
Shoulder Massager
Air bags and rollers are functions that you'll find in some chairs targeting the shoulders for pain relief.
Benefits of a Massage Chair
Conditions of the Joints and Muscles
Arthritis
Chiropractors and doctors often recommend massage chairs to help those coping with arthritis to improve their flexibility.[3]
Massage therapy can be an effective treatment for arthritis, however for certain forms of severe arthritis it can have a negative effect so it's important to consult with your doctor.
Muscle Tension
Tension in the muscles can also be relieved, whether in your neck, shoulders or back.
Neck Pain
Neck massagers mimic the hands of a masseuse stimulating the muscles and nerve endings. Research has shown that massage therapy is an effective treatment for chronic neck pain, and a chair massager is essentially simulating this technique.
Shoulder Pain
Shoulder pain is one of the most common pain complaints reported in the US.
By stimulating the muscles with a massager it is believed that this provides relief.[5]
Hormonal Conditions
Did you know?
Over 10% of the population of the USA suffer from diabetes.[7]
Conditions of the Nervous System
Sciatica
Massage chairs are suggested as an effective therapy for those suffering from sciatica.
Those with ottomans in particular are ideal as sciatica sufferers can experience a lot of leg pain.
Blood Flow and Pressure
Hypertension
Hypertension, which leads to heart disease and stroke, causes the sufferer to have high blood pressure. Massage as a therapy is proven to help reduce a patient's heart rate and stress levels[8].
Mental Health Conditions
Reduce Anxiety
Massage therapy is recommended as a treatment option for those suffering from Generalized Anxiety Disorder, helping them to relax and relieve tense muscles.[9].
Relaxation
It's no surprise that one of the major benefits is relaxation! If you're struggling to unwind it could be a great investment.
FAQs
What does a massage chair do?
How does a massage chair work?
Are massage chairs effective?
How long can you use a massaging chair for?
Can I use a massage chair while pregnant?
Can I use a massage chair with a pacemaker?
Can massage chairs hurt your back?
Are massage chairs good for your health?
How do I choose a massage chair?
How much does a massage chair cost?
Where can I buy a massage chair?