If you're looking for the closest thing to your own personal masseuse then you're probably going to end up searching for the perfect massage chair.
We understand that it's a big investment, not just financially but also in terms of space within your home, which is why making the right decision is so important.
Luckily we've taken a look at the market and compiled the best of the best massage chairs at a range of different prices for you to consider.
Did You Know?
The massage chair was first introduced to the market in the late 1980s!
Our 10 Best Massage Chair Reviews (for the Ultimate Relaxation)
Before using any type of massaging chair, you should always read the instruction manual. If you are unsure of its suitability it's best to speak to a medical professional to ensure it is appropriate for your health or medical conditions.
Take a load off, quite literally, in this zero gravity Oootori Massage Chair. Choose to recline completely and remove all weight and pressure, while enjoying the heating function that warms your lower back.
Experience a full body massage, with airbags positioned strategically to simulate different massage techniques including shiatsu, kneading and knocking.
An extra little treat with this chair is the acupuncture-inspired foot roller which is thought to help combat muscle tension, and help relax you further.
With the Ootori chair costing around $1000, reviewers agreed that you get a lot of bang for your buck, compared to pricier rivals.
Users seem to move quickly from occasional use to daily use, after being amazed at how much it helped their aches and pains.
Plus a built-in Bluetooth speaker provides a welcome distraction from the stresses and strains of your day.
2.

Relaxonchair MK-II Plus
Relaxonchair are known for creating high-quality massage chairs and the MK-II Plus is no exception.
Like other massage chairs, it has massage nodes that move on an L-Track, allowing you to really focus on your lower back. However unlike other models in its price bracket it also offers a great range of other features.
You can choose from three zero gravity settings, allowing you to not just recline but also lay flat to take the pressure off your whole body.
Airbags are used to deliver a full body massage, which is perfectly tailored to your height thanks to the built-in computerized body scanning feature that measures the length of your spine.
Choose the MK-II Plus' spinal decompression program and receive a full body stretch, plus heating pads in the lumbar area make it ideal for someone looking for a massage chair for back pain.
When users of the chair could tear themselves away to write a review, they raved about the intense massage and how they loved the large and easy-to-operate control unit.
Many people reported their family fighting over the chair, as it can easily adapt to people of different sizes.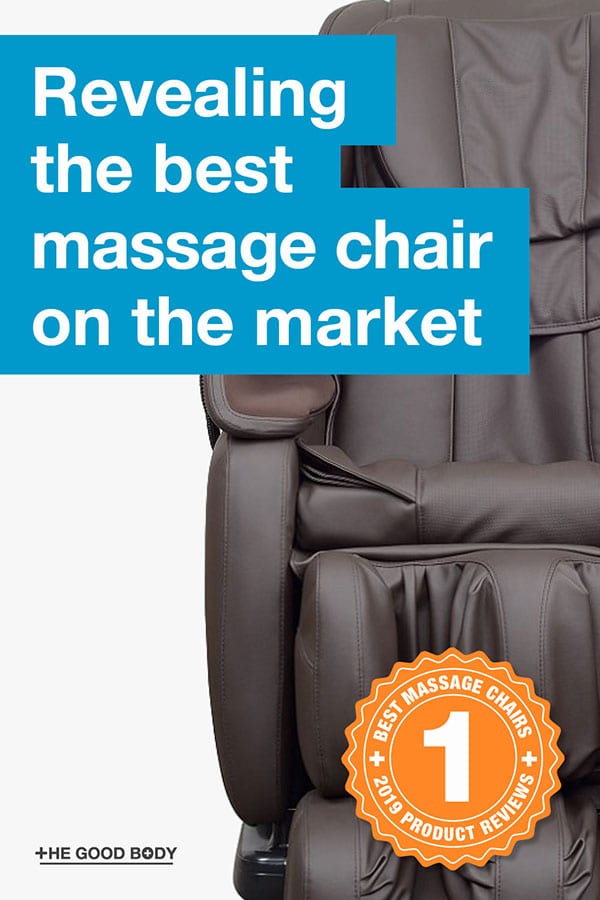 3.

Electric Full Body Shiatsu Massage Chair
Where a lot of massage chairs focus on delivering heat to your lower back, this Electric Full Body Shiatsu Massage Chair treats you to heat therapy on the soles of your feet too.
Taking inspiration from Chinese heat therapy, it is thought to help improve your circulation
With a range of different settings to choose you can really tailor your massage, choosing from different massage styles including kneading, tapping and of course shiatsu.
The full body massage chair contains 21 airbags, with multiple airbags positioned around your hip and waistline to help support your lower back.
Similarly to the Relaxonchair, the chair comes with built in sensors to detect the length of your spine so it knows exactly where to deliver the most satisfying massage.
For a lower cost than other competitors, the chair really offers a vast range of features which make it popular with shoppers. Though not real leather, people were really impressed with the quality and finish. One user claimed it was the greatest possible investment for both health and comfort!
4.

Inada Sogno Dreamwave Massage Chair
Inada claim that their Sogno Dreamwave Massage Chair can massage more surface area of your body than any other chair on the market.
The figure of 8 massage motion is supported by 101 air cells to closely mimic the hands of a trained masseuse.
If you need a deep stretch throughout your entire body, Inada's massage chair offers you exactly that with a gentle rotational stretch of your shoulders to relieve tension.
Another detail worth mentioning is the special setting for young users. If you're purchasing for a family then teenagers can use the 14+ option for a more gentle massage.
This is a top-of-the-line product with a high end price, but when you check the reviews you can see that people were more than happy with their purchase.
They described it as 'heaven on earth' and felt it offered them the deepest sense of relaxation.
Many felt that no other chair on the market could cover as many shiatsu pressure points as this chair was capable of.
Did You Know?
'Sogno' means dream in Italian.
5.

Snailax Shiatsu Neck and Back Massager with Heat
If you don't have the budget or space to accommodate a massage chair then consider the Snailax Shiatsu chair pad.
Its rigid back means you can fix it on to your office chair while you work or a comfortable chair in your bedroom to relax before bed.
Snailax's Shiatsu massage chair pad delivers an intense neck massage through four nodes that penetrate deep in to your tissue to help unwind tight muscles. They can also be adjusted to suit the height of the user.
When it comes to your back, choose the soft rolling setting or experience the pleasure of massage nodes traveling up and down your spine, using the 'Spot' feature to target your pain.
If you're concerned about the intensity then this chair pad also comes with an intensity control flap so you can limit the pressure of the treatment.
Soothing heat is delivered to your back and neck for extra comfort, making the pad the perfect gift for someone who is feeling stressed out.
Users loved how compact the pad was, meaning they could carry it with them to use in the office.
'Spot' feature was also mentioned repeatedly as people felt they could effectively get to the source of their pain.
6.

Real Relax Massage Chair
If you're looking for a chair you can move from room to room then choose the Real Relax Massage Chair. It has wheels in the back for easy movement, without compromising on any of the features.
You still get a zero gravity setting and an airbag massage to your whole body, plus air compression treatment for your calves and feet.
Heat therapy adds to the relaxation and a simple-to-use remote control means you can tailor the intensity to whatever suits you.
Real Relax's massage chair also comes with arm clips to help support and treat your arms during your massage.
If you're looking to invest in your first massage chair, then fans of the product felt this was a good start as it has all the features and offers great value for money.
Some did find their massage a little intense, but those looking for pain relief at the end of a busy day highly recommended the product.
They especially appreciated how you could turn the massage settings off and simply enjoy the heat and vibration features when required.
7.

Ootori Zero Gravity Massage Chair
Another affordable option is the Ootori Zero Gravity Massage Chair. Though less than a $1000, this chair looks great quality and is made from a soft luxury synthetic leather.
It has many exciting features for the price including a foot roller and a built in Bluetooth speaker for the ultimate in relaxation.
If a zero gravity massage chair is what you're looking for then the Ootori chair offers three different stages.
You can really tailor your massage by customizing the speed and intensity as well as the location of the massage nodes.
Ootori's chair promises a satisfying arm massage and also comes with a waist heater to provide comfort to your lower back.
Users were impressed with the quality of the chair for the price. They mentioned that it might not have all the extra features of the high end chairs, such as body scanning capabilities, but that the quality of the chair and the massage it delivered was incredible for the price.
8.

Kahuna Superior Massage Chair
Combine a satisfying massage with the healing powers of acupressure when you take a seat in the Kahuna Superior Massage Chair.
Kahuna's chair offers just about every element you could possibly need! You can experience the stress relieving benefits of the zero gravity position and take advantage of a number of different programs and massage techniques including yoga stretching, which is thought to help loosen up your muscles.
Acupressure points for your arms help you enter a deeper state of relaxation, plus your feet will feel refreshed after a wrap around squeeze massage!
This high quality massage chair also uses space saving technology. It needs only 3 inches from the wall when in zero gravity position, due to the way the chair slides forward as it reclines.
Kahuna's superior massage chair really is an investment, and thought to fit everyone more comfortably as it's taller and wider than typical massage chairs.
Purchasers enjoyed the intensity of the six back massage rollers in the chair, when combined with the airbags and foot rollers. "Golfer" setting appeared to be a particular favorite.
The remote for the chair was also thought to be a valuable feature, as it's easy to operate and find the settings you love.
9.

ideal massage Full Featured Shiatsu Chair
Available in a range of different colors, this home massage chair can blend seamlessly in to your home.
The mounted remote control is user friendly, allowing you to tweak your massage and settings with just a simple touch.
Settings include three zero gravity positions and a range of air bag and roller massage functions, intensities and speeds.
Choose a head to toe massage and you can opt for between five and thirty minutes, depending how long you have to spend.
Some people found the foot rolling function disappointing but they were more than willing to overlook it for the high quality massage for the price.
Intensity was mentioned time and time again, making the ideal massage Shiatsu chair a great option for those in need of an intense massage.
10.

Best Choice Products PU Leather Massage Recliner Ottoman
With a detachable ottoman, Best Choice's faux leather massage recliner is sure to look good in any home.
It's a comfortable chair before you even realize that it also has a range of different massage settings and intensity levels for you to enjoy.
The design of the chair means the massage function is really discreet and the controller itself can be easily stored away in the built-in side pocket.
Best Choice's chair gets to work on your back as well as your feet and comes with heat options to provide comfort for your muscles.
For a low cost massage chair, people were really satisfied with their purchase. They felt that not only was the chair comfortable but it gave them a satisfying massage.
What more could you want when you're investing in a massage chair?
Types of Massage Chairs
Here are the different types of massage chairs available so you can start to refine your search:
Recliner
The most traditional type of massage chair is the recliner. Normally a lower cost option than a zero gravity chair, it is essentially a comfortable chair with massage features so fits well within the home.
Zero Gravity
Inspired by space travel, zero gravity recliners are designed to really take the pressure off your legs and back and evenly distribute your weight for relief from daily pain.
Full Body
A full body massage chair takes care of the whole body, normally cradling the user to provide all over relief, typically a higher priced product as it claims to be the closest thing to a human massage.
Ottoman
For a massage chair that looks more like a traditional chair, you may opt for a massage chair with ottoman. This is a massage chair with a separate footstool, both of which deliver a massage.
Chair / Seat Pad
If you don't have the budget for a massage chair or don't have the space available then you can essentially create your own massage chair with a seat pad. Seat pads can be attached on to your favorite chair or be used whilst sat up in bed.

Features of Massage Chairs
The different functions and features of massage chairs can feel a bit overwhelming, so here we've broken them down in to different categories so you can be sure you're choosing what's right for you:
Shape
S Shape
Most chairs traditionally use an S Shape Track System. If you think of the letter 'S', this is the way the massage will run up and down your back, following the curvature of your spine.
L Shape
L Shape chairs use a different technique, running up and down your back but also in to the seat beneath you as well, just imagine you're sitting on the letter 'L'.
It's essentially an extension of the S Shape, helping to not just cover your back but also to get right in to your lower back and hamstrings.
Massage Types
Shiatsu
Look for this feature, a Japanese massage technique, if you want to replicate the hands of a masseuse as closely as possible! Some shiatsu massage chairs include an optional direction mode so the nodes can change direction for a more satisfying massage.
Percussion
Percussion is a style of massage and users have described this technique as "thundering on your back", so perfect if you want a deep tissue massage perhaps not ideal if you're looking for something a little less intense.
Kneading
If you have knots and want a massage that is really going to work them out then you might want to look out for the kneading function.
Compression
Compression massage uses air bags within the chair to recreate a tapping massage, putting pressure on different areas to provide relief from pain.
Stretching
Stretching can help to lubricate joints and muscles so take a look for this feature if you want a chair that's really going to stretch you out!
Tapping
Tapping is probably one of the oldest massage methods, helping to improve circulation and relax muscles. If you enjoy this method then look out for a chair that offers this feature.
Programs and Settings
Intensity Settings
If you have good days and bad days and want a massage that can flex with you then you want to look for a massager with a selection of intensity settings. Some devices only come with one setting so make sure you choose what is right for you.
Speed Settings
As well as intensity settings you need to look at what speed settings are offered if you want something fast and rigorous or if you're looking for something slow and gentle.
No. of Auto Programs
Each chair comes with a number of preset, automatic programs that have been specially tailored. The number of these auto programs vary between chairs, so you like lots of choice you might want to consider a chair that offers a full range of different programs.
Memory / Recall
If your pain is hard to reach and you get the intensity just right it can be frustrating to have to go through the various settings each time. Memory/recall functions remember the intensity, speed and style of massage you enjoy which can be helpful day to day.
Vibration
Some units offer an additional vibration function which might be something you want to consider for that added extra relief.
Heat
Heat can offer comforting relief from pain as it heats the skin which stimulates the sensors and blocks the pain signals being sent to the brain, many different massagers include this option so it's worth looking out for. Infrared heat is also a feature offered by some devices.
Auto Shut Down
Auto Shut Down can be great as it protects you and the unit from overheating, however if it takes you a while to get to the source of your pain, a short auto shut down could be frustrating.
Body Scan Technology
This technology within the chair means it will scan your body shape and then tailor your massage to the places you require.
Manual Mode
If you like having full control over your massage rather than using presets than you might want to choose a chair that comes with a manual mode. Not all chairs have this so it is important to check.
Entertainment and Connectivity
Remote Control
All chairs come with some form of remote control, whether it's built in to the chair or wireless. Some chairs now offer touch screen remotes, so think about how you'd like to operate the chair.
Car Charger
Obviously only for chair pads! Using your device in your car, between meetings for example, might be important to you, so look for a seat pad that comes complete with an in car charger.
USB Port
Some chairs come with a USB port so you can charge your mobile device and use it whilst you're receiving your massage.
MP3 Player
If playing music is important to you then some models come with an mp3 player allowing you to load in your favorite songs.
Bluetooth Speakers
Certain chairs come with built in Bluetooth speakers, allowing you to connect up your mobile or tablet and play music whilst you enjoy your massage.
Logistics
Size
Take a look at the size of the chair and how it may fit in to your living space as they can be large items. Space saving designs are available.
Weight
If you want a chair you can easily move from room to room then take a look at the weight of the chair as they can be cumbersome but there are some lightweight options available.
Swivel Base
If you want to use your massage chair as an office chair then a swivel base could be handy, essentially the chair rotates on a base.
Space Saving
Some chairs use space saving technology, created to help with smaller living spaces, requiring minimal space from the wall when reclined.
Warranty
It's worth taking a look at the warranty offered as they vary widely from one chair to another, for example does it just cover labor? Or parts too? For how many years?
Coverage
Head Massager
If you're looking for help with headaches or migraines then you might want to look for a chair that incorporates a head massager for relief from your pain.
Foot Massager
Chairs may also come with a foot massager, either separately as an ottoman or as part of the chair. They can include air bags or rollers for a deep and intense foot massage.
Neck Massager
Neck massage is also a function that can be included as part of the chair, so if you carry tension there it could be worth considering a model with a neck massager.
Shoulder Massager
Air bags and rollers are functions that you'll find in some chairs targeting the shoulders for pain relief.

Benefits of a Massage Chair
Conditions of the Joints and Muscles
Arthritis
Chiropractors and doctors often use massage chairs to help those coping with arthritis to help improve their flexibility.
Massage therapy can be an effective treatment for arthritis, however for certain forms of severe arthritis in can have a negative effective so it's important to consult with your doctor.
Back Pain
Massage chairs are essentially created to help to deal with back pain. They are shown to have many benefits, including improving flexibility and decreasing muscle tension.
Knots
Muscle knots are when the muscle tightens or contracts even when they're not being used, massage helps to relax the muscle, in turn helping to loosen the knot.
Muscle Tension
Tension in the muscles can also be relieved by a massage chair whether in your neck, shoulders or back.
Neck Pain
Neck massagers mimic the hands of a masseuse stimulating the muscles and nerve endings. Research has shown that massage therapy is an effective treatment for chronic neck pain, and a chair massager is essentially simulating this technique.
Shoulder Pain
Shoulder pain is one of the most common pain complaints reported in the US, and by stimulating the muscles with a massager it is believed that this provides relief.
Posture
Poor posture has been shown to cause neck and shoulder pain, massage chairs can help with the associated pain and hopefully help to improve flexibility and overall posture.
Hormonal Conditions
Diabetes
Massage therapy has been recommended for sufferers of diabetes for over 100 years, as massage therapy at injection sites can help to improve insulin absorption.
Did You Know?
Nearly 10% of the population of the USA suffer from diabetes.
Conditions of the Nervous System
Fibromyalgia
There are many benefits to fibromyalgia patients from using massage therapy, including decreased stress hormones and increased serotonin levels.
Sciatica
Massage chairs are suggested as an effective treatment for those suffering from sciatica. Massage chairs with ottomans in particular are ideal as sciatica suffers can suffer from a lot of leg pain.
Blood Flow and Pressure
Hypertension
Hypertension, which leads to heart disease and stroke, causes the sufferer to have high blood pressure, massage as a therapy is proven to help reduce a patient's heart rate and stress levels.
Increase Blood Flow
Regular massage can help to increase blood flow within users, ideal for helping with a number of different conditions.
Mental Health Conditions
Reduce Anxiety
Massage therapy is recommended as a treatment option for those suffering from Generalized Anxiety Disorder, helping them to relax and relieve tense muscles.
Relaxation
Of course a massage chair is very relaxing if it provides the style of massage you desire, so a great option for consumers who might be struggling to relax.
Stress Reduction
A massage chair works to relax tense muscles, so those working in stressful environments or perhaps those that just need to a little time out may benefit hugely from a massage chair.

FAQs
What is a massage chair?
What is a massage chair?
A massage chair is essentially a chair that delivers a massage like a real masseuse. Just sit back and relax!
What does a massage chair do?
What does a massage chair do?
A massage chair works to loosen knots, relieve tension and provide relief from daily pain, and are widely used by sufferers of a number of different conditions.
How does a massage chair work?
How does a massage chair work?
A massage chair works on a track system, with rollers, nodes or air bags working up and down your spine to mimic the hands of a masseuse, working out knots, relieving muscle tension and helping to improve circulation.
Are massage chairs effective?
Are massage chairs effective?
Massage as a therapy has been proven to be effective in the daily management of pain, massage chairs essentially replicate the hands of masseuse and have been shown to provide relief from day pain.
How long can you use a massaging chair for?
How long can you use a massaging chair for?
The general consensus seems to recommend no longer than around 15 minutes per session, however there is no official advice on this.
Many massage chairs come with an auto shut down feature so you can easily monitor how long you've been in the chair and use it safely.
Can I use a massage chair while pregnant?
Can I use a massage chair while pregnant?
Advice is mixed on whether you can use a massage chair whilst you're pregnant.
Many recommend it for dealing with the lower back pain of pregnancy, however many say to avoid using one during your first trimester and ensure you limit any sessions you do have.
Of course you must speak to your doctor before beginning any treatment.
Can I use a massage chair with a pacemaker?
Can I use a massage chair with a pacemaker?
Medtronic, one of the leading manufacturers of pacemakers,
states
there is "No Known Risk" associated with their implanted devices. It's always best to check with your doctor before use, and the manufacturer advice specific to your device.
Can massage chairs hurt your back?
Can massage chairs hurt your back?
If used incorrectly a massage chair could damage or bruise your back, so you must always follow the guidelines and not exceed the advised amount of time.
Are massage chairs good for your health?
Are massage chairs good for your health?
Massage chairs can deliver many positive benefits to your health, including stress reduction and daily management of pain.
How do I choose a massage chair?
How do I choose a massage chair?
Hopefully our massage chair reviews can help! Start by making a note of the features you would definitely like and a rough idea of your budget then go from there.
Don't feel you have to go for the one at the top of your budget as different chairs offer different functions, it's just a case of finding the one that suits you most.
How much does a massage chair cost?
How much does a massage chair cost?
Massage chairs vary widely in cost with entry level models ranging between $200 – $700 and top of the range models anywhere up to around $20,000.
It's important to think about how much you want to spend roughly before you begin your hunt then try and find the features you most need.
Chair massage pads that can be attached to a chair of your choice give you a more affordable option, roughly between $50 and $200.
Are massage chairs worth the money?
Are massage chairs worth the money?
This all depends on your pain, however huge numbers of users rave about their effectiveness for daily pain, so they're certainly an option worth considering. A massage chair pad is a good alternative if you don't want to make a big investment.
Where can I buy a massage chair?
Where can I buy a massage chair?