If you're looking for the closest thing to your own personal masseuse then you're probably going to end up searching for the perfect massage chair.
We understand that it's a big investment, not just financially but also in terms of space within your home, which is why making the right decision is so important.
Luckily we've taken a look at the market and compiled the best of the best massage chairs at a range of different prices for you to consider.
Did You Know?
The massage chair was first introduced to the market in the late 1980s!
Our 9 Best Massage Chair Reviews (for the Ultimate Relaxation)
Each massage chair offers its own unique mix of features and settings, which can be tricky to compare if you haven't owned one before.
To help, we've highlighted the features of each chair and also included a handy buying guide later in this article so you can make the most informed decision.
1.

Osaki OS-4D Escape Massage Chair
A spa-like massage experience in your own home
You'll leave all your worries (and your back pain) behind when you sink in to the Osaki OS-4D Escape.
Not only does it treat your whole body, but lower the space capsule cover and you'll get a spa experience in your very own home.
The hood soothes your mind with chromotherapy lighting, designed to take relaxation to the next level.
This chair has so much to offer:
Such as 4D massage rollers that follow an ergonomic S-Track, mapping the curvature of your back with precision. Ideal if you're looking for a way to treat your back pain.
Choose from two zero gravity settings, and enjoy a weightless feeling that your body will thank you for.
Specially positioned airbags can deliver a satisfying shoulder and arm massage, with the extendable footrest working on your feet.
Muscles in your lumbar and calves will start to loosen when you turn on the powerful heating settings.
Yet one of the best features of this chair has to be the aromatherapy option, that uses the healing power of essential oils to further your relaxation.
Place an aromatherapy capsule in the chair and it will circulate the wonderful scents around the room.
One drawback compared to other massage chairs is that it couldn't be used as a normal, everyday chair. You also need to allow a serious amount of space as it's one of the biggest chairs we've reviewed.
Plus, with all these incredible features, you'll of course pay more:
However with Affirm financing options, you can spread the cost of this top-of-the-line massage chair over 12, 24 or 36 months.
Prequalify now and see if you're eligible — checking eligibility won't impact your credit.
2.

Relaxonchair MK-II Plus
Every feature a back pain sufferer could need
Relaxonchair are known for creating high-quality massage chairs and the MK-II Plus is no exception.
Like other chairs, it has massage nodes that move on an L-Track, allowing you to really focus on your lower back.
However unlike other models in its price bracket it also offers a great range of other features.
You can choose from three zero gravity settings, allowing you to not just recline but also lay flat to take the pressure off your whole body.
Airbags are used to deliver a full body massage, which is perfectly tailored to your height thanks to the built-in computerized body scanning feature that measures the length of your spine.
Choose the MK-II Plus' spinal decompression program and receive a full body stretch, plus heating pads in the lumbar area make it ideal for someone looking for a massage chair for back pain.
When users of the chair could tear themselves away to write a review, they raved about the intense massage and how they loved the large and easy-to-operate control unit.
Many people reported their family fighting over the chair, as it can easily adapt to people of different sizes.
If you're looking for a way to treat neck pain this isn't the chair for you, as the nodes and airbags don't reach the neck.
Nouhaus Massage Chair with Ottoman would be the better option as it delivers a kneading massage to your neck.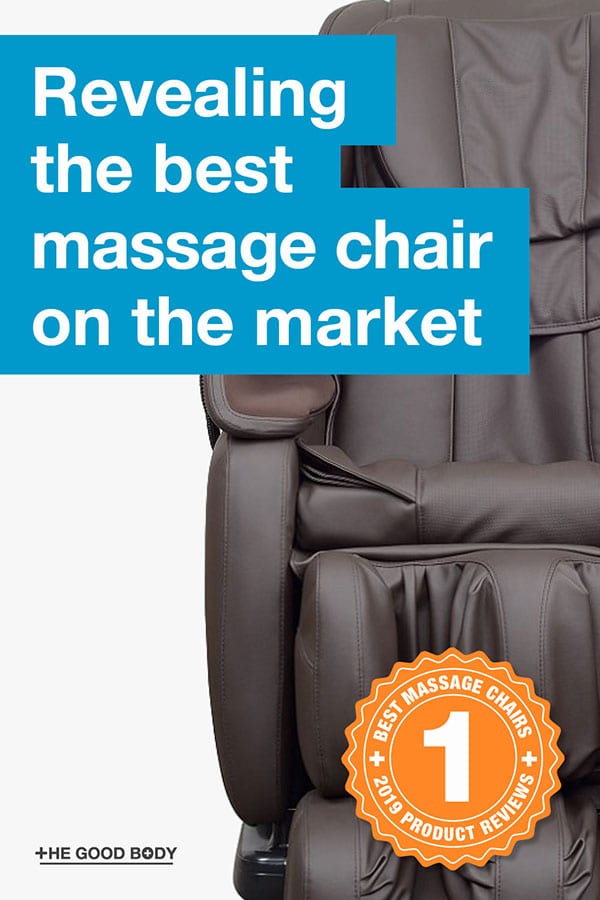 3.

Electric Full Body Shiatsu Massage Chair
The best affordable massage chair around
Many massage chairs focus on delivering heat to your lower back, this Electric Full Body Shiatsu Massage Chair gives you a heat treatment on the soles of your feet too.
Taking inspiration from Chinese heat therapy, it is thought to help improve your circulation.
With a range of different settings to choose from you really can tailor your massage, selecting from various massage styles including kneading, tapping and of course shiatsu.
Containing 21 airbags positioned around your hips and waistline, it helps to support your lower back.
Similarly to the Relaxonchair, it has built in sensors to detect the length of your spine so it knows exactly where to deliver the most satisfying massage.
This chair is not real leather, and does have a 'cheaper' look compared to other chairs. However people were still impressed with the quality and finish.
For a lower cost, under $1000, it offers a vast range of features which has made it a hit with shoppers.
In fact, one user claimed it was the greatest possible investment for both health and comfort.
4.

Snailax Shiatsu Neck and Back Massager with Heat
Turn any chair in to a massage chair
If you don't have the budget or space to accommodate a massage chair then consider the next best thing!
The Snailax Shiatsu chair pad can be fixed on to your office chair while you work or a comfortable chair in your bedroom to relax before bed.
Snailax's Shiatsu pad delivers an intense neck massage through four nodes that penetrate deep in to your tissue to help unwind tight muscles. They can also be adjusted to suit the height of the user.
When it comes to your back, choose the soft rolling setting or experience the pleasure of massage nodes traveling up and down your spine, using the 'Spot' feature to target your pain.
If you're concerned about the massage being too hard, then this chair pad also has an intensity control flap so you can limit the pressure of the treatment.
Users loved how compact the pad was, meaning they could carry it with them to use in the office.
'Spot' feature was also mentioned repeatedly as people felt they could effectively get to the source of their pain.
Let's talk about the neck:
Soothing heat and massage nodes work on your neck for extra comfort, making the pad the perfect gift for someone who is feeling stressed out
Many chairs don't offer features for the neck, so this is a great benefit of the Snailax chair pad.
One limitation is the fact the pad is only suitable for people between 63 and 70.9 inches tall. So not the right choice if you're over 6ft.
For taller users, the Full Body Electric Shiatsu Massage Chair would give you a more satisfying massage.
5.

Real Relax Massage Chair
A massage chair you can move from room to room
If you're looking for a chair you can move from room to room then choose the Real Relax. It has wheels in the back for easy movement, without compromising on any of the features.
Press a single button to enjoy zero gravity, then allow 50 airbags to get to work on your whole body.
There are eight massage rollers in the chair and six auto modes to experiment with. Alternatively, you can customize your massage by setting the rollers to the speed and strength that suits you best.
Heat therapy adds to the relaxation and a simple-to-use remote control means you can play around with all the options as you unwind.
It also has arm clips to help support and treat your arms during your massage.
If you're looking to invest in your first massage chair, then fans of the product felt this was a good start as it has all the features and offers great value for money.
Some did find their massage a little intense, but those looking for pain relief at the end of a busy day highly recommended the product.
They especially appreciated how you could turn the massage settings off and simply enjoy the heat and vibration features when required.
Plus Real Relax's latest model has Bluetooth, so you can connect your mobile then lay back and enjoy your favorite tracks or podcast.
6.

Medical Breakthrough 4 v2 Recliner Massage Chair
A high massage quality chair endorsed by medical professionals
Nearly every aspect of this Medical Breakthrough massage chair can be customized to the user.
However, if you're not a fan of playing around with settings, then sit back and let the chair do all the work.
Recline as the chair scans your body then positions each massage roller to deliver a tailored treatment.
Massage rollers move on an L-Track system and are complemented by 167 air cells to give you real full body coverage, including your feet, arms and hands.
You get zero gravity options, as well as the added benefit of a chiropractic stretch, as the chair uses air bags to gently stretch the muscles in your back.
A number of doctors have endorsed the product, citing its benefits for those suffering from back pain or plantar fasciitis:
It's a big chair to make space for, though unfortunately that doesn't mean it fits people of all sizes.
In fact, people over 6ft tall said they found the chair a real squeeze, so if you're tall it might be better to consider the Full Body Electric Shiatsu Massage Chair.
Overwhelmingly though purchasers were more than happy with their investment, thanks to the range of different ways they could treat and relax their body.
Many mentioned the removable pads that come with the chair, allowing you to further tailor the intensity of your massage.
7.

Kahuna Superior Massage Chair
A tall and wider massage chair designed to fit every body
Combine a satisfying massage with the healing powers of acupressure when you take a seat in the Kahuna Superior Massage Chair.
Kahuna's chair offers just about every element you could possibly need!
You can experience the stress relieving benefits of the zero gravity position and take advantage of a number of different programs and massage techniques including yoga stretching, which is thought to help loosen up your muscles.
Acupressure points for your arms help you enter a deeper state of relaxation, plus your feet will feel refreshed after a wrap around squeeze massage.
Incorporating seriously good space saving technology:
It needs only 3 inches from the wall when in zero gravity position, due to the way the chair slides forward as it reclines.
Comparable massage chairs can need more than 10 inches of extra space when fully reclined, so it's ideal if you want the features without the chair taking over your home!
Kahuna's superior chair really is an investment, and thought to fit everyone more comfortably as it's taller and wider than many of the competitors.
Purchasers enjoyed the intensity of the six back massage rollers in the chair, when combined with the airbags and foot rollers. "Golfer" setting appeared to be a particular favorite.
The remote for the chair was also thought to be a valuable feature. People did feel a little frustrated that it didn't remember your settings after each use, but found it easy to operate and locate the options you love.
8.

ideal massage Full Featured Shiatsu Chair
The ideal option for a real head to toe massage
Available in a range of different colors, this home massage chair can blend seamlessly in to your home.
The mounted remote control is user friendly, allowing you to tweak your massage and settings with just a simple touch.
You can't lie completely flat on the chair, like you can on the Relaxonchair MK-II Plus, however you do get three zero gravity positions and a range of air bag and roller massage functions, intensities and speeds.
Just four inches of extra space is needed for the zero gravity positions. Not quite as space-saving as the Kahuna Superior Massage Chair, but still a strong contender for a lower cost.
Choose a head to toe massage and you can opt for between five and thirty minutes, depending how long you have to spend.
Some people found the foot rolling function disappointing but they were more than willing to overlook it for the high quality massage for the price.
Intensity was mentioned time and time again, making the ideal massage shiatsu chair a great option for those in need of an intense massage.
9.

Nouhaus Massage Chair with Ottoman
A massage chair that looks good, and feels even better
When it comes to looking great, few massage chairs can beat the Nouhaus Chair with Ottoman.
Gone is the black 'lazyboy' style you're used to seeing:
Instead you get a retro chair, available in three different colors, plus matching ottoman. It's the kind of chair you'd buy even if it didn't have the massage functions.
Though it's certainly not style over substance…
Enjoy a back and waist treatment, while four massage heads begin to relax your neck and shoulders.
There are also airbags in the seat to massage your glutes, and heat settings to soothe painful muscles.
You control everything from the discreet built in remote, making it a piece of furniture that is sure to be fought over in your home.
Reclining the chair is not an option, so if you want to lie back and relax then a more traditional chair, like the ideal massage shiatsu chair, might suit you more.
Owners of the chair had a warning:
It is seriously addictive!
Though the chair might look discreet, the massage delivered is firm, powerful and incredibly satisfying.
Shorter people who felt swamped in bigger massage chairs like the Osaki OS-4D, loved how well this chair contoured to their body.
The design style wasn't wasted either, with many commenting on how it blended in to their home and worked perfectly even just as a chair.
Types of Massage Chairs
Here are the different types of massage chairs available so you can start to refine your search:
Recliner
The most traditional type of massage chair is the recliner. Normally a lower cost option than a zero gravity chair, it is essentially a comfortable chair with massage features so fits well within the home.
Zero Gravity
Inspired by space travel, zero gravity recliners are designed to really take the pressure off your legs and back and evenly distribute your weight for relief from daily pain.
Full Body
A full body massage chair takes care of the whole body, normally cradling the user to provide all over relief, typically a higher priced product as it claims to be the closest thing to a human massage.
Ottoman
If you want a more traditional look, you may opt for a matching ottoman. This is a chair with a separate footstool, both of which have massage rollers and / or airbags.
Chair / Seat Pad
If you don't have the budget for a massage chair or don't have the space available then you can essentially create your own with a seat pad. Seat pads can be attached on to your favorite chair or be used while sat up in bed.
Features of Massage Chairs
The different functions and features of massage chairs can feel a bit overwhelming, so here we've broken them down in to different categories so you can be sure you're choosing what's right for you:
Shape
S Shape
Most chairs traditionally use an S-Shape Track System. If you think of the letter 'S', this is the way the massage rollers will run up and down your back, following the curvature of your spine.
L Shape
L-Shape chairs use a different technique, running up and down your back but also in to the seat beneath you as well, just imagine you're sitting on the letter 'L'.
It's essentially an extension of the S-Shape, helping to not just cover your back but also get right in to your lower back and hamstrings.
Massage Types
Shiatsu
Look for this feature, a Japanese massage technique, if you want to replicate the hands of a masseuse as closely as possible! Some shiatsu massage chairs include an optional direction mode so the nodes can change direction for a more realistic massage.
Percussion
Percussion is a style of massage and users have described this technique as "thundering on your back", so perfect if you want a deep tissue massage, perhaps not ideal if you're looking for something a little less intense.
Kneading
Kneading is a massage technique that involves applying pressure to the muscles, relieving tension by lifting and rolling the tissues. Massage chairs replicate this technique with nodes and airbags, perfect if you want to release muscle knots.
Compression
Compression massage uses air bags within the chair to recreate a tapping massage, putting pressure on different areas to provide relief from pain.
Stretching
Stretching programs are when the chair gently expands, pulling your limbs to encourage a stretch in your spine. The technique can help to lubricate joints and muscles, as well as improve your flexibility.
Tapping
Tapping is probably one of the oldest massage methods. It can be a gentle, but firm, technique that involves the use of the fingertips to release points of tension and improve circulation. Massage chairs offering this feature can be beneficial to those looking to treat smaller body areas.
Programs and Settings
Intensity / Speed Settings
If you have good days and bad days and want a massage that can flex with you then you want to look for a massager with a selection of intensity settings. Some devices only come with one setting so make sure you choose what is right for you.
Don't assume that more intensity settings means more power. It generally means that the intensity increases in smaller increments than its competitors.
No. of Auto Programs
Each chair has a number of preset, automatic programs that have been specially tailored.
The number of these auto programs varies between chairs, so if you like lots of choice you might want to consider a chair that offers a full range of different programs.
Memory / Recall
If your pain is hard to reach and you get the intensity just right it can be frustrating to have to go through the various settings each time. Memory / recall functions remember the intensity, speed and style of massage you enjoy which can be helpful day to day.
Vibration
Some units offer an additional vibration function which might be something you want to consider for that added extra relief.
Heat
Heat can offer comforting relief from pain as it heats the skin which stimulates the sensors and blocks the pain signals being sent to the brain.
Many different massagers include this option so it's worth looking out for. Infrared heat is also a feature offered by some devices.
Auto Shut Down
Auto Shut Down can be great as it protects you and the unit from overheating, however if it takes you a while to get to the source of your pain, a short auto shut down could be frustrating.
Body Scan Technology
This technology within the chair means it will scan your body shape and then tailor your massage to the places you require.
Manual Mode
If you like having full control over your massage rather than using presets than you might want to choose a chair that comes with a manual mode. Not all chairs have this so it is important to check.
Entertainment and Connectivity
Remote Control
All chairs come with some form of remote control, whether it's built in to the chair or wireless. Some chairs now offer touch screen remotes, so think about how you'd like to operate the chair.
Car Charger
Obviously only for chair pads! Using your device in your car, between meetings for example, might be important to you, so look for a seat pad that ships with an in car charger.
USB Port
Some chairs come with a USB port so you can charge your mobile device and use it while you're receiving your massage.
MP3 Player
If playing music is important to you then some models come with an mp3 player allowing you to load in your favorite songs.
Bluetooth Speakers
Certain chairs come with built-in Bluetooth speakers, allowing you to connect up your mobile or tablet and create a more ambient experience.
Logistics
Size
Take a look at the size of the chair and how it may fit in to your living space as they can be large items. Space saving designs are available.
Weight
If you want a chair you can easily move from room to room then take a look at the weight of the chair as they can be cumbersome but there are some lightweight options available.
Swivel Base
If you want to use your massage chair as an office chair then a swivel base could be handy, as essentially the chair rotates on a base.
Space Saving
Some chairs use space saving technology, created to help with smaller living spaces, requiring minimal space from the wall when reclined.
Wheels
Some massage chairs, such as the Real Relax massage chair, have wheels. This gives you the ability to move the chair easily from room to room.
Warranty
It's worth taking a look at the warranty offered as they vary widely from one chair to another, for example does it just cover labor? Or parts too? For how many years?
Coverage
Head Massager
If you're looking for help with headaches or migraines then you might want to look for a chair that incorporates a head massager for relief from your pain.
Foot Massager
Chairs may also come with a foot massager, either separately as an ottoman or as part of the chair. They can include air bags or rollers for a deep and intense foot massage.
Neck Massager
Neck massage is also a function that can be included as part of the chair, so if you carry tension there it could be worth considering a model with a neck massager.
Shoulder Massager
Air bags and rollers are functions that you'll find in some chairs targeting the shoulders for pain relief.
Benefits of a Massage Chair
Conditions of the Joints and Muscles
Arthritis
Chiropractors and doctors often use massage chairs to help those coping with arthritis to help improve their flexibility.
Massage therapy can be an effective treatment for arthritis, however for certain forms of severe arthritis it can have a negative effect so it's important to consult with your doctor.
Back Pain
Massage chairs are essentially created to help to deal with back pain. They are shown to have many benefits, including improving flexibility and decreasing muscle tension.
Knots
Muscle knots are when the muscle tightens or contracts even when they're not being used, massage helps to relax the muscle, in turn helping to loosen the knot.
Muscle Tension
Tension in the muscles can also be relieved, whether in your neck, shoulders or back.
Neck Pain
Neck massagers mimic the hands of a masseuse stimulating the muscles and nerve endings. Research has shown that massage therapy is an effective treatment for chronic neck pain, and a chair massager is essentially simulating this technique.
Shoulder Pain
Shoulder pain is one of the most common pain complaints reported in the US, and by stimulating the muscles with a massager it is believed that this provides relief.
Posture
Poor posture has been shown to cause neck and shoulder pain. Massage chairs can help with the associated pain and hopefully help to improve flexibility and overall posture.
Hormonal Conditions
Diabetes
Massage therapy has been recommended for sufferers of diabetes for over 100 years, as massage therapy at injection sites can help to improve insulin absorption.
Did You Know?
Over 10% of the population of the USA suffer from diabetes.
Conditions of the Nervous System
Fibromyalgia
There are many benefits to fibromyalgia patients from using massage therapy, including decreased stress hormones and increased serotonin levels.
Sciatica
Massage chairs are suggested as an effective treatment for those suffering from sciatica.
Massage chairs with ottomans in particular are ideal as sciatica sufferers can experience a lot of leg pain.
Blood Flow and Pressure
Hypertension
Hypertension, which leads to heart disease and stroke, causes the sufferer to have high blood pressure. Massage as a therapy is proven to help reduce a patient's heart rate and stress levels.
Increase Blood Flow
Regular massage can help to increase blood flow within users, ideal for helping with a number of different conditions.
Mental Health Conditions
Reduce Anxiety
Massage therapy is recommended as a treatment option for those suffering from Generalized Anxiety Disorder, helping them to relax and relieve tense muscles.
Relaxation
It's no surprise that one of the major benefits of a massage chair is relaxation! If you're struggling to unwind it could be a great investment.
Stress Reduction
A massage chair works to relax tense muscles, so those working in stressful environments or perhaps those that just need a little time out, may benefit hugely.
FAQs
What is a massage chair?
What does a massage chair do?
How does a massage chair work?
Are massage chairs effective?
How long can you use a massaging chair for?
Can I use a massage chair while pregnant?
Can I use a massage chair with a pacemaker?
Can massage chairs hurt your back?
Are massage chairs good for your health?
How do I choose a massage chair?
How much does a massage chair cost?
Where can I buy a massage chair?