Frazzled. Burnt out. Exhausted.
If this describes the person you're shopping for, then give a present that will help them unwind.
We've put together a list of gifts for stressed people to help them relax, refresh and renew:
1.

A Subscription to HelloFresh
A complete meal kit delivered straight to their door
Nutrition is one of the most important factors for your health, however when you're stressed out it's typically the first thing to suffer.
HelloFresh is one of the most popular meal kit services in the US, and a great gift if someone is struggling to find the time to make a good meal.
Each week a box of fresh ingredients will arrive at their door, each one measured out to the exact amount.
Inside the kit they'll also find recipe cards showing them exactly how to prepare the meal.
Go for something tasty like the Firehouse Cheeseburgers, or try something a little more exotic like the Toasted Coconut Tempura Shrimp.
There are classic, veggie and gourmet options, so there really is something to suit everyone.
2.

Way Out West Aromatherapy Candles
Light the way to relaxation
Aromatherapy might seem like a fad but research actually shows that it has a proven positive impact on stress.
Not only that but if you're one of the 20% of Americans struggling to sleep then it can help with that too.
This lovely set from Way Out West includes two aromatherapy candles containing natural essential oils.
The candles are presented in a beautiful gift box and currently come with a FREE wick dipper to make the gift extra special.
You can choose from a range of different natural essential oils including Lavender, Eucalyptus and Rosemary.
Unwind through the healing powers of acupressure treatment
Acupressure has been shown to have a positive impact on stress, and we believe there's no better mat out there than the Aku Mat.
Unlike competitor mats that have points made of plastic, the Aku Mat has spikes made of nickel, silver, copper, iron and zinc.
Lying down on metal spikes might not seem like a great way to unwind, but the process actually triggers the release of endorphins (the 'happy hormones'), evoking a sense of deep relaxation.
Worried it might be painful?
We've spent a lot of time lying on the Aku Mat, and found it can be at first. However you quickly get used to the feeling and the results are more than worth it.
Like the spikes but not the mat? Take a look further down at a number of other acupressure products from Akuspike.
4.

Asakuki Essential Oil Diffuser
Mist the air with relaxing scents
Essential oils have tons of benefits for your health, with a number of them particularly good for stress.
Wrap up this Asakuki Essential Oil Diffuser and they can fill the air with stress-relieving scents.
All they need to do is pop their favourite scent inside and the diffuser will release the fragrance for up to 16 hours. The diffuser also functions as a humidifier, so you can improve the air quality in your home.
With an LED adjustable mood light it looks great and creates a wonderful atmosphere wherever it's positioned.
People who bought the diffuser love the timer function so they can switch it on and not have to worry about remembering to turn it off.
Many fell so in love with their diffuser that they ended up investing in one for nearly every room!
5.

I Am Here Now: A Creative Mindfulness Guide and Journal by The Mindfulness Project
Let all the stress out on the page
Mindfulness is proven to have a positive impact on stress, lessening its effects. Journaling can also help.
Combine both by treating someone to the I Am Here Now: Mindfulness Guide and Journal.
If you know someone who really needs encouraging to slow down, then this journal makes a wonderful gift. It teaches the principles of mindfulness through fun exercises.
Coloring pages, observational activities and meditation guidance come together to create a thoughtful gift that will awaken the senses.
Unlike other mindfulness journals, this journal by The Mindfulness Project is light in tone and fun to use, which many reviewers found refreshing.
Also many mentioned how perfect it was for a friend or family member who was suffering from anxiety.
6.

Mission Farms Relax CBD Bath Soak
Sink in to stress-relieving bath
Positive findings relating to the impact of CBD oil on stress and anxiety, has led many manufacturers to start including CBD oil in their health products.
Mission Farms is the gold standard when it comes to CBD products.
Their Relax CBD Bath Soak is made from luxury goat's milk and hemp grown at their farms in Oregon.
In nutrient-rich, organic soil, no chemicals or pesticides are used so you know you're getting a pure and natural product.
Stressed-out shoppers loved how the bath soak really helped them unwind, describing how the tension just melted away. They also loved the wonderful smell!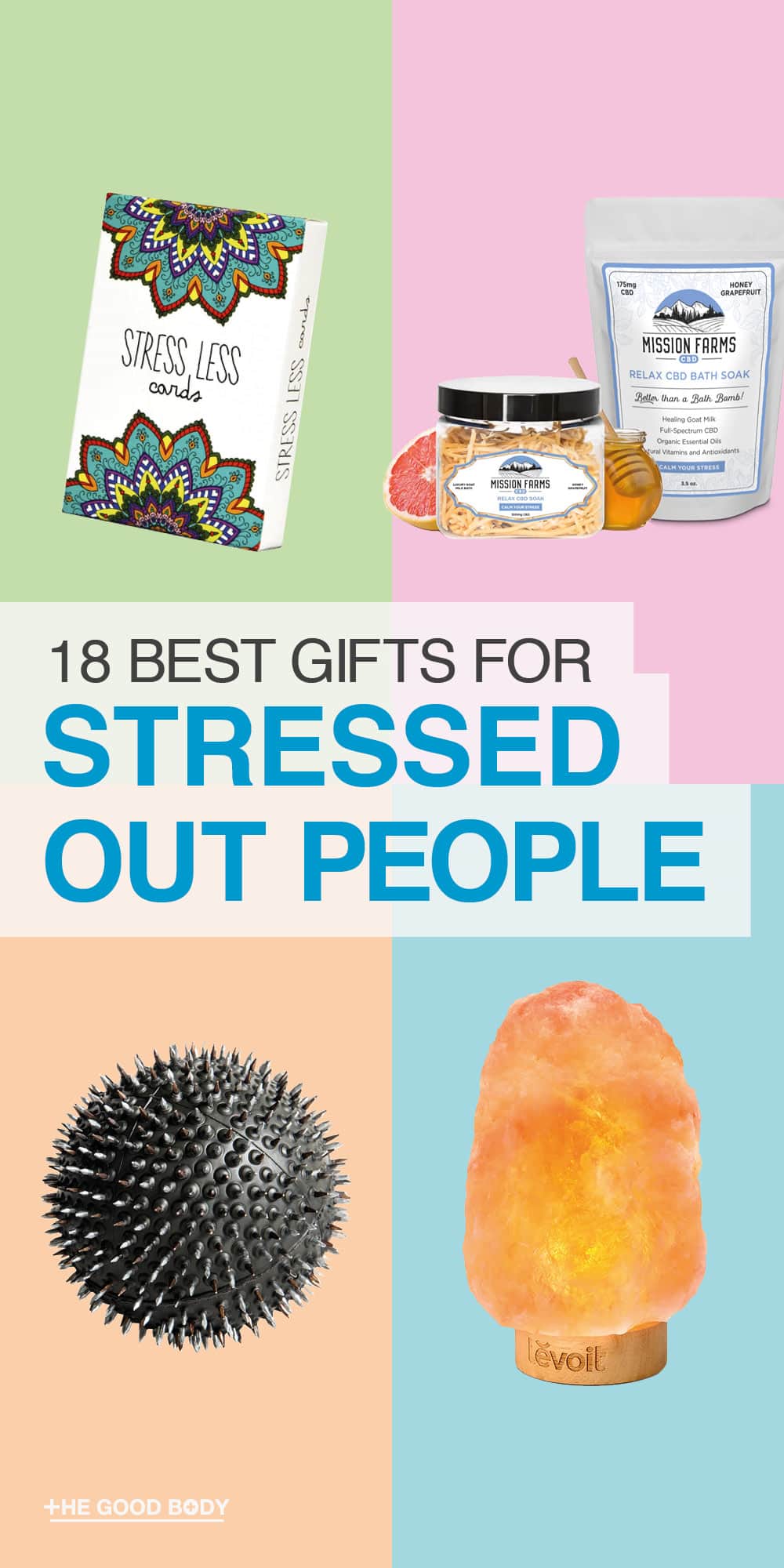 7.

Levoit Himalayan Sea Salt Lamp
Bask in the warm healing glow
The warm glow of the Levoit Himalayan Sea Salt Lamp is enough to make even the most stressed out person relax.
This beautiful piece of salt rock has been hand selected from a mine in Pakistan, and comes complete with an authenticity certificate.
It makes a great addition to your desk or inspiration in your yoga space.
Practically, the lamp has a dimmer so you can choose the perfect brightness and a solid, 100% natural rubber wood base so it can sit securely on most surfaces.
Though research is yet to categorically prove the health benefits of Himalayan Salt Lamps, reviewers were convinced they felt better after using the product, and enjoyed the relaxing warm glow it emitted.
Stress relief you can slip on your finger
Akuspike are well-known for their range of market-leading acupressure products, including the Aku Mat and Aku Ball.
Now take a look at the Aku Rings.
Working on the principles of acupressure without penetrating the skin, they're good for people with a busy mind.
Designed with triangular shaped points, rolling them up and down your fingers stimulates reflex points. It's perfect for when you're feeling overwhelmed and need to distract your mind, with the added bonus of improving your finger health.
Copper plating gives the rings a really stylish look, plus pop them inside the specially created Aku drawstring bag and they make the perfectly presented gift.
You do actually get three rings per pack, so they'd never know if you just slipped one out for yourself!
Swap a greeting card for a stress relief card
Stress Less Cards are a great little toolkit if you need to find ways to reduce stress in your everyday life.
You get 50 cards inside the pack, with each one containing a different exercise to slow the body's stress response and help the mind relax.
Based on the principles of mindfulness, some of the cards include guided meditations. Meditation has been shown through research to be a wonderful way to de-stress.
Other cards ask you perform certain actions, such as breaking a routine to awaken your mind to new possibilities.
Recommended by health care professionals, many bought the pack and shared the cards amongst family and friends.
10.

Breath: The New Science of a Lost Art
Learn to breathe properly
You may think after many years on this earth that you've mastered the art of breathing.
However, author and journalist James Nestor will examine how you've been doing it wrong your whole life.
In his book he goes around the world to examine how humans have lost the ability to breathe correctly. Exploring the hidden science behind ancient breathing practices, he'll change the way you think about every breath.
The book also includes guidance on how small changes to your breathing pattern can make big changes to your life, improving your fitness performance and decreasing stress and anxiety.
Even considering which nostril you breathe from is important, Nestor explains:
The right nostril is a gas pedal. When you're inhaling primarily through this channel, circulation speeds up, your body gets hotter, and cortisol levels, blood pressure, and heart rate all increase…The left nostril has the opposite effect: it works as a kind of brake system to the right nostril's accelerator. The left nostril is more deeply connected to the parasympathetic nervous system, the rest-and-relax side that lowers temperature and blood pressure, cools the body, and reduces anxiety.
After reading this book the author claims you'll never breathe the same again.
11.

Real Relax Massage Chair
Take the pressure off your body completely
Stress doesn't just take its toll on your mind, it takes its toll on your body, too.
Take the weight off both by gifting one of the best massage chairs on the market.
All they need to do is sit back in the chair and press the zero gravity button. The chair will then position them to relieve all the pressure on their neck and spine.
As they begin to relax, 50 airbags will get to work on their body relieving stress and tension.
They can decide the speed and strength of the eight massage rollers, or simply opt for one of the auto modes.
Heat therapy adds to the indulgence and Bluetooth capabilities means the chair will also play their favorite tracks.
What an incredible way to relax!
12.

Access to Online Yoga Classes from YogaWorks
Stress-free yoga practice in your own home
Give the gift of yoga to someone who really needs it. YogaWorks is an online yoga experience. With over 1000 classes to choose from, it's perfect for the beginner or an experienced yogi.
Enjoying a yoga session at the end of the day will be a great way unwind, plus yoga has been shown to have so many positive benefits particularly on your mental health.
Classes within YogaWorks can be watched on your phone, TV or tablet, so you can use it wherever you go.
Choose a three month, six month or full year subscription, and maybe treat yourself too!
13.

Elixir2Go Crystal Elixir Bottle
Hydrate with crystal-infused water
Whether they're new to crystal charged water or a gemstone expert your special someone is sure to love this Crystal Elixir Bottle.
Place your gemstones in the bottom compartment, then fill the top section with water.
Typically crystal bottles don't allow you to make your own creations, however this clever design means you can create the crystal tonic you most need in the moment, a feature many purchasers of this product loved.
Complete with a stylish neoprene sleeve, this 16oz bottle comes with a number of gem stones, including rose quartz.
Rose quartz a number of healing qualities, including the power to rebuild our relationships with those that we love.
Send a great big hug
Weighted blankets were created to simulate the feeling of being held – what better gift could you give to someone you're far apart from over the holidays?
How does it work?
Well, with the Gravity Blanket it has a weighted inner covered by a premium microplush duvet cover.
Though research is still fairly limited, weighted blankets are shown to calm and settle the nervous system, therefore reducing stress and anxiety.
The Gravity Blanket is available in a range of sizes, colors and weights so you can tailor it to the person you're shopping for.
People suffering with anxiety in particular, rave about this blanket. They said it instantly made them feel comforted and that it had also helped to improve their sleep.
15.

Subscription to Headspace App
Discover the Power of Meditation
Meditation has a number of benefits with one being its positive impact on stress.
Headspace is an app that your loved one can download to have daily guided sessions on their phone.
Within the app there are different meditations designed for everyday life including sessions focused on stress and anxiety.
Whether your loved one is an experienced meditator or a beginner, they're sure to get a lot from Headspace.
There are many different apps to choose from, however Headspace prides itself on building sessions based on thorough scientific research and a deep understanding of mindfulness practices.
16.

Verilux HappyLight VT22
A burst of light to boost your mood
There's nothing like the summer sun to lift a low mood, sadly we can't get that brilliant brightness all year round!
You can get the benefits with this HappyLight from Verilux.
With a 10,000 lux light intensity you can enjoy it first thing in the morning, or position it on your desk to boost your mood throughout the day.
Light therapy is highly effective in treating mood disorders, with researchers seeing significant reductions in depressive symptoms following short courses of the treatment.
Just the size of an e-reader, it packs flat and can be popped in your bag for wherever you need it.
HappyLight users loved how simple it was to operate. Even those that live in sunnier climates were fans of the light as it gave them an extra boost even on bright days.
17.

BloomsyBox Flower Subscription
Give fresh flowers every month
Imagine your loved one has had a really stressful day, what a lovely surprise it would be to arrive home to some unexpected flowers.
However rather than a simple bouquet, give your loved one a flower subscription from BloomsyBox.
One of the best things about a BloomsyBox Flower Subscription is that the flowers are sourced from sustainable farms around the world. Every stem is handpicked, cut to order and delivered fresh to your door.
Fans of BloomsyBox were pleased with the high level of service and were quick to mention how much the recipient had loved their gift.
You're able to choose from a weekly, bi-weekly or monthly package, so you can tailor the subscription to suit your budget.
Acupressure treatment in the palm of your hand
If you like the metal spikes of the Aku Mat, but want something a little more versatile, the Aku Ball is the ideal gift.
Just like the mat it's covered in points (656 to be precise) made from silver, zinc, nickel, copper and iron.
Roll it around your hands, or anywhere on your body that needs relief, and it will begin to awaken the nerve centers that increase blood flow and circulation.
As a recovery tool it's also perfect for stress and anxiety, distracting the mind from its busy thoughts.
Shopping for someone with chronic pain or arthritis? It's time to add the Aku Ball to your cart.