If you're shopping for someone with anxiety, then chances are you're not alone.
One in three Americans report dealing with symptoms of stress or anxiety, and that appears to be growing during the ongoing pandemic.
Life can be a daily struggle when you're living with anxiety, so anything that helps them cope is sure to be a gift well received.
Even fun times like the holidays can trigger anxiety, so why not buy them a present that helps them manage day to day, or just provides a welcome distraction?
Here is our list of the 20 best gifts to help people with anxiety:
1.

Dare: The New Way to End Anxiety and Stop Panic Attacks
A practical guide to help those living with anxiety
Help someone see anxiety in a different way, by adding Dare to your cart.
Psychologist, Barry McDonagh wrote the book after spending years working with people suffering from anxiety.
Through his DARE technique he claims you can stop panic attacks and put an end to anxious thoughts. It also comes with a free app to help you apply the DARE response to any situation.
Essentially the DARE response encourages you to question what's the worst that can happen, then learn to accept it and face it down.
The message is empowering and anxiety sufferers rave about the book. They particularly like how it presents a relatively simple technique that has helped them see their anxiety in a different way.
2.

Chinese Marble Dark Grey Baoding Balls
Relieve stress and pressure using this traditional method
Distracting your brain from your thoughts and worries can be an effective way to deal with anxiety.
As you rotate these Baoding balls within your hands, the movement is thought to relax your brain and help to get rid of tension.
This set of Chinese Baoding Balls are made from high-quality marble and come with a beautiful bag so they make the perfect gift.
Purchasers of the product said how smooth the balls were and therefore satisfying to rotate within your hand.
3.

Anxiety Is My Cardio Socks
A fun gift for someone who laughs in the face of anxiety
Though socks are seen as the most uninspiring holiday gift, this pair are sure to raise a smile!
Someone whose brain is constantly on the run with anxious thoughts will certainly agree that anxiety is their cardio.
The calf length breathable socks are great quality and feature an all-over print so it's funny from any angle.
Sock wearers loved the breathable material and the fact they were available with a range of different captions.
Wrap up the healing powers of acupressure treatment
Acupressure has been shown to have amazing advantages for people living with anxiety, and we believe there's no better acupressure mat than the Aku Mat.
The process of acupressure is found to release endorphins, commonly referred to as the 'happiness hormones', invoking a sense of deep relaxation.
Unlike competitor mats that use plastic spikes, the Aku Mat has spikes made from copper, iron, nickel, silver and zinc.
It might look a little painful, and Akuspike's CEO said it can be at first! However, you quickly get used to the sensation and the results are more than worth it.
Akuspike also offer a different acupressure proposition, which is a great alternative to a stress ball…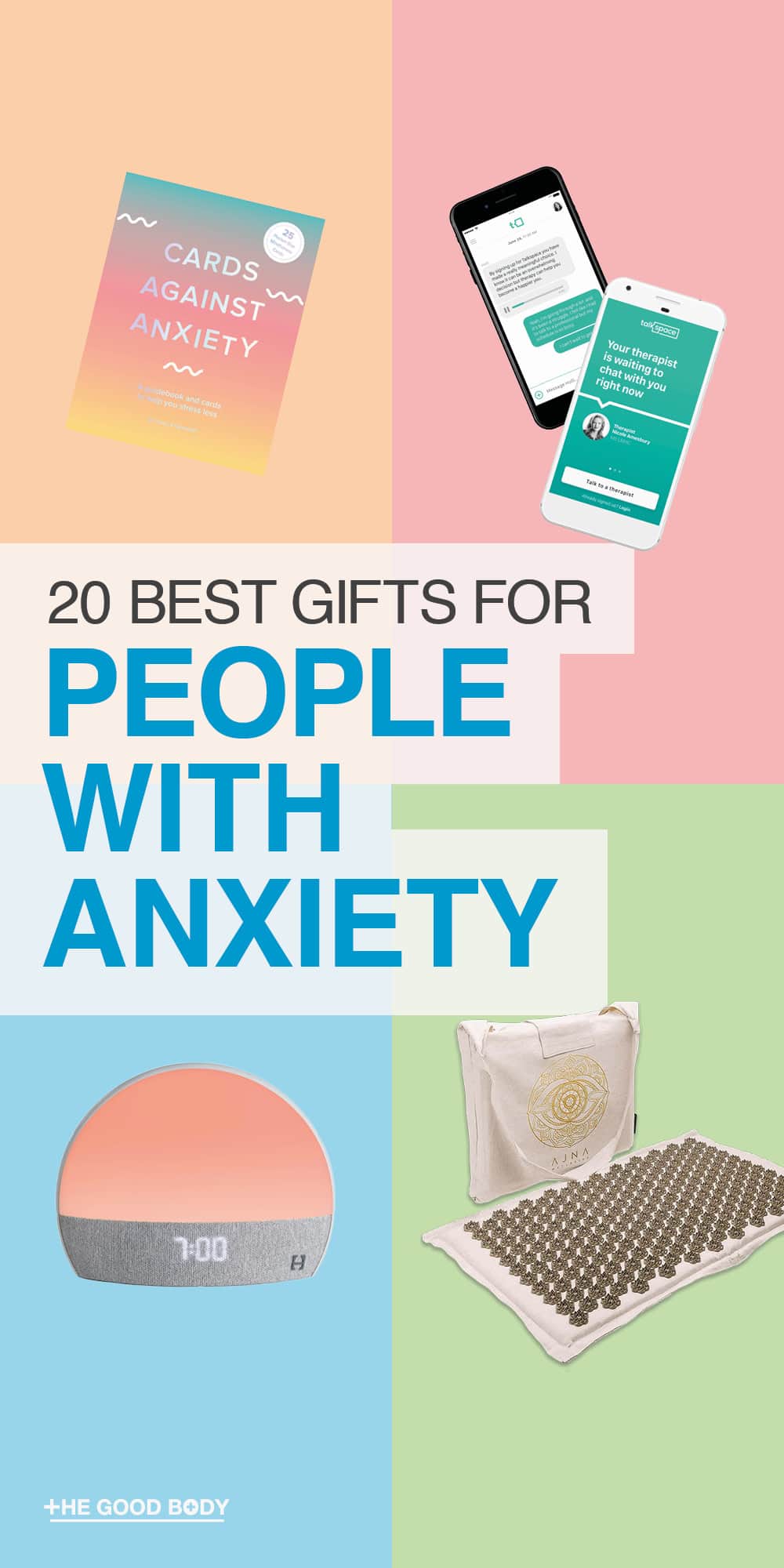 5.

The Anxiety First Aid Kit: Quick Tools for Extreme, Uncertain Times
Quick tools for finding calm in a stressful world
Professors, psychologists and mental health experts have come together to create a toolkit for people struggling with stress and anxiety right now.
The focus of The Anxiety First Aid Kit is on practical tools for coping with panic and finding space to feel calm and relaxed.
You'll be introduced to the power of visualization, diaphragmatic breathing and shown how to make a worry appointment!
There is also a final chapter titled 'Super Effective Strategies That Take a Little More Time' which helps you look at your lifestyle and see if there are things you can do to help relieve anxiety in the long term.
Readers of the book loved the exercises they could implement immediately, such as 'worry walks' to release stressful thoughts.
6.

Adult Coloring Book: Stress Relieving Animal Designs
Offer them a colorful way to relax and unwind
Distractions are great for sufferers of anxiety, so why not purchase this Adult Coloring Book?
It includes 50 animal designs, each of which are beautifully illustrated.
Coloring might seem like an activity for kids, but it's also the perfect way for adults to just switch off and express themselves creatively.
It doesn't matter about your skill level, it's more about simply relaxing and having fun.
7.

Sky Organics Lavender Essential Oil
A pure form of this anxiety-soothing essential oil
Lavender has been shown to have many wonderful benefits for anxiety, including being a natural way to relax without the use of medication.
It's particularly good if your loved one's anxiety means they're looking for things to help them sleep.
Sky Organics Lavender Essential Oil is one of the purest forms out there.
It's 100% pure therapeutic grade and certified by the USDA. As a natural product it contains none of the synthetic ingredients that you might get with competitor products.
Essential oil lovers were so happy with both the quality and the price, describing the beautiful scent you'll experience from only a few drops.
8.

Talkspace Online Therapy Session
Give your loved one space to talk
Though you'll always be there for your loved one, sometimes it can help to have someone impartial to speak to about their worries.
Treat them to a therapy session with Talkspace.
After a brief initial assessment they'll be able to select from a range of therapists to speak to about how they're feeling.
Every therapist is experienced, licensed and skilled in providing guidance and tools to manage stress and anxiety.
One of the best aspects of a Talkspace therapy session is that they can choose to speak via text or on a video call.
Everything is of course confidential, and they can choose to extend their treatment after they've used their therapy e-card.
9.

Cards Against Anxiety (Guidebook & Card Set): A Guidebook and Cards to Help You Stress Less
A set of little reminders for stressful situations
Cognitive behavioral therapy (CBT) techniques have been shown time and time again to be highly effective for treating anxiety.
The Cards Against Anxiety set and guidebook takes those techniques and packages them in to 25 wallet-sized cards.
On each card they'll find a statement to focus on and on the reverse a technique to help find calm during stressful times.
You also get a detailed guidebook that speaks about each card in a little more detail, so they can select the one they need for any upcoming anxiety-inducing situations.
Fans of the card and guidebook set commented on the beautiful design, and also how useful they can be to self-calm, particularly for teens.
10.

Modernist X Gravity Weighted Robe
Wrap them up in a comforting weighted robe
Though research is still fairly limited, there are initial findings to suggest that weighted blankets are useful for anxiety sufferers.
How do they work?
Well, the thinking behind a weighted blanket is that the weight simulates a hug and helps to soothe the nervous system that works overtime when someone is feeling anxious.
That's why they're commonly used in therapy for children with autism.
Introducing the Modernist X Gravity Weighted Robe:
Gravity have taken the principles of the weighted blanket and added them to a cosy robe.
Inside the collar you'll find a 3lb weighted wrap to help reduce stress and promote relaxation.
Made from 100% polyester fleece, and available in two colors, it looks great too and makes the perfect gift for someone who is feeling stressed out.
Learn more about anxiety through insightful exercises
Journaling has been proven to be a useful tool for people living with anxiety.
In fact, a research study in 2018 showed that daily journaling decreased mental distress and improved overall wellbeing.
Of all the journals we've reviewed, The Anxiety Journal has to be one of the best.
It guides the reader through activities in a gentle and understanding way, offering insightful advice with beautiful accompanying illustrations.
Written by psychologist, Corinne Sweet, the journal includes exercises to encourage mindful behaviors and writing prompts grounded in the principles of CBT therapy.
Pour a cup of natural anxiety relief
A number of teas, including peppermint, are incredibly potent when it comes to managing the symptoms of anxiety.
However rather than the hassle of loose tea, just pop a Tea Drop in hot water.
This trio of teas includes Rose Earl Grey, Citrus Ginger and Sweet Peppermint so the person you're shopping for has a range of different flavors to choose from.
Each of the Tea Drops is produced from organic tea leaves and also a little raw sugar to make the drink a little sweeter.
The packaging is attractive too, and made from 100% biodegradable and compostable materials, so ideal if you're shopping for someone who is eco-conscious.
13.

CalmiGo Calming Device
A clever device for instant anxiety relief
Regulating your breathing is often a technique recommended for people dealing with anxious thoughts and feelings.
CalmiGo helps you do this on the go.
This smart little calming device looks a little like an inhaler that an asthma sufferer might carry with them.
Use it for just three minutes and the device will calm your racing mind and bring your focus back to the moment.
However it does more than just regulate your breathing. It also releases relaxing scents and uses lighting for multi-sensory stimulation.
CalmiGo users were almost surprised at how effective this simple device had turned out to be. Plus they were grateful for a drug-free way to deal with panic attacks.
14.

Breathe Like a Bear: 30 Mindful Moments for Kids to Feel Calm and Focused Anytime, Anywhere
Help kids with anxiety relax wherever they are
If you're shopping for a young person with anxiety, then help them Breathe Like a Bear!
More than 4 million children aged between 3 and 17 years old, are living with anxiety.
Musician and founder of Rockin' Yoga School Programs, Kira Willey, wanted to find ways kids could relax whether at home, in the car or at school.
In her beautifully illustrated book, you get 30 simple movements and breathing practices that can help little ones understand and manage their emotions.
Parents who purchased the book felt it really helped their children cope with anxiety. They loved the variety of exercises and how easy it was for their child to understand.
15.

Hatch Restore – Sound Machine
Soothing light and sound for a good night's sleep
Anxiety can often lead to poor sleep, with more than half of Americans losing sleep for this reason.
Enjoy a better night's rest with the Hatch Restore.
Treating someone to this smart light means you're giving them all the tools they need to create a personalized sleep-wake routine.
Rather than scrolling at night, the Hatch Restore can create a relaxing mood through sound and light to help the mind and body unwind and prepare for sleep.
Come the morning, a sunrise alarm clock wakes the user up gently to create a better start to the day.
When paired with an app on your smartphone, every setting can be controlled (which users loved!), with touch control volume and brightness on the machine itself.
Relax and unwind on over 5,000 acupressure spikes
A great affordable alternative to the Aku Mat, is the Anja acupressure mat. Made from organic linen, it has over 5,000 acupressure points.
It's lightweight and ships with a handy little tote bag, making it ideal for travel or taking to a yoga class.
The mat offers your loved one space to kick back and relax at the end of a stressful day, while following a guided meditation or listening to an audiobook.
Reviewers explained that though it could be a little painful getting on and off the mat initially, they quickly found it easy and pain-free and loved the deep sense of relaxation they could enjoy.
18.

NewMe Fitness Instructional Yoga Mat
Yoga mat decorated with beautiful yoga pose illustrations
If your loved one hasn't practiced before, or perhaps they're a beginner, then a NewMe Instructional Yoga Mat is a great purchase.
It's a non-slip, eco-friendly PVC yoga mat decorated with 70 yoga poses to master.
NewMe's yoga mat is available in a range of different colors, so be sure to pick their favorite.
People loved how beautiful the diagrams were, making it a work of art they'll love looking at as well as a functional yoga mat.
Salon or spa treatment? They can choose!
Rather than get them a gift to help manage their anxiety, why not treat your someone special to something to unwind and distract them?
Choosing a Spafinder gift card means they can choose from an endless selection of spa days and salon treatments to help improve their mood, at thousands of locations across the country.
You can choose the amount that you want to spend and the voucher never expires.
Who knows, they might choose a spa day for two and you'll get a treat, too!