Why not treat a loved one suffering from back pain to a new form of natural pain relief? Pick something thoughtful and they'll be thanking for you for many months or even years to come!
With a range of prices to suit your budget, we've put together a list of the best gifts on the market for back pain sufferers:
Experience the closest thing to acupuncture in your own home
Wrap up an Aku Mat and you're giving the gift of acupressure, which has been shown to have wonderful benefits for back pain.
Acupressure works by increasing blood flow to painful muscles, encouraging the release of endorphins.
Akuspike takes acupressure mats to the next level, as instead of plastic spikes like the competitors, the points are made of copper, iron, nickel, silver and zinc.
After testing countless acupressure products over the years we're left in no doubt that the Aku Mat is by far the best acupressure mat around. The experience is far superior to using a mat with plastic spikes.
This clever mat can be used rolled up too, making it perfect for positioning on the neck and lower back.
Worried it looks painful?
We did a Q&A with the founder of Akuspike, Paul de Jersey, and he said it can be at first. However, you quickly get used to the sensation and the results are totally worth it.
Akuspike have also developed another exciting product, with metal spikes, that you can literally hold in the palm of your hand…
2.

PlayMakar Back Care Bundle
Three powerful tools for back pain prevention, maintenance and recovery
Why wrap up just one back pain tool, when you could get three?
In this PlayMakar bundle, your loved one will get everything they need for back pain prevention, maintenance and recovery.
Included is the PlayMakar MVP Percussion Massager…
A tool that delivers powerful strokes to your back, neck and spine. With six unique attachments and different speed settings it gives you complete control over your treatment.
Then there's the PlayMakar SPORT Electrical Muscle Stimulator…
Treat both chronic and acute pain with the TENS and EMS programs on this device, with each setting offering its own range of benefits.
Also thrown in is the PlayMakar Power Gel Roll-On!
This exclusive offer is only for readers of The Good Body and can't be found cheaper anywhere else online.
3.

iReliev Wireless TENS + EMS Therapeutic Wearable System
Best in class TENS unit
Why not give someone the gift of TENS therapy? One of the top rated TENS units that we recommend is the iReliev Wireless TENS + EMS Therapeutic Wearable System.
The full review of the unit shows all the best features, however the wireless functionality means you can use the unit on the go without anyone knowing. This is great for anyone who struggles with back pain at work or while traveling.
The iReliev Wireless unit has 16 different programs and 25 intensity levels so it's easy to find a satisfying combination.
Plus it has fully isolated channels, meaning that settings can be tailored to different areas or sides of the body.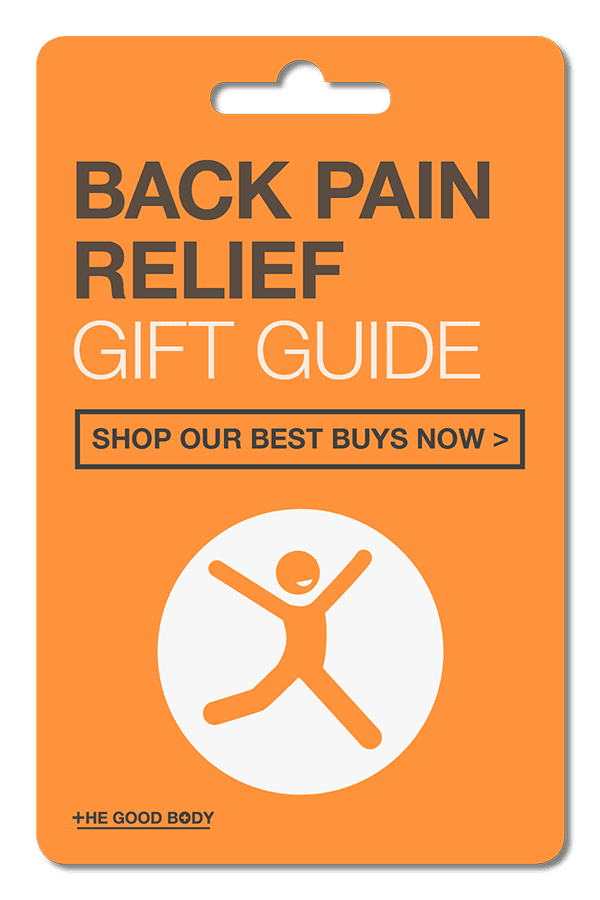 4.

Zyllion Shiatsu Back and Neck Massager Cushion
Enjoy a deep-kneading massage on the go!
It's a little impractical to wrap up a masseuse so why not treat someone you love to the next best thing?
The Zyllion Shiatsu Massage Cushion is a handy little pillow that takes up just 3.5" of space and can be used for both back and neck pain. Plus it comes with adjustable straps so you can secure it to your car seat or favorite chair.
Research has shown that shiatsu massage is an effective treatment for lower back pain, and these four deep-kneading shiatsu massage nodes will certainly work their magic.
The nodes relieve knots and tension, changing direction every minute to mimic the hands of a real masseuse, Plus there's a heat function to make it even more soothing!
5.

Healing Back Pain: The Mind-Body Connection
An approach to back care without drugs, exercise or surgery
Dr. John E. Sarno believes that the root cause of the majority of back pain issues is stress and other psychological factors.
Throughout his book, he encourages the reader to identify the causes of stress in their life to establish the emotional roots of their pain.
For example, he discusses how anxiety and repressed anger in particular can have physical symptoms such as muscle spasms.
Also fascinating is the way he looks at how successful and self-motivated people are particularly prone to the condition.
Readers of this book praised his method, reporting that it had changed their life. In fact, one review claimed: "This book did what $10k in physical therapy couldn't".
If the person you're shopping for has accepted back pain as just a part of their life, then this book could help them change their thinking and take back control.
6.

Mission Farms Relieve CBD Cream
Let CBD oil relax your painful muscles
You may have heard a lot of fuss about CBD oil and its amazing benefits, however with all the options on the market it can be difficult to know which to choose.
Mission Farms Relieve CBD Cream is the gold standard of CBD products! It contains 300mg of CBD, not simply a trace as you'll find with many competing products.
Mission Farms was formed by a group of families committed to growing the happiest hemp! Their farmers use no chemicals or pesticides to grow their product, just the glorious Oregon sunshine and the water of their local river.
Plus this cream contains goat's milk which soaks in to the skin and delivers the CBD right to the joint, helping to reduce inflammation and ease pain.
The packaging is beautiful too, so it makes a wonderful gift!
7.

Relaxonchair MK-II Plus Full Body Zero Gravity Shiatsu Massage Chair
Scan your body for a perfectly tailored massage
If you're shopping for someone who is suffering from back pain, what better gift than the Relaxonchair MK-II Plus massage chair?
Clever body scanning technology measures the length of your spine, perfectly tailoring your massage.
Choose from three zero gravity settings that will lift you from the ground, taking all the pressure off your back.
Massage nodes move on an L-Track delivering relief to your whole body. Airbags provide a deeper sense of relief, with two heating pads soothing your lower back.
It's not just a gift for the receiver, but for the whole family, as reviewers love how the technology means it can flex to people of different sizes.
8.

Treat Your Own Back by Robin A McKenzie
Practical tips for treating your own back pain
If you want to treat your loved one to a book that's less about the psychology of back pain and more about practical ways to help, this is the one to add to your cart.
The McKenzie Method for treating your own back pain has been recognised for over 50 years.
In this book, he discusses the causes of back problems and how postural changes and simple exercises can be life changing.
It's the simple and straightforward approach to back care that readers loved about this book.
The writing style is easy to follow and digest, and the book is well illustrated with photographs to demonstrate the different exercises.
Readers also reported amazing results:
Improved mobility, relief from daily pain, and serious money saved on expensive back care treatments!
9.

Beurer Infrared Light Heat Lamp
Turn up the heat for pain relief
Another natural pain relief option that has been proven to be effective in the treatment of lower back pain is infrared heat therapy.
The Beurer Infrared Lamp is a powerful little machine that emits heat to target pain throughout the body. The lamp can target large areas so ideal if you're purchasing for someone who needs targeted relief from chronic back pain.
The heat can also help to improve blood flow and circulation, loosening up tight muscles and helping to heal damaged tissue.
Beurer's Heat Lamp can easily be adjusted to target the area needed and the heat is delivered through ceramic glass so it doesn't feel too hot on the skin.
10.

Nayoya Acupressure Mat
Lie back on 6,210 individual acupressure points!
If the Aku Mat is a little out of your budget, then the Nayoya acupressure mat is a great affordable alternative.
The mat has 6,210 acupressure points, and is lightweight, so ideal if you want to be able to simply roll it out and use it on the go.
Users of the product were amazed at how just 20 minutes of use per day, could help provide relief from long term back pain problems.
Recent research has shown the positive impact of acupressure on chronic lower back pain, so what better present to get someone struggling with daily pain?
11.

Comfier Shiatsu Neck & Back Massager
Treat your loved one to a finger pressure shiatsu massage
If you can't quite stretch to the price of a massage chair, then treat them instead to a massage seat pad.
Comfier's chair pad offers an impressive range of therapy settings, including rolling massage and air compression. It also has indulgent vibration and heat functions to deliver an even more satisfying treatment.
2D and 3D finger pressure shiatsu has to be the most exciting feature, as it effectively gives you a massage experience that mimics the hands of a real masseuse.
Choose from upper, lower or full back massage, or opt for the spot feature if you have one area that is really causing you problems.
People who use the chair pad regularly couldn't believe the relief it offered them from long term back problems.
12.

Far Infrared Amethyst Mini Mat
Relax on a bed of hot gemstones
Treat someone to the indulgence of the Far Infrared Amethyst Mini Mat which is just as luxurious as it sounds.
Lie back on 15 layers of jewelry grade Korean and Brazilian natural Amethyst crystals as the mat helps to relieve tight muscles and painful knots.
The amethyst crystals are thought to have healing powers, and are crushed and polished to produce far infrared rays.
Those with back problems reviewing the product spoke highly of using the mat reporting vastly improved sleep and general relief from daily pain.
It's certainly a big ticket gift but one that seems to promise wonderful results for the recipient.
Follows the natural curvature of your spine
A neutral spine is considered to be the ultimate goal in treating spinal conditions and back pain, and the Oov can help you get there.
The Oov encourages the natural position of your spine without putting pressure on any area of your body.
It also works those all-important core muscles that can help those suffering from back pain.
Firehaus Pilates in Denver rave about the product and how it can be used to effectively target specific muscle groups.
In fact, they now use the Oov to help their patients with rehabilitation, as they recognize how it can help people function better and have longer lasting results than other forms of treatment.
The Oov is a great gift for someone suffering from back pain and comes in 3 different sizes so you can make sure to get the perfect spine hugging fit.
14.

Physio Care Neck & Shoulder Wrap
Wrap yourself in pain relief
Drape the Physio Care Neck & Shoulder Wrap around someone you love! This soft and comforting wrap is an ideal gift for people with back pain.
It can be heated in the microwave to provide warmth exactly where you need it, helping to relieve the neck and shoulder discomfort associated with back pain.
You can also pop it in the freezer and enjoy a cool experience to help reduce inflammation.
The high collar wrap also offers aromatherapy benefits blending lemongrass, chamomile, peppermint and lavender.
Traditionally chamomile has been thought to have a positive impact on back pain, with lavender shown to decrease your heart rate and blood pressure.
All these features combine to create a wonderful way to unwind after a hard day at work and ideal for those suffering from a bad back.
15.

Simple Spectra Massage Ball Roller Set
Massager balls targeting EVERY muscle group
This massage ball roller set is a great gift option. It comes with one soft and one firm spiky ball and one hard lacrosse ball.
The combination is thought to be ideal for targeting every muscle group in the body. Those reviewing the balls loved the variety and how they could effectively target different types of pain.
The balls come with a handy bag so they can be used on the go. Plus you also get a free e-book to help the user get the most from each of the physical therapy balls.
16.

Avana Kind Bed Orthopedic Support Pillow Comfort System with Bamboo Cover
Therapeutic cushions for full body support
When struggling with back pain one of the biggest challenges can simply be getting a good position to do the simple things in life like relaxing to read or watch television.
The Avana Kind Bed Orthopedic Support Pillow is a four piece comfort system that offers your body full support. It's made up of adjustable therapeutic cushions including a back support, knee rest, head rest and cradle.
Users recovering from surgery report positive results, finding it a more comfortable option than a chair and enjoying the flexibility of the cushions to get comfortable.
With soft bamboo covers, it's a high quality product that will be a welcome treat to anyone suffering from back pain.