For years Theragun have been recognised in the market for producing the most powerful percussive massagers.
However the competition quickly caught up, and began creating gun massagers to seriously rival the renowned Theragun name.
But now they're fighting back, by launching their 4th generation range.
It's the same Theragun name (under the new Therabody company brand), but with exciting features that leave the competition behind.
Introducing Theragun PRO – the top of the range product in their line.
After purchasing mine a few months ago, I've spent tons of time using the device and looking closely at every feature.
If you're considering investing in the Theragun PRO, this detailed review will give you all the information you need.
A quick look at the verdict:
Want to know more about the Theragun PRO, but don't have time to read the full review? We've summarized the findings below to help you make your decision.
Theragun PRO
The Verdict
A PRO product in every sense of the word. Seriously powerful and intuitive. A leap from the previous model.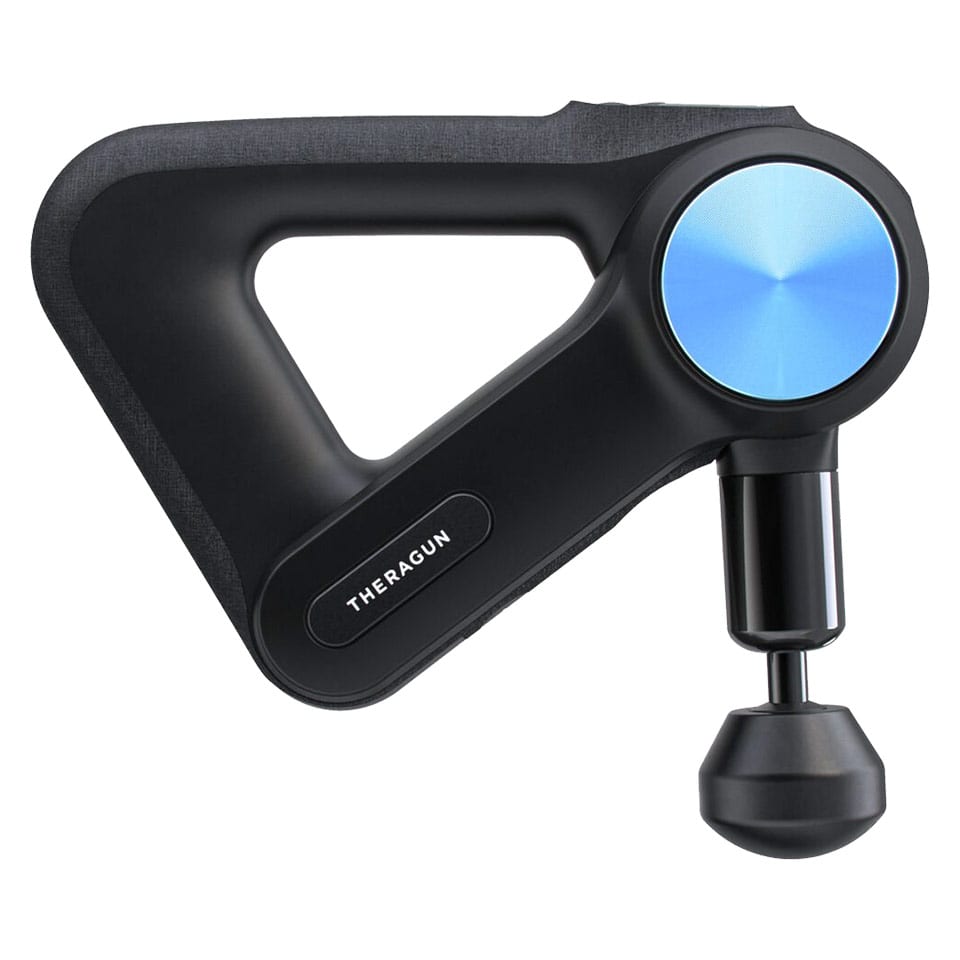 Pros
POWERHOUSE!
Lots of intensity flexibility
Adjustable arm
New Supersoft attachment
Hygienic
Can be used with two attachments simultaneously (using the Duo Adapter sold separately)
Premium feel
Cons
The app (needs a little work!)
Doesn't ship with Large Ball attachment
Price
Heavier than most comparable gun massagers
Can get hot to handle!
A closer look at the Theragun PRO
To help you decide if the PRO is right for you we've taken a look at each feature so you can learn more about the product.
By reading our detailed review, you'll feel armed with all the information you need before adding to cart.
Unboxing the PRO
Unboxing the Theragun PRO is a real treat. The packaging looks great and feels premium.
It gave me the same excitement you get when you open a brand new smartphone!
In fact, the packaging has been so neatly designed, that before opening it I did wonder how everything had managed to fit.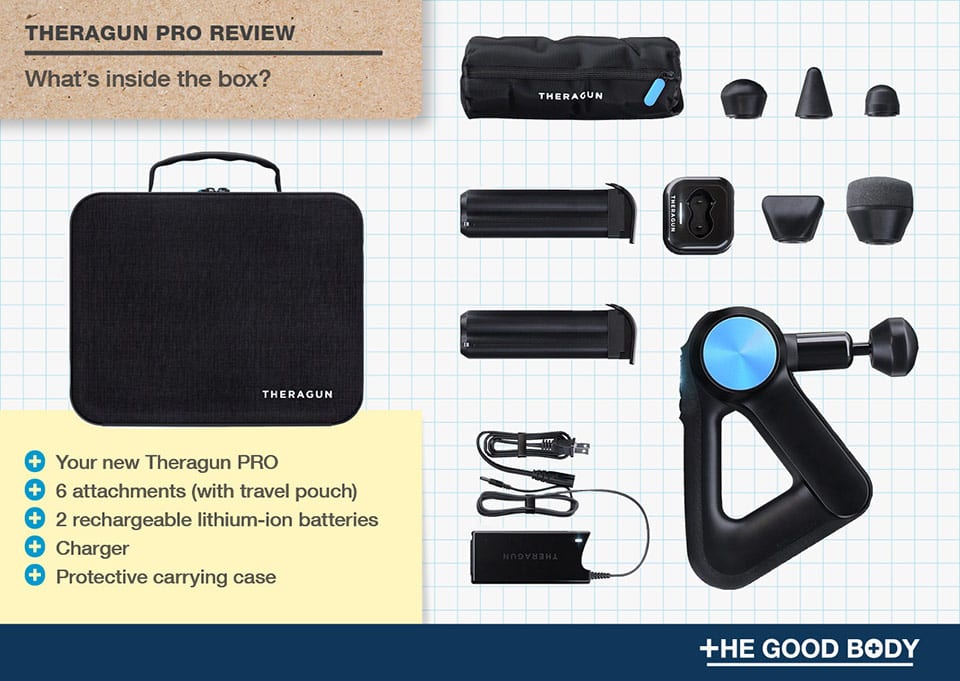 Inside the box you'll find the Theragun Protective Carrying Case. Again, this case feels long-lasting and premium quality, certainly worth the money.
It has been created for the PRO model, and includes:
Your new Theragun PRO
6 attachments (with travel pouch)
2 rechargeable lithium-ion batteries
Lithium-ion battery charger
I love having a place to store everything away. It helps me protect my device, particularly when I've made such an investment.
Using the Theragun PRO
I'll be honest, I was a bit skeptical about the Theragun PRO.
In fact, I've always had a love / hate relationship with Theragun products. I found them excessively noisy, expensive and just not as good as the hype.
The Theragun PRO has completely changed my opinion.
From the first moment I started using it I could tell it was a complete game changer. It is so incredibly powerful.
I upgraded my G3PRO (their previous generation top of the range device) for this model, and noticed a significant difference. In terms of the noise level, which I'll talk about later, and the whole experience of using it.
You can apply an incredible 60lbs worth of force without the device stalling, enough for anyone. It really doesn't miss a beat, penetrating 16mm in to your muscles.
Even a person with the most muscular physique would still appreciate the power of this device, and it doesn't even feel like you need to apply that much pressure.
I started using the device initially to activate my leg muscles before cycling, and I now use it every day.
You'll find it pairs really easily with the app (though the app could be better, I'll explain more later). However you can use it perfectly well without the app, by selecting your speed on the OLED screen (in fact I'd go as far to say it's a better experience without the app).
As you'd expect you have lots of control over the different speed settings.
The screen can also be used to see the level of force you're applying, and how much you still have in the bank.
Store your presets on the device, and you can toggle through so you don't have to find the settings you enjoy each time, even when you're away from your phone.
Now, let's talk about one of the most valuable features, the adjustable arm.
It's the only percussive massager in the 4th generation Theragun range that moves in this way.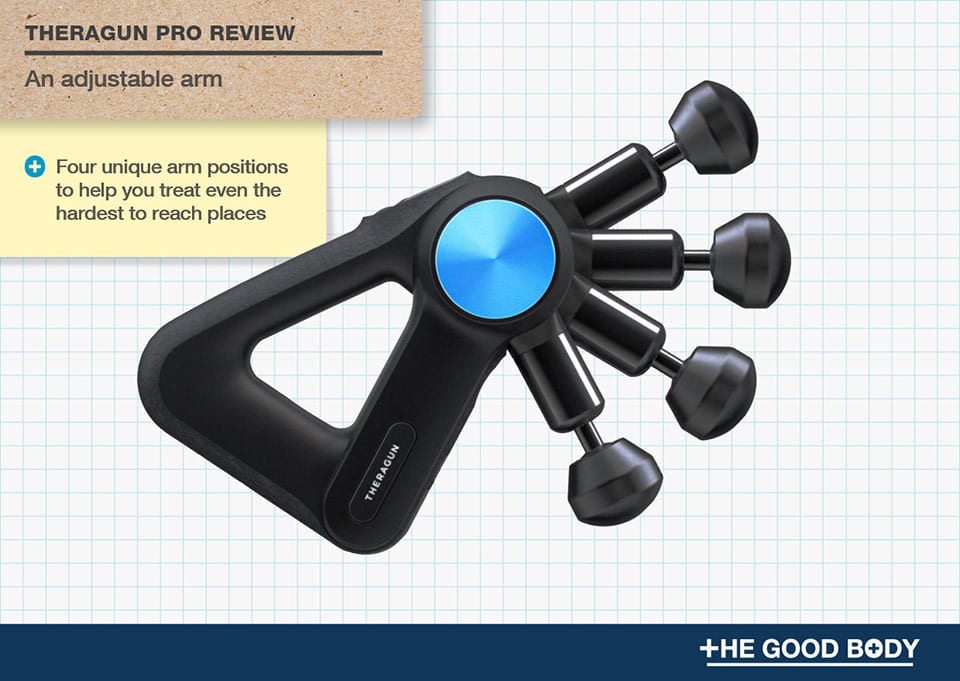 You get four unique arm positions, that can be paired with three different grips. Giving you so many different combinations to get to even the hardest to reach places.
See this demonstrated by watching the video below, which introduces the new range:
You'll also find lots of instructional videos on their website which I found really useful. It's broken down by areas of the body and various conditions, so you can make sure you get the most from the device.
Experimenting with the different attachments gives you more flexibility. You can even use two at the same time by buying their new Duo Adapter (jump to the attachments section of this review if you want to know more).
With all these features they're ahead of the competition, and their customer service also hits the mark now.
We've been disappointed with Theragun's after-sales care in the past, but they seem to have really improved.
Overall the Theragun PRO is a winner. It's powerful, intuitive and built to last.
Using the old model and wondering if you'll notice a difference? I'm sure you will.
Power
You won't be disappointed with the power of the Theragun PRO. This is a seriously mighty device.
The 60lbs of applied force it can handle without stalling is more than enough for me, in fact I think it would be more than enough for anyone, whatever your physique.
You can monitor the force using the onboard OLED screen, which tells you how much pressure you're applying and how much you still have left to play with.
If you're looking for the most powerful percussive massager around, then this is it.
Speed and Intensity Settings
So speed settings, well as you'd probably expect for the price tag you get a serious amount of flexibility.
As standard you get five speed settings, 1750, 1900, 2100, 2200 and 2400 PPM.
You can navigate through these easily, and feel how the device really revs up (think of a car moving up the gears!).
However the beauty of a Theragun is you can tailor the speed to anywhere between 1750 and 2400 PPM.
I really liked this smart feature as it allows you to increase intensity gradually, and apply the force as you need it.
You have full control of your treatment (which is something I always value), and plenty of flexibility.
Stroke
The Theragun PRO can power 16mm in to your muscles, and trust me, it feels that way.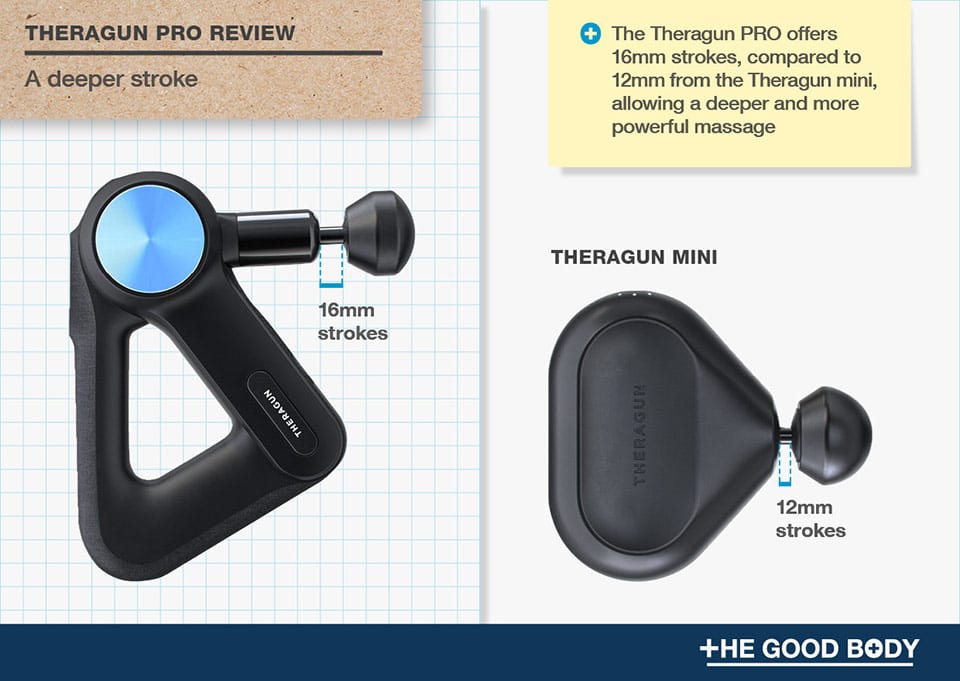 However I was intrigued by competitor devices, such as the Tim Tam All New Power Massager that promises 26mm strokes.
My assumption was that the deeper in to the muscle the gun massager powers, the more satisfying the massage.
Theragun say they've chosen the optimum depth and all their range (excluding the Theragun mini) deliver 16mm strokes.
I certainly don't feel shortchanged by the depth of the massage, at no point did I wish it could go deeper.
The App
So as you can probably tell from reading this review so far, I'm a big fan of the Theragun PRO after years of being skeptical about their products.
But I'm not completely sold on the app.
When I first bought the PRO and started using it, the initial version of the app was really poor. It felt as though they'd rushed to market with a great product and just put out the prototype of the app.
Thankfully, after a few months, Theragun updated the app and it's a huge improvement.
Let's start with the positives (and there are many):
It's so easy to pair your device via Bluetooth, and navigate around the app.
There is a sequence for just about everything!
Warm up for yoga with a specially designed routine, or follow the 30 minute Sleep program before bed to help you get a better night's rest.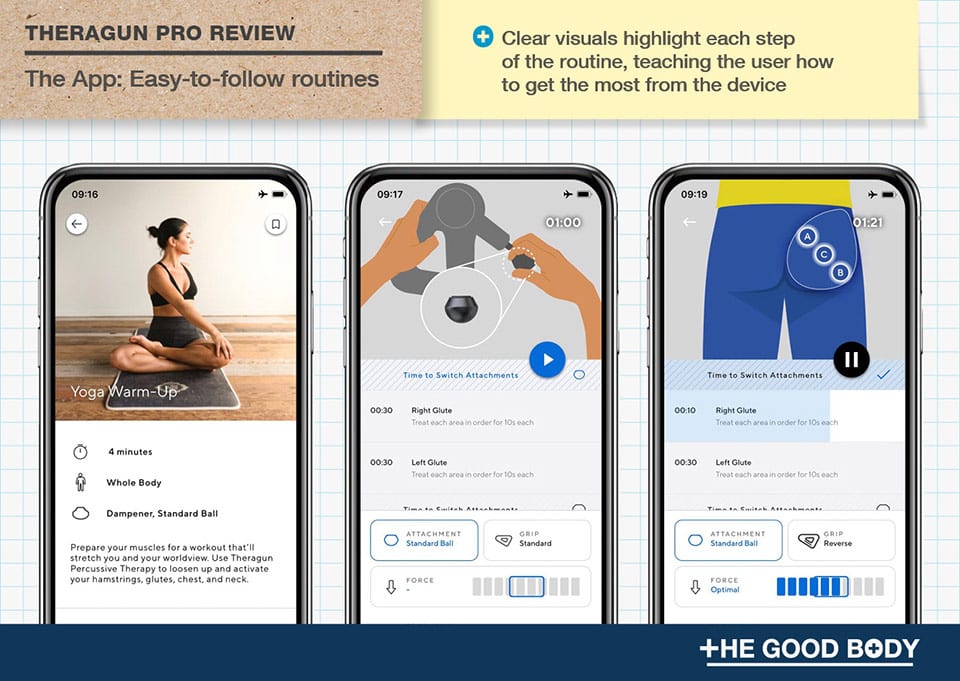 Choose a sequence to help with your back pain, shoulder pain or plantar fasciitis, and the app will walk you through it step by step.
You can easily adjust the speed and follow colorful graphics that highlight exactly where and how to use the massager on your body.
Cleverly the app begins to learn your habits and creates personalized wellness routines that you can use, even if you're away from your phone.
For example, if the app notices that you sit on the subway for an hour each day, it will create a routine focused on reinvigorating your glutes and lower back.
Pressure sensors on the Theragun PRO judge whether you're applying enough force, with optimum pressure gauged on a meter.
Now for the downsides of the app:
I should start by stating that it's not about the Theragun app in particular. It's more the flaws of an app-driven massage gun.
When you're controlling the Theragun through the app, you're constantly looking down at your phone to keep up with the step by step guidance.
You get preoccupied with it, and it distracts you from enjoying, and get the full benefit, of a deep percussive massage.
It seems counterintuitive for example, to be following a Tech Neck program to treat the pressure on your neck caused by looking down at your phone. By using a massager and looking down at your phone!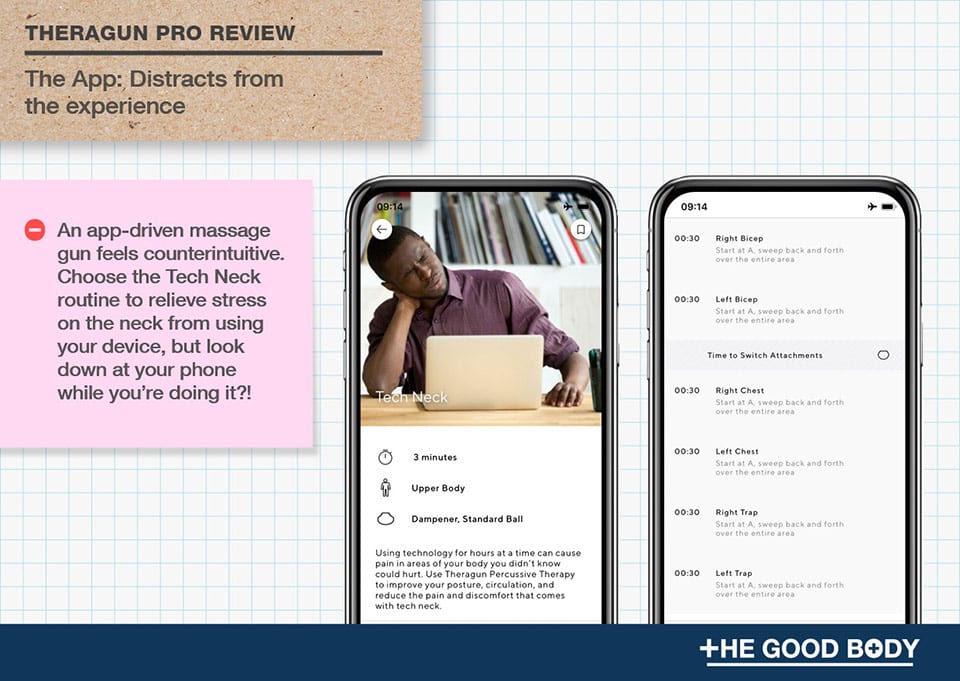 You could prop your phone up, or use a holder, but most programs require you to change position, so you feel like you're constantly moving the phone around (to get the screen at eye level).
Also during certain sequences you need to switch muscle groups or attachments.
Since the latest update it now automatically pauses to allow you to change attachments. You can then resume your treatment.
However there is still no time allowed to switch sides. The PRO simply carries on delivering the treatment as you frantically try to find the pause button mid-routine.
Even switching from one bicep to another means you lose a few seconds of treatment. Longer if you're moving from your bicep to your quad!
Though I do have an idea for how it could be improved:
Add a voice coach to the app, so you can focus on your treatment without having to look at your screen.
The guidance wouldn't need to be constant (as that would be equally as annoying!). However a voice guide could advise you when to switch to a new muscle group, or change attachment.
It wouldn't even need to be a voice coach necessarily. It could just be a sound to notify you of the next step or to apply more force, as a way to stop yourself becoming preoccupied with the screen.
As an experienced gun massager user, you might find you don't need the app. You'll likely know how to get the most from the device and the areas to focus on.
However beginners will find it invaluable. It's so helpful to ensure you're not applying too much pressure, or treating an area for too long.
Over time and with regular use, you'll become less reliant on constantly looking at the app.
With the pressure sensor for example, you'll start to know what feels like the right level of force to apply.
Theragun's app certainly has promise, visually it looks great and apps can easily be updated!
Plus it's worth mentioning again that the PRO works perfectly well (better!) without the app.
You don't need it to access any of the core features of the device. In fact, if you didn't know there was one, you wouldn't miss it.
Size
The PRO is the largest percussive massager in the Theragun range, and it's pretty big.
Measuring in at 10.0 in (25.5 cm) x 7.1 in (18.0 cm) x 3.0 in (7.6 cm), it feels really comfortable in your hand thanks to the different grips.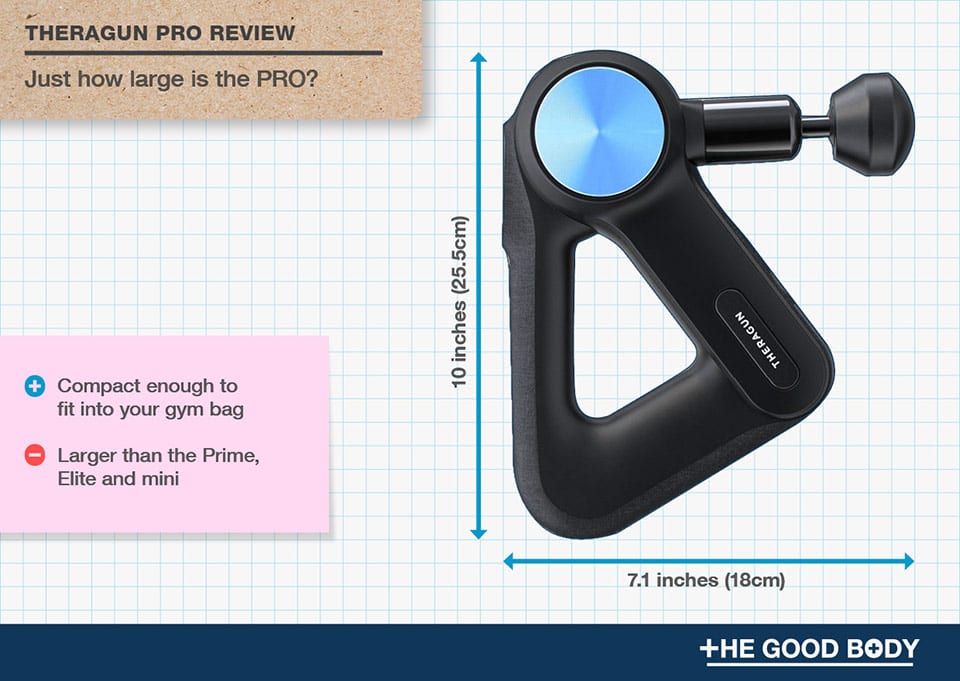 You can certainly throw it in your bag for using at the gym, however do bear in mind that it could be a bit bulky to carry around.
If you want something more compact they have introduced the Theragun mini.
The ultra-portable percussive massager is just 6 inches long, and perfect for on-the-go treatment.
Of course you don't get the maximum Theragun power, but it can be a great little extra to add to your cart.
Weight
The Theragun PRO weighs in at 2.8lbs (1.3kg).
This makes it the heaviest device in the Theragun range, with the Elite weighing just 2.2lbs.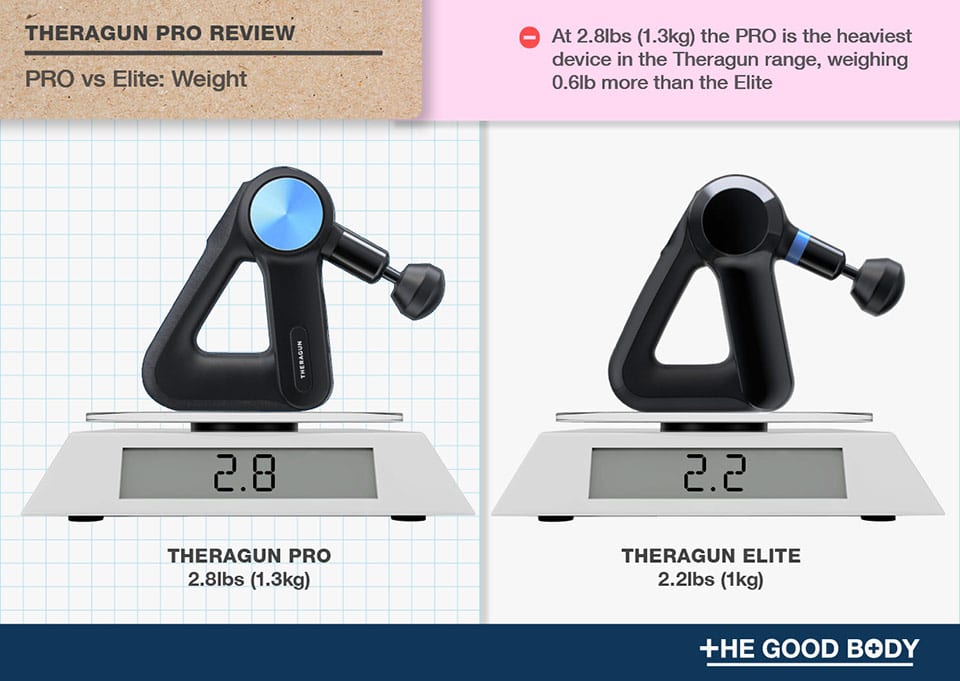 Compared to other gun massagers on the market, such as the Tim Tam All New Power Massager (2.2lbs), it is on the heavy side. Though not quite as heavy at the Hypervolt Plus (3 lbs).
Generally when using the device I didn't notice the weight, and found it easy to maneuver around my body.
The weight did make a difference when I started using the PRO on my back.
Holding the massager in place for a period of time really made my arm ache, so if you struggle with your range of motion this could be an issue.
Theragun Prime (their entry level model) is lighter, just 2.2lbs, so that could be a better option for you, but you don't get the adjustable arm.
Noise Level
I mentioned before that I used to have a love / hate relationship with Theragun products.
One reason for this was the noise.
With such an amazing amount of power you wouldn't expect the device to be quiet, however their G3PRO was seriously noisy (think jackhammer!).
You couldn't use it in the same room as someone else without apologizing for the racket!
They've seriously raised their game with the Theragun PRO.
I'll be honest, it still kicks out some noise, but it's nowhere near as loud as its predecessor.
Theragun claim it's all thanks to their QuietForce Technology, making the Theragun PRO as quiet as a standard electric toothbrush.
Now I wouldn't say it's that quiet, but it isn't far off and makes for a much more enjoyable experience (both for you using it and those you live with!).
Attachments
I didn't think it was possible, but I've fallen in love with an attachment.
The Supersoft attachment is a new addition to their collection, and only ships with the PRO (however can be bought and used with any of the other models).
Creating Theragun's version of vibration therapy it's designed to be used on sensitive areas, including your bones.
It enables you to massage areas where the other closed-cell foam attachments might feel a little too tough, such as around your ankles. I use it regularly around mine and it feels so good.
Though it's just an attachment it really is innovative…
Including the Supersoft attachment gives what is an aggressive industrial feeling product, some gentle finesse.
Think TLC not just pummeling!
You also get five other attachments:
These include the Dampener for tender areas, the simple but effective Standard Ball, a 'scraping' Wedge, plus a head for trigger points and one for small muscle groups.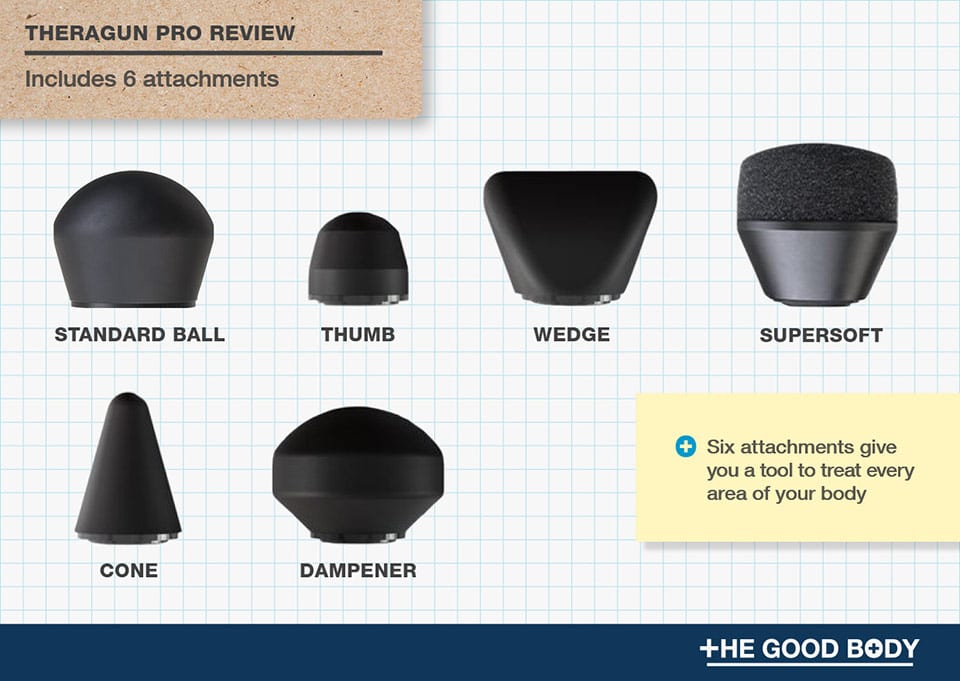 This is a few more than you get with the Prime or Elite models, so you can see what some of those extra dollars are paying for.
It's a really broad mix, giving you a tool to treat every possible area.
They're definitely an improvement on the attachments of the G3PRO too, they feel better quality, likely due to the closed-cell foam.
Yet there's one attachment sadly missing from the PRO and that's the Large Ball.
I loved that attachment with the previous model, so was disappointed when I realised it wasn't included with the PRO.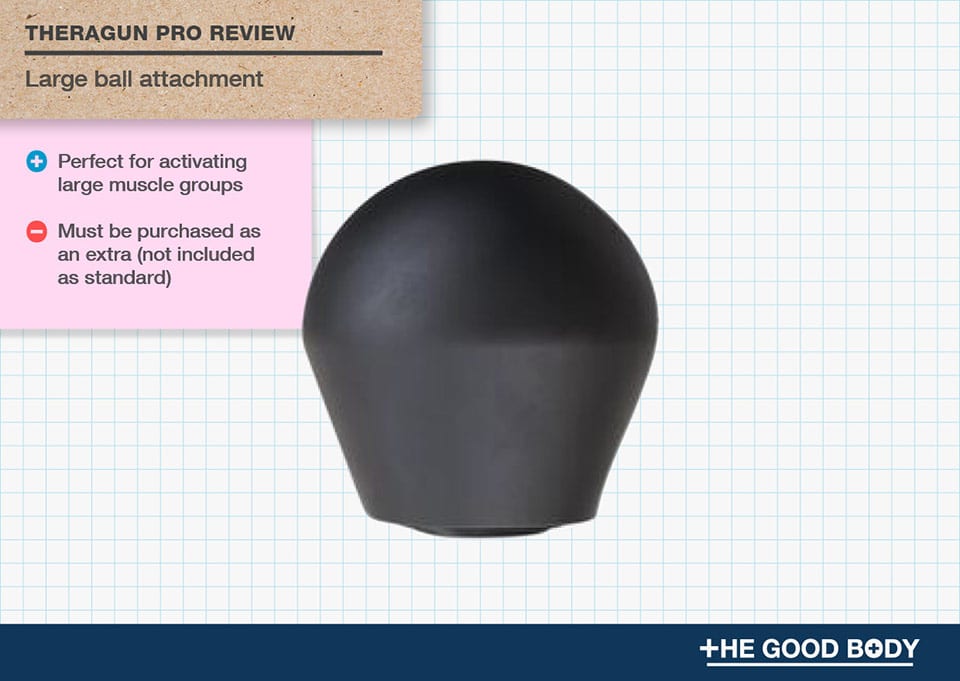 However when Theragun released their Duo Adapter, I could immediately see why.
This ingenious tool allows you to use two attachments at the same time, perfect for treating the areas where I'd previously used the Large Ball, such as the hamstrings and quads.
Plus you can still buy the Large Ball separately for just $20.
There's more on the amazing Duo Adapter a little further down in the accessories section of the review.
Battery Life
Theragun claim that the PRO leads the industry in battery life. After reviewing a number of Theragun alternatives, we'd have to agree.
You get five hours of battery life…
…this is provided by two swappable batteries.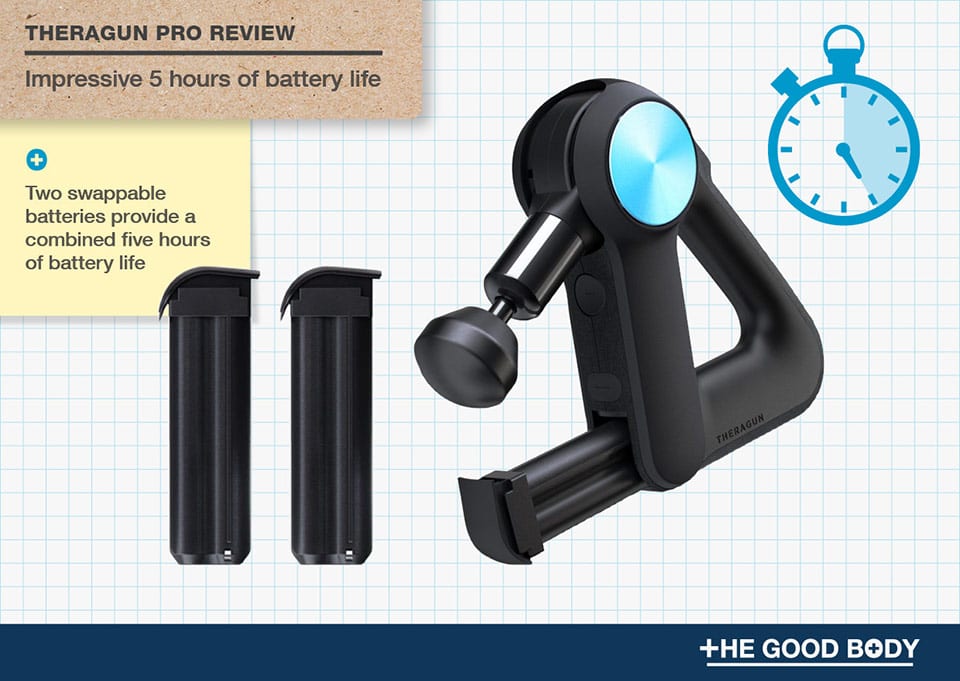 Of course if you're using the PRO consistently on the top speed, 2400 PPM, you won't get anywhere near five hours out of the batteries.
But that's the beauty of interchangeable batteries – if one runs out, whack it on charge, pop in your spare and keep going! You'll never have to know the pain of running out of power mid-treatment.
This model is a significant improvement on the previous G3PRO when it comes to battery life and clearly something Theragun have really invested time in improving.
I did notice when using the PRO with the app, that the battery seemed to run down quicker, and wondered whether that could be due to the Bluetooth?
Also, to preserve battery life the device has an auto-shutdown function, however it switches itself off so quickly!
I appreciate the device is trying to save power, but it is so frustrating. Hopefully an app update, where you can adjust the auto-shutdown time is on the way soon.
The Theragun PRO is equipped for wireless charging, but it doesn't ship with the wireless charging stand so you would have to buy that separately.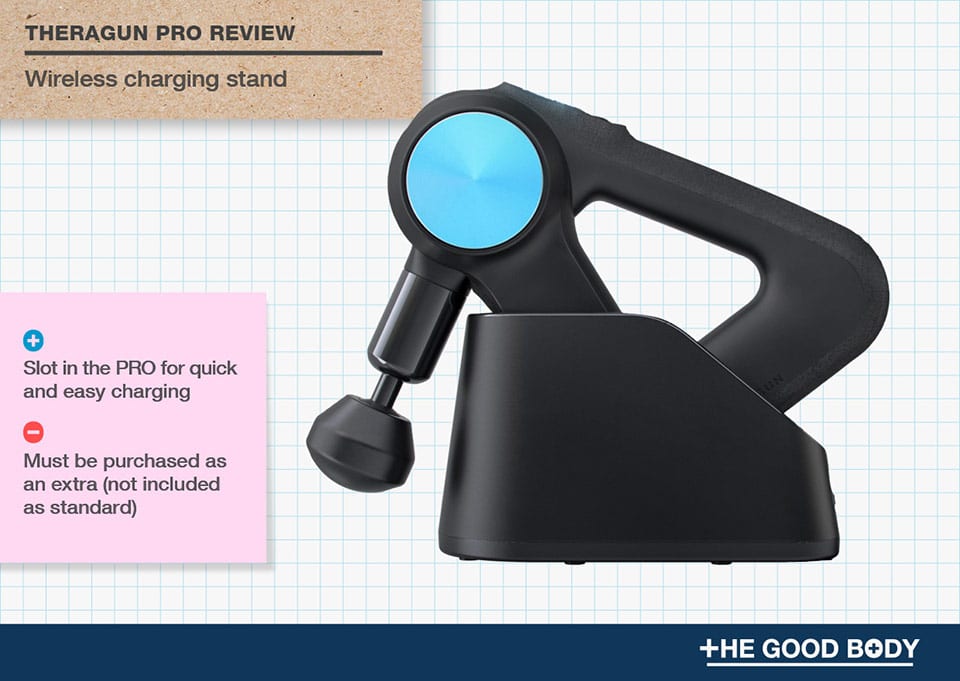 Accessories
As previously mentioned you can buy a wireless charging stand for the PRO.
You can also use the full range of 4th generation attachments, including the sturdy Large Ball.
Plus, replacement batteries or a World Travel Charger can easily be added to your cart to ensure you can use your device wherever you are.
However their Duo Adapter has to be the most compelling of their accessories – it's like Theragun on steroids!
They describe how it's 'Twice the treatment. Twice as fast.' This is a massive understatement.
Sure you can enjoy faster treatment, but for me it's the way you can activate whole areas with the tool, not just one muscle or close muscles.
In fact it actually makes the gun massager easier (and nicer) to use, because the two attachments create a balance against the body that adds stability.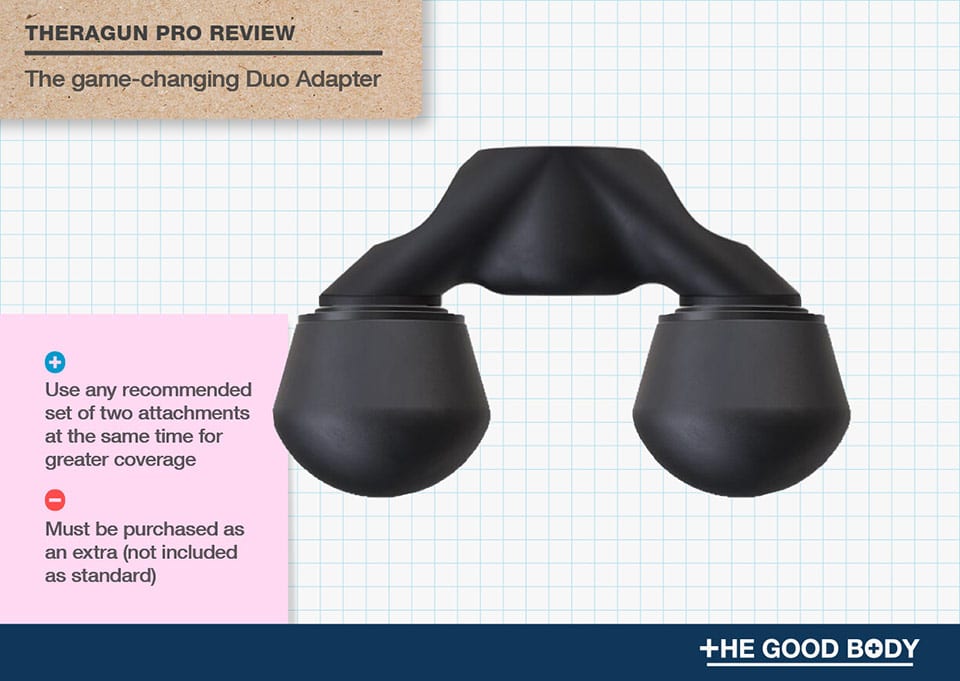 From a commercial perspective it's pretty smart, as obviously everyone will be keen to buy a second of their favorite attachment to use with it – but how long will it be before the competitors attempt to copy it?
Adding the Theragun PRO to your cart? If budget allows, throw the Duo Adapter in there too (you can thank me later!).
Hygiene
Hygiene is more important than ever right now. So you might be interested in how to keep your device clean.
Every attachment in the 4th generation range is made from a closed-cell foam, which can be thoroughly cleaned.
There are even additional foam tips available to purchase for the Supersoft attachment, so you can easily replace them for a more hygienic experience.
Improvements?
I'd struggle to improve the physical device.
It's powerful and doesn't miss a beat. You can tell you're using a premium product that has been developed with the professional athlete in mind.
The weight of the massager is a slight downside.
You look past it because of the amazing range of features, but it'd be great to see them focus on making it lighter (without compromising on the spec) in the future.
Don't underestimate how hot this device can get either.
When using it for a period of time the space between the attachment and the head of the gun massager gets incredibly hot.
At best it's tricky to change attachments, at worse you need to be careful not to burn your skin.
It's not a reason to not buy the device but certainly something to be very mindful of when using it.
The app also needs a little work.
We'd love to see Theragun add a voice coach (see our suggestion above) to stop you constantly looking at your phone during your treatment.
The ability to control the auto-shutdown time would also be hugely beneficial.
As previously mentioned, the device works perfectly well (if not better) without the app, so even if you can't get to grips with it, you're still not missing out on any of the capabilities of the gun massager.
Plus you're able to see a preview of the routine in the app without following it.
So you can see that the Tech Neck routine is 30 seconds each bicep with the dampener, then swap attachment to the standard ball etc, allowing you to use it as simply a how-to guide rather than to control the device.
Oh, and we'd also have added customer service here in the past, however Theragun have seriously upped their game on this one.
Price - Is it worth it?
At $599 (at the time of writing) there is no question, the Theragun PRO is pricey.
But it really is an investment.
You're not buying some use-once-and-stuff-in-a-drawer product. This is a tool that will quickly become part of your everyday routine. It certainly has for me.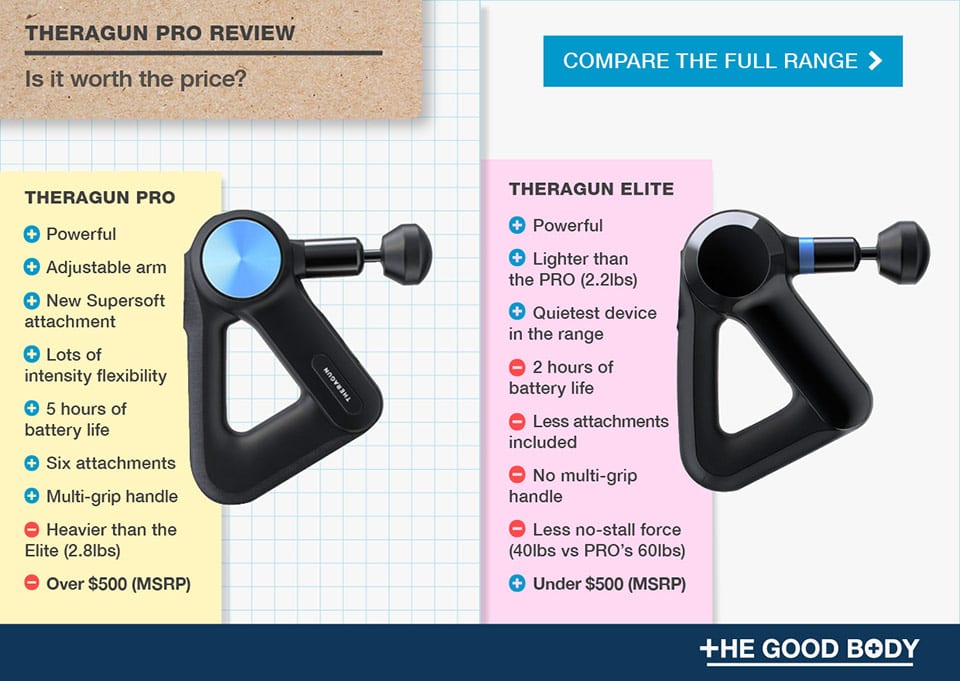 For $200 less you could instead invest in the Theragun Elite, though you don't get the adjustable arm and that really is the game changer.
It might seem a big cost difference for this feature, but it means you can easily treat everywhere on your body.
There are of course a number of more affordable Theragun alternatives that you could consider.
You won't get the full range of features that you get with the PRO, but you can still get a very decent percussive therapy tool.
Warranty
The PRO ships with a 2 year limited warranty, which is one more year than you get with their lower cost devices.
You'll see there are a number of limitations to claiming, so it's worth checking out the warranty details before you make your purchase.
When we compared this to Theragun's competitors it did stand up. With PlayMakar offering the same length of warranty, and Hypervolt Plus including just a one year limited warranty.
The Competition
If you're comparing the PRO with more affordable devices in the Theragun range, then there are of course key differences.
You can apply significantly more force, but you also get more attachments and that all-important adjustable arm that I personally couldn't live without.
If you're buying your first percussive device and not wanting to pay Theragun prices, there are a number of cheaper gun massagers that you could consider.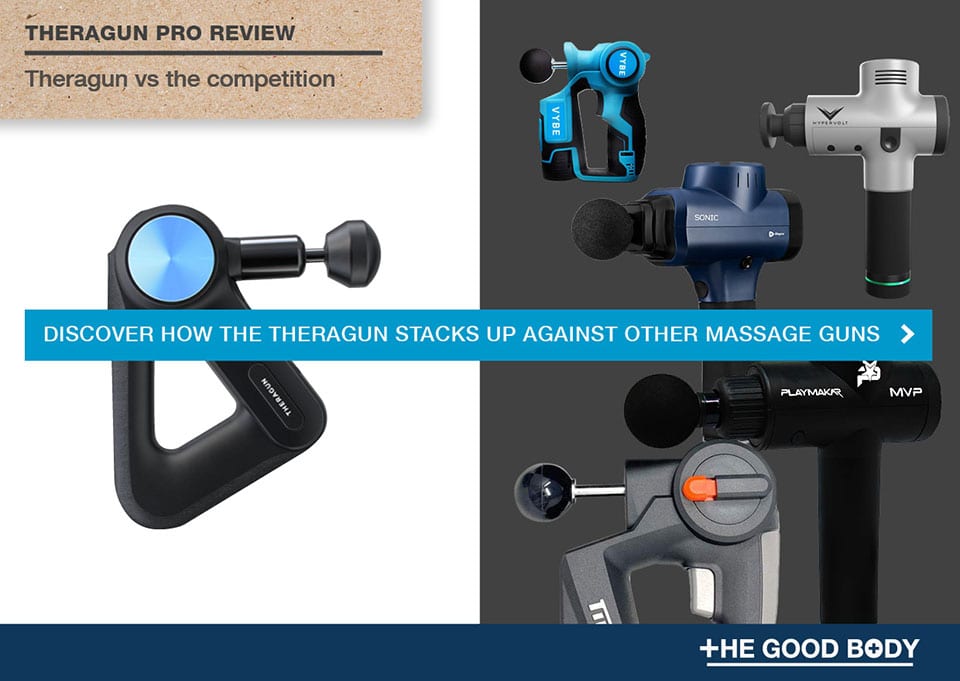 One of the closest comparable devices (in terms of spec) to take a look at would be the TimTam All New Power Massager.
It has a deeper stroke depth than the PRO and is significantly cheaper, however you're seriously limited when it comes to speed settings.
You get one speed option, and a very short battery life. Though it is quiet and you do get an adjustable arm to play around with.
There is also the Hypervolt Plus, a powerful percussion massager, but without the depth of stroke of the PRO.
Be warned through:
Using the Theragun PRO does have a tendency to make other gun massagers feel like toys!
Summary
In summary, you won't feel let down if you buy the PRO.
It delivers on power.
It delivers on flexibility.
It delivers on battery life.
Yes, the app does have limitations, but the Theragun PRO really doesn't need it.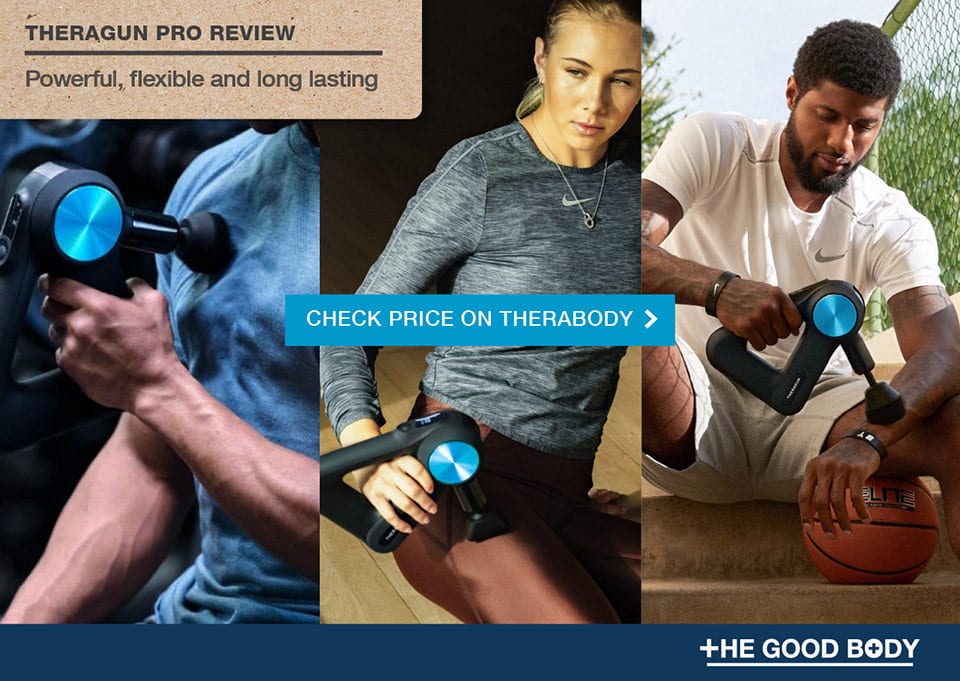 I've been converted to Theragun products after using the PRO, and I've got a sneaking suspicion that you might be too!