If the man you're shopping for loves the great outdoors then treat him to a thoughtful gift he'll really appreciate.
We've hunted down lots of exciting present ideas, from the latest camping technology to tasty meals for when they're deep in the wilderness. Take a look below at the best gifts for the outdoorsman:
1.

Ohuhu Stainless Steel Camping Stove
A portable camping stove powered by nature
Swap a basic sandwich for a hot meal while he's braving the elements.
Ohuhu's Stainless Steel Camping Stove has an intelligent space saving design that allows it to be collapsed down and popped in your backpack.
Plus it has a sturdy support base so it can withstand all weathers.
However the best part of the Ohuhu Camping Stove is that it isn't fueled by a gas canister or alcohol, instead you use nature's kindling, such as twigs, pinecones and wood.
The design of the stove means that it'll burn steadily to cook a great meal, and is simple enough to clean afterwards.
2.

Roxant Grip Scope High Definition Wide View Monocular
See things clearer with this HD monocular
Whatever keeps your outdoorsman busy in the wilderness, he's sure to find use for the Roxant monocular.
It's the ultimate monocular with high-definition optical glass for the brightest and clearest view possible.
Roxant monoculars are known for their durability, so they can throw it in their bag, plus it comes with some handy accessories including a neck strap, cleaning cloth, carry pouch and retractable eyecup.
Users loved the grip, as there was little shake and they weren't worried about it slipping out of their hand.
Optics were of course their primary concern, and they felt it really met or exceeded their expectations, still for an affordable price.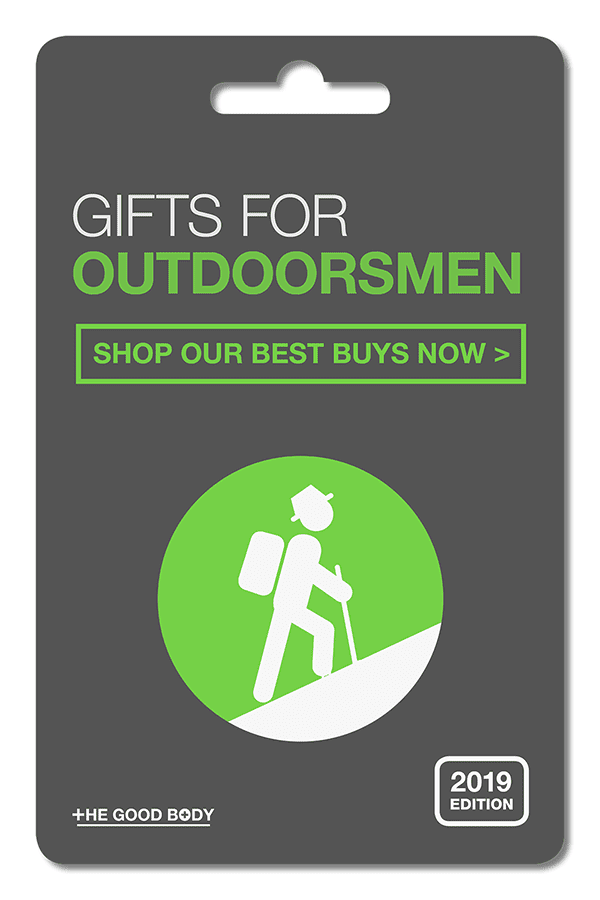 This is the next generation of drinks cooler
Replace their standard drinks cooler for quite possibly the Coolest Cooler.
Coolest create coolers that you can tailor to the interests of the person you're shopping for.
Their 'standard' cooler comes with a built-in bluetooth speaker, bottle opener, corkscrew, four plates, knife and cutting board.
Then just when you thought it couldn't get any better you can opt to add a blender, LED lid light and a USB battery charger.
When the creators of Coolest Cooler came up with the idea, they set up a Kickstarter campaign with a goal of generating $50,000 to develop their product.
However so many people loved it that they managed to generate a huge $13,285,226!
So if you have any doubt as to whether it's a great product for an outdoorsman, over 60,000 backers certainly thought it was.
4.

Osprey UltraLight 12 Dry Sack
Keep everything safe and dry, whatever the weather
Stick an Osprey UltraLight 12 Dry Sack in their backpack and help them keep everything safe and dry no matter what adventure they embark on.
Osprey Dry Sacks are light and thin, yet the Rip Stop nylon material and roll top closure makes them fully waterproof.
They're ideal for activities such as kayaking when you need to carry your belongings with you, or even just camping when you need to keep items separate.
This ultra-light dry sack comes in a range of different colors, and helps your loved one pack as efficiently as possible.
Fellow outdoorsmen and women were amazed by the sacks, saying they could withstand snow, wind, rain, sleet, and hail, and everything still stayed completely dry.
5.

Bushcraft 101: A Field Guide to the Art of Wilderness Survival
The ultimate resource for overcoming adversity in the great outdoors
Don't let your outdoorsman get caught out in the cold without the skills to survive.
Bushcraft 101: A Field Guide to the Art of Wilderness Survival is sure to keep them hooked throughout the holidays.
The book is based on the 5 Cs of survival, cordages, containers, combustions devices, covering and cutting tools.
Author and survival expert, Dave Canterbury is the co-owner of a survival school so he knows a thing or two about surviving in the great outdoors.
Those reviewing the book felt the advice was a little general however overall it was loved for the practical and basic advice for things such as shelter building and tree identification.
6.

Brita 36387 Premium Water Filter Bottle
Enjoy filtered water wherever you are
Pack your loved one a Brita Premium Water Filter Bottle, so they can enjoy filtered water on the go.
Brita's premium bottle is made from a durable plastic, is BPA-free and has a one-hand push button lid.
It literally filters the water as you drink it, reducing the chlorine typically found in tap water.
Brita's bottle comes in a range of different colors, is dishwasher safe and according to the reviews, really easy to clean.
Plus it's thought that this one bottle can replace up to 300 standard single-use plastic bottles, so it's great for the environment, too.
7.

Mountain House Chilli Mac with Beef
Freeze dried backpack meals with tons of flavor
They need food in their survival kit while they're enjoying the great outdoors, but emergency food doesn't have to be basic.
Mountain House offer a wide range of tasty freeze dried meals including Chilli Mac with Beef. It's packed with beef, macaroni noodles, beans and chilli sauce, you just need to add water to prepare it.
Amazingly this backpack meal can stay in their bag for up to 30 years and still taste good, which is why it's a brand trusted by the US military.
People loved the practicality of the product, but most importantly they loved the taste. An alternative option for Christmas dinner perhaps?
8.

Deeper Smart Sonar PRO+
Cast out the smartest fishing technology
Fish like a true pro with the Deeper Smart Sonar PRO+, wireless fish finder.
It helps you take your angling to the next level by not only scanning the water to find fish but also delivering information about the landscape under the water.
Connect the device to your smartphone and you can create bathymetric maps that you save and study later.
Deeper's clever Wi-fi fish finder can be up cast up to 330ft and can scan down to 260ft so the fish have nowhere to hide.
Anglers loved how easy the device was to setup and felt it had really helped them up their shoreline fishing game.
Let him pick something cosy for the great outdoors
Eddie Bauer is a name trusted by all serious outdoorsmen. Their clothes are made to last, and built with outdoor living in mind.
Whether they opt for a parka, base layer or a pair of their cosy Radiator Fleece Gloves, it's sure to become a staple of their outdoor kit.
However if you can't decide, why not choose an Eddie Bauer gift card and let them choose something for themselves?
10.

Don't Die In The Woods Emergency Blankets
One of the world's toughest emergency blankets
If you want to get your outdoorsman a gift he'll really thank you for, then wrap up a pack of four emergency blankets from Don't Die In The Woods.
These blankets offer more than a standard emergency blanket as they're extra large and made from a NASA-designed mylar fabric to work in all weathers.
Thanks to the high quality material and size, they can also be used as a sleeping bag or emergency shelter. Plus unlike competitors they can be reused again and again due to their individual nylon stuff sacks.
So why not wrap up a pack of these emergency blankets for anyone who loves the great outdoors?