If your loved one is always complaining they're cold, even when everyone else is sweating, then you need to purchase them a toasty little treat.
Take a look below at our list of the best gift ideas to warm up people who are always cold:
1.

The Pajamas Warming Pouch
Why not slip in to something a little warmer?
Can you imagine the luxury of sliding in to your pjs at the end of a busy day and they've been warmed to the perfect temperature?
Imagine no more and purchase someone special a Pajamas Warming Pouch. The pouch has hidden heating elements that can reach 118º F and is made from a soft satin material to help your pajamas stay warm.
It takes just ten minutes from plugging the pouch in to get snuggly pjs. It's energy efficient, taking less power than most light bulbs, and you can put other items in it too, including towels.
Fold the warming pouch in half and you can fit it easily in to an overnight bag or suitcase.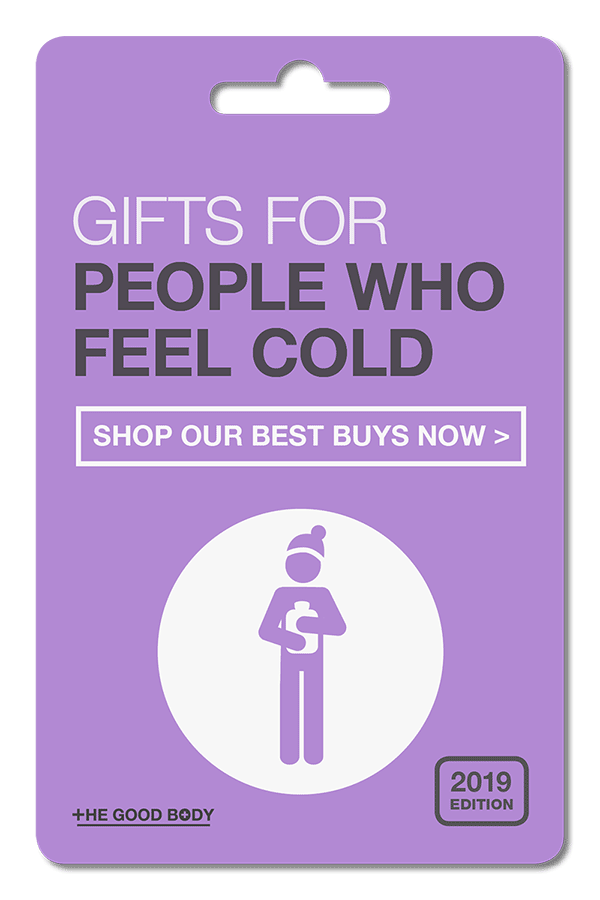 2.

Fine Cooking Comfort Food: 200 Delicious Recipes for Soul-Warming Meals
Give the gift of a tasty home-cooked meal
There's nothing that can help you feel toasty inside better than a delicious hot meal. This cookbook from the Editors of Fine Cooking has over 200 ideas for classic hot meals including one-pot stews and modern classics.
It's easy to follow and has lots of mouthwatering pictures. The focus of the book is happiness, meals that will bring the family together.
The book doesn't just have recipes, there are also breakdowns of different techniques and other shortcuts.
Readers of the comfort food cookbook loved how it covered everyday meals, so it's a great gift for someone who enjoys simple and tasty food. Each recipe has been triple tested so they should be easy to recreate!
3.

Heated Chair by Chaheati
A hot spot to sit back and relax
Whether your loved one needs a nice spot to sit to enjoy the game, or wants somewhere to rest in the great outdoors, buy them a heated camping chair.
The heat from this all-season chair can be adjusted to suit your needs with three different settings to choose from.
Chaheati's heated chair really does have it all, a cup holder and a USB port so you can charge your devices. It's lightweight and comes with a carry case so you can easily throw it in the trunk.
Reviewers of the product just had one criticism, that the chair has to be charged from the mains supply, however once charged it can last for hours.
4.

Mr. Coffee Cafe Cocoa Hot Chocolate Maker
Indulge in frothy hot chocolate whatever the weather
What better gift could you give the one you love than the gift of hot chocolate on demand!?
Mr. Coffee Hot Chocolate Maker, which could be used in the home or office, can make four cups of delicious, frothy hot chocolate.
It's really easy to use and turns off automatically once your hot drink is ready, simply add milk or water.
Those who purchased the hot chocolate maker loved being able to rustle up a warming drink on a cold day for the whole family, and enjoyed the fact that cleaning the system was really straightforward.
Wearable warmth they'll enjoy
Nevermind heated gloves or socks, take it to the next level and treat your loved one to the ARRIS Heated Vest.
You can choose from five different heating levels ranging from 104°F to 176°F, making it the perfect gift for the hiker or mountaineer in your life. Even just a dog walker who would appreciate some warmth on a cold day.
The heated vest can be adjusted to fit people of all sizes, and the heat can even help to relax painful muscles. The best additional feature has to be the battery pack that can charge up your phone, so you can be snug and fully charged.
Wearers of the heated vest really enjoyed the fit of the product as the ability to add and remove panels meant they could get the snug fit they were looking for.
6.

Sunbeam Microplush Camelot Heated Electric Warming Blanket
One seriously soft electric blanket!
Your chilly loved one might already have an electric blanket but do they have a Sunbeam Microplush Electric Warming Blanket?
This super soft blanket comes with three different heat settings and a controller so you can tailor the heat to exactly what you need.
Sunbeam's clever luxurious material not only feels incredibly comforting but has a warming system that ensures that the heat is delivered consistently throughout the blanket.
The speed at which the blanket heats up was a big selling point for purchasers of the product. They also seemed to love the softness of the blanket and the ability to really control the level of heat they wanted.
Users did suggest that you need to cover yourself with the blanket to feel the full benefit as when scrunched the heat didn't distribute as evenly.
But what better way to relax in the evening?
The blanket also switches off after three hours just in case you fall asleep!
7.

adagio teas Masala Chai blend
Discover the warming power of Chai tea
Treat your loved one to a spicy cup of tea! adagio teas' Masala Chai blend has excellent reviews from purchasers who love the rich flavor and how the blend still works when combined with milk.
You can buy the tea by the oz or opt for a box of pyramid teabags.
Masala Chai tea is a fusion of many different spices including cinnamon, ginger and cloves. The spices are shown to increase your body temperature helping you to feel warmer.
Raising your body temperature also has many benefits to your health including treating the symptoms of depression.
8.

Craftea Ultimate Electric Tea & Chai Maker
Make Chai tea at the perfect temperature
Tea experts suggest heating your chai tea to an exact temperature to get the best flavors.
Craftea's Ultimate Electric Tea and Chai Maker has a number of pre-programmed temperatures allowing you to enjoy the perfect blend, or you can customize it to your exact requirements.
It allows you to make up to 4 cups with either fresh or loose leaf tea, or you can combine fruits, herbs or spices to create your own blend.
Those reviewing the product said it had quick become a staple of their morning routine. They also enjoyed that it was easy to clean, and much quicker than brewing on the stovetop.
9.

Brookstone Towel Warmer Bucket
An upgrade from the standard towel rail
Cold people dread those tiny steps from the bath or shower to their towel! Treat them to a towel warmer bucket so when they get there they can wrap themselves in something toasty.
This clever machine can warm two over-sized towels at the same time, and could even accommodate your dressing gown and socks for a little extra comfort.
You can warm your items for up to 60 minutes and unlike a rail it heats the whole towel.
The simple design means it's easy to use, plus it'll fit seamlessly in to your bathroom. Why not throw your pjs in there, too!
10.

Happy Heat Electric Hot Water Bottle
A hot water bottle with no need to add water
If your loved one makes up one of the 80% of Americans who have suffered from back pain then they'll certainly thank you for this Happy Heat rechargeable hot water bottle.
There's no need to add boiling water or use the microwave to heat it, as you simply plug it in for 15 minutes and then enjoy heat for up to five hours.
It's the perfect gift for in the office to stay warm or ease any aches and pains.
The cover can be taken off and washed easily and the high quality material makes it a really soft pillow ideal for long trips.
Reviewers of the hot water bottle carried it out and about with them, using it in a cold office or classroom.