If your loved one is always complaining they're cold, even when everyone else is sweating, then you need to purchase them a toasty little treat.
Whether you choose something to keep their feet, hands or their whole body warm, it's a gift they're sure to thank you for!
Take a look below at our list of the best gifts for people who are always cold:
1.

Pajama and Foot Warmer
Why not slip into something a little warmer?
Can you imagine the luxury of sliding into your pjs at the end of a busy day and they've been warmed to the perfect temperature?
Imagine no more and purchase someone special the Pajama and Foot Warmer.
The pouch has hidden heating elements and is made from a soft plush material to help your pajamas stay warm.
It takes just eight minutes from plugging the pouch in to get snuggly pjs. You can also slide your feet inside on a chilly winter's night.
The person you're shopping for can choose from three different heat settings. Plus simply remove the cord and pop it in the washing machine so it's always fresh.
What a cosy treat!
2.

Scandinavian Comfort Food: Embracing the Art of Hygge
Give the gift of a tasty home-cooked meal
There's nothing that can help you feel toasty inside better than a delicious hot meal, and no-one does comfort better than the Scandinavians.
This cookbook is filled with recipes that will warm the soul and teach everyone to embrace the art of hygge.
Hygge defines cosiness and comfort in Danish culture, time spent eating well in good company.
Delicious recipes and the beautiful color photographs in this book walk you through various dishes in glorious detail.
Readers described how you need a little know-how in the kitchen to make the dishes, but that the results were absolutely wonderful!
3.

Karecel Rechargeable USB Hand Warmer
2 in 1 warmth right in their pocket
Your someone special can say goodbye to cold hands with the Karecel Rechargeable USB Hand Warmer.
Producing heat on both sides, this little gadget can reach up to 131℉ in just a few seconds.
They can charge the device at home then slip it inside their pocket for when their hands really need warming up.
Not only that but the Karecel hand warmer doubles up as a power bank, meaning their smartphone will never be out of battery on a dark winter's night.
Available in three different colors, the feedback on this product shows it's a great gift for just about anyone!
However if you're searching for a gift for someone into hiking, user reviews suggest this is sure to be a hit.
4.

Comfier Shiatsu Neck and Back Massager
Sink in to a soothing massage chair
Comfier's Shiatsu Neck and Back Massager can turn any chair in the house into a soothing massage chair.
With an amazing selection of therapy settings including rolling massage and air compression, it encourages complete relaxation.
2D and 3D finger pressure shiatsu, gives you a massage experience that mimics the hands of a real masseuse.
However we can't forget the ultimate feature for the person who is always cold. Heat!
This massage pad has a built in heat pad that delivers soothing heat to relax tense muscles and warm the body.
People reviewing the pad described how much the heat adds to the relaxation experience, really helping to soothe their muscles.
5.

Colsen Tabletop Indoor Fireplace
A tabletop talking point!
Wherever you're gathering over the holidays, it's nice to be around the fire.
Gift this portable fireplace and you can create that cosy ambience wherever you are.
By using clean burning fuel it doesn't create smoke or odor meaning it can be used both outdoors and indoors.
When lit the flame can last for up to 50 minutes before it needs refilling, so it's the perfect way to set the mood.
Shoppers who'd purchased the fireplace as a gift reported receiving excellent responses, describing how the recipient was keen to get it lit asap, so don't forget to purchase some clean burning fuel to go with it!
6.

Verve Culture Mexican Hot Chocolate Gift Set
Indulge in an authentic hot chocolate whatever the weather
Treat someone you love to a cup of authentic Mexican hot chocolate.
In this great looking set you get two handcrafted clay mugs, a bag of authentic chocolate from Oaxaco and a traditional whisk.
Heat milk or water in a pan, add the chocolate, then mix it using the wooden whisk that adds froth to the delicious drink.
Pour it inside the handcrafted clay mug and enjoy — what better gift for someone who needs warming up while working from home.
Keep your loved one warm on the go
Wrap your someone special up in heated clothing from Ororo this winter.
Their vast range of heated clothing includes jackets, vests, fleeces and gloves — they even do heated socks.
Our favorite Ororo product however, has to be their unisex heated hoodie. It's soft and lightweight while containing three carbon fiber heating elements that generate heat across the chest and back.
With the simple touch of a button choose between high, medium or low heat.
Amazingly the hoodie also has a built in USB port for charging your smartphone.
If you struggle to choose from such a huge range, why not opt for an Ororo gift card?
Choose from $20, $50, $100 or $150 so they can treat themselves to the perfect piece of cosy clothing.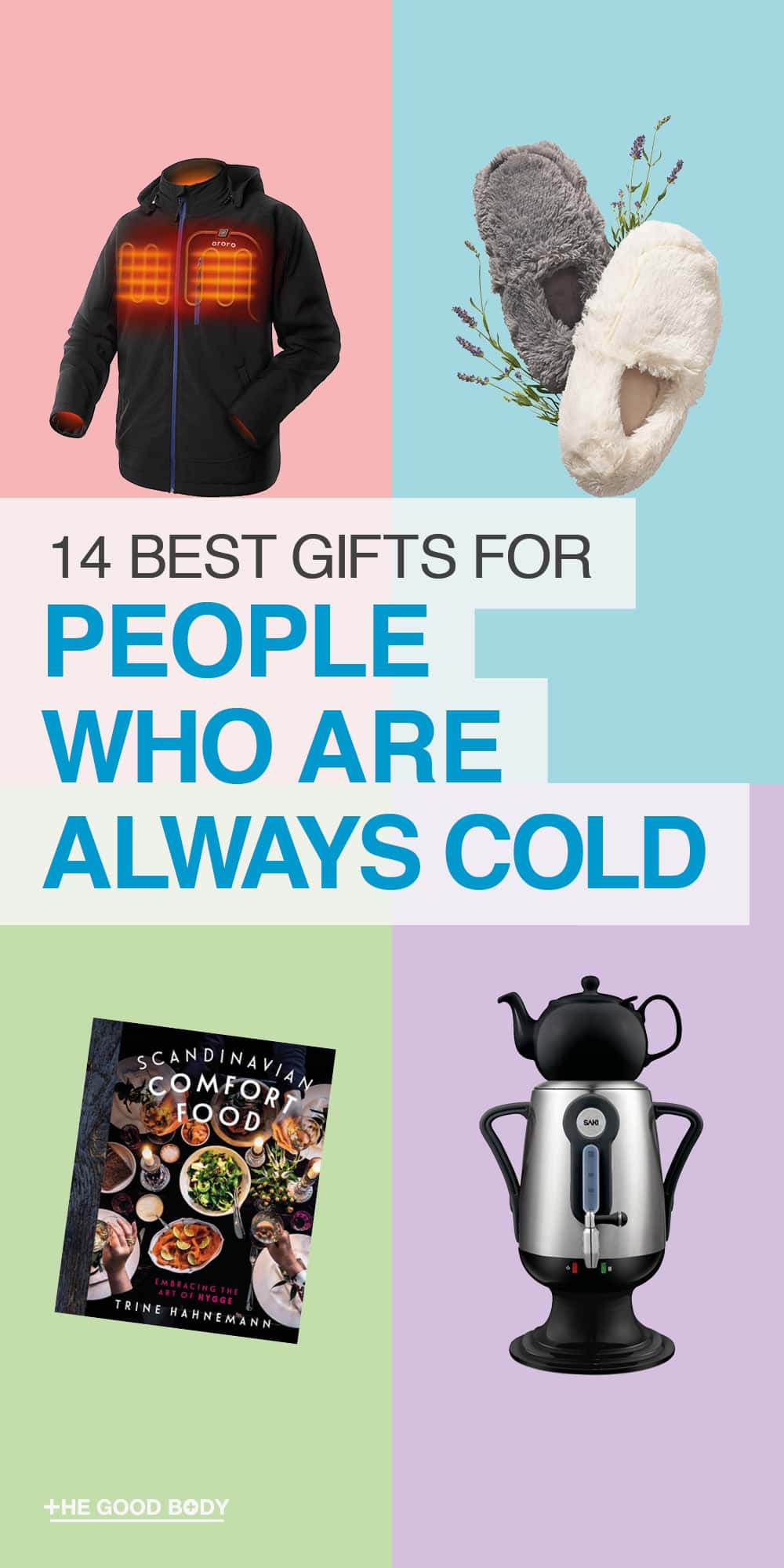 9.

adagio teas Masala Chai blend
Discover the warming power of Chai tea
Treat your loved one to a spicy cup of tea.
Adagio teas' Masala Chai blend has excellent reviews from purchasers who love the rich flavor and how the blend still works when combined with milk.
You can buy the tea by the oz or opt for a box of pyramid teabags.
Masala Chai tea is a fusion of many different spices including cinnamon, ginger and cloves. The spices are shown to increase your body temperature helping you to feel warmer.
Raising your body temperature also has many benefits to your health including treating the symptoms of depression.
10.

Saki Samovar Electric Tea & Chai Maker
Keep their tea hot all day long
Saki's Samovar Electric Tea and Chai Maker can keep your tea hot all day.
Just turn on the 'Keep Warm' switch and it'll make sure you never have to settle for a tepid cup of tea again.
With a built-in infuser you can enjoy tea with the richest flavors and savor every last drop.
The simple porcelain teapot sits neatly on top of the heater to create a real talking point in your kitchen.
Plus all parts are detachable so it's easy to clean.
Fans of the product loved the simplicity of the design and described how their tea had never tasted so good!
11.

Keenray Luxury Bucket Towel Warmer
An upgrade from the standard towel rail
Cold people dread those tiny steps from the bath or shower to their towel.
Treat them to a towel warmer bucket so they can wrap themselves in something toasty.
This clever machine can warm two over-sized towels at the same time, and could even accommodate your dressing gown and socks for a little extra comfort.
You can warm your items for up to 60 minutes and unlike a rail it heats the whole towel.
The simple design means it's easy to use, plus it'll fit seamlessly into your bathroom. Why not throw your pjs in there, too!
12.

Happy Heat Heating Pad
Take their hot water bottle to the next level
Wrap up this heating pad from Happy Heat and the recipient will never stop thanking you.
Charge the pad in only 12 to 15 minutes and it'll stay warm for up to 5 hours, whether you're outdoors or indoors.
With a soft fleece cover it's perfect for slipping your hands inside at your desk at home or while out on a long walk in winter.
It delivers soothing heat up to 158℉, so it's a wonderful gift for anyone living with a chronic pain condition such as arthritis.
Happy Heat's Heating Pad also ships with a lavender sachet, that slips inside the front pocket, so you can enjoy relaxing scents as you warm up your hands.
13.

Miko Shiatsu Foot Massager With Deep-Kneading
Enclose their feet in comfort
Swap slippers for the indulgence of the Miko Shiastu Foot Massager.
Unlike other foot massagers that focus on the soles, the Miko massager completely encloses your feet massaging both the sole and the side of the foot.
The foot chamber uses air compression to deliver a satisfying deep kneading massage.
Choose from five different intensity settings, as well as rolling and vibration functions to help with foot pain or muscle tension.
Targeted heat helps to warm and soothe the feet, making it an amazing way to unwind after a long day.
A wireless remote adds to the indulgence, as you don't need to bend down to change your settings. Simply sit back and relax.
14.

Plant Therapy Ginger Root Essential Oil
A naturally warming essential oil
Essential oils have so many healing qualities, some of which might surprise you!
Ginger Root has a warming effect, and is thought to help improve overall blood circulation.
Treat someone to a little bottle and they could choose to drop some in their bath or invest in an essential oil diffuser.
Plant Therapy essential oils are 100% pure therapeutic grade, so completely free of synthetics.
Many could feel the warming effect when they applied a few drops of the oil to their skin. Others simply loved the smell and the way it helped with an upset stomach.
15.

Intelex Cozy Body Slippers
Slippers you can pop in the microwave
Slippers might seem like a basic holiday gift, but Intelex Cozy Body Slippers are anything but basic.
Made from a high quality, plush fabric, they're fully microwavable. Place them inside and after just a few minutes they'll be toasty and ready to wear.
Filled with millet grains and dried lavender flower it's everything your feet need to stay cosy on a cold day.
Amazingly, slipper wearers reported that they can stay warm for hours!
Available in a range of different colors, they're a great stocking stuffer for a chilly loved one.
16.

Catalonia Sherpa Wearable Blanket
A blanket they can wear!
This wearable blanket is sure to raise a smile over the holidays.
Forget that blanket they snuggle up under while watching TV, they can wear this ultra soft and luxurious one.
All they need to do is slip it over their head and they're wrapped up in king size comfort.
There's even a handy carry pouch on the front for their phone or TV remote.
Shown here in Camel color, you get 16 different options include bold prints and festive designs.
It's certainly not a gimmick though, people raved about the comfort, feeling it was the perfect TV binge-watching outfit!
17.

Brightown Mini Desk Heater
Help busy hands stay warm
Plug in the Brightown Mini Desk Heater and this low wattage personal device will help keep your office warm and toasty.
It's really quiet so won't be distracting and lets out enough heat to rival a larger space heater while being more economical.
This desk heater also has a few safety features, such as switching off automatically if it's knocked over and cutting out completely at any signs of overheating.
Heat lovers couldn't believe how much warmth this little heater could provide and also appreciate how inconspicuous it is on their desk.
Many sneaked it in to work as a way to keep their feet and legs warm while in a heavily air-conditioned office!
For someone who works from home, this has to be the perfect gift.