If your loved one drives a lot then chances are they end up using their car like their second home!
Treating them to a few thoughtful gifts can really help to improve their health while they're out on the road.
Need inspiration? Then take a look below at our list of the best gifts for people who are always in the car:
1.

Zaq Tour Essential Oil Litemist Aromatherapy Travel Car Diffuser
Mists essential oils throughout your car
Enjoy the relaxing scents of the Zaq Tour Essential Oil Aromatherapy Car Diffuser. You can sit it neatly inside a cup holder and it silently mists essential oils throughout the car.
It's perfect for those who dislike the smell of traditional car air fresheners (and those nasty chemicals) but still want their vehicle to smell wonderful!
Unlike similar diffusers that require you to buy specific refills, Zaq's car diffuser can be used with any essential oil.
Simply add 60mls of water and mix with whichever essential oil you choose. It ships with a car and home charger, and can last around four hours.
2.

Yissvic Electric Lunch Box Food Heater with Removable Stainless Steel Container
Enjoy a hot lunch on the go
When you drive a lot you often end up snacking or picking up meals as you go. Buy the Yissvic Electric Lunch Box and enjoy a hot home-cooked meal instead.
Supplied with a car adapter, this clever portable lunch heater becomes a mini microwave for your car. It also comes with a home use adapter so it's great for the office too.
The container is stainless steel with the lunch box itself made from food grade PP material, making it easy to clean.
With space for storing your spoon and vegetable containers, you can keep each element of your meal separate.
People who purchased the product loved how they could heat leftovers and enjoy a tasty meal wherever they were.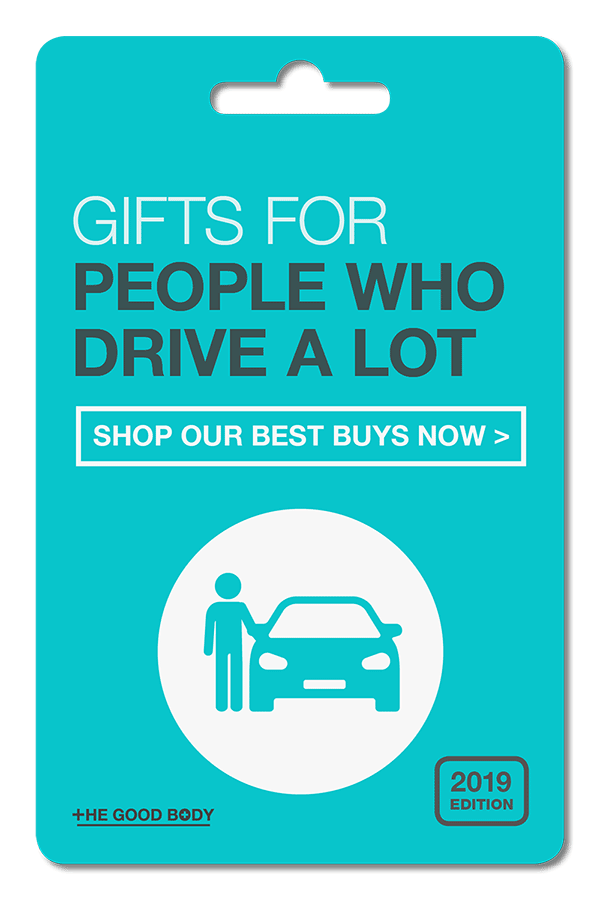 3.

TravelMate Car Neck Pillow
Say goodbye to neck pain
Long journeys can take their toll on your neck, leaving you feeling uncomfortable and in need of a break.
TravelMate's Car Neck Pillow will give you the support that you're looking for, fitting comfortably in to the contours of your neck.
The pillow also helps you to maintain a good posture which should help to reduce any back or muscle pain.
Constructed from memory foam, this pillow is compact enough that you can store it easily in your car when it's not in use.
Fitting it in position is really straightforward, plus it ships with a removable cover that you can pop in the washing machine.
Enjoy access to a wide range of audiobooks
When you're stuck in a jam for hours each day the time would certainly pass quicker if you could listen to an interesting audiobook.
Audible by Amazon is a collection of audiobooks from a whole host of different authors, so there's sure to be something for every taste.
Let them decide between political discussions with Michelle Obama, the humor of David Spade or an exciting thriller to while away the hours.
You can opt for a one, three, six or full year subscription. They can enjoy three titles each month during their subscription as well as 30% off any additional books that they want to enjoy.
5.

Cactaki Water Bottle with Time Marker, Large BPA Free Water Bottle
It's hydration time!
Staying hydrated while you're on the go is so important, luckily you have the Cactaki Water Bottle with Time Marker to remind you!
This large water bottle has all the features of a great reusable bottle. It has a one-click push button opening and is BPA and toxin free.
With the added bonus of a time marker to show you how much water you need to drink, you can track your progress and hit your daily target.
Cactaki's Time Marker bottle even has a built in strainer so you can add a little flavor!
Plus with a free infused water e-book as part of the package, you'll have plenty of ideas and help to get you started.
Choose between spa days and salon pampering
Rather than choosing something for using in the car why not opt for a gift that gets them out of it?
After long days driving here and there they'll thank you for a little rest and relaxation, and what could be more relaxing than a day at the spa?
Purchasing a SpaFinder gift card gives them access to thousands of spas and salons across the US.
They might decide to learn Tai Chi, book a facial or get moving with a fitness bootcamp.
You can select the value of your gift, plus the voucher never expires so they can use it at a time to suit them.
7.

OxGord Heated Car Seat Cushion – Auto Seat Cover Warmer Auto Headed with Lumber Support
Perfect for winter driving
Position your OxGord Heated Car Seat Cushion then simply sit back and enjoy a warming heat experience as you drive.
The clever interior coils heat the velour seat cushion evenly for a full heat experience up to 114 degrees Fahrenheit.
It's ideal for chilly days and has a number of settings so you can tailor it to what's right for you.
Practically the OxGord Heated Car Seat Cushion fastens to your seat with elastic straps and hooks and plugs easily in to your car's DC socket.
Purchasers of the product loved the heat but also the added lumbar support that was described as thick, comfortable and supportive.
8.

Espro Travel Coffee Press, Stainless Steel
Brew fresh coffee on-the-go
Don't settle for a gas station coffee when you could brew your favorite blend on-the-go with the Espro Travel Coffee Press.
Use ground coffee in this stainless steel travel mug and the double micro-filter will give you fresh coffee without any grit or grind!
Alternatively if you love tea why not choose the tea option and travel with your favorite leaves.
Thanks to the double-walling and insulation your drink will stay warm for hours.
There are a range of different colors and, though ground coffee can be a messy business, people rave about how easy it is to clean.
9.

Cutequeen Eating/Laptop Steering Wheel Desk
Set up a workstation in your car
When traveling for work your car really does become your office, so why not buy them a desk?
This clever desk can easily be mounted on to your steering wheel and is strong enough to support the weight of a laptop, as well as your lunchbox!
However the tray is still light, making it straightforward to remove and pack away.
Those who work on the road love the little gadget and many wonder how they'd ever coped without it!
Some users did report that they struggled to use it on a padded steering wheel, so it might be worth considering the vehicle it will be used in.
10.

Roadpro 12-Volt Polar Fleece Heated Travel Blanket
Keep them safe, keep them warm
Safety advice always recommends carrying a blanket in your car, in case you breakdown and need to stay warm.
Keep them extra toasty with the Roadpro 12-Volt Polar Fleece Heated Travel Blanket.
This travel blanket is made from a soft 100% polar fleece material and plugs in to your car's DC socket.
Roadpro's heated fleece blanket ships with a zippered bag, so it can stored away in the car until it's needed.
It also has an extra long 8ft power cord so it can be used in the back of the car.
If your loved one ever finds themselves stranded on the highway on a cold day, it's certainly a gift they'll thank you for!