Whether you're considering using a physical therapist for the first time, or perhaps you're a regular, you might be interested in finding out more about the profession, success rates, relevant research and data, and the history of the profession.
So we've compiled the latest physical therapy statistics, as well as information about how you could join the profession and become part of a fast-growing industry!
History of Physical Therapy
Physical therapy started life as a female only profession! The first professional association was formed in 1921 and was known as the 'American Women's Physical Therapeutic Association', and included 274 members.
It quickly changed its name in 1922 to the 'American Physiotherapy Association', and men were allowed to join. By 1930 membership had grown to just under 1000 members.
Today, based in headquarters in Virginia, American Physical Therapy Association (APTA) represents more than 95,000 members throughout the United States.
Did You Know?
During the 1940s and 1950s there was greater demand than ever before for physical therapists, and the association's membership expanded to 8,000. This was due to the advent of World War II and the nationwide polio epidemic.
What does a Physical Therapist do?
With lower back pain on the rise across the US, physical therapists are very popular!
This was highlighted by Professional Therapy Associates, a Montana-based clinic who reported that over a six month period, 46% of its patients specifically sought relief for their backs.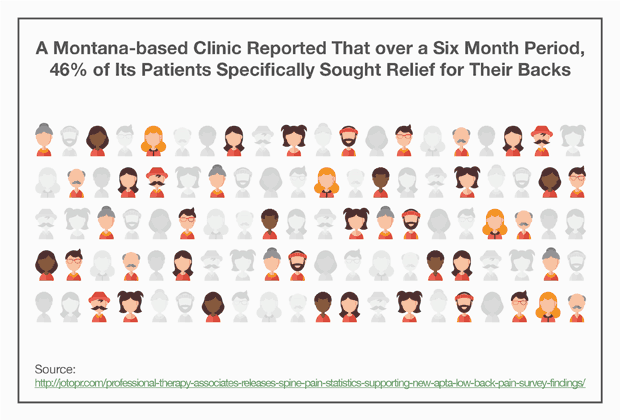 However it isn't simply back pain they treat, there are a number of other common conditions that they will offer treatment for too:
Arthritis
Strokes and other neurological problems
Industrial and work related injuries
Sports injuries
Burns
Post-operative orthopaedic patients
The term physical therapy covers a range of different interventions, including manual therapy, ice/heat therapy, ultrasound and traction therapy. They aim to improve people's overall function, movement and general wellbeing.
Their focus is very much on the patient, building up a rapport and working in partnership with them to achieve their goal of recovering or simply learning to live with their condition, whatever it may be.
Physical therapists aim to improve people's overall function, movement and general wellbeing
Click to Tweet
What is the success rate of Physical Therapy treatment?
Through extensive research, statistics widely report physical therapy to be an effective treatment for a number of different conditions.
Interestingly, the journal Health Services Research published results from a study looking into patients suffering from low back pain and the cost benefits of them undergoing physical therapy treatment.
It showed that initial treatment costs were 50% lower when the primary care consultation was followed by a referral to a physical therapist, rather than an advanced imaging referral.
The study also found that using physical therapy as a first treatment strategy resulted in 72% fewer costs within the first year, for the patient.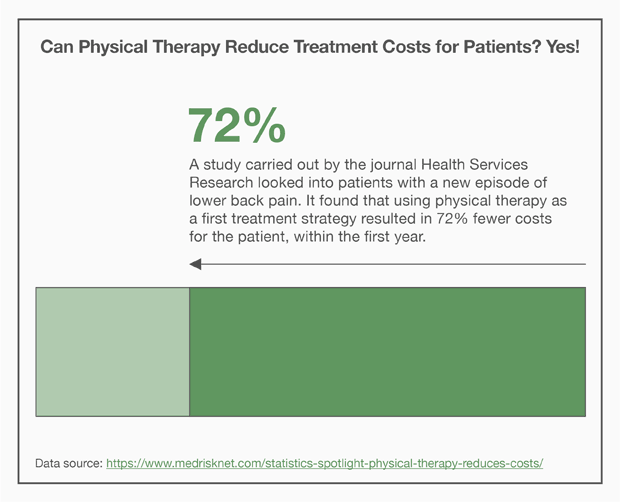 Research often focusses on the success rates of recovery of patients who have regular physical therapy treatment vs those who opt for surgery.
In a piece of research by the University of Pittsburgh, they split the group of older patients with Spinal Stenosis – half underwent surgery, with the other half receiving physical therapy treatment. The result, was that overall the different techniques produced the same results for patients.
Fact:
An award winning study in 2015, demonstrated substantial potential for lowered costs, and reduced healthcare utilization for patients who received, and adhered to physical therapy for low back pain.
How much does a Physiotherapist cost?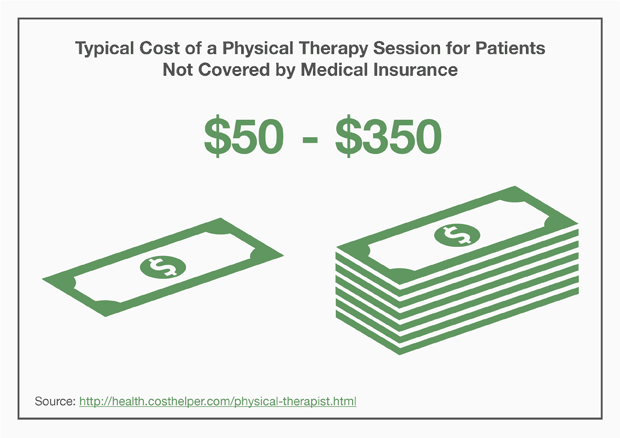 The cost of physiotherapy can vary widely depending on the statistics you read.
For patients who aren't covered by medical insurance, a physical therapy session typically costs $50-$350 or more.
Factors that affect the price include:
The duration of the session
Service provided during the session
The level of experience and expertise of the provider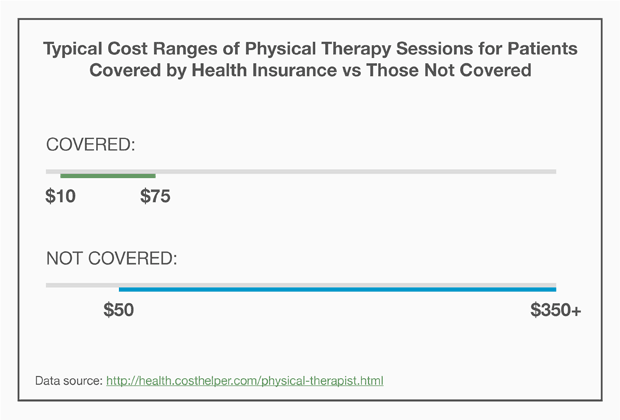 Those who are covered by medical insurance will copay approximately $10-$75 or 10%-50% (sometimes more) towards the cost of the session. When physical therapy is deemed medically necessary it is typically covered by health insurance.
Coinsurance payments vary depending on individual policies.
If you choose to, or are required to, have physical therapy in a hospital setting, then this tends to be more expensive.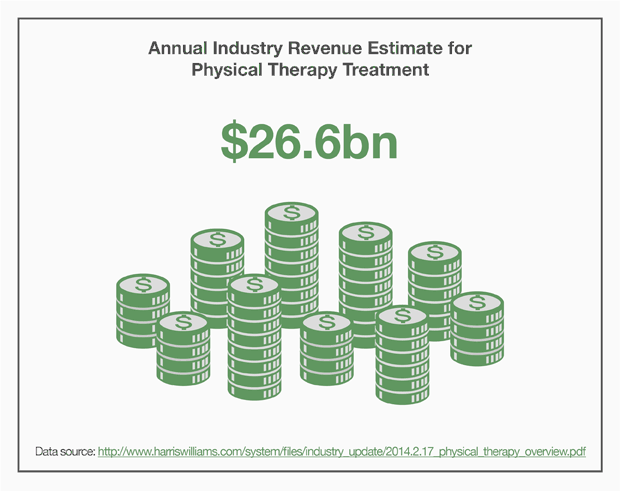 Fact:
Total annual industry revenue for physical therapy treatment is estimated to be $26.6 billion!
Is It Safe to Visit a Physiotherapist?
Overall safety advice is in the main positive, depending on the physical therapy statistics and studies you read.
Physical therapy was in fact proven in a recent study, to even be safe when used on critically ill patients in intensive care units.
Similarly to chiropractic care, it has an excellent safety record when compared to other back pain treatments such as steroids, pain medication and surgery.
How do you become a Physical Therapist?
To become a physical therapist in the US, you must follow a course lasting around 3 years, throughout which time you'll learn about all the inner workings of the body.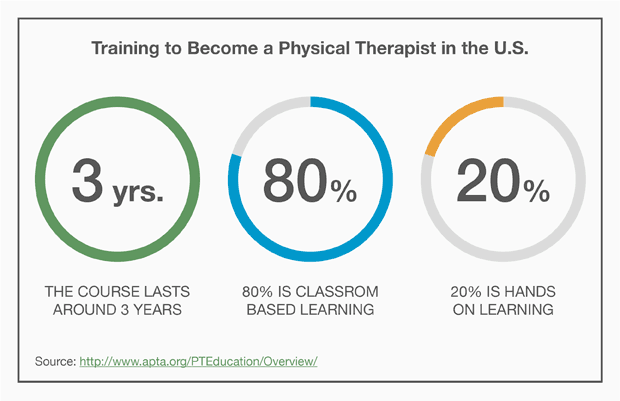 Typically 80% of the course is classroom based learning, with 20% dedicated to hands on learning in a clinical environment.
Currently there are roughly 200,000 physical therapists employed across the United States and employment of physical therapists is projected to grow 34% from 2014 to 2024, much faster than the average for all occupations.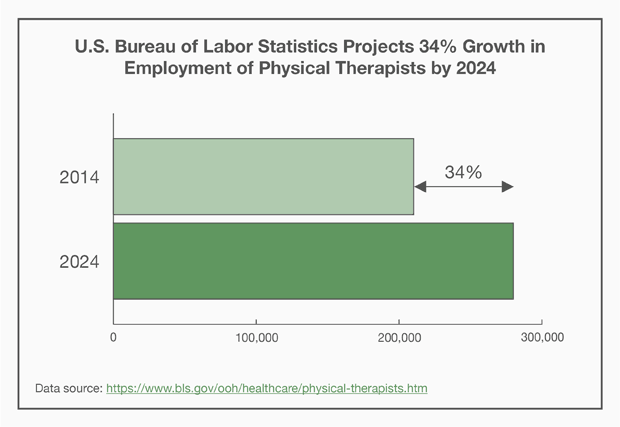 This growth, experts believe, will come from ageing baby boomers, who are staying active later in life.
Similarly to physical therapy, a career as a Chiropractor is said to be growing faster than many other occupations, with a smaller growth of 17% growth predicted from 2014 to 2024. However the time taken to complete a chiropractic course is year longer than a physical therapist and average earnings are less at $58,740 annually.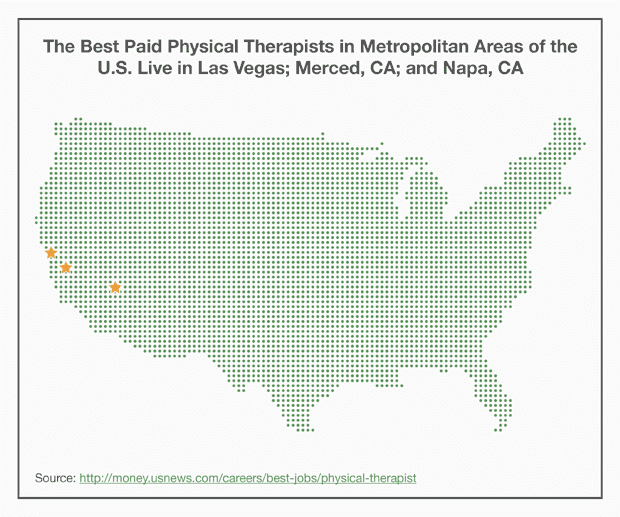 Did You Know?
The average Physical Therapist earns $84,020 per year.
If you are interested in becoming a physical therapist it's worth noting that data from the the U.S. Bureau of Labor Statistics, lists the following as being the top paying metropolitan areas for the occupation:
Las Vegas – $135,390 (mean annual wage)
Merced, CA – $130,220 (mean annual wage)
Napa, CA – $125,970 (mean annual wage)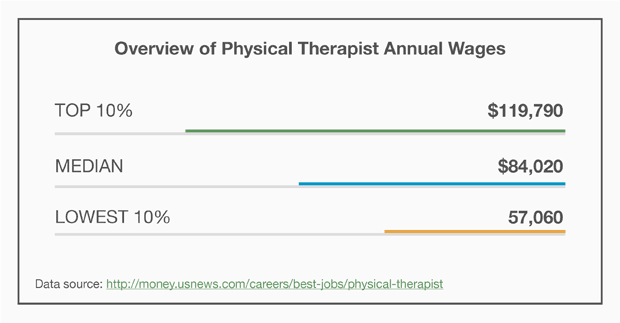 Did You Know?
Forbes ranked Physical Therapists as having 1 of "The Ten Happiest Jobs"!
Fun Fact:
Physical Therapist is clearly an attractive career option in other ways, too. According to research published by the dating app Tinder, users swiped right on women who were physical therapists more than any other profession!