Whether you're considering using a chiropractor for the first time, or a regular visitor, you might be interested in finding out more about the practice.
In this article we'll explore the popularity of chiropractic care, common reasons for seeking help and the amazing benefits for your health!
Chiropractor Stats and Facts: A Quick Summary
Chiropractors treat more than 35 million Americans annually.
One million chiropractic adjustments are performed each day in the US.
The US chiropractic industry is estimated to be worth over $15 billion.
There are more than 70,000 registered chiropractors in the US.
Chiropractic techniques are 40% more effective than medical care when it comes to treating lower back pain.
Chiropractic care has a much lower injury rate than general primary care.
Key Statistics on Chiropractic: Infographic

Share this infographic on your site
Interesting Facts about Chiropractic
You might be surprised by just how many people seek help from a chiropractor! To find out more, take a look at these cool chiropractic statistics and facts:
Chiropractor Statistics: A Growing Profession
Becoming a chiropractor means entering an exciting and fulfilling profession, however there is lots of competition out there!
Benefits of Chiropractic Care
Patients are flocking to chiropractors as the benefits are pretty impressive! Here we've taken a look at just a few of them:
Chiropractic Injury Statistics
Chiropractic care can look super painful, and of course no medical practice comes without some degree of risk. Take a look at the chiropractor injury statistics below to learn more:
1.

Chiropractic care has a significantly lower injury rate than general primary care for patients aged over 66.
Review the numbers and you'll see that the probability of injury during chiropractic care is 40 injuries per 100,000 subjects. Primary care reports 153 incidents per 100,000 subjects.
2.

One to three incidents of stroke are reported, per one million people, following treatment from a chiropractor.
Many studies have looked at the incidence of stroke after chiropractic care, particularly cervical manipulation.
Each one has agreed that the risk of stroke is one to three incidents, per one million treatments.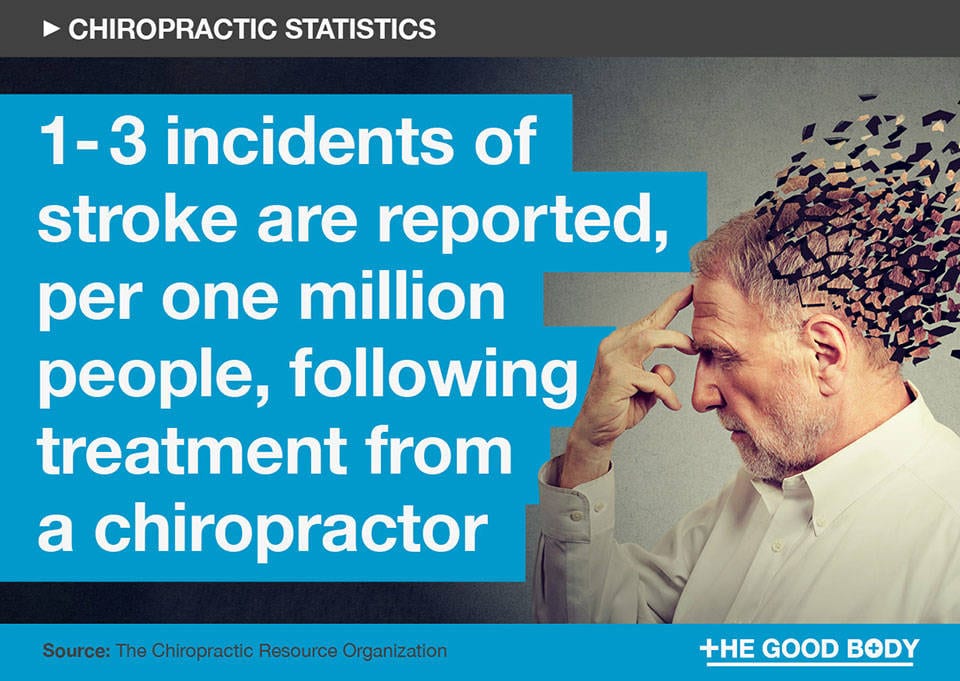 Death caused by chiropractic manipulation is incredibly rare.
Research puts the risk of dying from neck manipulation at one per million people
Compare this to spine surgery, and the estimated risk is 1,800 per one million people.