Back injuries can leave people feeling helpless, isolated and in pain. But take solace in the fact that you are not alone!
We have done our research so keep reading to find out just how common they are, what jobs put you at higher risk of incurring them and learn about the eye-watering cost to society.
We all know that back injuries cause back pain. But did you know how widespread this health issue is, and how debilitating it can be?
21 Back Injury Statistics
Back injuries are a global problem that there's no escaping. According to Manchester Metropolitan University if you're an adult of working age, you are the most vulnerable.
However, we are all potentially at risk as there are many different causes.
Here is our list of 21 spine-chilling statistics all about back injuries:
You're probably wondering what causes it and this can be a struggle to identify.
The Mayo Clinic has identified some to the top reasons:
Muscle or ligament strain
Bulging or ruptured disks
Arthritis
Skeletal irregularities
Osteoporosis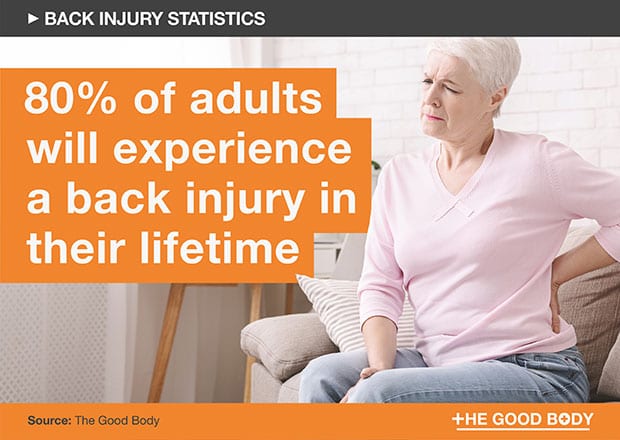 Researchers state personal factors like metabolism, biochemistry, physical factors (a long back), and depressive tendencies have been identified as placing people at higher risk.
They also believe that there are environmental factors to consider such as:
Job satisfaction
Working with heavy weights
Lengthy periods of standing
Forward bending
Carrying school backpacks
We have some good news though:
But the bad news is:
And that's not all!
A study involving almost 1,000 people over a period of 12 months, concluded that one-third of patients are likely to have a recurrent episode, with approximately half having to seek care.
The analysis also revealed that having 2 previous experiences of LBP will triple the odds of getting it again within 1 year.
A systematic review was carried out that examined all data on this topic.
It unearthed that in high-income countries this figure stood at 30%, in comparison to low-income at 18%.
Back injuries in the workplace
We spend so much time of our lives at work and rather worryingly every year there are high numbers of work-related back injuries reported:
According to the Bureau of Labor Statistics (BLS), a back-related injury accounts for one in every five injuries and illnesses at work.
BLS ran a survey and discovered that 80% of these injuries were to the lower back and, unsurprisingly, 75% of these happened during lifting tasks.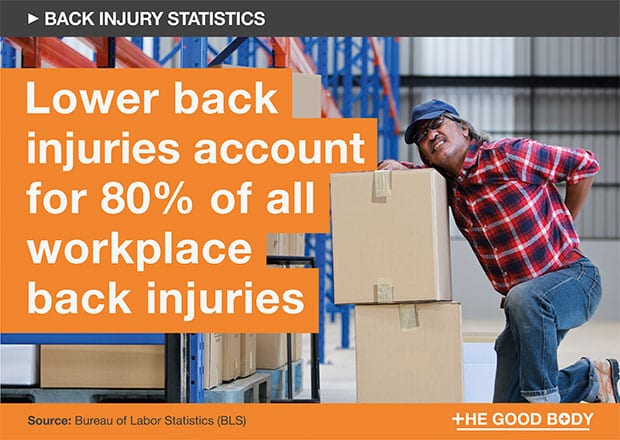 Occupations most at risk of back injuries
There are certain jobs that place workers at a higher risk of experiencing them.
Anything that involves repetitive actions like lifting materials, sudden movements, whole body vibrations, lifting and twisting simultaneously or bending for long periods of time, will make you more prone.
Read on and check if your job is on the list below:
See the other occupations close behind:
Nursing assistants (52.8%)
Stock and order fillers (45.7%)
Laborers and freight, stock, and material movers (43%)
Maintenance and repair workers (42.5%)
Janitors and cleaners (37.5%)
Heavy and tractor-trailer truck drivers (32.4%)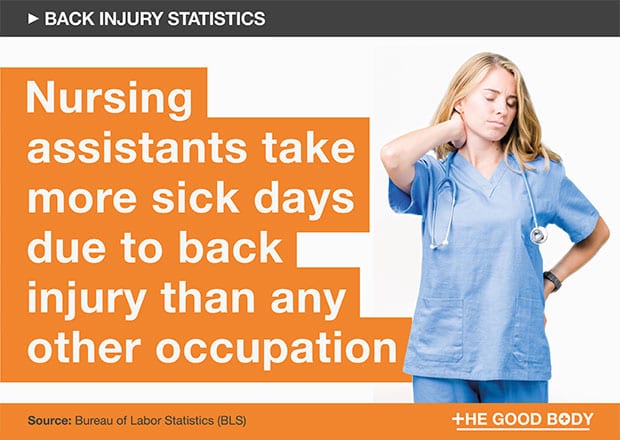 And:
For example, in general merchandise stories, back injuries result in 31.8 cases per 10,000 for job transfers, or some sort of restriction to what workers can do.
Do you want to know what the most alarming fact is here???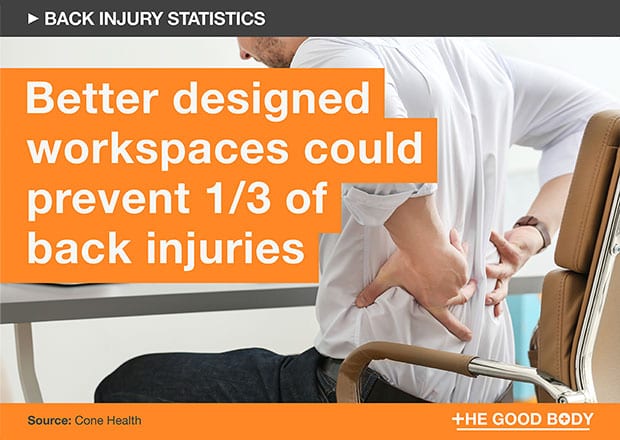 As you can learn from our back pain statistics, the standing desk has grown in popularity but isn't necessarily good for the body.
The University of Waterloo in Canada carried out an investigation into their effectiveness and discovered that 40% of people without back problems actually developed LBP after standing regularly for two hours.
Worst still, they were three times more likely to experience chronic back problems later on in life.
That said, a completely sedentary lifestyle isn't good for your health.
Important tip here:
Jack Callaghan, a professor in the Department of Kinesiology at the same university, used ergonomic and health risk calculations to work out that the best sit-stand ratio lays between 1:1 and 1:3.
So for an eight hour work day, the highest ratio works out to standing for a full 45 minutes every hour.
The key take-away here is to keep active before back pain takes a grip on you and you struggle to be mobile.
The huge cost of back injuries
Any back-related injury is a costly affair for everyone involved!
Here are some real shockers:
We've listed some of the most common and alternative treatments that back injury sufferers explore:
Medication
Chiropractor
Physical therapy
Injections
Acupuncture
Exercise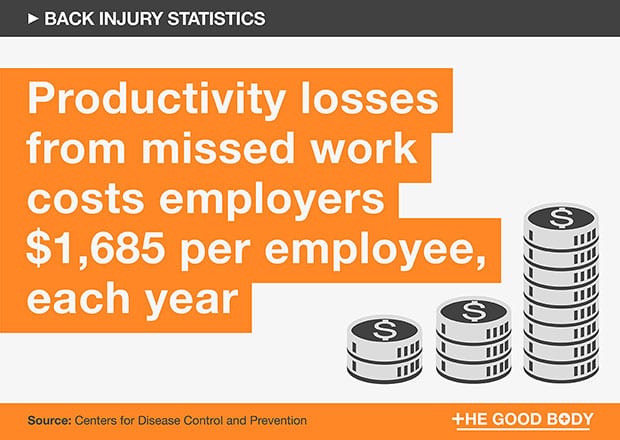 These figures have been calculated by the Centers for Disease Control and Prevention (CDC). All employers are affected by these indirect costs and even those who don't fund health insurance!
If that wasn't enough to make you take preventative measures against any injury happening to your back, a must read is our compilation of alarming back pain statistics.