When you need to lower the volume down on that negative voice in your head, positive affirmations can be just the thing.
Reciting one each day can change your attitude to whatever is going on in your life.
Read our 30 affirmations for positive thinking to reinvigorate you and your outlook.
Mood-Boosting Shortlist!
Our favorite statements for when you need a quick pick-me-up:
I prioritize my physical and mental wellbeing.
I trust my own judgement.
I am responsible for taking care of myself.
I recognize and respect my own thoughts and feelings.
I set the direction of my life.
I'm allowed to say "no".
Daily Affirmations for Positive Thinking
Let the list below inspire you to turn the practice of announcing a mantra into a daily habit: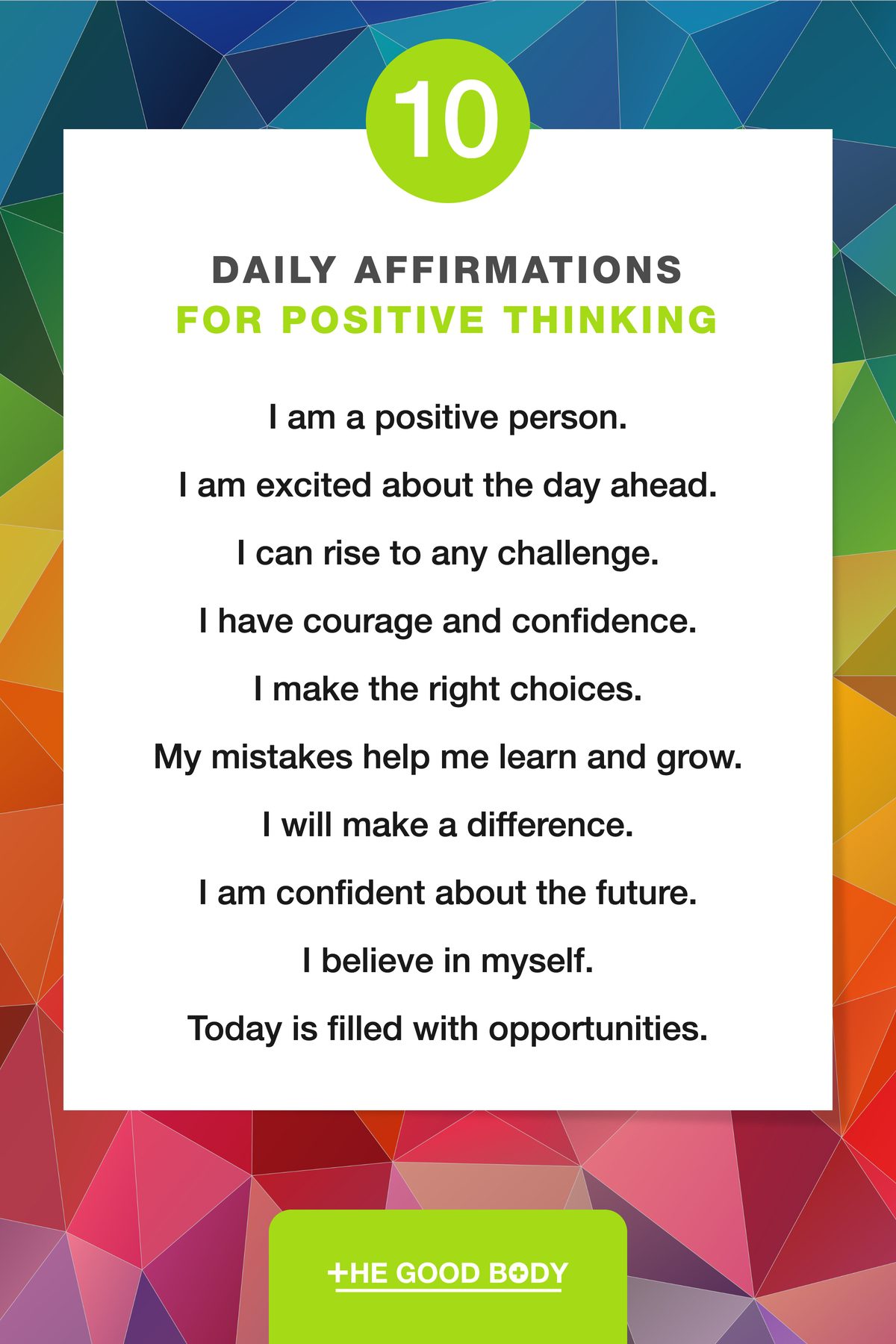 1.

I am a positive person.

A study published by the National Library of Medicine, revealed just how powerful a positive attitude can be for those with anxiety.[1]

Amazingly, it can actually replace the pathological worry with positive ideation.

There are also affirmations for anxiety that can help those suffering make sense of their condition.
2.

I am excited about the day ahead.
3.

I can rise to any challenge.
4.

I have courage and confidence.
5.

I make the right choices.
6.

My mistakes help me learn and grow.
7.

I will make a difference.
8.

I am confident about the future.
9.

I believe in myself.
10.

Today is filled with opportunities.
Positive Mindset Affirmations
These affirmations for a positive mindset can help to rewire your brain:
1.

I always look on the bright side.
2.

Great things will happen today.
3.

I am in control of my life and my feelings.
4.

I have woken up feeling confident and empowered.
5.

Every day is a fresh start.
If you're struggling to get going when you wake up, then there is something else you can use, besides your morning coffee.
Morning affirmations only take a few seconds, but can really kick-start your day.
6.

I am grateful for all that I have.
8.

I complete every task I start.
9.

Setbacks are opportunities to learn and grow.
10.

I am in charge of my mindset.
Positive Self-Talk Affirmations
Think about the kind and friendly way you speak to those you love… it's time to start giving yourself that same level of respect.
1.

I am always improving.
2.

I am capable of far more than I realize.
3.

I am silencing my inner critic.
4.

It's ok to make mistakes.
5.

I always push myself harder.
6.

I am interesting and intelligent.
Self-love affirmations can be a way to appreciate yourself and all your wonderful qualities.
Saying "I love being myself" and "I am enough" can seep into your thinking.
8.

I will not let self-doubt hold me back.
10.

I only compare myself to myself.
Embrace your Inner Power
If you're going to start reciting a daily mantra then why not begin with the most powerful affirmations.
References
Eagleson, C. et al. (2016). The power of positive thinking: Pathological worry is reduced by thought replacement in Generalized Anxiety Disorder [Online]. National Library of Medicine. Available from: https://www.ncbi.nlm.nih.gov/pmc/articles/PMC4760272/ [Accessed 19 May 2023]. ↩