A little while ago I stated that TENS units are not fashion accessories – they're designed to relieve pain. TENS 3000 might not be as sleek and stylish as the newer machines – but that doesn't interest me. I want to know whether it can compete with them – on performance – not appearance.
In this TENS 3000 review, I'm going to see how this device stacks up – and if it's a viable alternative to some of its higher priced – and more modern counterparts.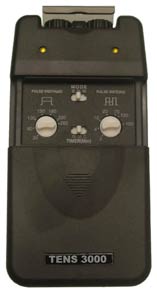 TENS 3000
Dual channel TENS machine with: 3 modes, 8 intensity levels, adjustable pulse width and pulse rate, comes with hard shell carrying case, use up to 4 pads
Programs and modes
The machine has 3 modes: Burst (B), Constant (N), and Modulation (M).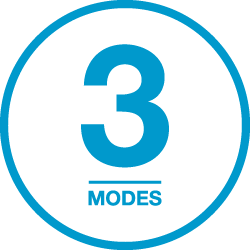 You also have the option to adjust the pulse width – and pulse rate – using the two dials, located on the front of the machine.
There are two fixed session lengths to choose from: 15 minutes and 30 minutes – or you have the option of running it on continuous. While continuous might seem a good idea you should make sure you don't overuse your machine.
I use TENS therapy on my back every now and then and I'll never go over 30 minutes in a single session. I usually have my machine on for about 20 minutes at a time.
Some manufacturers (like Omron) recommend a maximum treatment of 30 minutes, no more than three times a day. If you want to select a session time other than the available 15 or 30 minutes, you could always select continuous but set some sort of timer, like the one on your phone.
Channels
TENS 3000 is a dual channel device, with separate intensity controls for each channel. It can be used with up to four pads (two per channel). You can choose whether to use two or four at a time.
For example:
Usually, if you're treating your back you will put two (from the same channel) on each side*.
If the pain is slightly worse on one side you may decide to increase the intensity a little higher on that channel. This is where being able to adjust the intensity for each channel is extremely useful.
Be aware that some units (tends to be the cheaper devices) only allow you to adjust the overall intensity, meaning it has to be the same on each channel.
*If you are unsure about pad placement, it would be wise to ask a medical professional, like your doctor or physical therapist.

Intensity levels
TENS 3000 has an intensity range of 0-80 mA, which is pretty standard. Some machines, like its sibling, TENS 7000 – provide a higher output – all the way up to 100 mA.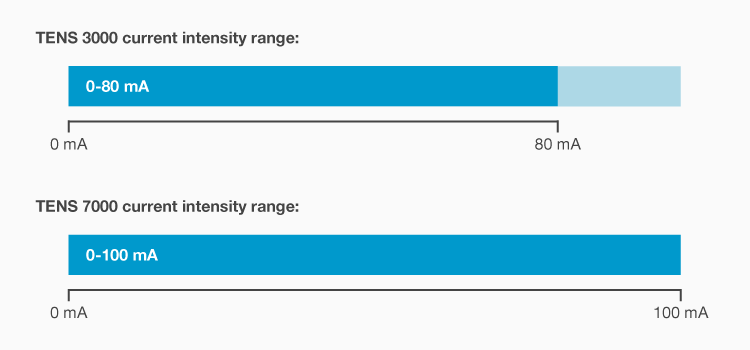 There's some useful information about power outputs in this section of my TENS 7000 review, you may like to study that.
The machine has eight levels of intensity to choose from. To select and change the intensity you twist the dials on top of the unit, underneath the protective cover. This type of cover is so simple, yet really smart.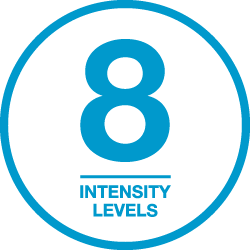 When I reviewed truMedic's popular PL-009 machine I made readers aware of a potential problem with the design of the intensity dials:
They're on the side of the unit, are very sensitive, and don't have a cover over them. Not good when you knock them and accidentally crank the intensity up to the highest level – it can be quite the shock!
Fortunately:
Just like TENS 7000, the cover on this model ensures that's not going to happen.
Ease of use / Operating the device
There's a slide-down cover on the front of the machine that reveals four different controls: two of them are switches and the other two are dials that you twist. And don't forget, the aforementioned intensity controls are on the top of the device.
If you take a look at the image of the controls, you'll see the two switches are for: mode (top) and timer (bottom). Then the dials are for adjusting the pulse width (left) and pulse rate (right).
Not all, but most affordable over the counter (OTC) TENS units are pre-programmed and don't allow you to manually adjust the pulse width or rate.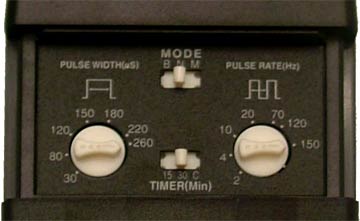 One of very few slight downsides with this machine is the controls are a little on the small side. This doesn't bother me but if you find gripping and moving small objects / switches a problem, you may be better looking at its big brother, the slightly more powerful, TENS 7000. Or if you're willing to compromise on power and features in exchange for something that's a doddle to operate and has bigger controls, you could turn your attention towards the PM3030 by Omron.
It is very easy to understand and use though. You simply twist one of the intensity dials to start your treatment. You can then switch mode and tweak the pulse width and pulse rate to your desired settings, during the session. I really like that you can do this. If you have a device that has fully pre-programmed modes, you don't have this level of control over your sessions.

You have plenty of variables to play around with here and you can fully customize the treatment to best suit your particular pain. Taking control of the settings means you can get it just the way you like it.
Something I'm sure you've noticed but I haven't touched on yet is that TENS 3000 doesn't have a screen? Most modern TENS units have displays – but as you can see, in terms of design and esthetics, this really is a blast from the past. Don't let that put you off though.
This model has been around for years now – and for good reason, it's stood the test of time. We all know that saying: "if it ain't broke, don't fix it". That certainly rings true with this device. If a machine like this can provide you with effective drug-free pain relief, honestly, who cares what it looks like!? Some of you out there will inevitably want a device with a screen but for those who prefer less fuss, this certainly fits the bill.

Keeping it to a minimum: The great thing about the device being so minimal is that it ensures the price is affordable, which makes it a feasible option for more people.
Battery
The machine runs off a 9V battery and your first one ships with the device. Please note: it's not rechargeable, like a number of others on the market. The manufacturer estimates that a battery will last:
Approximately 50 hours at normal settings.
I have to say, "normal settings" is quite ambiguous and very much open to interpretation! How long they last will depend on a few usage-based factors, like which settings and intensity you use. In my opinion, it's impossible to say categorically that you'll get 50 hours out of each one.
However, the important thing here is it doesn't seem like there's any battery issue with the device, unlike some machines. Nearly all owners I've come across – who've used the device for a sustained period of time – find the batteries go a very long way.

I'm not at all surprised that battery life is impressive. If you've read the battery section of my TENS 7000 review, you'll know that machine (its "big brother") is also very economical when it comes to battery consumption.
Furthermore, don't forget, this device doesn't have a screen draining extra juice. I would guess that's one of the main reasons it's so efficient.

Imagine getting home from work exhausted – and ready for a TENS session – to find out you can't use your machine because the batteries are dead?
Not a position you want to find yourself in. For that reason alone – it may be worth stocking up – or even investing in rechargeables, if your budget permits.
In terms of replacing the batteries, you have three main options: buy them as and when required (e.g. when they run out), stock up on a few from the start (click here for the price on a box of 12), or you could look into the cost of rechargeables and chargers.
Each of the three options is feasible and will be very much down to personal preference. All I will say on this is the last thing you want is for a battery to run out and to not be able to use your unit.
Size and portability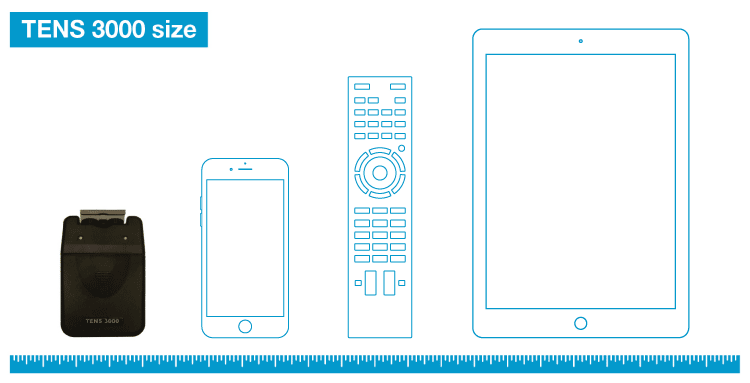 TENS 3000 measures approximately: 3.74 in (H) x 2.6 in (W) x 0.92 in (D). It's almost identical in size to TENS 7000. To compare that to well-known object, it's roughly the same width as an iPhone 5 but over an inch less in height. Its weight (including battery) is 4.06 oz, which is practically the same as the aforementioned iPhone 5, which weighs 3.95 oz.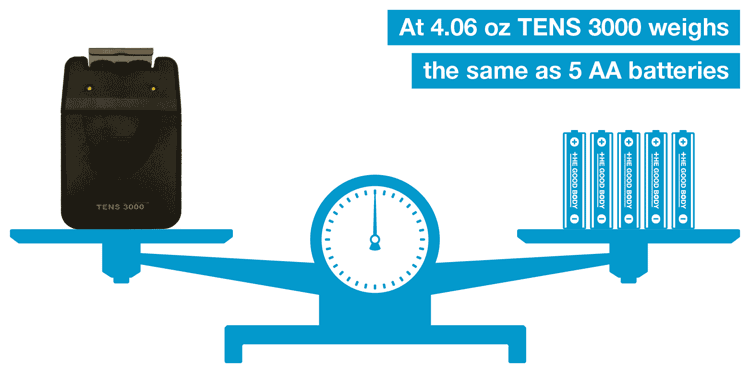 A lot of people are attracted to TENS units because they tend to be portable and great for taking away. Some people want a machine to provide pain relief on the go. When it comes to portability, this particular device ticks all the boxes: it's compact, lightweight, and economical on the battery. But one of the most noteworthy things is the hard carrying case it ships with. It's perfect because it provides a home for the machine, its accessories, and adds a layer of protection.
It's not common to get a hard case included with a TENS unit, especially when the device is so competitively priced. Usually, you're lucky to get a fabric pouch to store everything in. So in my opinion, this is an added bonus.
Included accessories
The machine ships with one set of pads (4 in total), the lead wires, one 9V battery, the instruction manual, and of course, the carrying case. In fact, everything comes neatly packed inside the case, which has foam padding – with spaces in – to keep it all snug, organized, and cushion it from any accidental impact.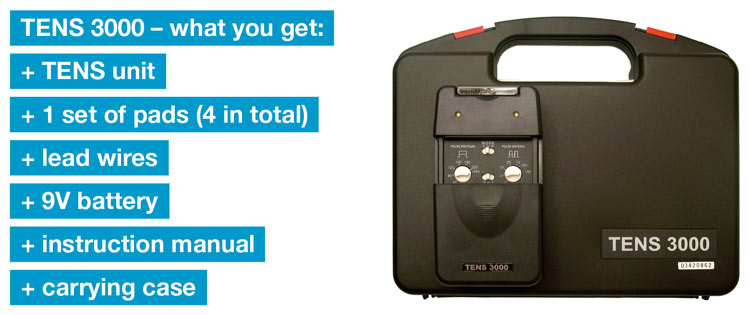 Perhaps the single biggest mistake people make when they read TENS unit reviews is to pay too much attention to the quality of the pads (electrodes) that ship with the device.
With machines like TENS 3000, the pads are a universal fit, meaning you can find literally hundreds of replacements on marketplaces like Amazon, eBay, etc. The wires that come with this particular machine have what's called a pin-type connection.
Unfortunately, the tan electrodes supplied with the machine are nowhere near the same quality as say, some top-of-the-line pads (Amazon link). High quality pads should last longer and in my experience, tend to feel better against the skin.
If you're going to get yourself a decent unit, there's no point skimping on the pads. Why compromise the setup by using inferior accessories? It doesn't make any sense at all to me.
The takeout here is that the quality of pads you use is as important as the device itself. Good pads will bring the best out of your TENS unit – inferior ones will likely reduce the performance, and in some cases, may even feel uncomfortable.

I don't know about you but in the past, when I've tried saving a few pennies and opted for cheaper accessories, it's cost me more in the long run.
Something may be a few dollars cheaper than the alternative – but if you only get half as much use out it, which woks out the more expensive?
Warranty
TENS 3000 comes with a one-year warranty that covers parts and labor for the machine.
With it being so affordable, it makes the length of warranty even more compelling.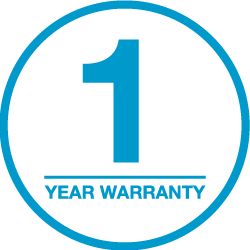 A year is pretty standard for TENS machines – but this is one of the lowest priced units around.
truMedic's PL-009 only comes with a 90 day warranty – and TENS 3000 is currently available for a significant amount less than that particular device.
Consumer reviews
The recurring theme from the customer reviews I read was how impressed they were with the machine, for the price.
Pros and cons
Unsurprisingly, there's a lot that people like about TENS 3000. You only have to take a look at consumer reviews to see why users love this device so much:
Simple, uncomplicated and straightforward to use
Three modes to choose from and the user can adjust pulse width and pulse rate to suit
Timer can be set to continuous for a longer session if required
Buttons and dials protected by covers – meaning you won't knock them by accident in the middle of a session
Batteries last for a long time
Comes with a hard shell carrying case for storage and protection – truly portable device
Extremely thorough instruction manual – explains everything: the components, how to set it up, what the different modes do, maintaining and storing of the device, etc.
Very affordable – represents excellent value for money
It's hard to be too critical on a machine that's such good value for money. There are, however, one or two things – that in an ideal world – may be different:
It has no screen
Unit itself isn't rechargeable
Controls on the front (pulse width, mode, pulse rate, and timer) are quite small
No auto shut-off after session is complete
Pads supplied could be better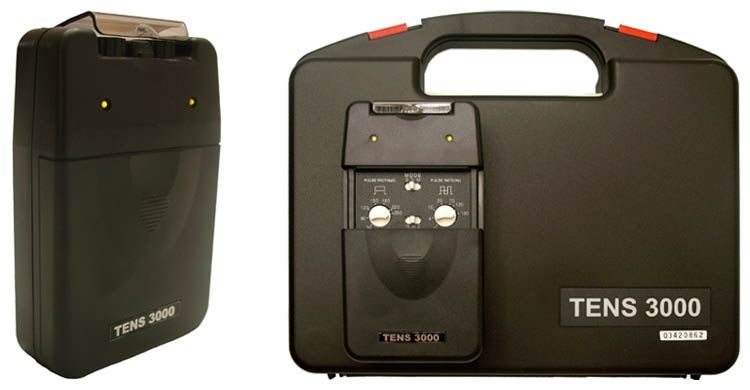 Price
I've mentioned it several times throughout the review – and I'll say it again now, TENS 3000 is extremely competitively priced. You should be able to find it for somewhere in the region of $25. At that sort of money, I'd say it offers real bang for the buck, when compared to other machines in the same price bracket.
Unfortunately, Walmart doesn't appear to be selling it anymore (I checked on 24 November, 2015). I also looked on Amazon for it on that same day and found it listed by one seller.
Whichever unit you opt for, you're going to need to replace the pads. But if you don't like the idea of having to buy batteries or a charger and 9V rechargeables, you could always look at a rechargeable device.
When you add together the cost of TENS 3000, a charger, and a couple of batteries, you're almost at the price of HealthmateForever's HM6ML.
It really does depend what you're looking for though. I can see the attraction and benefits from both sides.

Summary
While it might not look like something you'd see in an Apple store, TENS 3000 certainly has the capabilities to satisfy most. It's a tidy little unit with adequate power and plenty to offer.
Being able to adjust the pulse width and rate within the modes is something I like a lot. Having this level of control enables you to tweak and fine-tune your therapy. You can change the settings until you've got it just the way you like it. Most units these days don't allow this – they're more automated, require less user input, and have pre-programmed modes. What it boils down to is which is going to suit you best.
If you prefer this more automated approach you could check out the truMedic PL-009, Zewa SpaBuddy Sport or again, the HealthmateForever HM6ML.
Because of its relatively low price, I'd say TENS 3000 is best suited to somebody looking for their first home use machine. Others who it should appeal to are those who want to take more control over their TENS therapy – and be able to make manual adjustments – ones that they're unable to do with their existing device.
Ratings
Features - 6
Ease of use - 7
Value for money - 9
7.3
Make a small budget go a long way... If you're searching for value for money, low running costs, and a versatile machine, you may want to stop looking now. TENS 3000 is going to be very hard to beat.