Get the same high performance tools as the pros for a fraction of the price.
Train harder and recover faster with this Game Ready Kit from PlayMakar, exclusive to readers of The Good Body.
We're big fans of PlayMakar products, so we're delighted to be offering this amazing deal.
In the Game Ready Kit you get three tools for just $229.95 – a massive $189.90 saving on the MSRP.
Tools used by professional athletes such as NBA star Trey Burke, body builder J Warren and baseball pitcher Alex Katz.
These tried and tested medical grade products give them the edge in their training and performance, and now you can own them, too.
Only for readers of The Good Body, we guarantee that even with a coupon or voucher code, it can't be found any cheaper anywhere else online.
Take a look below at three products included in the Game Ready Kit, all focussed on optimizing your performance during warm up, training and recovery:
1.

PlayMakar MVP Wireless Percussion Massager
Speed up your recovery time with the PlayMakar MVP Wireless Percussion Massager.
It delivers powerful strokes to relax your muscles, increase your blood flow and improve the oxygen distribution in your body, helping you to get back in the gym faster.
Choose from six different speed settings to tailor your treatment, as well as six different attachments each carefully created to target different muscle groups.
After testing this device after a workout we couldn't believe how long the battery lasted. It's tactile and easy to operate with a simple touchscreen.
It's quiet too, compared to other gun massagers that we've used in the past.
2.

PlayMakar SPORT Electrical Muscle Stimulator
If you're serious about reaching peak performance, then rely on the PlayMakar SPORT Electrical Muscle Stimulator, a favorite with professional athletes.
Choose from six different EMS programs, including muscle warm-up, strength, recovery and endurance, to give you the competitive advantage.
EMS sends electrical pulses to help your muscles contract, meaning it's powerful for warm up but also for accelerating your recovery after a workout.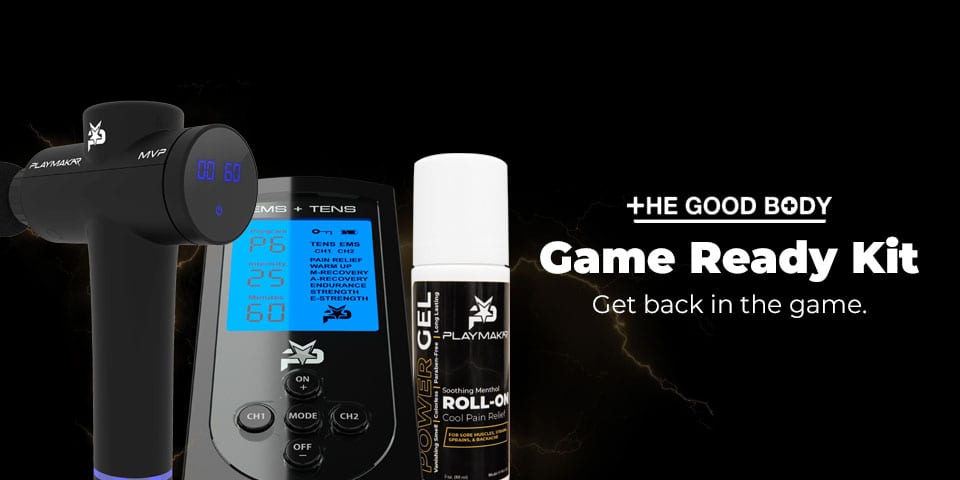 For pain management you have four TENS programs. A TENS unit (often referred to as a pulse massager) stops pain signals reaching your brain, helping you manage your pain.
With separate channels on the device, you can treat two areas of your body with different intensities.
3.

PlayMakar Power Gel Roll-On
Treat your aches and pains on the go, with the PlayMakar Power Gel Roll-On. It'll quickly become a permanent fixture in your gym bag.
Pro athletes using this gel roll-on to quickly relieve the pain of any muscle strains or aches.
It really is their "secret weapon" thanks to powerful ingredients such as arnica and boswellia.
Every tool in this kit is designed to help you train hard and recover faster, and only readers of The Good Body get a massive 45% off!