Living more mindfully has a huge range of benefits for your physical and mental wellbeing.
If you want to be inspired by people who are finding their own ways to be more mindful then there are many fascinating accounts to follow on Instagram.
Read our list of 11 of the best mindfulness Instagram accounts and influencers to start following today: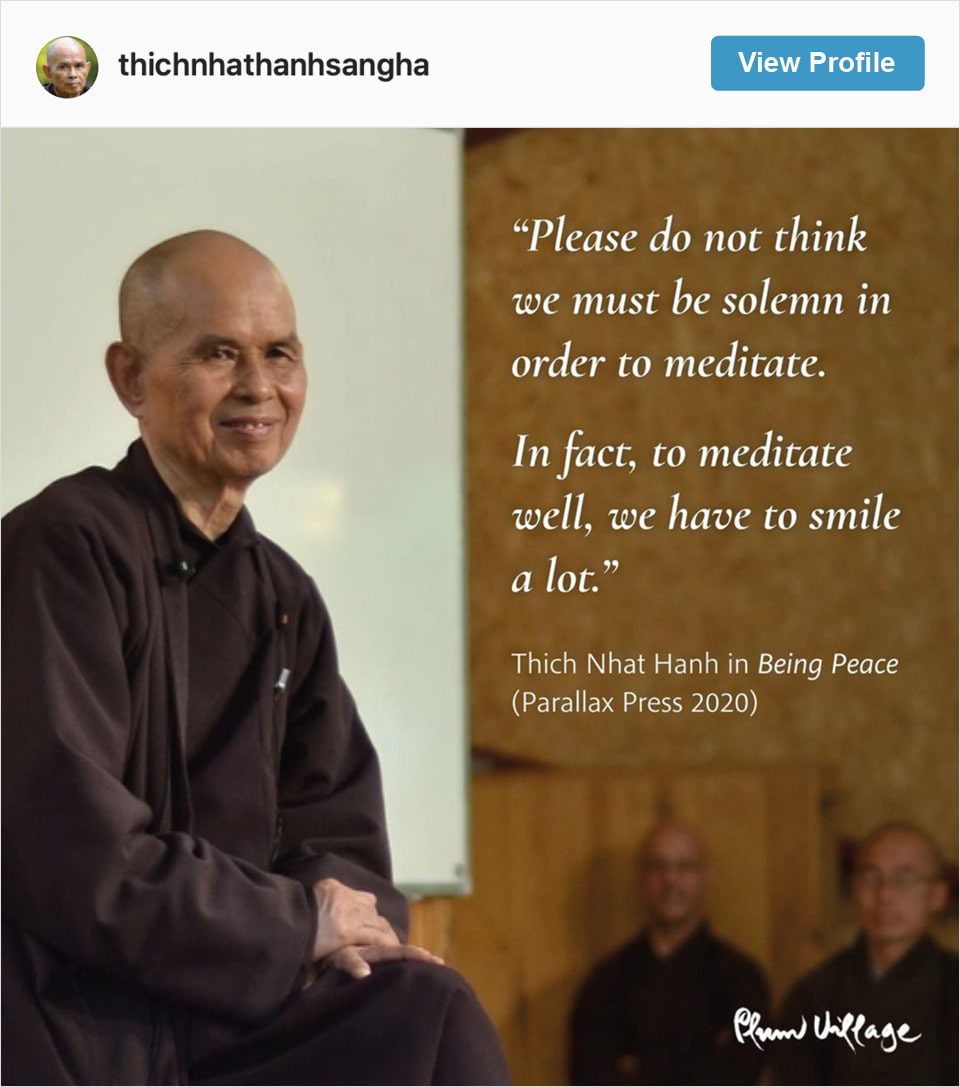 Thich Nhat Hanh is a Buddhist monk and global spiritual leader who is recognised for his teachings on mindfulness.
His feed is like a calm little corner of the busy social network!
Through his posts you'll develop a deeper understand of the principles and history of mindfulness in an accessible way.
You'll also be alerted when a new book or podcast is released, and of event announcements so you can hear him speak online or in person.
Despite being based on the traditional teachings of the practice, everything is related to life as we live it today. This helps you apply the learnings to your day to day life.
Followers: 383,000+
Follow: https://www.instagram.com/thichnhathanh/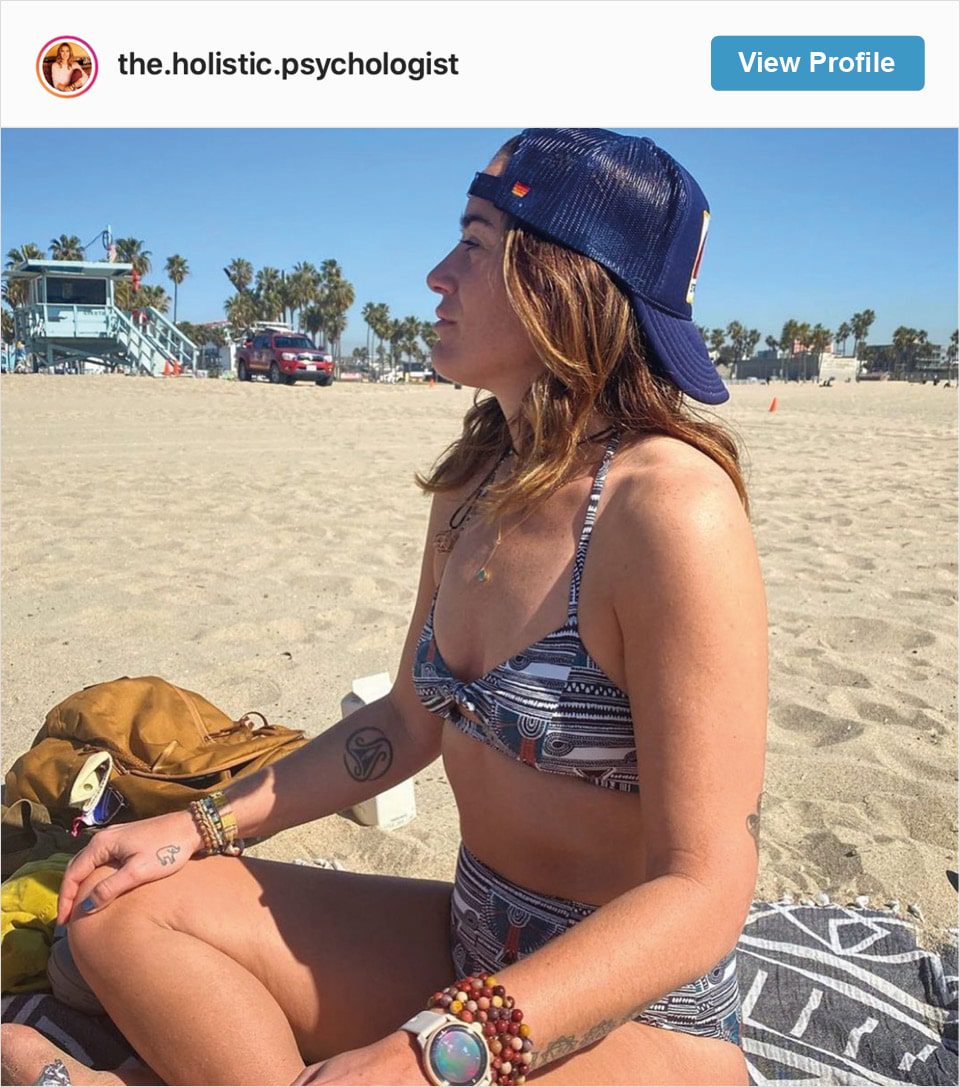 Dr. Nicole LePera, also known as The Holistic Psychologist, is committed to teaching you to heal and 'consciously create a new version of yourself'.
Over 4 million followers trust her advice, which covers everything from relationships to trauma.
Through her work she speaks about how living mindfully can improve all aspects of your life.
Many of her posts will make you address your own mindset, as well as the relationships in your life.
On Dr. LePera's website you can choose to connect with her directly by joining The SelfHealers Circle, a private community for those looking to transform their life through improving their mindset.
Followers: 5,200,000+
Follow: https://www.instagram.com/the.holistic.psychologist/
3.

Meditation & Mindfulness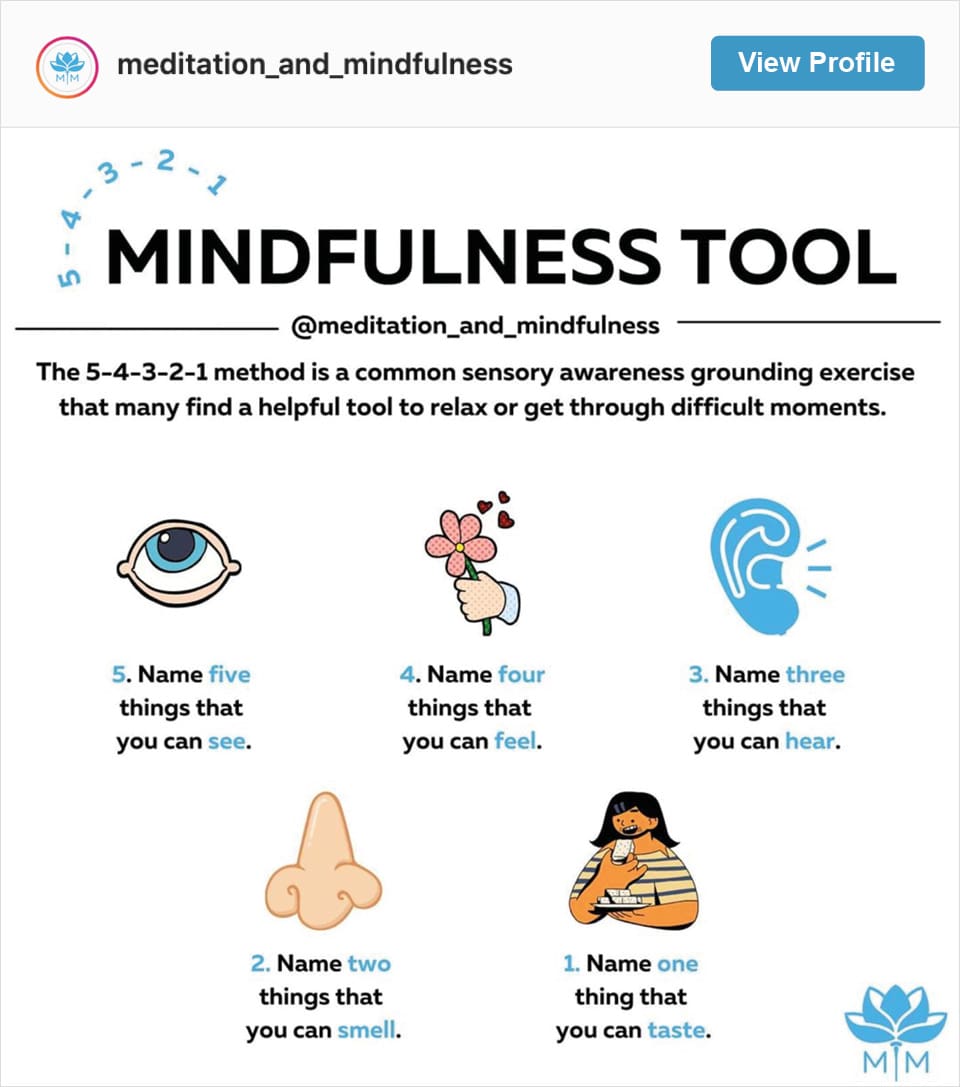 Meditation and mindfulness are interlinked practices (we can recommend a number of other meditation Instagram accounts, too!), brought together beautifully on the feed of this account.
Each post is a simple graphic, some of which are just beautiful quotes that can really change your thinking.
Others are ways to get started with meditation, or how to use mindfulness to boost your own self-esteem.
It's also a great Instagram account for sleep advice, demonstrating how to use mindful approaches to achieve a peaceful night's sleep.
There are even just posts that remind you to breathe, which can be important if you're scrolling to distract yourself from stress or anxiety.
Followers: 250,000+
Follow: https://www.instagram.com/meditation_and_mindfulness/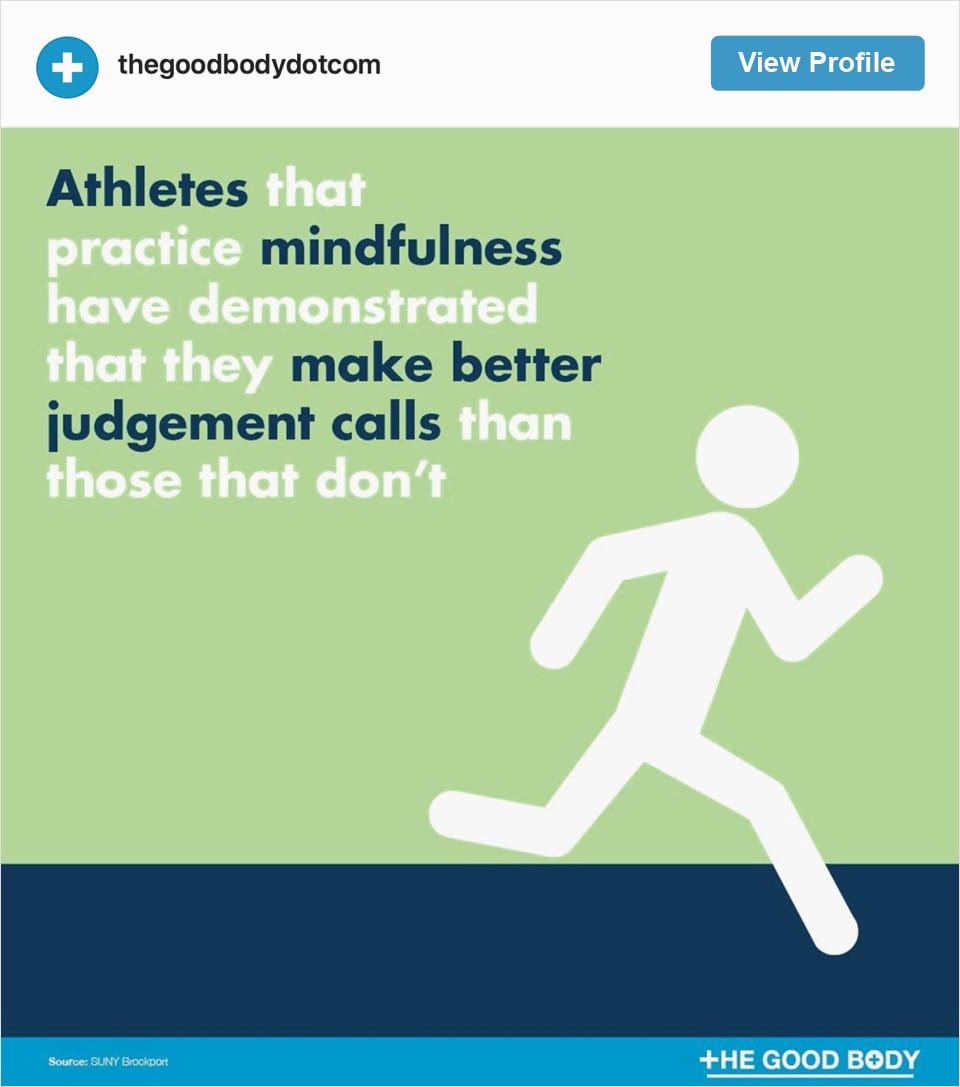 Through our research at The Good Body, we discover time and time again how living mindfully can improve your health.
Join us over on Instagram and you'll learn more about the advantages of mindfulness, as well as being inspired by thought-provoking quotes.
With over 120,000 monthly visitors, we're a trusted source of health and wellbeing content.
You'll also learn more about mindful practices such as yoga, including poses that can help with stress and anxiety.
Plus meditation and its magical ability to slow your mind down when you really need it.
Followers: Just getting started!
Follow: https://www.instagram.com/thegoodbodydotcom/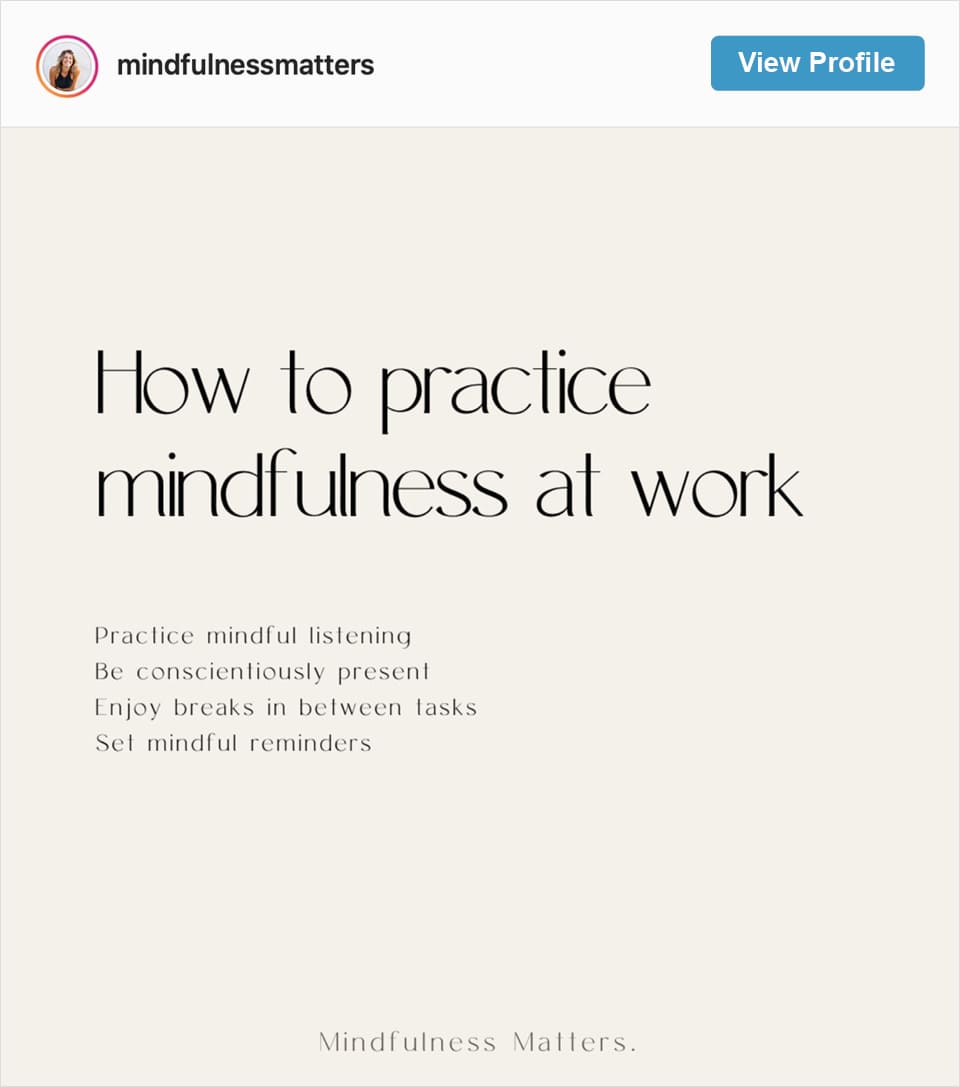 Samara is a holistic health coach who believes that mindfulness can develop individuals and even help businesses grow.
She's the founder of Mindfulness Matters, a coaching service designed to help you live in the moment, enabling you to communicate more effectively and build resilience.
Her feed is an inspiring mix of personal moments, advice on how to practice mindfulness and inspiring quotes to lift your mood.
As a passionate yogi, Samara also speaks about how yoga and meditation are important practices to have in your mindfulness toolkit!
Followers: 31,000+
Follow: https://www.instagram.com/mindfulnessmatters/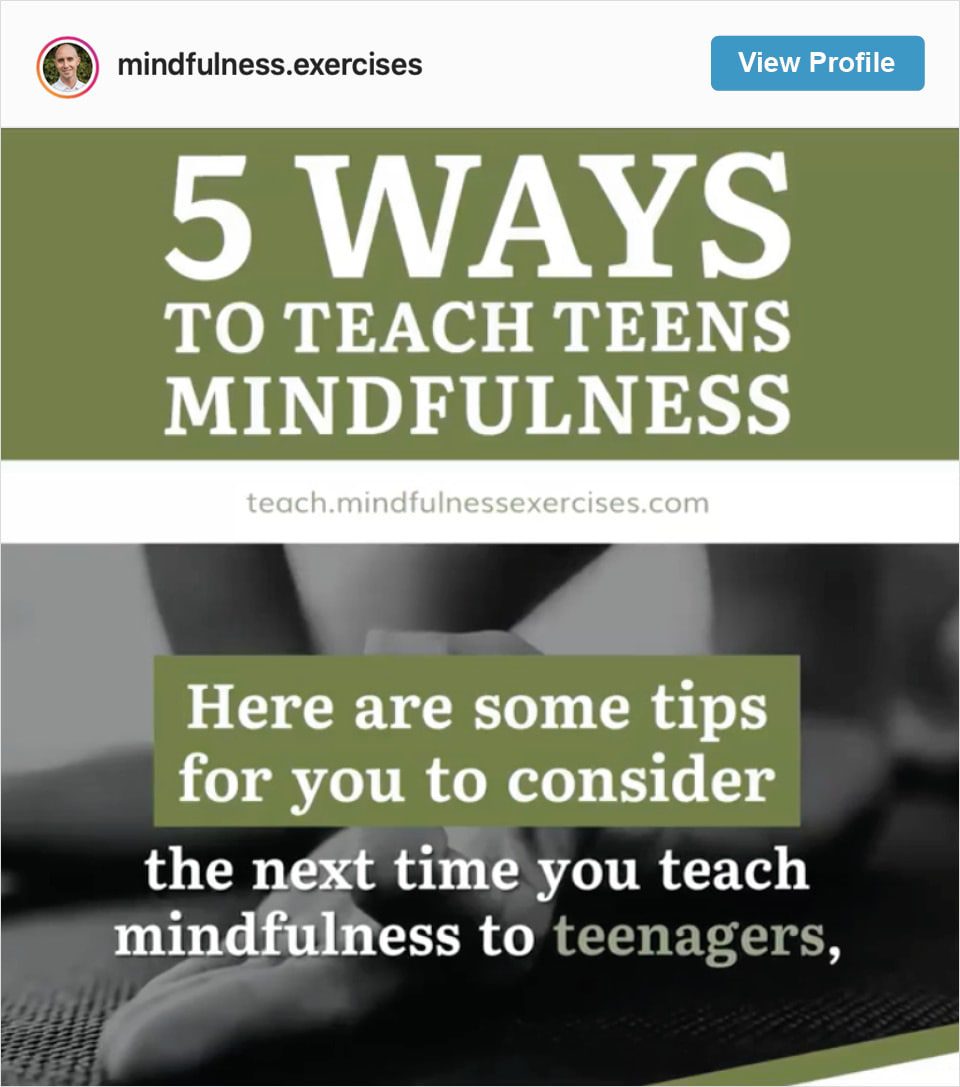 When you're lost in endless scrolling, how wonderful would it be to have a little reminder to ground yourself in the moment.
Mindfulness Exercises offers you exactly that.
Each post on their page is a short little activity to help you live more mindfully each day.
There's everything from meditations for kids to effective ways to cultivate gratitude.
Mindfulness Exercises also promote journaling as a mindful activity, recognizing the advantages it can have for your wellbeing.
You can start with a simple notebook, or there are a range of mindfulness journals you can purchase that are filled with prompts to help you get started.
Followers: 48,300+
Follow: https://www.instagram.com/mindfulness.exercises/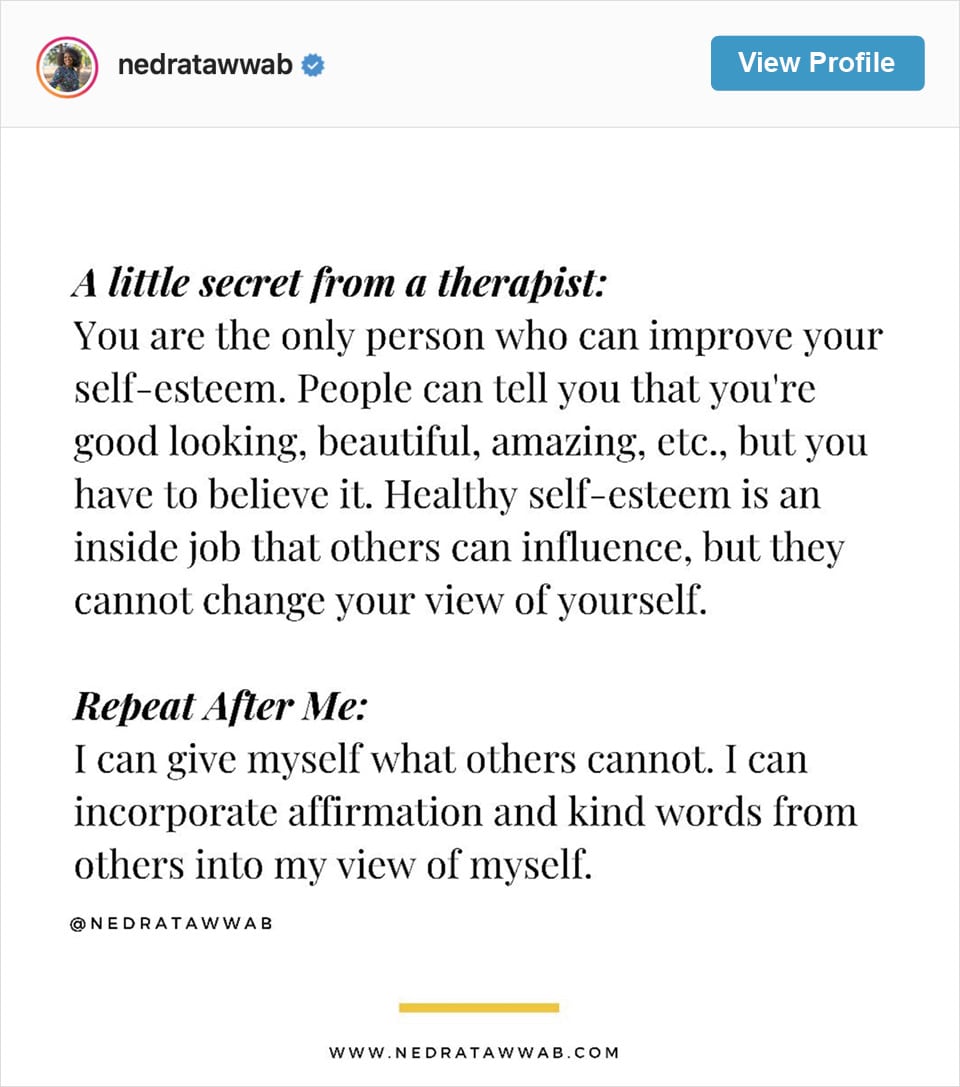 Following Nedra Glover Tawwab on Instagram will make you pause.
Nedra is a licensed therapist, best-selling author and recognized relationship expert.
She believes that a lack of boundaries and assertiveness is at the heart of many relationship problems.
Her inspiring words are the focus of her page, with each post tackling a different aspect of relationships both with the people around us and ourselves.
If you want to use mindfulness to strengthen your relationships then you need Nedra's words popping up in your feed.
Followers: 1,500,000+
Follow: https://www.instagram.com/nedratawwab/
8.

Self Care is a Priority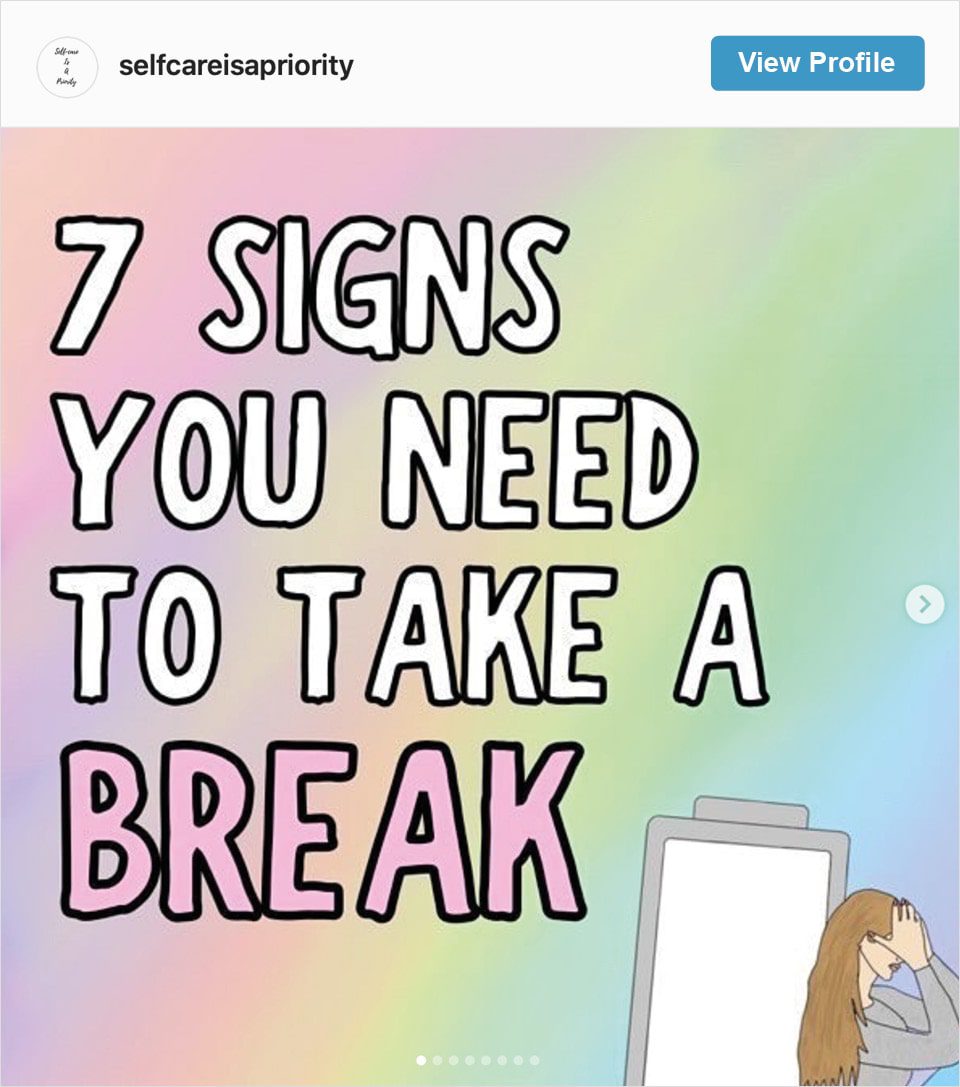 Self-care is a small way to bring a mindful moment to your day.
This account serves to remind you that self-care is a priority!
Every post is a little reminder that you and your emotions are important, and that you should take care of both.
Whether it's difficult relationships in your life, or negative self-talk that you keep telling yourself, they're here to remind you just how amazing you are.
It also challenges many stereotypes around mental health and fills your feed with positive affirmations.
When you need a little self-reflection, this account is a great one to follow.
Followers: 1,300,000+
Follow: https://www.instagram.com/selfcareisapriority/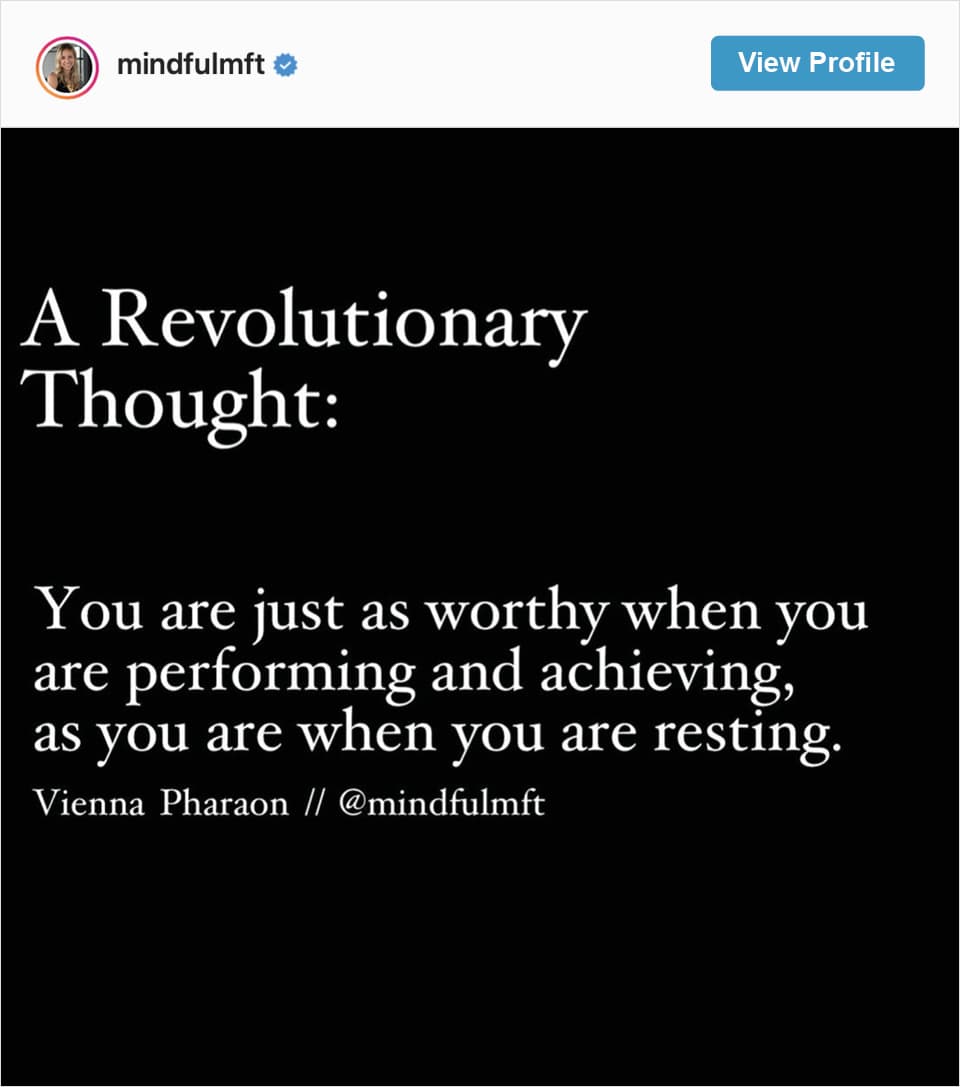 Amongst the great relationship advice, you'll find many mindfulness tips from Vienna Pharaon.
She's a licensed marriage and family therapist living in NYC.
Start following her on Instagram and it's almost like you get a mini therapy session as you're scrolling!
Through her work Vienna reminds us all that resting is just as important as succeeding and performing, an important principle of living a mindful life.
As a mental health expert, she is also part of Mine'd, described as the world's first emotional network!
Followers: 668,000+
Follow: https://www.instagram.com/mindfulmft/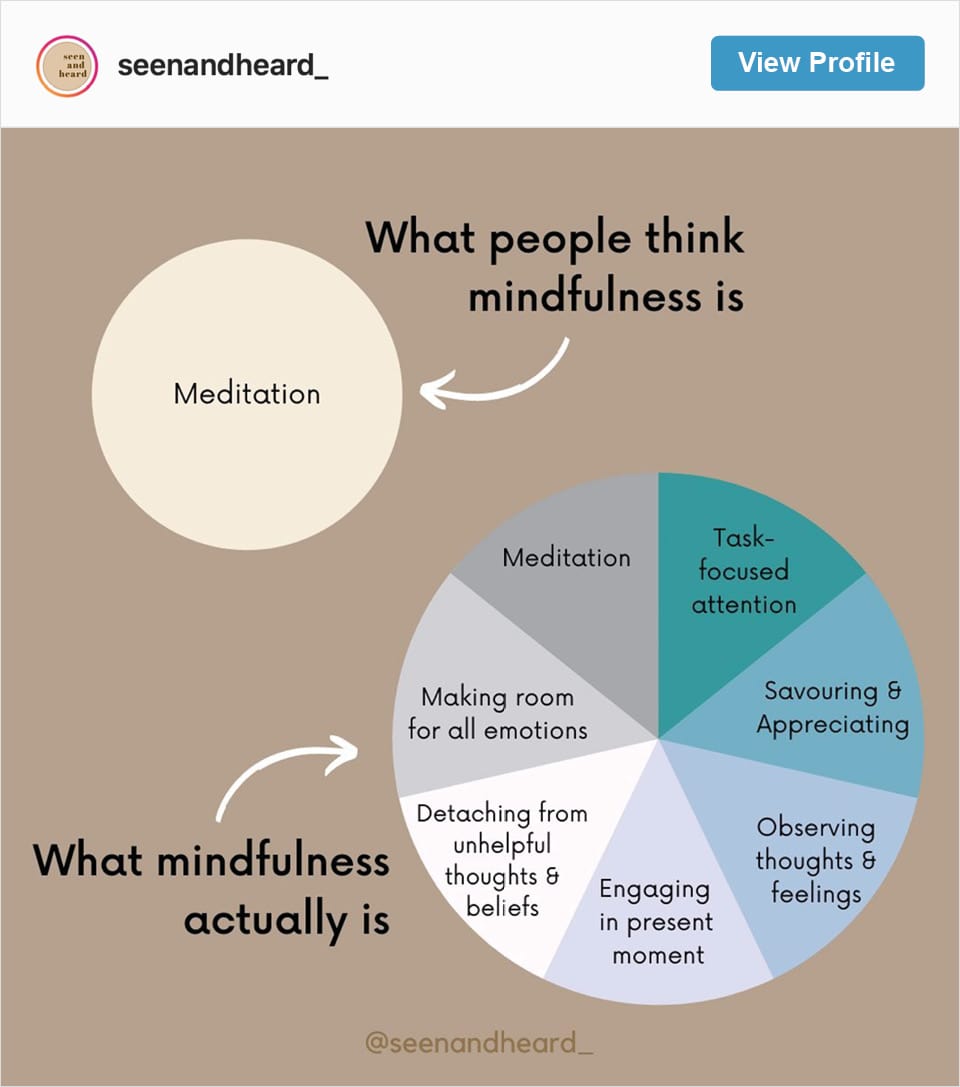 Struggling to keep your mind still enough to engage in mindful practices?
Seen & Heard can help you.
Their page does have affirmations and quotes, but it's more about sharing strategies to help you apply mindful practices to your everyday life.
Through their content you can recognize areas of stress in your own life and discover ways you can reduce it to enable you to live better.
Plus their feed looks great, it's simple and stylish, and delivered in a tone that doesn't feel lofty or patronizing, instead just straightforward and insightful.
Followers: 2,000+
Follow: https://www.instagram.com/seenandheard_/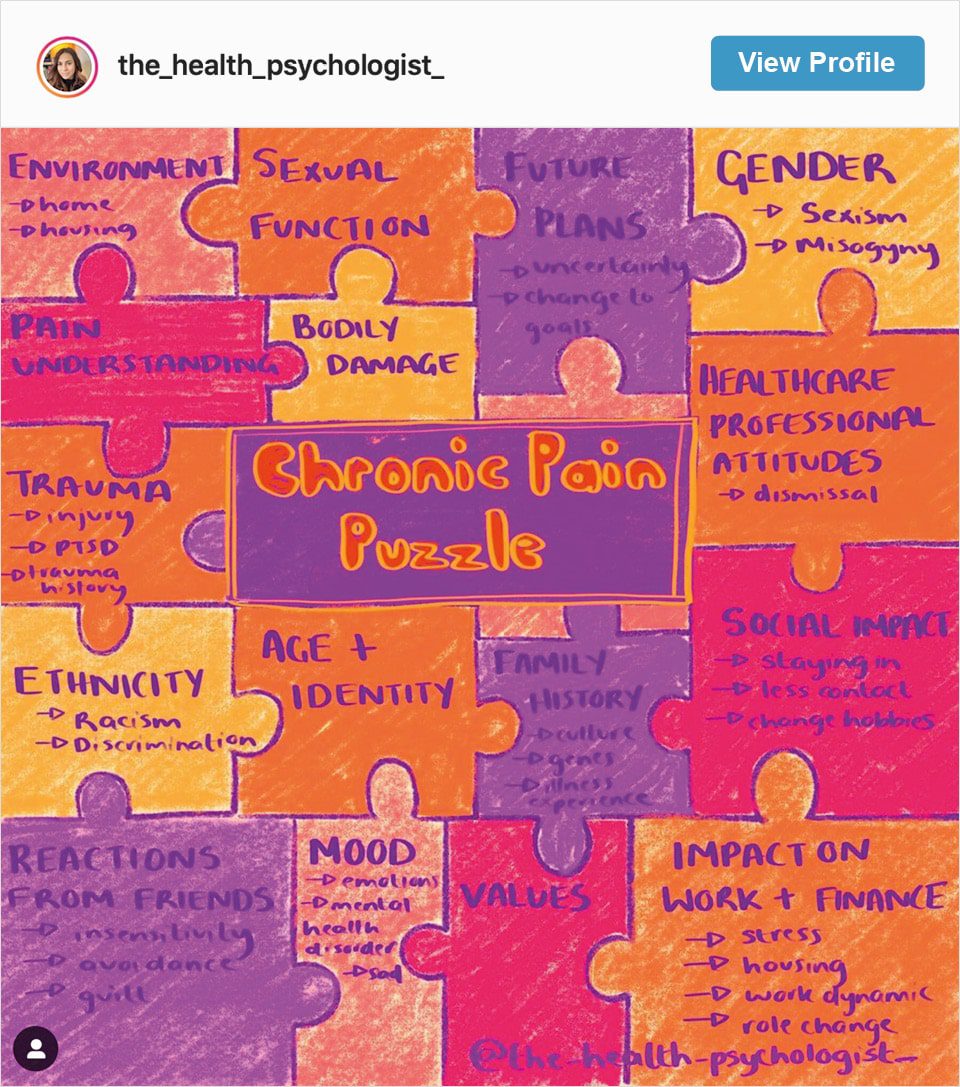 Dr. Sula Windgassen, known on Instagram as The Health Psychologist, is passionate about the way mindfulness can help the millions of people living with chronic pain.
As a chartered psychologist, CBT therapist and mindfulness teacher she's more than equipped to help!
She explains how chronic pain is like a puzzle, with so many different factors feeding into your condition.
Follow Dr. Windgassen and you can explore her perspectives on how mindful living is still possible even when you're in pain.
Using illustrations to demonstrate a number of her points, she has a colorful feed you'll love exploring.
Followers: 13,000+
Follow: https://www.instagram.com/the_health_psychologist_/