The latest foot facts show that 80% of Americans have reported a foot ailment at some time in their lives — are you one of them?
If so, have you tried reciting a positive affirmation?
Though a little unconventional as a foot care treatment, the positive language can help with the associated symptoms of chronic foot pain such as stress.
Research into the benefits of affirmations shows you can actually rewire your brain to think more positively.
Quick Overview
We've shortlisted our favorites from this article if you're looking for one or two statements to get started:
I have a positive mindset.
I am healing every day.
I am open and accepting of new ways to treat my pain.
Positive Affirmations for Painful Feet
Below are 10 affirmations to help you cope with foot pain and cultivate a positive mindset for recovery: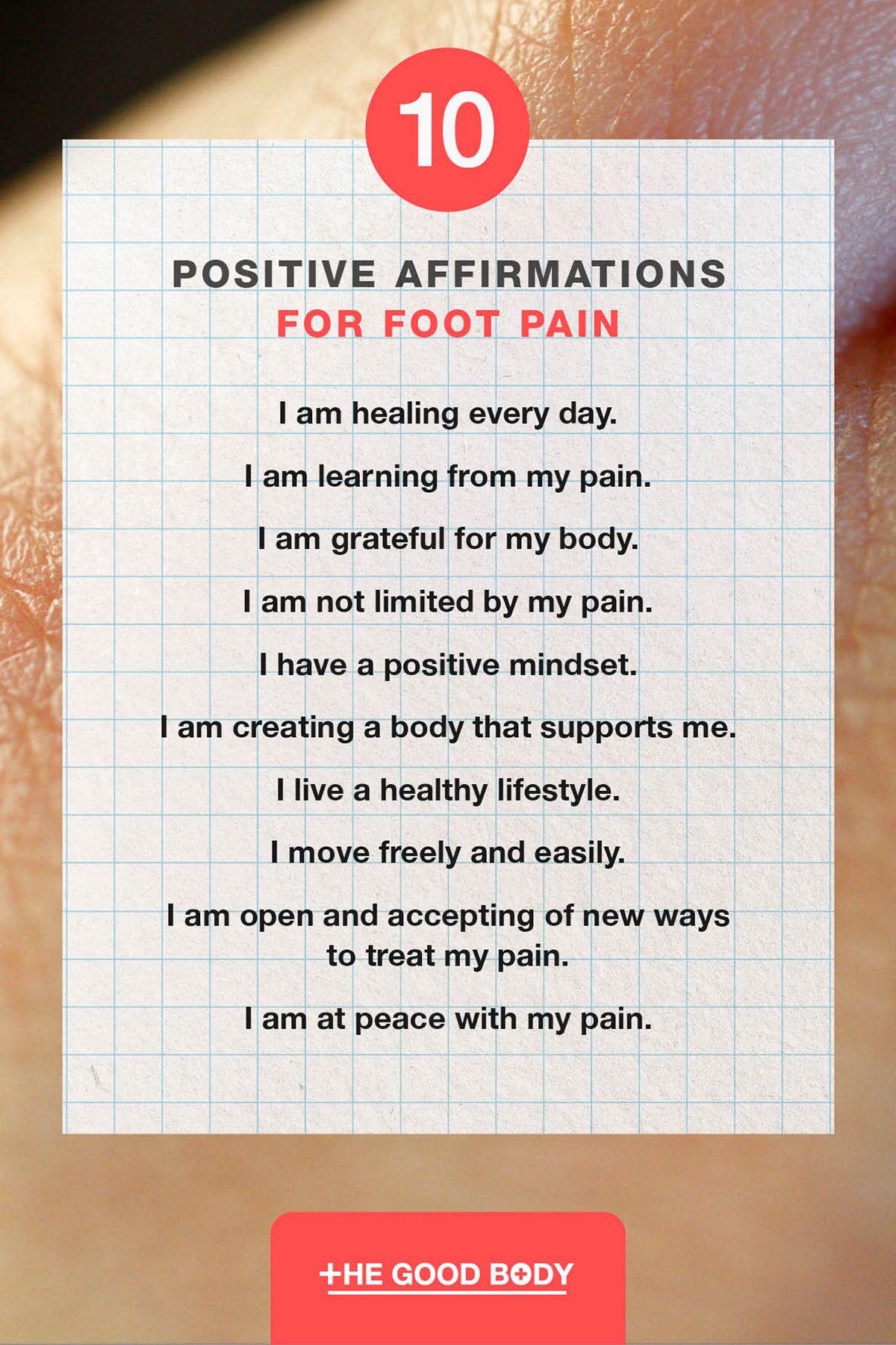 1.

I am healing every day.
2.

I am learning from my pain.

One way to take control of your condition is by enjoying a satisfying foot massage.

Massage has been shown, whichever style you choose, to offer a wide variety of different health benefits.

These include improving symptoms of plantar fasciitis, boosting your circulation and promoting better sleep.
3.

I am grateful for my body.
4.

I am not limited by my pain.
5.

I have a positive mindset.

Looking at things in an optimistic way can be challenging when you're living with painful feet.

Writing in a journal can be one way to make sense of your condition and even relieve associated symptoms of anxiety.

You can start with a blank notebook or you'll find a range of different journals on the market.

Here at The Good Body, we created a list of gratitude journaling prompts to inspire you to express thanks and live mindfully.
6.

I am creating a body that supports me.

If you're living with back pain then you're not alone. There is medical evidence to show a link between foot pain and back pain.

Sports medicine experts recognize that lower back pain can be linked to biomechanical issues starting in your feet.[1]

Further ease your discomfort by adding an affirmation for back pain to your list of morning mantras.
7.

I live a healthy lifestyle.
8.

I move freely and easily.
9.

I am open and accepting of new ways to treat my pain.

Acupressure could be one pain management treatment to consider.

An acupressure mat is great for feet, easing discomfort and relaxing your muscles.

Plus it's a treatment you can enjoy in your own home by purchasing an acupressure mat.
10.

I am at peace with my pain.
Looking for more affirmations?
We've compiled a list of chronic pain affirmations, inspiring words for those experiencing pain and discomfort.