Your birthday is an opportunity for self-reflection as you look ahead to everything the coming year has in store.
Below you'll find 55 thoughtful and empowering birthday mantras for celebrating yourself and others.
Birthday Affirmations for Yourself
Acknowledge your own achievements and feel inspired for the years to come by reciting one of these uplifting mantras: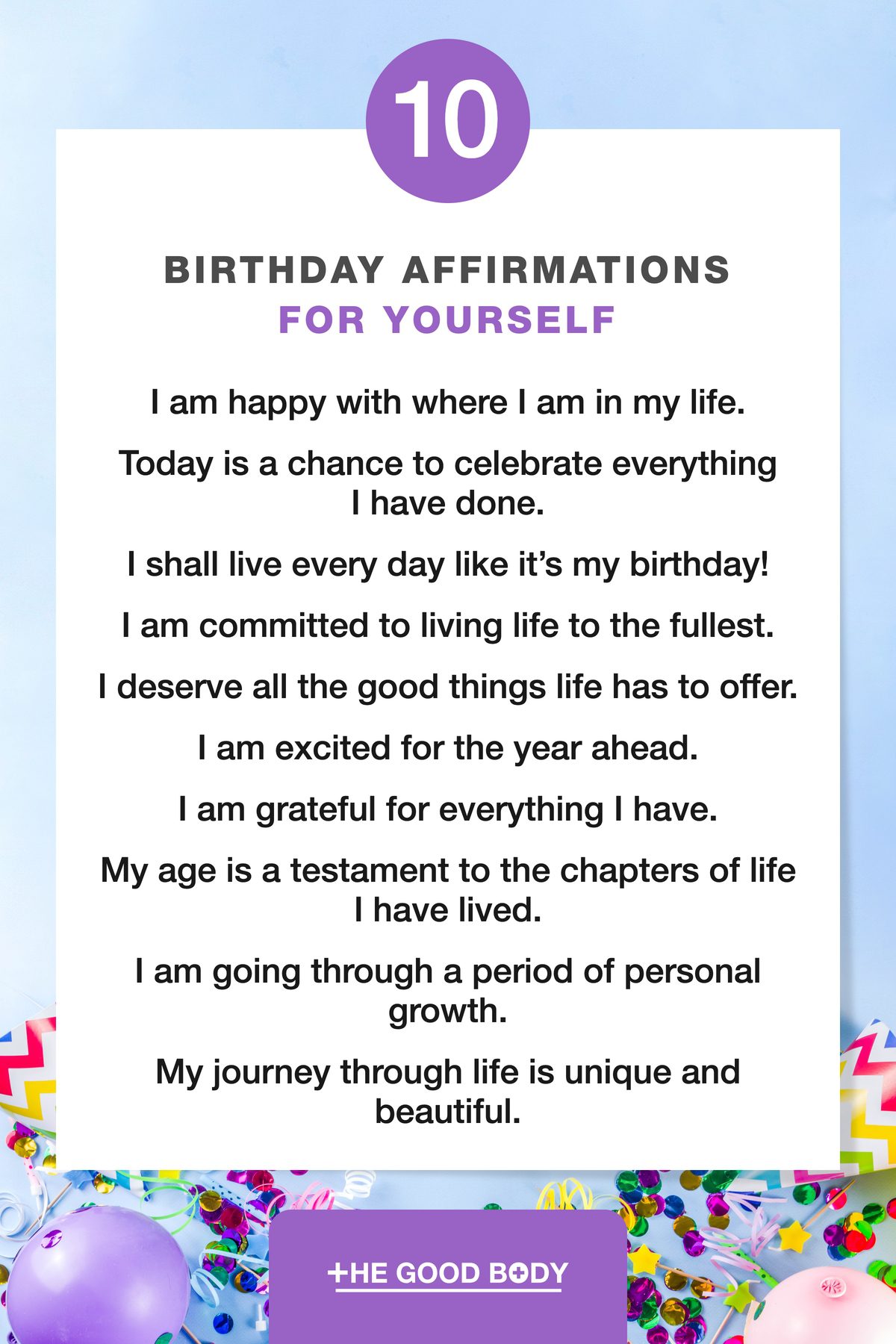 1.

I am happy with where I am in my life.
2.

Today is a chance to celebrate everything I have done.
3.

I shall live every day like it's my birthday!
4.

I deserve all the good things life has to offer.
5.

I am embracing my flaws and imperfections.

You are a beautiful human being.

Remind yourself of this fact every day by reciting aloud an empowering beauty affirmation.
6.

I am strong and capable.
7.

I am the luckiest person in the world.
8.

Today, I celebrate the powerful person I have become.
9.

Good vibes will find me today.
10.

I am confident in my abilities.
11.

I am anticipating all the adventures life has in store for me.
12.

I am committed to living life to the fullest.
13.

As I blow out my candles, I release any doubts and worries that are troubling me.
14.

I will spend time helping others on my birthday.
15.

I am excited for the year ahead.
16.

I am capable of overcoming anything that comes my way.
17.

I am grateful for everything I have.

Research shows that giving thanks daily has a positive impact on your mental wellbeing, as well as other areas of your life.[1]

Start appreciating all that you have with one of our powerful gratitude affirmations.
18.

My age is a testament to the chapters of life I have lived.
19.

I am going through a period of personal growth.
20.

My journey through life is unique and beautiful.
Positive Happy Birthday Affirmations
Change someone's mindset to think more optimistically with a positive affirmation on their special day.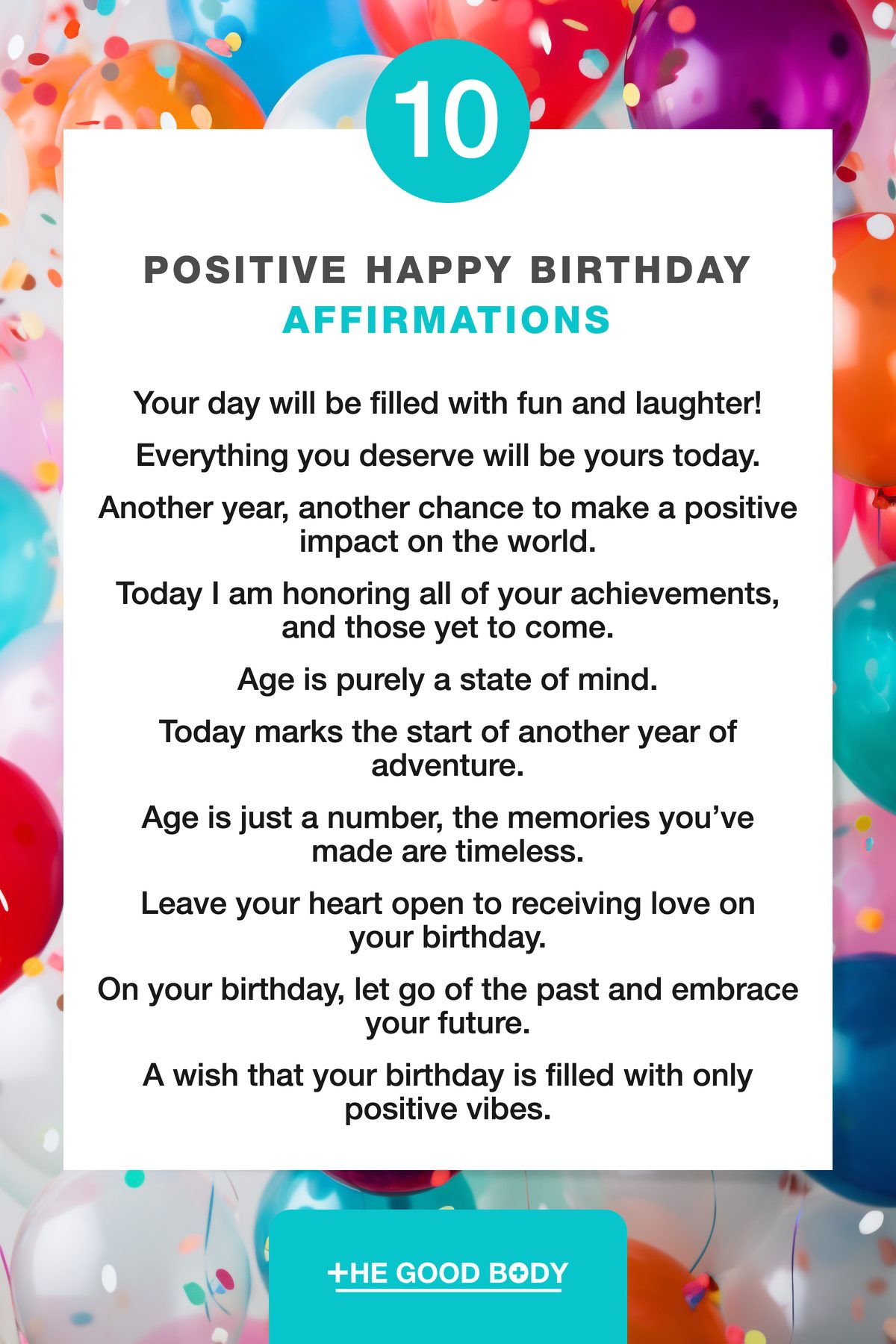 1.

Your day will be filled with fun and laughter!
2.

Everything you deserve will be yours today.
3.

Another year, another chance to make a positive impact on the world.
4.

Today I am honoring all of your achievements, and those yet to come.

Manifesting has become a huge trend, fueled by users on TikTok.

This is the idea that you can think your dreams into reality! Start ignoring the critical voice in your head, and reach your goals with an affirmation for manifestation.
5.

Age is purely a state of mind.
6.

Today marks the start of another year of adventure.
7.

Age is just a number, the memories you've made are timeless.
8.

Leave your heart open to receiving love on your birthday.
9.

On your birthday, let go of the past and embrace your future.
10.

A wish that your birthday is filled with only positive vibes.
Birthday Affirmations for a Friend
Encourage that special friend in your life to welcome this new chapter with open arms!
1.

Your birthday is a chance to celebrate the incredible person you are.
2.

You are a truly remarkable individual.
3.

You are a gift to those around you.
4.

Time to celebrate the path that you're on right now.
5.

You have the strength and will to meet any challenge head on.
6.

Celebrating everything that makes you, you!
7.

Today the sun will shine brightly on you.
8.

You are one of my favorite people and I'm so grateful for you.

The American Psychological Association describe how stable and healthy friendships bolster our long term wellbeing.[2]

Create deeper connections with the special people that surround you by sharing a relationship affirmation.
9.

You are surrounded by people who love and appreciate you.
10.

You deserve all the happiness life has to offer.
Birthday Affirmations for Kids
There are so many exciting, fun and uplifting affirmations for kids that are perfect for sharing on their birthday!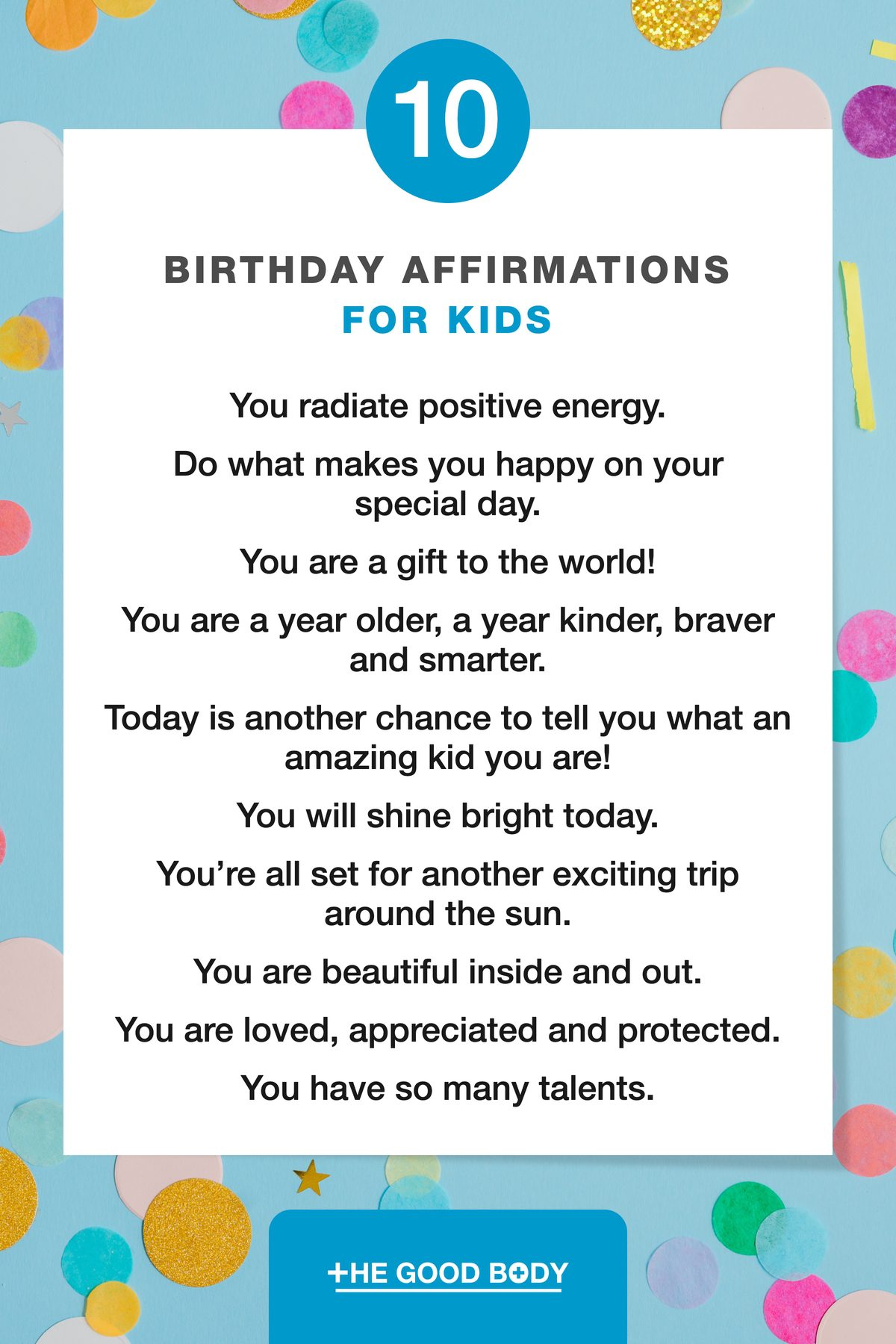 1.

You radiate positive energy.
2.

Do what makes you happy on your special day.
3.

You are a gift to the world!

Whether shopping for a little one or a big kid, take a look at our birthday gift guide for 2023.

It's filled with the latest gadgets, as well as timeless products that will support their physical and mental health.
4.

You are a year older, a year kinder, braver and smarter.
5.

Today is another chance to tell you what an amazing kid you are!
6.

You will shine bright today.
7.

You're all set for another exciting trip around the sun.
8.

You are beautiful inside and out.
9.

You are loved, appreciated and protected.
10.

You have so many talents.
Birthday Affirmation Quotes
Enjoy the reflections of these inspiring figures as you celebrate your birthday:
"We turn not older with years, but newer every day." — Emily Dickinson
"Today you have added another candle of knowledge and wisdom to your life. May it give you the power to enlighten the whole world." — Debasish Mridha
"A birthday is like a new year and my wish for you, is a great year full of happiness and sunshine!" — Catherine Pulsifer
"Every birthday is a gift. Every day is a gift." — Aretha Franklin
"The secret of staying young is to live honestly, eat slowly, and lie about your age." — Lucille Ball
Embrace a happier you!
Welcome even more joy into your life as you turn a year older with an uplifting affirmation for happiness.